Yesterday I had the pleasure of visiting my friend Donnalee's house, aka Blankenship Farms.  I first met Donnalee at a craft fair where I bought one of her burlap wreaths and Alabama shaped Christmas ornaments.  We have become friends, and lemme tell ya—she is my kind of people.  As if the burlap wreath making and pottery-kiln ownership were not enough, her family also keeps bees in their beautiful backyard, which means free honey for me.
And, as a major bonus, they also have designed this hidden gem: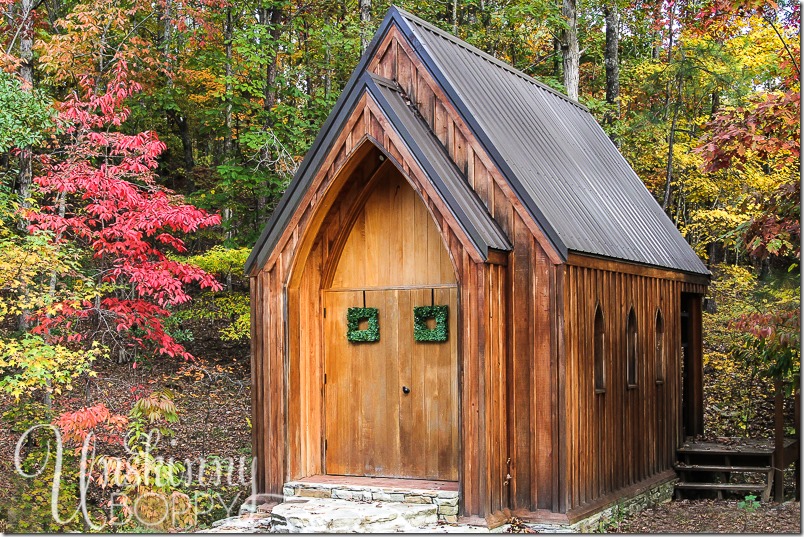 In the beginning, Donnalee and her husband, Brandon, set out to build a unique shed for their riding lawn mower.  But, creative ambition took over and Brandon designed full-blown mini replica of the St. Luke's Church at Old Cahawba, which is located at the site of the original state capital of Alabama.  Here is a photo of the original building at Old Cahawba.  Isn't it gorgeous?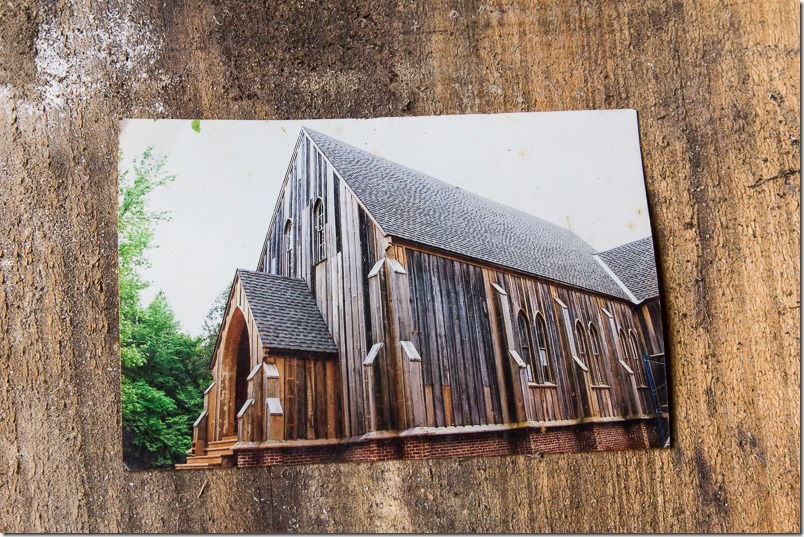 The original structure, which was built in 1854 near Selma, Alabama, was based on a Richard Upjohn design.  For all you architecture geeks out there (like me) here is a history lesson that Brandon explained to me.  Richard Upjohn was an early 19th century English architect who developed a style of buttresses that gave Gothic Revival style churches their soaring ceilings and expansive interiors without any support columns.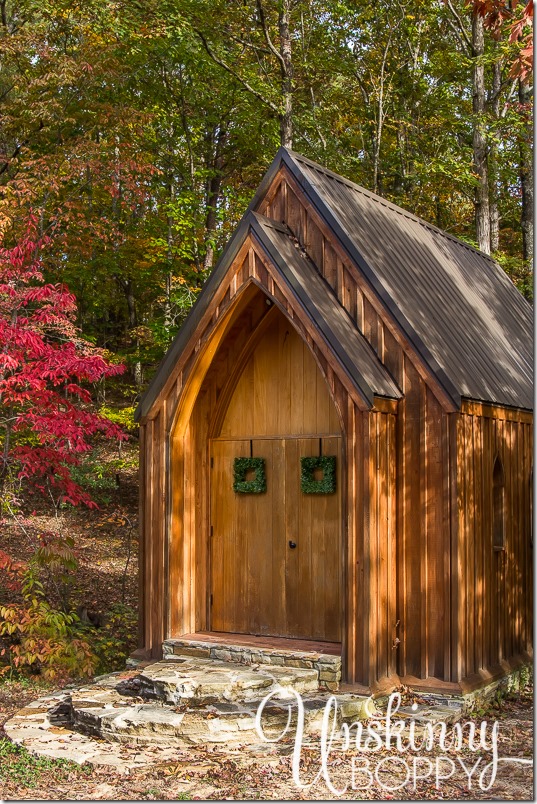 Although the Blankenship's church/shed doesn't have any buttresses on the outside…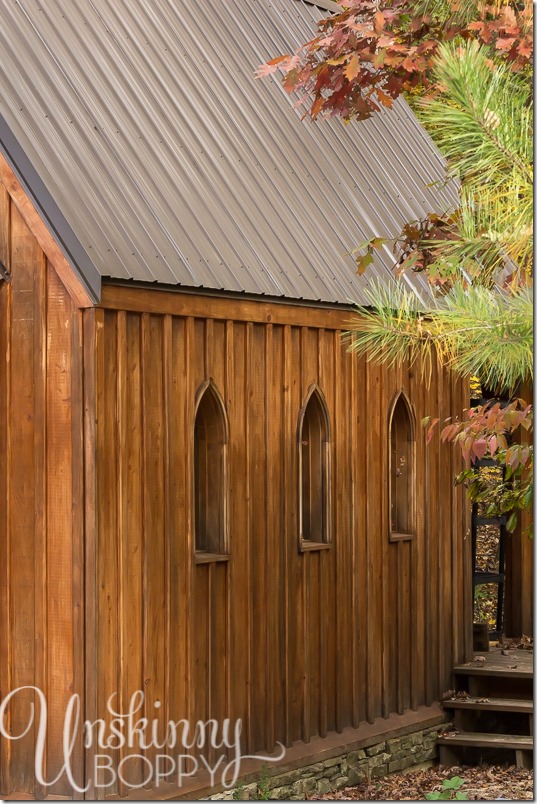 You can find them on the inside!  Be still my symmetrical loving heart.  How amazingly gorgeous is this tongue-in-groove planking?  Brandon told me that he has a source for this wood that he got for a steal of a deal, and I'm going to bribe it out of him by doing manual labor in his backyard.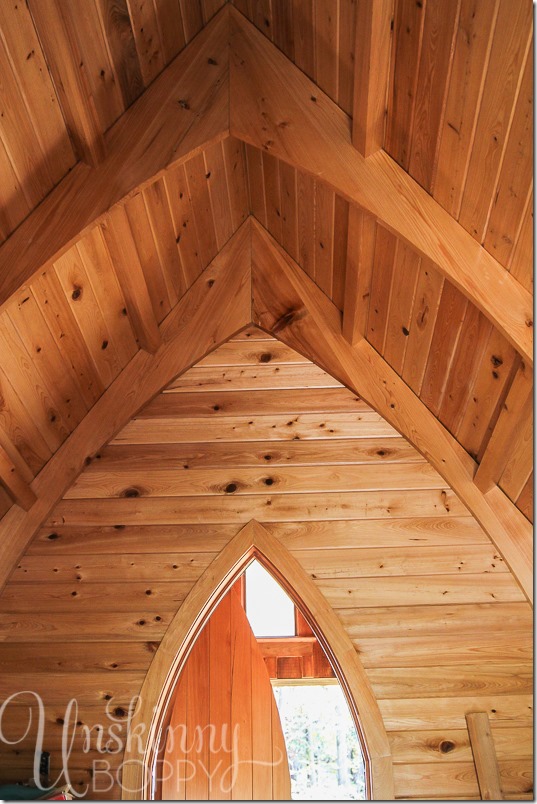 There is plenty of manual labor to be done in their backyard, but luckily the Blankenships are not afraid of putting some sweat equity into their DIY projects.  Over on the other side of the yard they constructed this garden tool shed out of old pallets and hand-hewn boards for lap siding.  There is a bright red door sitting inside waiting to be hung, but for now I think it's pretty doggone perfect just as it is…. Don't you?  I love the shape of the roof!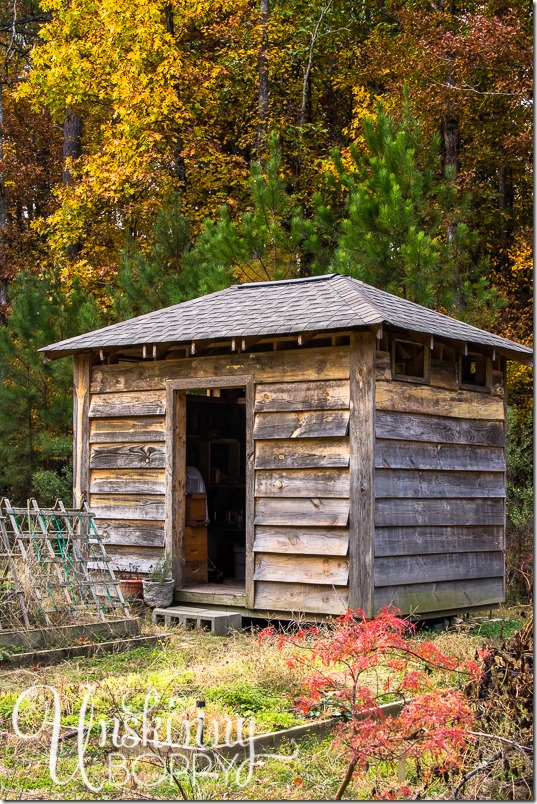 Inside the shed, along with their garden tools, are all the accoutrements for their beekeeping hobby.  White shirts, bee suits and smokers line the walls, ready to go to work in their little apiary.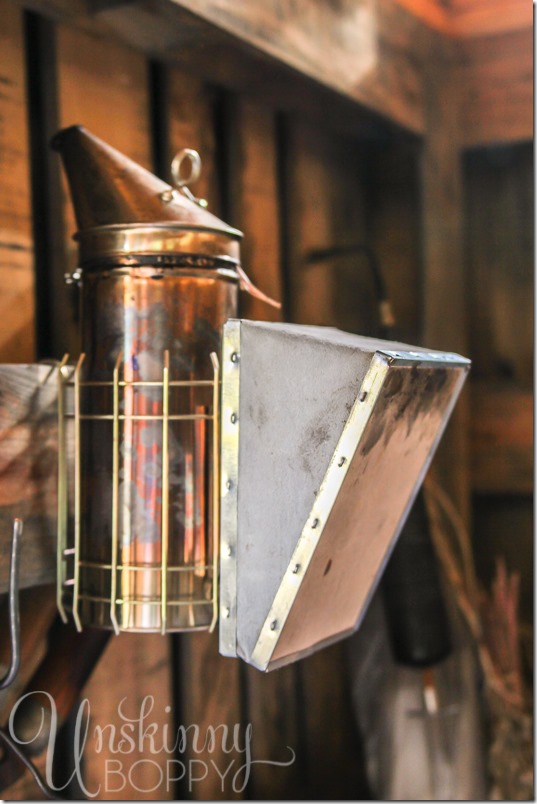 The honeybee houses are kept at the back of the yard near the woods. Their 13 year old daughter, Anna, took a bee-keeping class with her dad, and she gave us the tour of the honeybee houses.  We got lucky on this warm fall day and got to see the bees in action flying in and out of their little bee-box.  Garrett LOVED watching them go to work.  He thought this was so cool.  We are definitely going to go back over the next time they gather the honey and watch that action.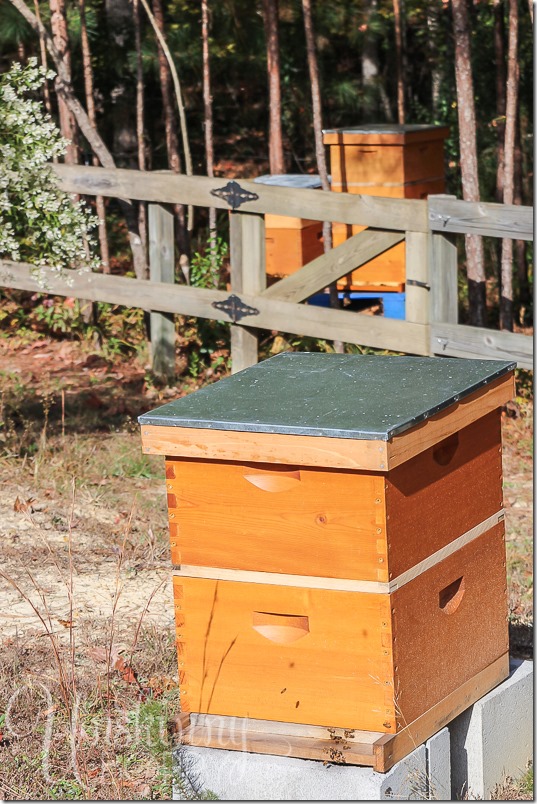 I'm telling y'all, I just loved visiting their house!  Even the Blankenship's Border Collie, Lucy, got her own DIY pallet doghouse in the backyard.  These people are my heroes.  Seriously.  How cool is this?? It has a front porch light AND a heater!  Best.Doghouse.EVER.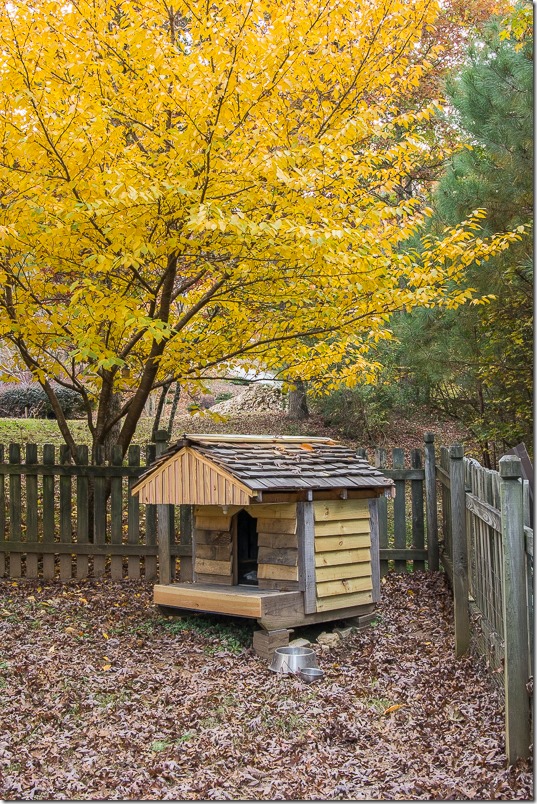 So… If you guys need me, I'll be sitting on the back porch of the peaceful little chapel in the woods licking honey off my fingers with this guy right here….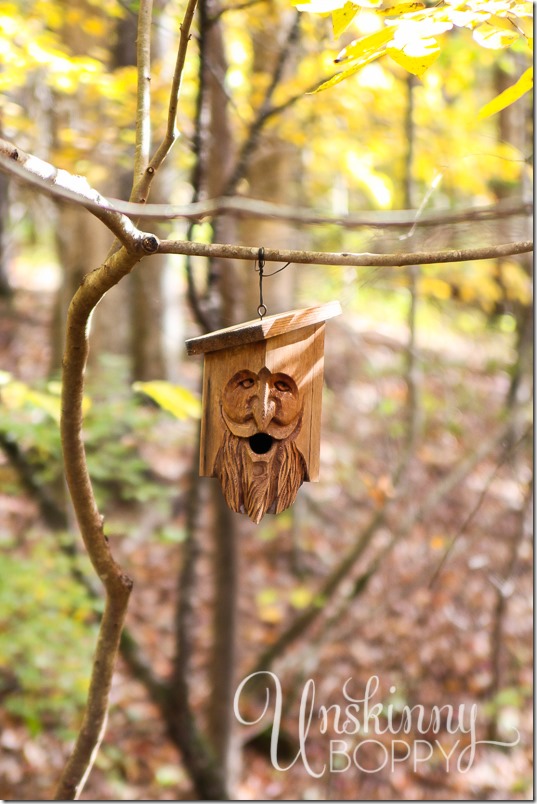 …helping Donnalee make some awesome pottery like this right here…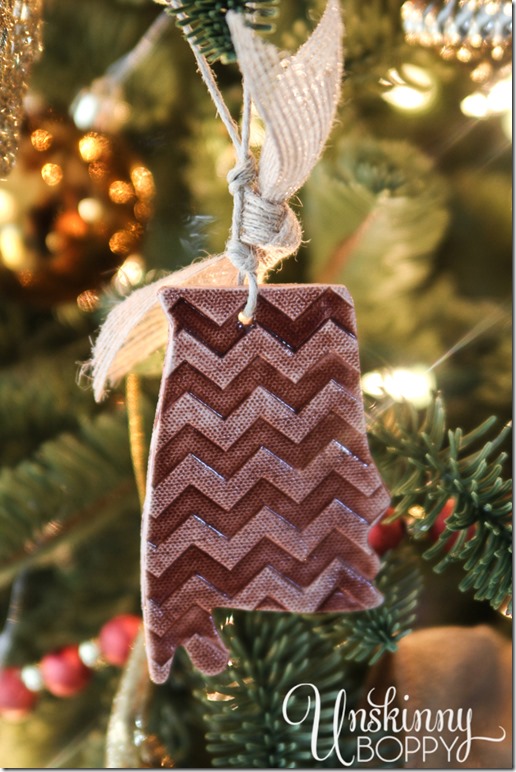 …and weaving some burlap wreaths like this one right here…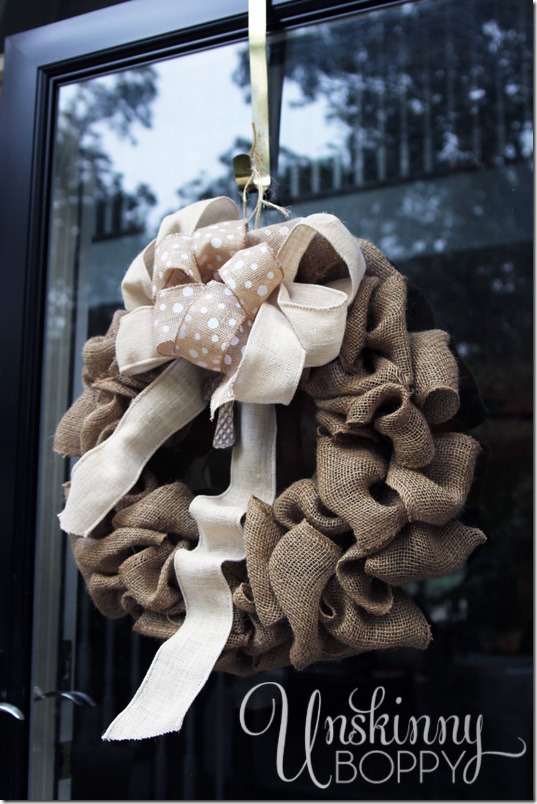 In fact, I'm ready to move right in and call these folks my new adopted family.
Watch out, Blankenships… I'm coming for ya!
Y'all go give them a like on facebook or visit their blog to follow along with their adventures! I bet you'll love them, too!  And, as a bonus for taking the tour of their yard today, I'm going to give you guys a free high-resolution photo download of their chapel in the woods!  Click here to get your free download!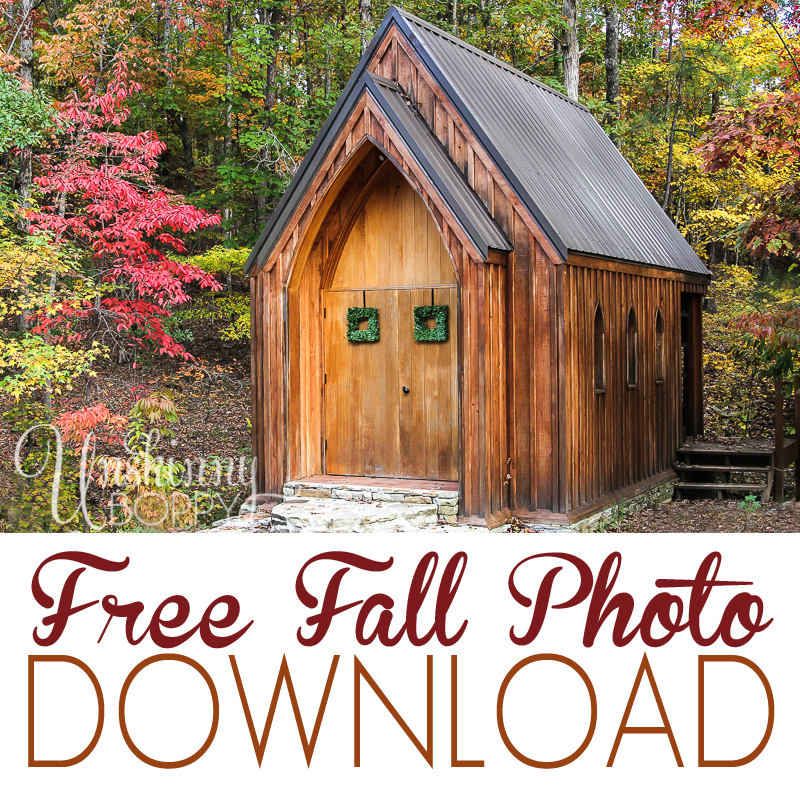 PS:  Speaking of wreaths, if you loved those square boxwood wreaths on the doors of the chapel, you can find them right here on the Balsam Hill website. LOVE these wreaths, and look for more of them in my Christmas Home tour coming up the first week of December! Woot!
Full Disclosure:  Balsam Hill gave me these beautiful boxwood wreaths and I coerced Donnalee into letting me come over to her house on her birthday to photograph them on her chapel doors while the leaves were at peak color.  I paid Donnalee off with a homemade loaf of sourdough bread. All opinions about finger-licking good honey and square boxwoods are my own.