There is just nothing better than a handmade gift for the holidays, amiright?  I love getting homemade treats that wouldn't normally make for myself.  This year is going to be a very handmade holiday around our house, and right up at the top of the Christmas lists are quick gifts that can be made using essential oils.  One of my favorite quick gifts using essential oils are sugar scrubs!  So, today let's chat about how to make handmade sugar scrubs! I've even made a quick Youtube tutorial for this one to help you guys watch the process and see just how simple these are to make.
Watch and learn, my friends:
If you prefer the old school style of blogging, read on…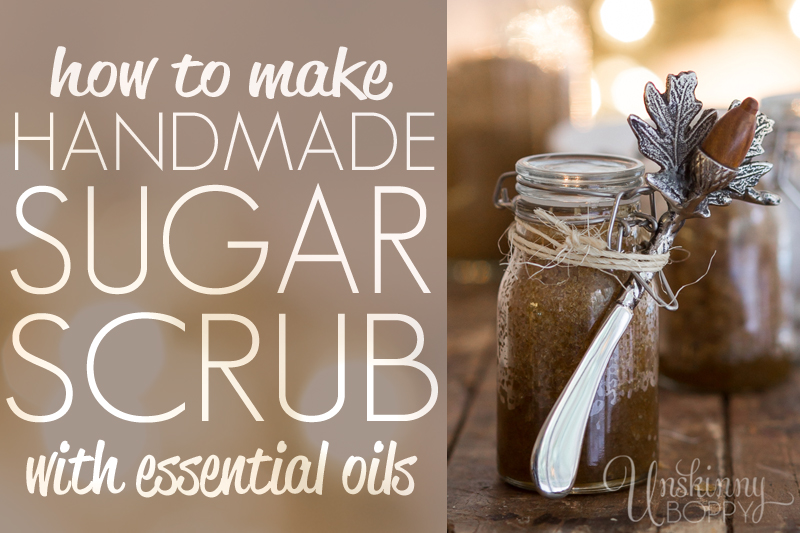 Last year we made a gazillion peppermint sugar scrubs using white granulated sugar for teacher gifts, coworkers and girlfriends gifts.
But today we're gonna be talking about this beauty right here: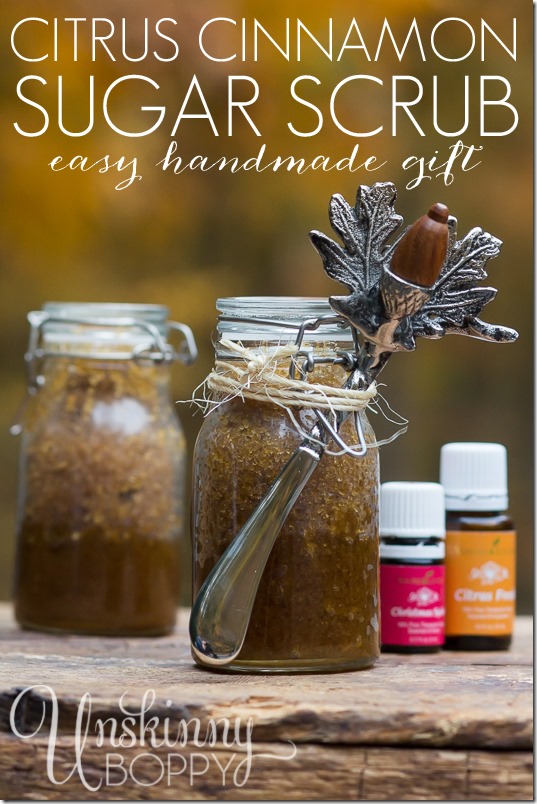 Have y'all tried Turbinado sugar in your sugar scrubs yet??  My friend Laura recommended this to me, and OH man, you really need to try it!   I found a bag of Turnbinado (or raw cane sugar) at the local market for a great price, but you can check on Amazon or your local grocery store (here is my Amazon affiliate link.)
Turbinado sugar grains are very large and gritty.  It doesn't melt very quickly under running water, so you get more scrubbing bang for your buck. Since it's SO gritty I thought it would make the perfect hand scrub to sit next to the kitchen sink!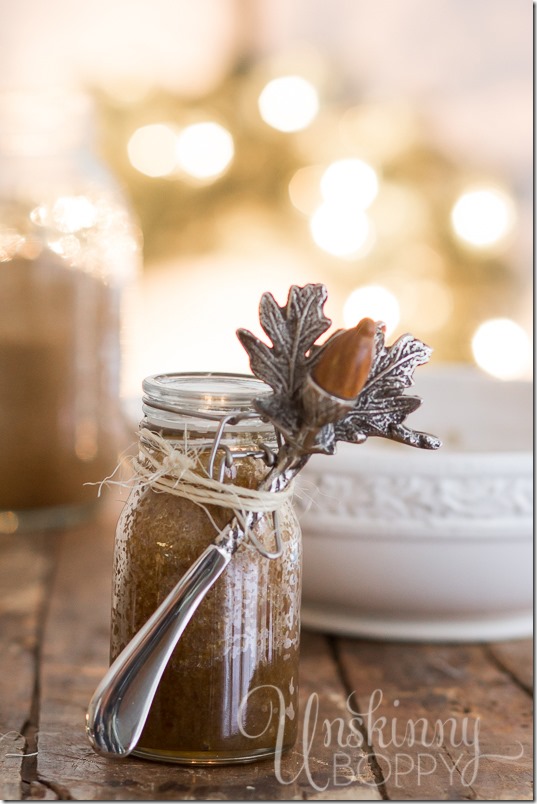 Here are the ingredients you'll need to assemble for this simple sugar scrub:
INGREDIENTS:
2 1/2 cups Turbinado sugar
About 8 ounces of a carrier oil such as olive, grapeseed, jojoba or other edible oil that is liquid at room temp
15 drops Christmas Spirit essential oil
15 drops Citrus Fresh essential oil
(Click here for more info on how to purchase these essential oils if you don't have them.)
This recipe will make about four half pint jars of sugar scrubs.  You can double, triple, quadrizzle it to make as many of these scrubs as you need.  It's a VERY flexible recipe, so these measurements are approximate.
Mix the sugar and carrier oil together until it resembles beach sand, then add your essential oils!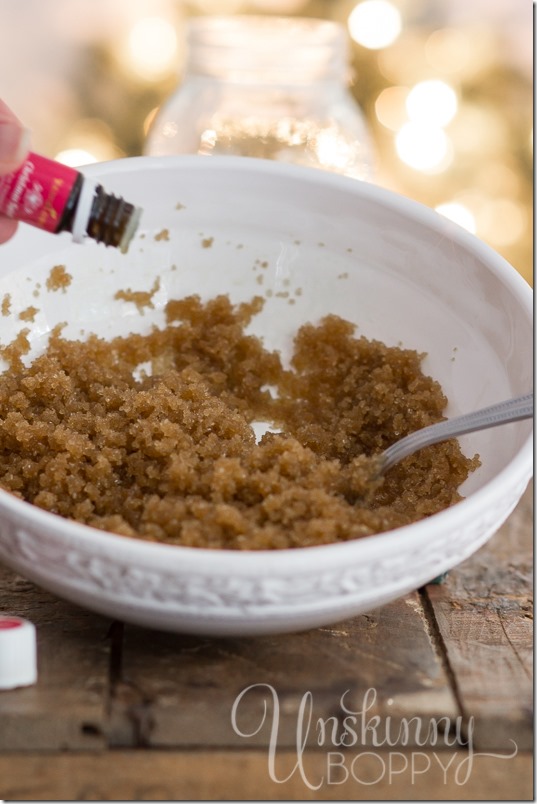 Package it in a pretty airtight container.  I like to use glass jars with clasps and also these cute little half pint Ball jars. I also save every glass container that comes through my kitchen, peel off the label really easily using lemon essential oil, and reuse it in some way.  Old spice jars work great for small gifts like this.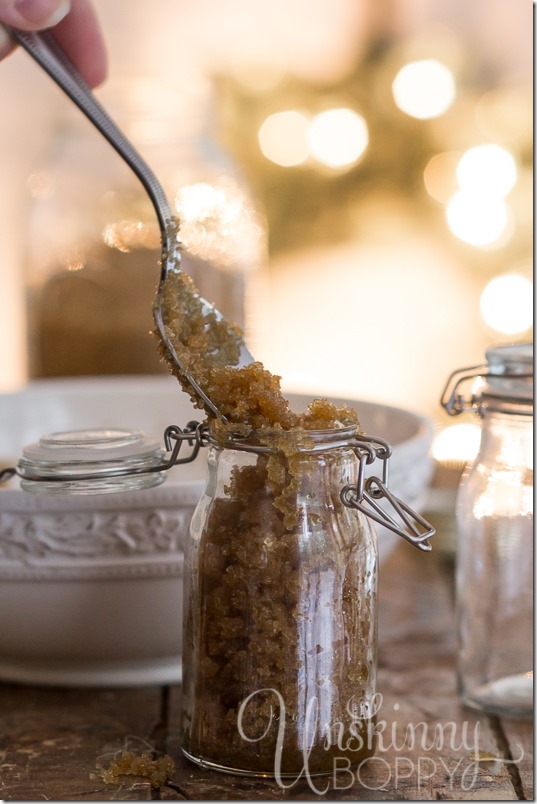 Then, just add a pretty scooper of some sort and you've got yourself a fun gift for just about anybody. I found this acorn and oak leaf spreader at Durbin Farms in Clanton, and though it would make the perfect sugar scrub scooper!  Just slide it down into the clasp part and tie it up with a string.  Simple!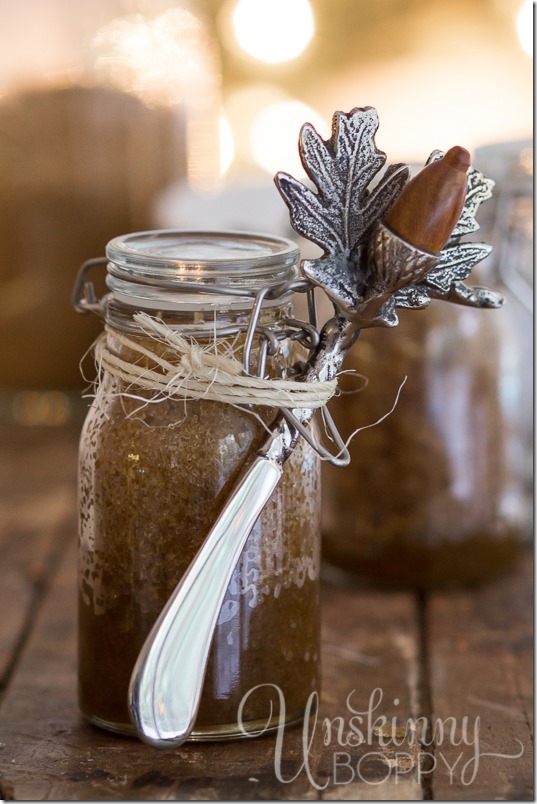 Be sure to add a label on the jar so your recipient knows what they are getting!  You can find lots of cute Avery labels these days, and you can even print your own designs at Avery.com!  It's easy! Here is another project where I talk about how to print Avery labels for DIY Homemade Bath Salts.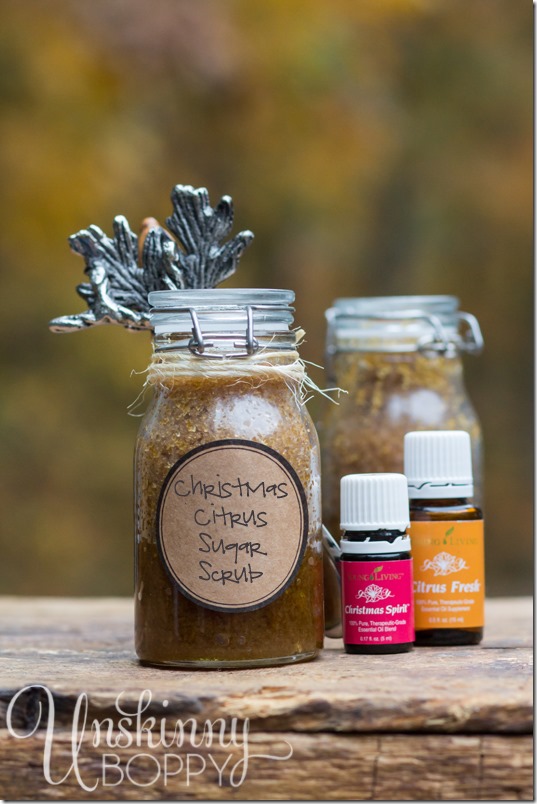 For those of you wondering where I bought my cute acorn and oak leaf dip spreader—I got it at Durbin Farms in Clanton, but I found ONE on Amazon!  It's made by Mud Pie, so you might be able to Google it to find more.  I LOVED this little spreader, and just had to buy it when I saw it.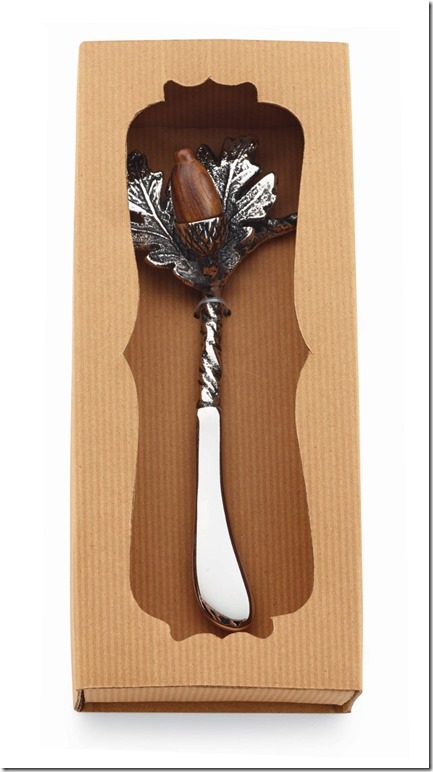 Now, here is the exciting part!  Be sure to check out the other great ideas featured at my friend's blogs today. We've assembled a whole bunch of handmade gift ideas so please hop around to all of our blogs and check out the great gift ideas using essential oils this holiday! I look forward to making ALL of these!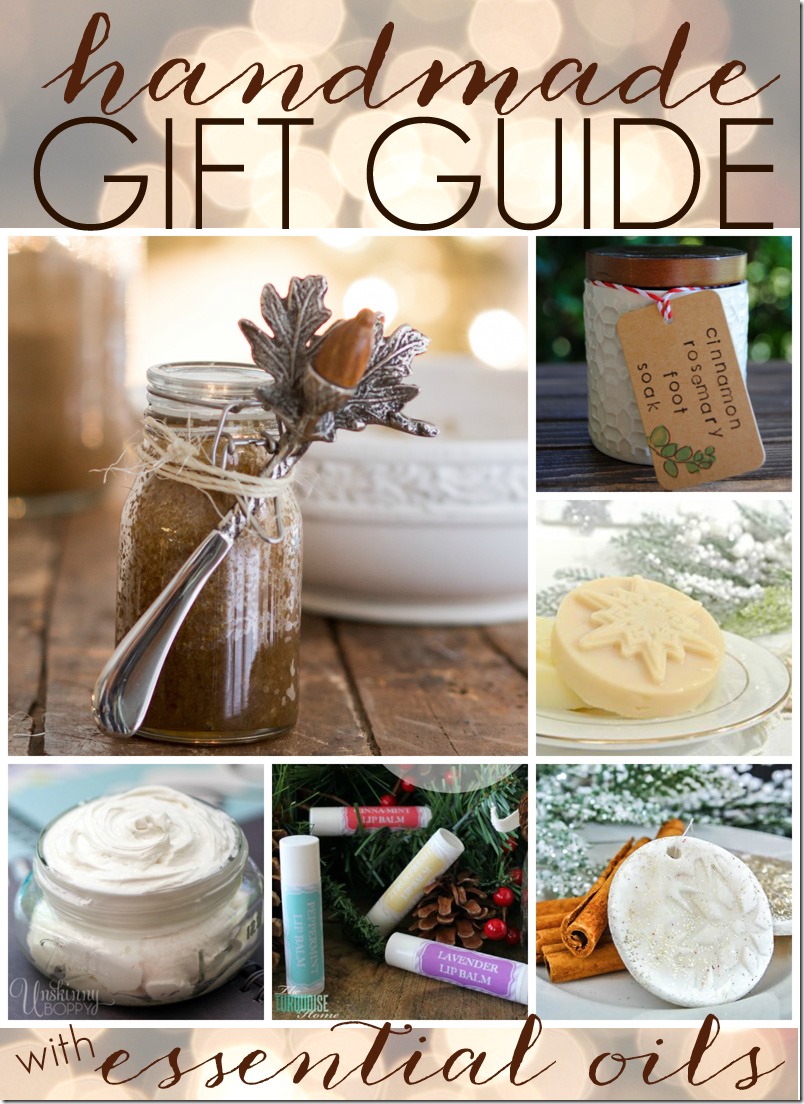 Peppermint & Lemon Body Butter
Citrus and Christmas Spirit Brown Sugar Scrub
Homemade Thieves Foaming Hand Soap
DIY Scented Christmas Ornaments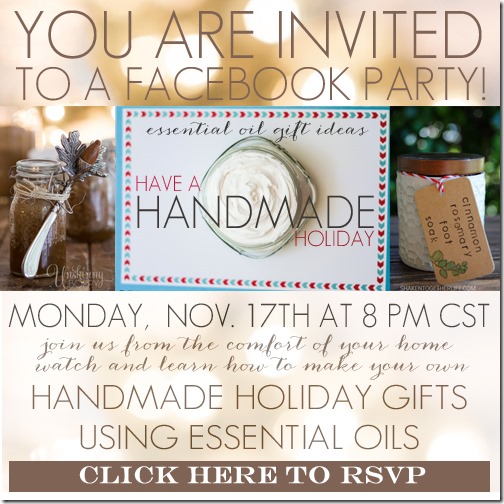 TO BUY ESSENTIAL OILS, CLICK HERE.
CLICK HERE to browse all the supplies you'll need to make your own handmade gifts at home! (This is my affiliate link.)