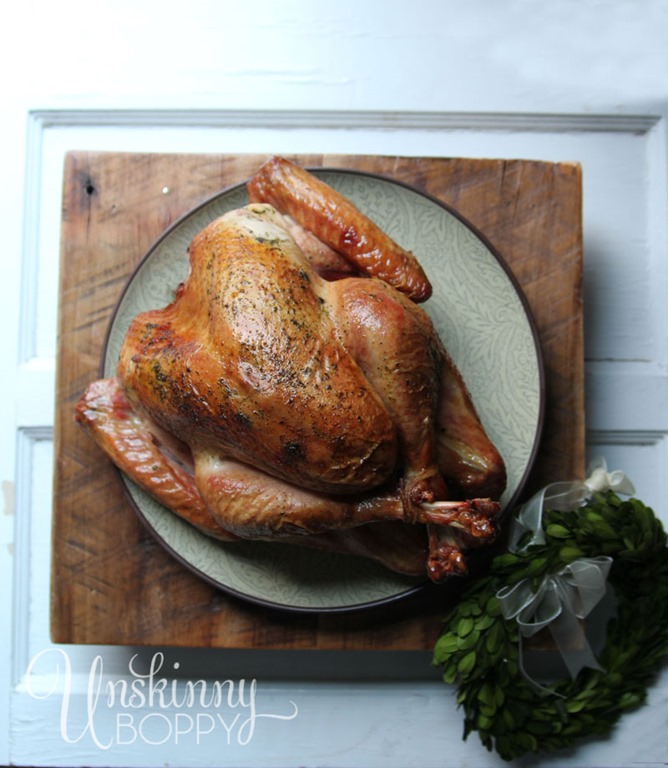 Somehow I've made it 37 years on this Earth without ever cooking a whole turkey for Thanksgiving. This year, I aimed to change that. I set out to find an easy recipe for a smoked turkey that even a novice could handle, and I found it.
But, the secret is cooking it on our Big Green Egg. If you don't have a BGE, you could definitely try this in your oven, as well. The cook times and temps should be similar.
Big Green Egg Smoked Turkey Ingredients and Recipe:
Perfect Thanksgiving Turkey on the Big Green Egg
Step-by-step instructions on how to smoke a whole Thanksgiving turkey on the Big Green Egg. Juicy and delicious!
Equipment
Big Green Egg smoker

Lump Charcoal for Big Green Egg

Round Disposable Aluminum Pan

Aluminum foil
Ingredients
1

whole turkey, completely thawed

ours was 14 lbs

2

sticks softened salted butter

1

clove

garlic

minced

1

Tablespoon

Rosemary

fresh or dried

1

Tablespoon

Thyme

2

teaspoons

Sage

1

teaspoon

Poultry Seasoning

2

teaspoons

Salt
Instructions
If you purchase a frozen turkey, thaw the turkey in the refrigerator for a few days until completely defrosted all the way through. Factor in one day of thawing time for every four pounds of bird into your prep time. This might take up to a week, depending on the size of the turkey.

Preheat the Big Green Egg to about 325-350 degrees Fahrenheit. To do this, follow these steps:

Add lump charcoal (we prefer applewood or hickory) to the BGE and ignite. Open the bottom vent and the top daisy wheel wide so the flames catch and begin to burn freely

Once the fire is well underway, watch the temperature closely and start closing the bottom and top vents a bit as you approach 330-340 degrees. Once you get the correct amount of airflow in the bottom vent it will stabilize at 350 degrees and stay there.

Let the BGE preheat for at least 15-20 minutes before you put the turkey on.

Remove all the giblets from inside the bird and discard unless you are making gravy with them.

Wash and rinse the turkey, then pat it dry completely with paper towels.

Tuck the wings under the back and tie the legs together with twine so everything cooks evenly.

Mix the butter, garlic, rosemary, thyme, sage, poultry seasoning and salt together in a bowl

Rub the herbed butter all over the outside of the turkey until all the skin is covered.

Place a round disposable aluminum pan on the grill of the Big Green Egg to catch the drippings

Place the turkey on three big balls of aluminum foil to raise it up off of the pan and allow the fat to drip but not get inside the big green egg.

Roast the turkey for about 4 and a half hours, until it has an internal temperature of 165 degrees and the skin is brown and crispy. Depending on the size of the turkey, this could take longer. Plan to cook it for approximately 15-20 minutes per pound of bird.

Once you reach an internal temp of 165 degrees, remove turkey from grill and allow to sit for at least 15-20 minutes before carving to allow juices to redistribute.
I found this Big Green Egg Turkey Cheat Sheet if you need help figuring out how many pounds of bird your Big Green Egg will hold or how many hours to cook your size bird.  We have a medium-sized Egg, and this turkey weighed in at 14 lbs.  He fit perfectly, but anything bigger we would have needed a bigger egg.
I hope you don't wait 37 years like I did to try out this delicious recipe. We plan to start roasting turkeys WAY more often now that we know how easy it is on the smoker. The leftovers are amazing, and this could be totally Whole30 approved with just a little bit of tweaking.
Who's ready for some smoked meat? Hooray for Turkey Day!
Ready for Dessert?
If you're looking for a quick and easy Thanksgiving dessert, be sure to check out these recipes!
Beautiful Pumpkin Pie Recipe (Semi-homemade)
This pie is absolutely delicious at any time of the year but everyone knows Pumpkin Pie is made for Thanksgiving dinner.  Since it uses a storebought crust it's an easy pie to make and bakes up beautifully. 
Click Here for the Recipe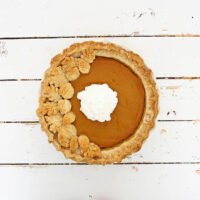 Cute & Easy Thanksgiving Cheeseball
Need a last minute Thanksgiving appetizer? This super cute turkey cheeseball is an easy way to make your turkey table festive with hardly any effort at all.
Click Here for the Recipe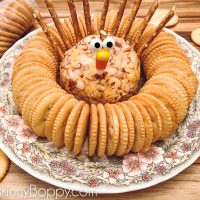 Disclaimer: This post was not sponsored by any turkey farmers or big green eggs, I just really wanted to show off my meat smoking skills!
Happy Thanksgiving dinner planning!