Day Four of the 3rd Annual Holiday Home Tours rolls on! This week I have been featuring some of my favorite blogger's homes decorated for Christmas. These women have been so kind to guest post for me and open up their gorgeous homes to all of you this week. As a big "Thanks!" to them, please go visit their social media pages and give them a like! Also, if you see something you love here in this post, please take the time to click over to their blogs to pin any of their photos so they will get all that repin traffic. Happy Holiday Home touring! Today's house is the amazing Rachel from Shades of Blue Interiors. This girl is SO talented! ~Beth
---
Welcome to my home: where all the magic happens at Shades of Blue Interiors! 🙂 I love to redo furniture (my local business), craft, paint (anything!), build stuff, and decorate my home on a budget. I had a goal for decorating this season: create beauty from natural elements, and make or reuse everything else. So I painted and sewed like a mad-woman, hot-glued like you wouldn't believe, and shopped my house. I hope you enjoy what you see!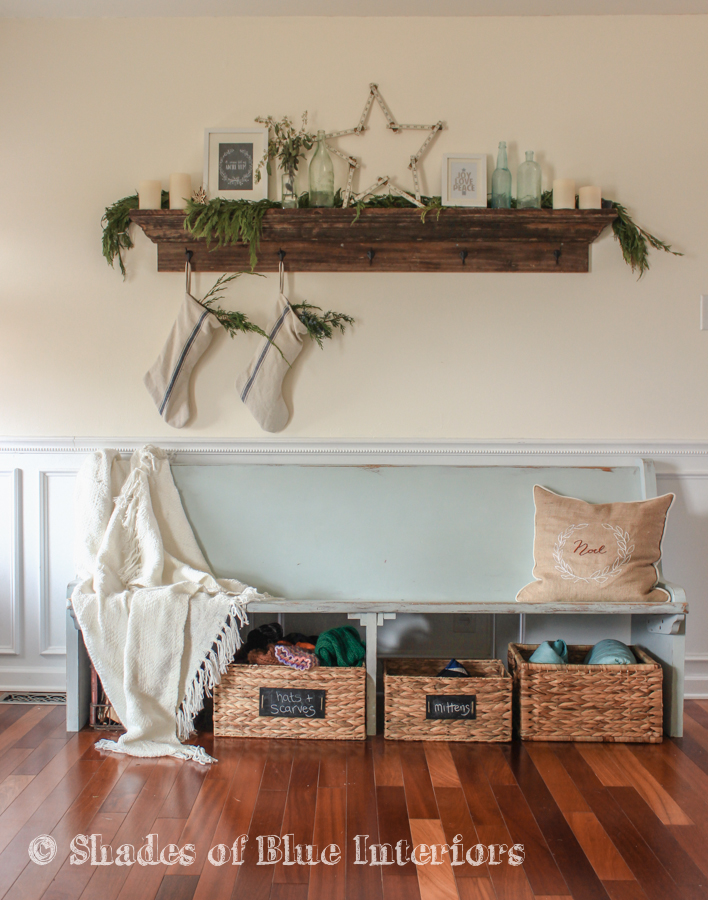 This is our entry bench as you walk into our 1950's ranch-style home, in the suburbs of St Louis. This is our first home and I'm loving painting walls and making improvements to make this house our home. This bench is one of my favorite craigslist finds! I painted it a pale shade of blueish-green, distressed it, and put some baskets underneath to house winter-wear. In the summer these will be a great spot for flip-flops, goggles, and pool toys. I also built that shelf/mantel a couple months ago from pine boards and crown moulding. Adding a few hooks made it perfect for hanging jackets… or stockings at Christmastime (since we don't have a fireplace)! The stockings I made from some grain sack fabric I got from DecorSteals.
I'm proud to say I made this pillow! I found a font and design I liked, printed it out, traced it onto the burlap with pen, then embroidered away, not striving for perfection! I should have a shirt that says that: Not Striving For Perfection! haha 🙂 Anyhow, just a little linen fabric for the back and piping make this pillow look much more expensive than it really was: $0 (since I had all the scrap fabric on-hand)!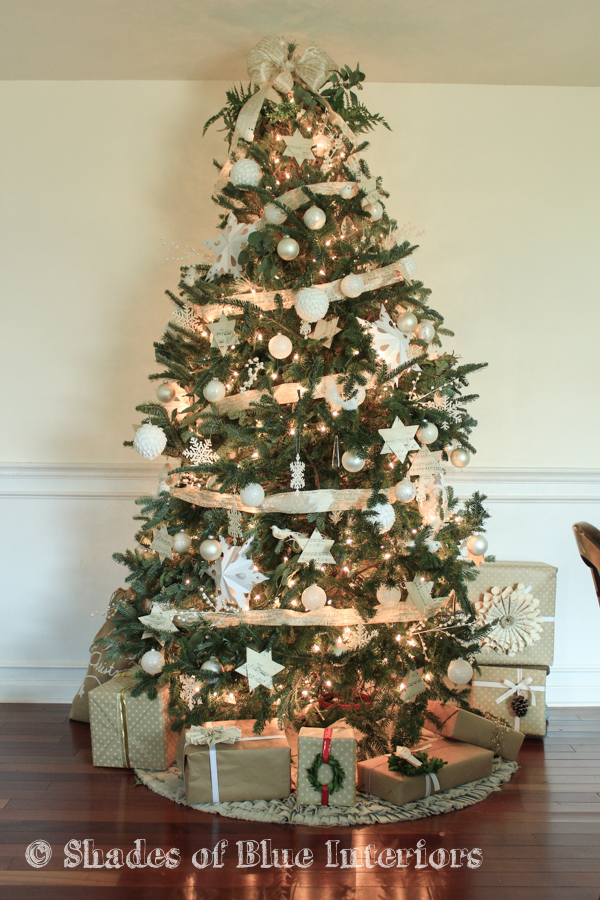 This year we found fresh trees for only $28, so we got two! This one is the first thing you see when you walk in our door.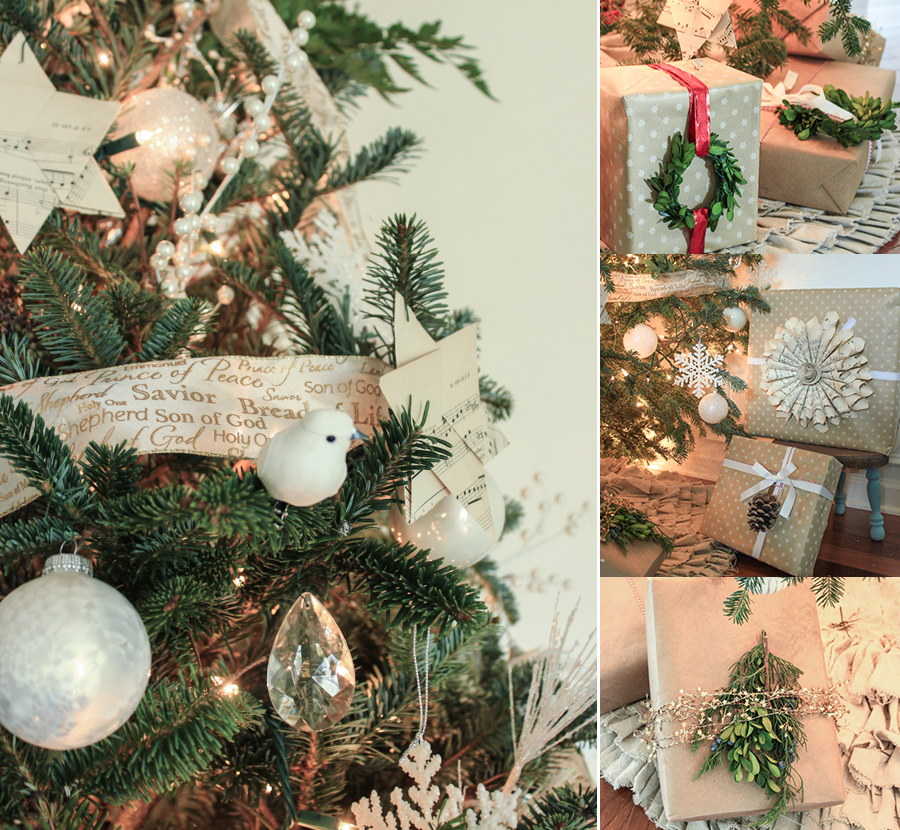 To decorate it, I used vintage prisms from leftover chandelier parts, little birds, music sheet origami stars, snowflakes, and various white balls. For the gifts I wanted to attach a homemade keepsake to each one: music sheet wreaths or pinwheel, boxwood wreaths, and german glass glitter pinecones.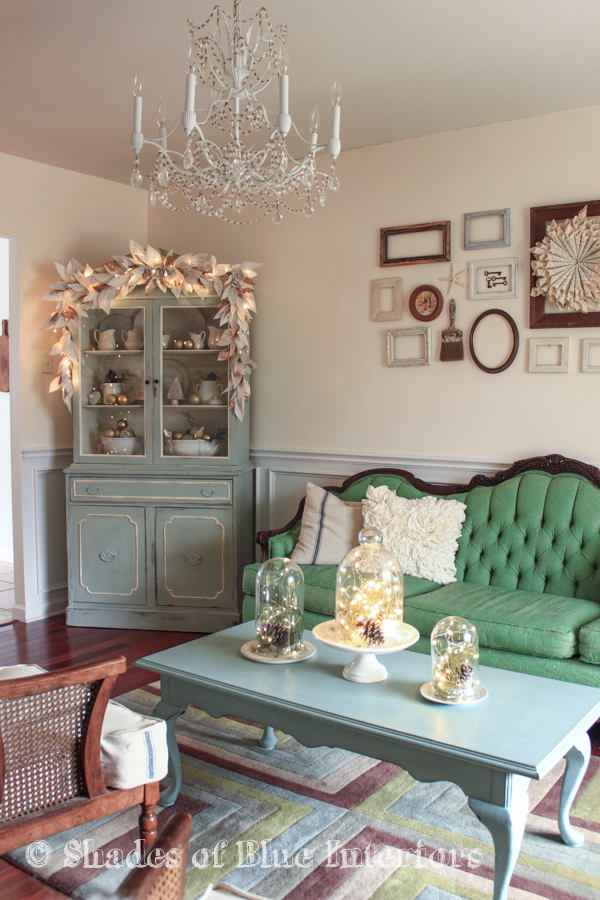 The rest of the room I added simple Christmas touches. On the china hutch in the back corner, I draped a homemade book page and embossed leaf garland (with rice lights intertwined), and the table I put more rice lights with a cypress branch and glittery pinecone under glass cloches. See that green victorian couch? I painted it that color! And it is comfy! We use it daily!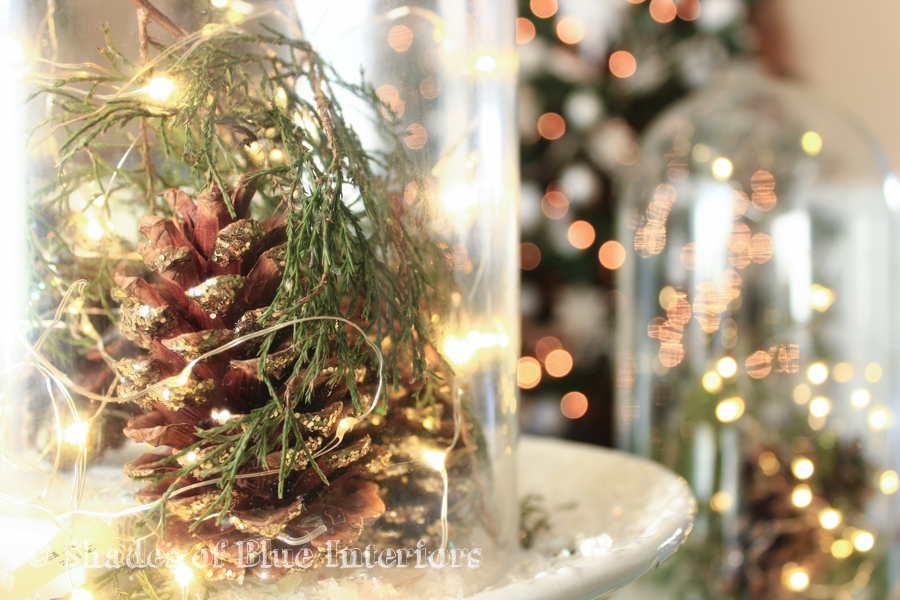 In case you were wondering what rice lights look like…. magic. They look like magic. 😉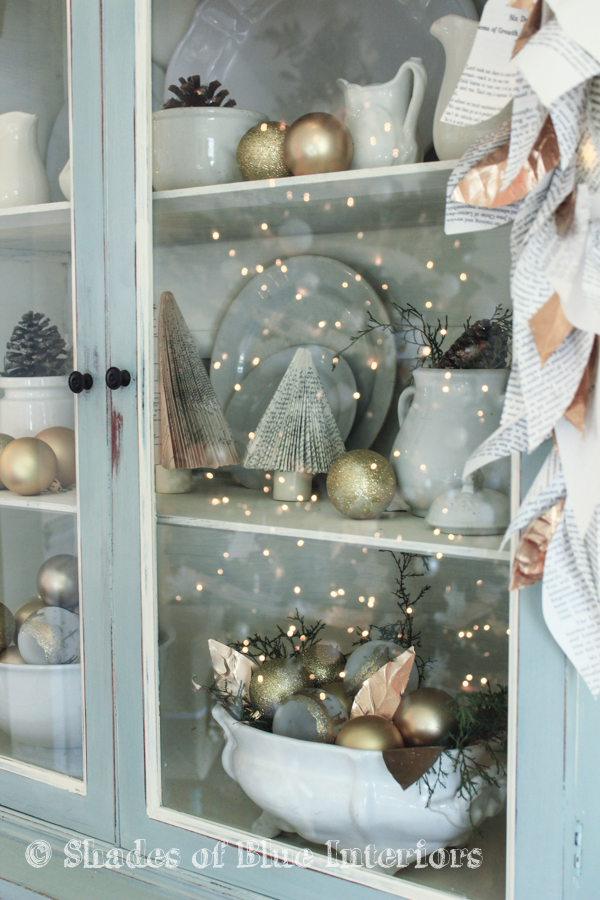 Since I didn't want to use my older gold ornaments for my trees this year, I had fun adding a little sparkle in the china cabinet!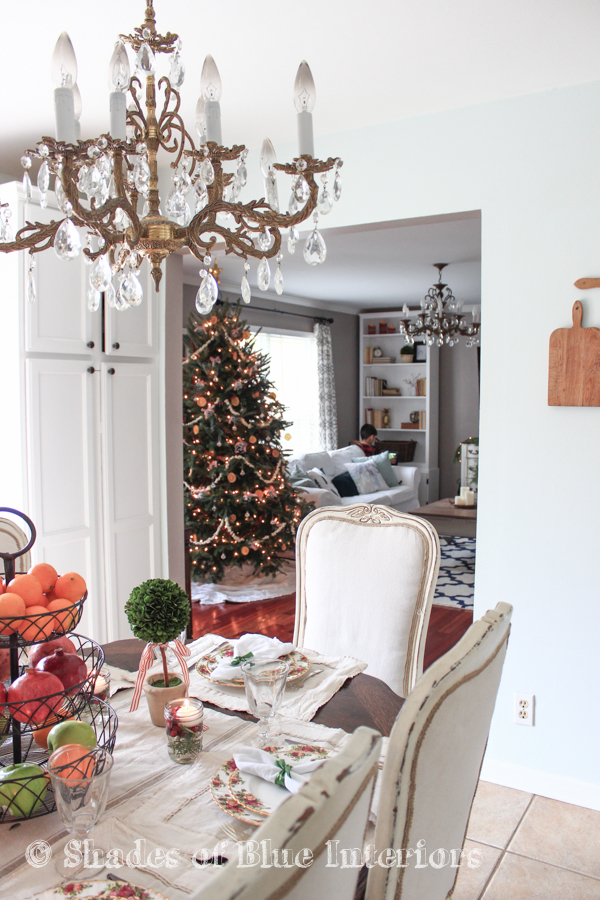 Now we enter the dining room! I have my refinished table set all set up for a Christmas brunch! 😉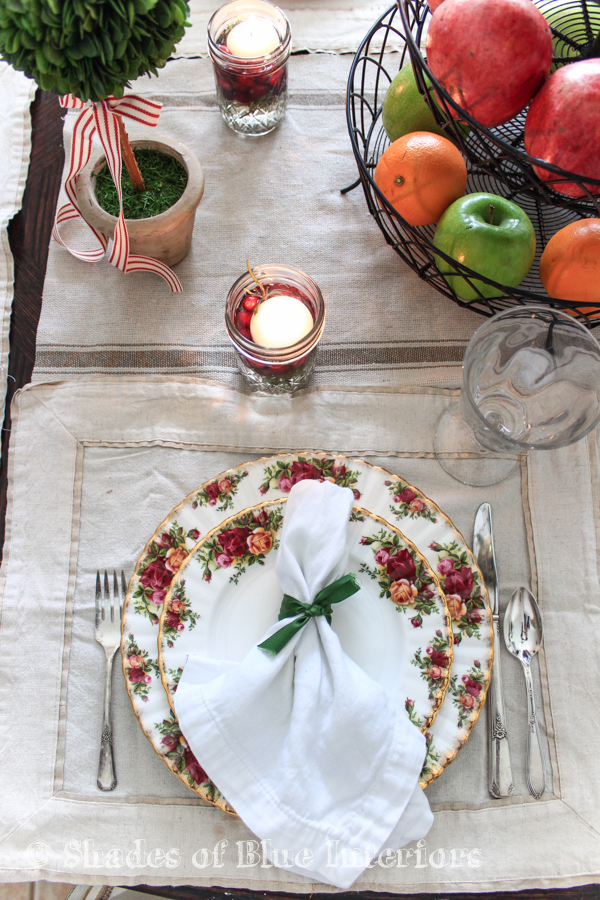 I love the idea of using pretty china and silver for Christmas breakfast or brunch! It adds just the right about of fancy to a meal likely eaten in pajamas! 🙂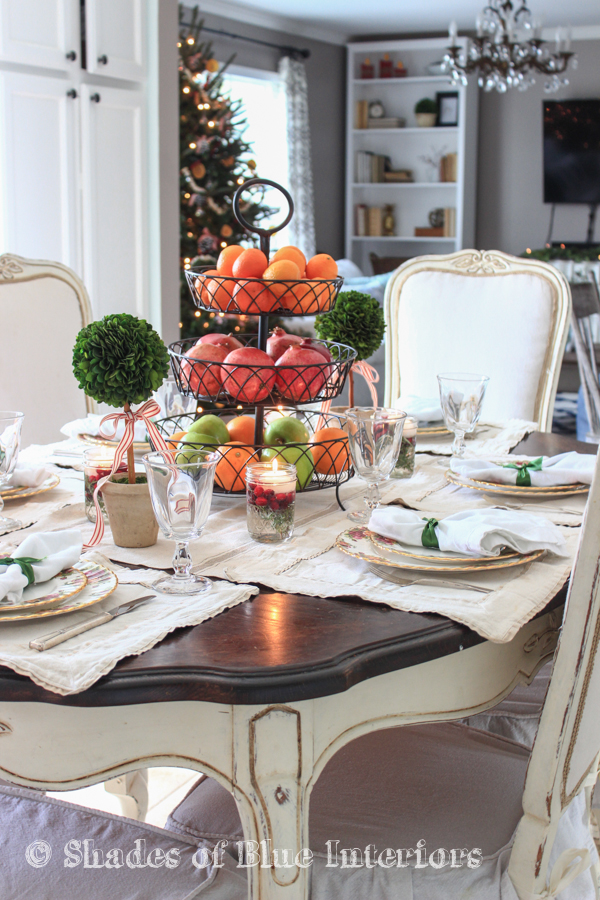 And because everything feels cozier by candlelight, I added a couple floating candles to mason jars filled with rosemary, cranberries, and water.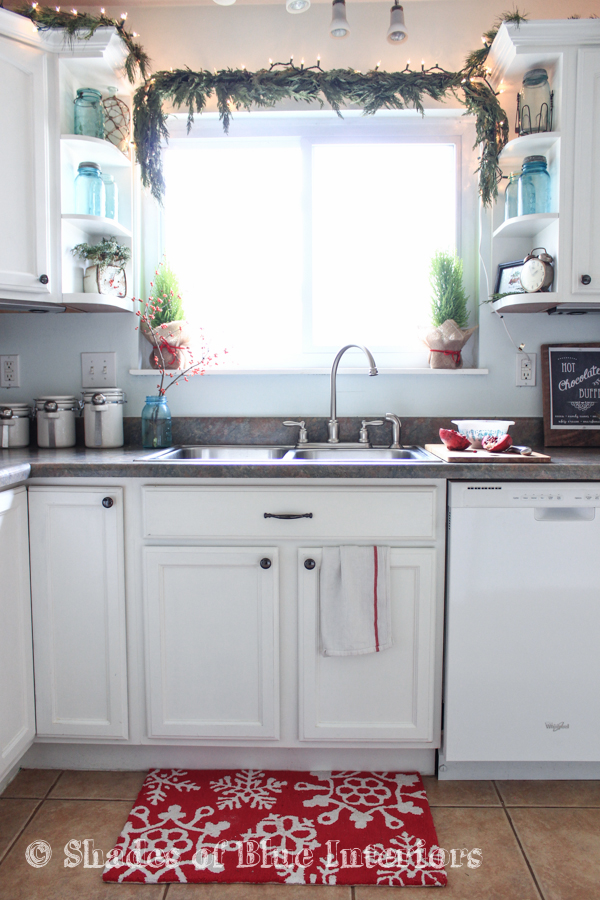 My dining room adjoins the kitchen, which I painted earlier this year a bright white! I continued to keep things simple by adding a couple pops of red, the blue mason jars, and a couple of lemon cypress topiaries!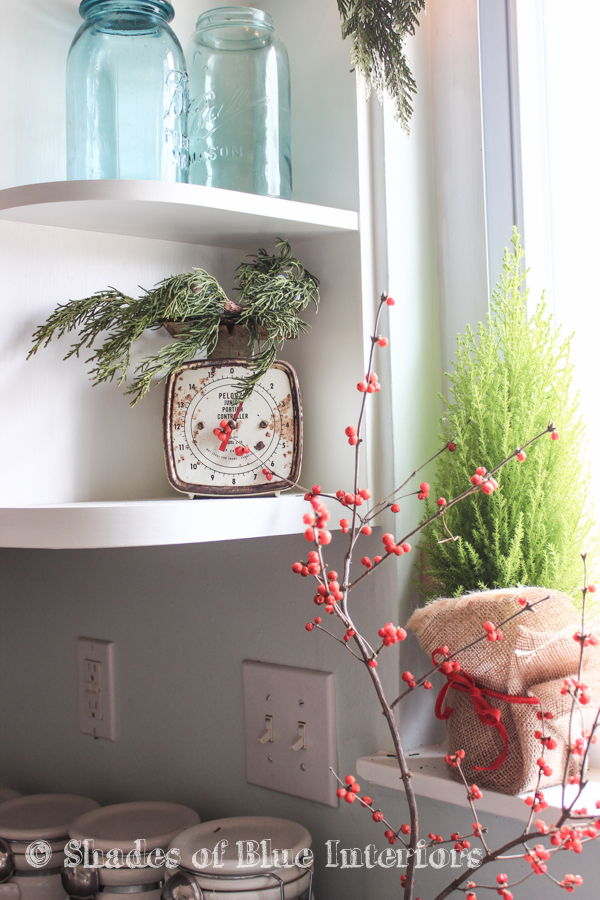 A couple of twigs with red berries on them really add the right amount of contrast and the best part… they were free! I just broke them off a bush I saw on the side of the road! hehe 🙂
Finally, my favorite room in the house: the living room! This tree is a fraser fir and I was pleasantly surprised to see how full it was (it was bound up when I bought it) after I brought it home! My children (I have 3) and I strung popcorn, cranberries, hung dried orange slices, painted and glittered up some pinecones tied with ribbon, and hung little plastic prisms from target! I LOVE the look of it!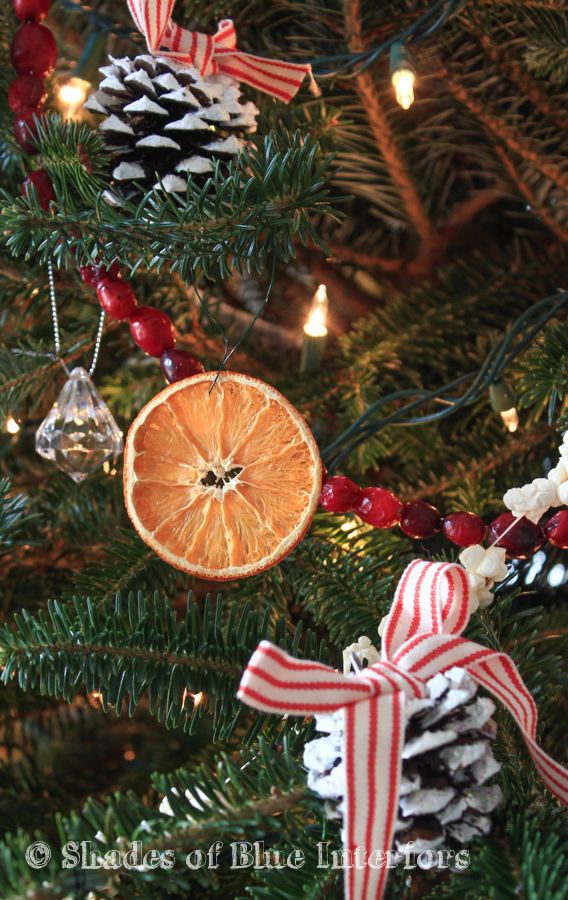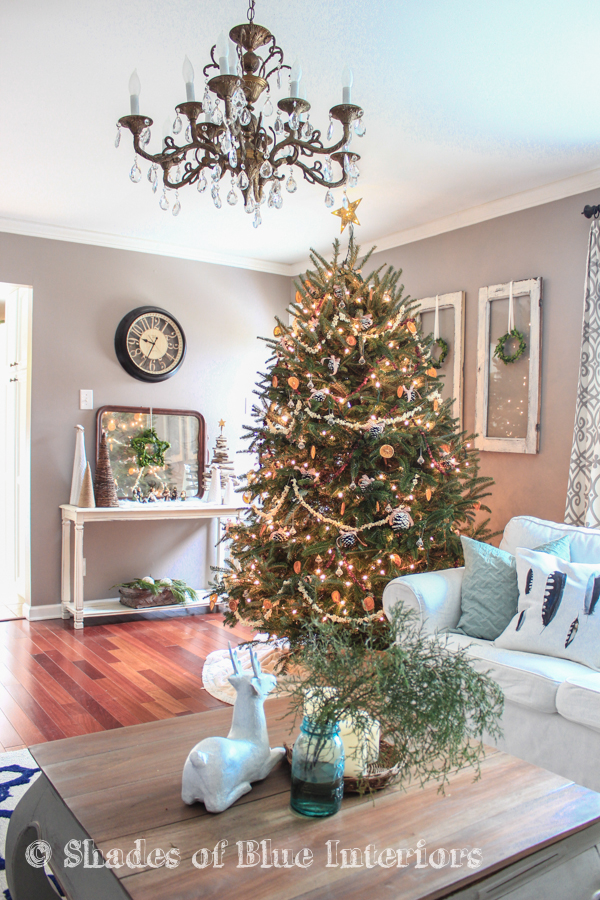 As you walk further in and turn around, you can see some boxwood wreaths hanging on some salvaged cabinet doors because, who says the wall behind the tree has to be ignored!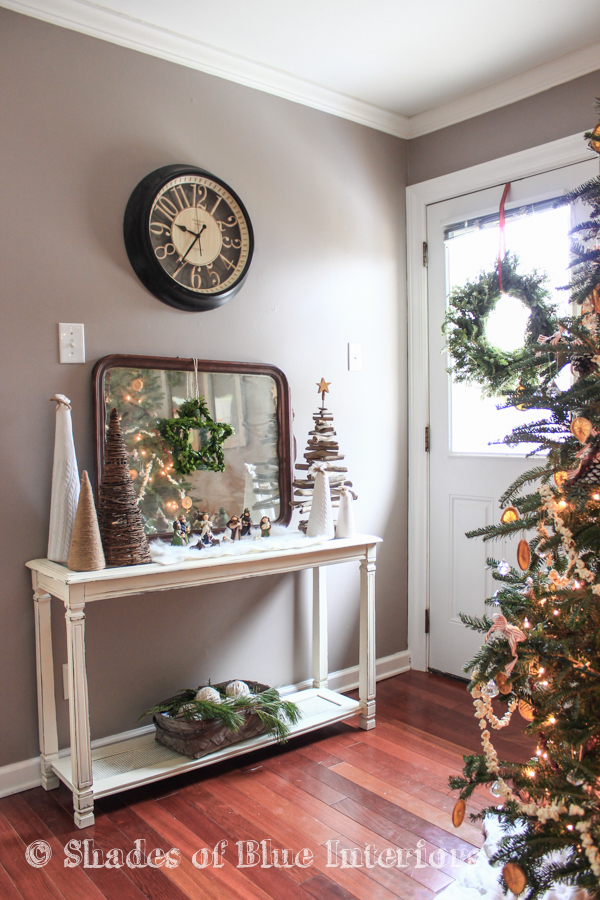 The back door to the patio got a pretty, fresh wreath, and the console table got a mix of trees I've made over the years, an vintage mirror, a preserved boxwood star I made, and a polymer clay nativity set I made 9 years ago.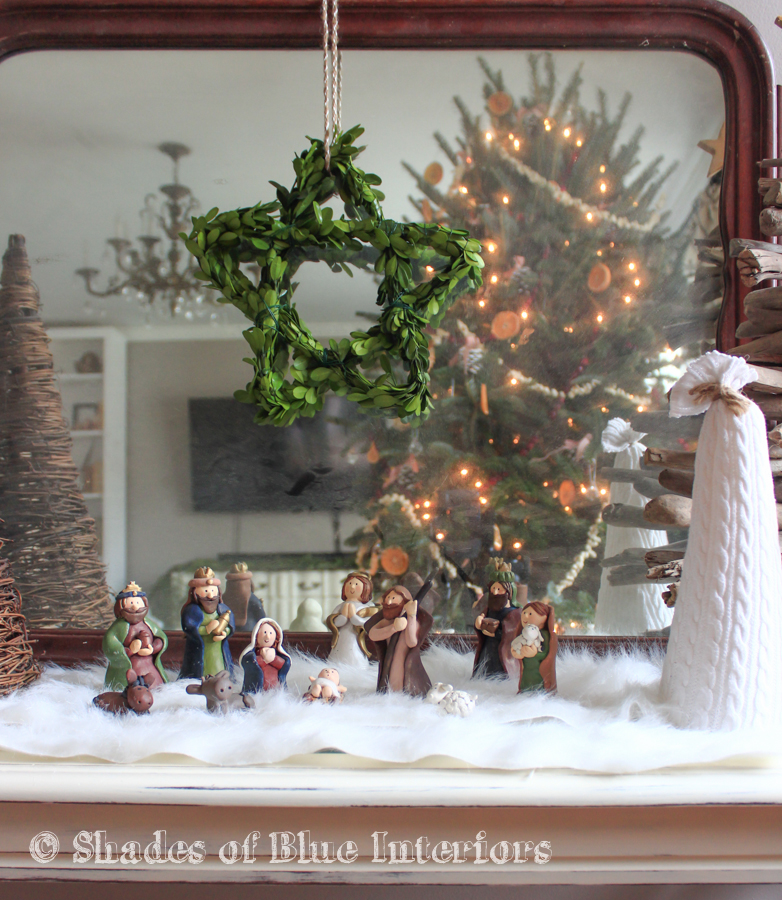 It was our second Christmas together as a married couple and I longed for a nativity set. I didn't want a cheap set from any store, I wanted something unique, which was way beyond our budget. I found some inspiration in a magazine, went out and bought the clay, and spent hours and days making this nativity set. Then I painted it (because white clay was cheaper to buy). It has held up pretty well, only a couple of cow horns have broken off!
I hope you enjoyed a glimpse of my home! I left some Danish Butter Cookies and hot apple cider on the porch for you, on your way out… Thanks for visiting!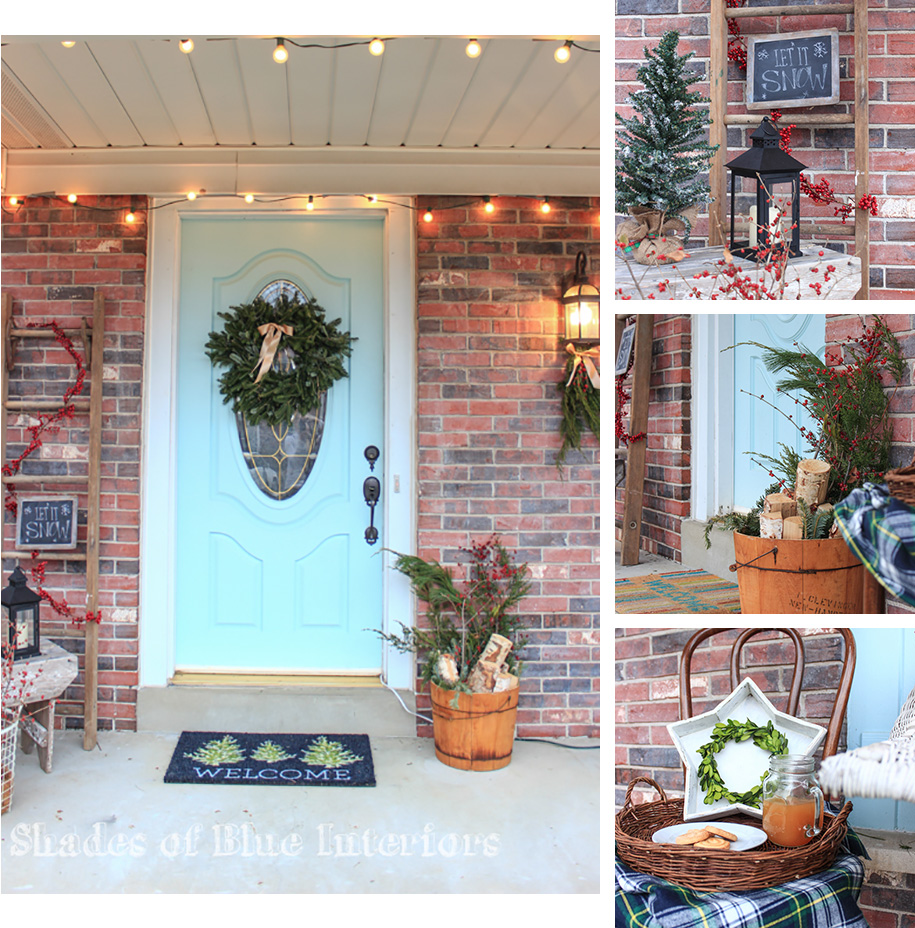 Visit my blog Shades of Blue Interiors
or be social and connect with me on these sites:
Instagram / Pinterest / Facebook / Twitter
---
Thanks, Rachel, for taking us on the tour of your beautiful home! That nativity set is blowing my mind? Can you believe she made that? Wow! If y'all want to see more decorating ideas from all the past holiday home tours, click here.