Hey guys!  It's time for the 3rd Annual Holiday Home Tours here on the blog!  This week I will be featuring some of my favorite blogger's homes decorated for Christmas.   These women have been so kind to guest post for me all week long and show you all their homes.  As a big "Thanks!" to them, I sure would appreciate you visiting their social media pages and giving them a like!  Also, if you see something you like here in this post, please take the time to click over to their blogs to pin any of their photos so they will get all that repin traffic.  Today I'm excited to introduce Alice from Thoughts from Alice to kick off the week of tours for us.  Prepare to have your socks blown off, peeps! Happy Holiday Home touring! ~Beth
---
Hello Unskinny Boppy Readers! My name is Alice W. and I blog at Thoughts from Alice. I cannot say enough how thrilled I am to be here today to share my holiday home with you. When Beth asked me to join her week of holiday home tours, I have to admit I was a bit awe struck. This is a real treat to me! And since today is actually my birthday…it is also a really cool gift! I am excited to welcome you into my festive home and hope you enjoy the tour.
I live in a small town outside of Rochester, NY with my husband Joshua and our two little ones, Hazel, age 3, and Owen, age 2. The winters are very cold here and seemingly last forever. I do love a white Christmas though. Here is our front porch decked out in a simple, rustic style.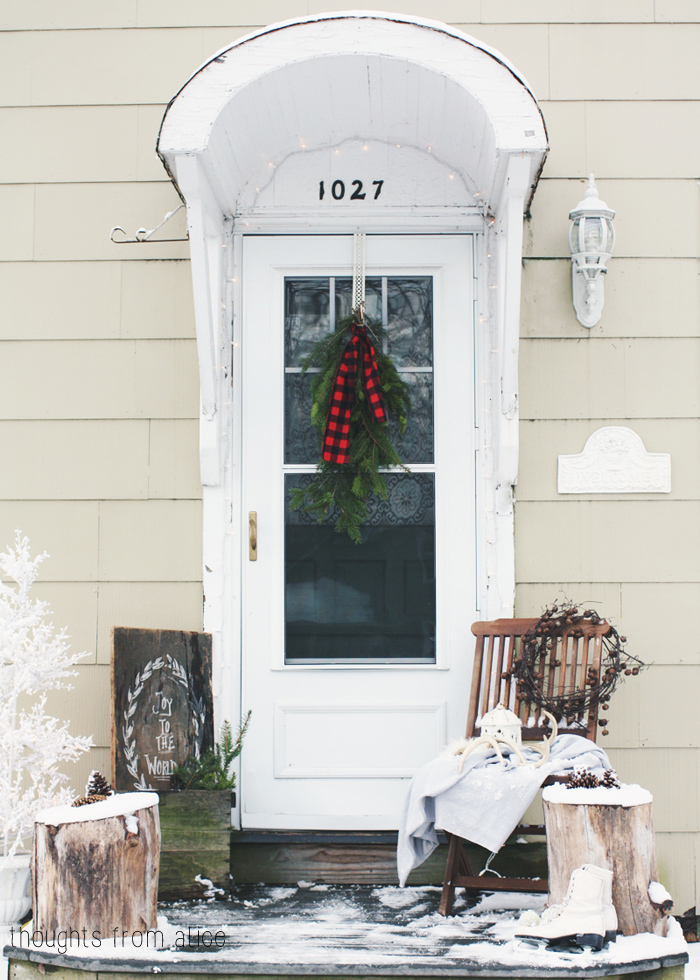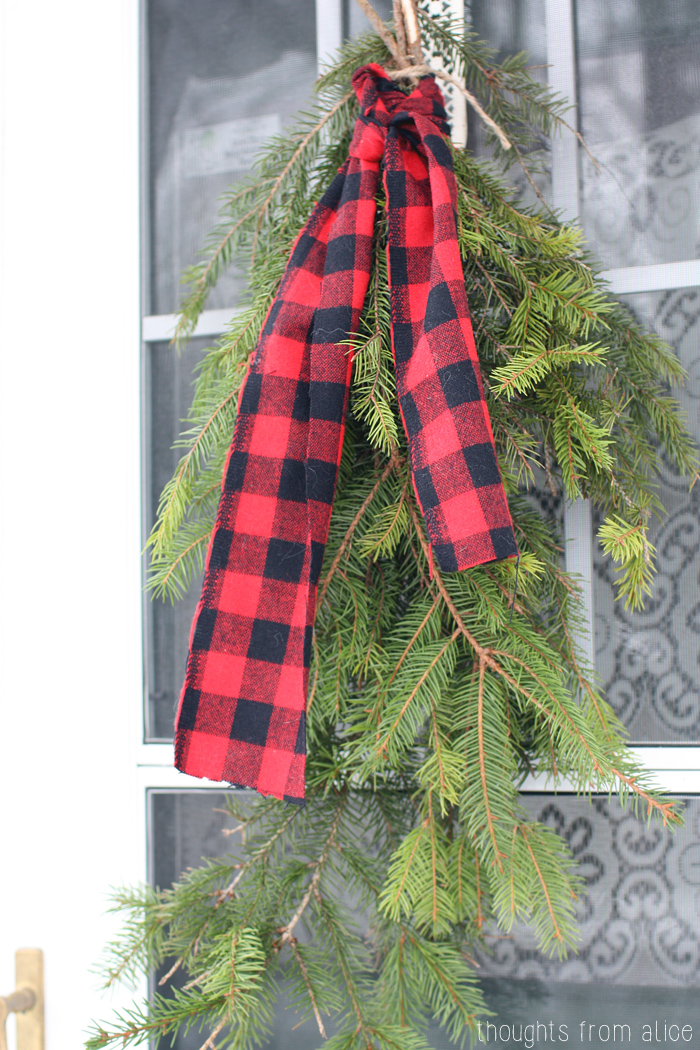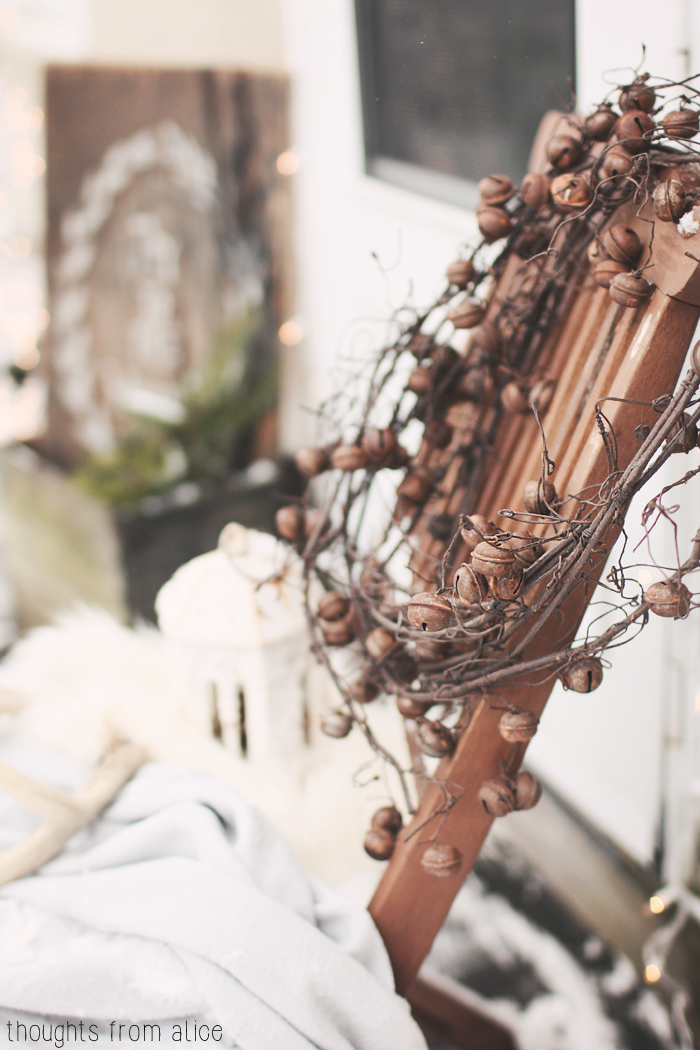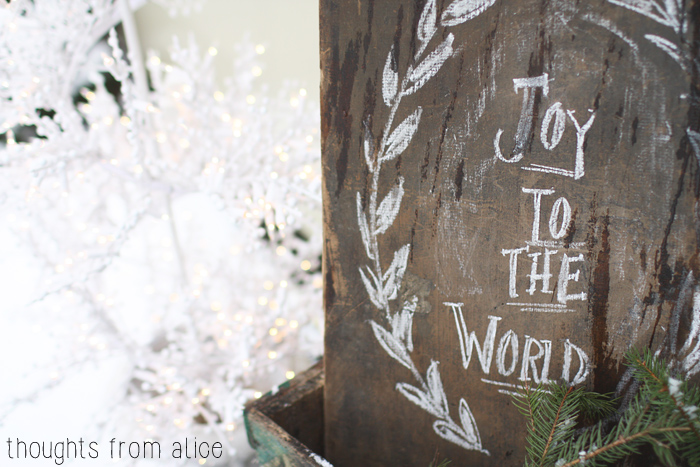 Our house is an older home built around 1930 and a tight fit for our family of four at only 1300 square feet, but I do my best to make it work. (You can learn more about it on my home tour page). The front door enters straight into the living room which is basically our main "hang out area." I went for a relaxed, "cabin" look in here with lots of woodland touches.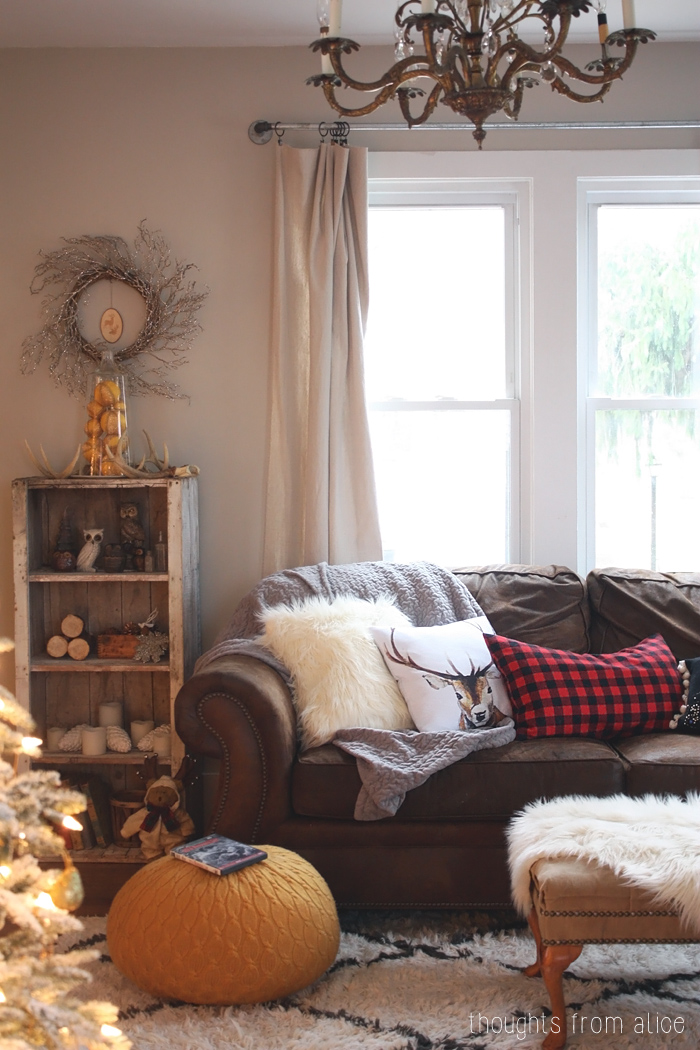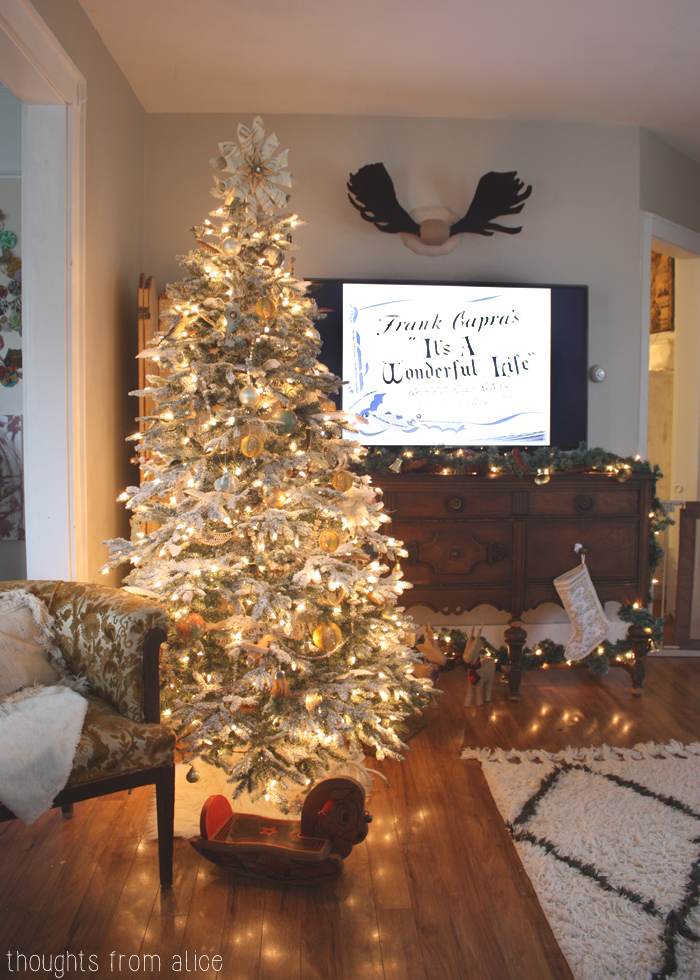 My style is basically an eclectic mix of vintage, rustic and bohemian. My main goal is always to make every space cozy and inviting.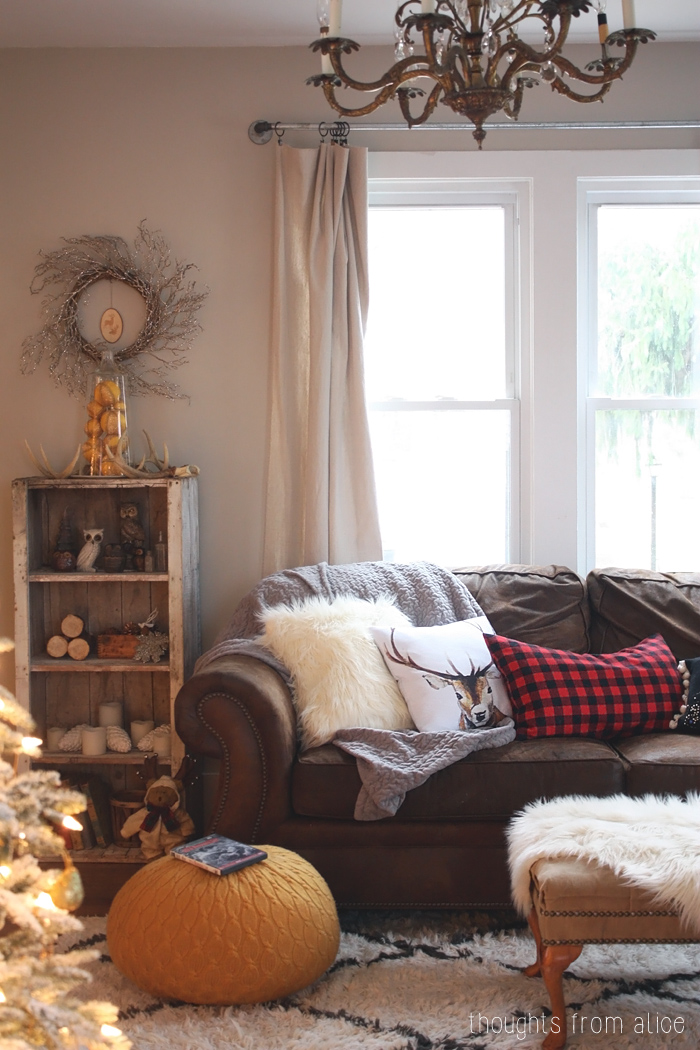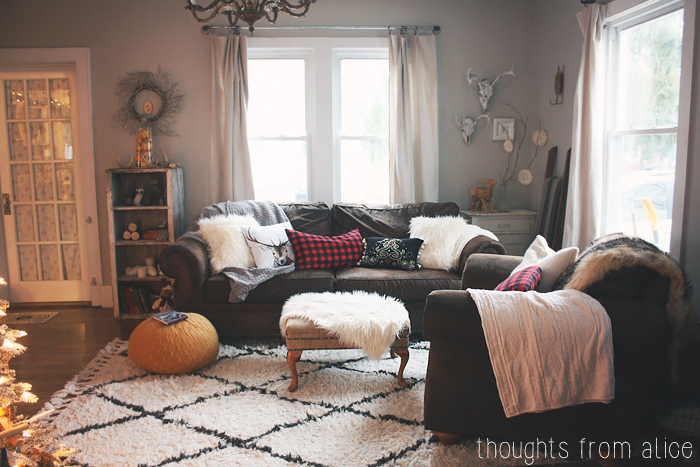 This is our first year with an artificial tree, which came from Balsam Hill. I decorated with a mixture of vintage and new ornaments, fringe and a garland made of vintage necklaces. I also added feathers, birds, and some of my own diy ornaments. You can head over to learn how to make my
rustic twig arrows
and feather snowflakes! They are both pretty simple, and I love how they look on our tree.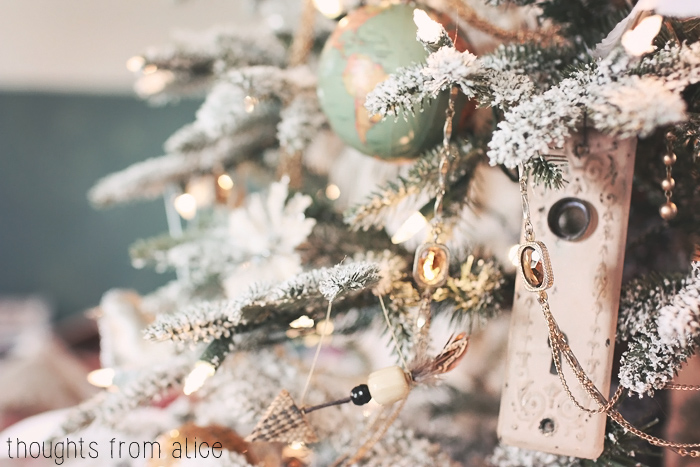 Across from the living room is the playroom. We have a huge school style chalkboard in there, along with an overabundance of toys and vintage decor. I added some festive decorations including some really cute wall decals by Jennifer Rizzo which you can check out in this post.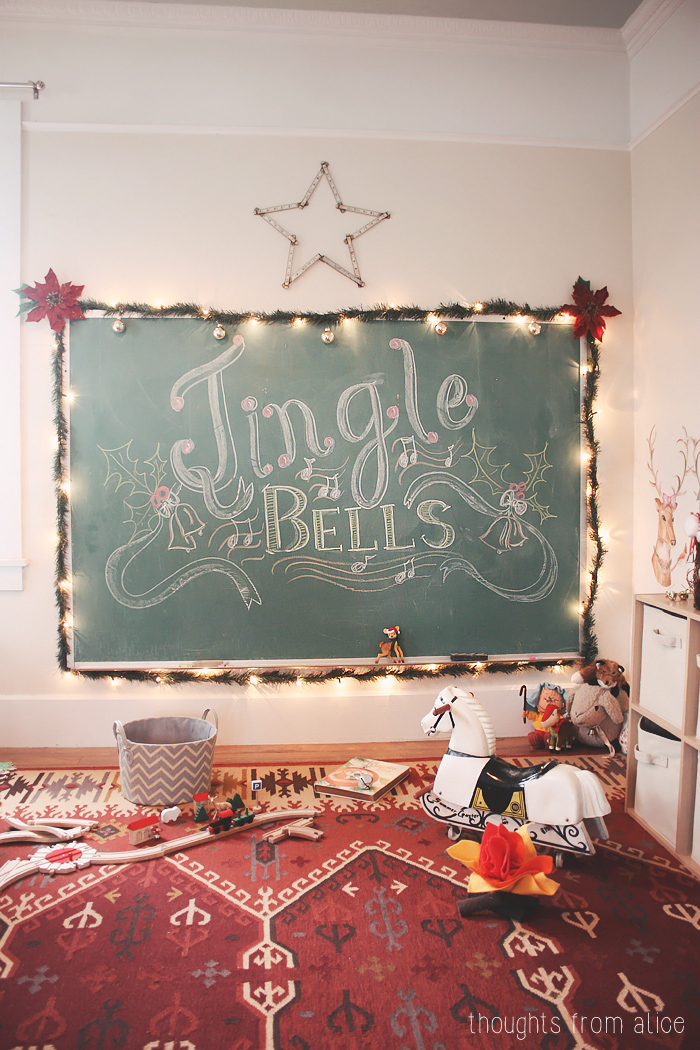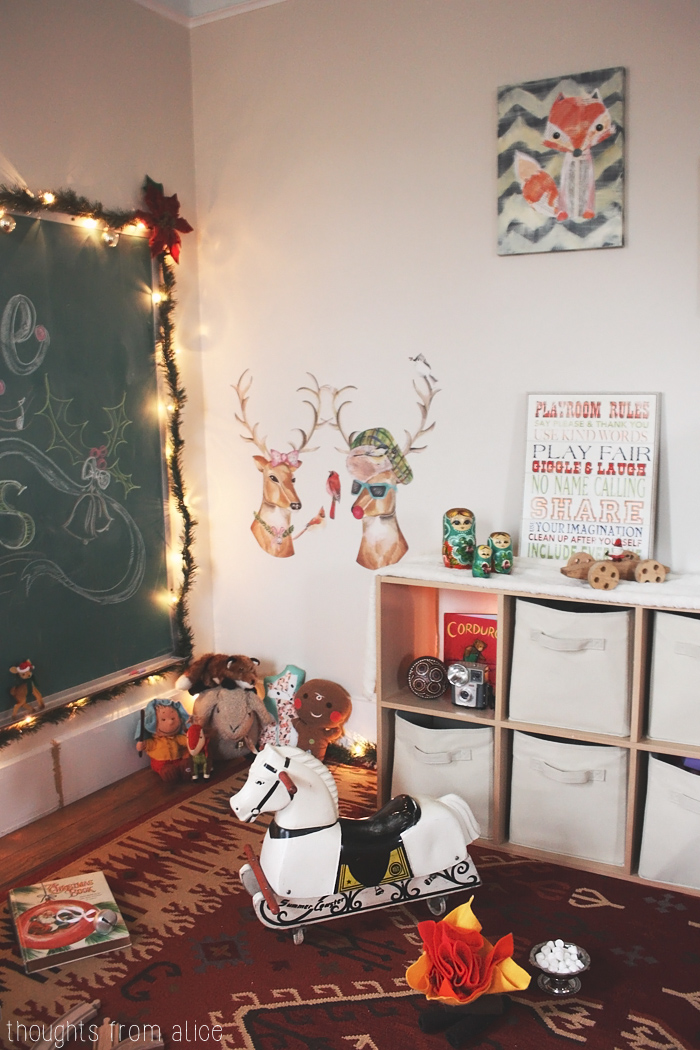 The next room we will head to is the dining room. It is my personal favorite this holiday season. I was going for a "eclectic, boho glam" look.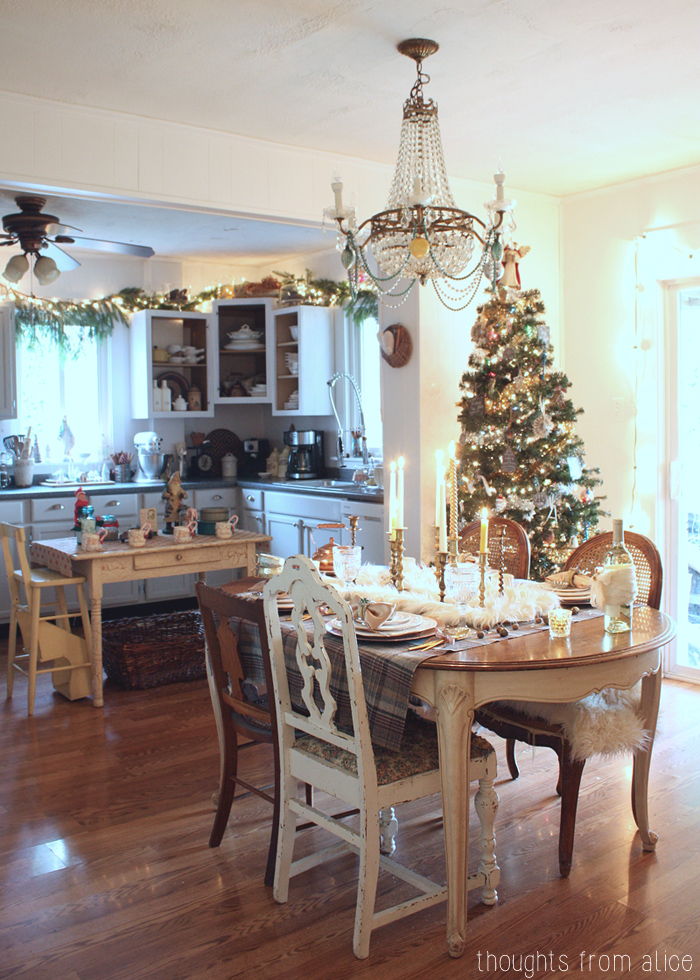 I upcycled some boring napkin rings with vintage brooches. Each one is different, but I love how they all look together. I shared a
guest post
for how to make these recently.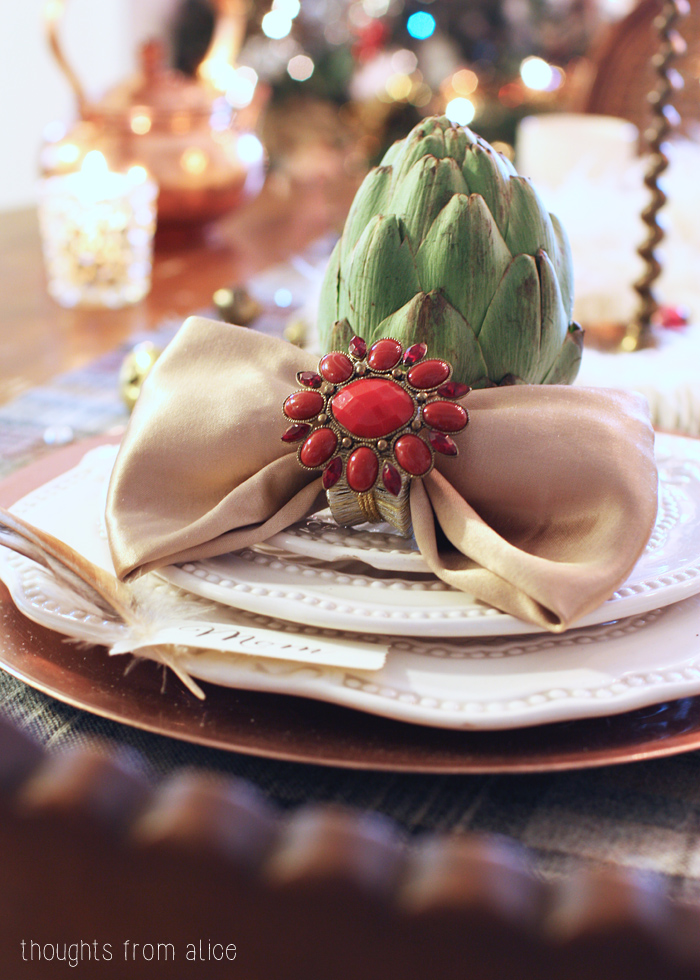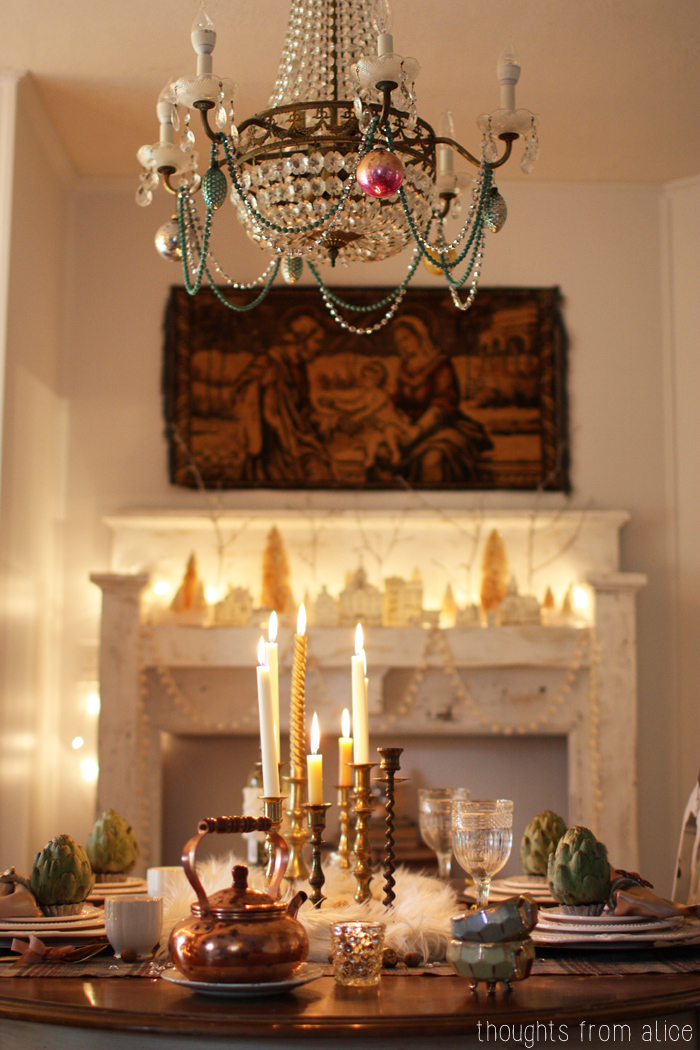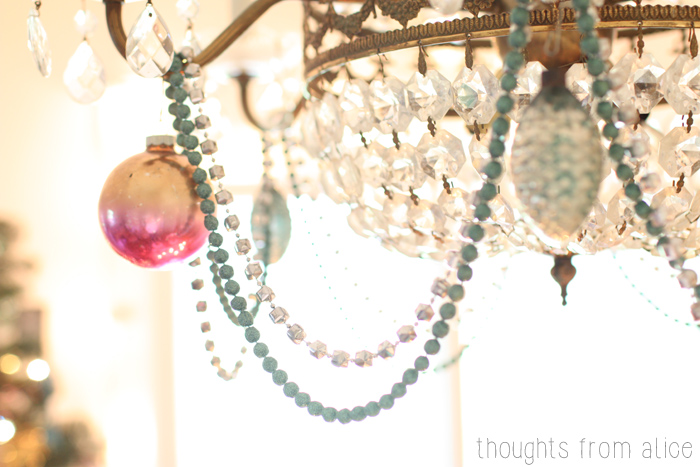 I filled the inside of our mantel with vintage books stacked in the shape of a Christmas tree. I put a star and flameless candle on top and draped it with some pom pom garland.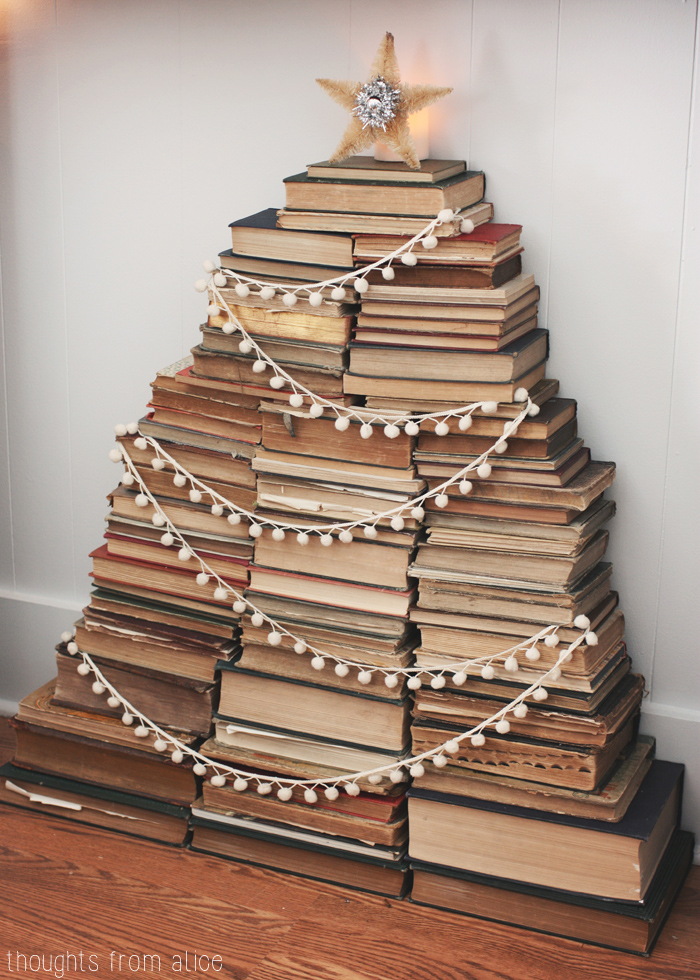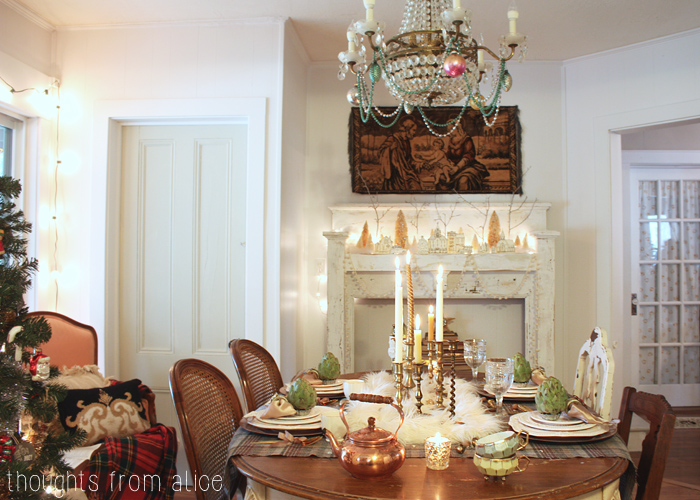 On top of our mantel, I hand drew a Christmas village scene and made it into a free printable download. I shared how I set it up in
this post
, and at the end you can download them yourself!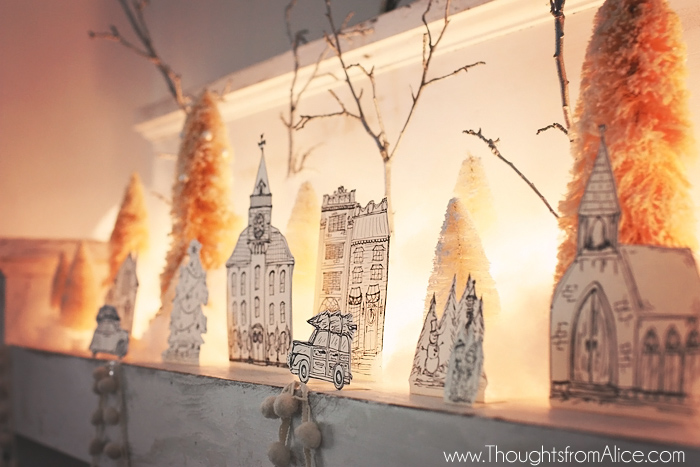 And then finally, we head into the kitchen. Our kitchen is still a work in progress. We have painted the cabinets light gray, but have more renovations in the works, including a tile backsplash, new counter tops and open shelving in the corner. We are working away on those projects as time allows. For now, I decorated it with some rustic and whimsical Christmas touches.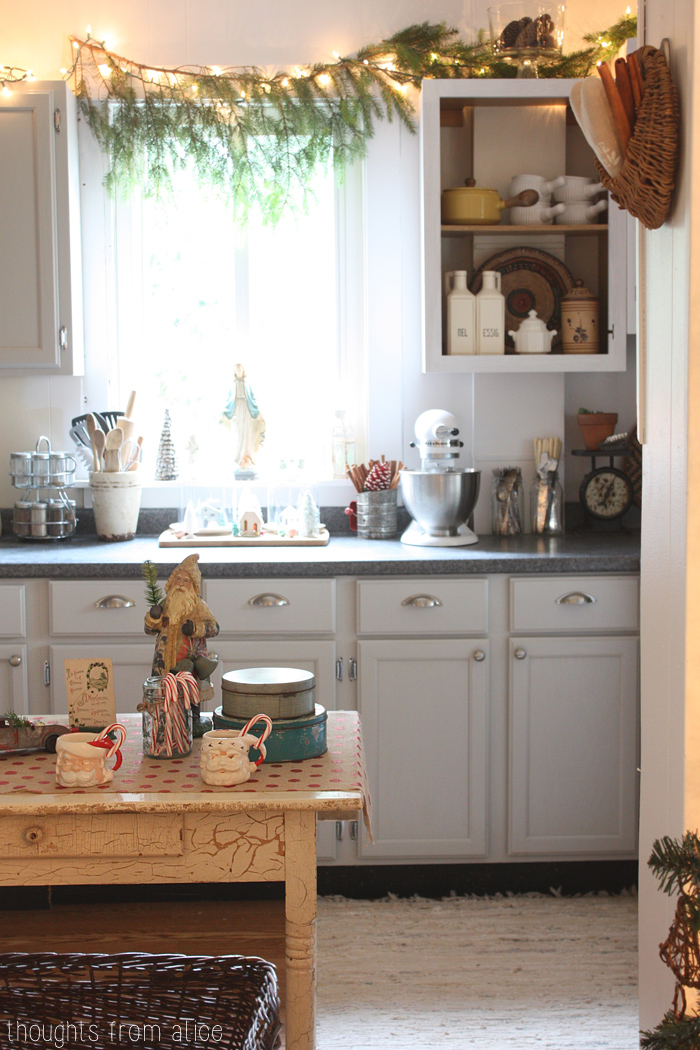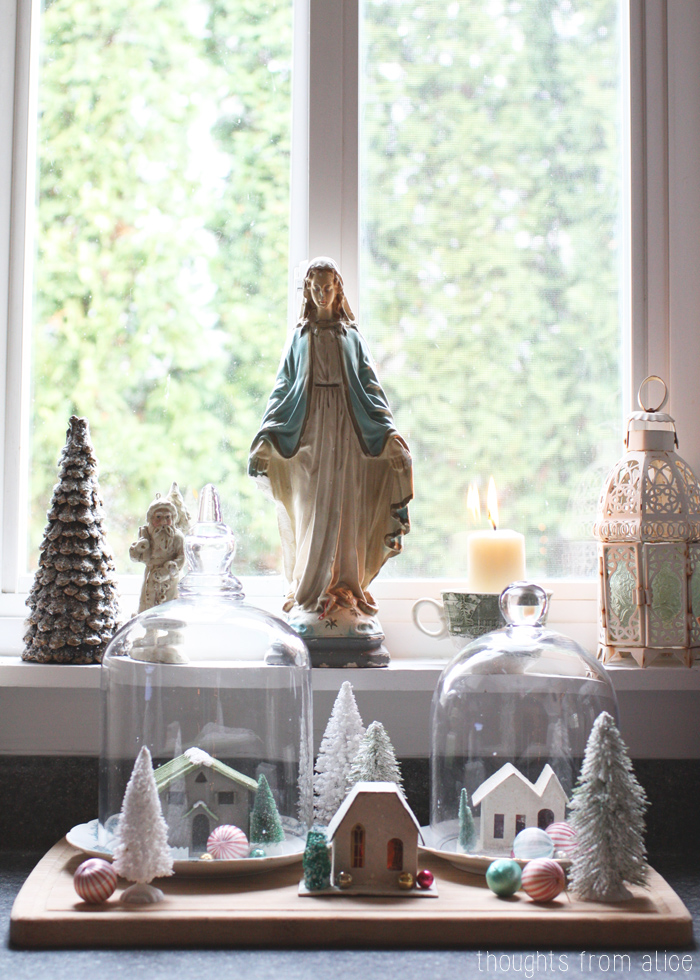 Our faucet is the latest addition to our renovation which you can read more about
here
and see some before pics of the kitchen too!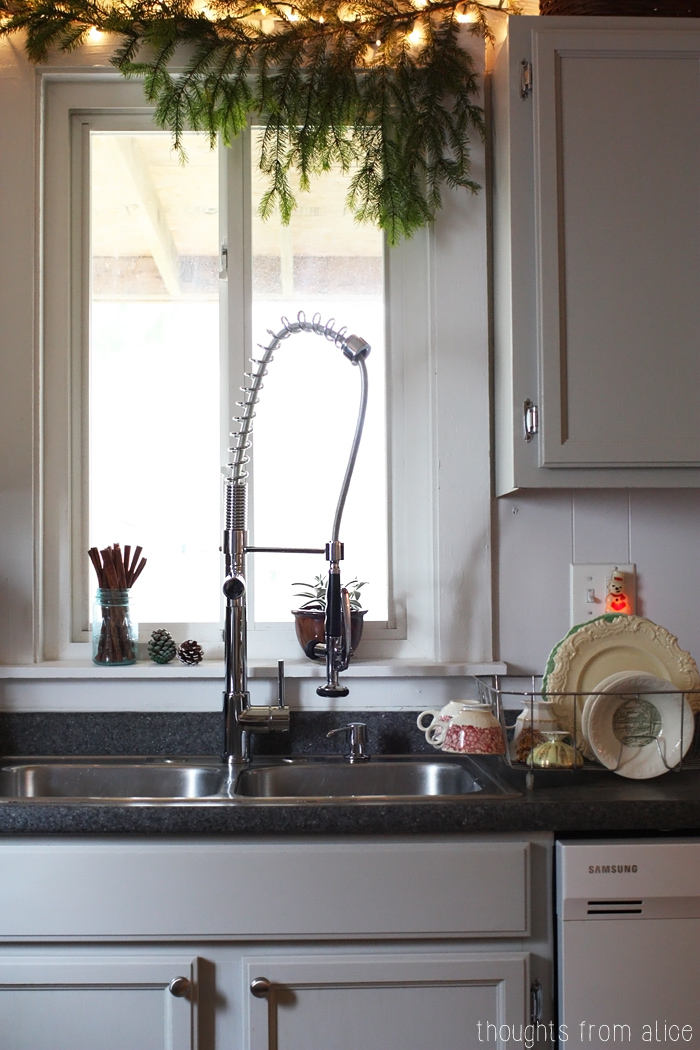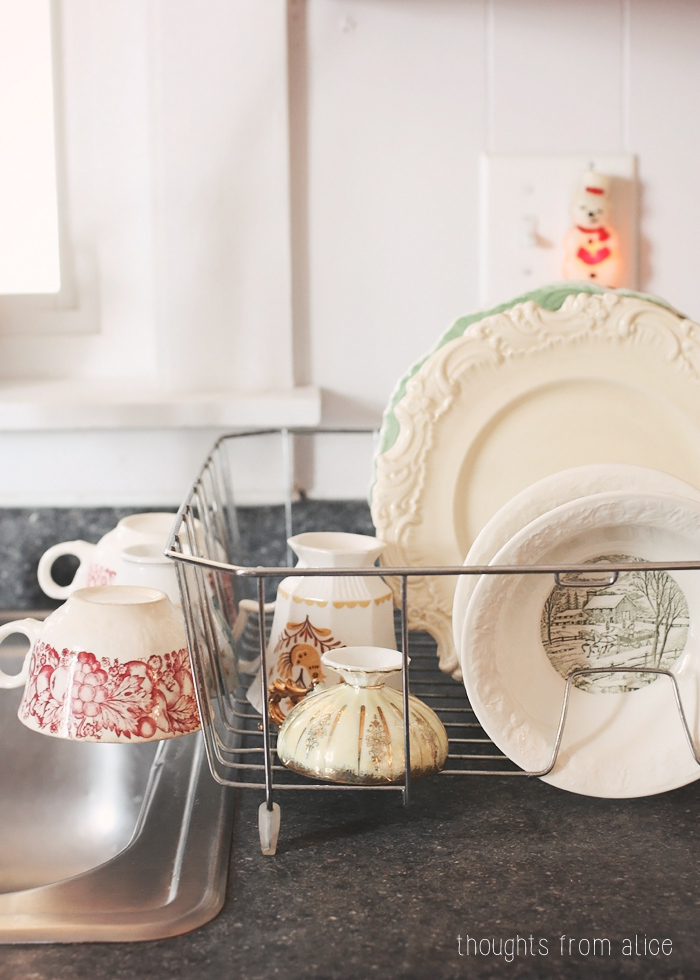 On our kitchen island I set up a hot chocolate station which my kids love (well, my husband and I do too!). We have an elf, "Nelf", staying with us this holiday season. He gets into lots of mischief, but we like having him around.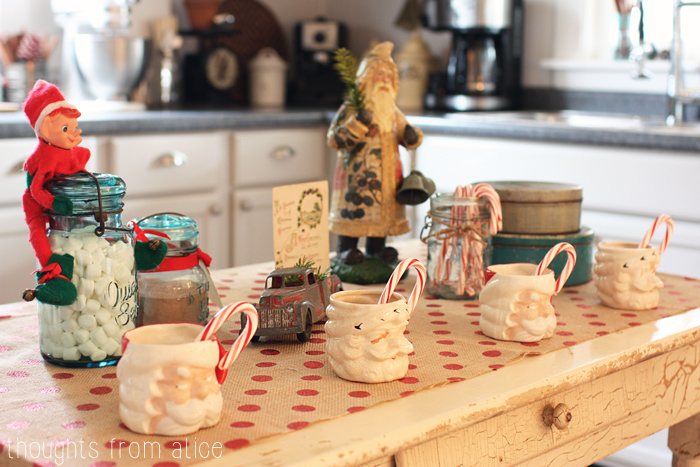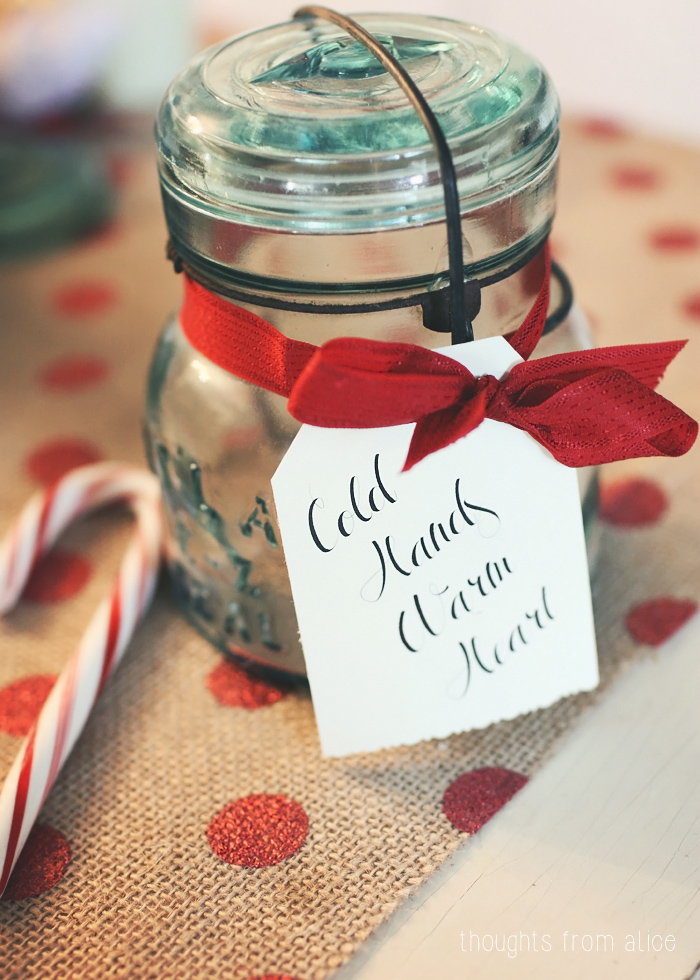 Hope you will follow along with me on social media! I would love to get to know you.
Merry Christmas and Happy New Year!
~Alice W.
---
Thanks SO much to sweet Alice for opening her home to us today! Wasn't it beautiful!? I appreciate your guest post today, and HAPPY BIRTHDAY! If y'all want to see more decorating ideas from all the past holiday home tours, click here. Be sure to check back tomorrow to see the next home on our tour!