Welcome to the back porch! Today I'm showing you guys how to make simple DIY evergreen wreaths AND the most awesome Christmas card you will receive all year.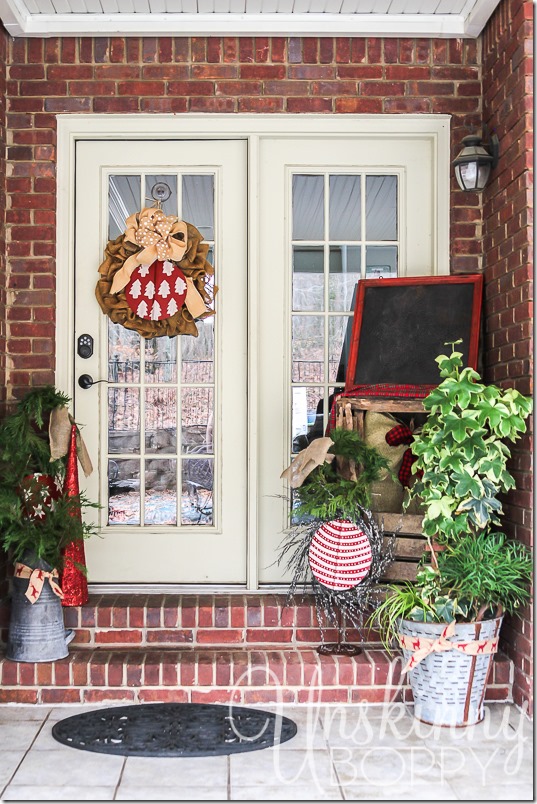 But first let me back up. I spent the better part of the afternoon trying to figure out what the heck you call this thing right here.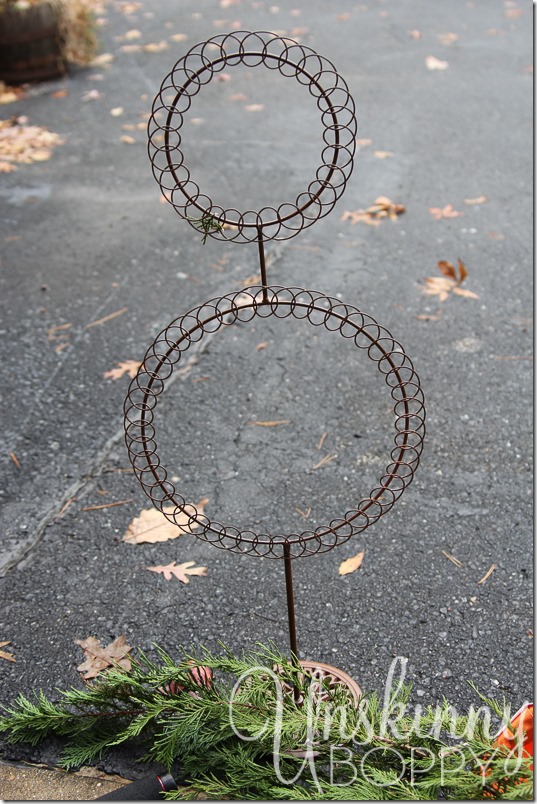 I Googled "wreath form on a stand" and "french wire wreath form" and "loopedy-loo topiary thingie" but never could find anything like it.
I spent all this time searching because I knew the first question you would ask me when I hit publish on this post was "Where did you find those cool wreath forms?" and I would be totally empty handed because I have NO idea where I bought 'em. All I know is that I found a pair of them years ago at some store that may or may not sell Christmas decorations.  But that is not very helpful to you guys, now is it?  Since I couldn't even remember what they were called, I took my question over to facebook to find out what the readers think.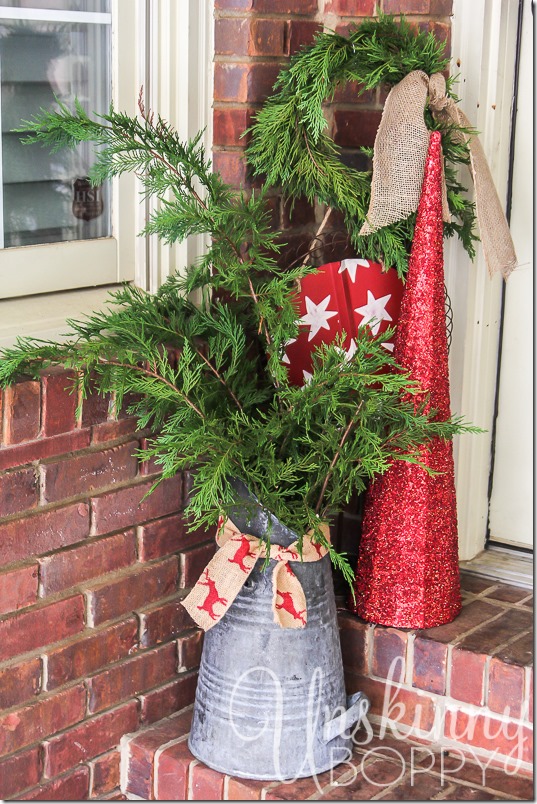 A few of the non-helpful but hilarious facebookers suggested they were "Fire rings for miniature poodles." or "giant double bubble blowing hoops."  Ha.Ha. #youarenohelp
But then it was brought it to my attention that this was not, in fact, a  "topiary wreath making thing-a-mabobber" but actually a Christmas card holder. Well, GLORY BE.  Of course it's a Christmas card holder!  Why didn't I think of that? All this time I've just been thinking of them as the  bottomless snowmen who stand around doing nothing in my Christmas decorations.
But NOT THIS YEAR!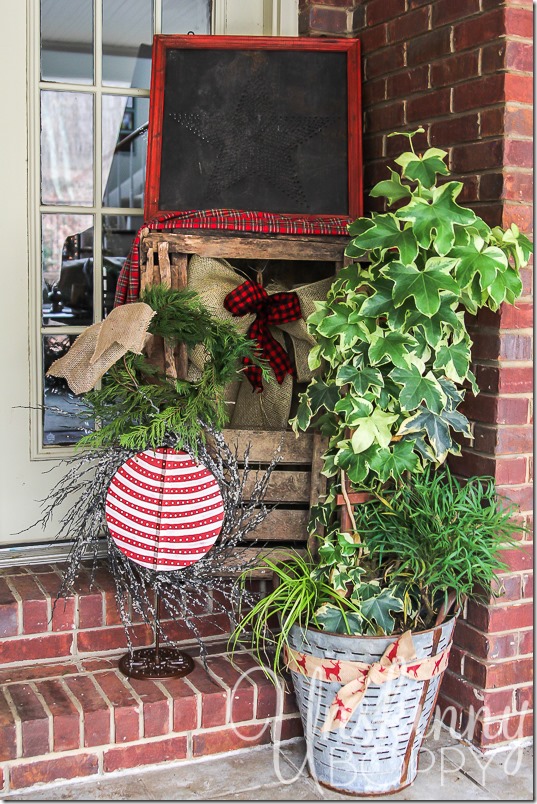 This year I decided to turn them into wreaths with some of the greenery I had leftover from my Christmas decorating.  This turned out to be the most simple fresh wreaths I had ever made (seriously a 10 minute project).  You aren't going to believe how easy this one is, folks.  Watch this video and try not to weep with joy over how crazy-simple this wreath making tutorial is:
Think you could handle that?? OH HECK YES YOU CAN! I think even my dogs could handle these wreaths…
You know what you can also do?  You can totally make your own quick little videos using the free Adobe Voice app.  Y'all, I don't think I have ever fell so hard, so fast for a free iPad app. I might just become the first blogger to write every single post from here on out while sitting on my couch in my pajamas using my iPad. Oh, wait… I bet someone else has already beat me to that gig. But, seriously, this app is awesome! And that pan and zoom effect has WAY more pizzazz than my plain ol' static blog posts, eh?  
I love it so much that I decided to save a bundle on postage this year and create our Christmas cards with it. I enlisted a little help from Garrett to be my narrator on this one. None of my family knows this is coming, so you guys are the first to see our masterpiece. So, here you go, from my family to yours, may I present to you the 2014 Bryan Family Digital Christmas Card!
OH MY GOSH YOU GUYS!!!! Is that not the sweetest little laugh you've ever heard?  I love this kid so very much. He CRACKS me up every.single.day! And now he is totally addicted to making Voice videos of his own. He's already started a Minecraft one using his best Stampycat impersonation voice.
For real though, for those of y'all who live across country (or around the world!) from your loved ones, you NEED this app to share your voice with your family at the holidays! What a tearjerker moment for the grandparents to get that custom message of their sweet grandbabies in the inbox this year? Gah.  I get chills just thinking about it!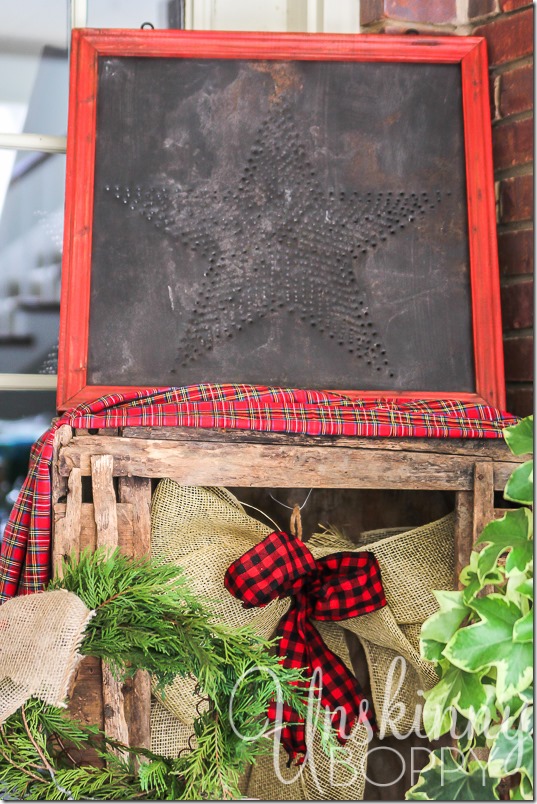 And hey, just think… if all of my peeps were to tweet me a #VoiceitYall Christmas card instead of mailing paper ones I would never have to Google "Squiggly Round Double Stacked Christmas Card Holder whatchamacallit" again.  Seriously, good luck ever finding those things….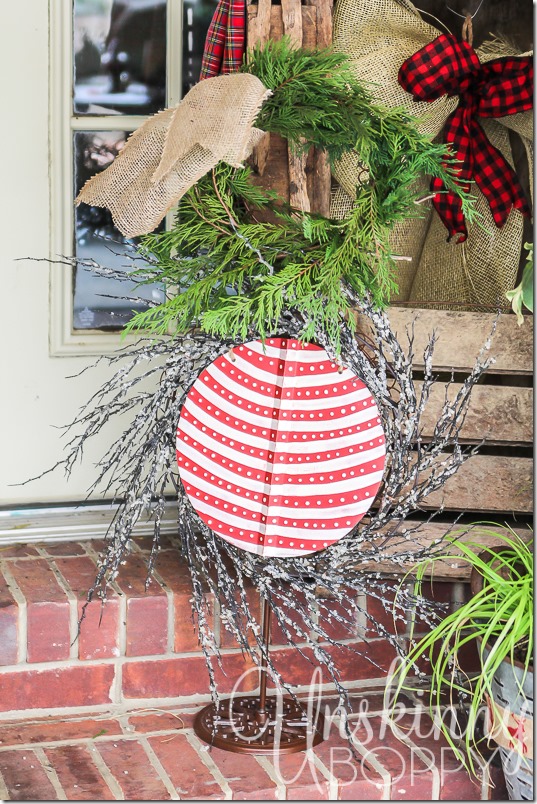 Disclaimer: This post was brought to you by my mad-wreath making skills and the Adobe Voice iPad app. All opinions about miniature poodles and whatchamacallits are my own. #VoiceItYall