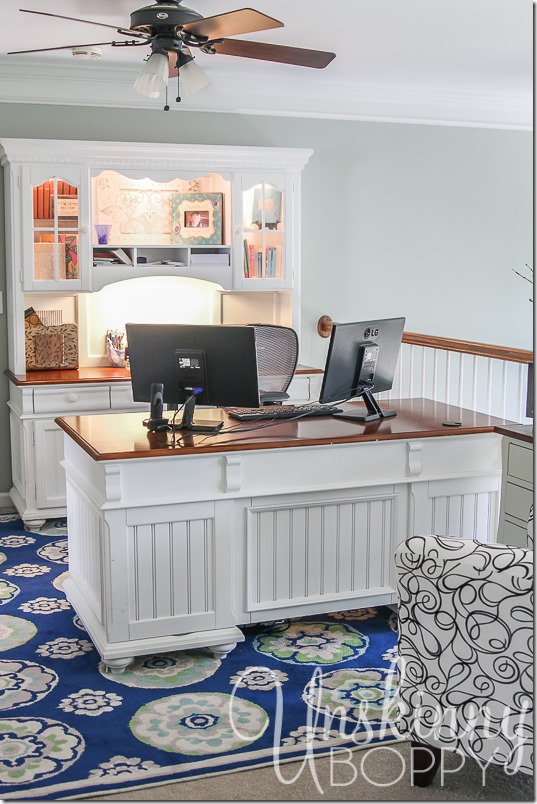 As I kick off the first week of the new year in my new job (aka a blogalicious full-time bloggedy blogger and Young Living essential oil salesman extraordinaire) I'm trying to get my affairs in order so I can think straight and get down to business here at home. All the Christmas decorations have finally come down, and even though my hardwoods are covered in a thin layer of glitter, things are feeling better already around here. What is it about taking down Christmas décor that makes you feel like you can breathe easier in your home?  It's so nice!  How are yours coming?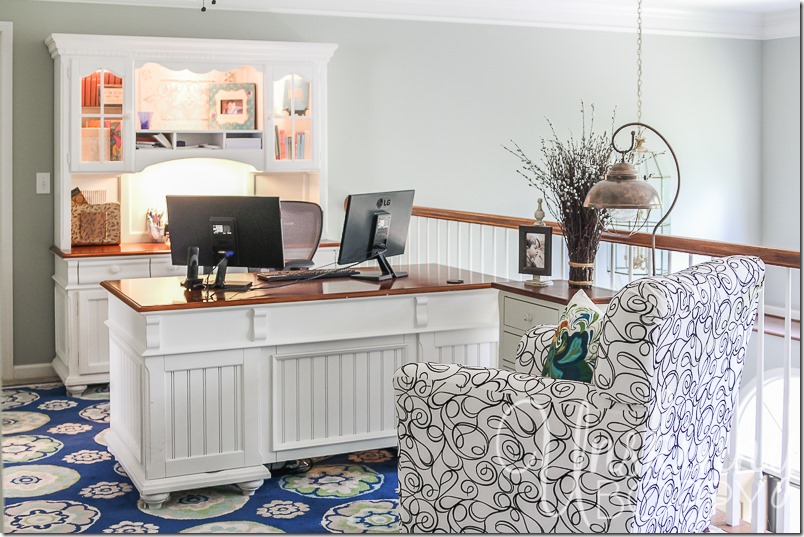 My home office space is up on the balcony where I can stare out the windows across the woods when I'm feeling less than productive.  I love this space so much, because it's filled with light and openness and all the things that make me happy. But, it wasn't always this way.
Here is what it looked like on the day we moved in the house: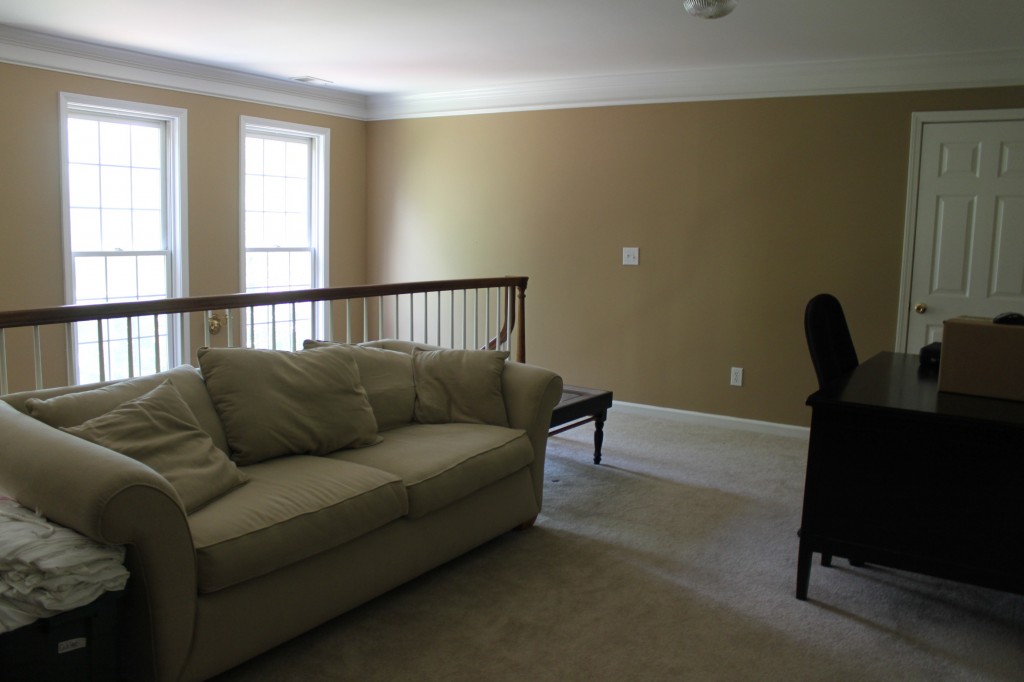 Finally, after five years of furniture re-arranging and wall-painting, the balcony has evolved into this gorgeous space where I sit today.  I could not be happier with it!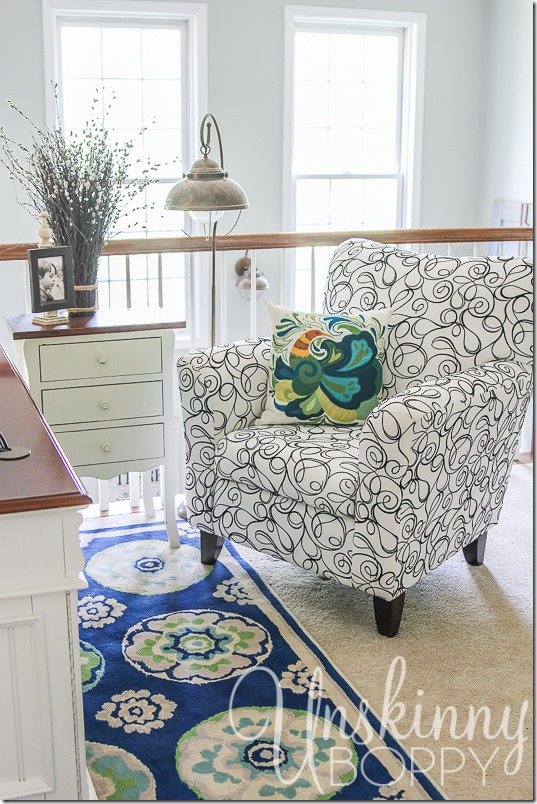 From my desk, I get to stare across the room at my old wooden window wedding shadowbox.  It's a nice, happy reminder of the best day of my life whenever I have to do any filing of boring things like bills and taxes…  I've also got old family photos scattered around, including one of my very favorites of my Pop who worked at the wire mill in Birmingham for many years feeding wire into a machine.  That picture was taken for the newspaper back in the 60's or 70's and my uncle made a bunch of copies of it for the family. I love it so much.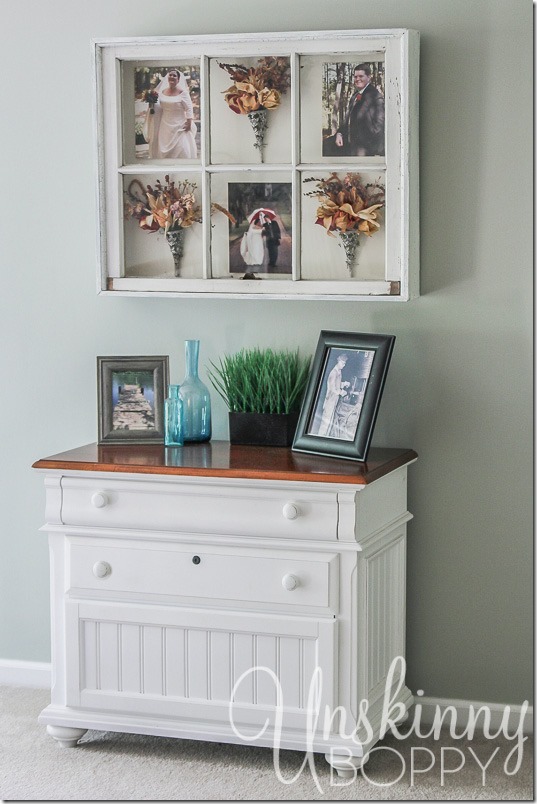 Over on the side wall is the pair of bookcases my husband finished for me many years ago.  We bought these at an unfinished furniture store and painted them for my old home office at the previous house.  They are still looking good after all these years, filled with lots of photo albums from the days of my youth when facebook didn't exist.  Or Shutterfly. Or the internet.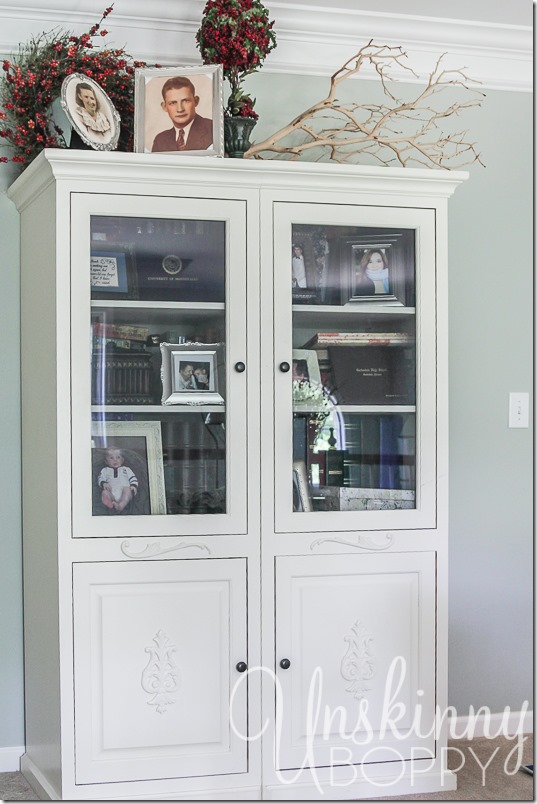 One of my favorite things in this space is the copper pendant lamp next to the end table.  It came from Cabelas, believe it or not.  I'll link it up down in the source list at the bottom.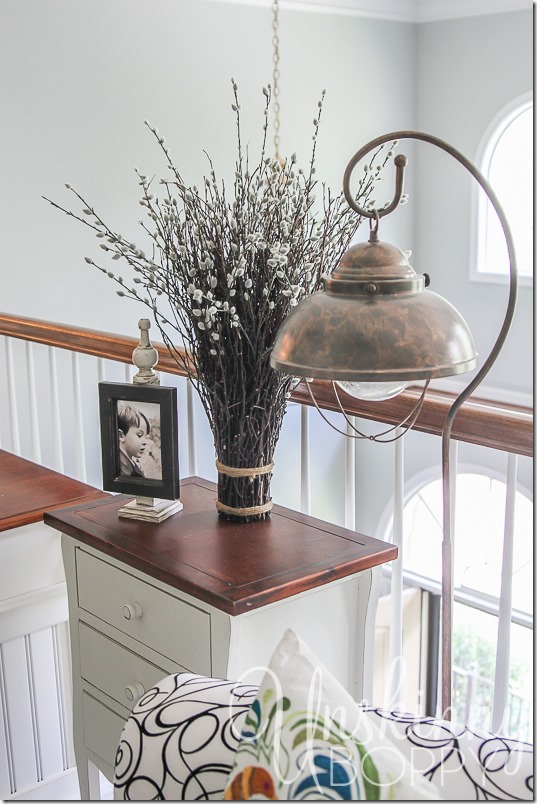 One of my other favorite things in this room?  The "write drunk edit sober" hemingway quote I got from my friend Jeanne at Junxtaposition.  It makes me smile even when I'm not drunk.  And these days, that's pretty often. I've also got my journal collection dating back to 2001, so I can look back on my life all the way back to the single days.  Except for 2008, aka the year I lost my damn mind dealing with a newborn with colic. I just gave up on handwritten life documentation at that point.  But I made it back by 2009 and have been doing ok ever since.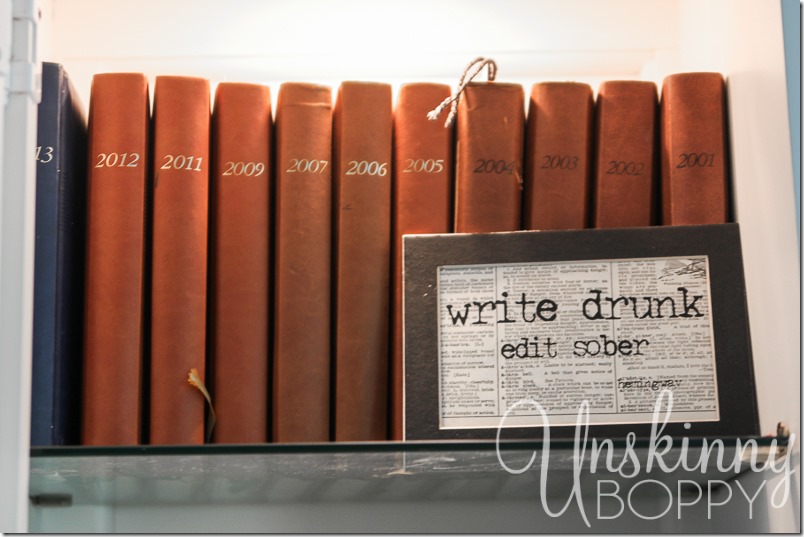 If you're wondering why I'm all fancy with two monitors, it's because I used AutoCAD in my former life, and the two screens helped with CAD work tremendously. I've been set up to work from home for quite a while, so this space is a carryover from my other job.  I'm so thankful to have a "real" office space in my home to be productive and get stuff done.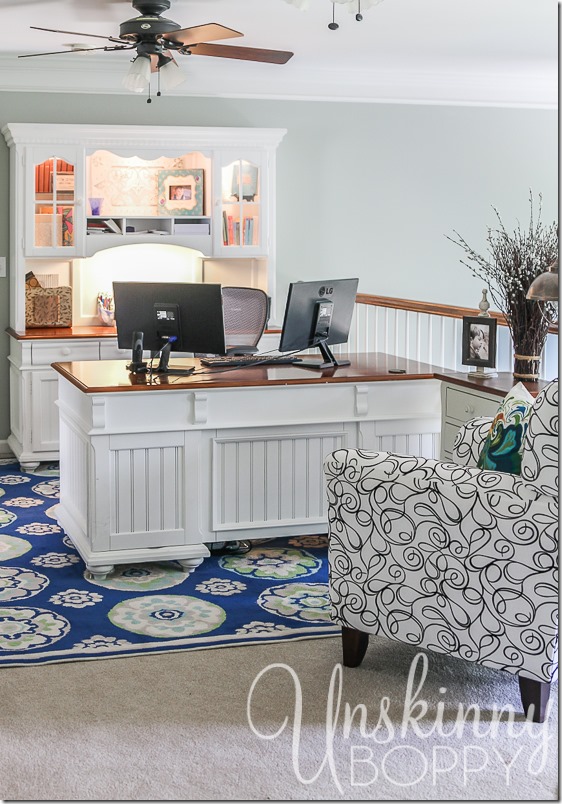 So, there you go!  A little tour of my home office, so you can envision where I sit as I type up all these silly sober blog posts for you guys.  I might even edit this one before I hit publish.
Maybe.
Source List since I know you'll ask:
Home Office Furniture is from Haverty's circa 2009 (sorry it's not available anymore, I looked)
Black and White swirly chair came from Stacks Furniture a few years back. (ditto the Haverty's stuff)
Rug is the Mohawk Panorama Collection that didn't last long in my dirty doggie backyard.
Lamp: Cabelas Grand River Lodge Floor lamp (<–my affiliate link)
Journals are from Ogle Publishing
Hemingway print: Junxtaposition Store