Over the next few weeks as we bust our humps packing up this house and preparing to move, I wanted to give y'all some glimpses into the new house so you can help me dream and plan for future DIY projects.  Pinterest is, of course, my main source of inspiration these days, so I've been pinning ideas way more lately than normal. If you want to follow my pins to see where my thought process is going, feel free to join me over there and give opinions.
So, welcome!  Here is the living room in the new house with the owner's stuff in it.  I snapped these quickly when we were touring the house, so there are many better angles to come in the future.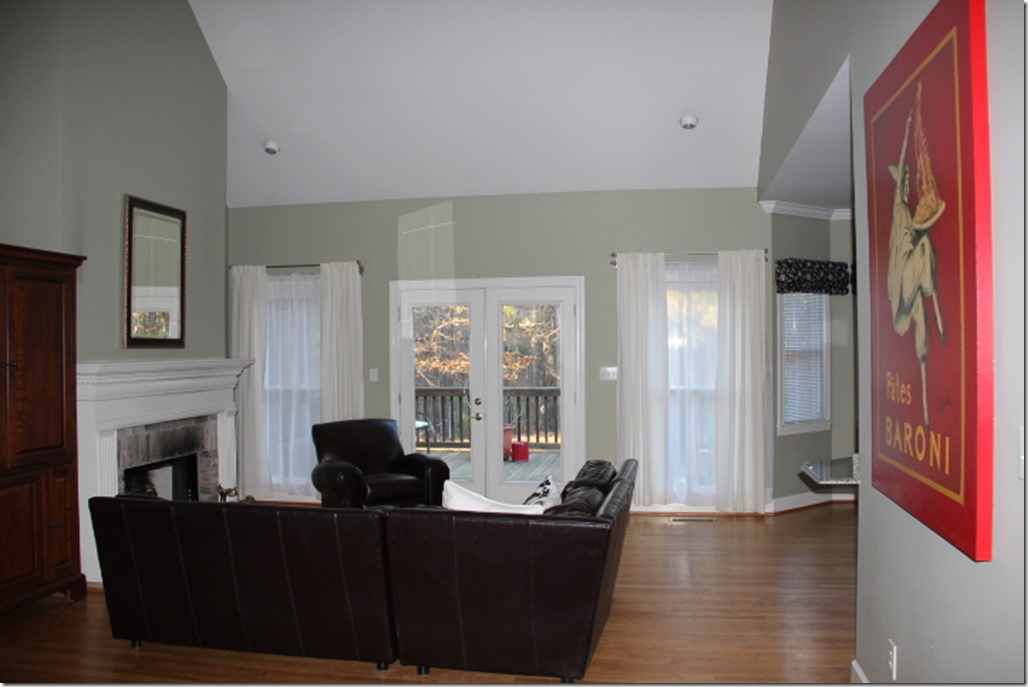 One of the things I'm most excited to makeover is this tall fireplace that goes all the way up to the vaulted ceilings!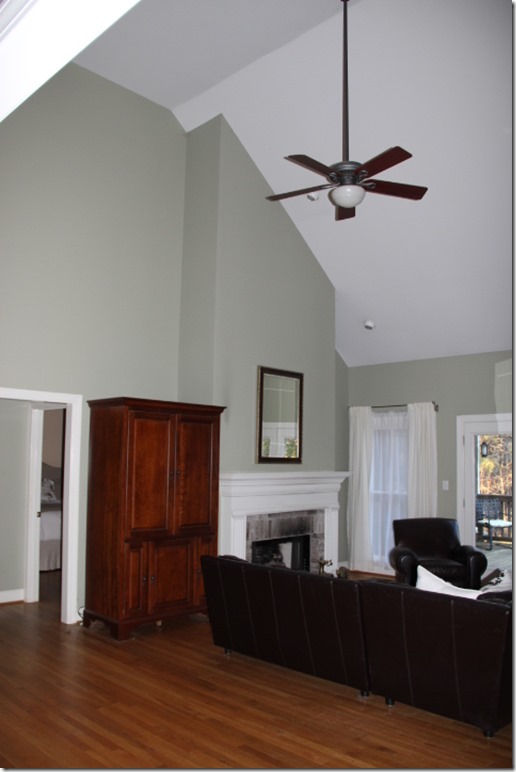 Now, I've said for many years that my all time favorite fireplace in all of Bloglandia is this one right here: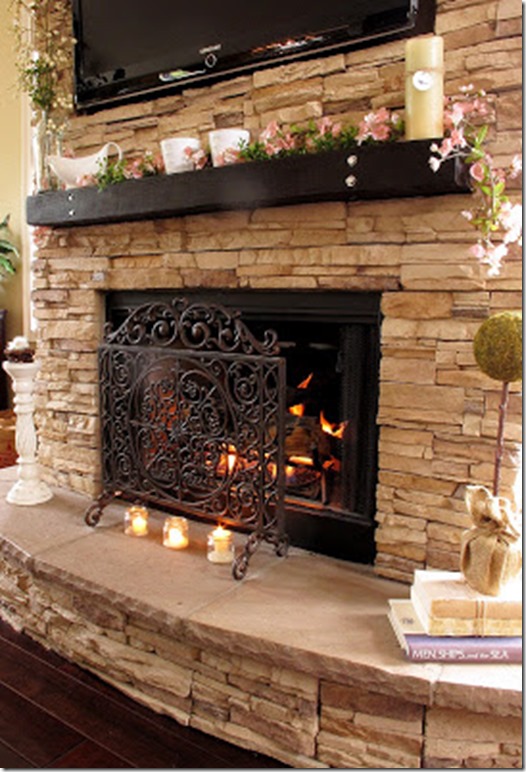 This stacked rock fireplace o' perfections belongs to Kristin at My Uncommon Slice of Suburbia.  Since I've coveted this fireplace for so many years, I figure it's high time to make plans for a rock fireplace of my own in the new house.
I'm also big ol' sucker for a rustic rock fireplace all the way up to a vaulted ceiling which I should be able to finally pull off in this house…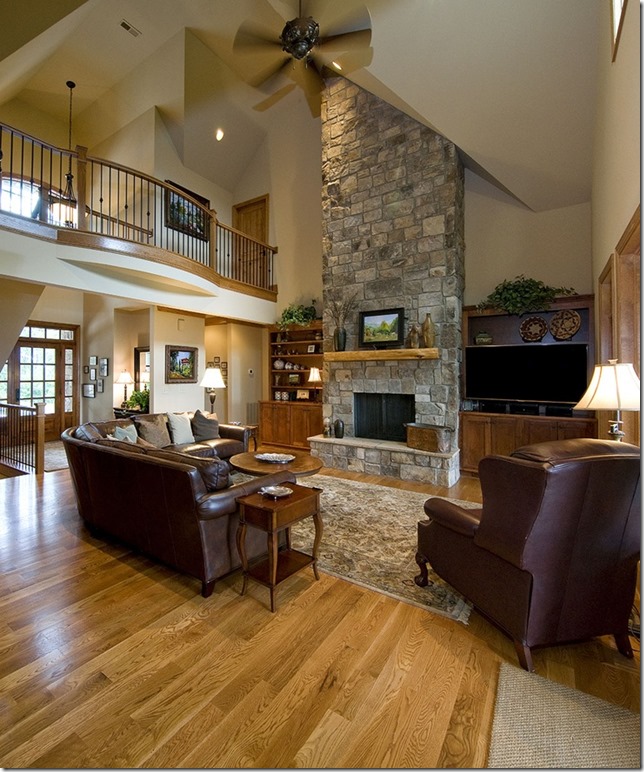 (Source)
My most favorite HGTV Dream Home in Lake Lure, NC featured a rock fireplace/ vaulted ceiling combo that I've drooled over for years. This is one of those photos that Pinterest has to alert me over and over that I've already repinned it to multiple boards because I just love it so much. Hey, I can't help it if I want to pin it to every board repeatedly, Pinterest police.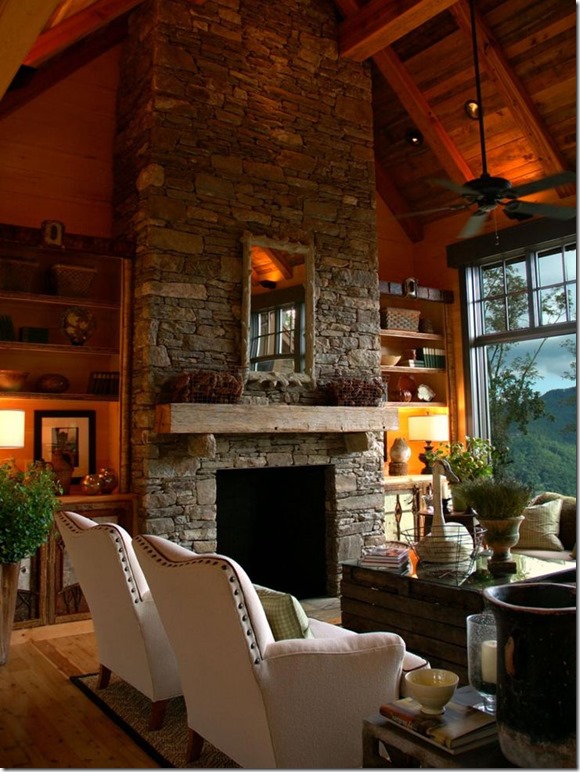 And then there's the question of what to do with the walls behind and beside the fireplace, which brings me to this inspiration photo.  The charm of those built-in bookcases combined with the rock?
I drool.
I swoon.
I think I need this in my life.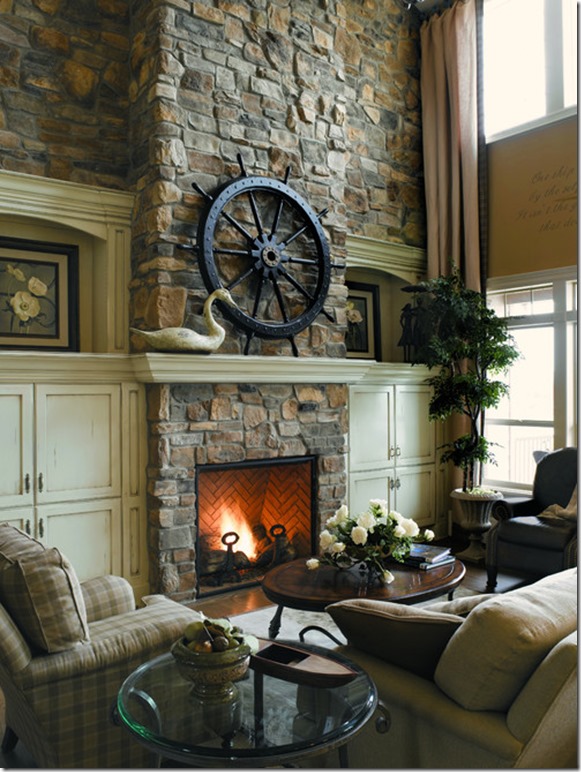 I would do a lighter paint colors than those, but will that rock eventually get too heavy?  Too dark? Too dated?  I don't know.
Then, a crisper, cleaner part of my brain starts jumping up and down to alert me to all the gorgeous white fireplaces out there today.  I'm so  drawn to something clean and simple like this fireplace with shiplap above and crown molding…
Or this!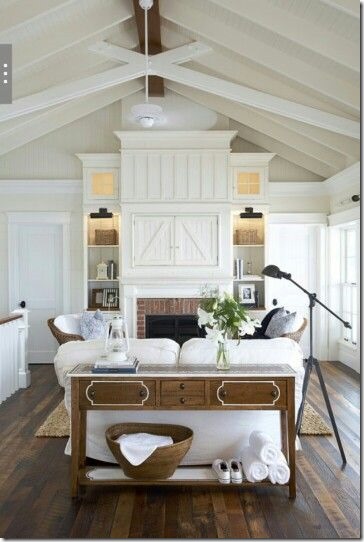 Oh man.  So many inspiration photos, so little time and money to make them all a reality.
So, what would you do?  Rustic and rocky or clean and crispy?
It is going to be a tough decision, but it's one that keeps me up at night when I wake up to go to the potty and can't go back to sleep for all the planning, dreaming and scheming about the new house that is floating around my head.  And that's pretty often with this pregnant belly getting bigger by the day.