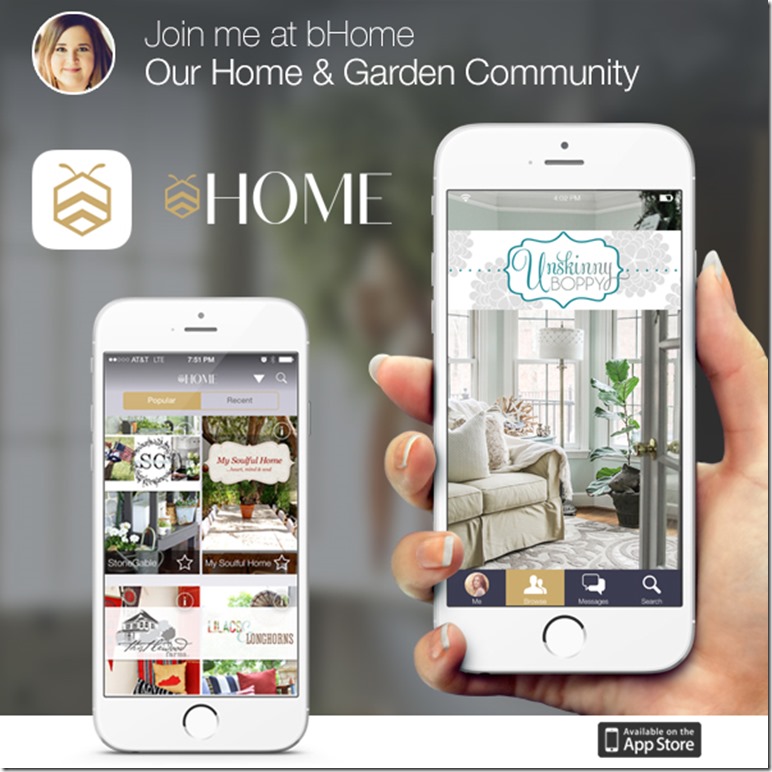 Today I have a HUGE announcement that I'm so excited to finally share with y'all!
bHome is a new Home and Garden app on the market featuring all of your favorite magazines and DIY bloggers.  It's available on iPhone and iPad, (coming soon to Android!).  If you love getting inspired by gorgeous photography and design ideas, this is the app for you.  There are almost 40 incredible design bloggers and magazines for you to follow, including some of my daily reads and blog friends like The Lettered Cottage, Funky Junk Interiors, At the Picket Fence, Craftberry Bush, Jen Rizzo, Thistlewood Farms, Southern Hospitality, Eclectically Vintage, Inspired by Charm, Miss Mustard Seed, Stone Gable, hgtv, Country Living, Better Homes and Gardens, and SO. MANY. MORE.  Sooooooooooooo many more.
You instantly get the social media and blog content of forty content creators in the DIY/ Design field at your fingertips, with that number growing by the minute. And the best part?  It's totally FREE!  Kelly from My Soulful Home developed the app along with her husband, and it could not be any better.  They knocked it right out of the park with this one.
Y'all. The creativity juice is through the roof with this app.  And warning?  It's extremely addictive.
So here is a quick explanation of how it works: Find your favorites, give them a "star", then sit back and get all of their latest blog content, social media updates (including Pinterest pins!) right inside one scrolling stream. Interact with them using the chat feature.  Ask questions and get all up in their business if you want.  I love it because I can quickly scan for things I want to repin, then I can repin it from right inside the app just by tapping the "share" button! How handy is that?  Be sure to check out this great video tutorial created by Donna at Funky Junk Interiors to see how it works.
I have no doubt that when I am camped out on the couch at all hours of the day and night nursing a newborn this app is going to be my BFF. I love that it's completely mobile and I can just scroll through easily.
Today, I am SO honored and excited to say that I have joined the bHome community as one of the featured artists that you can read and follow at bHome!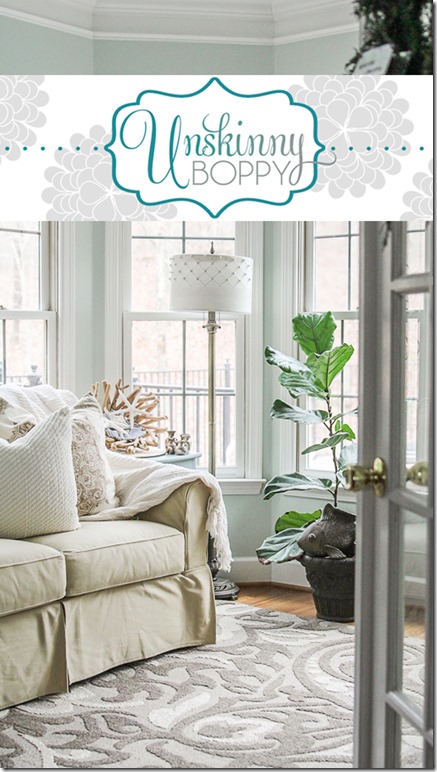 You have GOT to go check this app out ASAP.  Please head over and download the app and say hello!  I cannot wait to see you there so we can drool over all the pretty pictures together.
Download the app right here: