Today I'm sharing my planned c-section birth story, before all the details get lost in a fog of sleepless newborn nights.
Baby Caroline arrived as scheduled on Monday, August 10, 2015 at 7:20 am. She was eight pounds, five ounces of total perfection, with my head full of dark brown hair and her daddy's eyes and mouth.  My c-section went as smoothly as possible, but still I'm feeling the pain of it over a week later.  This recovery has been harder than my last one with Garrett, but I'm slowly getting better day by day. This girl right here makes it all worth it…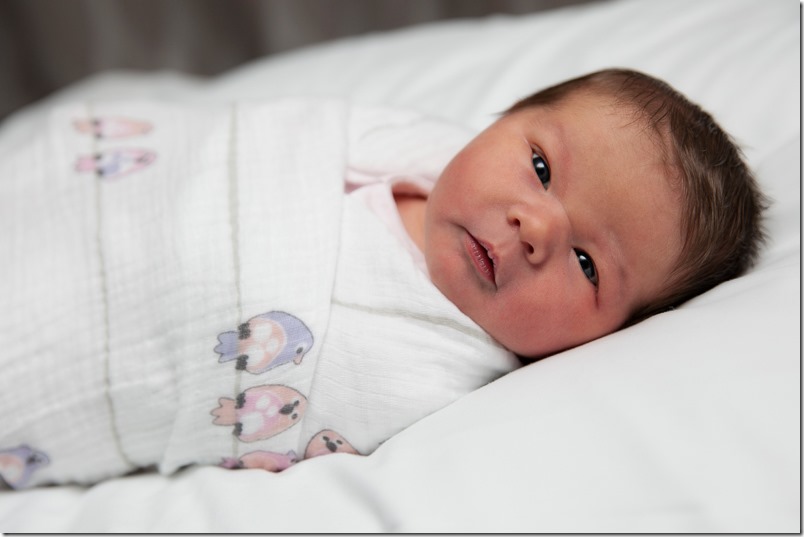 I mean really…  1,000,000% WORTH IT.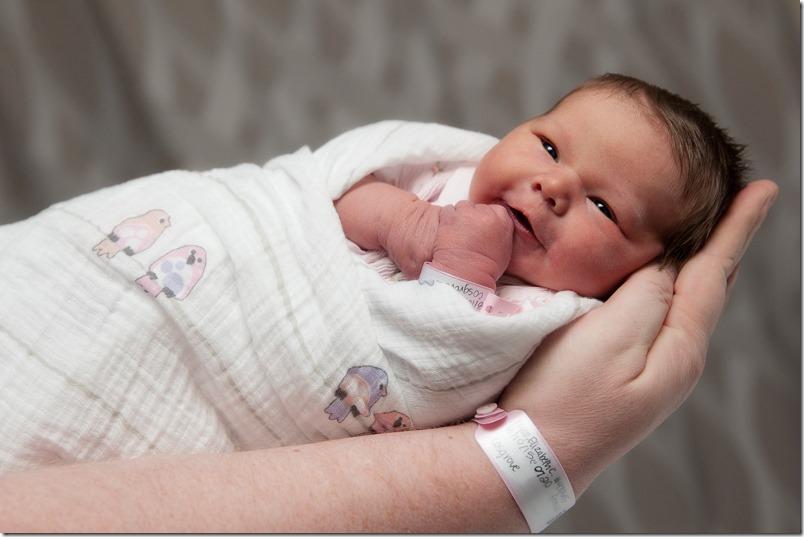 We walked into an empty labor and delivery room at 5:00 am last Monday morning, the first people to arrive to begin the week.  I felt a strong mixture of both excitement and fear, since I had already had a c-section with my son seven years ago.  As a second timer I couldn't decide if it was better to know what to expect during the surgery or not. Sometimes ignorance is bliss when it comes to surgical procedures but it's also nice to have an idea of what's to come so you're not blindsided by things when they happen.
Now I'm sure this will sound shameless to all of you mothers who went through hours of painful contractions before getting any drugs (and I cannot even imagine how it sounds to anyone who went completely drug-free. Let me just go ahead and apologize up front for all the eye rolls you're about to give me…) but the worst part of the whole day for me was getting the epidural inserted in my back.  The IV also sucked, a lot, since my tiny veins were buried beneath my swollen carpal tunnel wrists.  But getting that epidural into my spine without being in that halfway-dilated-and-begging-for-drugs mode was no bueno.  They made my husband leave the room while I sat on the edge of the bed and hugged a nurse with my giant belly between us.  The anesthesiologist poked and prodded my spine and I jumped every time he touched me. To help loosen me up, they gave me a shot of Nubain, which was both awesome and terrible. Seven years ago I got a Nubain shot when I had Garrett, and the first words out of my mouth when the drugs took effect resulted in the entire room full of people coming to a screeching halt and staring at me in wide-eyed disbelief. For my children's sake I'm too ashamed to ever publicly admit what I said that day, but it's something that my husband still jokes about nearly 8 years later. I will NEVER live that one down.
But for real, that Nubain is no joke, y'all.
At least I knew what to expect this time. It left me feeling completely relaxed (a good thing) but completely out of control of my body and the words coming out of my mouth (not such a good thing). The effects of the shot were immediate—a tingling euphoria that engulfed me from head to toe and left me struggling to make my speech match up to the thoughts that were zinging around my brain. I resorted to just closing my eyes, practicing my deep breathing and staying silent for fear of saying something terribly condemning again.
Then the epidural kicked in and with it came the uncontrollable shivering and shaking that I experienced last time. The numbness creeping up my legs was unnerving, but I kept telling myself that being totally numb was preferable to the alternative when facing a major abdominal surgery and tried to ignore the panicky feeling of being instantly paralyzed from the boobs down.  I spent the rest of the time in the pre-op room taking deep breaths, trying not to say something completely inappropriate and physically holding onto my jaw in an attempt to stop my teeth from chattering non-stop.  All the while, my husband sat at my bedside reading me all these text messages from my dad that made me cry like a baby until I finally told him to stop because I needed to find some composure before I got wheeled into surgery.
In other words, I was a high-as-a-kite hot mess.
Finally they wheeled me back to the OR and left my husband alone to take selfies in his blue hospital scrubs and wait until they called him back to be with me.  Once I was in the OR I realized that I was being treated by a team of all women, and they were all 1,000% awesome.  They took excellent care of me and spoke to me as if I were an actual person and not just a body on the table.  My last c-section was performed by two male doctors who discussed their upcoming golfing vacations over me while I lay there chattering uncontrollably.  This time my new female doctor actually spoke to me through the sheet and told me what she was doing every step of the way.  Well, not EVERYthing she was doing but at least the important parts. She and the Anesthesiologist asked me questions which got me to out of my Nubain induced haze and forced my brain to think about how to form an intelligent answer. Thinking was a good distraction from all the shivering and panic. I also asked for warm blankets which did calm me down and help the shaking subside a little bit.
During my pregnancy I had talked to my doctor about all my grand birth plans like skin-to-skin on the operating table and nursing the baby as soon as possible. She assured me they would try their best to make my c-section birth as similar to a vaginal birth as they could.  But as I lay there on the operating table, quaking and shaking under my semi-warm blankets, all those plans went right out the window.  I just wanted it all to be over with as quickly as possible. They brought my husband into the room and within minutes Caroline was being held up over the sheet for us to see her beautiful face for the first time.  She screamed and I cried, and my husband snapped a bunch of pictures.  They took her to be weighed and measured, and I got to watch all of that on a tv screen over my head so I didn't miss anything. Then they came back and laid her skin-to-skin on my chest, while she screamed her little head off and I cried some more. Here is the obligatory new family photo: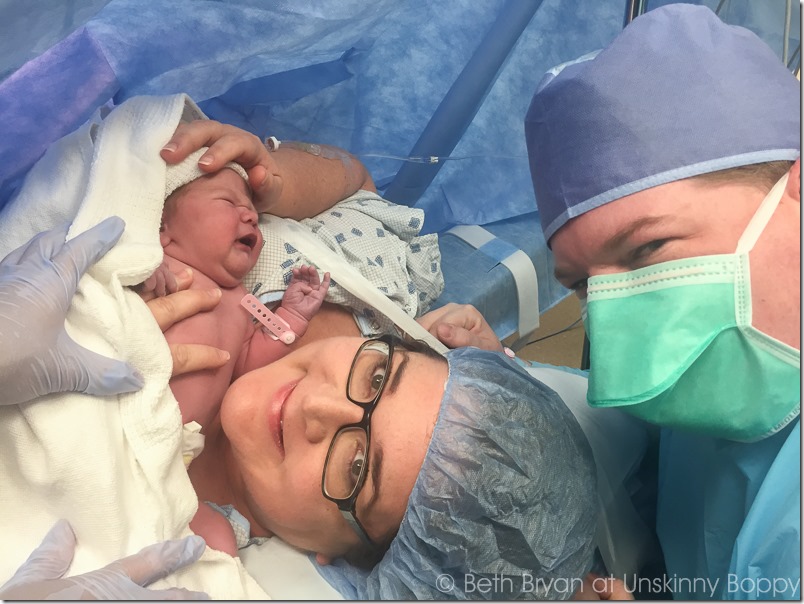 After that, they took her out to the recovery room along with my husband to get her Vitamin K shot and eye goop while I stayed behind for a few more minutes to be stitched up and moved onto a gurney.  Thankfully my doctor wasted no time getting me back to be with her, so I was only away from her for a few minutes.  I got into the recovery room and tried more skin-to-skin, but she continued to scream about it. Finally after listening to her yell until she was hoarse I looked at my husband and said, "Swaddle this baby up and hold her on your chest!"  So the nurses swaddled her and he held her tight, and BOOM.  She was instantly calm.  And in that moment I knew that she was going to be Daddy's little girl forever.  Watching the two of them sitting there happily staring at each other made me forget all about trying to nurse her, and even after I remembered she wasn't ready to try anyway.  So, like I said, all my grand birth plan ideas went right out the window.  But, none of that mattered anymore because Caroline had finally arrived, and she was completely healthy and happy snuggled up on her Daddy's chest.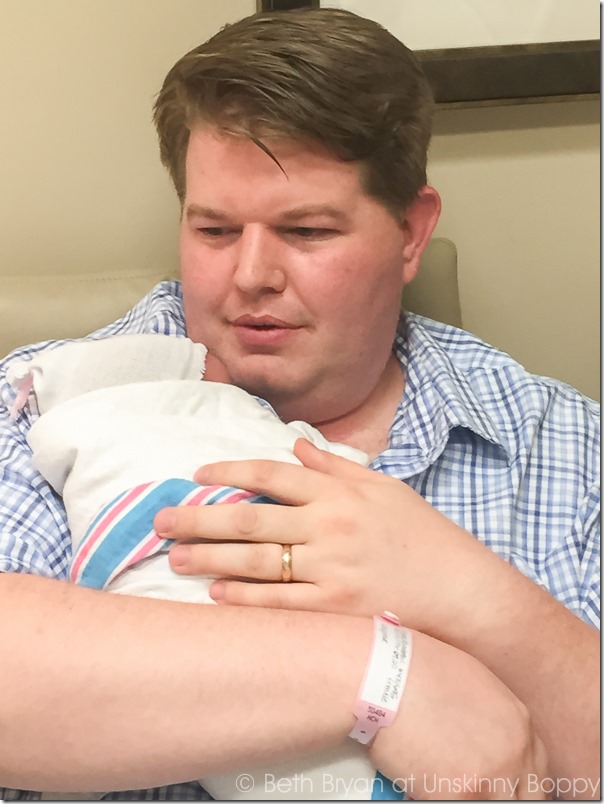 The rest of the birth day was spent with me thumbing my morphine pump like a jeopardy contestant and dozing while the immediate family came to meet her for the first time.  We spent two days in the hospital until I was literally begging to get home to my own bed so they released me a day early.  After that moment, my life has become a big blur of tracking the amount of time between dirty diapers and popping Percocets and counting down the hours until daylight.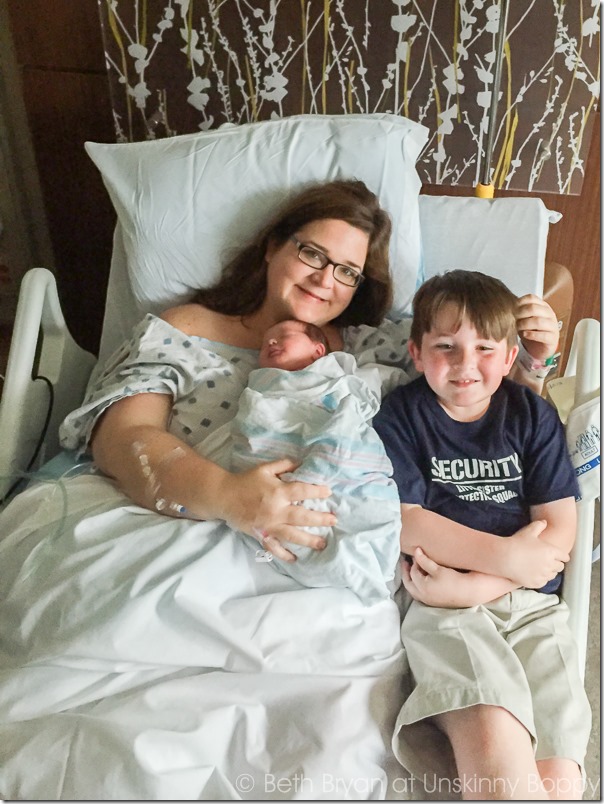 Caroline is honestly a wonderful baby, but she's still a newborn with immediate needs like nursing every few hours and filling her girly bits with poop. (THAT is a whole new experience for this boy mama, lemme tell ya…) My hands have literally been full for an entire week, but finally at just over a week old she is napping on her Grandma's lap and I'm able to finish up this story and get it published.
Garrett also started 2nd grade yesterday so it's been quite an eventful week around here. My husband and mom have been absolute lifesavers, taking care of all of our needs and tending to the baby so I can get some much needed sleep.  Garrett has also been AWESOME, running to get me refills of water and whatever we need.  He is such an amazing big brother, just like I knew he would be.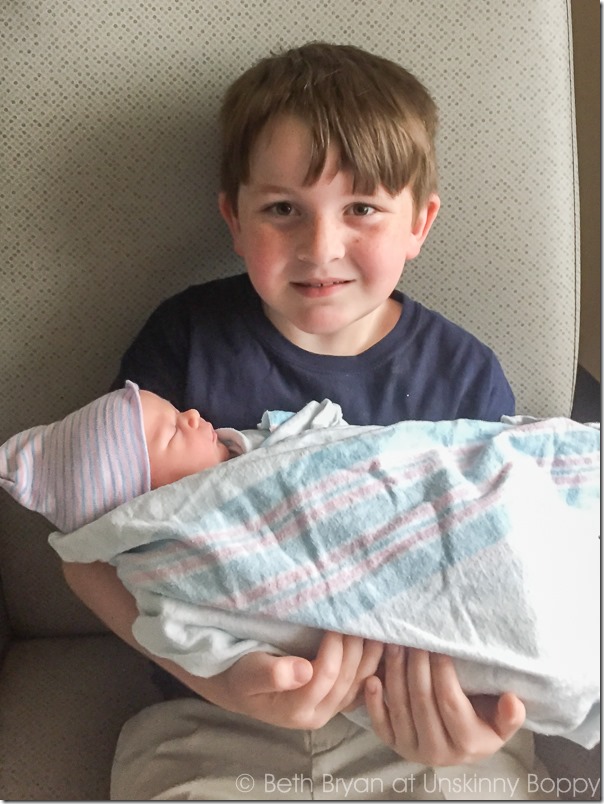 What I wasn't prepared for was just how much he loves his baby sister.  He kisses her non-stop and tells me how beautiful she is.  The tenderness he shows her fills my mama-heart up to the brim.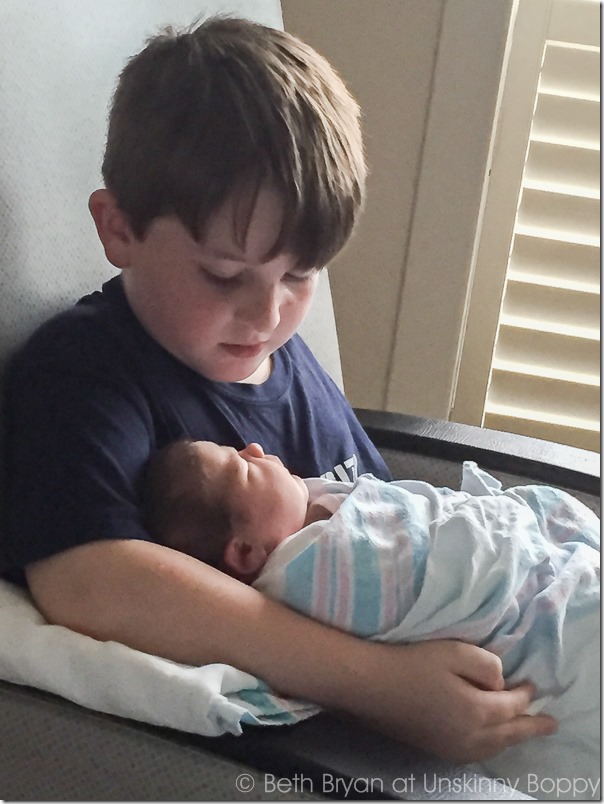 We are so, so blessed by these beautiful children.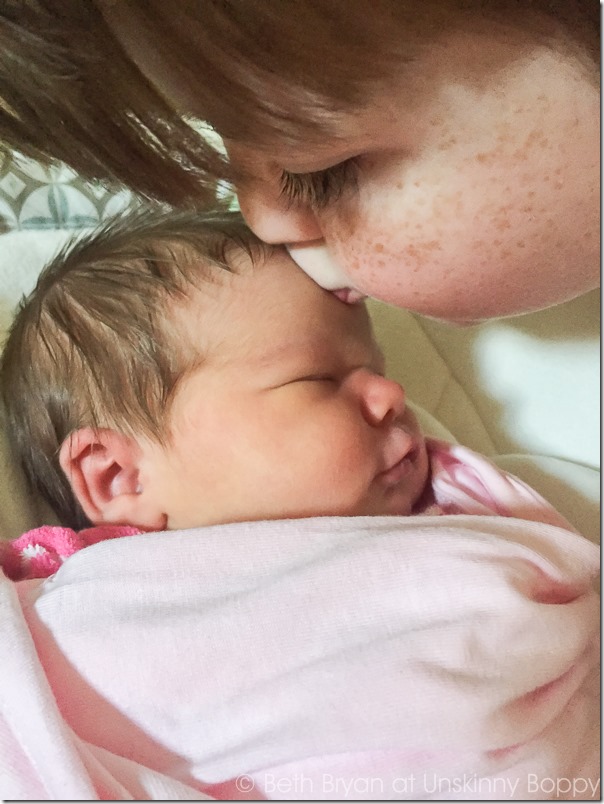 Baby bootcamp is always hard, but I know that it only lasts for a few weeks so I'm trying to soak up all her sweet, sleepy newbornness while I can.  As the mother of an almost 8 year old I KNOW just how fast time will fly from here on out. Pretty soon she will be walking and talking and clinging to my leg on the first day of kindergarten and riding a bike… Ugh. I'm already sad thinking about how fast she will grow up. These first weeks are so very precious and we will never get them back, so excuse me for being quiet around here for a while.  I'll be back soon, I promise!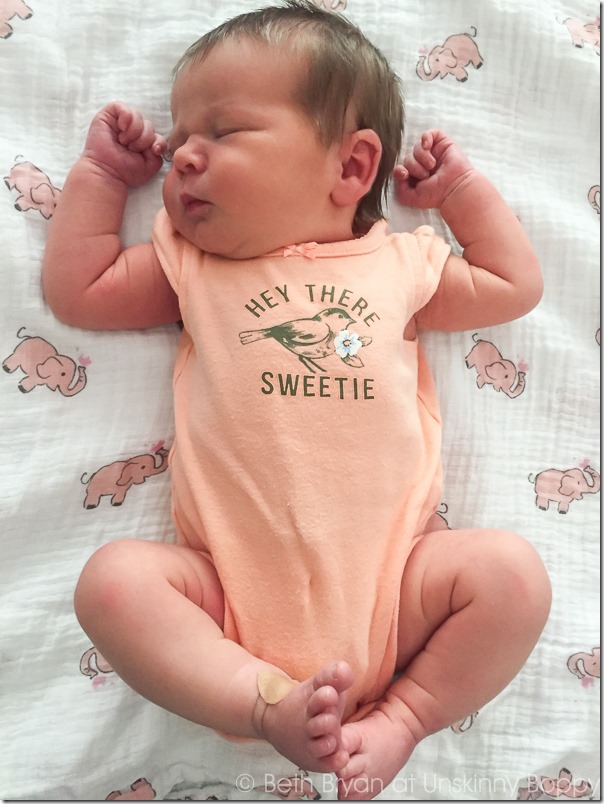 For any pregnant lady searching the internet right now for information on what to expect during a c-section, I hope my story will give you a realistic view of a planned c-section birth. It's meant to empower you, not scare you. And also to serve as a warning not to get too loose-lipped after that Nubain shot.