Welcome to the 2015 Holiday Home Tours!  I've got a great lineup of homes for you to see over the next few days, so sit back, relax and enjoy the show.  To kick things off, here is Cami from TIDBITS to show you around her incredible holiday home.
---
Hello! I am Cami, and I am so thrilled to be here today and so thrilled sweet Beth would let me be a part of her week of tours. I love every single one of these gals she has lined up – so it is sure to be an inspirational week.
If you haven't been to my corner of the web, I blog over at TIDBITS – where I love to create and inspire others to create. My husband and I (and our 4 kids) have been working on updating our 1990's home to fit our "Cottage Fresh" style.
Love that crazy crew!
I also re-decorated our Christmas this year for a Cottage Christmas look, and I'd love to give you a peek into our festive home.
If you would like any information on sources, tutorials, or even before and afters – feel free to head over to my site and begin with the "Our Home" tab on the top of my page.
Let begin!
LIVING ROOM:
I'll keep talking to a minimum here, but I have more images and more details on my Cottage Christmas Home Tour, and I'd love to have you stop by.
I really am a DIY'er at heart and most everything you see is something I or my husband made – starting with that cozy tassel throw blanket. The good news is – I have a tutorial for it, HERE!
We've really enjoyed our Christmas countdown grainsack bags on a ladder this year. Another DIY tutorial for you!

And our Pom Pom wreath was another favorite addition to our mantel this year.
I really like to keep things sweet and simple when I can.
THE MASTER BEDROOM:
We just recently finished with the remodel of our master bedroom, and I couldn't wait to add touches of Christmas in here.
Definitely a favorite spot in the house!
THE KITCHEN:
The kitchen is always a happening place, which really means a magnet for clutter. I choose to keep our Christmas decor pretty low key and simple in here.

Mostly just had fun swapping out some dishes on our open shelving.
My work desk is also in the kitchen and it's been fun to add cottage Christmas to my inspiration board.
Our dining room is still a bit of a work in progress, but it still needed some holiday decor in there.
ENTRY WAY:
I love to spruce up our entry way table as seasons come and go. It is a small space and my husband designed the perfect slim, space saving entry table for this spot.
He just released the building plans for this table at our TIDBITS and Company shop – if you have a small spot that could use a little something!



LITTLE GIRLS SHARED BEDROOM:
My girls were so happy to get Christmas decor in their own room this year.
And I thought it was a lot of fun working with different colors.
BIG GIRL BEDROOM:
Finally, I'll share my oldest daughters bedroom, which she helped me decorate for Christmas.
This is the sweetest room in the house, I think. So much cottage charm thrown into every spot.

I hope you have enjoyed seeing a bit of our Christmas home tour! I've really enjoyed being here to share it with you. Feel free to stop over to TIDBITS and check out my other DIY projects. If you enjoyed my style and wish to see more, just subscribe to my post updates right here!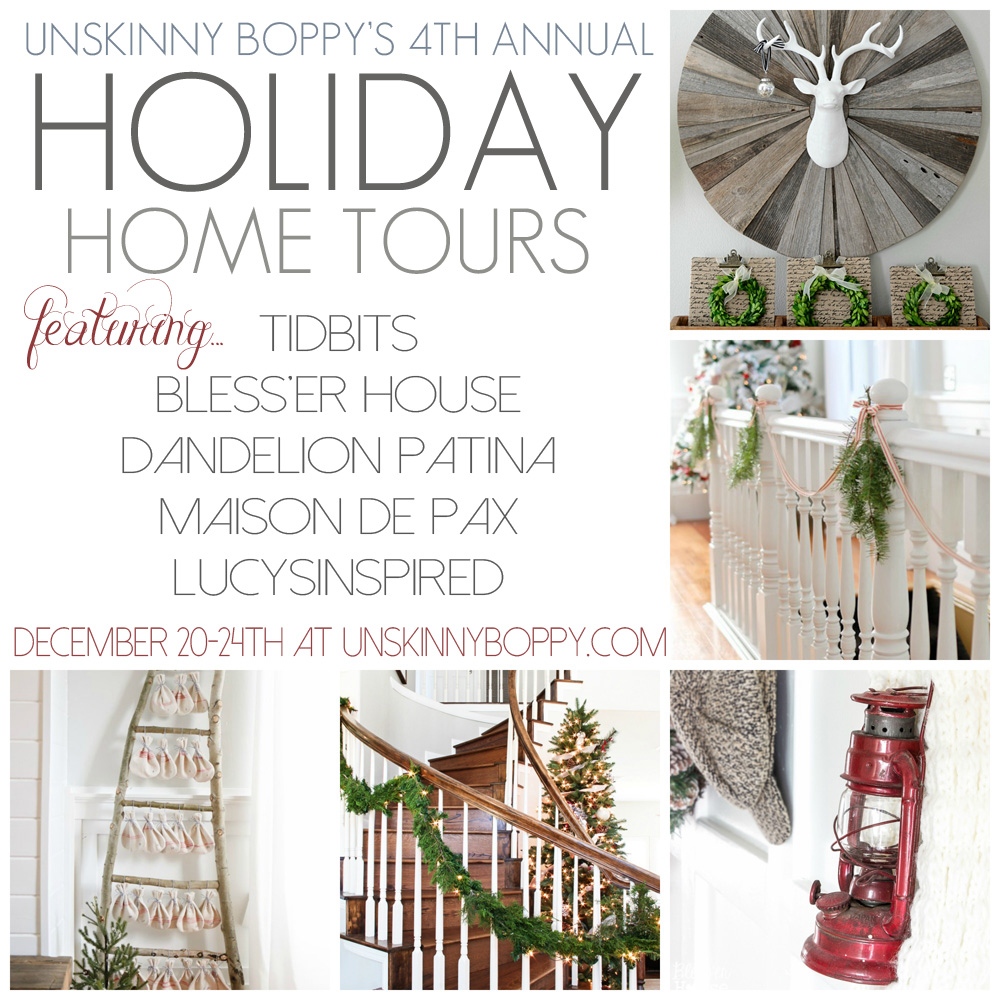 Join me all week for more Holiday Home Tours! Here's the amazing lineup:
Sunday Dec 20- Cami from Tidbits 
Monday Dec 21- Lauren from Bless'er House
Tuesday Dec 22- Michelle from Dandelion Patina
Wednesday Dec 23- Rachel from Maison de Pax