I believe that every home has a story to tell, but especially the Old Ones.  Those 100+ year old homes that have seen multiple generations of folks pass through the halls and swing on the front porch. Imagine if those walls could talk.  What would they say?
Mobile, Alabama has it's fair share of these matriarchal mansions, standing proudly under the dappled shade of the tall live oak trees. Over the decades, some of these beauties have been neglected and fallen into disrepair.  But then there are special houses that are lucky enough to be saved from the fate of leaky roofs and sagging floor boards.  Those houses are very special, and deserver our attention.
This is the story of one of those houses.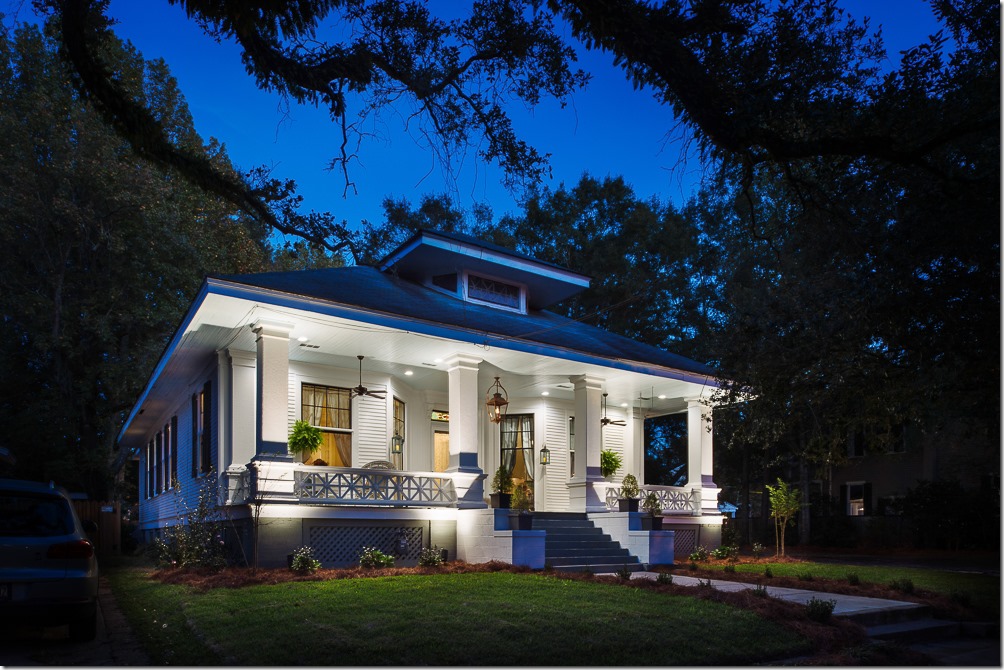 In April of last year I was invited to Mobile to see the Southern Romance Home by Esther de Wolde, the CEO of Phantom Screens.  I told Esther's story of purchasing this turn-of-the-century house that had been owned by the Ford Family in that original blog post. Please go catch up on the history of the house after you take the tour, because today I have the honor of telling you the REST of the story.  When we last saw the house it was stripped down to complete bare studs.   What you didn't see in that last blog post was the original state of the home when Esther purchased it.
Here are a few glimpses into the rooms before the remodel began…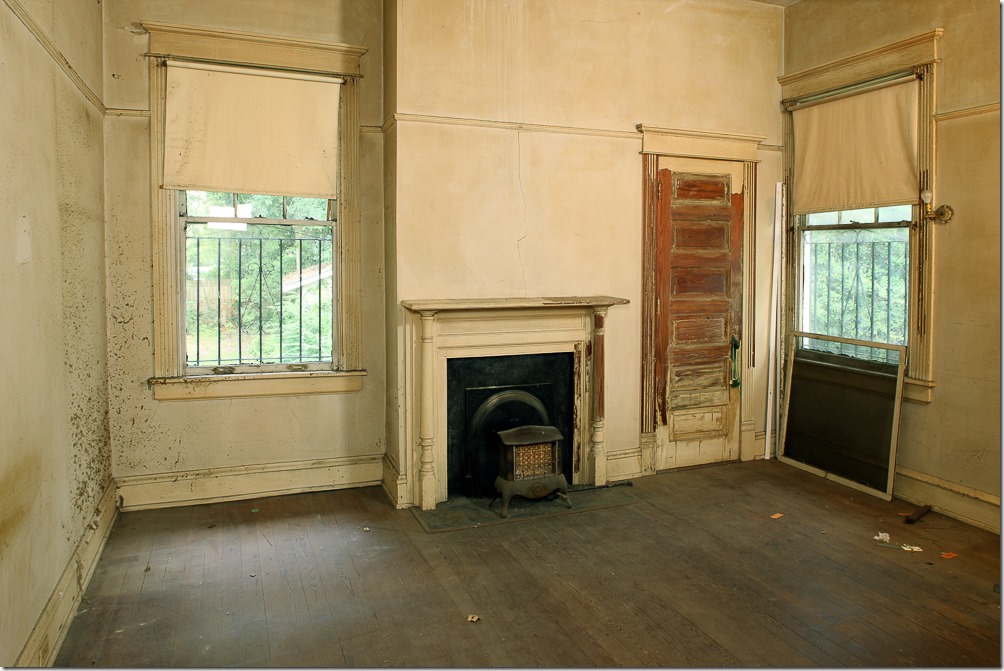 Every room was in utter despair.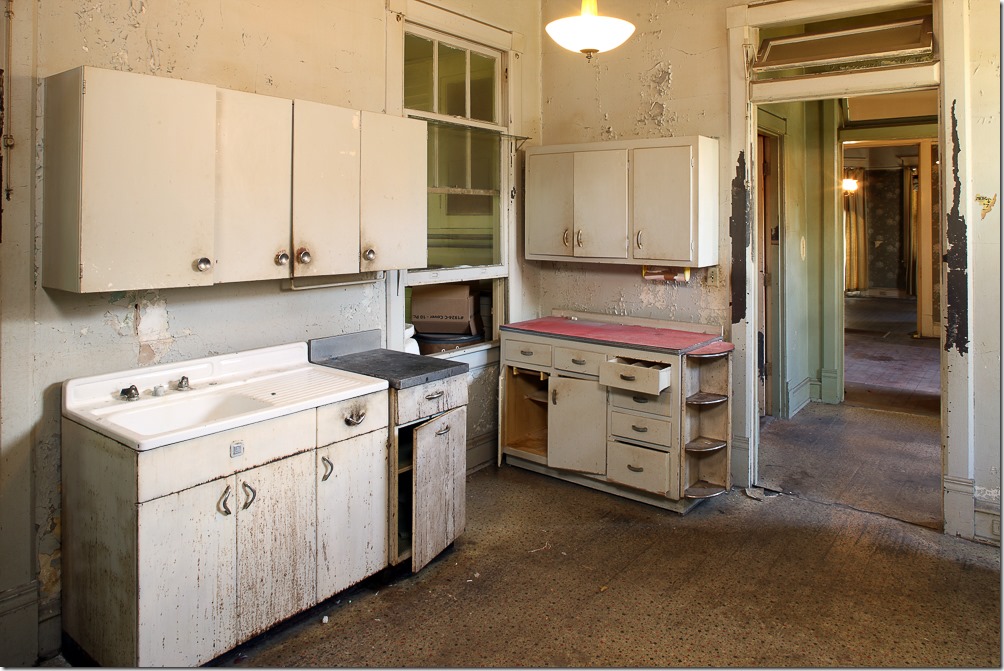 The paint was peeling from the plaster.  The doors were falling off the hinges.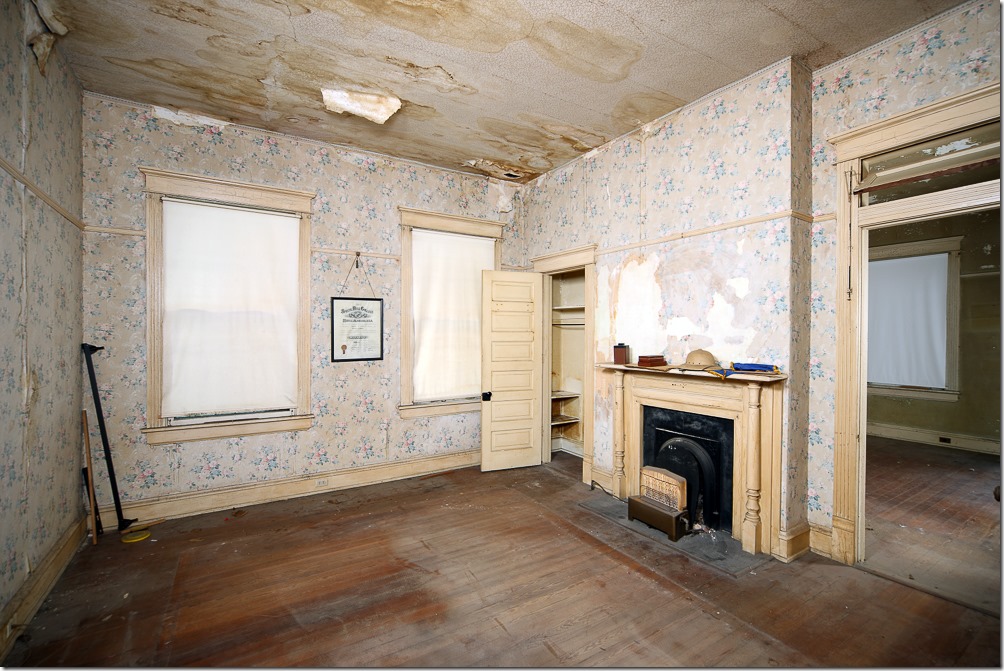 Mold, mildew and rust were waiting under layers of dust.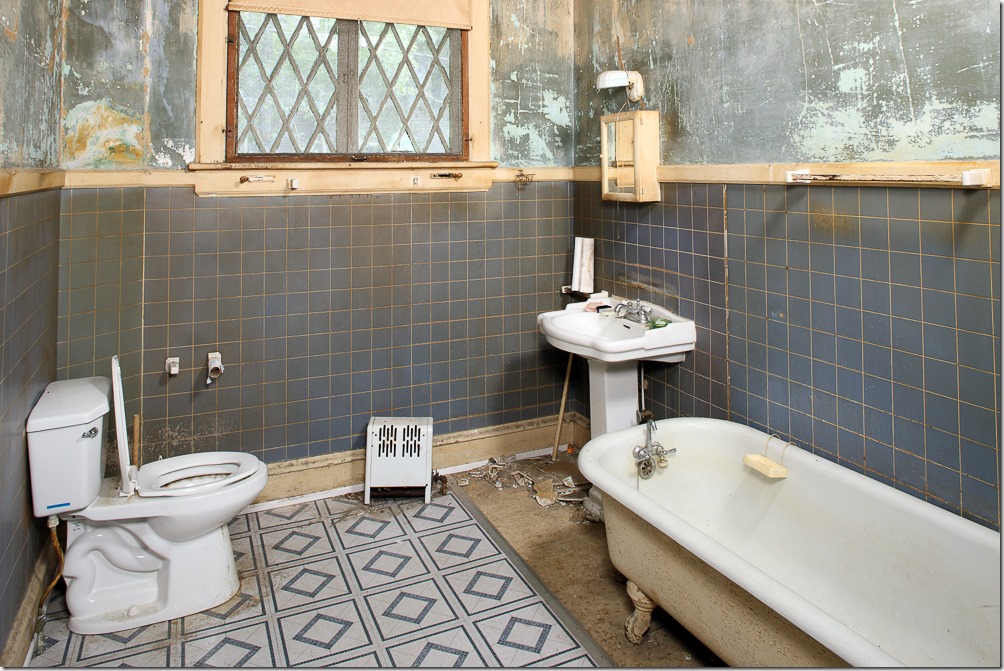 But under all that grime, Esther could envision something incredibly beautiful.  She purchased the home and with the help of some local contractors began the renovation process.   But here is the kicker.  Esther is from Vancouver, BC and the home is located in Mobile, AL.  That is a distance of over 2,800 miles to travel just to be there to make decisions and see how the progress is going. And trust me, there is NOT a direct flight from Vancouver to Mobile.  That is just wishful thinking on Google's part.  It would mean days (weeks!) of travel time out of her busy schedule. This was a heavy-duty commitment.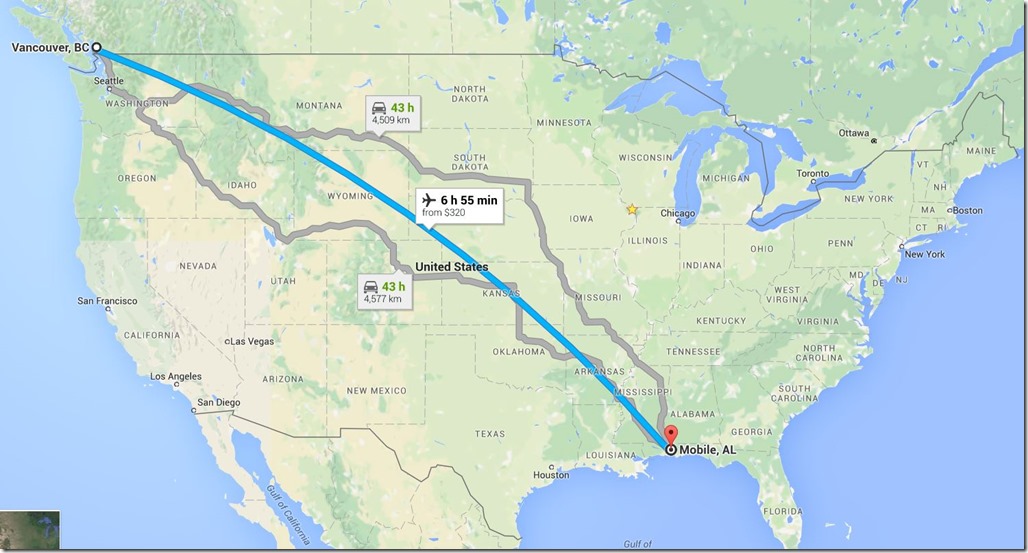 But, Esther was more than up for the task.  Here is the reveal of the Southern Romance home in all of it's restored glory!  Just wait until you see inside!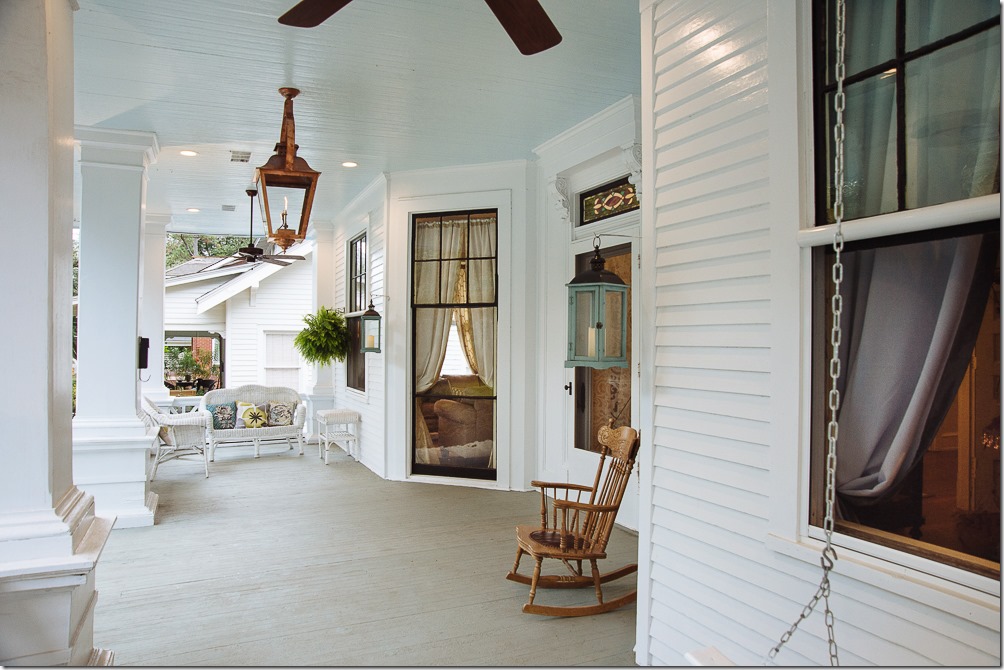 That haint blue ceiling is legendary among porches all across the South. The legend is that "haints", or ghosts, will not enter a home with a pale blue ceilinged porch since it resembles water.  Even if you're not superstitious, that pale blue color is just gorgeous and so perfect to compliment tall, stately columns and a welcoming porch swing..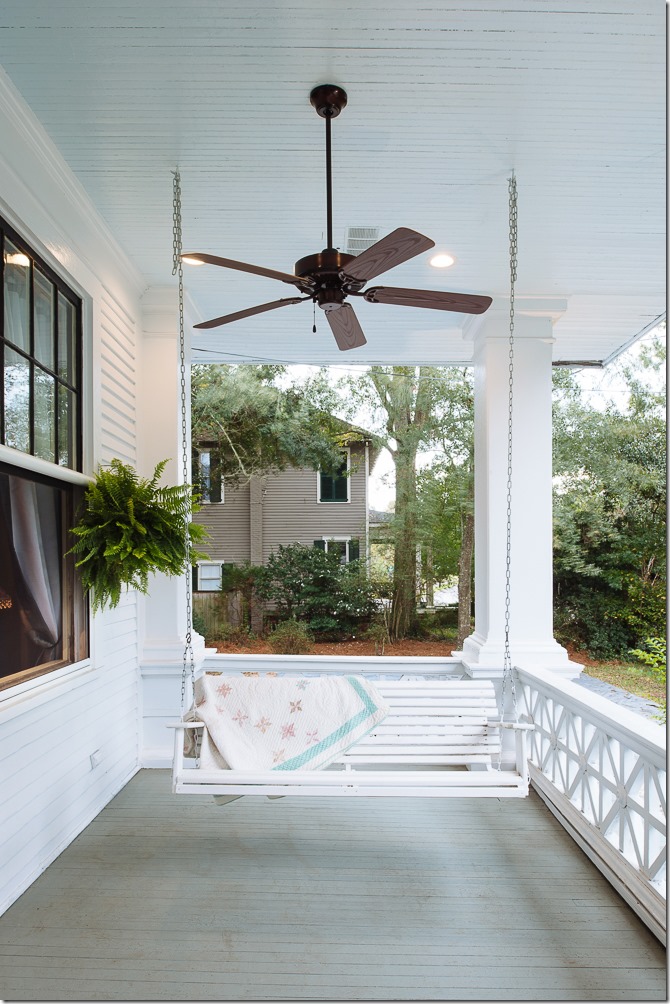 Are you ready to head inside?  Brace yourselves, it's about to get amazing.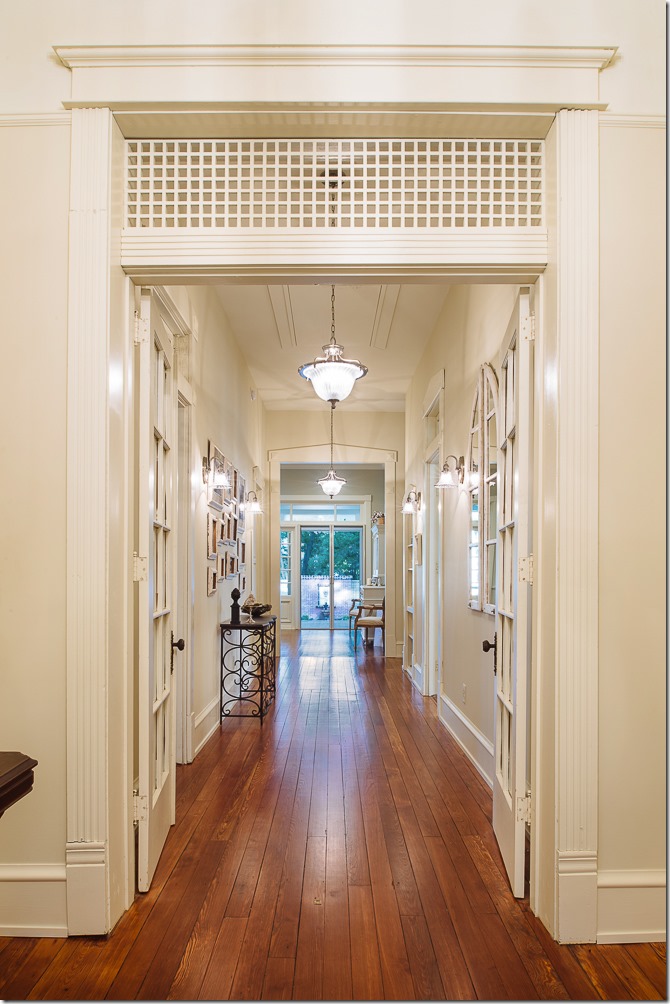 Here is the Living Room, with an angled fireplace with green glass tiles that Esther saved during the restoration process.  This room was full of light and made a cozy place to sit and chat for a while.

Through these double pocket doors you walk into the formal dining room.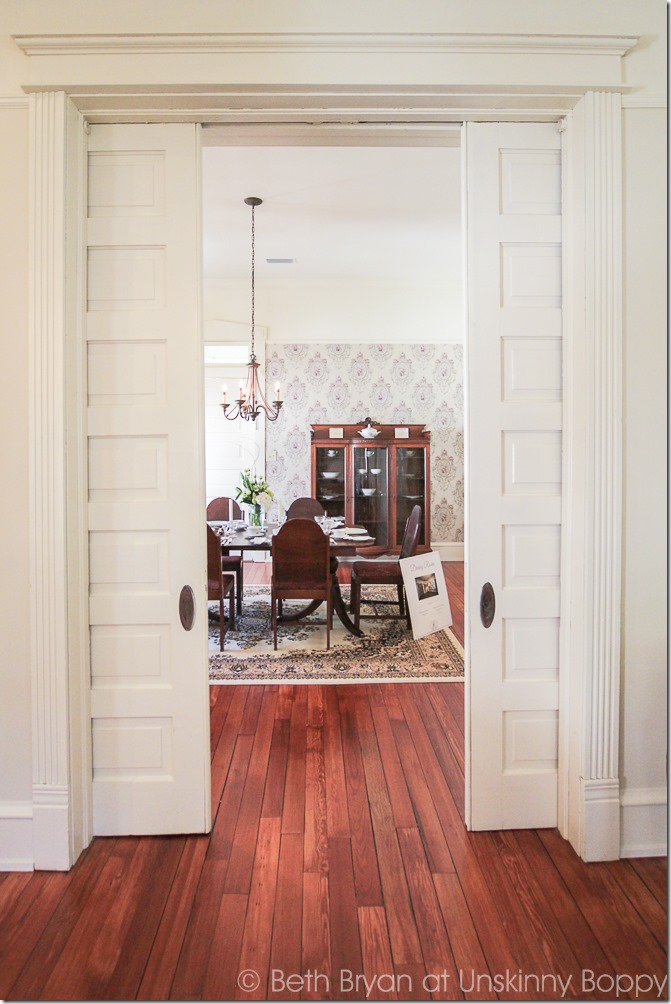 Esther made great effort to keep the remodel in tune with the original glory of the home.  For this room she chose 120th Anniversary Archive Edition by York in Pattern: AV2804
Scroll all the way to the end for a full listing of the paint colors and wallpaper colors.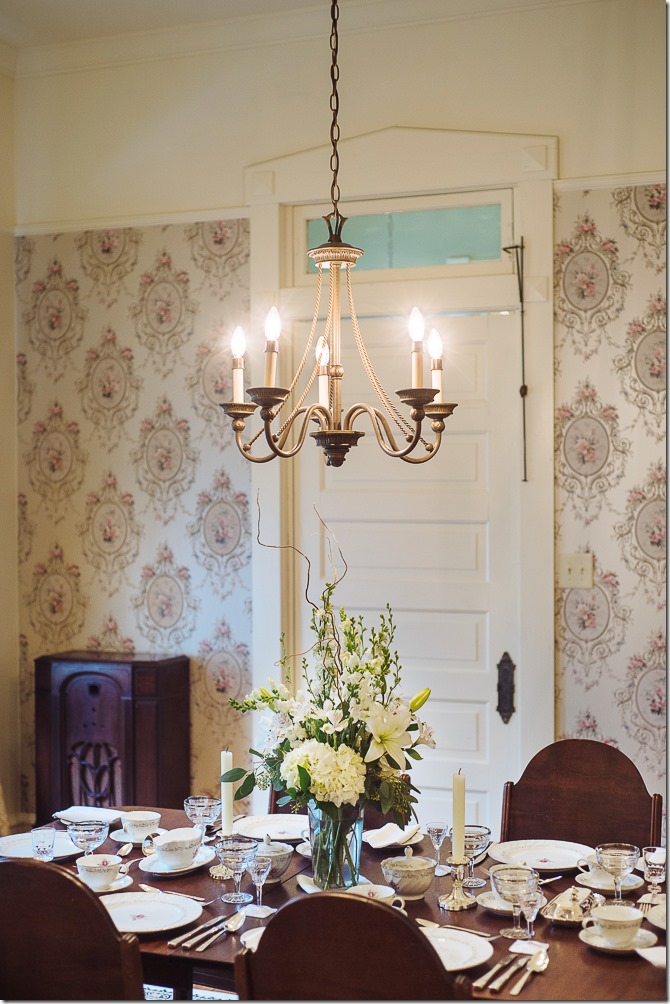 Into the kitchen now where a complete transformation was performed.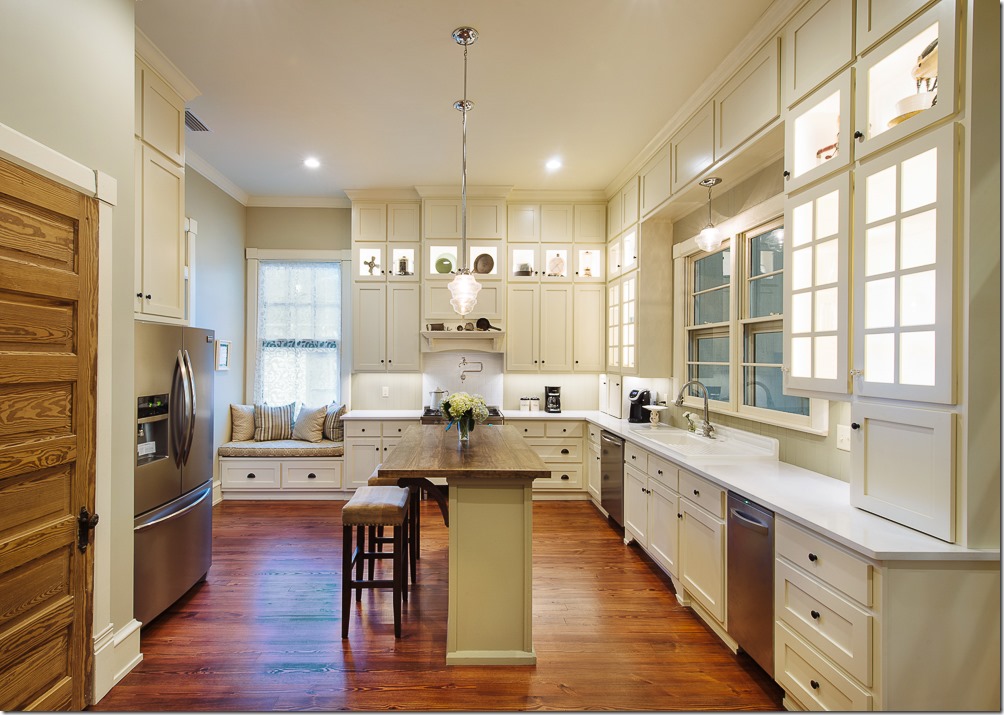 Floor to ceiling custom cabinetry with tons of glass front doors and custom lighting installed.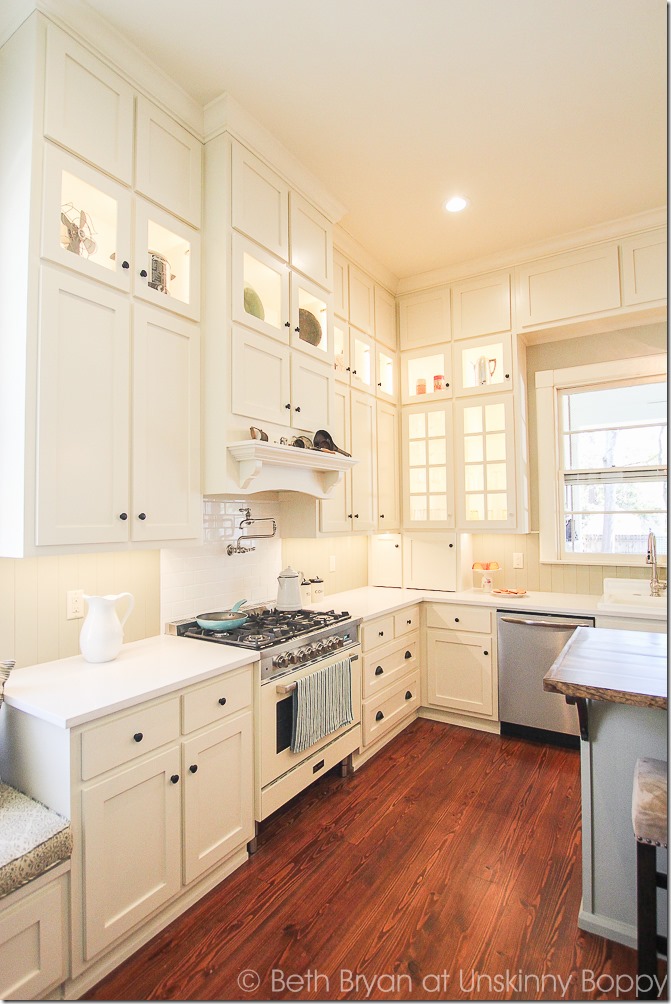 I mean, who would not want to cook dinner in this amazing space??? It was hands-down my favorite part of the house (well, until you stepped outside to the back porch!)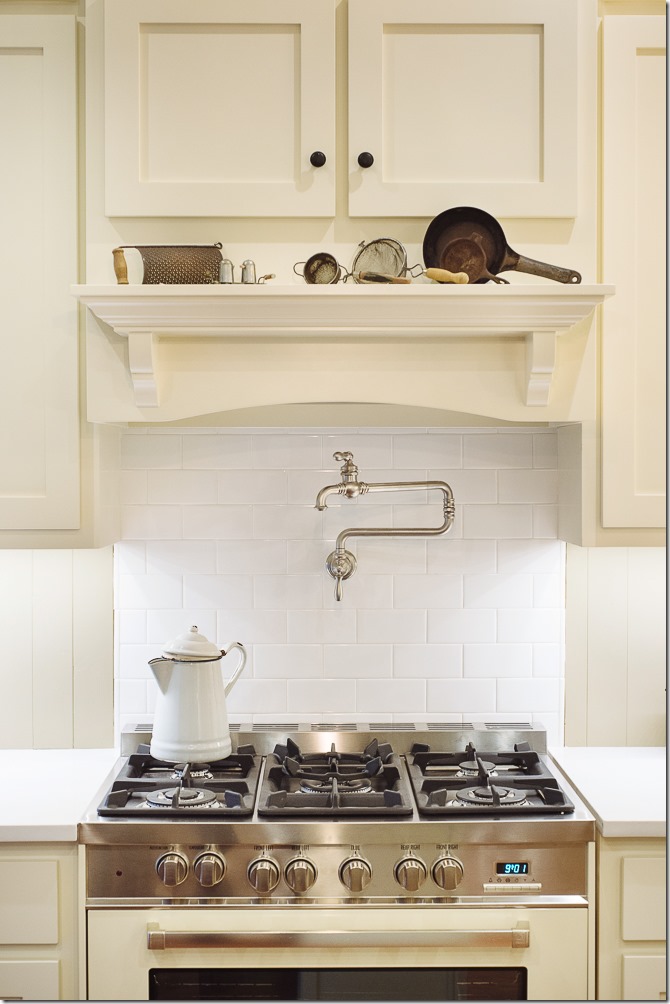 Esther fought hard to salvage this old sink from the original home.  It was rusty and gross, but she had it recast into something spectacular.  They don't make sinks like they used to, and I'm so happy to see she was able to re-use this beauty with some upgraded faucets from Kohler.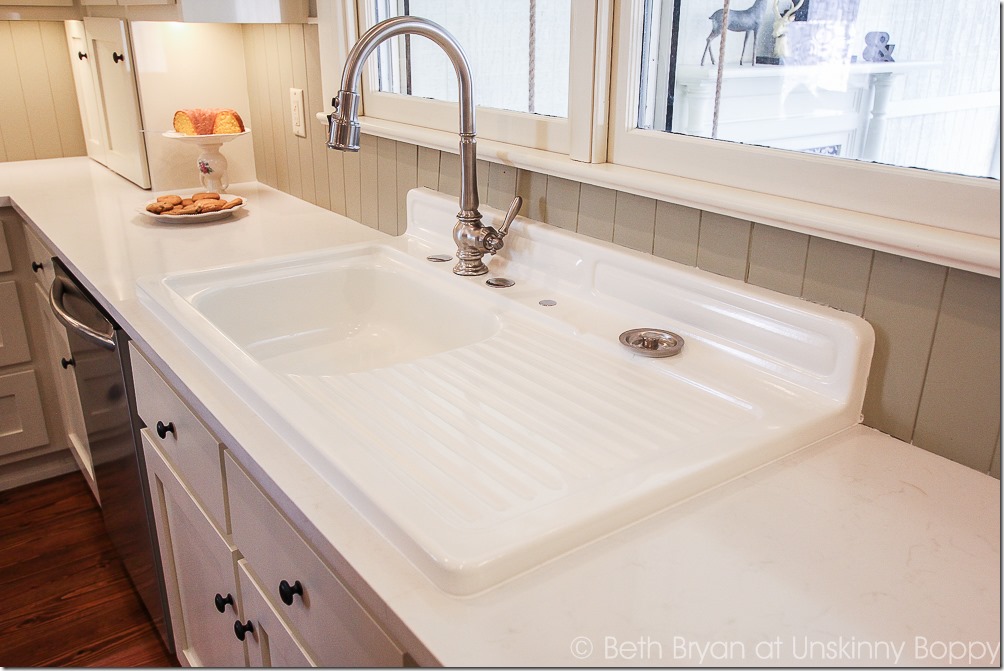 In the bathroom, more beautiful Kohler faucets can be found at all the fixtures. I love the chrome knobs with that pale green/grey vanity!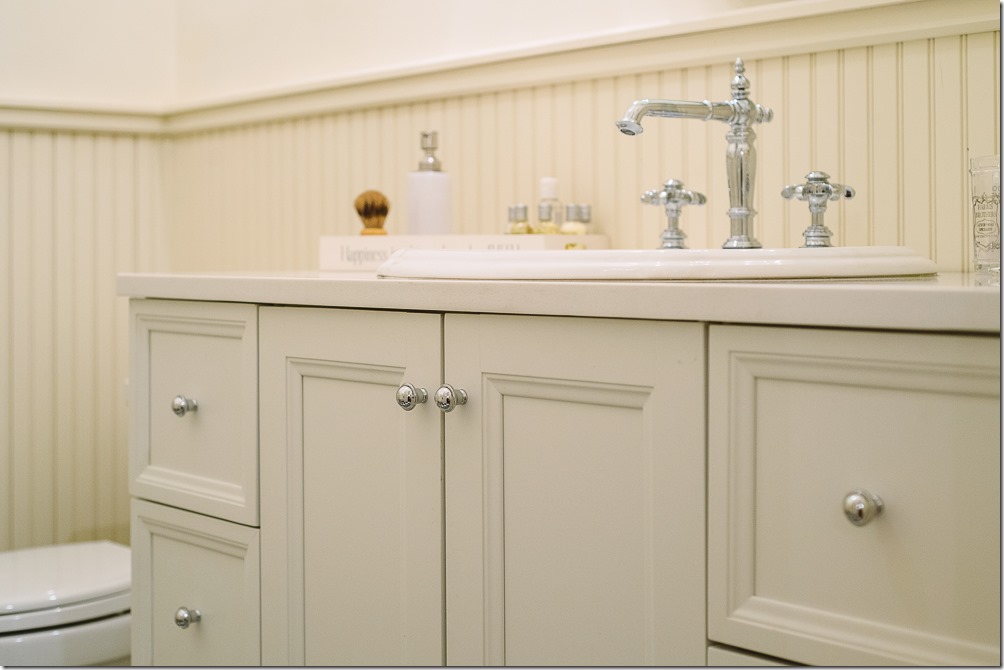 Speaking of the faucets, how's this for some unique bathroom artwork?  She framed the original faucet, drain and plumbing pipe above the clawfoot tub!  I love this so much.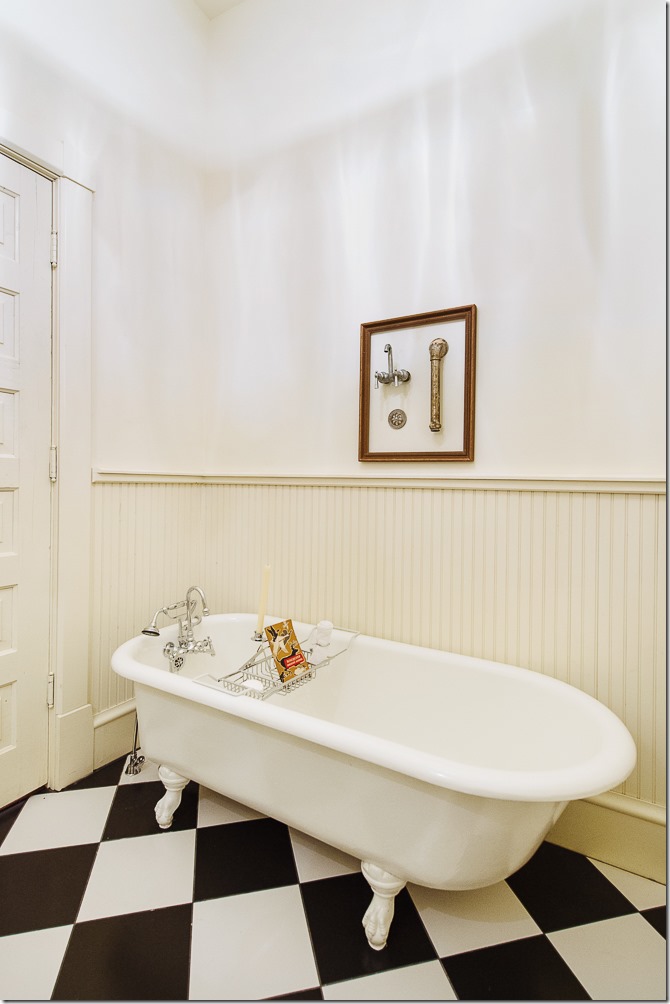 There are little salvaged pieces of the old house scattered all over the place.  In "Mary's pantry", which is the room that separates the kitchen from the dining room, she hung a photo of Mary with the Ford boys that was taken on the front steps of the house.  The matboard is made using the original wall paper from the room, and the frame was constructed from the original trim boards!  Such history and love like this is scattered EVERYwhere in this home.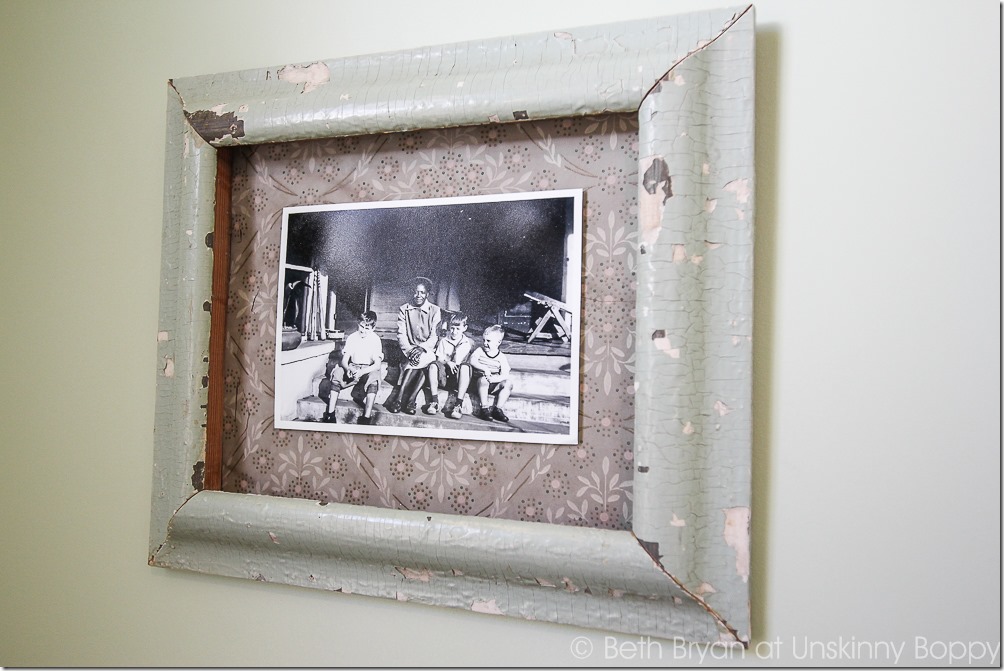 Esther wanted to be sure to preserve all the memories of the home and pay respect to the family who had owned it for many years.  The main hallway features a huge collage of framed pictures of the owners throughout the years, all matted and framed using salvaged pieces of wallpaper and trim boards that Esther scavenged from the dumpster! Amazing.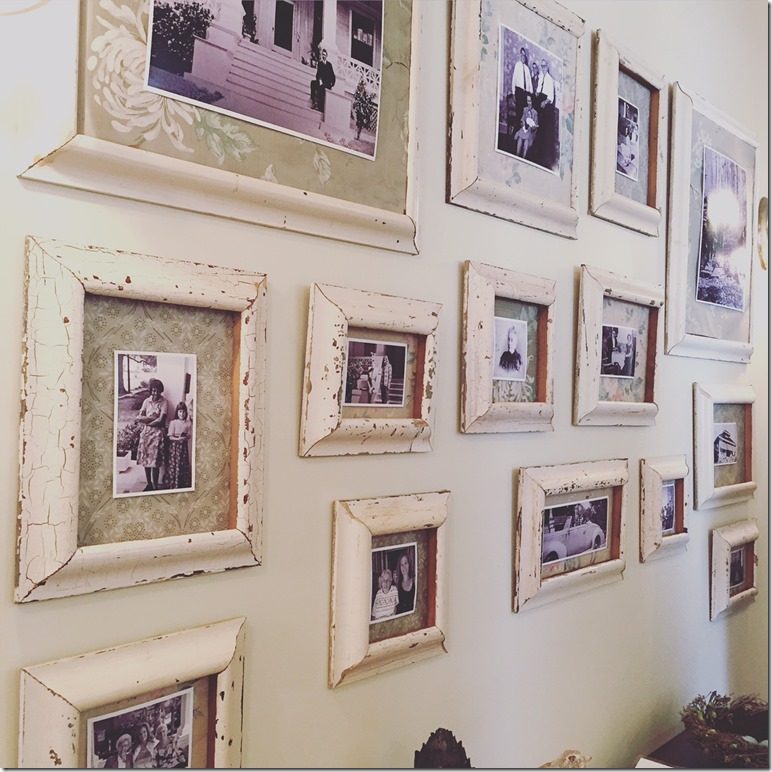 What was once a dilapidated room, the Master Suite became a beautiful and comfortable retreat after the renovation.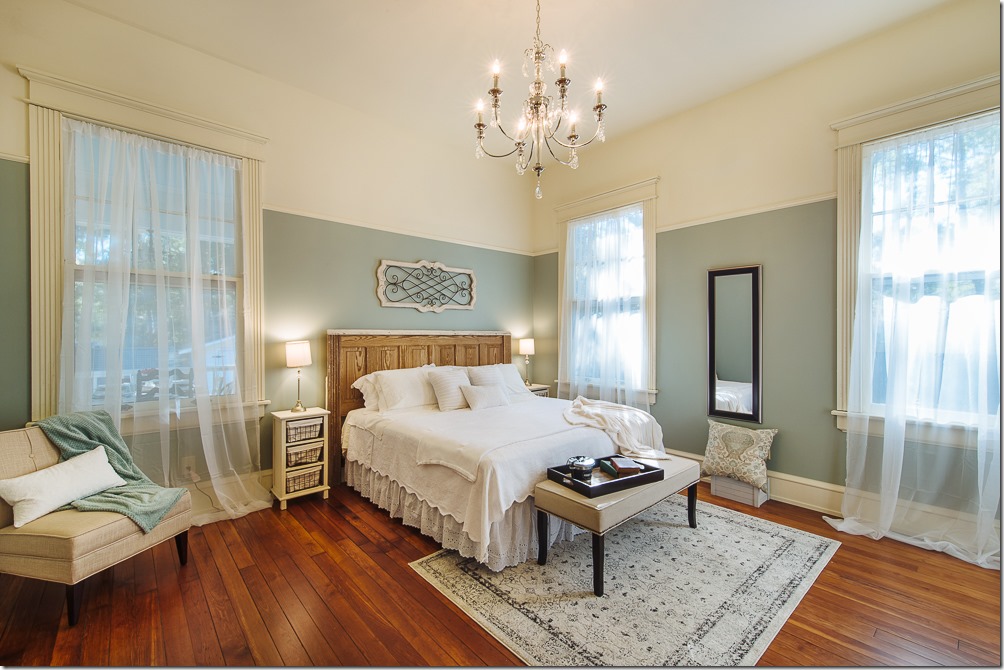 And check out the master bath!  The GORGEOUS shower tile is a nod to the art-deco period during the roaring 20's, when the home was just a few decades old.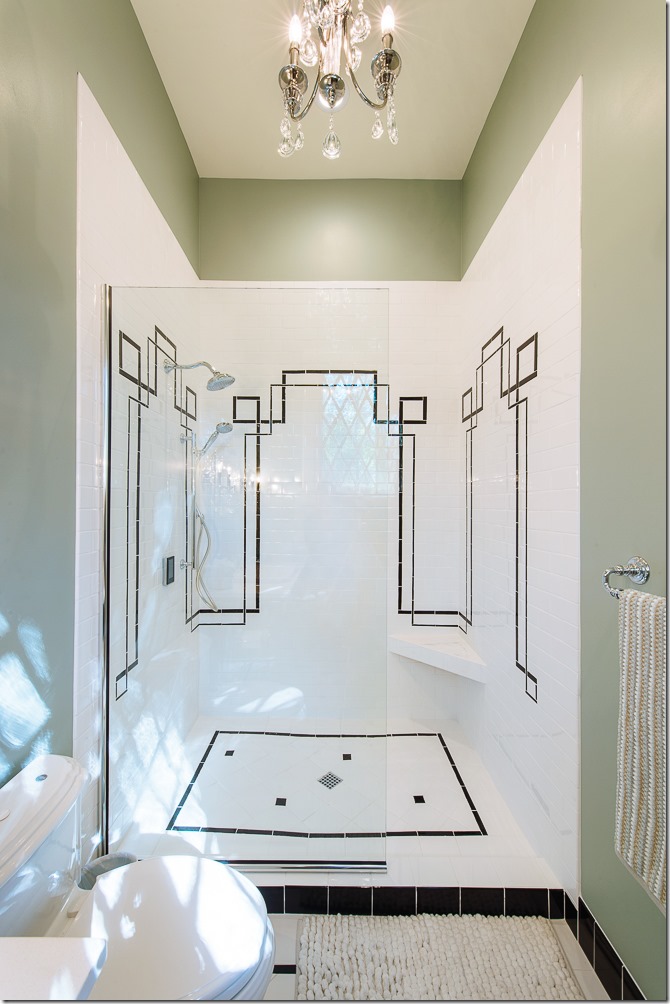 But, my absolute favorite part of the house is the back porch.  Esther is the CEO of Phantom Screens, a Canadian company that produces window screens that makes retractable screens that can turn open-air porches into enclosed rooms with the touch of a button.  To say that she knows how to create a magical outdoor living space is a bit of an understatement, but this one was just truly fantastic.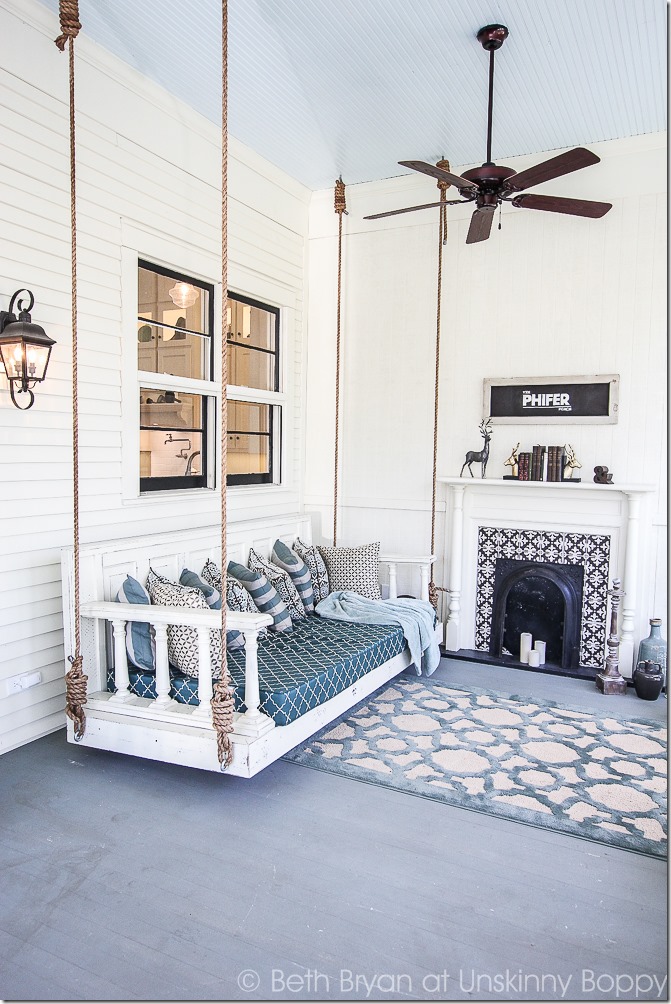 The rope-swing bed was made by Charles Phillip Antiques and Architecturals, a local Mobile dealer whose location is a MUST SEE if you are ever in the neighborhood. (I'm talking acres and barns packed full of salvaged furniture and imported antiques! Like, whoa.)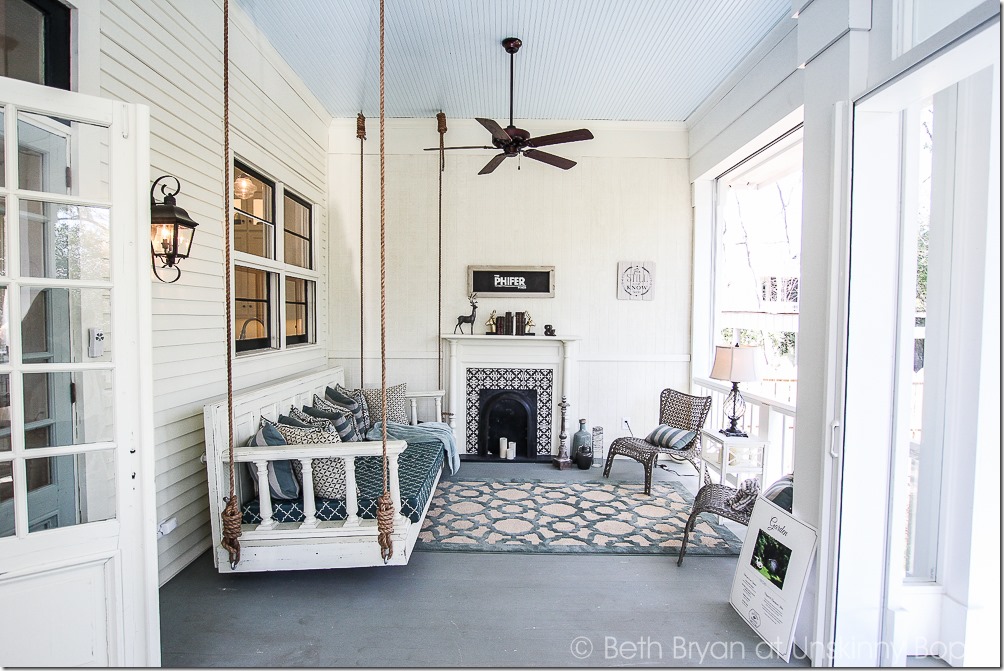 And the other half of the porch was equally impressive, with double retractable screen doors leading outside from the kitchen…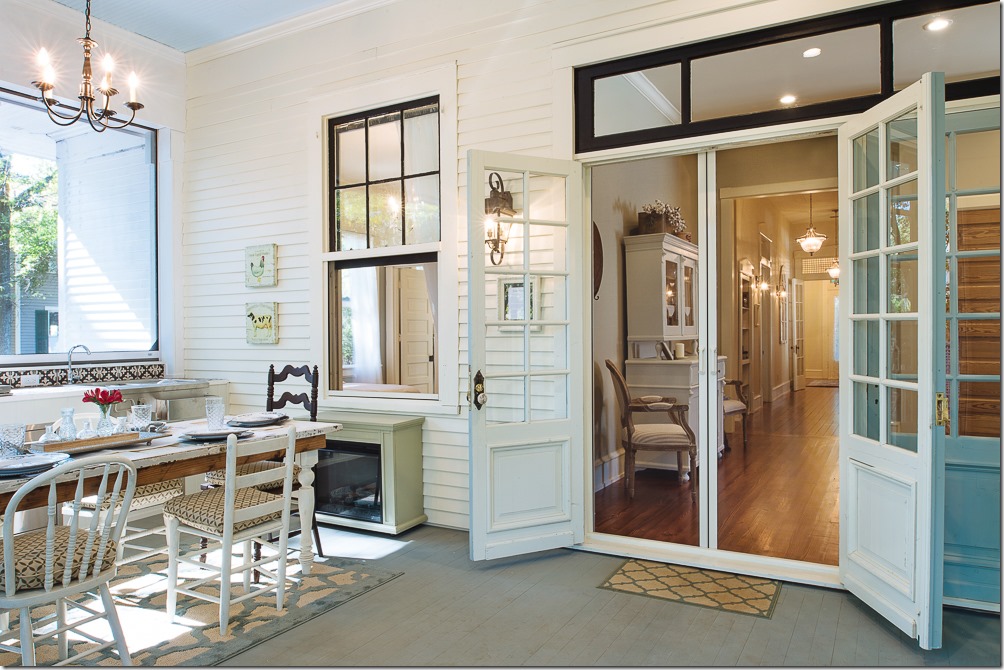 …and a HUGE outdoor kitchen and grill area.  I lusted so hard after this porch.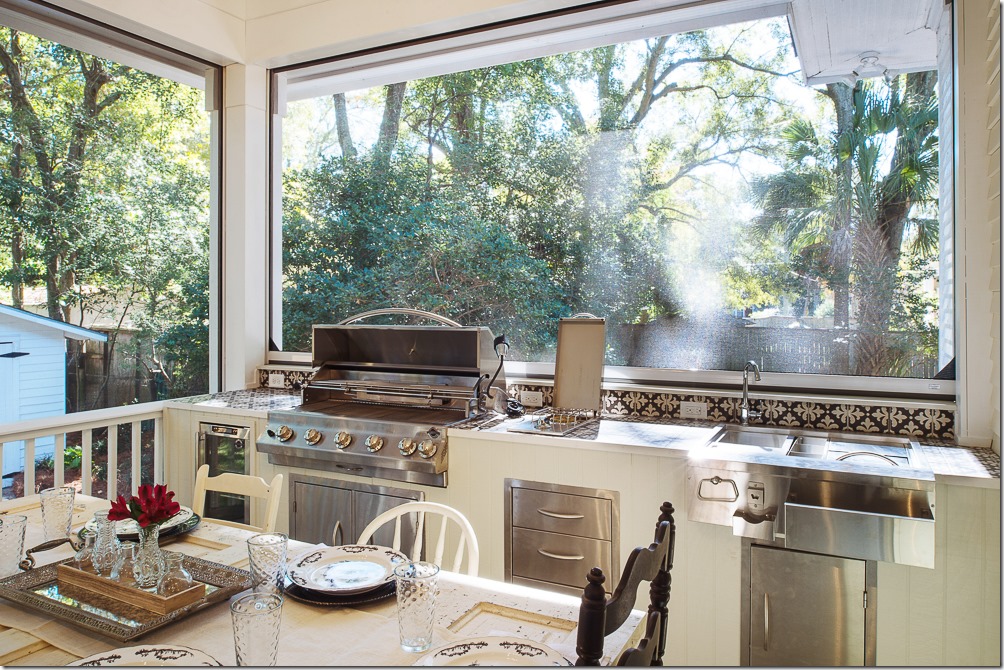 #PorchGoals For real, y'all.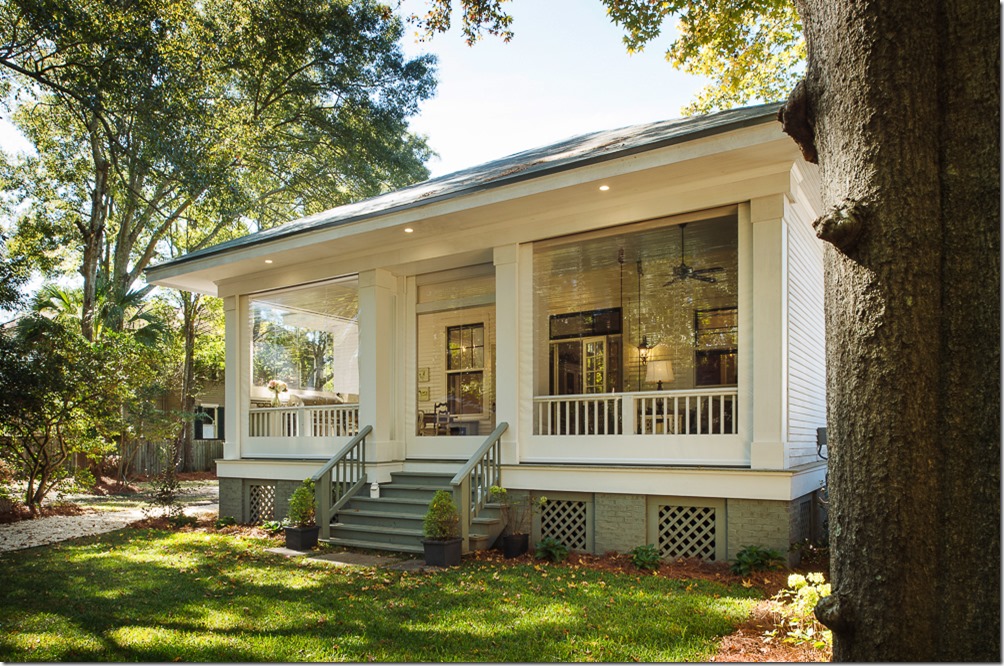 You can catch the full Periscope tour of the porch and the house that I recorded on the day of the tour right here:
Periscope Porch Tour:

Periscope House Tour:

AND, if you really want to Experience the entire process of this beautiful home renovation from start to finish, be sure to go watch all of Esther's Episodes!  She and her team created an entire TV show about her Southern fixer upper!  It is amazing to watch the progress from start to finish.  You can find all the Episodes here:
Now, go watch them ALL.
Laugh. Cry. Savor it. Then look around your own home and give it as much of your heart as you can.
Because they ALL deserve to be loved like this!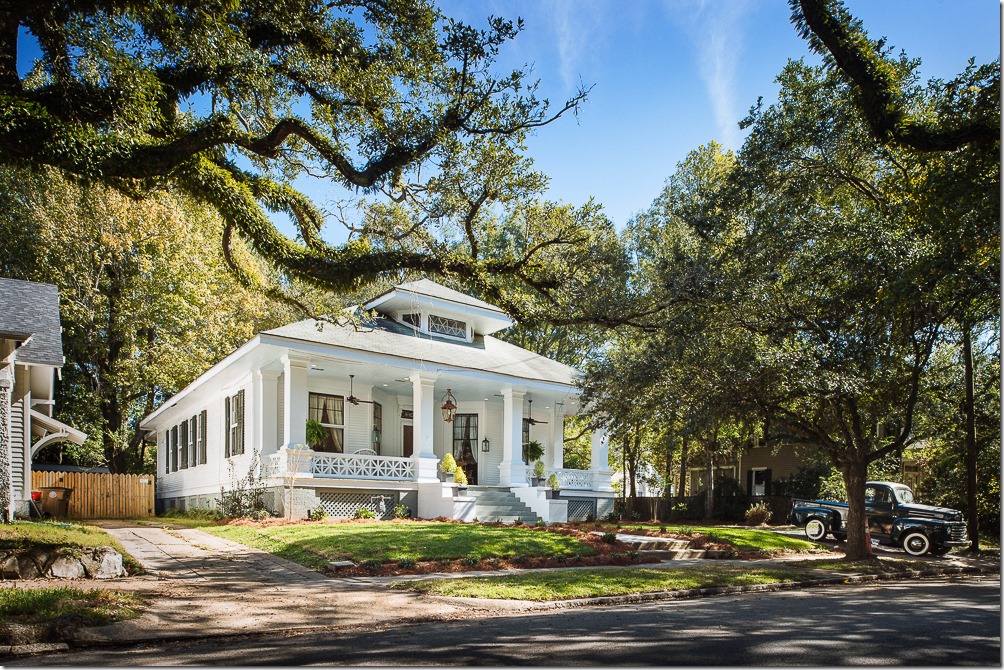 For those of you who are interested, here is a full detail of all the Benjamin Moore paint and wallpaper colors that were used in the Southern Romance home:
Paint:
All doors, trim, baseboard: Oc-132  Grand Teton white in a semi-gloss finish
Ceilings and space above trim edge, Top half of hall guest bath walls and bottom wainscoting board in hall guest bathroom: Oc-132 Grand Teton white in satin finish
Kitchen Cabinets – Oc-132  Grand Teton white in a pearl or satin finish
Kitchen Walls – 2142-50  Gray Mirage (it is an antique greenish-gray)
Mary's pantry and Laundry room: HC-116 Guilford Green
Living room, Dining room, Middle bedroom: CC-250 Seaspray
Front parlour (front bedroom): HC-111 Nantucket Gray
Master bedroom & master ensuite: CC-680  Raindance
Porches Ceiling – 2054-70 Clear Skies
Porch Deck – HC-163 Duxbury Gray
Wallpaper:
Dining Room: 120th Anniversary Archive Edition by York in Pattern: AV2804
Bedroom: Nantucket by York  Pattern: NK2027
Disclaimer: I was given a free trip to Mobile, AL to write about this beautiful home. My family and I got to stay at the swanky Fort Conde Inn and pretend like we were movie stars for the weekend along with some of my best blogging friends. Thank you so, so much to Esther and all the team at Phantom Screens (Paul, Richard, Sierra and Kristina) for making my Mobile experiences truly special.  We were treated like royalty from start to finish on both trips, and I will never forget my time spent with the Southern Romance home. Y'all are at the tippy-top of my all-time favorite sponsors in the history of all sponsored blog posts. And I truly mean that!