When Esther de Wolde decided to checkmark her dream of renovating an old southern home off her bucket list, I bet the idea of sharing her porch railings with a bunch of bloggers from across the continent wasn't even a blip on her radar. But, that is exactly what happened last week at Esther's turn-of-the-century home in Mobile, Alabama.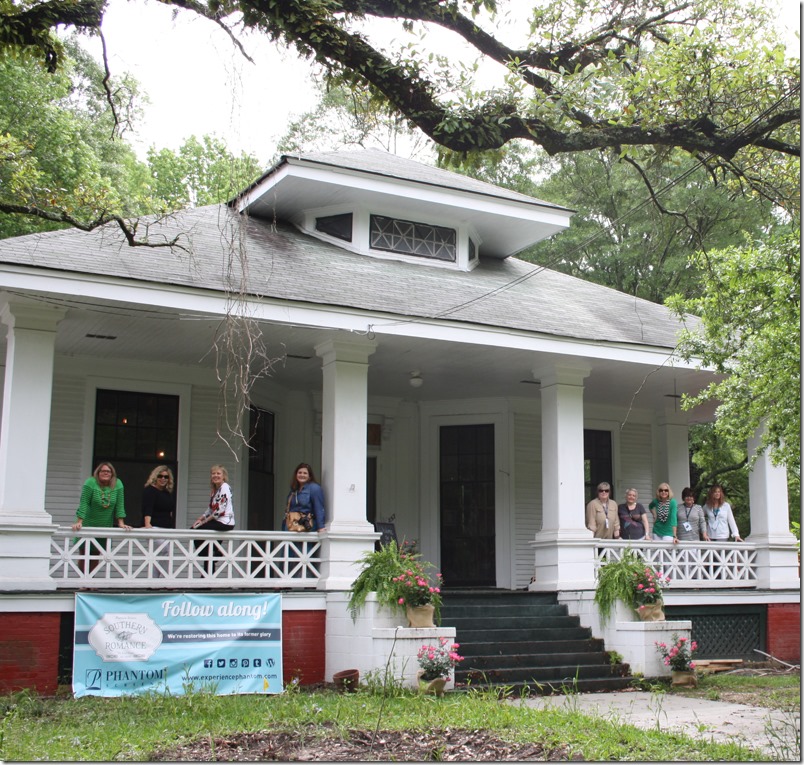 Do you like how those of us on the left harnessed our inner Susanne Sugarbakers and lounged right on that railing like we owned it?
I had the honor of being one of eight bloggers asked to come down to Mobile and take the tour of Esther's big bucket list renovation project. Here's the other blogging ladies who joined the tour: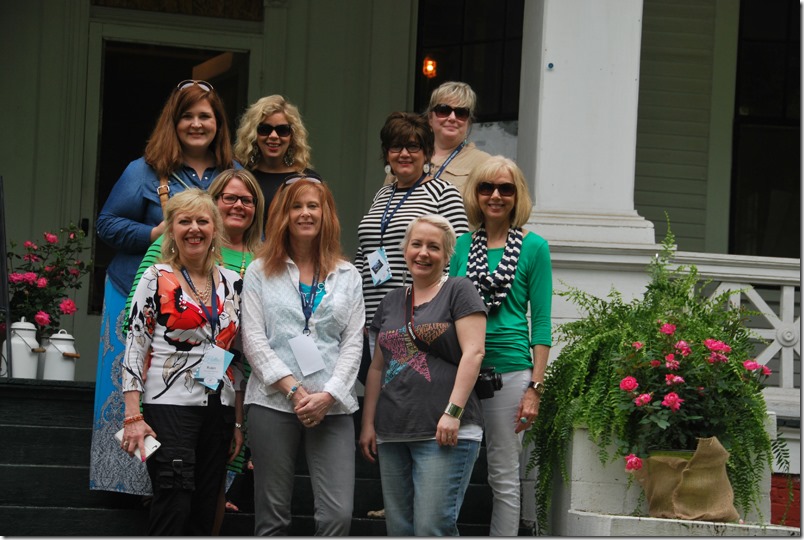 I'm in the top left, and clockwise from me there's Karianne from Thistlewood Farms, Debbie from Refresh Restyle, Shannon from Fox Hollow Cottage, Rhoda from Southern Hospitality, Shannon from AKA Designs, Esther from Phantom Screens, Robin from Renovation Bootcamp and Kelli from Live, Laugh, Rowe.
I was so excited to join my friends on this trip and now I get to take you all along for the ride as well.
But first, the backstory.
Esther de Wolde is a successful CEO of a Canadian company called Phantom Screens, a manufacturer of a remote controlled porch screen systems. After years of building her business and brand in Canada, she had a very serious dream of taking an old Southern home and renovating it to restore it to it's former glory. Last year she decided to make that dream a reality. After touring several Southern cities, she finally settled on beautiful Mobile, Alabama, where she bought the 7th home that she toured with her realtor.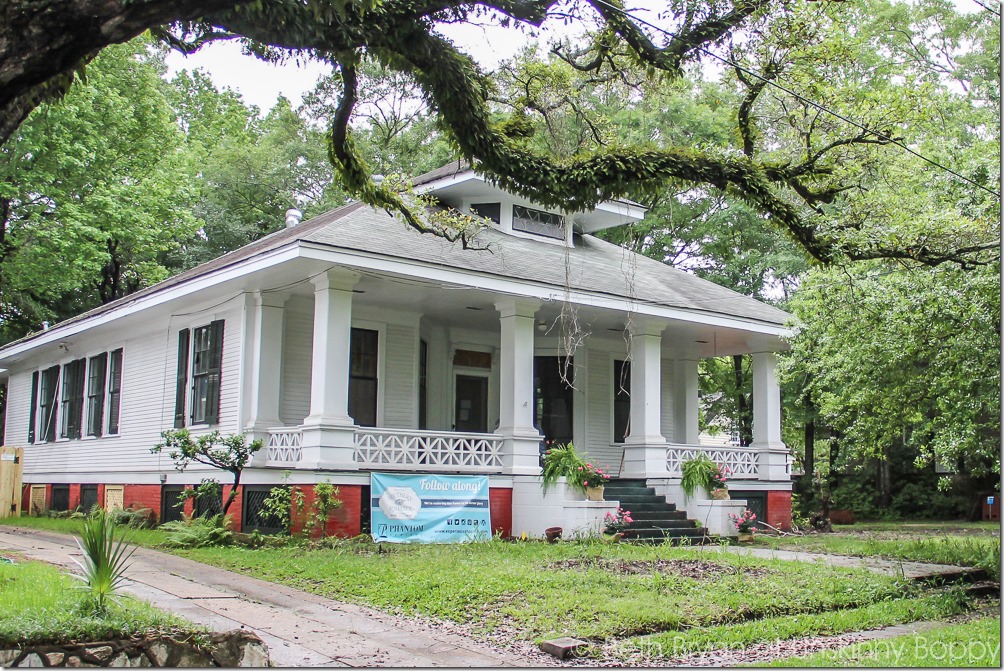 The house, which was built circa 1906, sits on a sleepy live oak tree-lined street in the Oakleigh subdivision of Mobile. It has a HUGE front porch with massive columns and the most amazing porch railings. I mean, it's like something straight out of a movie starring Julia Roberts. I know all of you are thinking it's Steel Magnolias that I'm referring to here, but really I'm thinking of that awesome white house she moved to in Sleeping With The Enemy with the cute bearded neighbor next door who tried to rescue her at the end but then she has to rescue him right back?
Wait. Isn't that the ending line from Pretty Woman? Apparently I've seen too many Julia Roberts movies.
I don't want you to get any negative connotations in your head about this house, so please forget I mentioned Sleeping with the Enemy at all, mmkay?
Over the course of the renovation project, Esther and her team have been filming multiple webisodes about the house progress for her website. As soon as I watched the first webisode I was hooked, and KNEW that I wanted to follow along on this journey of the house. The stories and memories that she has uncovered will give you goose-bumps. Her GC is Danny Lipford from Today's Homeowner, and he also joined us for the tour of the house on this day.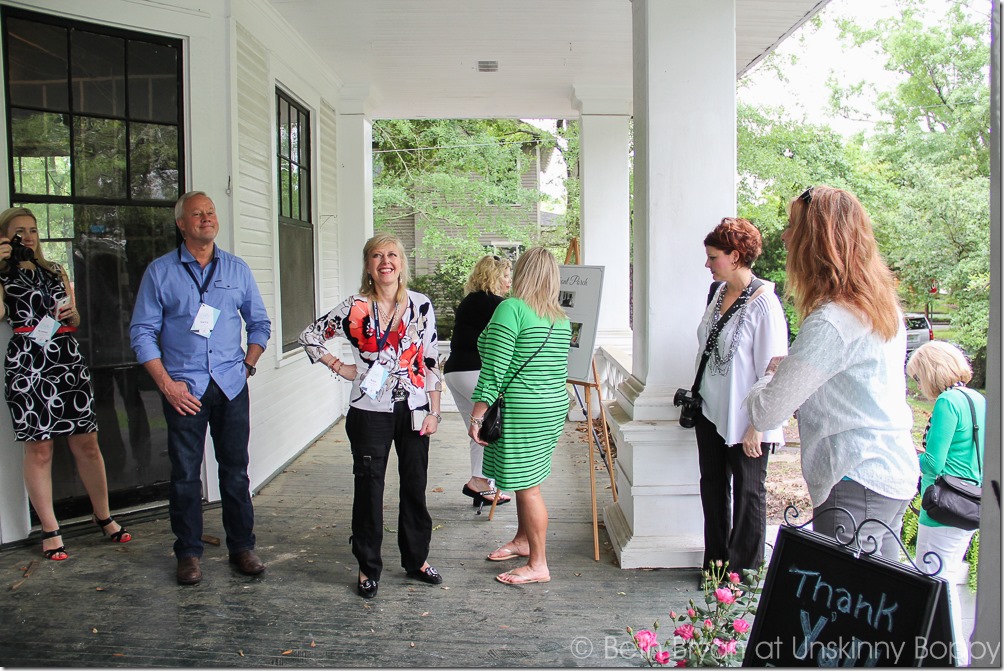 Right now the renovation is at the stage of construction just before things really get rocking and rolling. Inside was nothing but studs and dreams, but I can totally see the vision that Esther has in mind for this beautiful old home.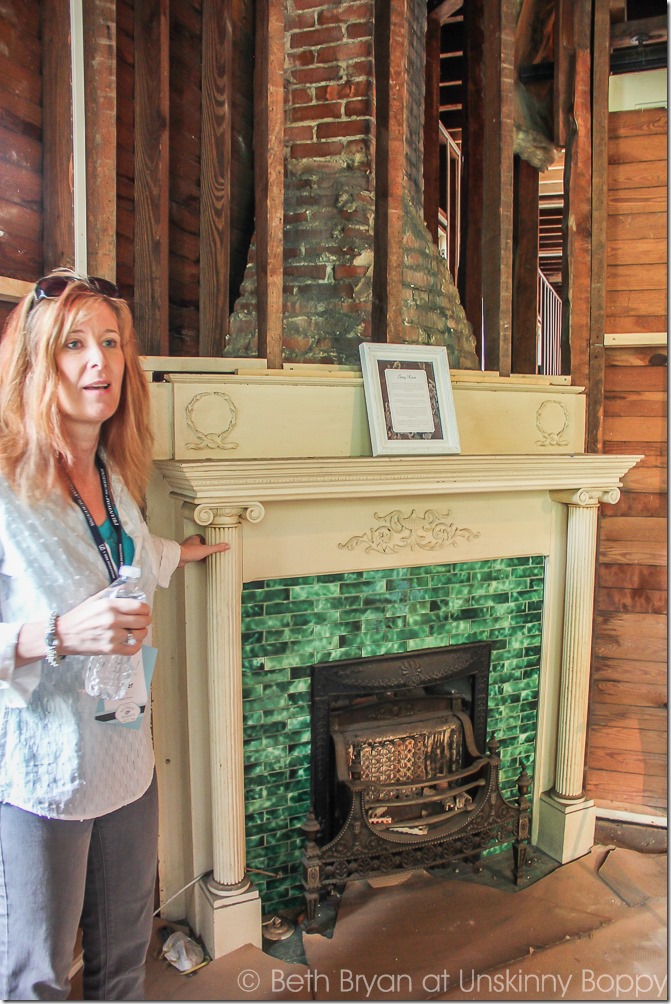 She has put her entire heart and soul into this process, and it shows around ever corner. You really must hear the story of her journey for yourself in the webisodes. It's so fun to watch it all unfold!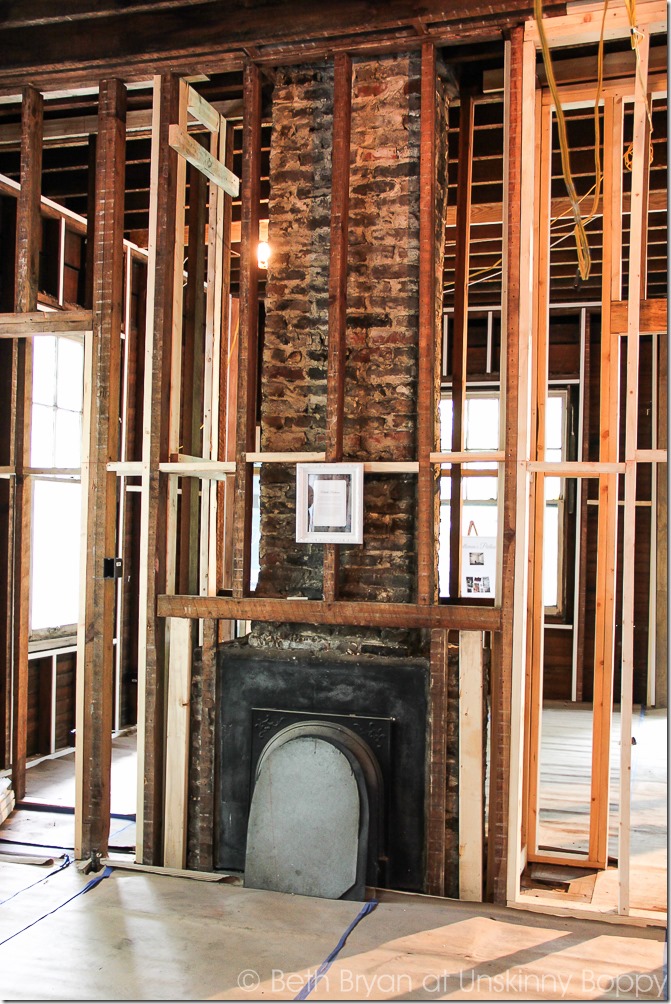 Esther gave us the full tour of each room, along with her thoughts on the design process throughout the reconstruction and renovation.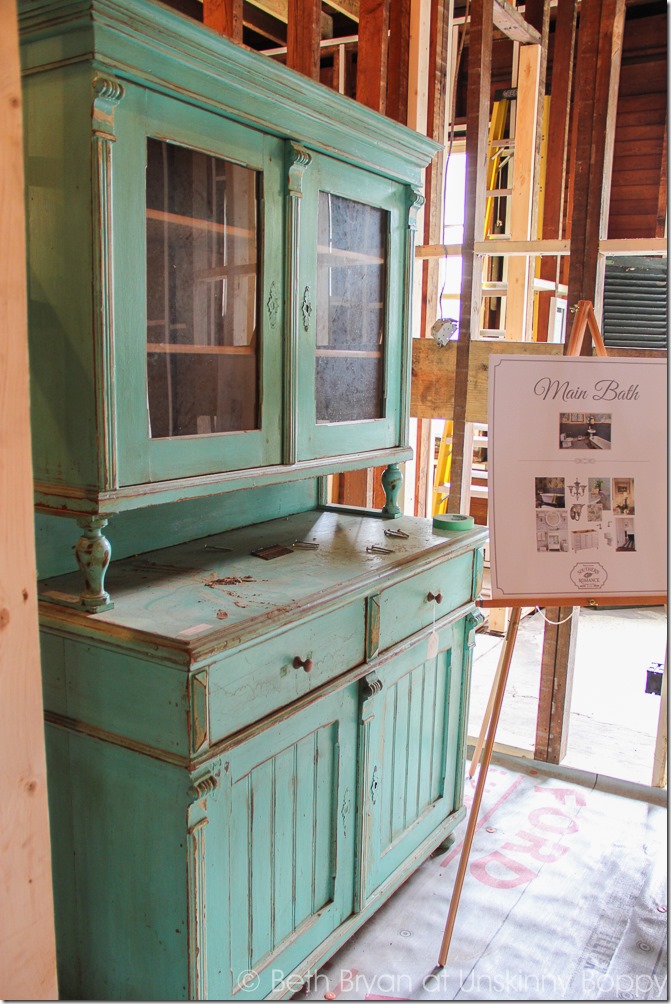 It helped that they provided us with story boards showing the décor ideas for each room inside the home so we can envision what the future spaces will look like. Out on the massive back porch we got to see where the Phantom Screens will be installed to drop down and keep out the bugs on the humid, muggy nights, which essentially means March through December in Mobile.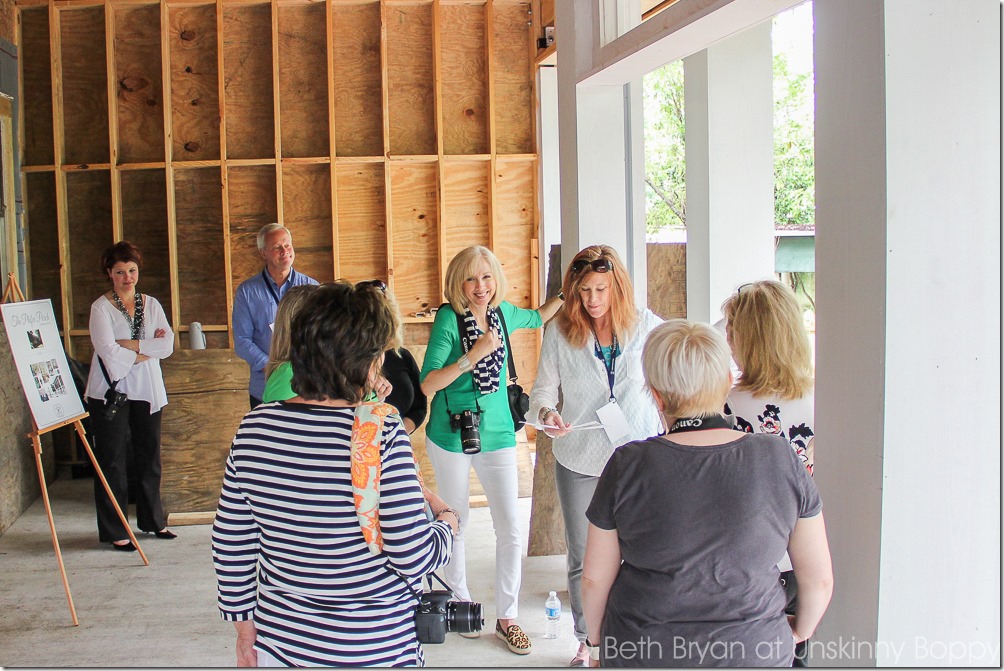 This house is going to be an absolute show stopper when it is completed, and I cannot WAIT to watch it all unfold on future webisodes on the website. Y'all head over to watch all of the progress so far and be sure to follow Phantom Screens on social media to see future progress on the Southern Romance home.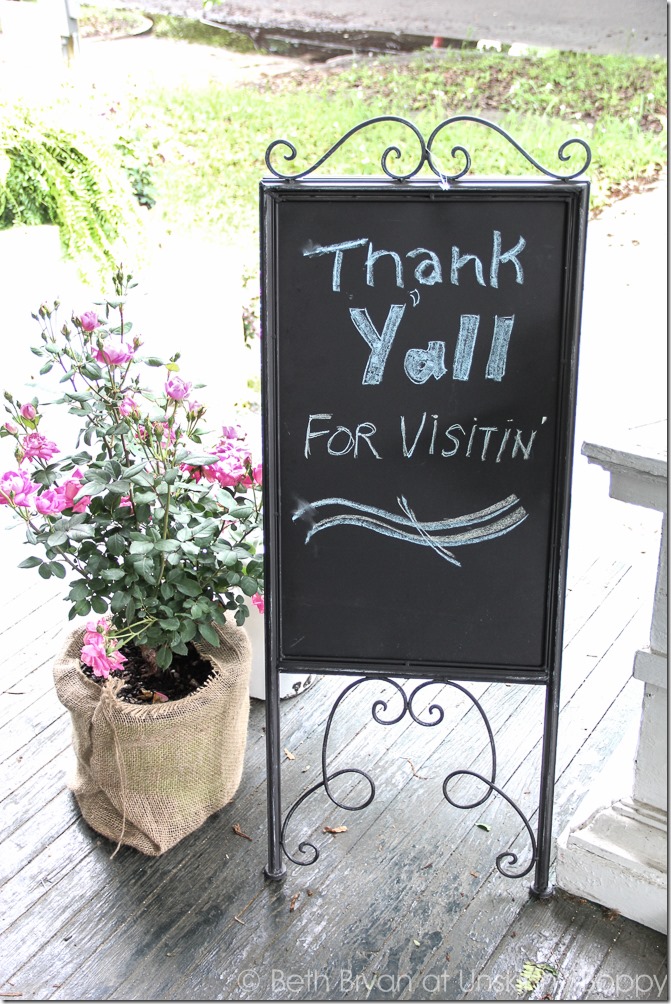 Find out more about the Southern Romance house on Instagram, Facebook, Pinterest, or Twitter
Ready to read the rest of the story?? CLICK HERE to see the final house reveal!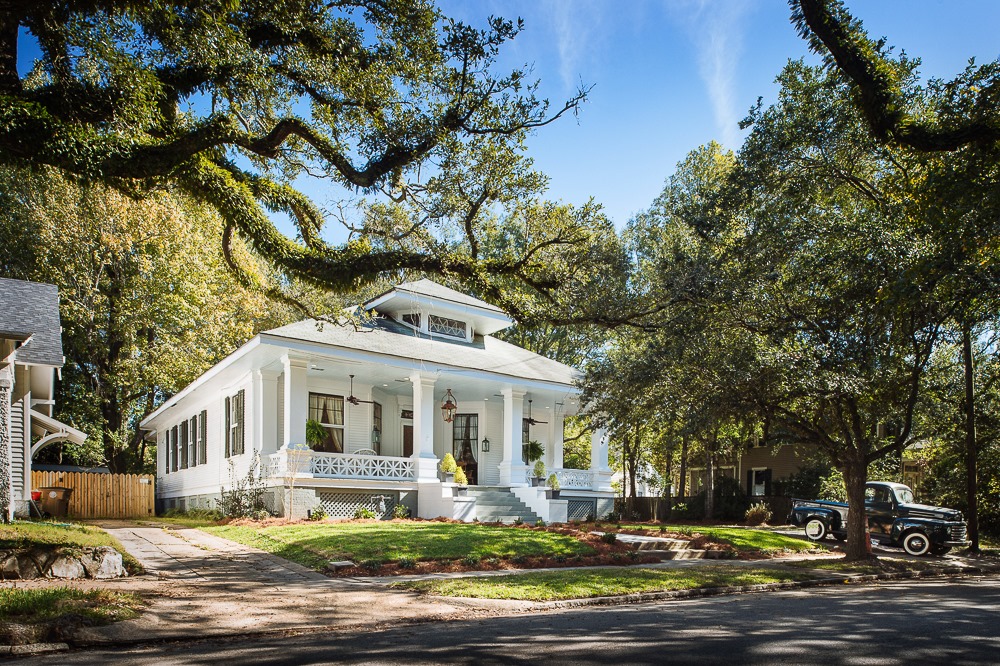 Disclaimer: Phantom Screens gave me a fun, free trip to Mobile in exchange for this post. All opinions about Susannne Sugarbaker and Sleeping with the Enemy are my own.