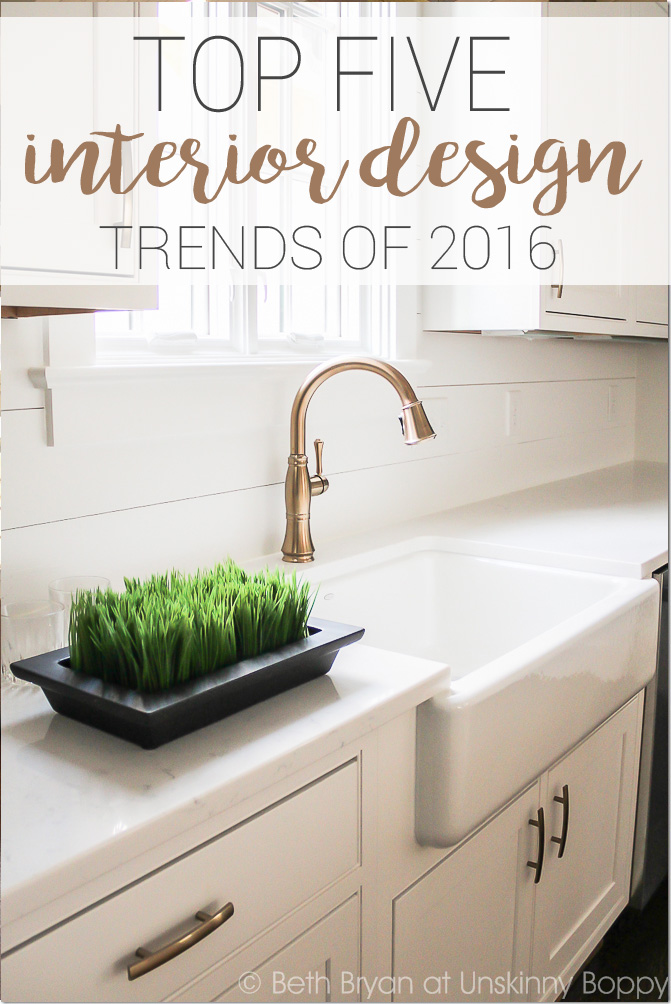 It's that time of year again!
Time for me to make the annual trek around to a bunch of open houses and report back my findings on the latest interior design trends from the Birmingham Parade of Homes. This year's post is going to be chock full of eye candy photos, so pin away to your heart's content.  Come on inside and let's look around these uber-trendy houses all built in the suburbs of Birmingham, Alabama.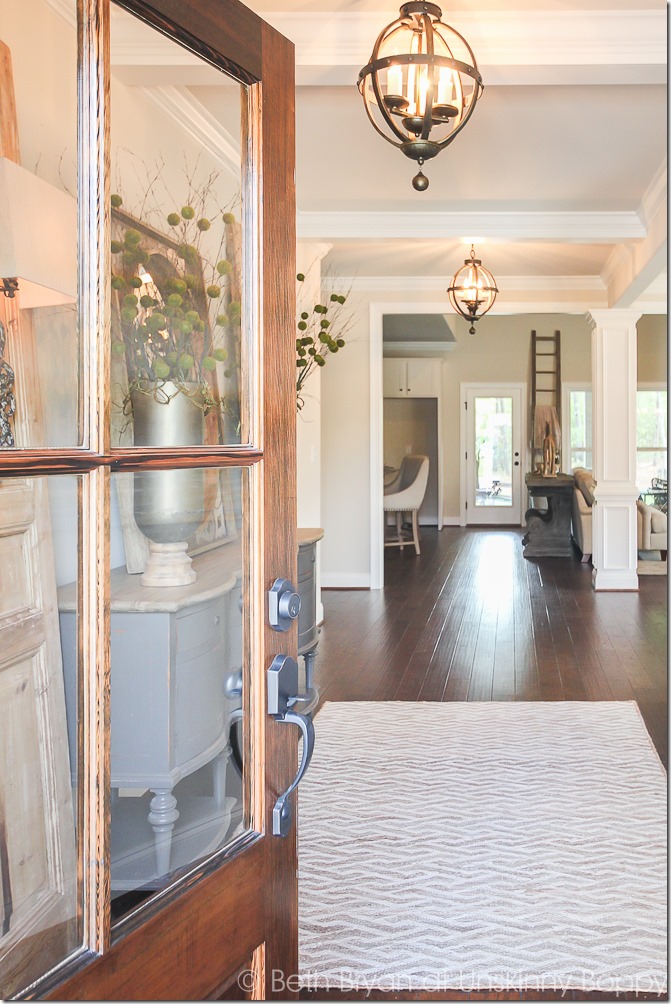 I'll just be honest and say that sometimes I fell in love with the staging or furniture as much as the actual home.  Check out GORGEOUS dining table that I found in the Grey Oaks model center in Pelham.  It's a beautiful house with a pretty view but that dining table?
Come to mama.  I need it.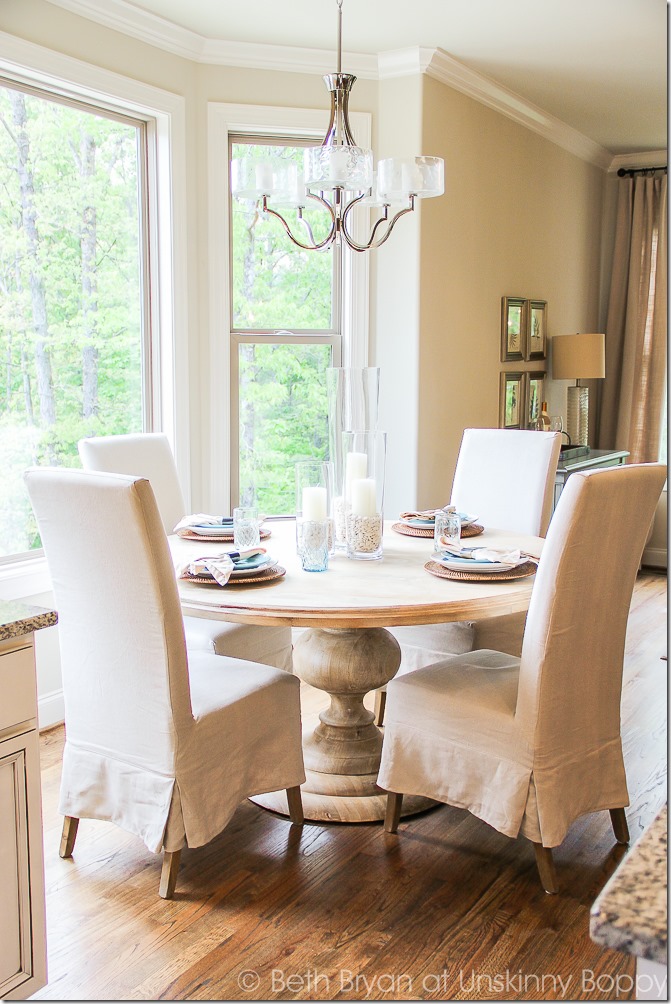 I also loved this cute cloche on a wood slice found at Murphy Home Builder's house in Highland Lakes.  Paired up with that metallic silver subway tile and it's perfect in this kitchen.  This particular house was staged by Shannon of Urban Home Market on 280. You can read all about her design ideas over on their blog.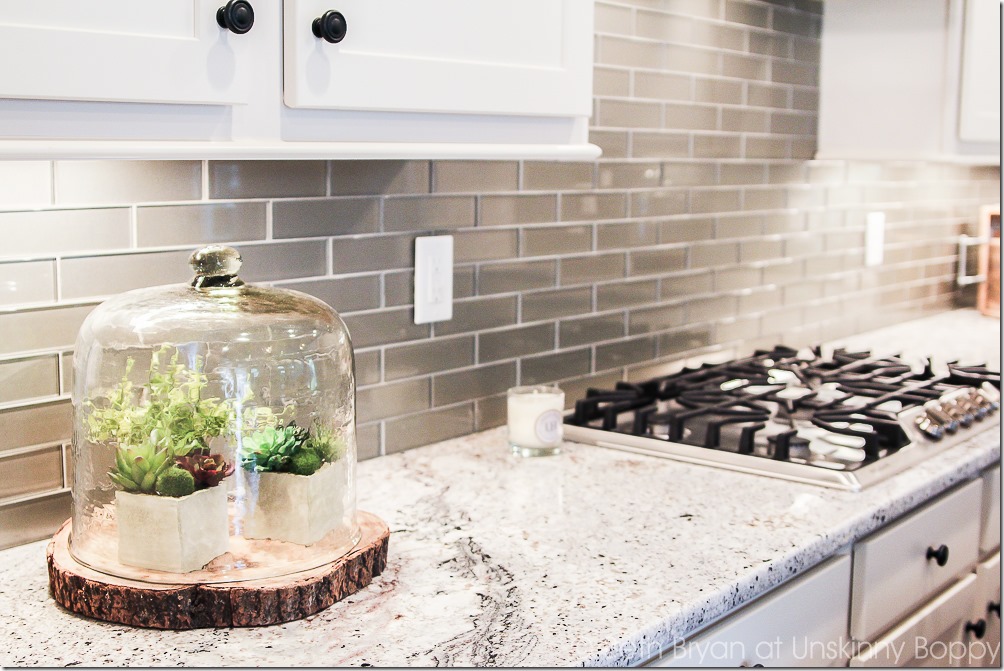 Ok, so let's get to the trends.  Here are the top five trends I noticed in this year's Parade Homes.
1. Shiplap. Like, everywhere.

And I do mean EVVVVVVerywhere.  Offices, bathrooms, kitchens, fireplaces… the shiplap craze touched many rooms in these homes. Like I said in my last post, Joanna Gaines has set of the shiplap firestorm and it doesn't seem to be slowing down anytime soon.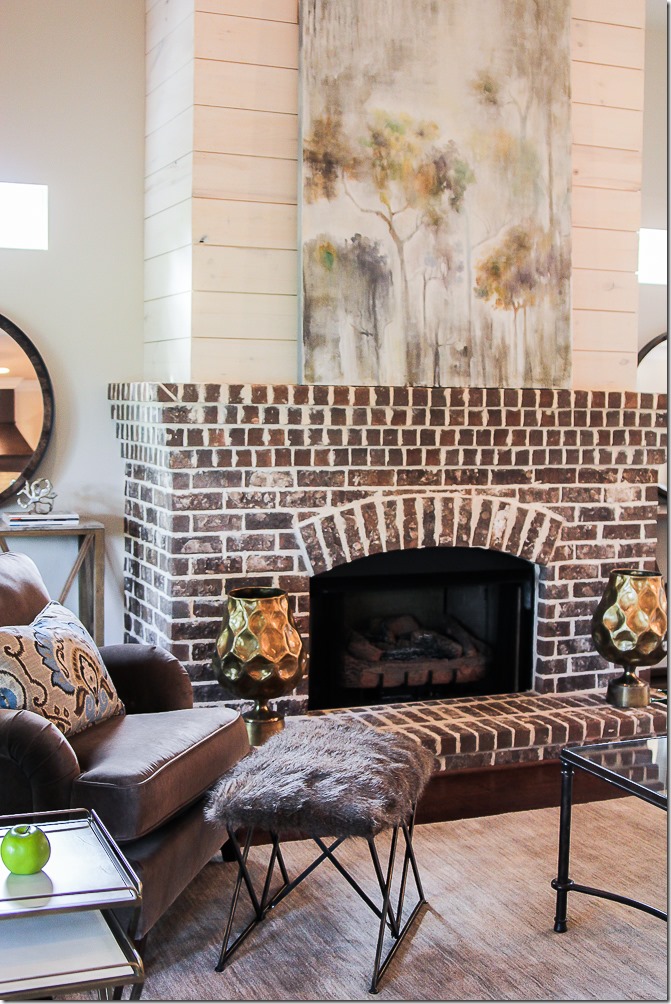 Trend #2: Aged Brass
Faucets, fixtures, hardware, lighting… everywhere I looked aged brass was gleaming at me, but not in a tacky, bright brass kind of way.  Aged brass has a nice soft patina that looks well-loved and timeless.  I have become obsessed with all things copper lately, and aged brass is like copper's more laid back cousin.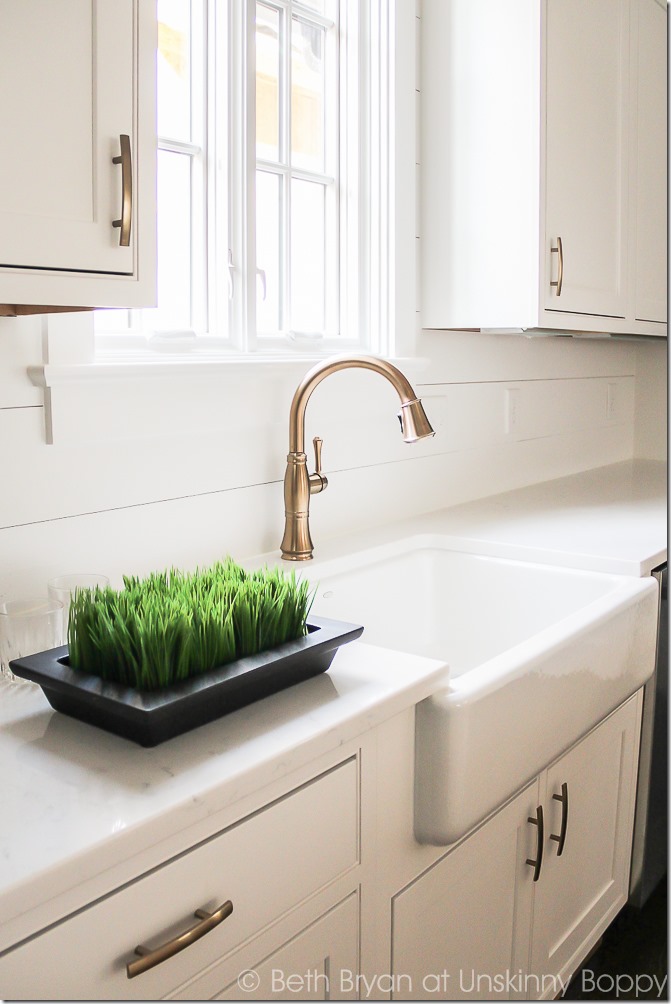 This trend has been slowly making it's way back into style over the past few years around the country, but it's finally made it to the Deep South as a staple in home design right now.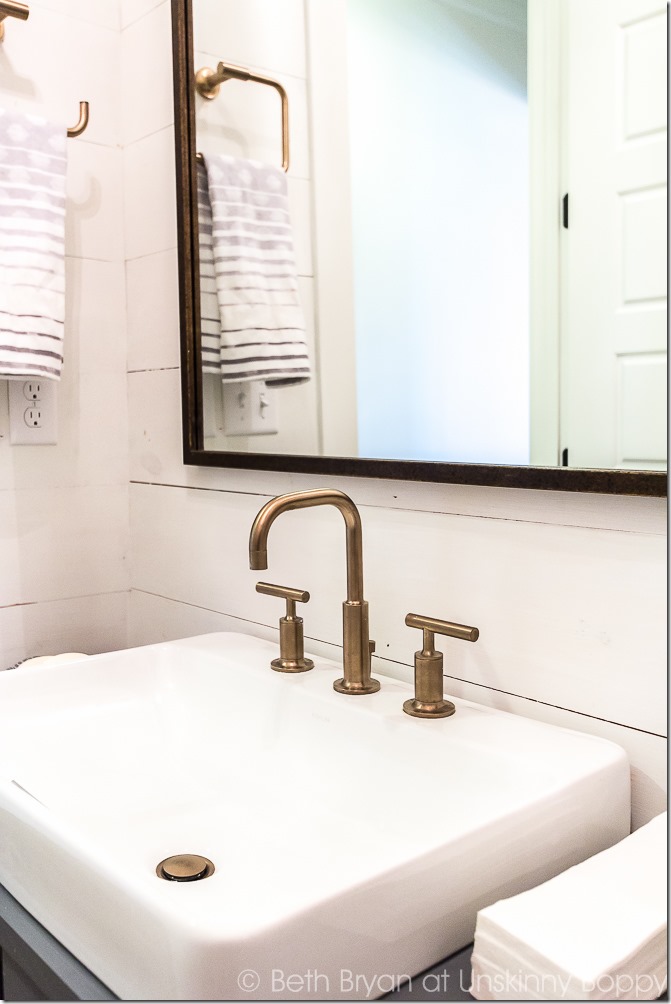 Here you can see aged brass from top to bottom in this master bathroom at the Mt. Laurel Model Home.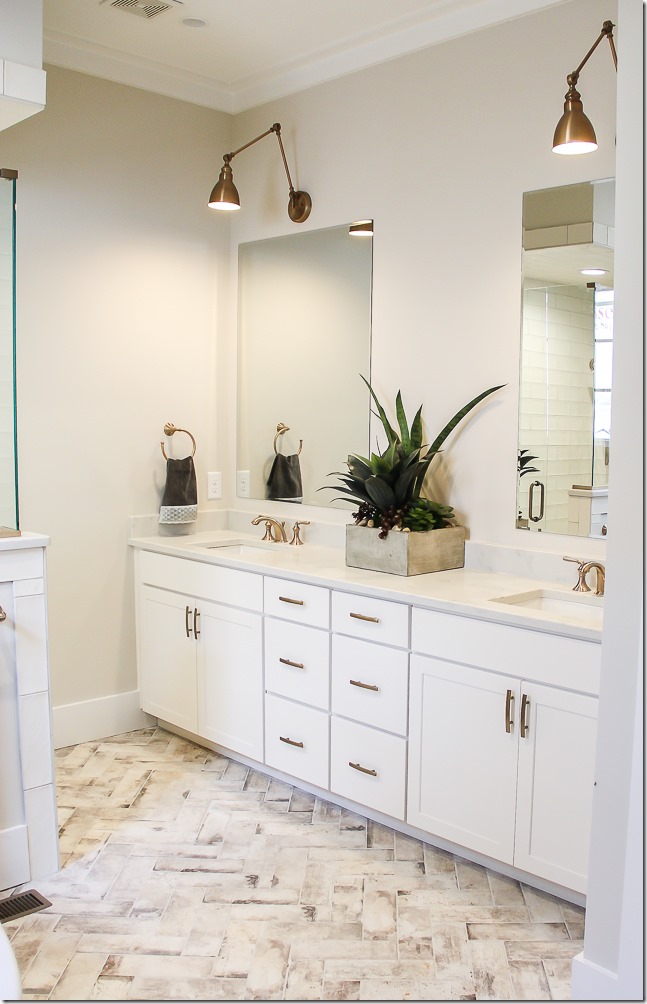 Second runner up in the faucet finish contest is chrome, which is so shiny and sexy that it's hard to resist.  If I were to replace all my faucets in my home, I would probably choose chrome over any other finish.  I feel like chrome would get more longevity for me. And that Silestone countertop still makes me drool.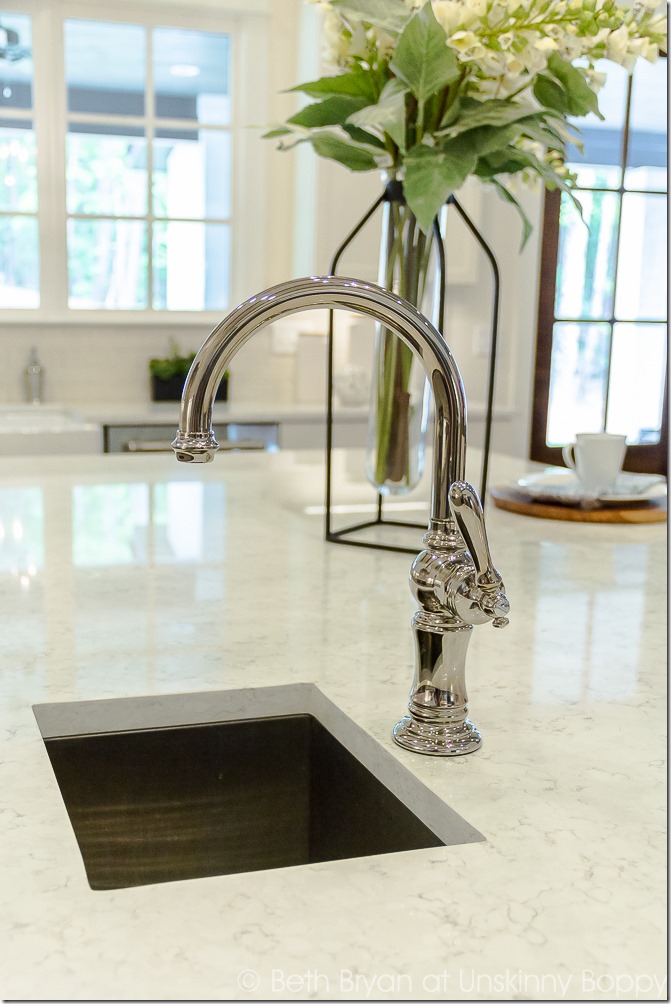 3. Freestanding Oval Bathtubs.
I'm torn over this trend, y'all.  Bath time is sacred time here in my house, so when I see these tiny tubs with no jets I raise one eyebrow and judge it hard.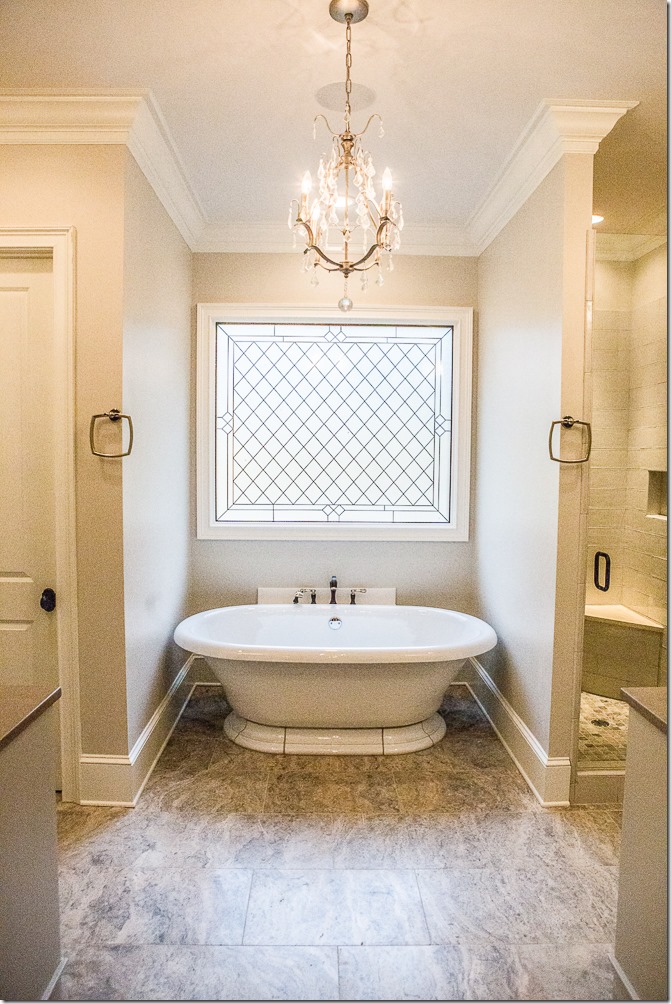 I cannot picture myself soaking in this little bitty bathtub.  I mean. Can you?  Just give me a big ol' jetted garden tub any day of the week, even if it's not the sexiest tub around town.  I do appreciate the depth of these tubs, so hopefully it's bigger than it looks.  I will probably never be able to afford one to find out. LOL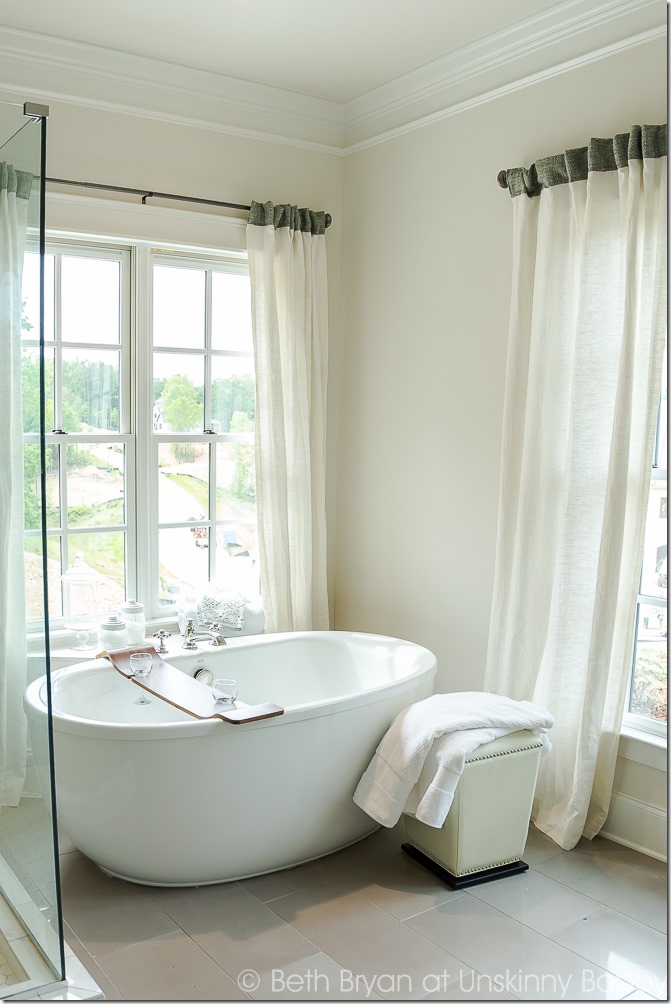 4. Dark bronze exterior windows.
Bye Bye, cottage-y white window trim.  Dark bronze windows are the current rage.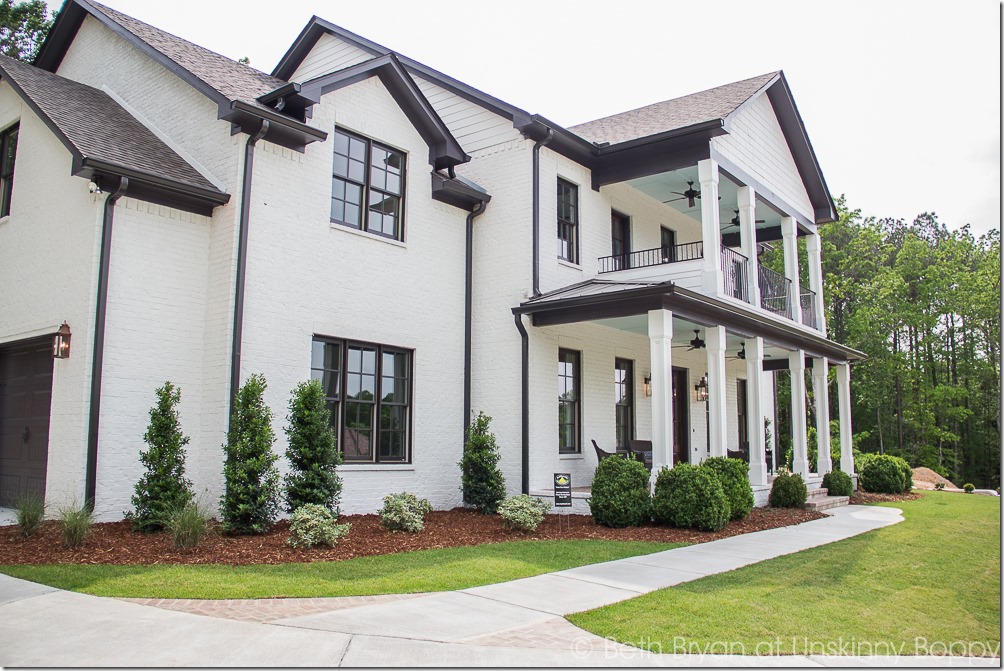 You can see it here on this porch at the Ross Bridge Glasscott home by Murphy Home Builders.  Combined with a beautiful set of rich mahogany and glass double front doors and those amazing copper porch lights (and don't forget that haint blue ceiling!) I'm swooning over here.  I love this look so much. It's very reminiscent of this amazing beach house I blogged about back in 2012.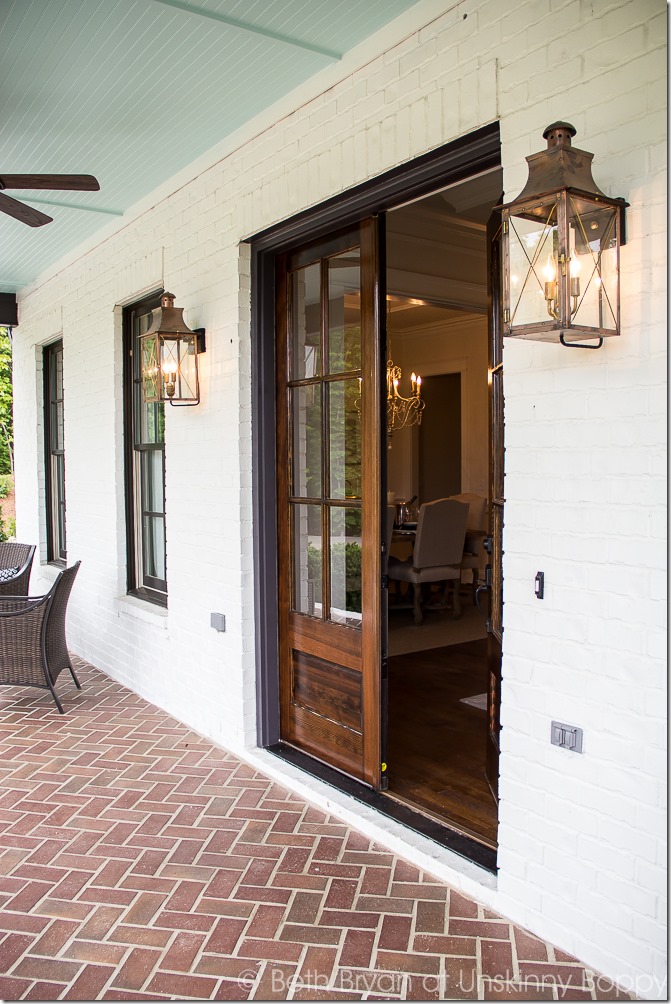 Here's a similar look on the front porch of the Mt. Laurel Parade Home, paired with a warmer paint color.  This looks a lot like Sherwin Williams Warm Stone to me, but I'm just guessing.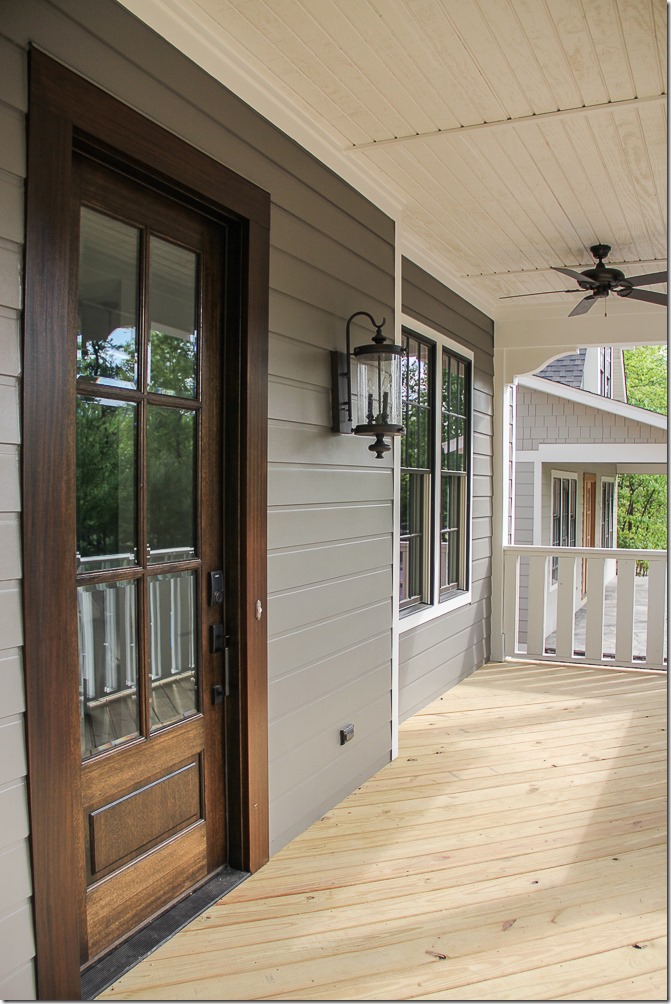 #5 White, white and the complete absence of any other color except for… white.
So, this is going to be a touchy topic for some of you, I know.  There is no doubt that all-white rooms are SUPER trendy right now, and the Parade homes didn't disappoint in this regard.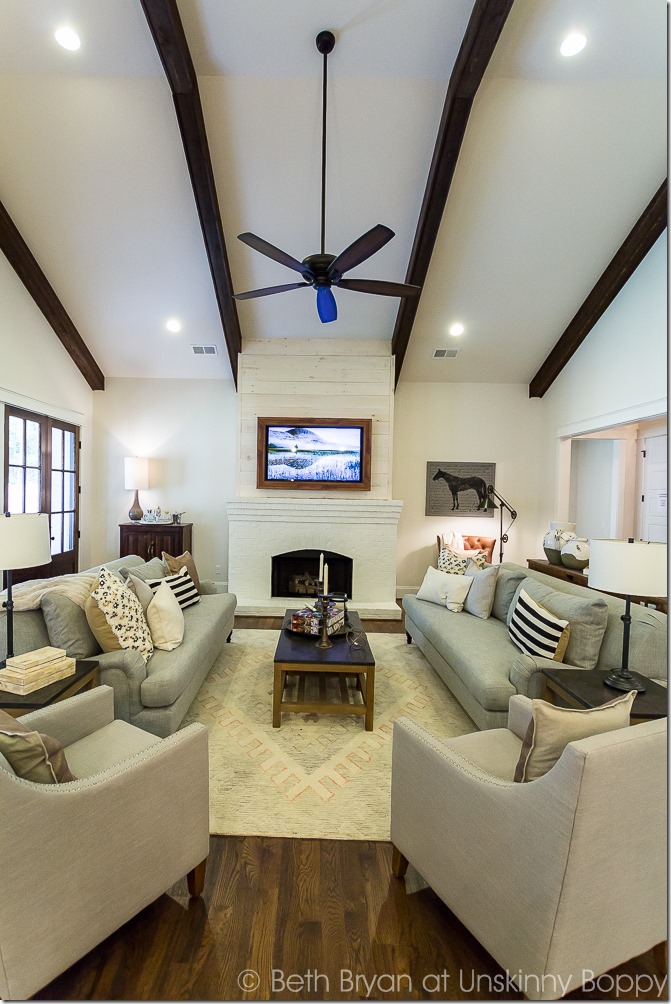 If you love this crisp/clean/modern style, then you'll love these inspiration pics I'm sure.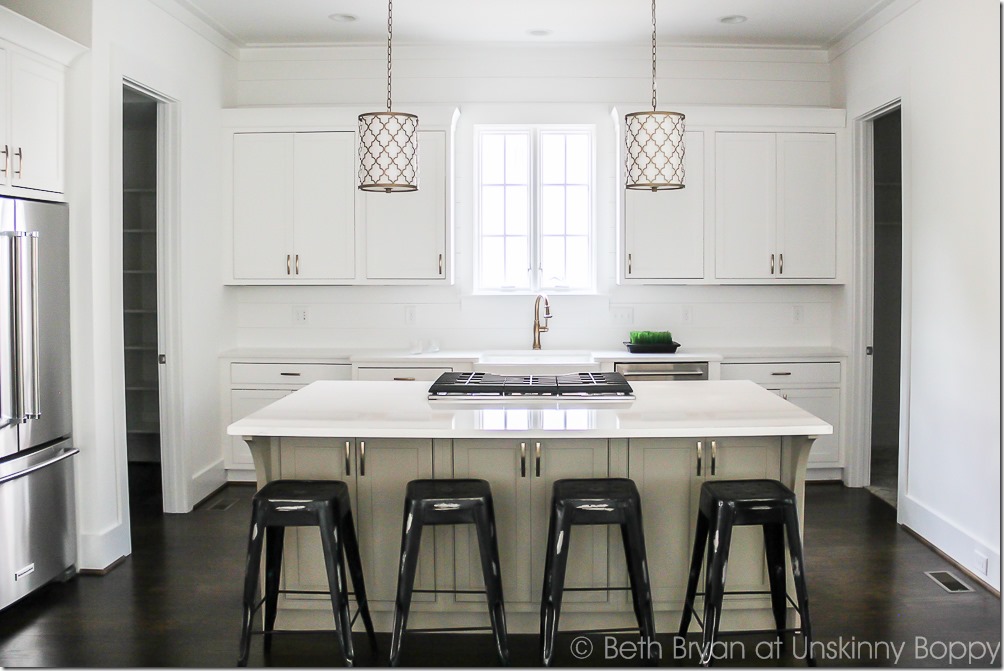 But if you are someone who craves color, then you might be disappointed for the next few years until this trend dies back down.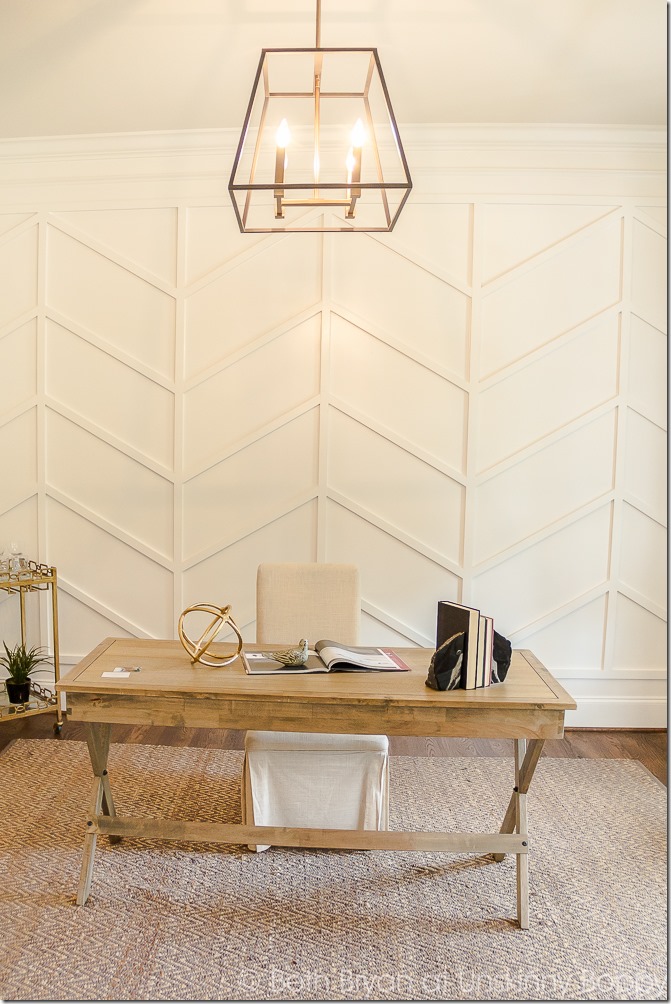 If you're a color lover hang in there.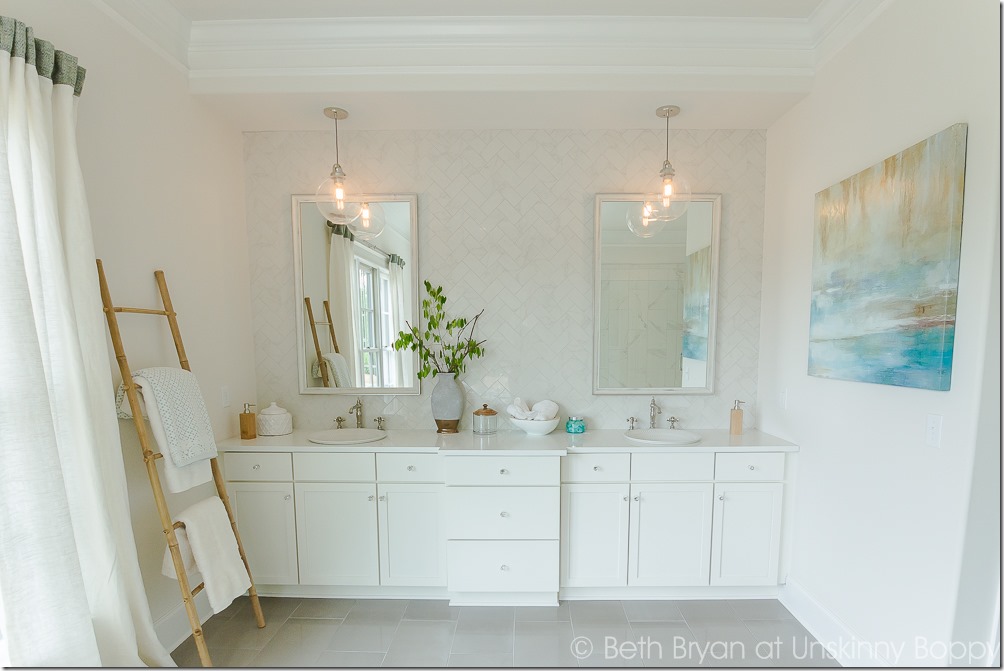 All trends will come to an end eventually.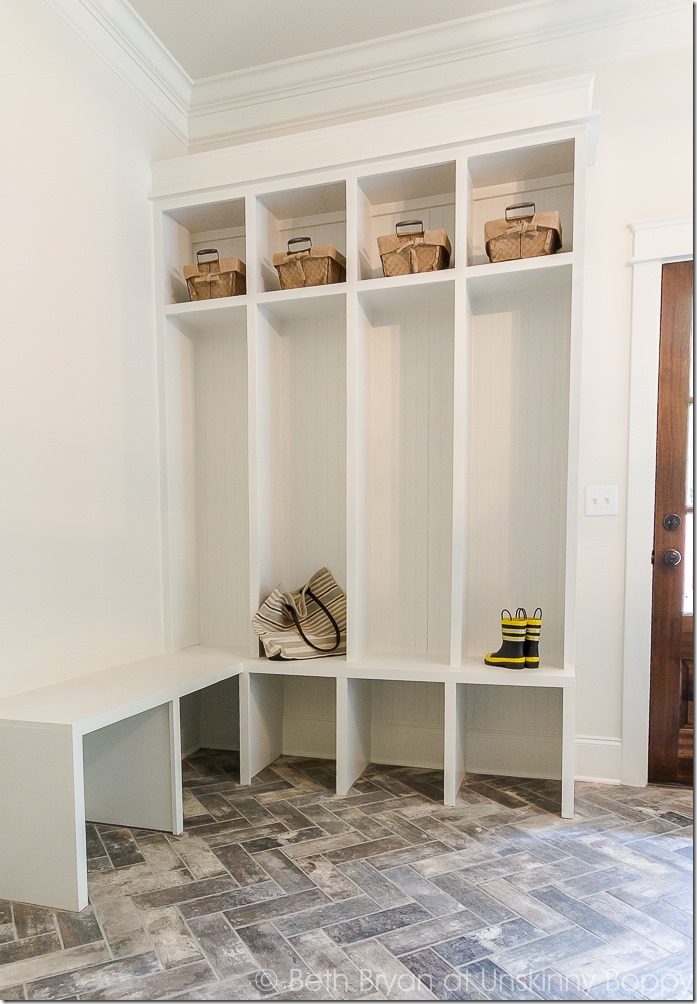 And just remember—for every action there is an equal and opposite reaction, which means there will likely be a color EXPLOSION coming soon.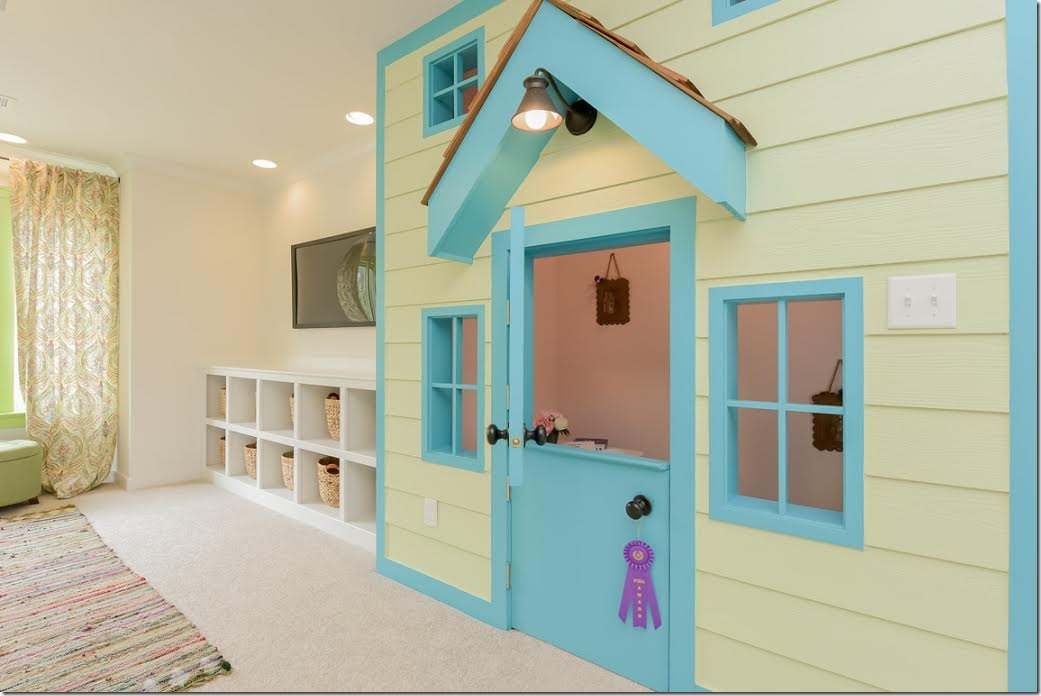 If you have any questions about any of the houses featured here, leave a comment and I'll try to answer them!
To see the Top Five Decorating Trends from the 2015 Parade of Homes, click here!