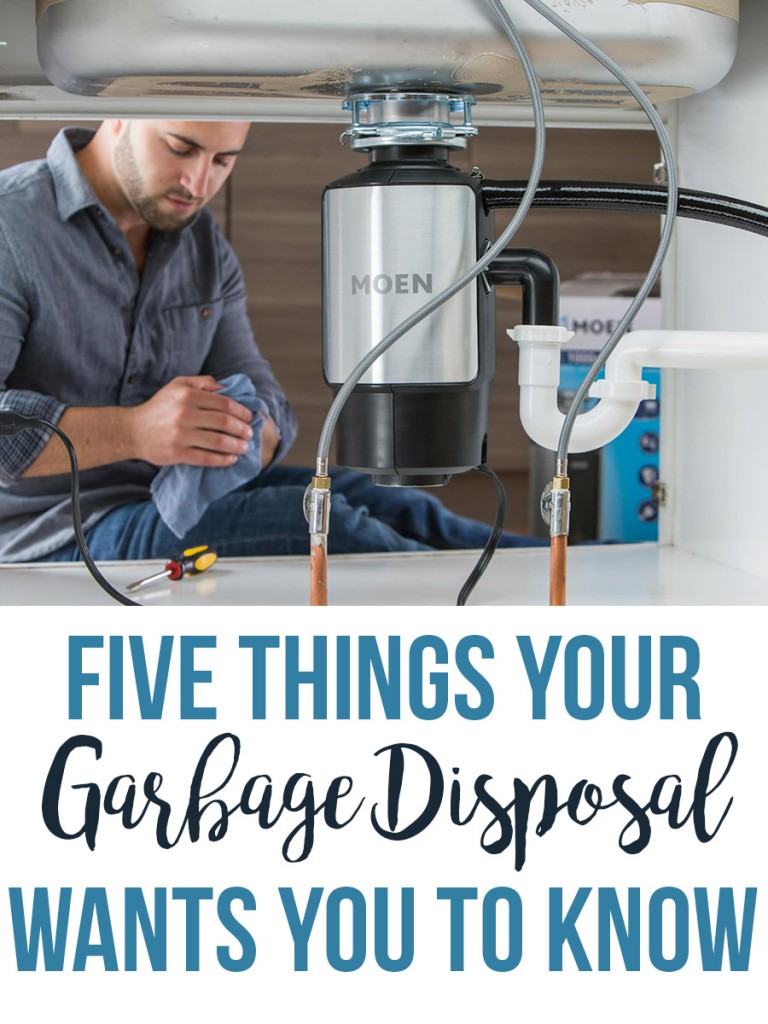 Back in the early 2000's when I was an apartment dweller I had a garbage disposal in my sink.  I will admit it was kinda scary when a spoon accidentally dropped down inside of it but I LOVED having it as an option for quick and easy cleanups. I've missed that old disposal over the years.
After I moved out of the apartment I started buying houses, and our past three houses have been on a septic tank. I have always been told that garbage disposals are not compatible with a septic tank, so I never thought we could install one. Recently I learned that is actually not true, and you can totally have a garbage disposal hooked up to a septic tank! WOOT!  So, while we were getting my new Moen kitchen faucet installed by our plumber, Jake, we also had him install a new garbage disposal.
I learned a few things from Jake while he was installing our disposal, so I thought I'd share them with you.
Here's five more things you should know about modern garbage disposals:
1. Don't Feed It Like a Member of the Family: Just because it's called a disposal doesn't mean it's a dispos-ALL. Like, don't try to wedge your entire leftover pot roast down the gullet of your garbage disposal. If you have an older or inexpensive model garbage disposal, ban these foods from your sink immediately:
Meat
Bones
Animal Fats / Grease / Oils (including butter/cheese)
Pumpkin (any stringy or fibrous root vegetable can wrap around the blades)
Celery (see Pumpkin)
Fruit Pits (I have broken a few food processors with date pits; not gonna happen in my new garbage disposal)
Pasta/ Rice (or other food that puffs as it's cooked)
Coffee Grounds (they can sit there for a while and cause a traffic jam)
All of this stuff needs to go straight into the trash, not down your sink.
But, this new Moen disposal use VORTEX™ permanent magnet motor technology, which generate quick, short bursts of energy to grind food scraps into fine particles.  Meaning, there is less jamming, and you can put items that may have clogged other disposals down your Moen disposal, like lemon rinds, apple cores, and even chicken bones down the 1 HP models. Mine is 3/4 horsepower, so I'll keep tossing my chicken bones in the trash just to be safe!
2. Cold versus Hot water? You might be surprised:  It is a well-known fact among most disposal owners that you should have the water running while the disposal is running. Never run the disposal "dry". But this was very interesting:
It's true, hot water dissolves grease and according to Moen's survey, nearly one third of Americans (32 percent) believe hot water should always be used when running a garbage disposal. But, when it comes to your garbage disposal, you should always use cold water when grinding food scraps. By using cold water, you're keeping the fats solid as they travel through the pipes. If fat is melted with hot water as it enters the pipe system (at the disposal), you risk it cooling and hardening at some point. This means a potential coating of re-congealed fat on the insides of your pipes, resulting in clogs that could impact your home's entire plumbing system.
So there you go- Let the disposal + cold water run for about 15 more seconds after you're sure all the food has been washed down the pipes just to keep it clear.
3. Clean it regularly: Regular old ice cubes + lemon slices works fine or get all science project-y and make a volcano with vinegar + baking soda.
Or heck, try all of the above if your disposal starts to get stinky or moldy around the rim.  For now, mine is brand new and still smells fresh and clean. Once it's well-used I'll be back with more cleaning tips, I'm sure.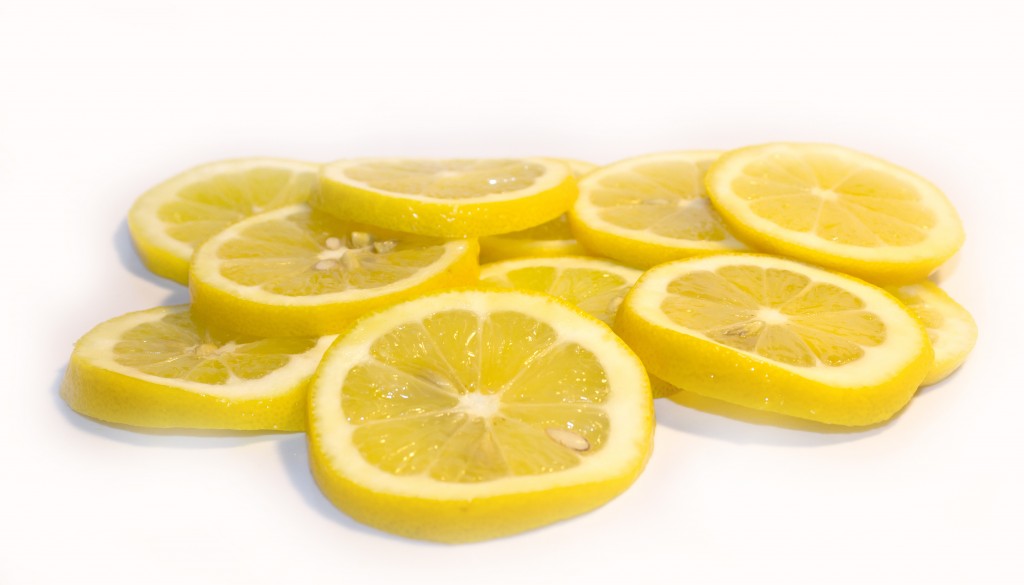 4. Don't want a Light Switch on your Wall? Use a Push Button Instead: This little tip right here is what ultimately sold me on becoming a garbage disposal owner.
There is nothing worse than flipping a switch behind a kitchen sink expecting a light to come on and a garbage disposal roaring to life instead. Those tricky-switches rank right up there with those heart attack canned biscuits bursting open for Scariest Kitchen "Gotchas!"  I avoided that booby trap by having Jake install a push button beside our faucet.  It works just like the push button on our jetted tub and it saves me lots of mini heart attacks.
The push button on/off switch also lets you avoid cutting into your kitchen backsplash tiles if that is a concern.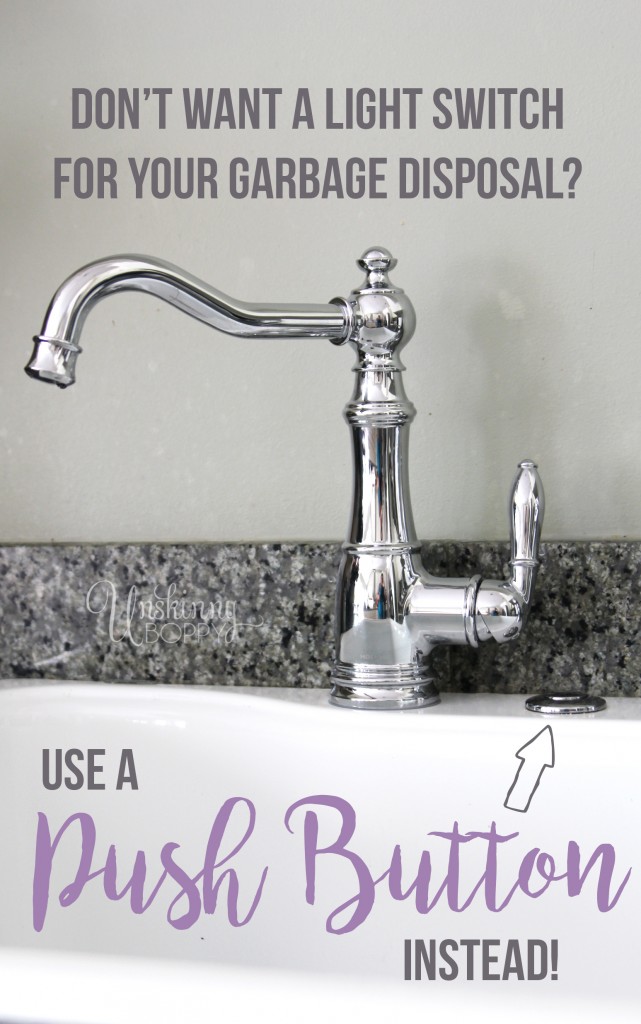 And last but not least…
5. Modern garbage disposals are SUPER QUIET:  In the olden days of the early 2000's, I could not hold a conversation over my apartment garbage disposal because it was so deafening. But DUDE. This new Moen disposal is crazy quiet.
Caroline's bedroom literally shares a wall with my kitchen sink, which is incredibly inconvenient for doing dishes during naptime.  Since cleaning up the house with a toddler around is kinda like brushing your teeth while eating Oreos, I try to get as much done as possible while she's napping. I cannot make myself a smoothie in the blender or run the vacuum cleaner but doggone-it I can grind my vegetable leftovers into oblivion and Caroline will be none the wiser.  It's really that quiet.
Can I get an amen for a napping baby AND a clean sink?  I love this new disposal!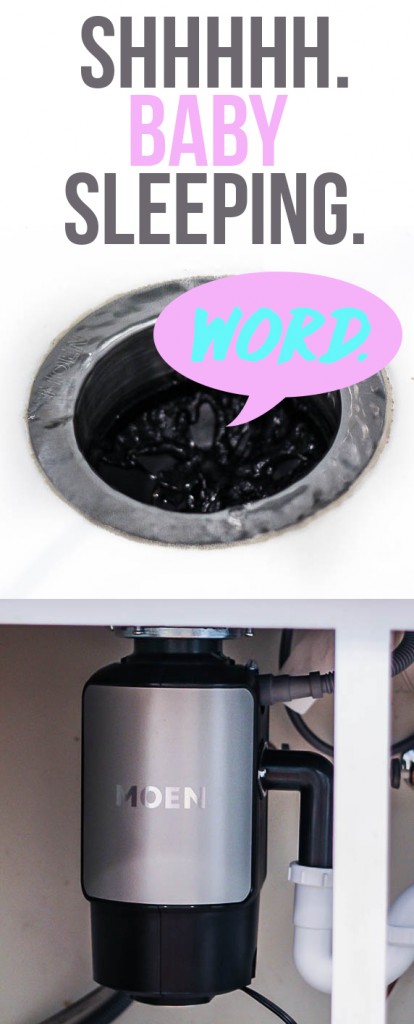 Disclosure: This is a sponsored post for my new Moen Garbage Disposal.  All opinions about grinding bones and heart attack canned biscuits are my own.