Hey there!
Today I'm opening up my blog to Betsy from Happily Ever After blog to give you some quick painting advice. It's been quite a busy few weeks (I'm sure you can imagine!) so I've invited some guest bloggers to share their knowledge with you while I'm getting life back to normal. I will be back tomorrow with an update on my mom's heart surgery, so stay tuned for that!
XOXO,
Beth
---
Should I use Water-based or Oil Based Paint? (and how to tell the difference between the two!)
I'm Betsy from Happily Ever After, Etc. and I can't believe that I'm here to chat with all of you on Unskinny Boppy today! I met Beth at Haven last month and she is just the sweetest gal. I was ecstatic when she invited me over to talk to y'all about paint… something near and dear to my heart.
On my blog you'll find a little home décor, a little diy and a whole lot of paint! I've been painting everything I could get my hands on since I was a little girl but it wasn't until later in life that I learned how to paint walls (being an army brat they really discouraged that kind of thing on base!).
Once I started painting I realized that walls are like pringles… you can't paint just one! I learned everything I could about painting the inside of your home and then I started working at the local paint store! Now I spend my days mixing paint and answering questions… and I'm here to share a little bit of that knowledge with you!
Now if you have an older home chances are you have oil based paint somewhere in your home. There are still a few oil based products around but with the advances in water-based paint oil based is really a necessity of the past.
The only reason to use oil based is if you already have oil based (or you have water spots but we'll get to that in a minute). If you have oil based top coat in your home… on cabinets, trim, walls then you have two choices. The first is to go back over it with more oil based paint.
Simply pick a great color and pick up a gallon of mineral spirits! You can even throw your brush away if you really don't feel like cleaning up when you're done.
The other option is to use oil based primer. The reason latex paint does not stick to oil based paint is because oil based topcoat is too shiny. It's too slick! As a result any latex put on oil based paint will simply peel right off. I have seen videos of clients peeling entire walls of latex paint off in one big sheet… it's enough to make you cry!
Oil based primer on the other hand is NOT shiny. That makes it a universal primer… which means it can accept either an oil based topcoat or a latex topcoat! Score!
Yes it's an extra step. Now instead of just painting you have to prime and paint. Extra work is never good.. but at the end of the day you'll have latex paint! Which means the next time you get the urge to paint your living room you'll be able to without cracking open a single quart of paint thinner.
If you're not sure how to tell if your paint is oil or latex try this simple trick: take a bit of oops paint remover and wet a cotton ball. Then rub the cotton ball on an out of the way area of your wall… if paint starts to transfer to the cotton ball it's latex! If your cotton ball simply cleans your wall? It's oil!
(Pssst! If you don't have any oops paint remover lying around try rubbing alcohol… it doesn't transfer quite as blatantly as the oops but it will work!)
Just one last tip… paint thinner and mineral spirits are the same thing.
Paint thinner is mineral spirits but in a less refined form. You could break it down to actual percentages but basically paint thinner has less of the stuff that make it mineral spirits. All we need to know is that both will clean oil based paints!
(This post contains affiliate links.)
Of course after so many years of being the paint lady I've learned a thing or two… and instead of keeping it all to myself I'm sharing it with you in a little eBook called Inside the Paint Can: Beginner Tips and Tricks for Interior Painting!
CLICK HERE TO PURCHASE MY PAINT e-BOOK!
Painting your home can be a daunting task but it doesn't have to be. So if you're ready to make painting a little less confusing you'll love all 10 chapters of this book… it's jam packed with the answers to all kinds of fun painting questions!
Thank you so much to Beth for having me today and thank YOU for reading! I'd love to have you over for a visit at Happily Ever After, Etc… hope to see you there!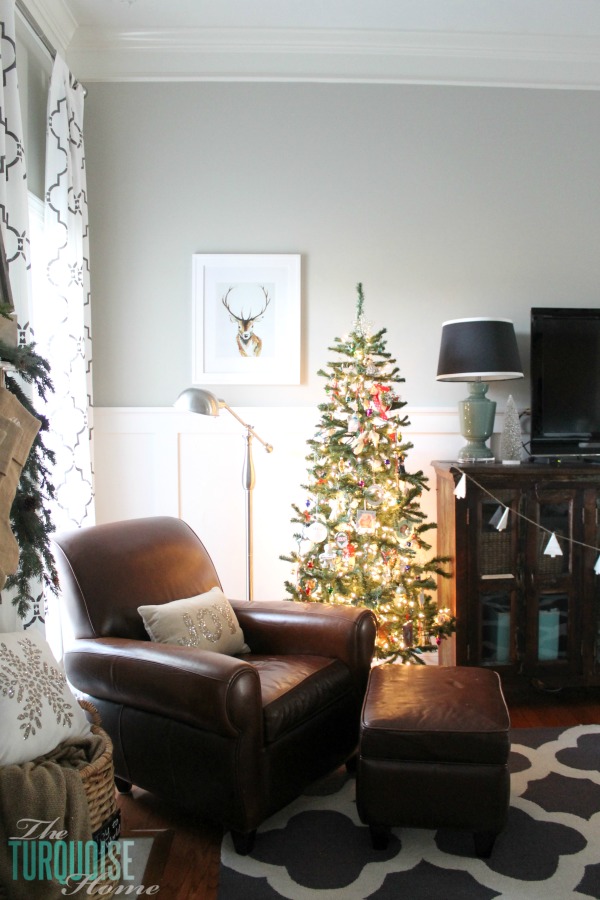 Save
Save