School is in full swing here, which means I have spent a lot of minutes staring blankly into my pantry with a puzzled look on my face, trying to figure out what I should be putting in my son's lunchbox.
If I'm being honest, with everything that's been going on in our lives lately, I filled up his lunchroom credit card with cash and let him buy anything he wants from the cafeteria, which is usually a cheeseburger, Doritos and an ice cream sandwich. :/ Not good.
Finally I decided to sit down and come up with a game plan to get some semi-decent variety in his daily 8 year old diet.
Do you need a school lunch game plan too? Here ya go!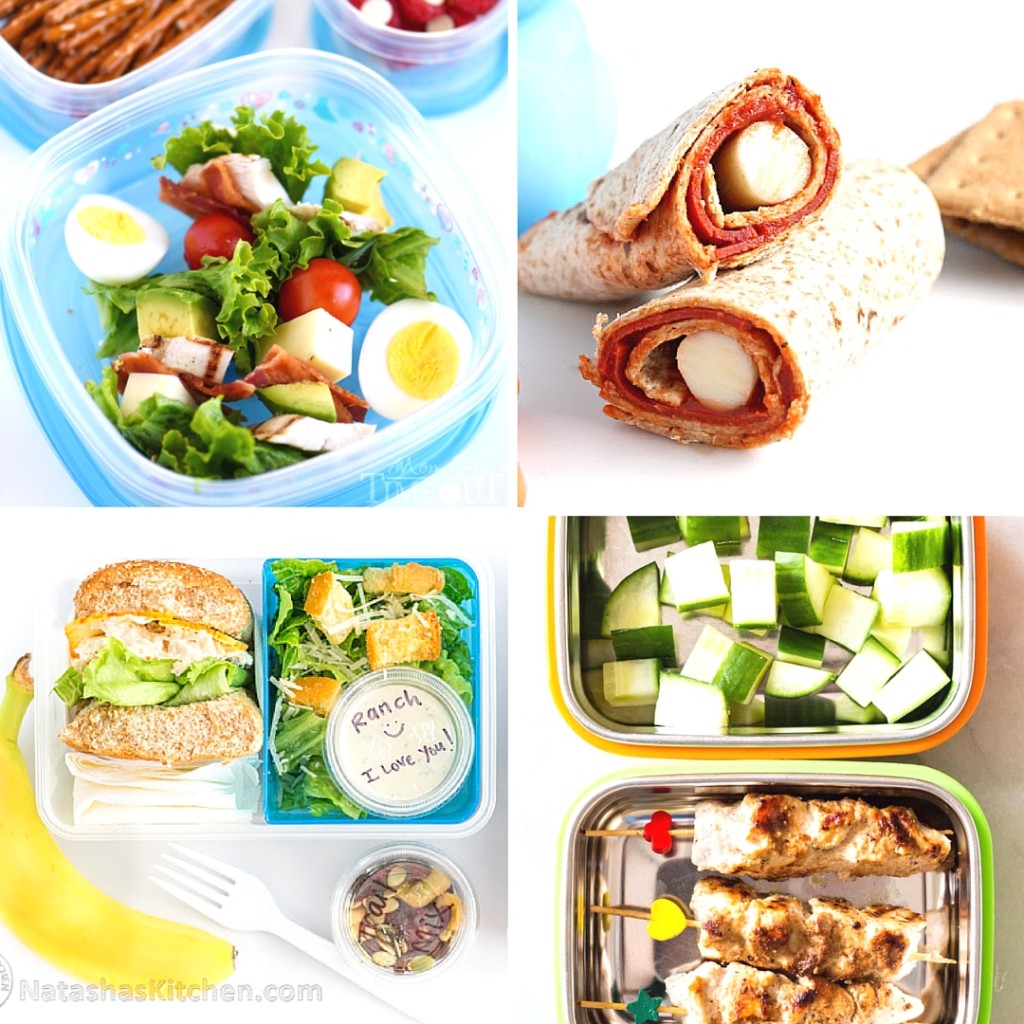 Believe it or not, packing school lunches don't have to be a chore that you dread. And no matter WHAT Pinterest tells you, you don't have to spend hours making difficult lunches that take minutes to eat. Instead, why not make simple meals that your kids are sure to love.
Thermos Hot Dogs
Do your kids love hot dogs? Then you'll love this trick. All you need to do is boil hot dogs and pour them into a thermos. Add a packet of ketchup or mustard, buns, and baked chips. You've got a lunch that took literally minutes to prepare. Best of all, you can pack most of this the night before. If you want, you can also add a second thermos filled with chili.
Chicken Strips and Dip
The next time you make baked chicken strips, make extras. You can then put these in your kids' lunches along with their favorite dipping sauce. Add some celery or carrot sticks and your kids will have a yummy dippable lunch that they're sure to love. In the past I've bought teriyaki chicken skewers at Costco that were pre-cooked, so those would be easy to toss in a lunchbox also.
Homemade Lunchables
Do your kids love Lunchables? They are hard to resist, I know. Let's face it, though. These are not economical or healthy in the least. Have you read the label on those things? Bleah. However, you can make homemade Lunchables that taste even better and are super affordable. Best of all, you can create any combination your kids like. You can also make these healthier than the store-bought version. This idea from Smartschoolhouse.com was the coolest packaging idea I've ever seen, too!


Salads
Salads are another easy lunch. You can grab salad mixes along with refrigerated chicken strips. Pour the pre-washed bagged salad mix into a container and top with the chicken strips. Add a second container for the salad dressing. You could also add ham, steak, cheese, beans, other vegetables, or whatever other toppings your kids may like. Toss in a container of ranch dip and you're good to go.
Walking Tacos
Last, but not least, fill a small thermos with chili and add a bag of corn chips. It's quick, simple, and fun. You can even add baked corn chips and homemade low-fat chili. If you like, you can also add shredded cheese on top of the chili. All you kids have to do is pour the chili over the corn chips for a yummy meal.
School lunches do not have to be a pain to create. These lunch ideas are quick, easy, and some are even fun. They might not win any awards for the healthiest food you've ever sent out of your kitchen, but your kids won't starve, so there's that.
I consider any day my kid eats a homemade meal from a lunchbox instead of a school cheeseburger to be a success, so high five me, mama.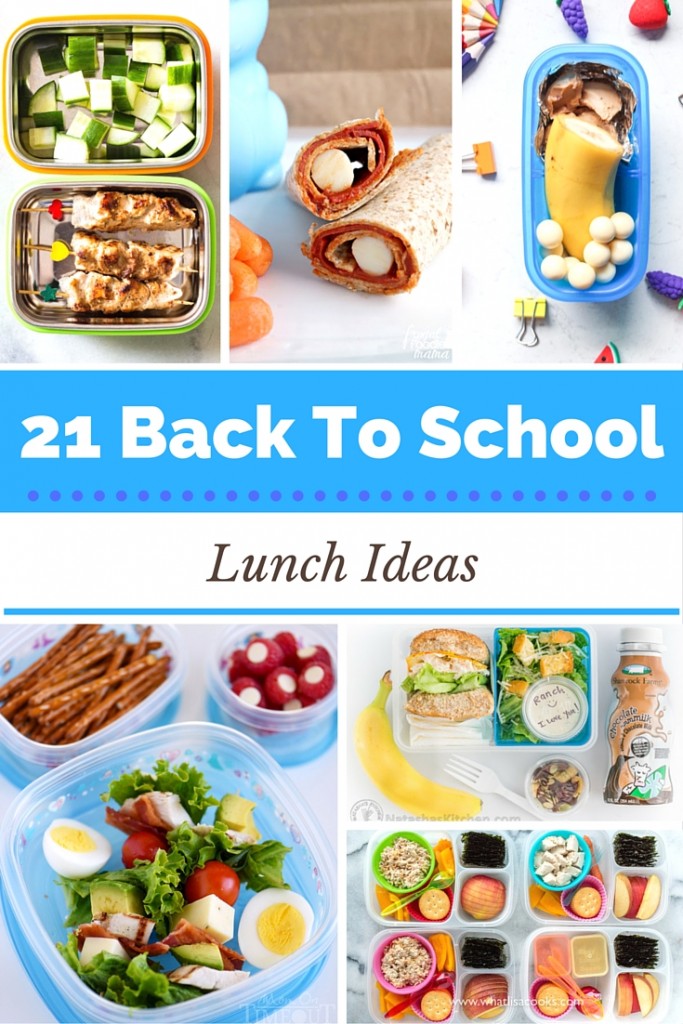 And now, for all you not-so-normal folks, here are a few more awesome ideas for school lunch ideas I found around the web, in case you're feeling fancy. These are not as simple as the ideas above, but I like pinning these ideas for later and pretend like I'm one of *those* moms.
Easy Lunch Kabobs For Back To School from†momontimeout.com
Back to School Shish Taouk from greenhealthycooking.com
Lunchbox Pizza Rollups from thefrugalfoodiemama.com
Frozen Lunchbox Ideas from dukesandduchesses.com
Back To School Lunch Ideas from bakingwithgab.com
8 Nut-Free Lunch Ideas for School from momables.com
Practical School Lunch Ideas from natashaskitchen.com
Healthy Back to School Lunch Ideas Moms and Kids Will Love†from†theorganickitchen.org
Back to School Ham & Cheese Pinwheel Sandwich from ourfamilyworld.com
Lunch Box Kabobs from itisakeeper.com
Baked Corn Tortillas Cheese Dogs from simplygloria.com
Tuna Salad & Crackers from whatlisacooks.com
Paleo Lunch in Lunchbots from†theroxxbox.com
Cream Cheese Ham Pinwheels from†followinginmyshoes.com
Mini Corn Dog Muffins Recipe from hip2save.com
Lunch Made Easy from†keeleymcguire.com
My Kid's Ultimate Lunchbox†from hipfoodiemom.com
School Lunch Ideas†from†paintingsunny.wordpress.com
Pizza Buns for School Lunch from simpleasthatblog.com
Monkey Sandwiches from hungryhappenings.com
Submarine Lunch from lisastorms.typepad.com
Looking for school lunch packing supplies? Shop for some of my favorites here: (affiliate links)


Want more great school lunch ideas? Click here: