When someone tells you they are a teacher or a nurse,  you pretty much know immediately what they do and how they earn a living doing it.
But when I tell someone that I am a blogger, they usually give me this quizzical look and ask "But, how do you get paid to be a blogger?"  I love explaining my non-traditional job to folks, so today I thought I'd spill my secrets about exactly how I earn money as a full-time blogger.
Think of a blog like a mini-magazine, except you (the reader) do not have to pay a dime to read it. It comes to you free of charge via Pinterest or facebook or straight to your inbox if you subscribe to my posts. Bloggers earn money in a variety of ways, so I've drawn this handy little chart to show you how I make money from my blog.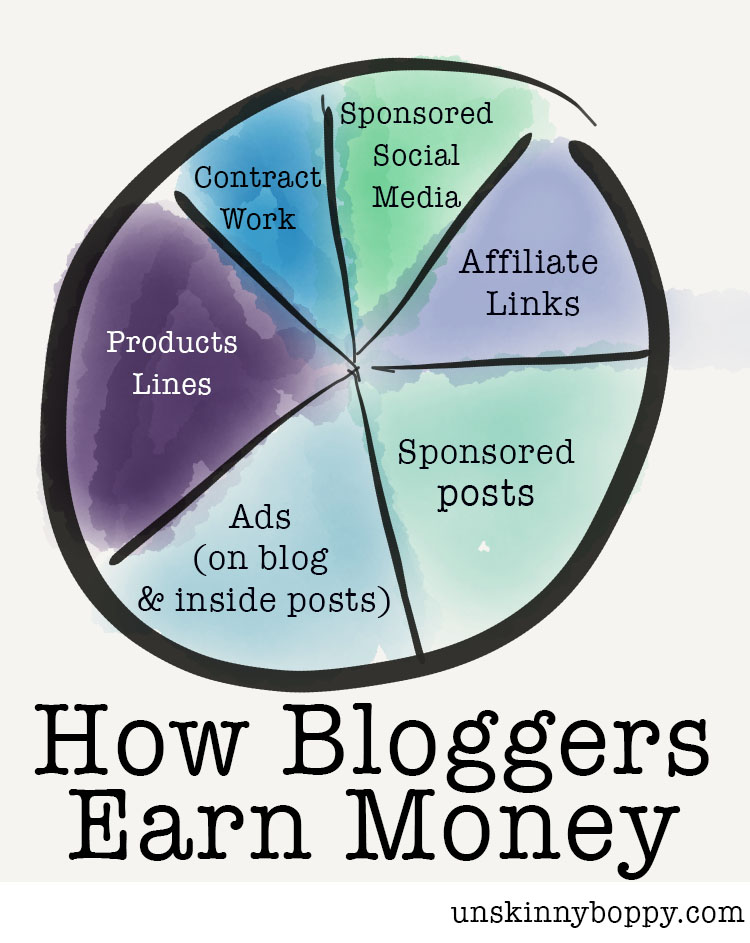 Ads are pretty straightforward. You see them plastered all over the sidebar and header of my blog and a few scattered inside of my posts.  If you click those ads, I get money from that click.  If you don't click those ads, I still get money just based on the number of impressions (basically, eyeballs) that see my ads each month. I have an ad network called Adthrive that manages all of my ads for me, so I don't touch this part of my blog other than to tell them where to send my check.  In the olden days before Adthrive, I struggled HEAVILY in this department. There was even a point in time when I was "proudly ad-free" but nope. That flew out the window when I learned that if I wanted to make full-time money on this blog, ads were a very large chunk of that pie. Now it's just easy, passive income each month.
Sponsored Posts are woven throughout my blog content sporadically.  You'll always know that it's a sponsored post because I put a disclaimer inside each one that tells you I got paid to write the post.  The FTC requires that we do this, so if you see a blogger not putting disclaimers on their sponsored posts, feel free to call them out on it.
I try my VERY best to make my sponsored content entertaining and relevant to you, my readers. I say "no" to sponsors way, WAY more often than I say "yes".  I do not take just any ol' offer that comes my way. I weigh out the value of what it will bring to you as a reader, what service I can provide for each brand and how much it will help me in the long run.  Sometimes I reach out to brands and ask if they will sponsor a post, but usually they pitch me in an email and we start negotiations from there. I send them my media kit, show them my numbers for online influence and quote them my price for the post.  Everything is negotiable and a la carte.
Over the years my prices have risen dramatically because I am finally realizing my value as a content creator and social media swayer. I have a well-established blog with good content, a very large Pinterest following and a decent community on facebook & instagram. I care about my blog readers and I refuse to write something that makes me feel icky inside just for the paycheck.
Because of that trust I've built up over the years, I feel like you are all my BFFs sitting around my living room.  If I'm going to tell you about something awesome I discovered to make my life easier, I'll do it. And I hope you trust me enough to buy it if it is something you need. That is called online word-of-mouth marketing, and it's HUGE. And brands know it (or they are quickly learning).
So, if I am going to write a sponsored post, it is not going to be for free these days.
Well, I take that back. I have been known to work for free product only if the product value meets or exceeds what I would charge for a post. If it's just a small product that I want to mention (or rave about) without all the hassle of a full sponsored post, then I would link it up using an affiliate link.
Affiliate Links sound tricky, but really they are not. Basically, this is how they work:  I link to my favorite camera lens in a post using my Amazon affiliate link. Then you click the link, and I earn a commission if you buy that product. I will also earn a commission on any other purchases you make from Amazon within a certain amount of time after you clicked through (24 hours for Amazon). You do not pay any extra on your end, but I earn a small percentage for your referral. Amazon Affilate Program pays about 4-7% commission, depending on how much traffic I'm sending to them. They pay me in gift cards each month for all my commissions earned. (seriously, I have to claim gift cards on my taxes.)
Here is my Amazon affiliate link if you feel like giving me a little Christmas bonus when you do your shopping this year. 🙂  As soon as you click that link and make any purchase, I will earn a little bit of money. It's that simple.
Now, Amazon is just one affiliate program– there are millions of other affiliate programs out there and I try my best to link them up judiciously without being spammy for you as a reader. There are affiliate networks like Commission Junction, Share-a-Sale and RewardStyle where bloggers are making BANK from affiliate links on social media. I am not one of those bloggers, but it is possible to earn a lot of money through affiliates. I really need to up my affiliate game, but it's quite a bit of work, and I am lazy…so yeah.
Once again, the FTC says that I am always supposed to disclose that I am about to send you to an affiliate link, so usually you'll see something like aff link, "my link" or (affiliate) near the link.
Sponsored Social Media is in a different category from sponsored posts because brands might just pay for a few tweets, Facebook posts or Instagram mentions. Pinterest is a little trickier, because it is against their policy to get paid per pin and until recently they would strip out affiliate links. Snapchat is taking over these days but I just stick with the old school social media. This dog is too old for new tricks.
Sponsored social media has grown lately with the rise of the Instagram fashion/makeup micro-bloggers.  These days there are teenage girls who earn thousands of dollars from a single Instagram selfie, because they have a huge following who will buy the products they are wearing or using in the photo. I am not a teenage girl and I do not have a huge IG following, but I do charge a brand if they want a shoutout from me in social media.  My selfies aren't worth quite as much as those bikini-boppers, though.
Contract Work is exactly what it sounds like. I will contract with a brand to do work for them.  Over the years I have contracted with True Value Hardware, Mohawk Home and eBay, to name a few. Sometimes that means I write posts for their website and drive traffic to them and sometimes it means I sign a contract to write a set number of sponsored posts on my blog and link to them.
A local magazine, B-Metro, pays me to go out "on-location" (sort of like a radio DJ) and do remote social media promotions for them at the Birmingham Parade of Homes and Home and Garden/ Builder's shows. Those are always fun, so I do that several times a year if our schedules jive.
Currently I am contract-free, but that is subject to change each quarter. I love being an eBay influencer, so I usually sign a contract with them whenever I am able to make the time to work with them. Not gonna lie, contracts are usually a LOT of hard work, but they pay well. I try really hard not to overload myself though.
Product Lines are beginning to take over the blog world. Almost every blogger I know is selling an e-course or an e-book or an ACTUAL hard cover book. I am getting in on that action by launching my product, The Lazy Girl's Guide to Lightroom, to teach you how to edit photos quickly with my online workshops. My plan is to expand these e-workshops in the next few years and teach online courses about a variety of topics.  Lightroom just happens to be something that I love teaching the most, so I started there first. But don't be surprised to see more topics coming soon from me. 🙂
Another example that would fall in the 'product line' category would be my Young Living sales. I attribute a lot of my success with my Young Living essential oil business to my blog, because I can reach audiences sitting in their living room all over the world instead of depending on my local friends and family to drive sales. I am a Silver with Young Living, which is a substantial part of my monthly income. Lots of bloggers have found success with various direct sales companies, mine just happens to be essential oils.
I am an affiliate for several of my blog friend's products lines, so I would earn a referral bonus when I help them make a sale. The Genius Blogger's Toolkit from Ultimate Bundles is a good example of this affiliate/product money-making combination.
I have a whole bunch of blog buddies who are offering their e-books and e-workshops as part of this limited time bundle, so it's a no-brainer for me to recommend this product to all of y'all who have toyed with the idea of starting a blog.
There is a TON of excellent resources in there and it's only available for a few more days, so get it before it's gone.

Oh! I almost forgot a few little pieces of the pie chart! I'm too lazy to go back and add them to the graphic so I'll just tell you here:
Magazines and Photography: Over the years I have contributed articles and photos to quite a few magazines, and I do get paid for those contributions. I charge a reprint fee if they are using my photography and a higher rate if I write the article and provide photos. It's not a huge amount, but every little bit helps.
Speaking gigs: I personally have never been paid (yet) for any speaking gigs that I've done at conferences or events, but I have turned down some paying gigs (at my local Home and Garden Show) because I was too busy to do them. Maybe in the future.
---
So, there ya go! That's an insider look at the major ways I make money here on this old blog.
It's taken me many years to learn my worth as an online influencer and content creator, but I feel like I've found my stride. My hope is that other bloggers will know their worth as well.
I plan to ride this train for as long as I'm able. I am SO grateful that this is my job. There are days I feel like I should pinch myself because it's so hard to believe this is a real thing.
If you have a minute, 60 Minutes just did a story about the new wave of online influencers. It's worth a watch, if you're interested.  I'm not Kim Kardashian, obviously, but it shows you how this industry has evolved in the past few years.
Young House Love also has a great podcast talking about how much bloggers charge for sponsored posts that's worth a listen, if you are searching for more info on this topic!
If you are a blogger, do you agree with this list? Am I forgetting something? How do you make money?
PS- that pie chart graphic is something I drew really quickly just for this post.  It's not really a true representation of the percentage of each category of my income. Those pie-slices vary for me each year and every bloggers pie chart would look different each month, so it's just for looks. 😉