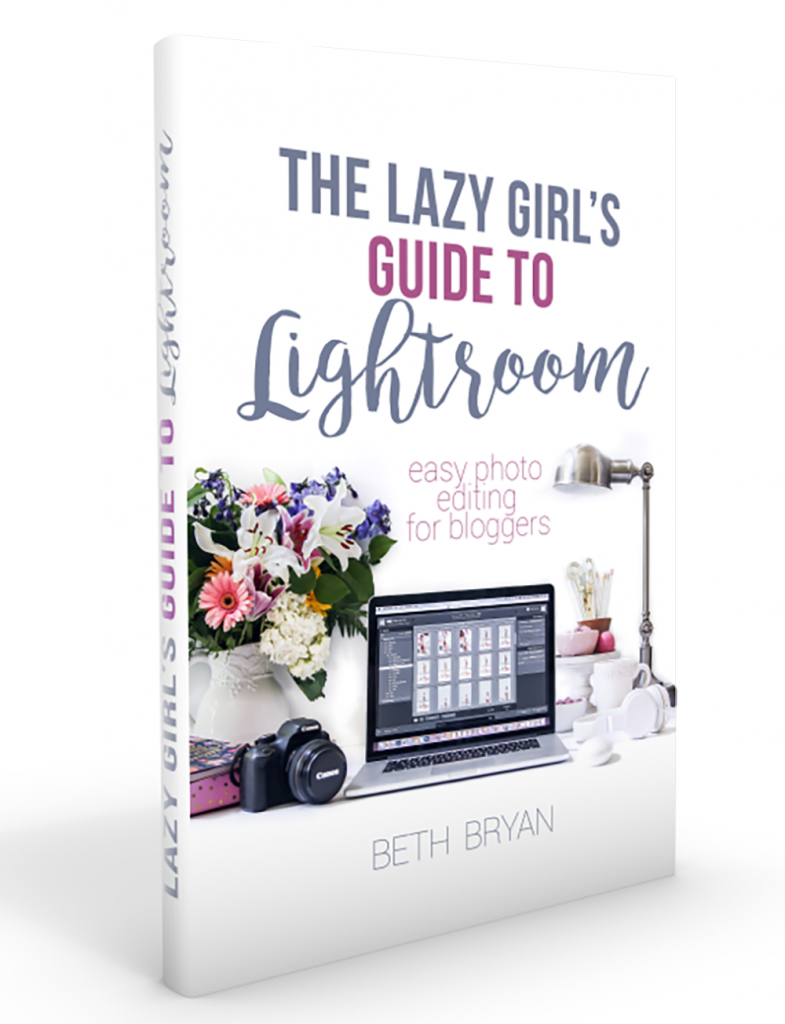 Big Pun? Anyone? No? Alrighty, then…
Yesterday I shared The Lazy Girl's Guide to Lightroom, my new e-course that I've been building behind the scenes for the past two months.
Now, I know that a lot of you are not bloggers and probably don't give a rat's patootie about how to build a blog or take better photos. If you are that person, feel free to skip right on past this post and wait for the next decorating post (they are coming, I promise!).
But, if you are a long-time reader who is invested in my life and the things I have been working on for this blog, let me say that building this e-workshop was a whole lot like giving birth to a baby.
The order of incredible things that I've brought forth in my life goes something like this:
Garrett
Caroline
The Lazy Girl's Guide to Lightroom
No joke.
I am spent.
I am overwhelmed with emotions right now as I launch this precious new little one out into the world. Nervous, scared, proud, but mainly just excited for everyone to see what I have created!
Also, it's a HUGE honor for my e-course to be invited to be a part of The Genius Blogger's Toolkit.
Like, this is a really, really big deal. Some of the biggest names in blogging are a part of this Bundle, and I'm truly thrilled to be in this elite club, so there's that added element of awesomeness to kick-start my first product launch.
Ok, so you're probably asking why you would want to buy The Genius Blogger's Toolkit, right? Here's why:
There is over $5,000 worth of invaluable information (e-books, e-courses and freebies) that will be available to purchase for just $97.
$97 happens to be the exact same price as my e-workshop which is included in the Toolkit, but you get all those other goodies along with it! E-books, e-courses, free bonuses from blogging software companies… you name it. It's in there.
It's a CRAZY amount of stuff, and it's only gonna be available at this price for the next SEVEN DAYS.
This is the exact amount of time you have left to purchase The Genius Blogger's Toolkit. After that? Sayonara, sale price.

Time's a-ticking, so don't miss out!
It's honestly such an insane amount of free product that it's completely overwhelming, even to me.
If you have any kind of life at all, you most definitely will not be able to read through every single course inside this Toolkit anytime soon.  So, let me tell you my top 10 favorite products to give you a quick look at the sheer value you will get just from these authors alone.
Beth's Top 10 Choices from the Toolkit:
The Blogger's Guide to Online Marketing by Darren Rowse, aka ProBlogger ($49.99)
InstaValuable :: Grow Your Instagram Basic Course by Myquillyn Smith aka The Nester ($97.00)
Productivity Guide for Bloggers by Ruth Soukup from Living Well Spending Less ($97.00)
Creating and Maintaining an Editorial Calendar by Angie Holden from Country Chic Cottage ($19.99)
Building a Framework: The Ultimate Blogging Handbook Master Package by Abby Lawson ($75.00)
Affiliate Marketing for Bloggers: The Fundamentals by Tasha Agruso ($75.00)
The Knowtbook: In-Depth Notes for Online Business by Amy Lynn Andrews ($24.00)
What the Tech? A Guide to Ease Your Technical Blogging Frustrations by Lesley Clavijo ($75.00)
Blogging Roadmap: The Simple Method for Creating A Profitable Blog by WellnessMama ($97.00)
Eat Pretty Things: Your Guide to Food Photography by Trisha Hughes  ($29.00) <–seriously, read this as a companion guide to my Lightroom class. I agree 1,000% with everything this chick says, and I had never heard of her before this Bundle. This is why I love bloggers. 
AND THERE ARE SO MANY MORE!!!
I cannot even, y'all. There's so much. It's amazing.
It's an incredibly valuable amount of information if you have ever wanted to start your own website, earn money from social media or if you are already a blogger.  You will find value in this bundle, no doubt about it.
I've been doing this for a very long time now, and I've never seen anything quite like this.
So, what are you waiting for? RUN LIKE THE WIND, BULLSEYE.  Click here and buy that sucker!