This post is sponsored by Hobby Lobby. All opinions, as usual, are my own.
---
Hey guys!
Did you hear that really loud squeal this past weekend? That was the sound of me "SQUEEEEEing" as I started decorating my new attic-turned-office space! That's right–this room is VERY close to the finish line, and I am turning some imaginary cartwheels with glee to finally have the room of my dreams finished.
In case you missed the original attic renovation posts (Click here to read them all from the beginning), this is where we started in this room: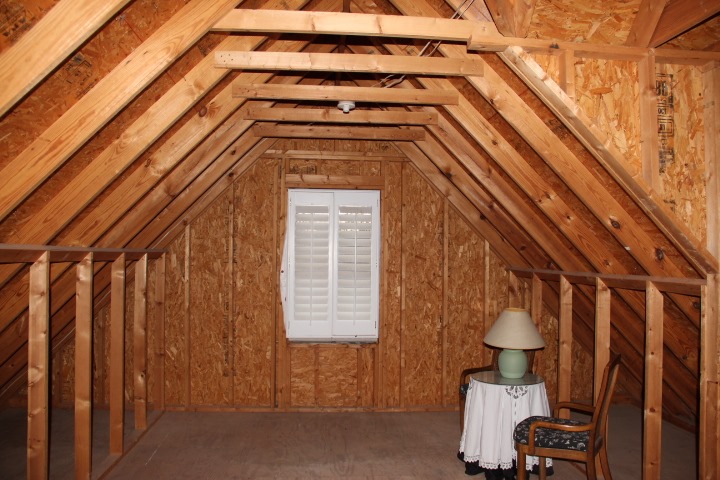 And this is what it looks like as I type this post: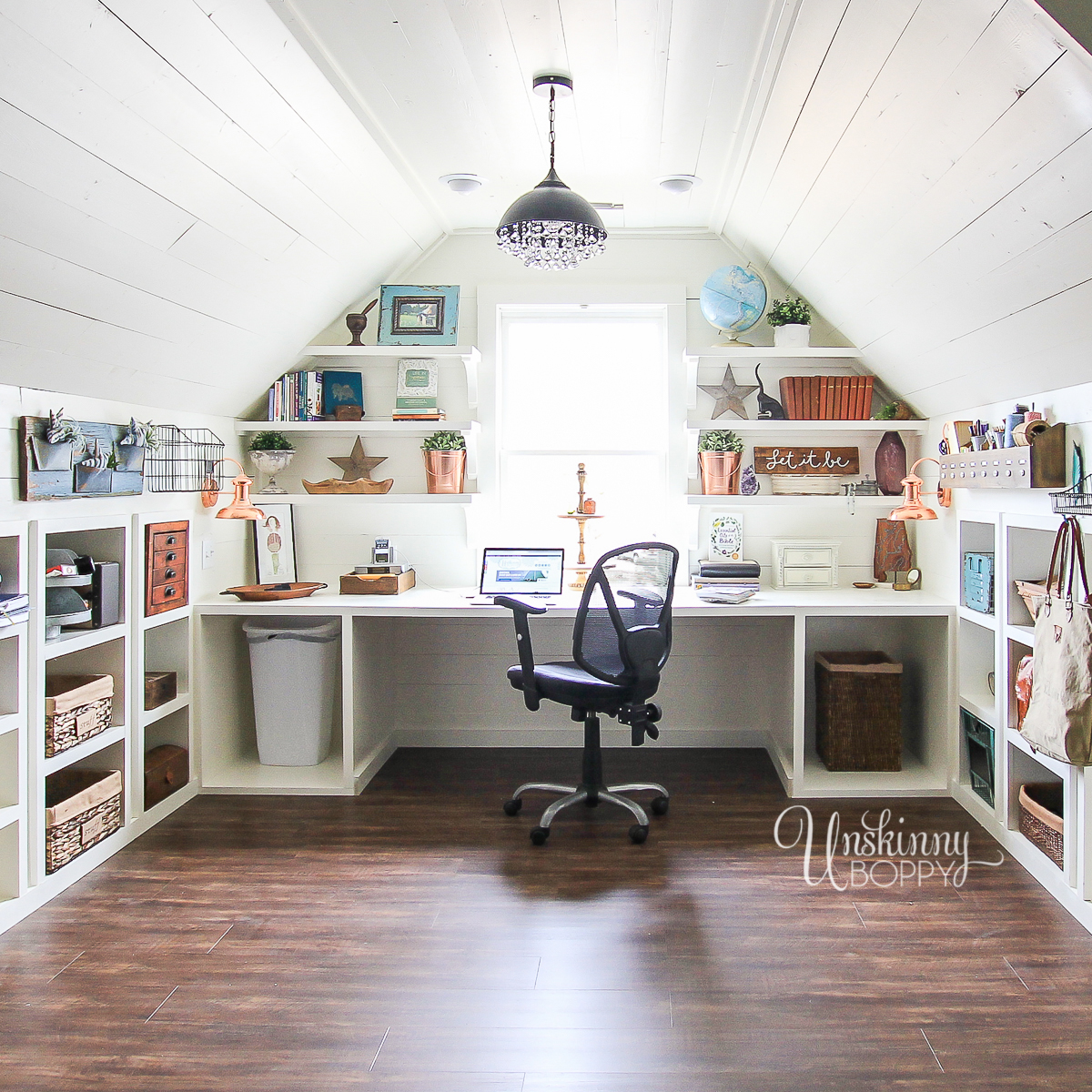 Can you see why I'm squealing? We are not 100% finished yet- still waiting on cabinet doors to arrive- but it's like 99.99999% finished and I am moving in, baby!
Right smack in the middle of finalizing the details of my new office, Hobby Lobby contacted me to see if I wanted to join them for a "Get Organized for Under $100" challenge. And I was all "Are you kidding me? Bring it on, HobLob!" I need as much organization help as I can get. Creative folks like me aren't exactly known for our clutter-wrangling skills, but I'm up for the challenge.
Today I'm giving you a peek into my craft/art/office supply organization in the nooks and crannies of my newly remodeled attic. Welcome to my happy little corner of the world…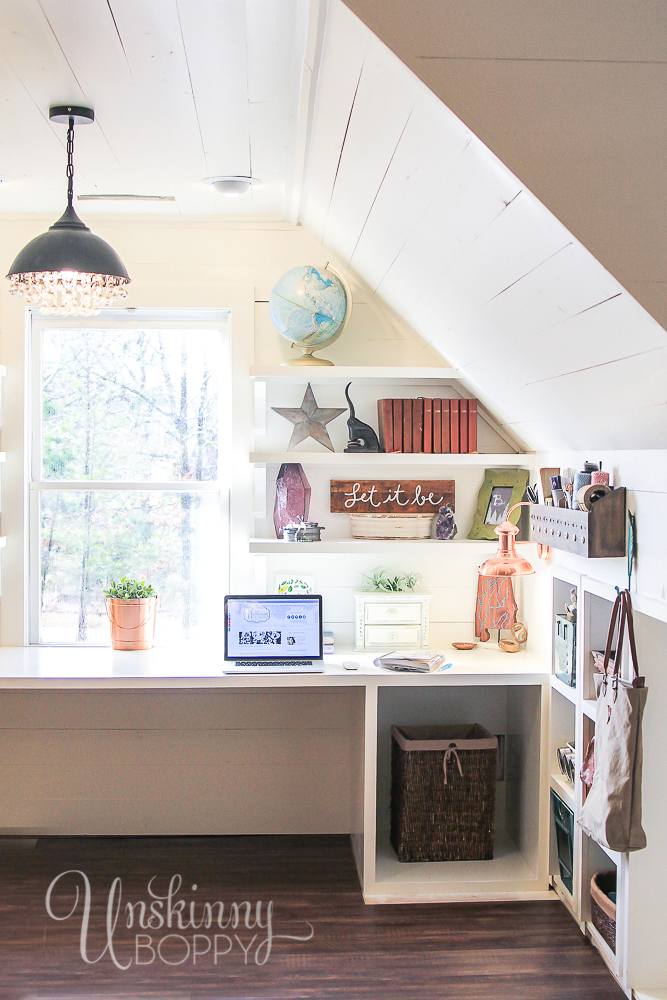 The first thing that caught my eye when I rounded the Valentine's aisle at Hobby Lobby was this pretty wooden divided organizer. I could just imagine all the little things I could stuff inside these numbered bins. Pencils and markers and twine and envelopes, oh my…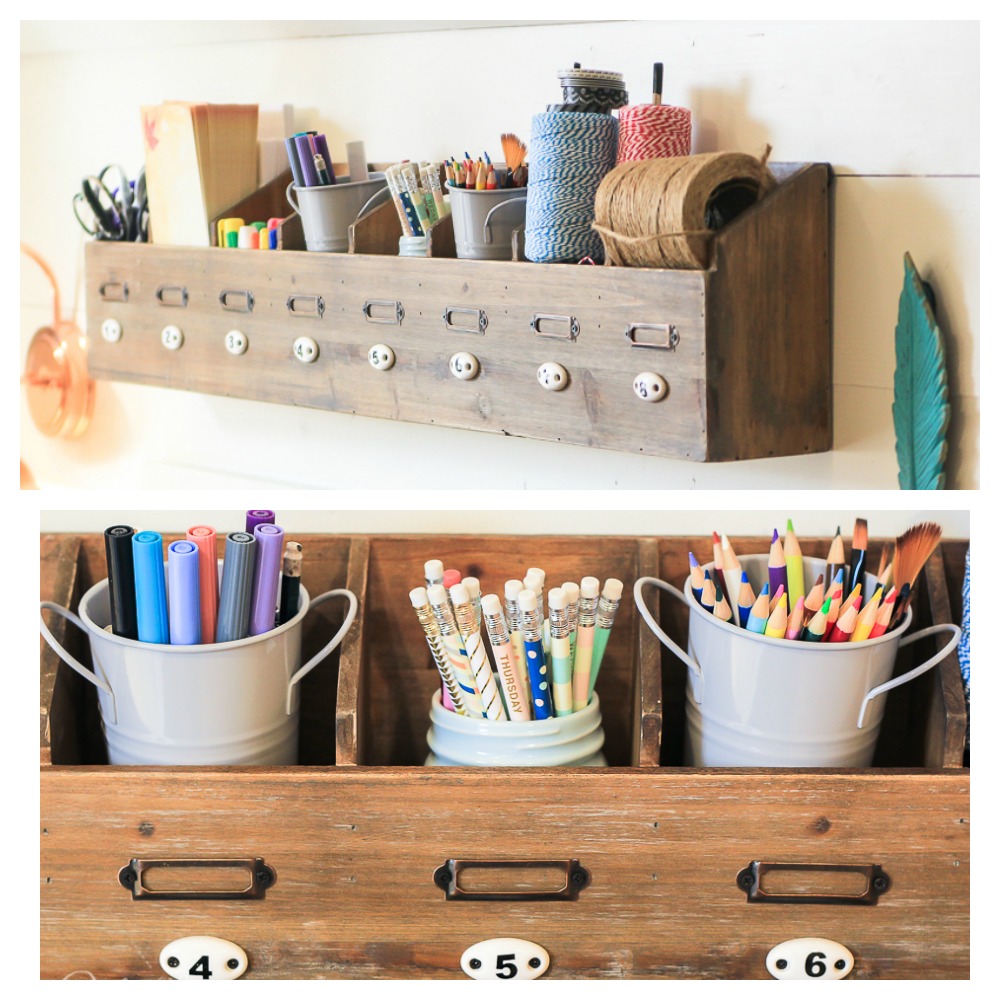 …and SCISSORS! Good greifous, Bocephus! Who knew I owned fifty pairs of scissors? I sure didn't.
Now that I'm good-n-organized I know exactly how many pair of scissors I own and exactly where to find them. No more digging through junk drawers in exasperation and running out to buy a new pair every 90 days. This scissor stash alone could have paid for the organizer. Look at all the money I will save in the future!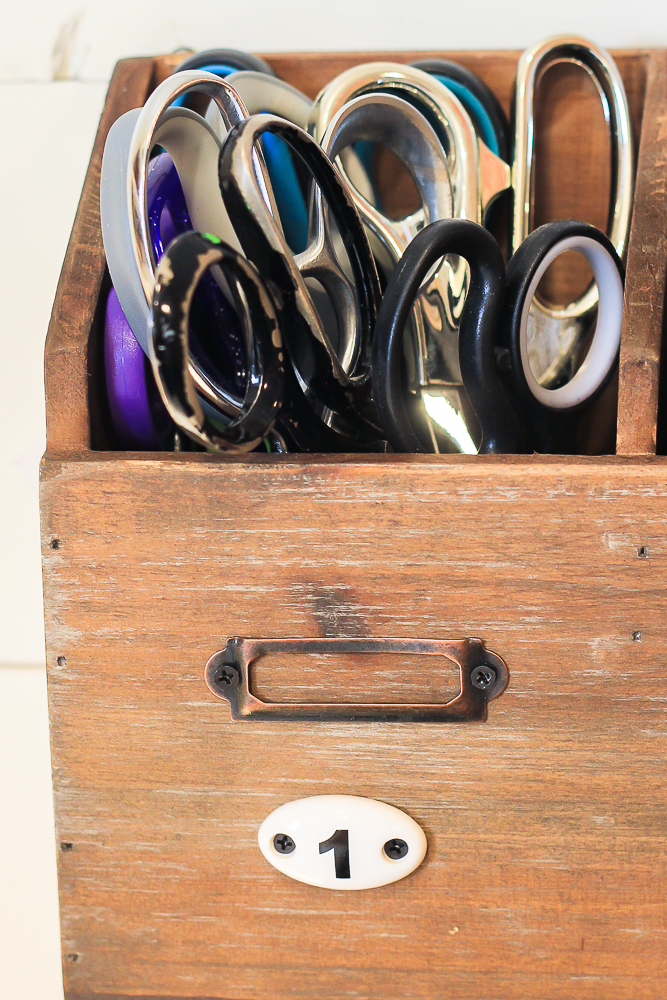 (Note to self: In true Beth fashion I forgot to add labels to those metal thingies under each bin. Need to do that before the next blog post.)
OK, so once that was in my cart, I saw the grey metal buckets over in the Spring shop and tossed a few of those in as well. You can see them peeking out of the center compartments holding my new hand-lettering markers and watercolor pencils.
At first I was running through the store tossing things in my buggy like a contestant on Grocery Games, but then I realized I only had $100 to spend so I needed to be smart with my purchases. But for the record, I could have spent waaaaaaaaay more than $100 to get all these cubbies in this room organized.
Hobby Lobby's farmhouse decor game is strong right now so if you are a fan of Fixer Upper style then you need to run like the wind and check out the selection before it's all gone.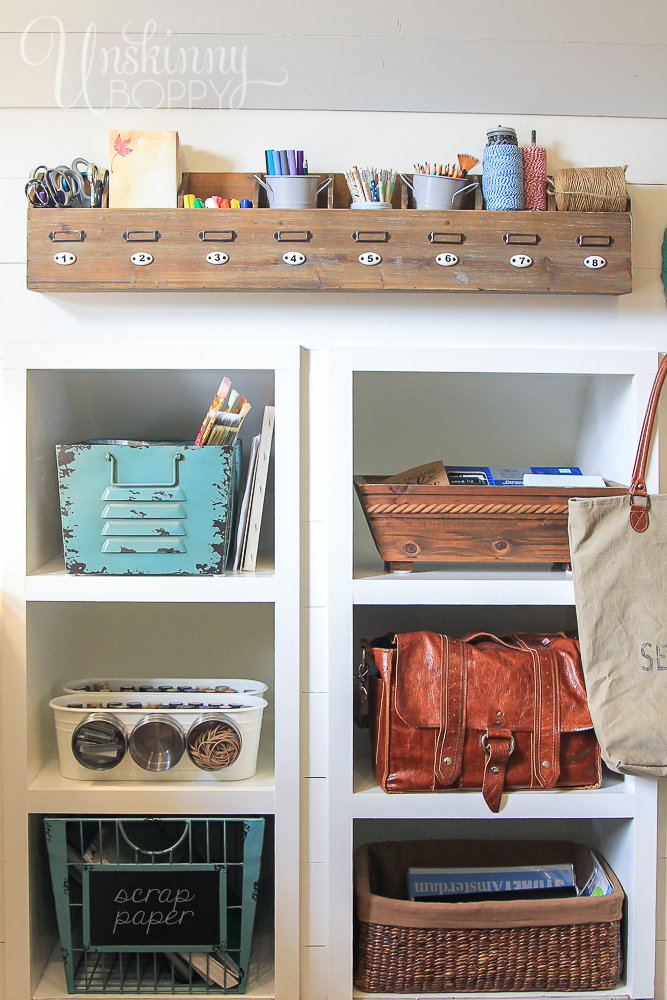 My next two big purchases were these really cool teal metal bins to hold all my art and scrapbooking supplies. The top one has a locker feel and the bottom one has a chalkboard front so I can remember what is stored down there. I already had the metal buckets full of craft paint as well as the other baskets above and below my camera bag.
I can now instantly put my hands on all my watercolor supplies when the creative urge strikes.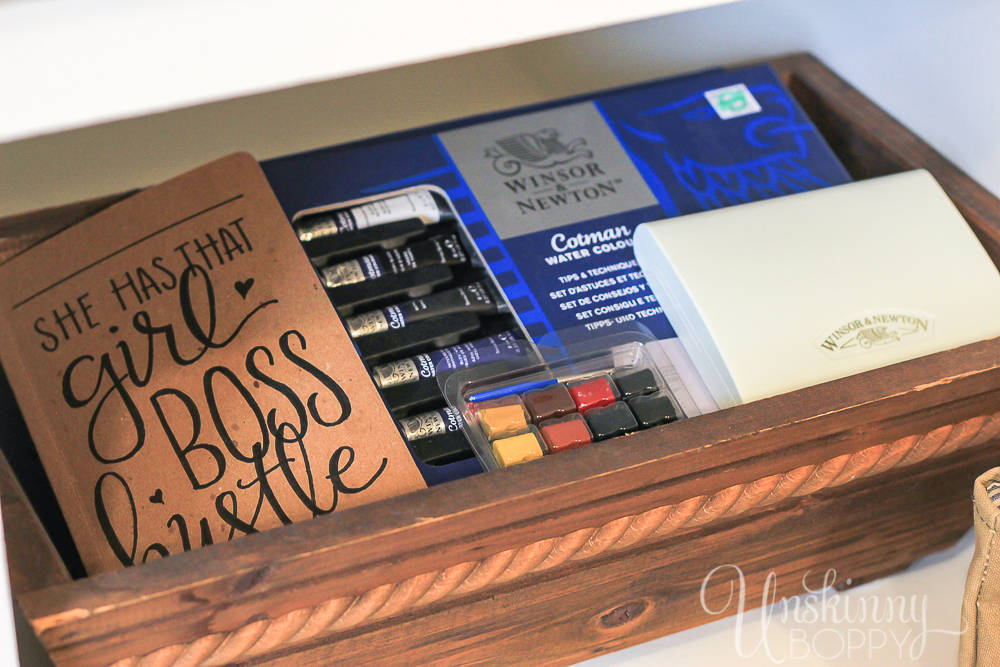 Garrett has started taking art classes after school, so he will have fun digging through all of my acrylics and oil paints. I've got more tubes of paint than a Bob Ross episode, but now that it's all organized I can actually find everything and use it again! Woohoo!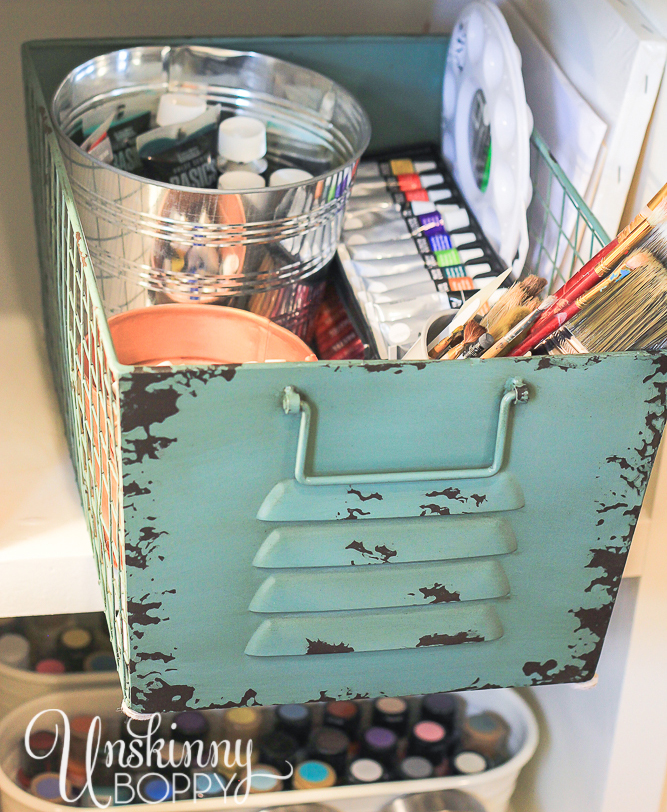 Not gonna lie, the big bins combined with the wooden organizer ate up a pretty big chunk of my $100 budget, even though one of them was on sale and I got the other using my 40% off coupon on my trusty Hobby Lobby iphone app.
I always have the app open when I checkout, but if you're still a paper coupon girl here is one you can use! Just show this to the cashier and take 40% off any regular priced item.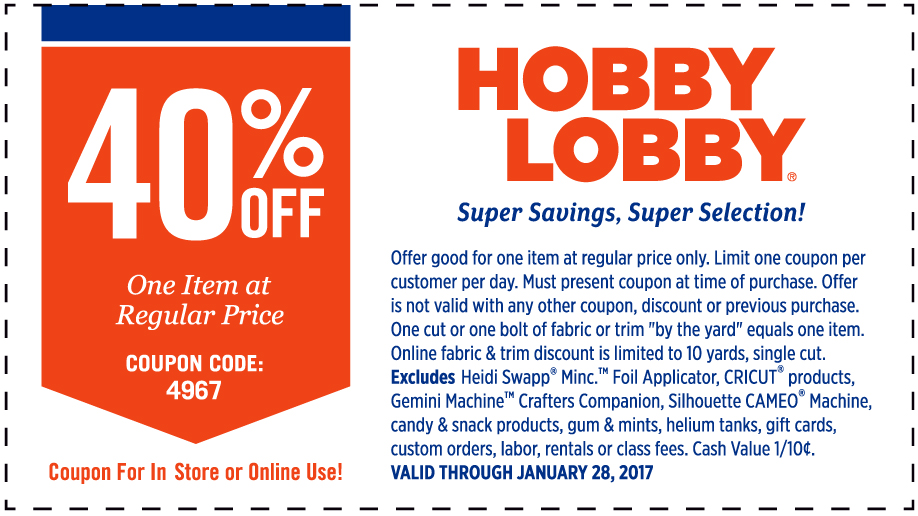 I couldn't resist two of these blue metal feathers to hang my laptop bag, which brought my grand total right up to the edge of $100. I'm so sick of kicking my camera and laptop bags on the floor so I'm happy to have them both off the ground now.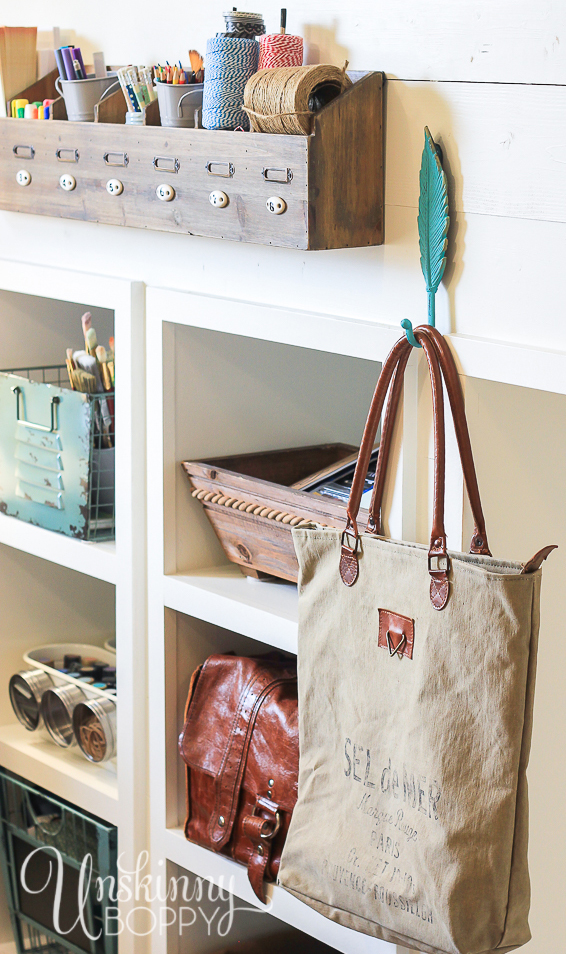 Here is the breakdown of my budget and how I spent my money for this Under $100 challenge:
Total: $100.85
Oh man. I came in at .85 cents over budget!
And let's hope they didn't want me to include tax because then I'm really in trouble! 😉 But, you have to admit that is a LOT of amazing stuff to help me get my crafts organized again. All of my craft room has been packed up since we moved into this house so it was like Christmas getting to open all those boxes and finding my fun stuff inside!

Now that I've gotten this corner finished it's time to keep working on the rest of the space. I need about forty-leven more of those metal bins to hold all the toys over on the playroom side of the room.
I am in need of more baskets and bins than I can shake a stick at, but I know exactly where to go now for some really cute ones! See you soon, Hobby Lobby.
Like, tomorrow.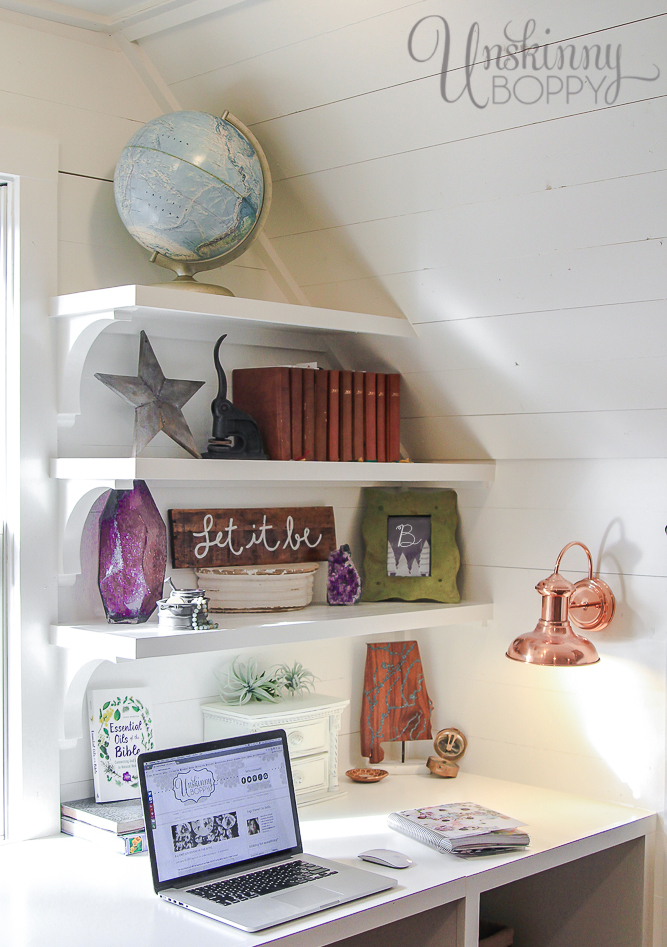 I have SO much more to show y'all in this room, so stay tuned for the GREAT BIG FULL room reveal very soon!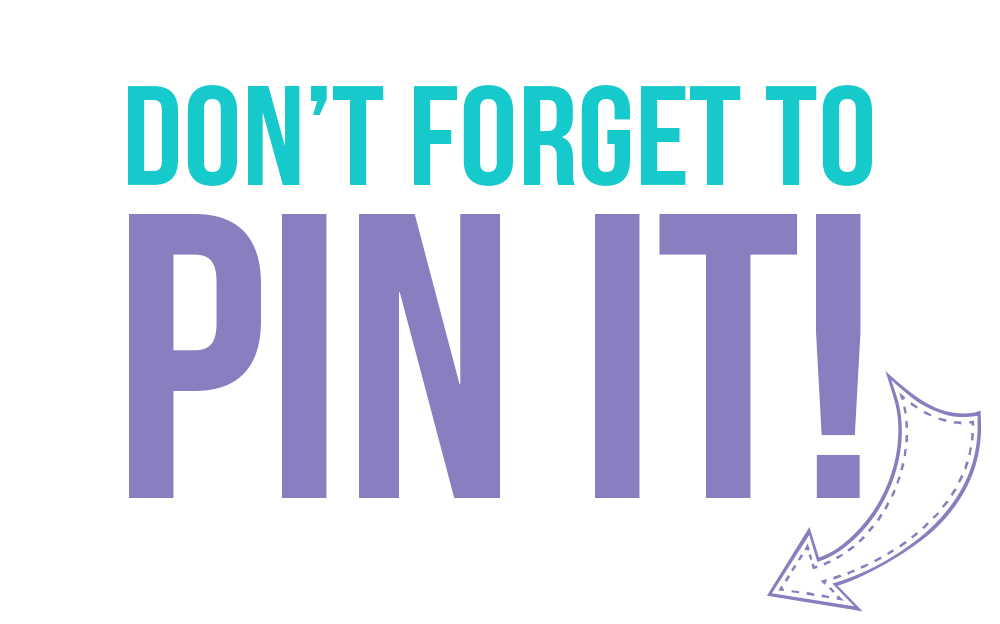 This is a sponsored conversation written by me on behalf of Hobby Lobby. The opinions and text are all mine. Comments submitted may be displayed on other websites owned by the sponsoring brand.