One day last year I was sitting by my neighbor's pool chatting with some friends when the subject of jealousy came up. I admitted that the older I get, the more I feel jealous of other women. It's strange, because I used to rarely feel jealous about other people's lives. But these days it seems to creep in when I least expect it. After all, I have all of my friends sitting right here in my pocket, just waiting on me to open Facebook and see their perfect lives with their perfect husbands and perfectly behaved children getting straight A's while skiing down a mountain. The perfection overload on social media is neverending.
As a blogger, I'm just as guilty as the next person at perpetuating that cycle.
During that conversation, my friend Jenifer recommended a bible study app called Comparison Trap. I downloaded it as I sat there by that pool, and it struck a huge chord with me. Here's an excerpt from the book:
Comparison is never-ending and exhausting. The temptation to compare is as near as your next chat with a friend, trip to the store, or check-in on social media. And whether you come out on top or come up lacking, there is simply no win in comparison. It's a trap.
With the rise of Pinterest and Instagram and Facebook giving us all a play-by-play of each other's perfectly curated lives, it's easy to get sucked into the trap of comparing ourselves to others. As a blogger, it's especially hard to not feel the pressure to only share the fairytale moments of life and skip right over all the ugly stuff.
I've been blogging for over ten years now, and in the early days it felt a lot like a "Dear Diary" kind of thing. I would sit down at my computer and spill my guts without thinking about who might be reading it on the other side. Nowadays, though, I think TOO much about who will be reading my blog that sometimes it's paralyzing to even get a post written.
Another issue is that lately it seems like blogging has become nothing but a big sales pitch in some form or another. A few weeks ago this topic came up inside one of my blogging Facebook groups and there were close to 100 responses commiserating about how much we all feel the pressure to play the "perfection" game or get lost in the shuffle.
I'm sure that you as a reader have felt that shift, as well. It's not really fun for anybody, so why did we let it get to this point? Where has the reality of blogging gone? I miss it. I try to keep it real as much as possible on my blog but it's tough. Somehow I don't think I'd have many readers if I just showed pics of me sitting on the couch in my pajamas watching 1980's Julia Child reruns on Youtube while folding my laundry.
So, I try to highlight the best parts and leave the rest to the imagination. I'm sure you get it, right?
I know that Facebook life is not real life. I know that people put their best face forward on social media while truly awful things are happening to them behind closed doors at home. I've witnessed friends and family going through hell in their personal life but continuing to post those perfectly posed family photos on Facebook, pretending that all is well. I know that we are all playing the game, but I'm ready to drop the facade and just get real with you guys again. My life is far from perfect and I know that yours is, too. And in the end, isn't it that lack of perfection exactly what makes us all need God's saving grace? Because as the Beatles said, life is very short and there's no time for fussing and fighting my friend.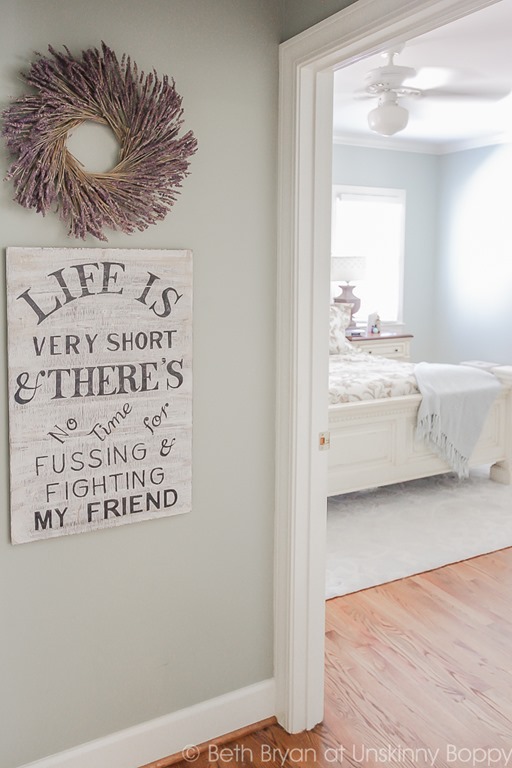 I'd like to invite you to join me and some of my blogging friends inside a private Facebook group where we can go through the Comparison Trap 28 day devotional together. I'm teaming up with my friends Jen, Vanessa and Yvonne to host a 4 week group bible study using the Comparison Trap as our guide.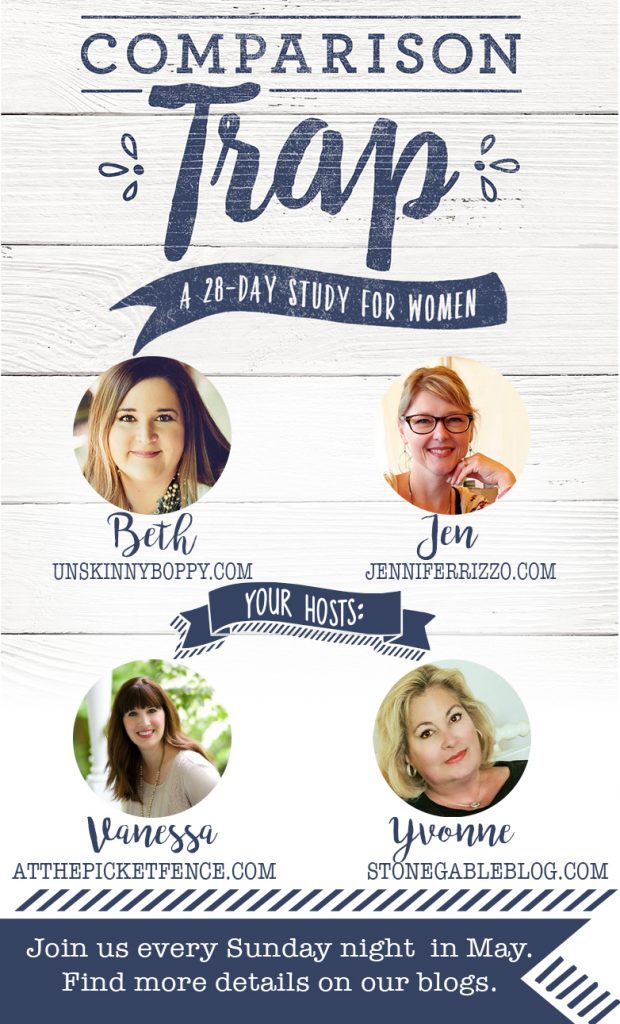 Would you like to join us? If so, please join us in our Facebook group here.
I will be going live in the group this Sunday night (April 30th) at 8 pm CST to introduce the devotional and kick off the bible study. You guys can all meet up and chat and get to know the real bloggers sitting behind the screen in a laid-back atmosphere. I SO hope you'll join us over there!
This post contains affiliate links.
Start by downloading the free app for your iPhone here:

It's also available for iPad or Google Play
If you want to join the 28 day Bible study, buy the Comparison Trap Devotional on Amazon.
Join us in our private Facebook group here and introduce yourself!
We cannot wait to meet you!