It's Parade of Homes season once again, so all you interior decorating lovers out there get your cameras ready for a huge snap-fest around town. I love going out to all the decorated Parade homes to see the latest trends from some of Birmingham's best designers.  Earlier this week I got a behind-the-scenes sneak peek into the 2017 Ideal Home from the nice ladies over at Set to Sell Staging.
The house is located at 997 Willow Branch Trail in Chelsea and was built by Scotch Builders.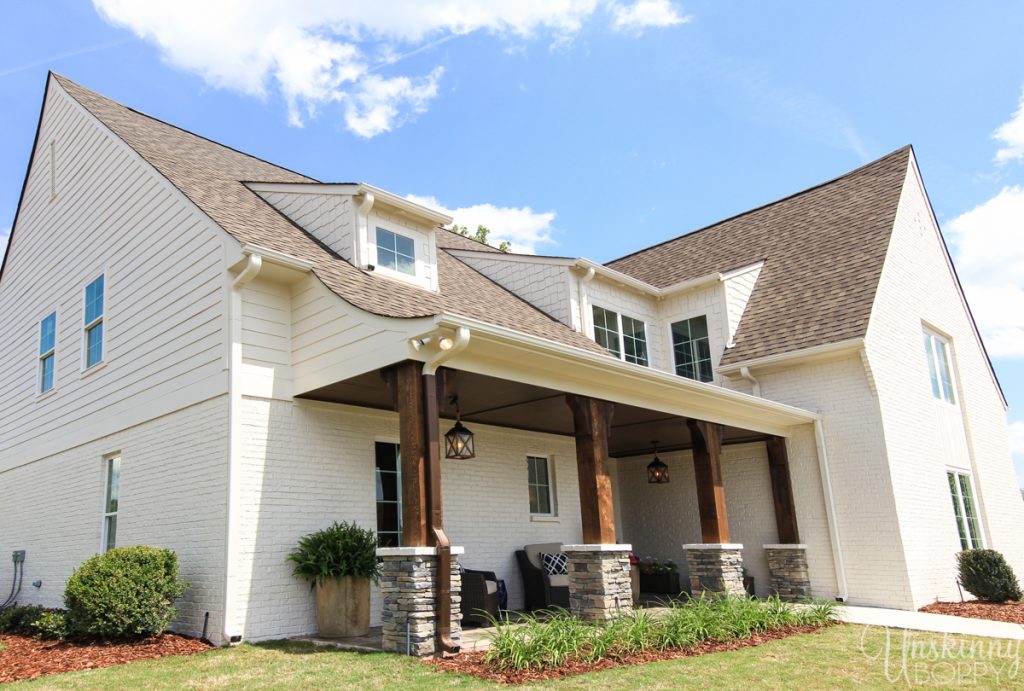 The front door alone made my heart go pitter patter.  How beautiful is this entrance?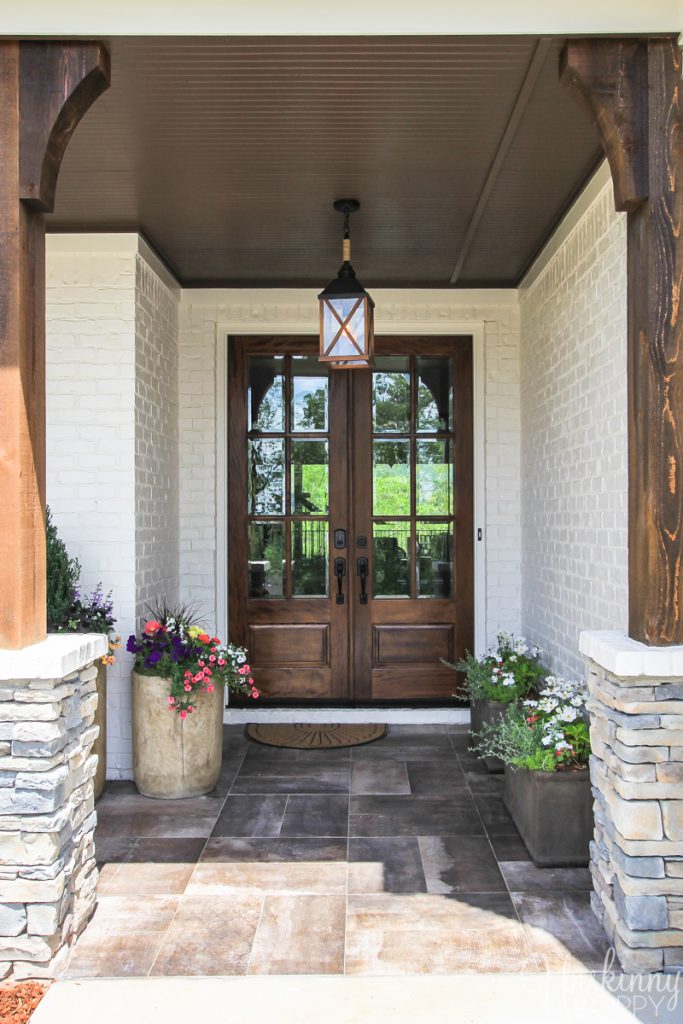 Inside the foyer was a MASSIVE gallery wall of pressed botanical prints.  I cannot even imagine how much time it took to hang  those suckers all perfectly straight and evenly spaced.
Mine would have been totally lopsided and weird but these were perfect.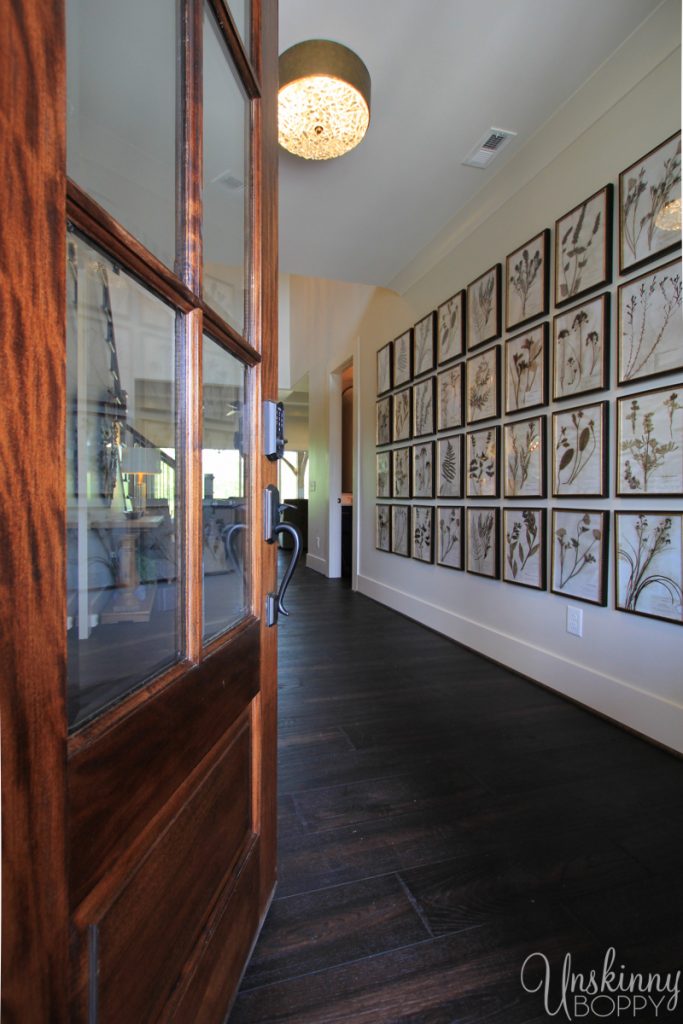 The living room was massive with gorgeous coffered ceilings and a warm white shiplap on the walls.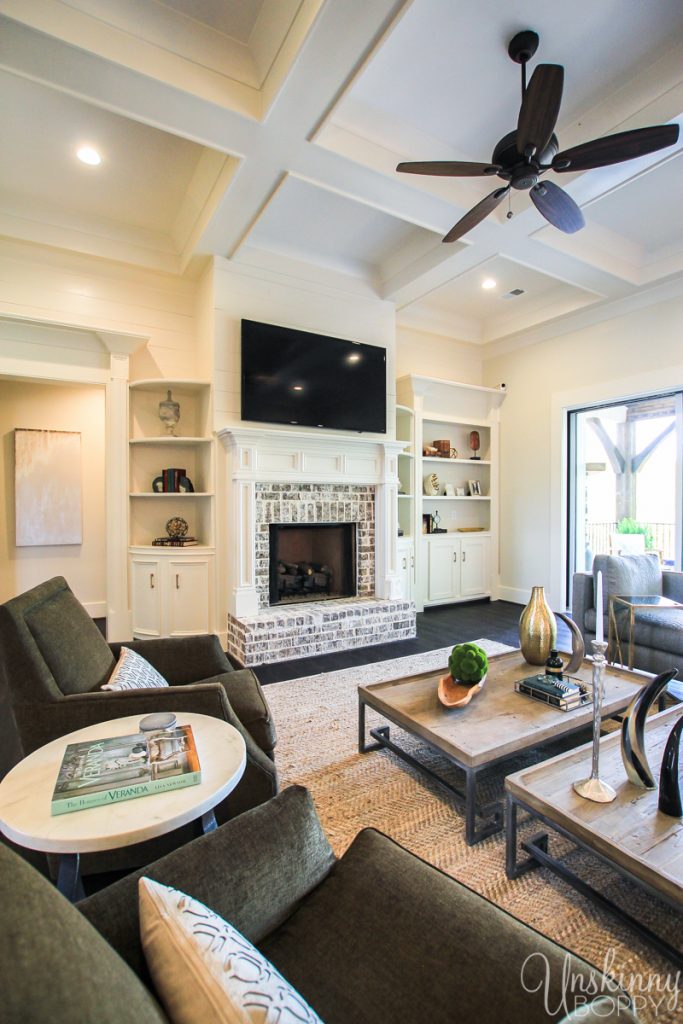 The curved built-ins around the fireplace that were something out of my dream Pinterest board. Love all the details on this!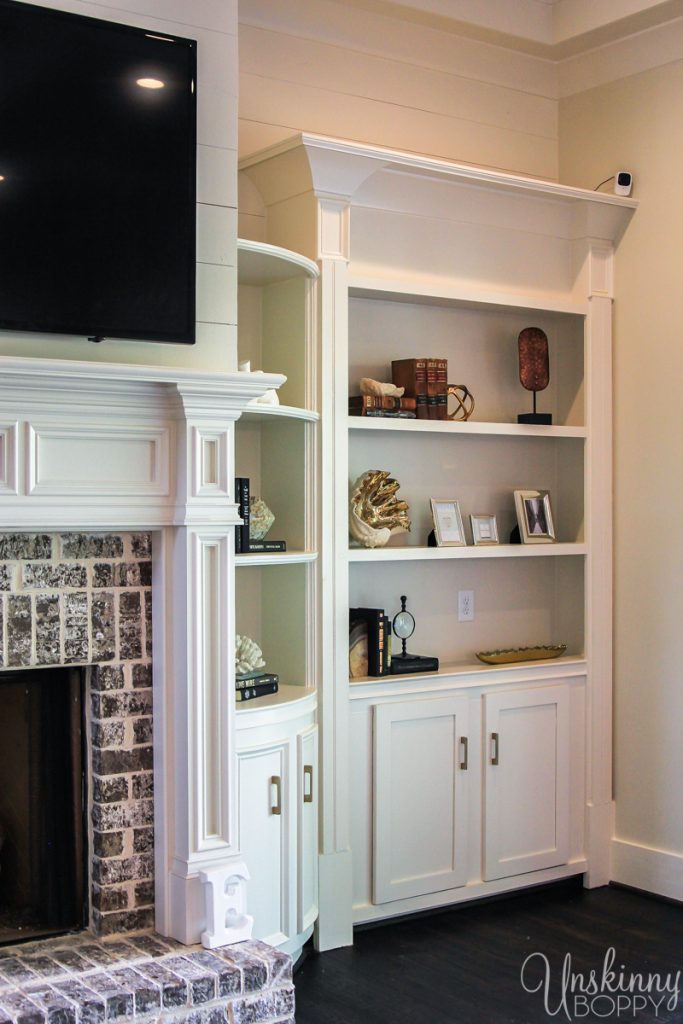 What do you guys think about tv screens mounted over fireplaces?  As a seasonal mantel decorator I feel so conflicted about the tv-over-the-fireplace thing.  I like to change out my artwork too much to be locked into this arrangement.  Also, my entire family sits on the couch and stares into an iPad or an iPhone these days, so I feel like the people of the future will be more conditioned to be entertained by a 6″ screen than a 56″.  That's just my random observations, though. I'd love to hear your thoughts on that.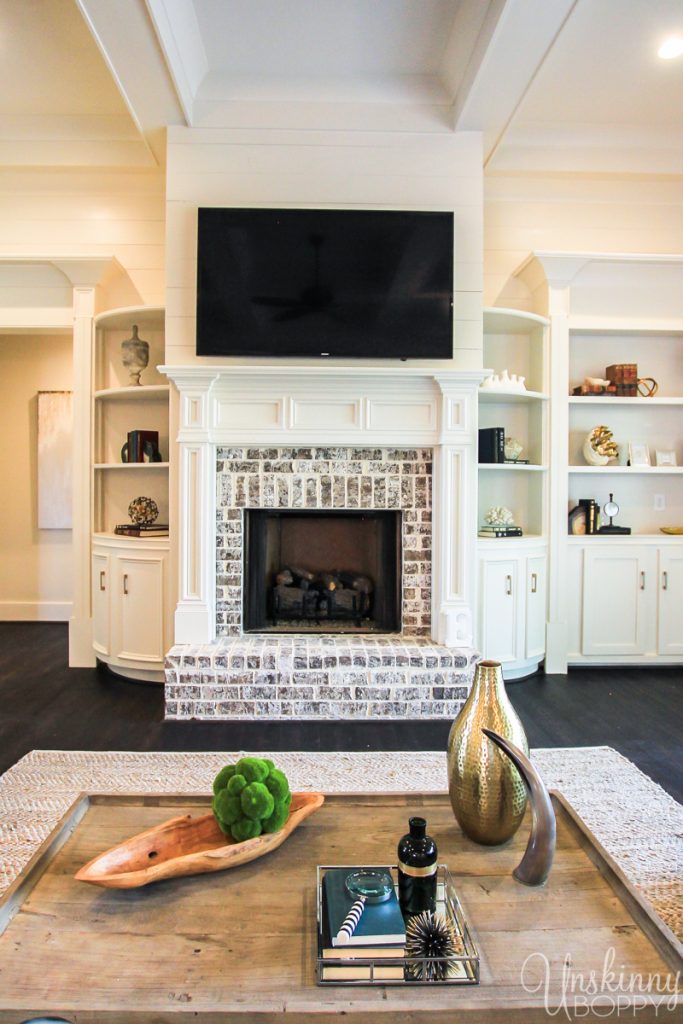 It was an open floor plan so the kitchen/ dining and living areas were all adjacent to each other.  This dining room was stunning with heavy wooden A-frame beams and on top of a crisp white planked ceiling.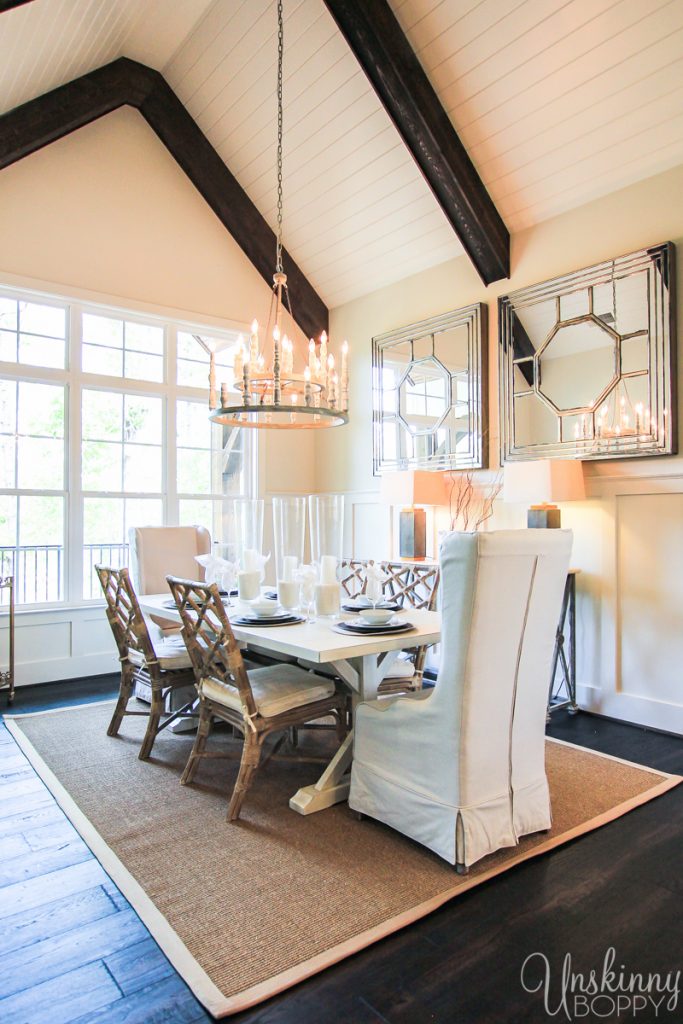 And check out this Rock-me-mama-like-a-wagon-wheel light fixture!
Over in the kitchen the finishes were a combo of mid-century modern meets French country farmhouse. Actually the entire house had this vibe.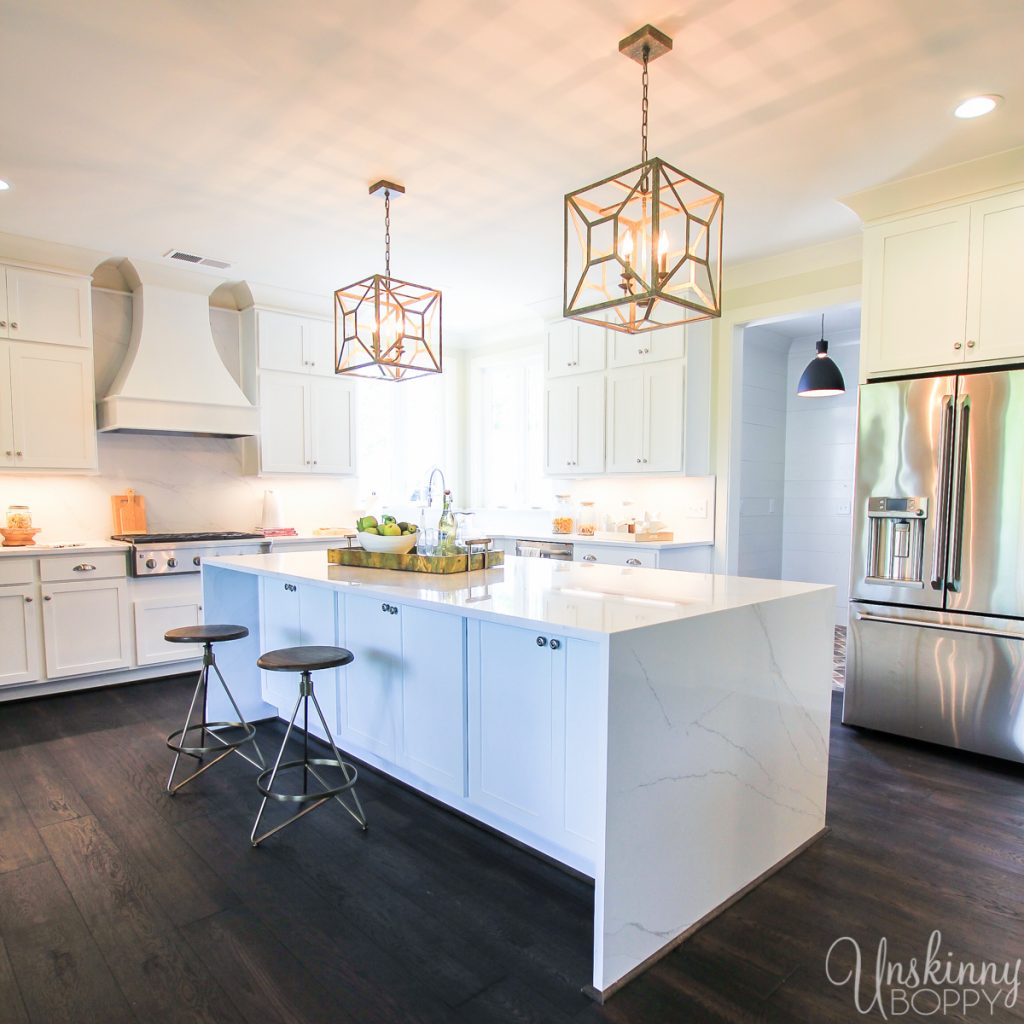 There were mixed metals everywhere I turned- from brass to oil-rubbed bronze to silver and chrome. This makes me feel better about the unintentional hodge-podge of mixed metals that I have going on in my house.  I have all of these same metals with a whole lotta 1990's bright brass doorknobs thrown in for good measure.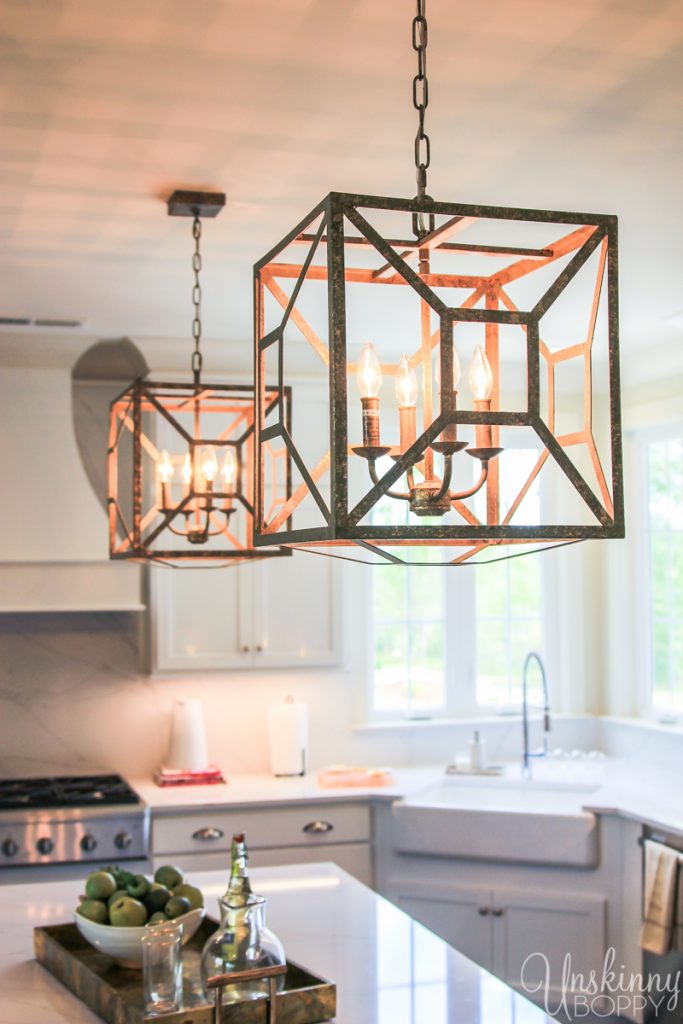 A giant farmhouse sink was set in the corner with not one but TWO giant windows behind it. I'm so jealous.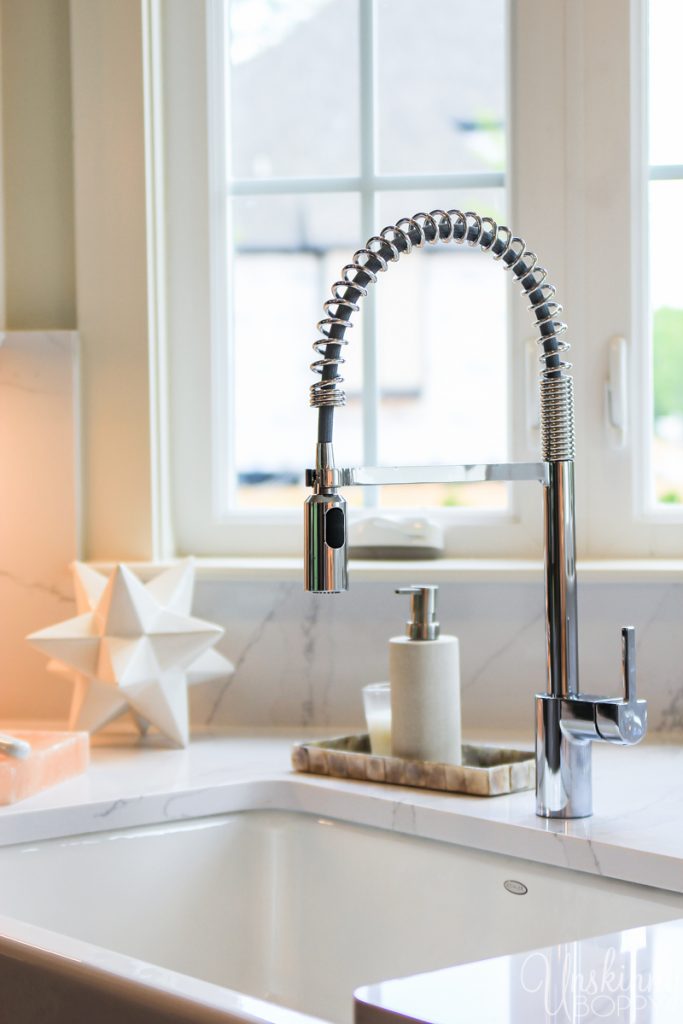 Off the back of the kitchen was a mudroom that led into a huge laundry room and out to the garage. No 2017 house would be complete without a sliding barn door, right? The brick pavers in this room made me swoon. I'm such a sucker for indoor brick.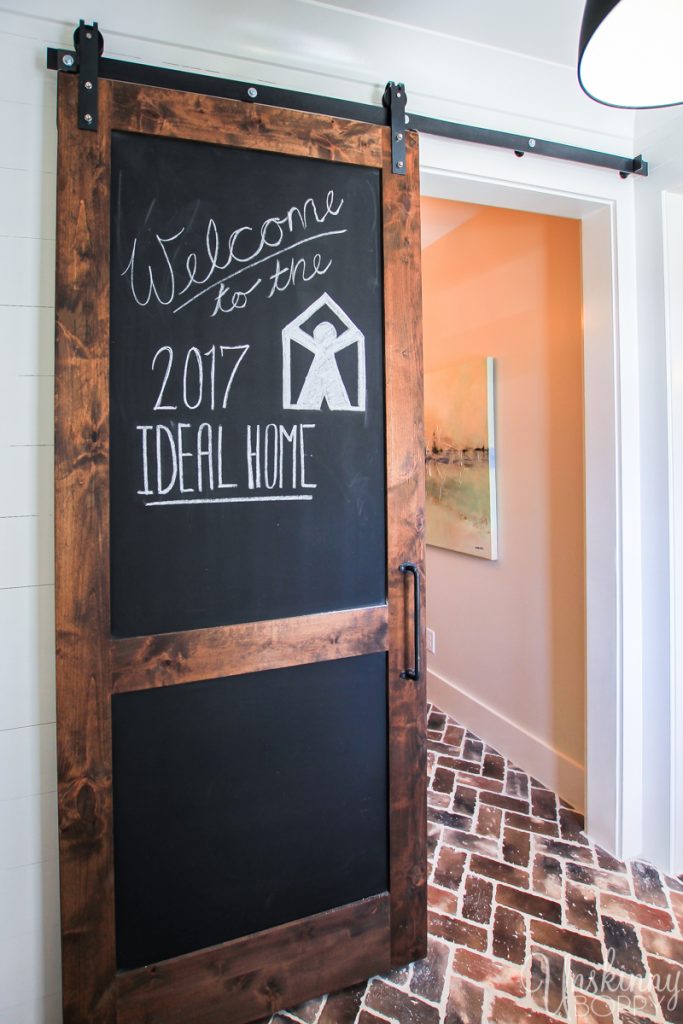 Over in the pantry I was also loving these slide-out baskets. I could store all sorts of stuff in these.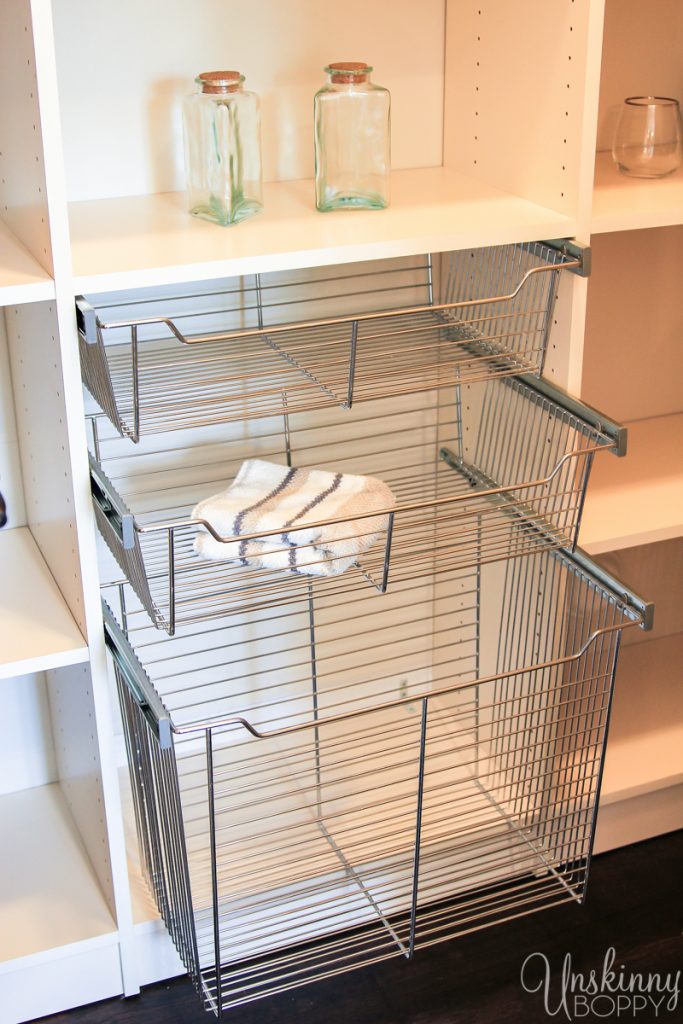 The Master bedroom continued this eclectic George Jetson-meets-Joanna Gaines vibe. The chandelier was amazing and how gorgeous is that bedskirt?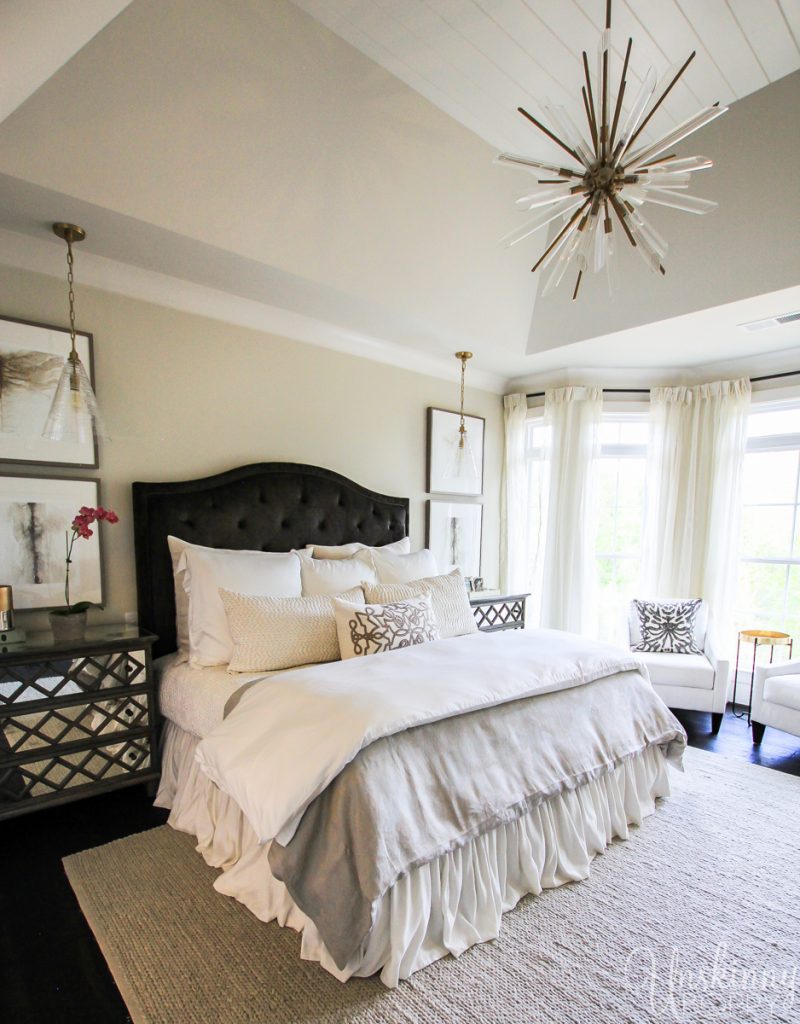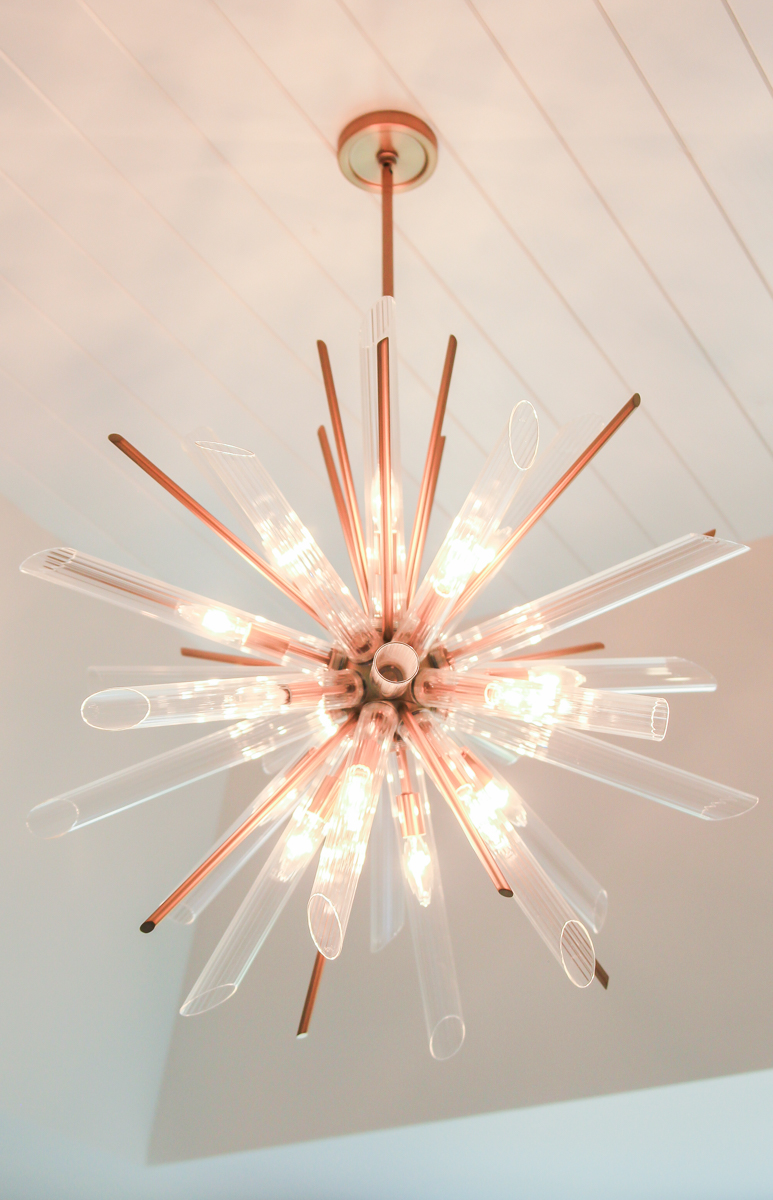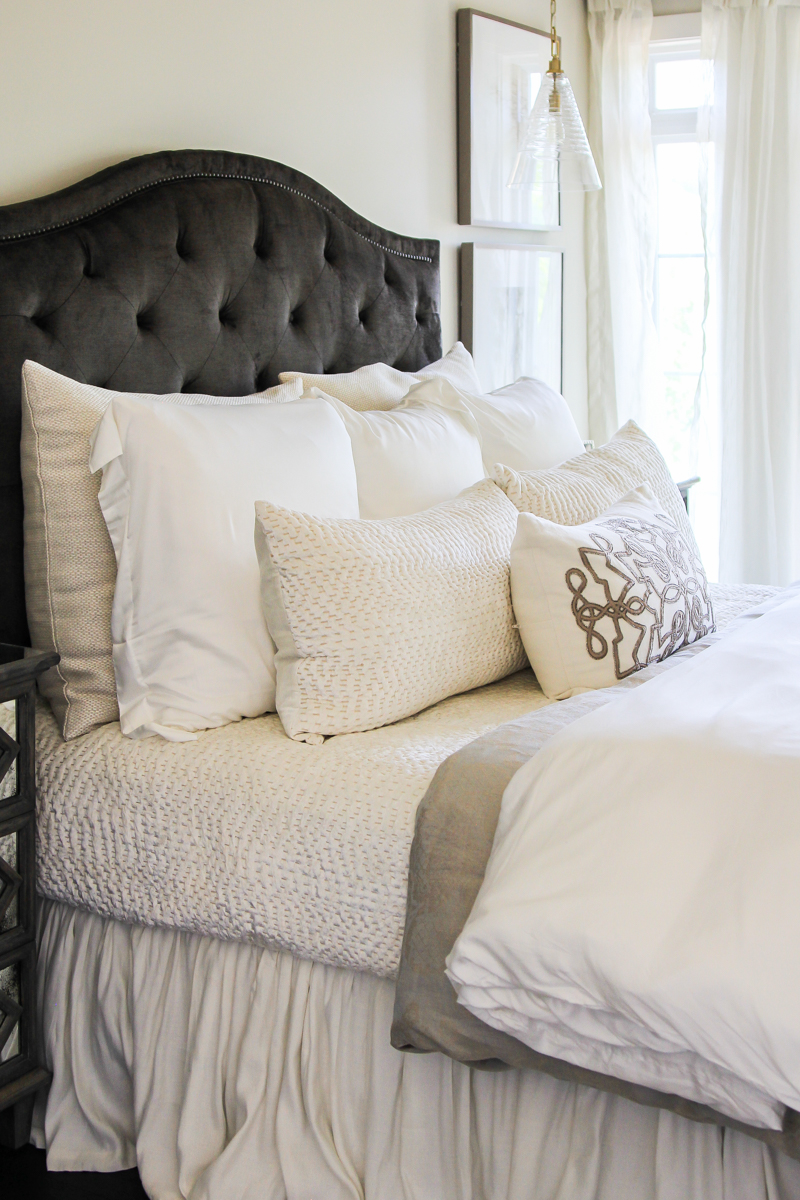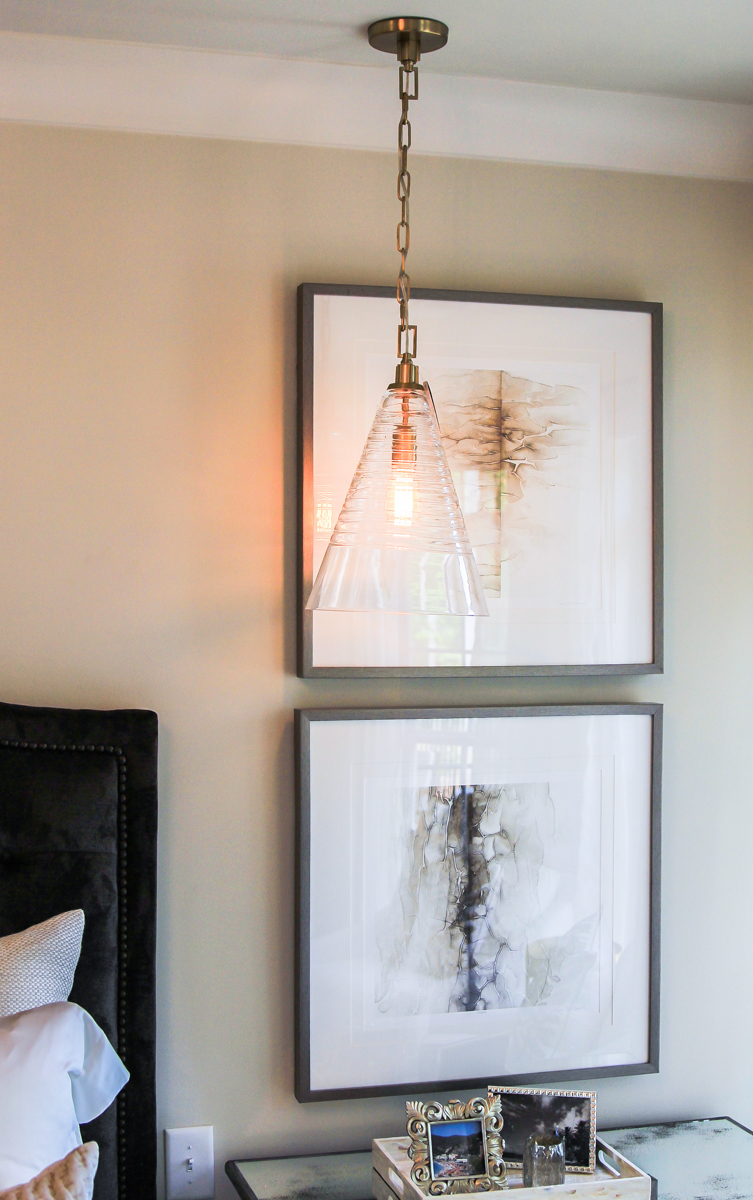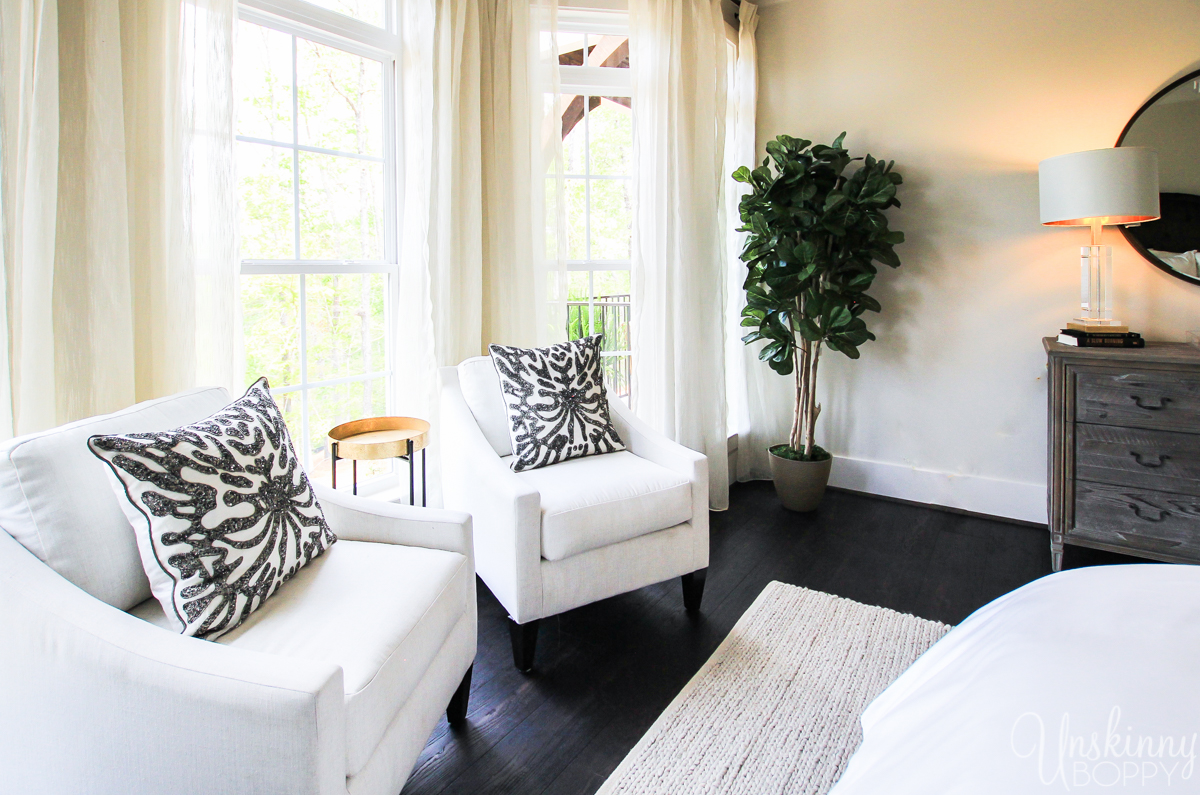 The ensuite bath was amazing, too. As expected.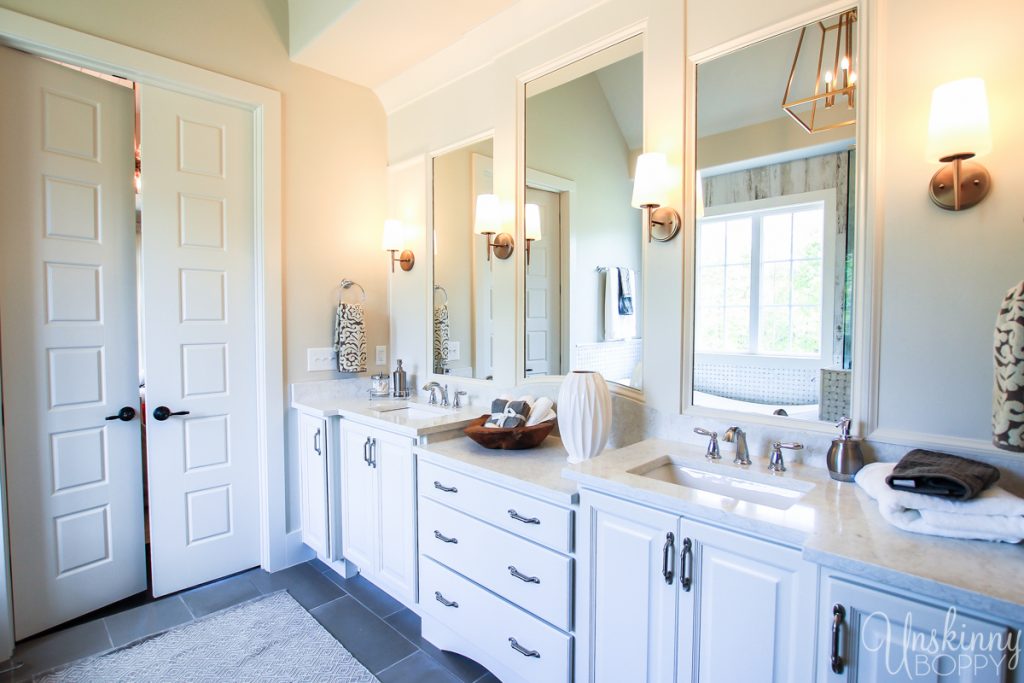 Check out the weathered whitewash tile on the walls behind the shower. I like how they have continued it all the way across the wall behind the bathtub to tie it all in together.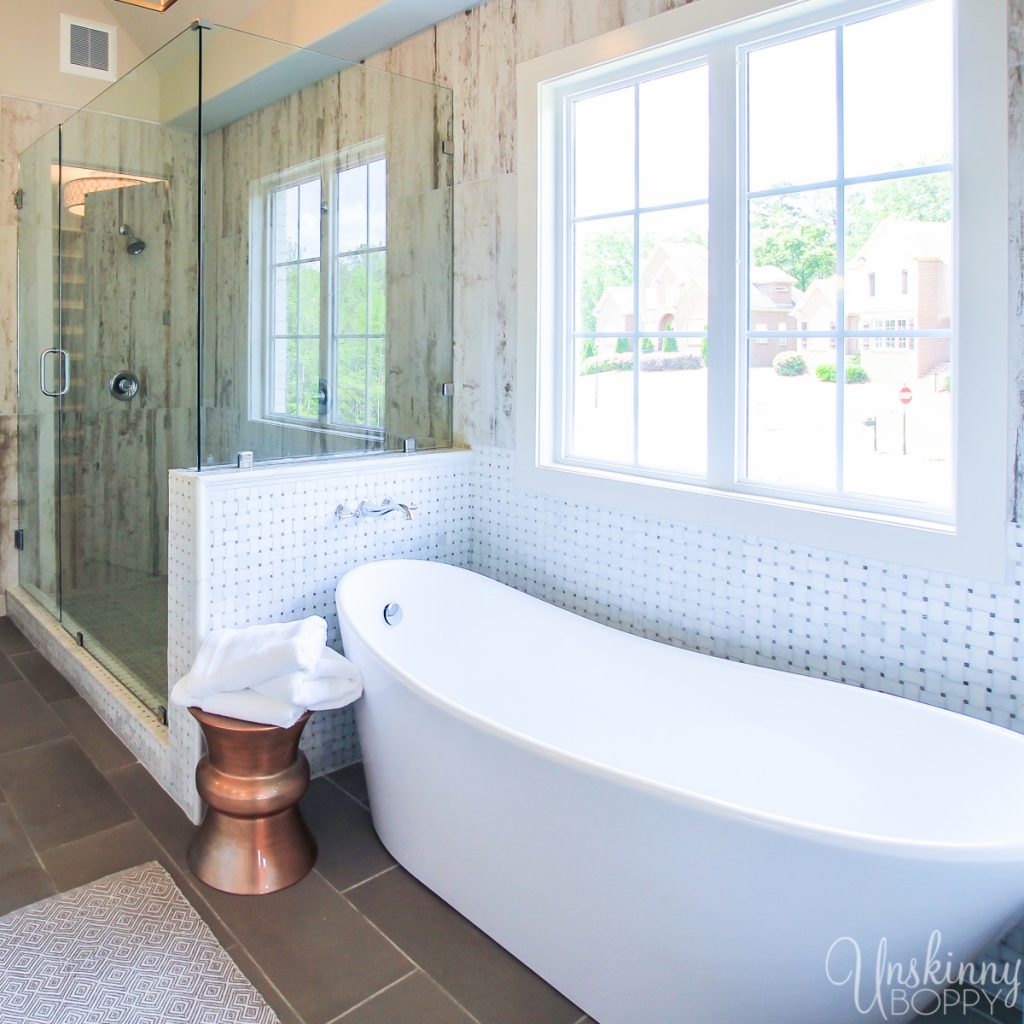 I cannot even with this giant master closet.  Can you imagine getting dressed here everyday? Yes, please.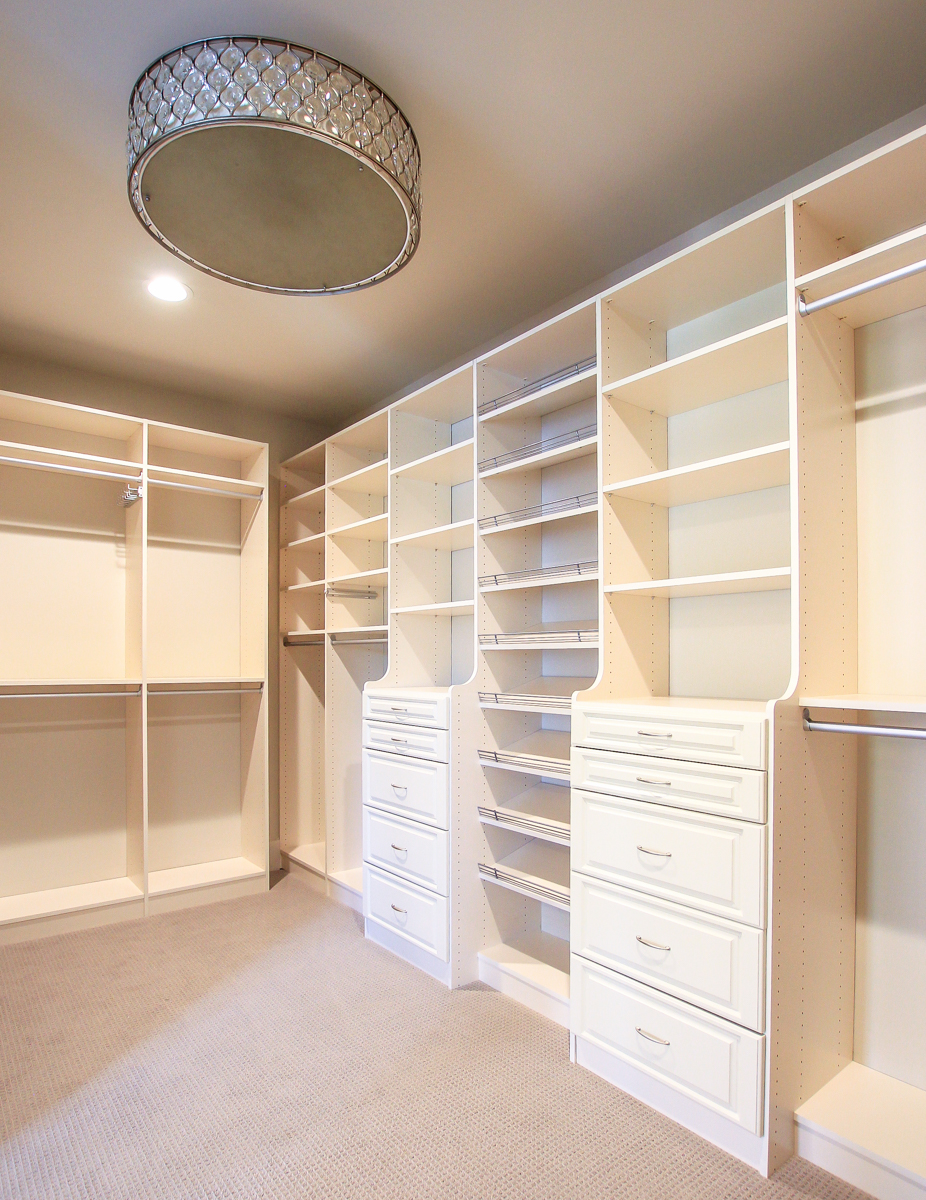 What a chandelier for a closet, right!? (I've got links at the bottom if you wanna shop the fabulous lighting in this house!)
These open cage pendant chandeliers are super popular right now, which is super convenient for those of us who never bother to dust the glass off our light fixtures. 

Everywhere I turned there was a mixture of rustic wood grains to shiny metallics.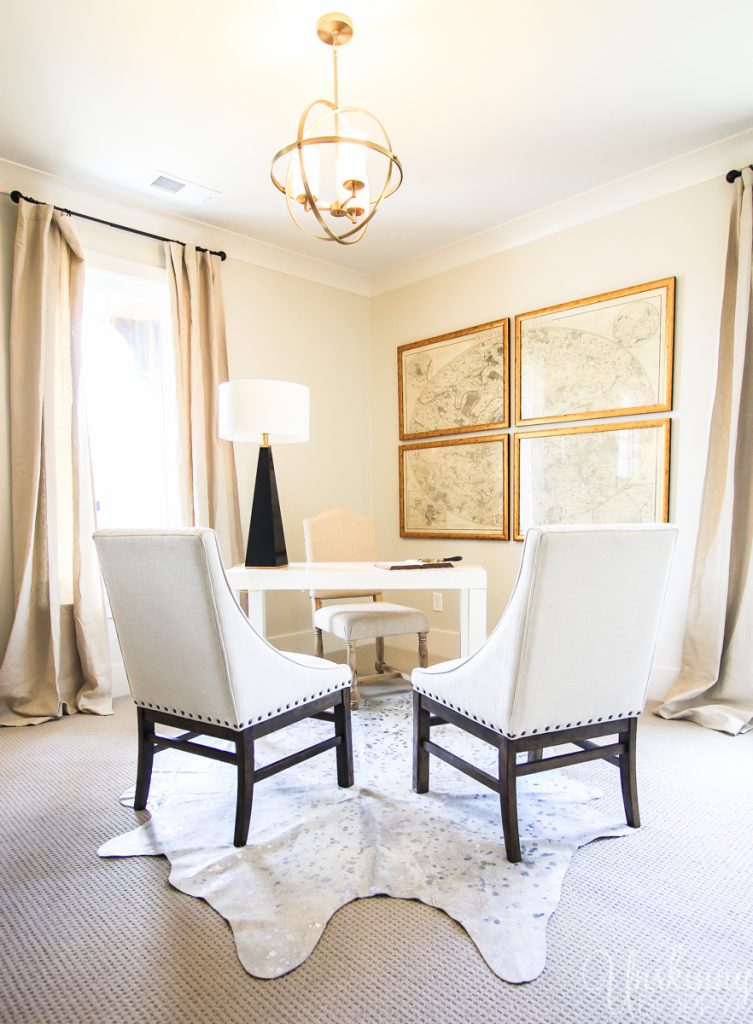 Upstairs there were three bedrooms and a comfy little tv nook in the balcony.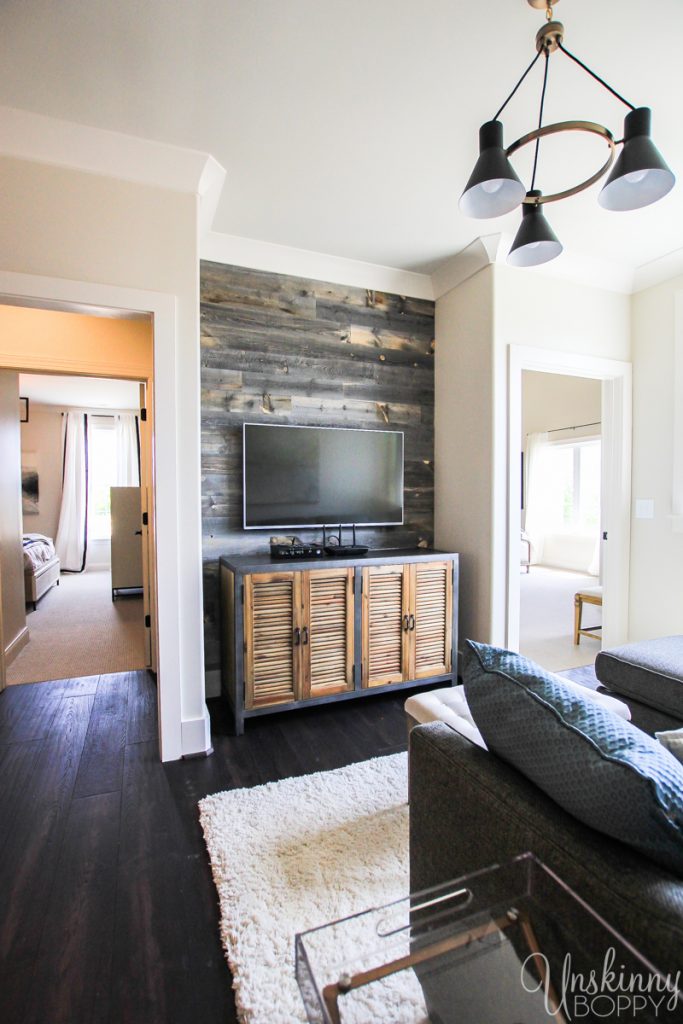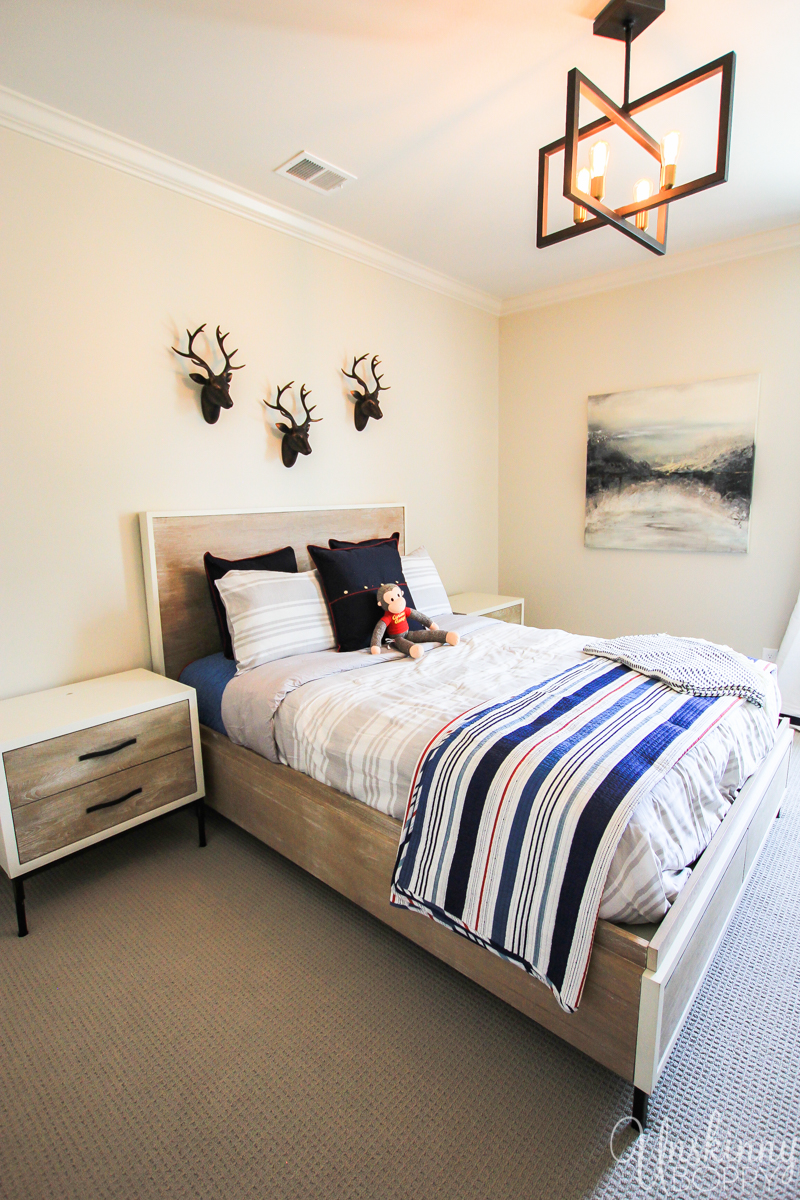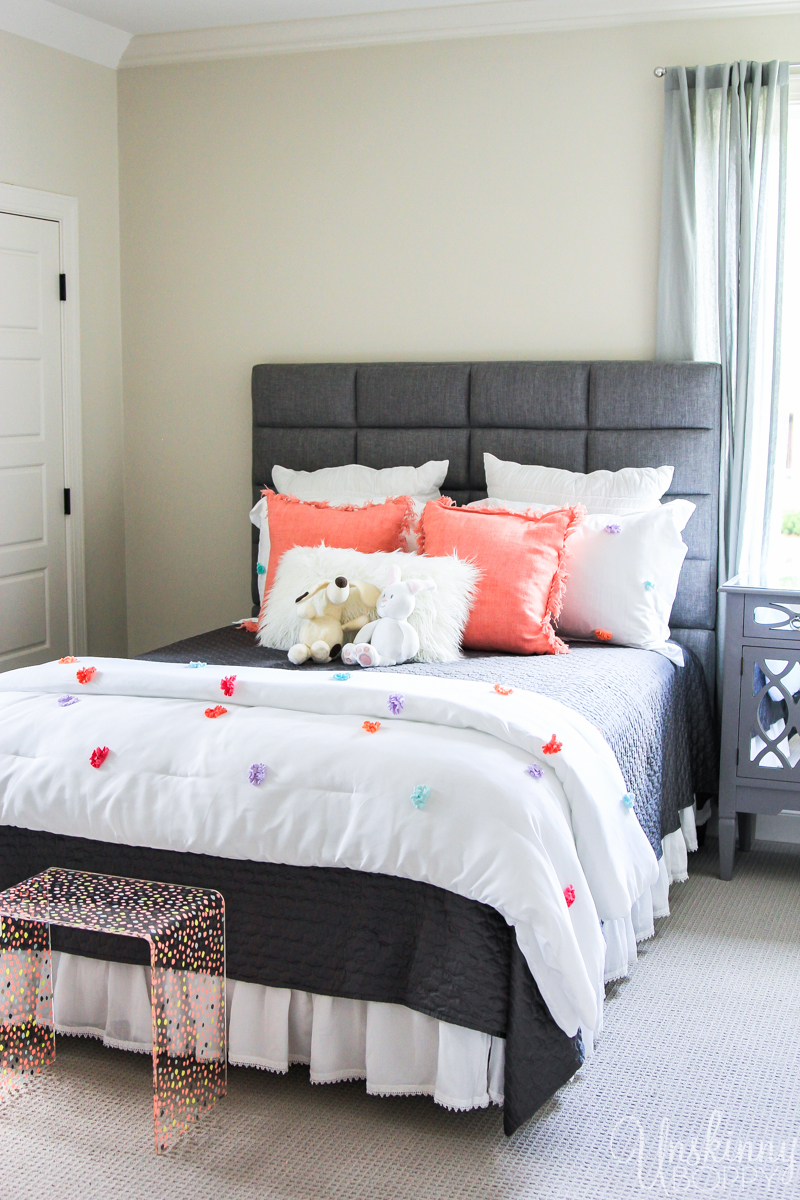 Can I just say how happy I am to see lavender making a comeback?  I love this color bedding.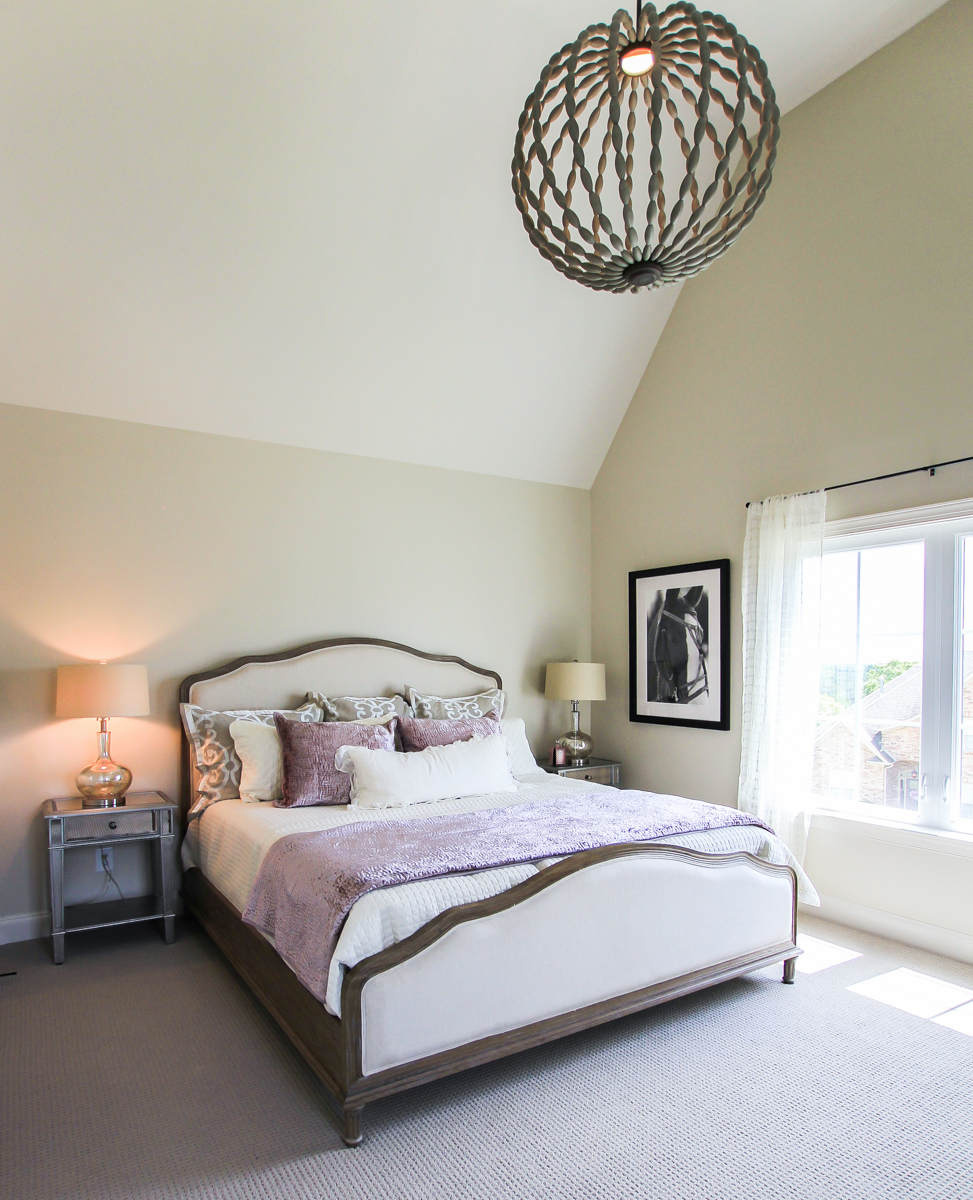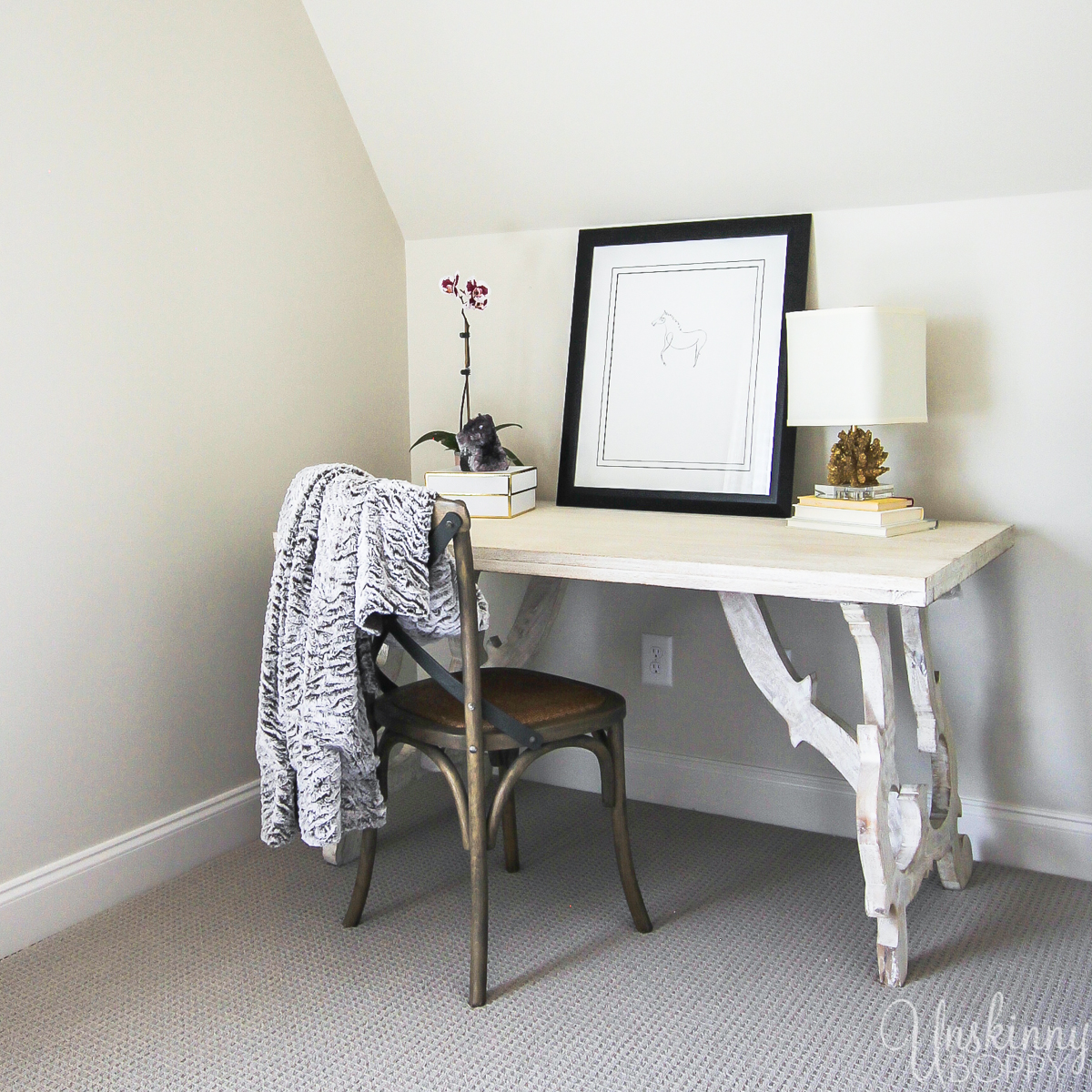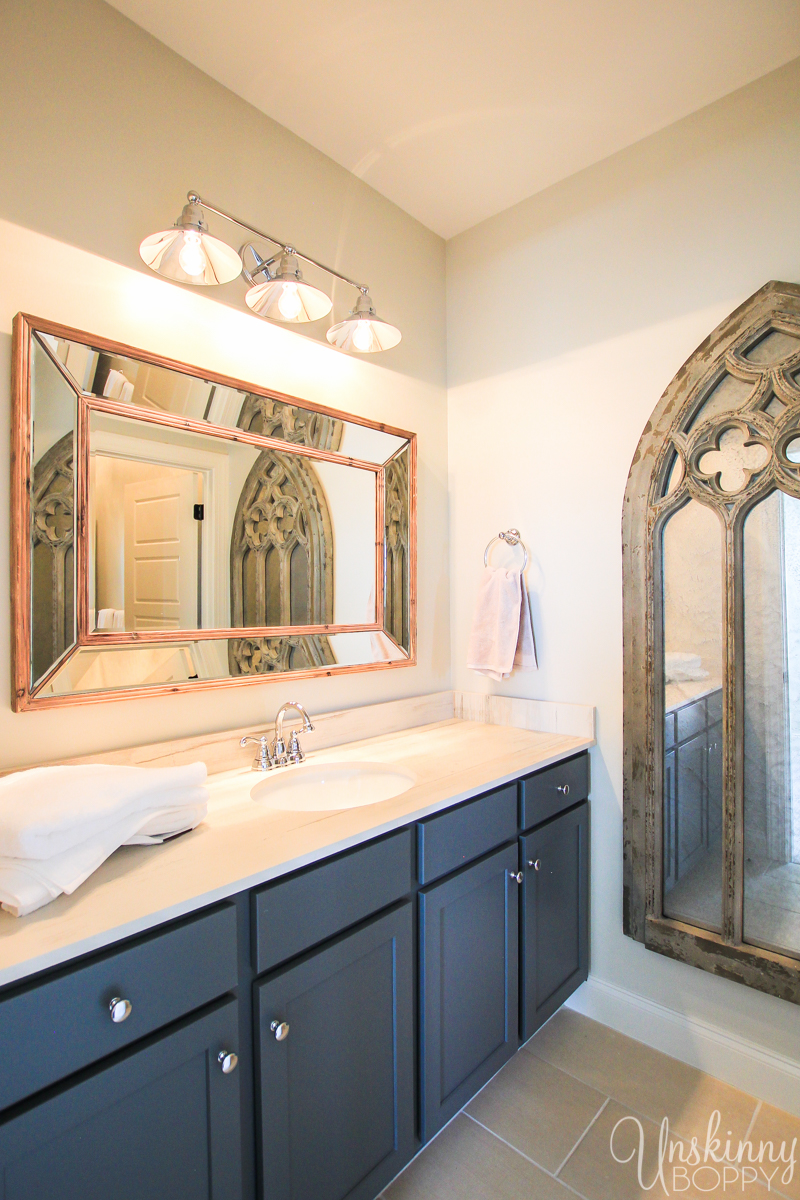 My favorite feature of this house was the back porch.  Check this out….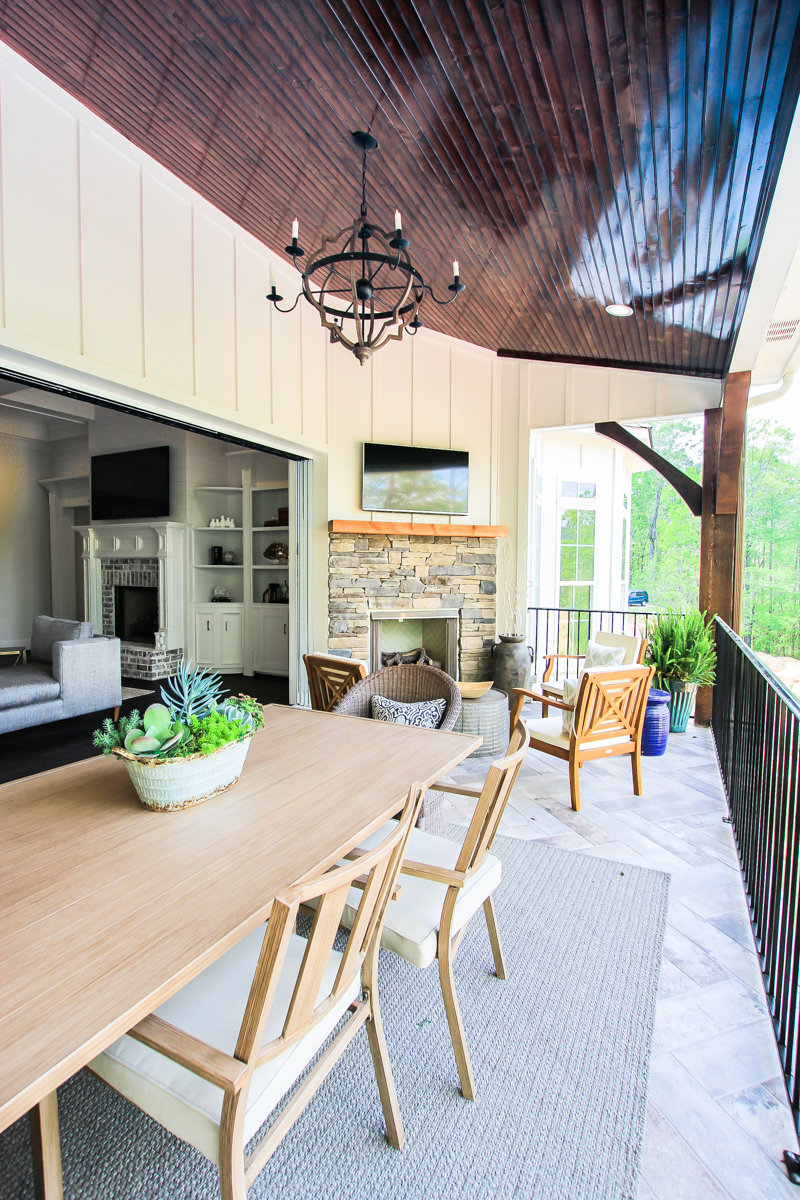 There was a giant wall of sliding glass windows that recessed back into the wall to open up this WHOLE porch to the living room so it was one huge open space.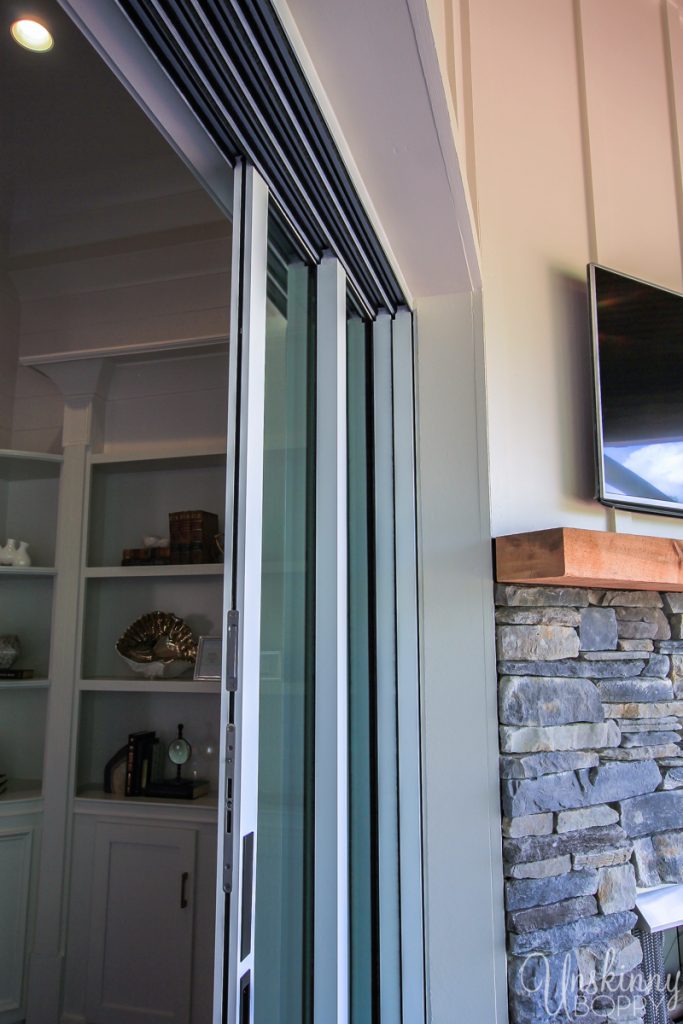 Perfect for entertaining, even if there will only be a small window of humidity/mosquito and heat-free days to open up your home like this here in Alabama. They might want to consider some screens on that porch. 😀
There was an outdoor kitchen around the side of the house which leads to the garage.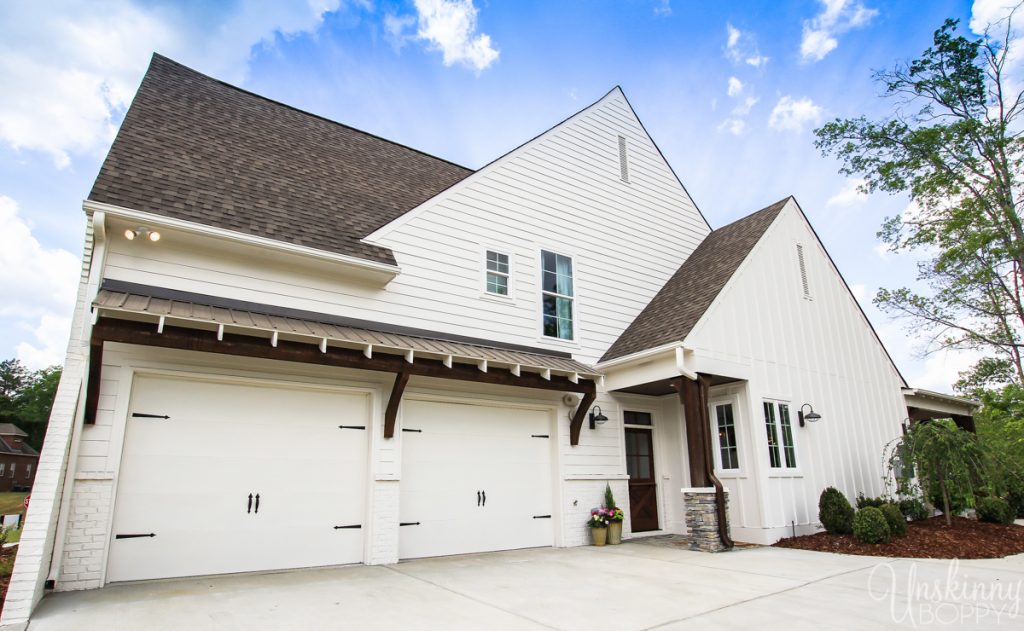 And another perfect stoop for the side door entry-way.  I LOVE the exterior of this house so much! It reminds me of an old country church.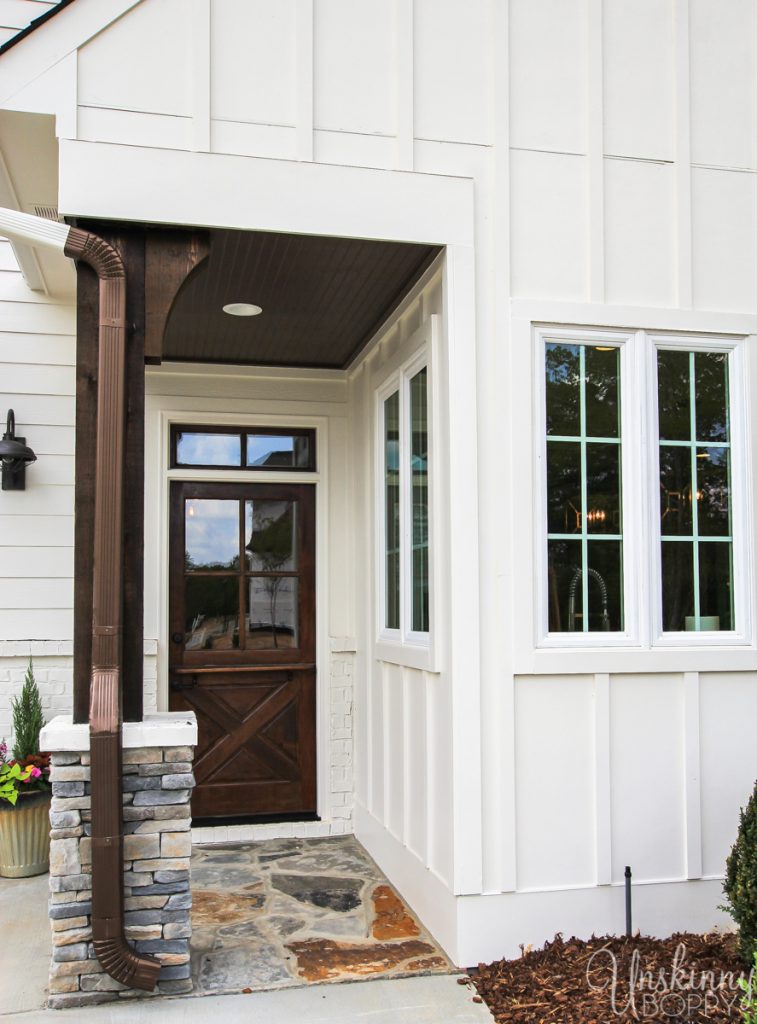 This Ideal Home showcases everything at 2017 brings to the table and eclectic design.
Every year I am blown away by how the talented interior designers at Set to Sell bring these homes to life. They knock it out of the park with their Parade home designs, and I appreciate them letting me take a backstage tour of this beautiful home before everyone else gets to see it this weekend. And here are a few past Parade of Homes tours you might enjoy…