Today I turn FORTY years old.
That's right. It's the big one, Elizabeth!
I've been doing a lot of reflecting on my life lately. I've been evaluating the details of different areas to see if I'm taking the right path that gets me to my goals. Since I hit the Life Change Lotto a few years ago, I am always questioning if I'm making the right choices for me and my family.
I've had a lot of good fortune in my life, but there comes a time when you have to make your own luck and follow your own dreams.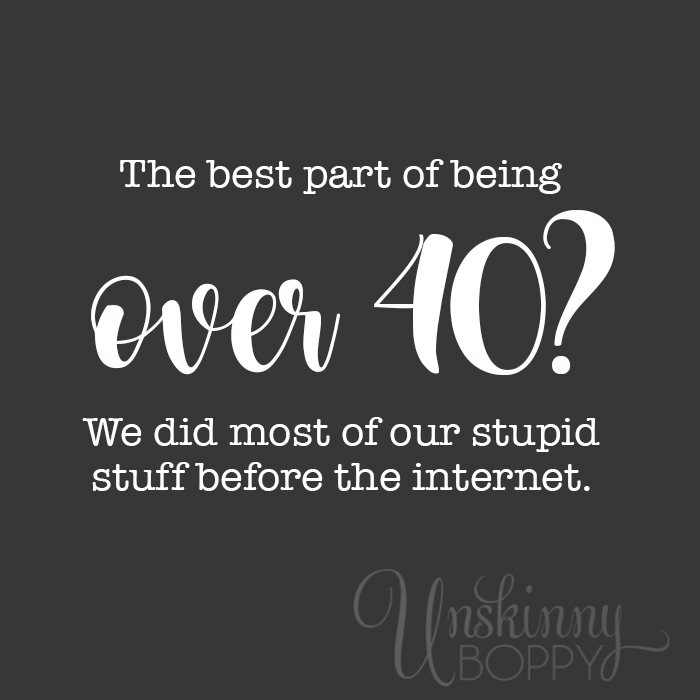 If you asked me to pinpoint a moment in time when I knew my life was going to change, I would immediately take you right back to February of 2014.
I was sitting in the massive living room of Ebbtide, a 6-bedroom, 1930's era beach house on Tybee Island being served dinner and drinks by the famous author Mary Kay Andrews and her husband (aka Kathy and Tom Trochek).
It was kind of a surreal experience, because up until that point I didn't quite realize how famous Mary Kay Andrews truly was exactly. I knew she was an author, but I'll be honest and say that I don't really read her style of books (sorry, MKA!).  Tome-like historical fiction and Harry Potter is more my speed, which would probably bore the average MKA reader to death.
But the dinner was delicious and the company was even better.
Sidenote: Mary Kay Andrews just released a cookbook called The Beach House Cookbook earlier this year, and I can attest to her fine beach house dinner party throwing skills. She's got that whole hostess with the mostess schtick absolutely NAILED. Y'all should buy her cookbook.
Anyway, I had been asked to attend this beach retreat with 20 blogger friends to promote various Mermaid Cottages on Tybee. The owner of Mermaid Cottages was a lady named Diane, aka the "Head Mermaid" who told us her own personal story of starting her beach cottage rental business around age 40. She decided to make a major career change and never looked back.
As she told her story, she pointed out that Mary Kay Andrews also left her career in journalism at the age of 38 to start writing novels–many of which shot to the top of the New York Times best seller list and made her the wildly popular writer that she is today.
Here is what struck me right in the gullet that night…Both of these extremely successful women had not started their current career paths until the age of 40. This made me wonder about other successful women, and after doing a bit of research I've been blown away by the number of celebrities who didn't get their start until after 40. Here's a few examples…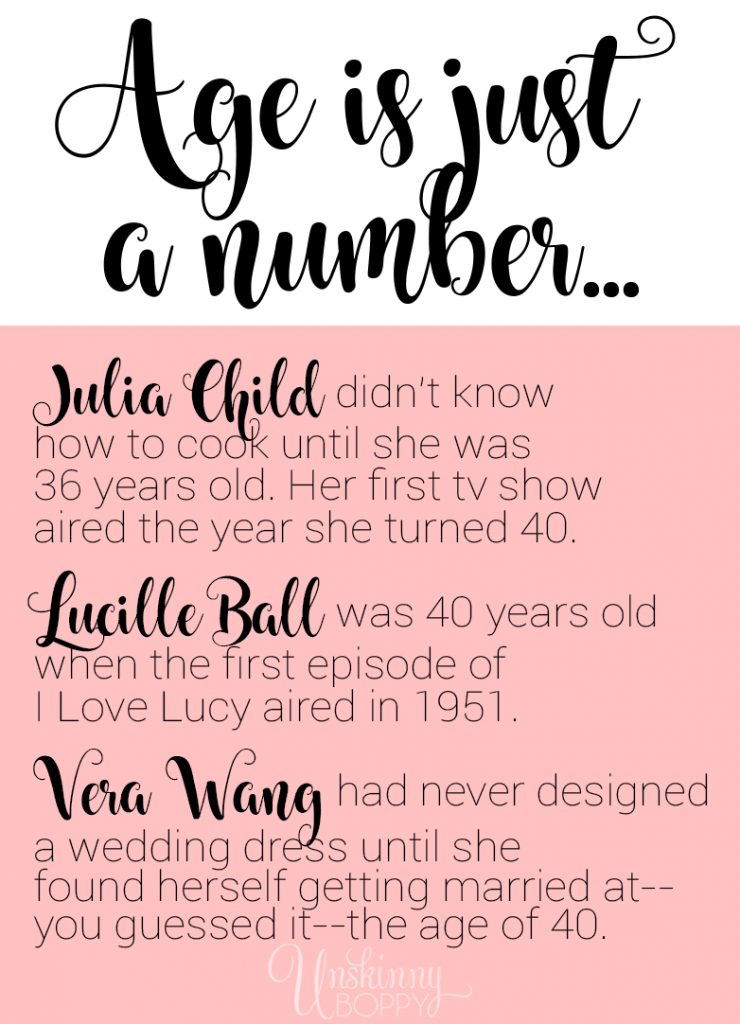 As I sat there in that beautiful beach house that night, reflecting on my life and all the things I had accomplished up to that point, I realized that my life was about to change. I was 37 years old, and I was not happy at all in my full time career. The stress of it had built up to a point where I was miserable and dreaded going to work every day. I had been agonizing over quitting my job for YEARS, but it was during that particular weekend that I made the final decision.
And I totally did it, y'all.
On October 31, 2014, I quit my full time job of 15 years and headed out into the wild blue blogging yonder. I was ready to take over the world!
And then, six weeks later, I found out I was pregnant with the greatest blessing that I never knew I always needed, and my life took a sharp left turn into becoming the mother of a blond-haired, blue-eyed daughter who takes my breath away with her beauty. In my wildest dreams, I could never have imagined this baby girl coming into my life when she did. But here she is, giving me a run for my money every single day.
In 2015 we sold our dream home and moved into this new house that has settled around our family like a comfortable old cable knit sweater. I feel more at home here than I ever did in the last house.
Between my blog and Young Living essential oils, I have been lucky enough to continue to have a decent but steady income coming in even though I have been on auto-pilot for the past two years. Postpartum depression and an avalanche of family health issues and other assorted drama have put a major dent in my plans to take on the world.
But, things are finally looking up. My family is healthy. My anti-depressant go down the hatch each morning along with a bunch of vitamins and supplements to try to prevent further prescriptions. I turned off our cable tv and hid all of the trending news from my facebook page so I don't have to be bombarded by The World and all of it's craziness. I bought myself a jon boat so I can go fishing in the private lake that lies just down the walking trail from my house. I regularly catch 2-4 lb bass and take annoying largemouth selfies to post on my facebook page. I grow vegetables in my little backyard garden while listening to the neighbor's donkey braying through the woods behind my house.
I am happy. I am free.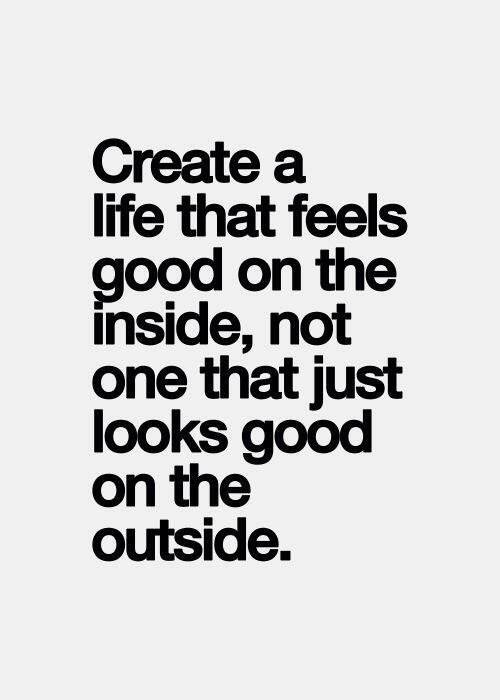 My budget is tighter but my clothes are looser because I'm finally losing weight on a low-carb diet. It's amazing how quickly you can drop pounds when you're not stress eating your feelings by diving head first into tubs of ice cream every night.
So today, as I sit here on the peak of the mountain looking down over the rest of my life, I am excited to see where my downhill roll will take me. I have plenty of hopes and dreams and ambitions.  I just pray that I have plenty of time left to achieve them all.
Thank you to all of you who have been on this journey with me for the past decade or more. I appreciate each and every one of you, and I hope you'll be there for the next ten years.
If you are over the 40 hill, I hope this post inspires you to do what you want to do in your life.  Make that change, friend!
With Much Love,
Beth
Save
Save
Save
Save