There are times when you have to take life's lemons and make gallons of lemonade. Right now is one of those moments for me.
Last weekend I was invited to speak at a holiday event in Atlanta. I prepped really hard for it and created a super snazzy presentation for the event.
My topic?
How to Snap the Perfect Christmas Card Photos of your Kids
This is something I know a lot about. Because of this.
Or this.
I poured every ounce of knowledge that I have about this photography topic onto this slideshow.  I was fully prepared to take the average Jane who has never picked up a dSLR camera before and show her exactly how to take professional photographer-worthy images of her children. By the time my 60 minute class was up, I was going to have everyone in the room ready to take pictures of the kids in front of the Christmas tree at night, or posed perfectly beside the pets outside in the daytime.
My goal was that everyone there would be able to pick up a dSLR for the first time and be shooting in Manual mode by the time they walked out of the room. They would leave saying "WOW! That was the greatest class I have ever taken! I'm gonna ROCK these Christmas card photos this year and take up photography as a serious hobby."
My kids were out of school the Friday before the event so my husband took off work and we made a family vacation out of it. Off we drove to ATL, visited the Georgia Aquarium, battled Atlanta traffic and stayed in a hotel near the event.
On the morning of the class my husband dropped me off at the door, then took the kids to the mall to wait it out while I gave my presentation. I lugged all my camera equipment, two tripods and my laptop to my classroom inside this huge convention center.
On the way to my class I passed by all the vendors and right at the end of the row was a guy with a bunch of back massagers strapped to folding chairs giving out free massages. Except the massagers were sitting so low down on the seat of the folding chairs that they were more like butt crack massagers. He tried to hit me up for a massage as I passed by but I declined. "Sorry! No time to sit! I'm teaching a workshop!" I said breathlessly, as I breezed past him with a smile.
I got everything all set up.
Lipstick applied.
Lapel microphone clipped on.
Slide-show ready….
….aaaaaandddd nobody showed up.
Not a single soul came to the class! 
Class started at 10:30 and at 10:35 I snapped this pic of my empty curtained booth o' shame.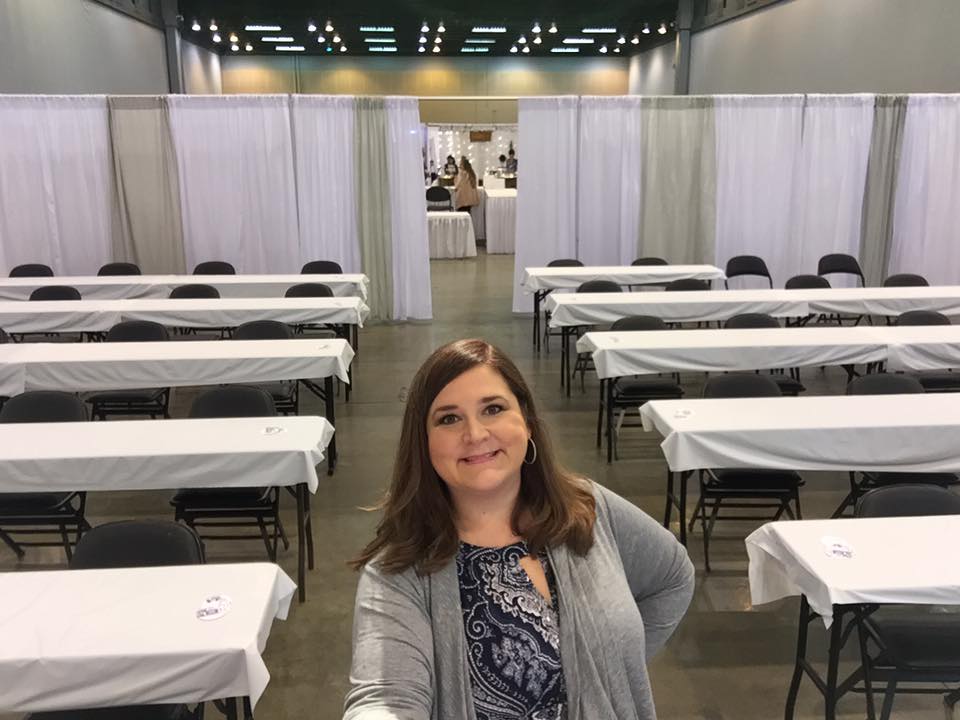 I sat on the edge of the stage and waited for about fifteen minutes, listening to the other classes happening on either side of me while texting my husband to come back and pick me up. I gave it until 10:50 and then I headed out with my tail tucked between my legs.
Because I already had all this excellent material sitting here unused, I figured what the heck?? Let's turn this sucker into an e-workshop so that all of y'all can hear what I had to say via online learning.
I sat down this week and recorded my presentation for you, and uploaded it to my Teachable account.  I've already created an e-course about editing photos in Lightroom.  Why not create a photography e-course for all of you?
If you have EVER wanted to learn how to pick up your dSLR camera and shoot pictures in Manual mode, my class makes it really simple to learn. Even if you don't even own a dSLR, I give you advice on exactly what equipment you will need to buy to get started in photography and even give an example of how to take good pics with your iPhone. I have broken it all down, step by step, and given lots of visuals to show you exactly how to do things with your camera.
Easy peasy lemon-squeezy.
Looking back now I probably shoulda taken that dude up on that butt massage.
Lemons to lemonade, right?