Remember our ugly basement makeover?
Well, I'm finally getting around to sharing the basement decor with you today. This room has been completed for a long while now, but I'm a bad blogger who doesn't get around to posting things in a timely manner. Forgive me?
This is the room we created for my husband's office space on the days he works from home.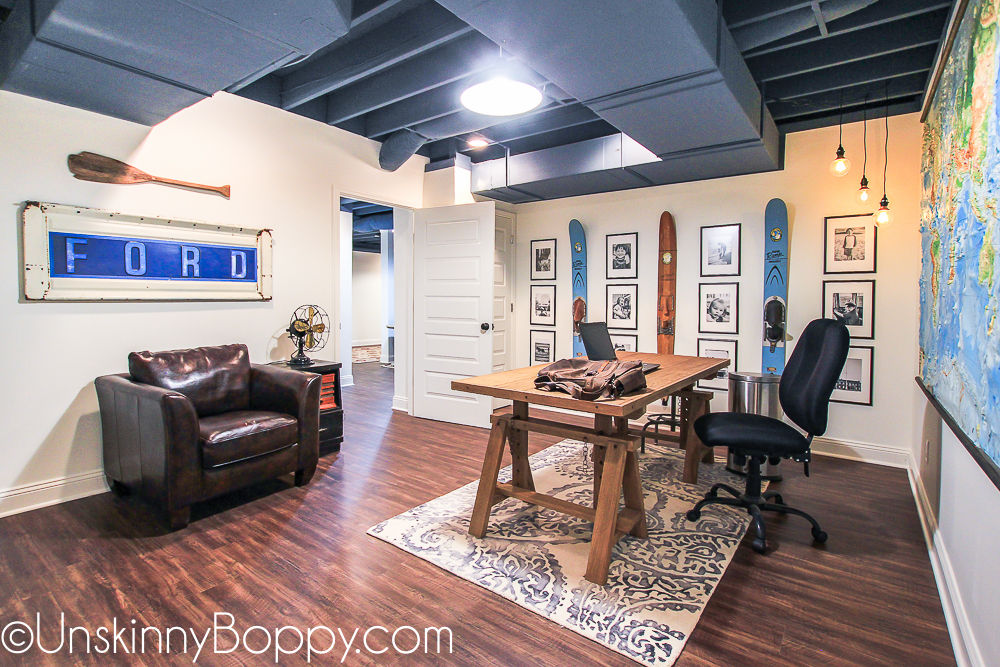 We found this awesome Ralph Lauren desk on sale at Homegoods a while back while searching for a new dining room table. I bought it thinking I might turn it into a dining table, but then I found an even better one a few days later.
So this manly hunk-o-goodness became my husband's desk. It's shaped like two sawhorses with a slab of wood on top, which is perfect for my wood-working craftsman.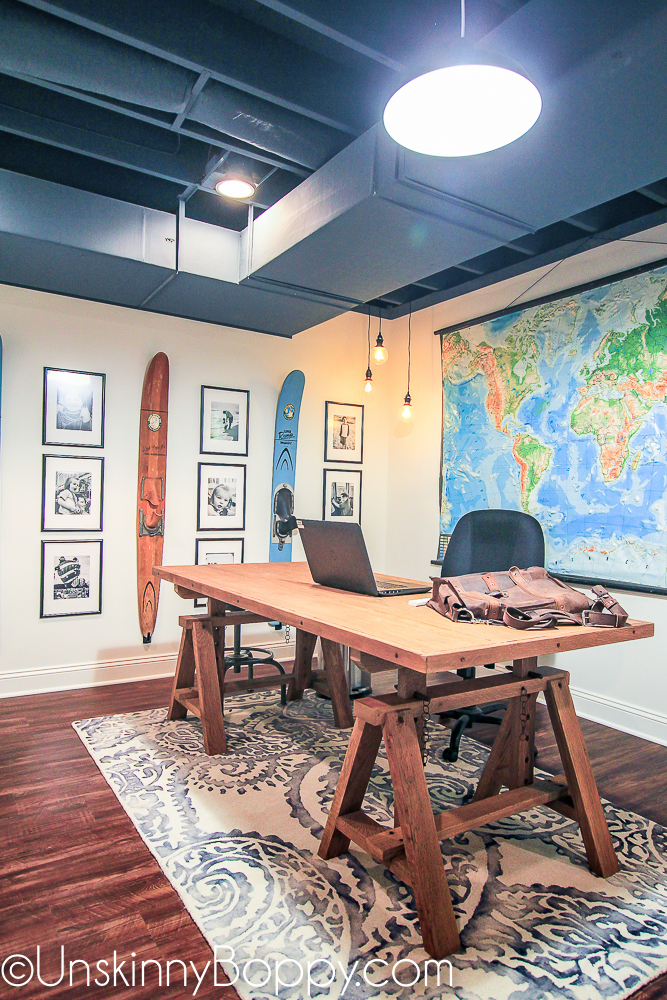 I found the hanging lighting at IKEA and knew it would be perfect to brighten up that dark corner. The round LUNNOM bulbs are like old fashioned filaments and they put off some nice, warm light.
The blue Barrow paisley rug came from a Pier One going out of business sale.
We have had that huge map hanging on the wall for YEARS now.  It's been sitting in storage just waiting on the perfect spot to hang it.  At one point I had considered it for my son's bedroom and the playroom, but my indecisiveness paid off in a big way.
This wall is the perfect spot for it to hang.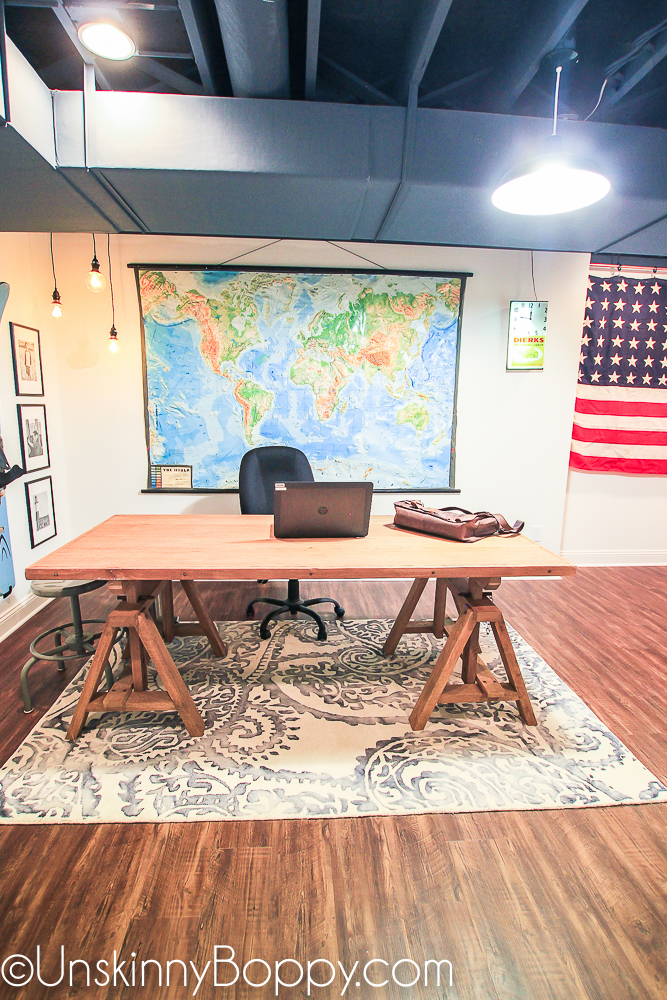 The map is so old that it still considers Russia to be a part of the USSR. We assume it was hanging in a classroom somewhere but don't really know the origin of it.
I love the texture of it–showing all the mountain ranges as vinyl lumps and bumps.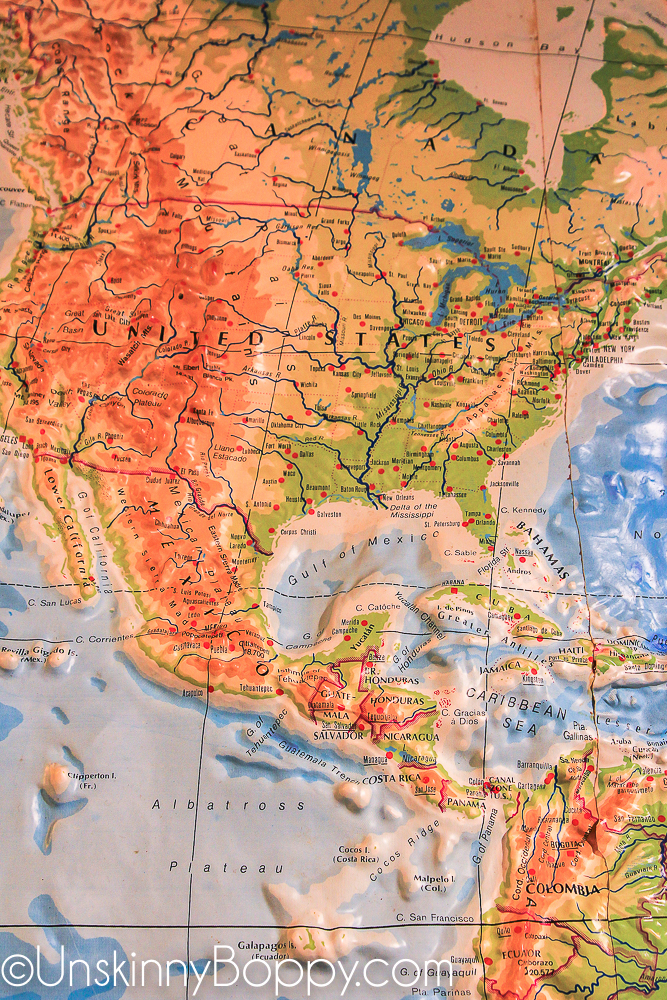 This ski/collage wall was 100% my husband's idea.
These old skis belonged to his great-uncle who was a champion water skier.  They were sitting in his granny's boathouse for decades, covered in spider webs, so we rescued them and cleaned them up.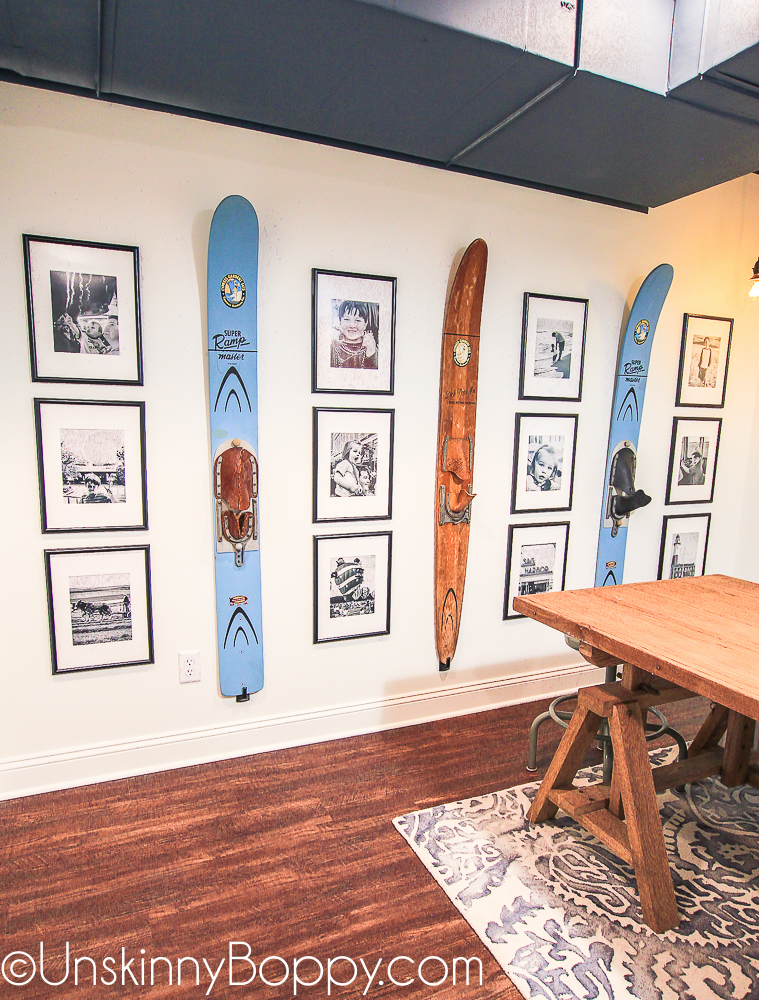 To hang them on the wall, we used two 3M Command hooks attached to the wall near the top and one of my black elastic hair ties wrapped around the ski and connected to the hooks.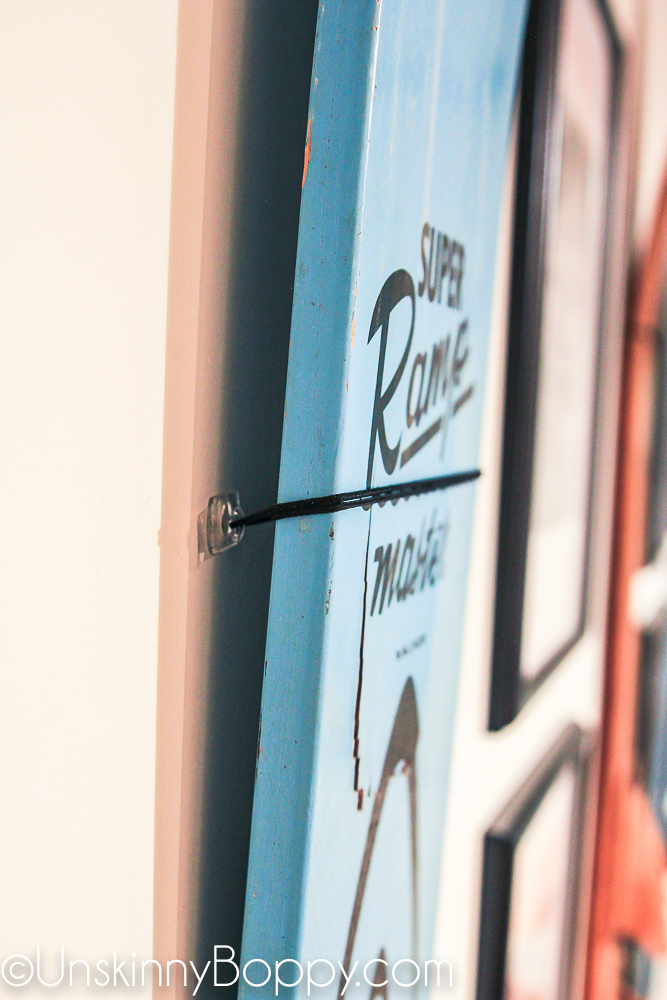 At the bottom we used a bigger Command hook to support the weight of the ski. This setup is surprisingly sturdy and has worked really well so far.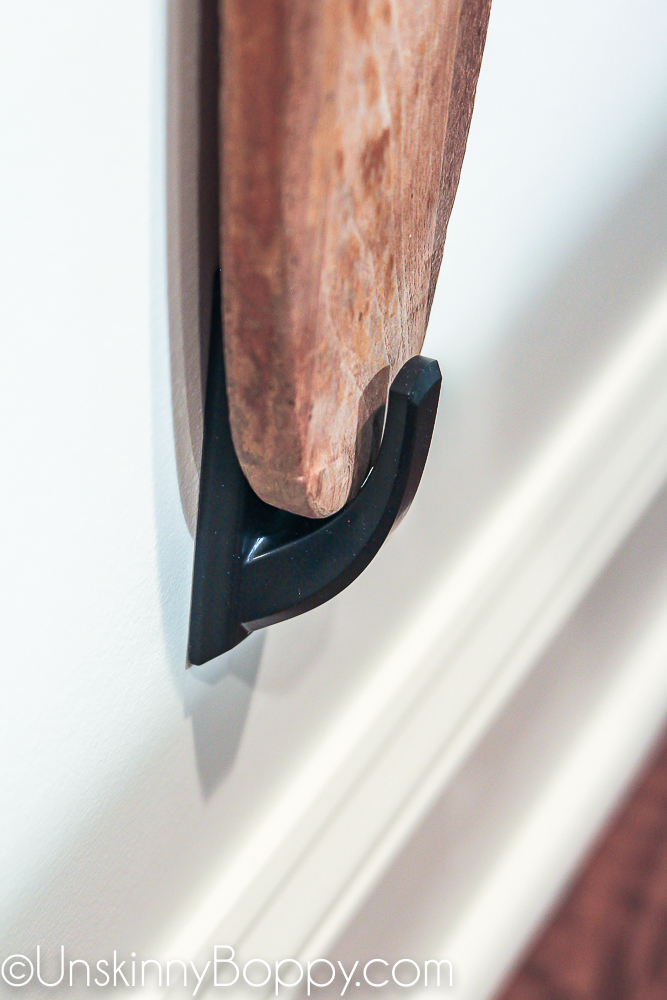 The photograph collage are black and white images of all of our best vacation photos.
The pictures are pretty random- everything from Disney World to Mardi Gras to the Amish farmers in Intercourse, PA, but they ALL have a special meaning to us and remind us of fun trips we've taken over the years.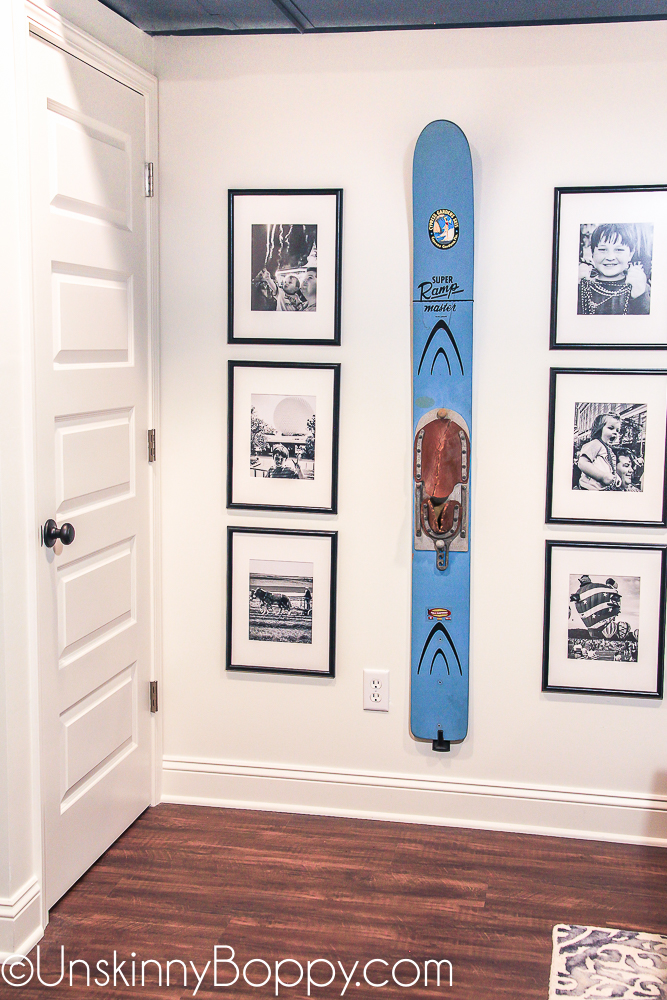 I searched high and low for black picture frames with a white mat that were affordable since we needed SO many for this wall.  I finally found the perfect ones at IKEA (love me some IKEA).
These are the MARIETORP 12×16 picture frames that hold an 8×10 matted photo.
They were $4.99 each, and they worked perfectly for the vision my husband presented to me.  I got the black and white pictures printed at Costco since they have the best cheap photo prints and for just $5 bucks a frame, this wall was DONE.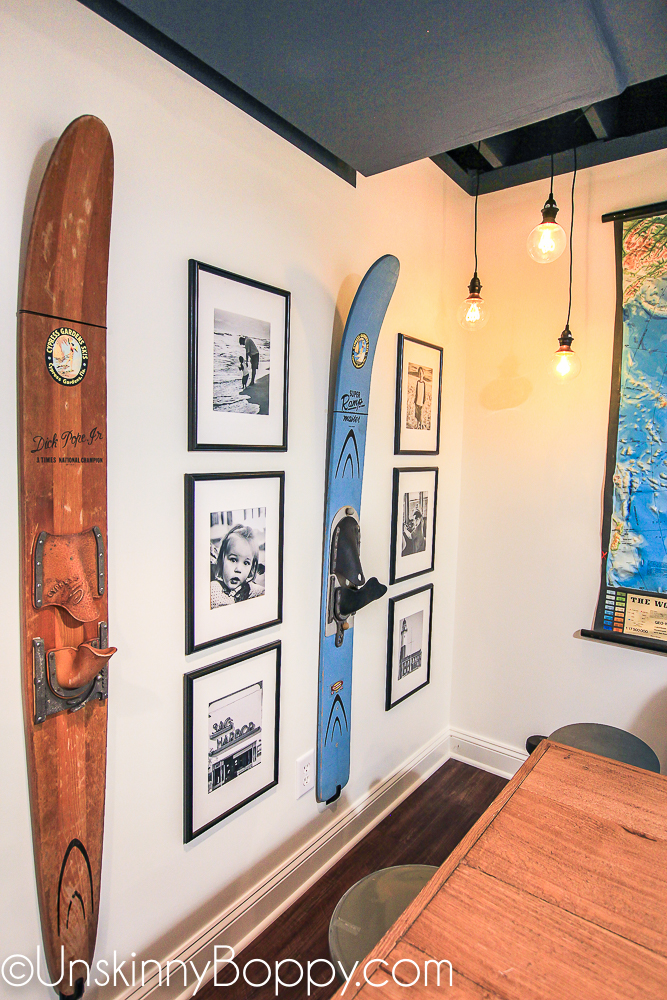 Over on the other side of the room, he hung the old Ford pickup truck tailgate.
Four years ago, this tailgate was hanging on my son's bathroom wall, but we didn't have a great spot for it here at the new house. It works great here along with another boathouse find (the paddle) and a vintage fan on the side table.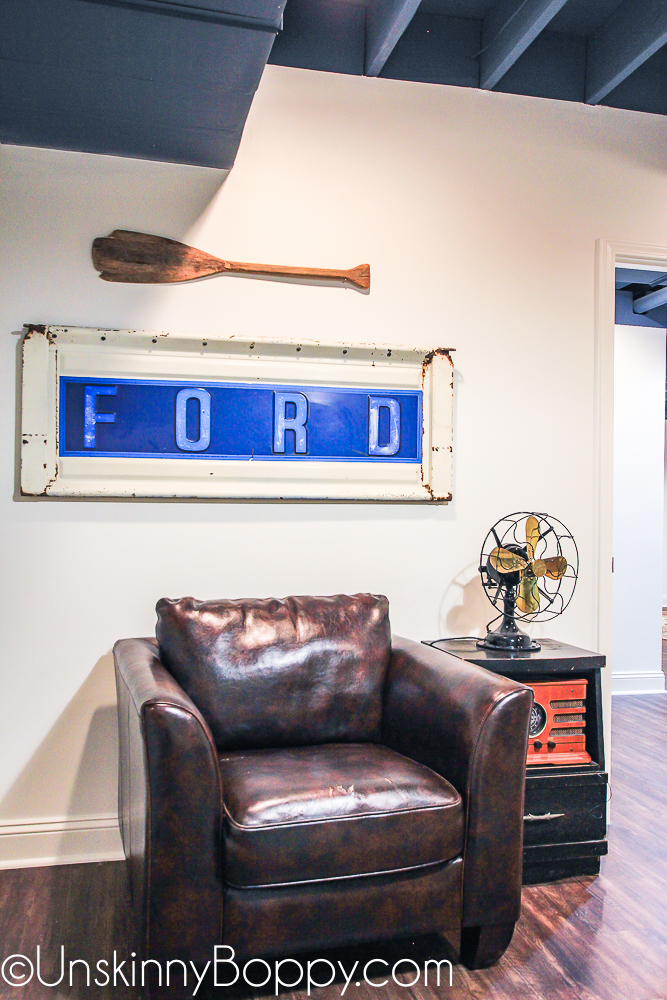 And finally, he completed the room with this HUGE 48-star flag found on eBay. He hung the flag from a length of copper piping with hanging curtain clips. 
It's the very first thing you see when you walk down the stairs, and looks great displayed on this wall.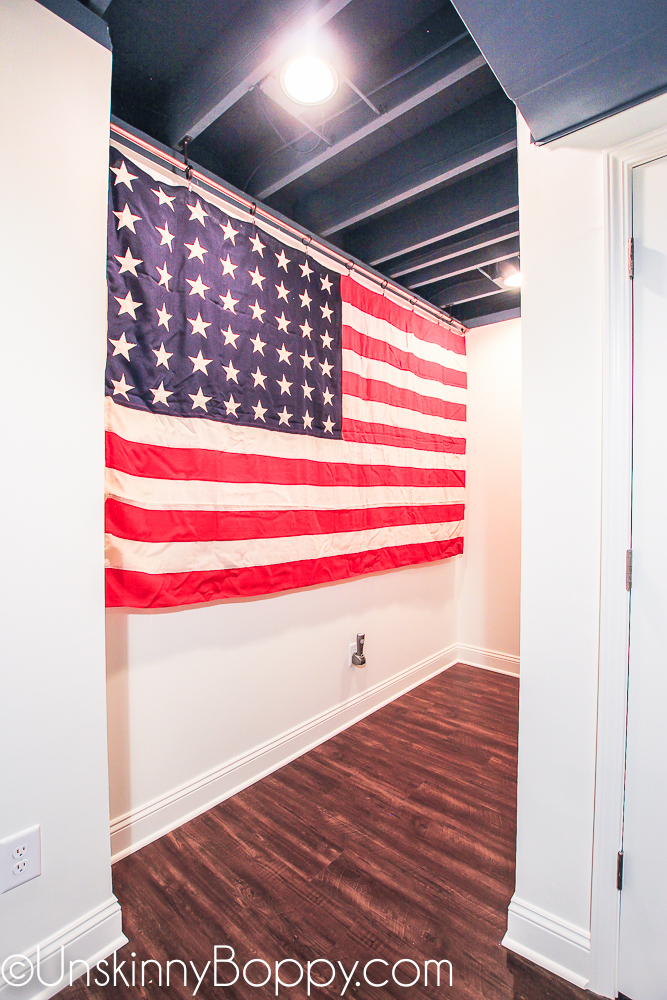 So! There ya go.
We are both super happy with the way this room turned out.
The big room in the basement is still pretty barren so I'll save that one for another day. Look for that update sometime around January of 2025…. That's about the speed I'm moving on house update blog posts these days.
If you missed it, come see what the basement looked like before we finished it!
See the rest of the basement before and after pics here: