When you think of Mardi Gras, you probably think of loose women baring their boobies on Bourbon Street to get some strands of beads.
But did you know that there is also a HUGE Mardi Gras celebration in Mobile, Alabama every year that is way more tame, just as fun and totally family friendly? Start planning your next vacation with the kids, because after you read this post you're gonna want to start packing.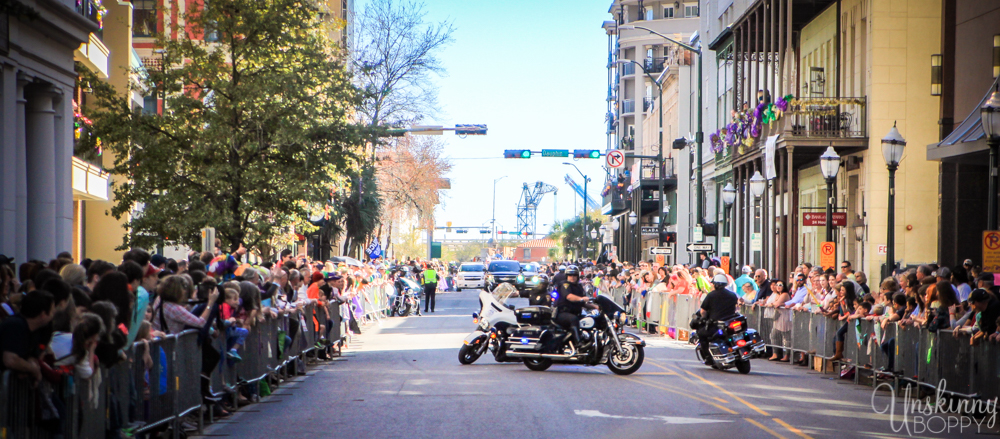 Here's a fun fact: New Orleans likes to take all the credit, but the very first Mardi Gras celebration in America actually originated in 1703 in Mobile, Alabama, 15 years before it started in Louisiana.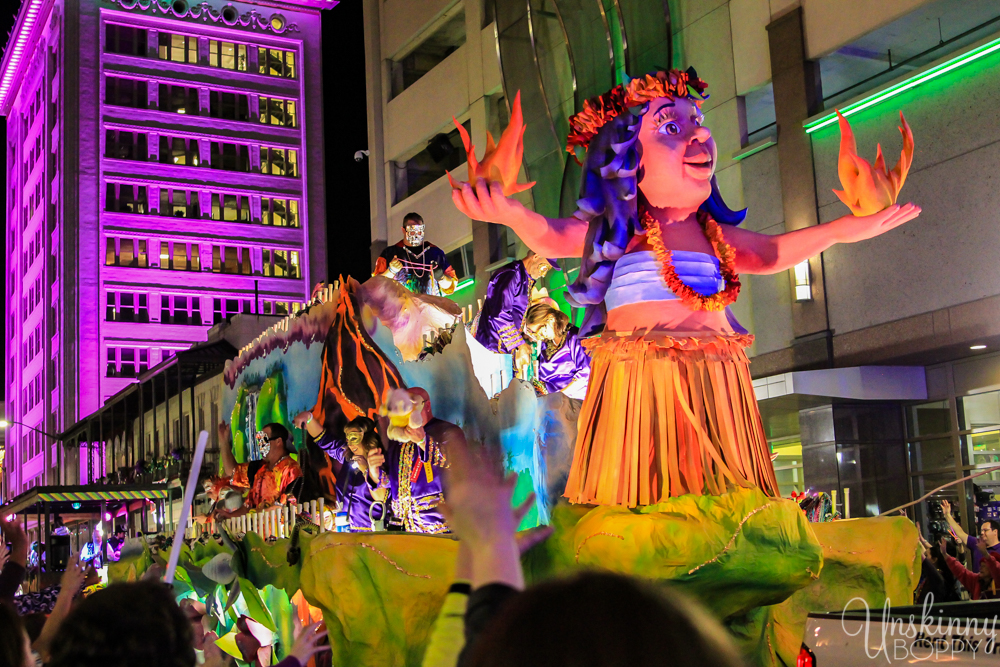 If you live anywhere in the southeast and have never been to a Mardi Gras celebration, you definitely need to add it to your travel bucket list. I had never really had a desire to go to Mardi Gras, since I always thought it would just be panic attack-inducing crowds of drunk people, but then I read more about Mobile's celebration and decided to check it out for our family vacation.
Garrett has a February birthday, which is always a hard month for fun birthday activities. Now that he's older I don't throw the big parties anymore like we used to.  Instead of a party, last year we decided to celebrate his 9th birthday in a SUPER fun way by taking a trip to Mobile, Alabama to go to the Mardi Gras.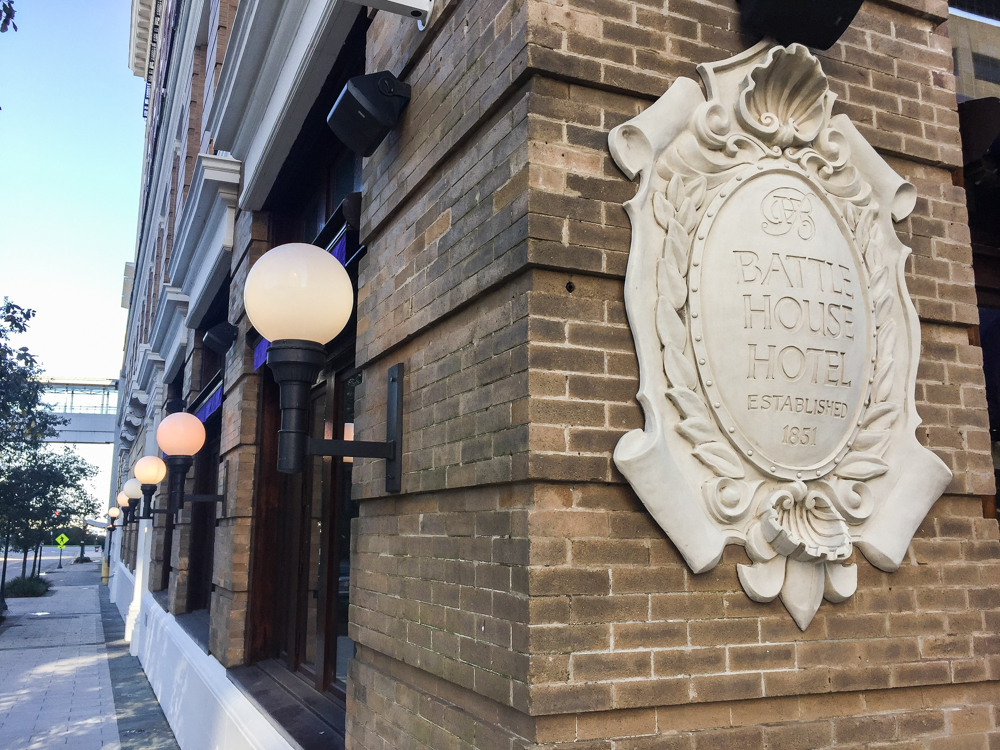 We stayed at the Battle House Hotel, which is right on the main Parade route through town.  This proved to be a VERY good decision because we were able to walk right out the front door of the hotel at night, catch some beads, then turn around and head right back upstairs with all of our loot.  It was the perfect location for a Mardi Gras vacation.
The staff was also SUPER nice and helpful to the kids, which we always appreciate.  They went above and beyond to make our stay really fabulous, and that is hard to come by at a lot of hotels today.
Plus it is an AMAZINGLY beautiful hotel with tons of cool architecture to enjoy.
Here is the ceiling of the lobby. I know, right??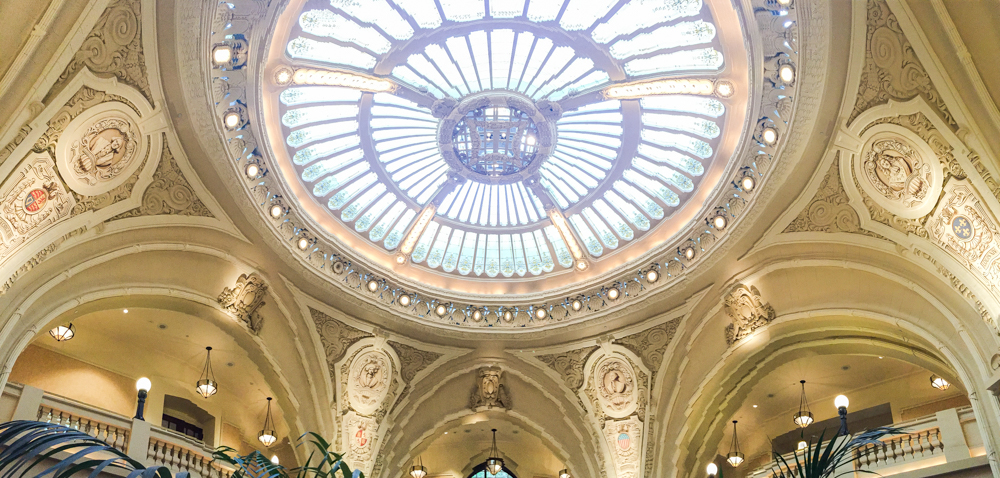 They also had a heated rooftop pool, which was perfect for Garrett to enjoy all alone on a foggy morning.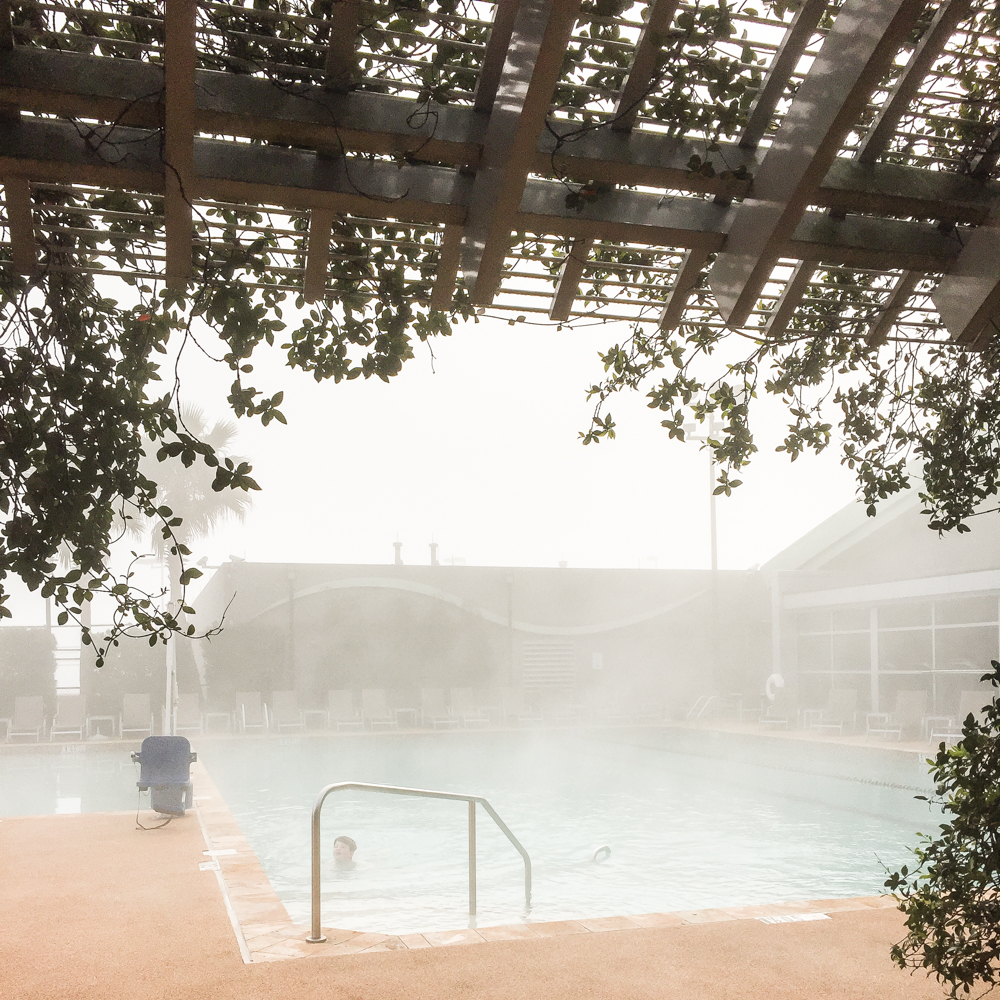 Back to the parades, though.  They were SO MUCH FUN!!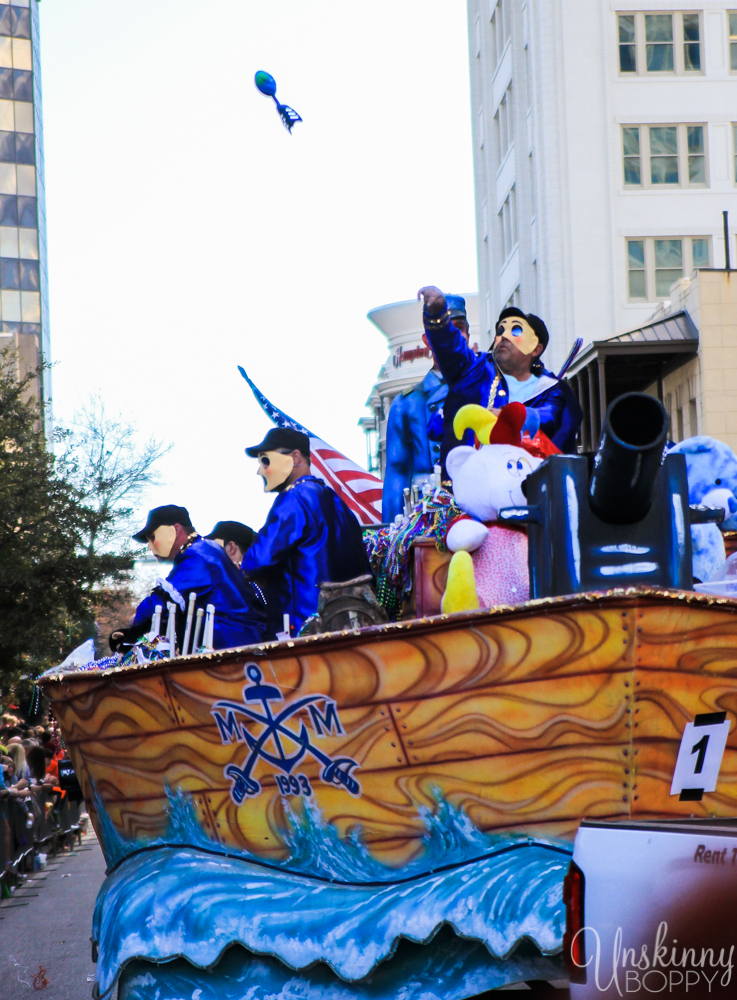 Battle House sits on the corner of North Royal Street and St. Francis Street, which is directly on Parade Route A & B (and maybe others…not sure) When we first arrived, they had all the streets blocked off for a parade, so we parked our car and walked down to join the crowds on the street waiting.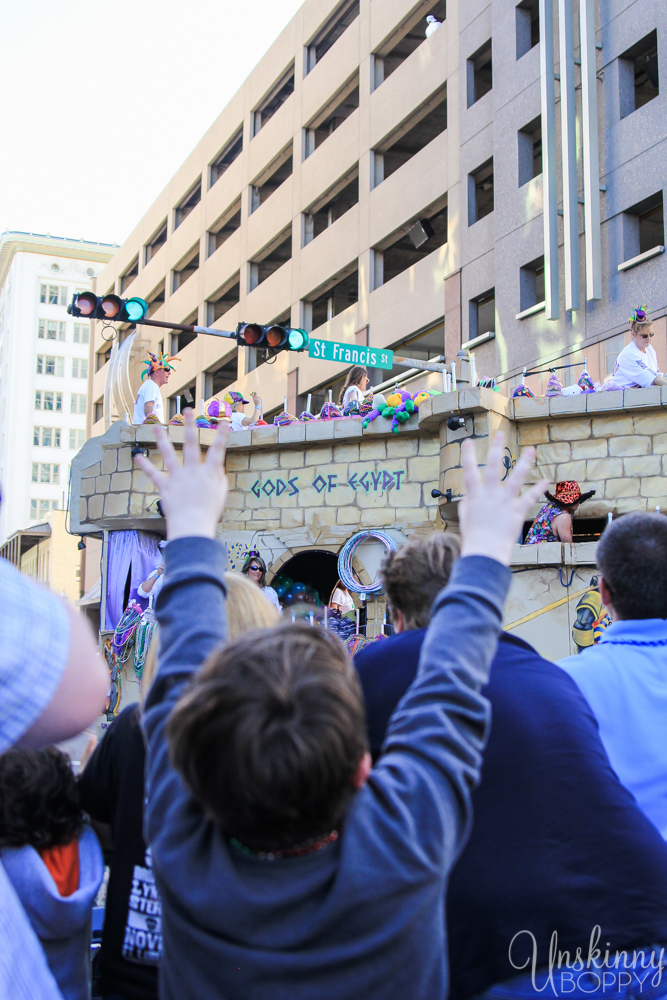 It took Garrett approximately .008 seconds to get in on the action of screaming for beads to be tossed his way.
Caroline was a little more reserved (she was only 18 months old on this trip) but she loved sitting on her Daddy's shoulder and taking in the views.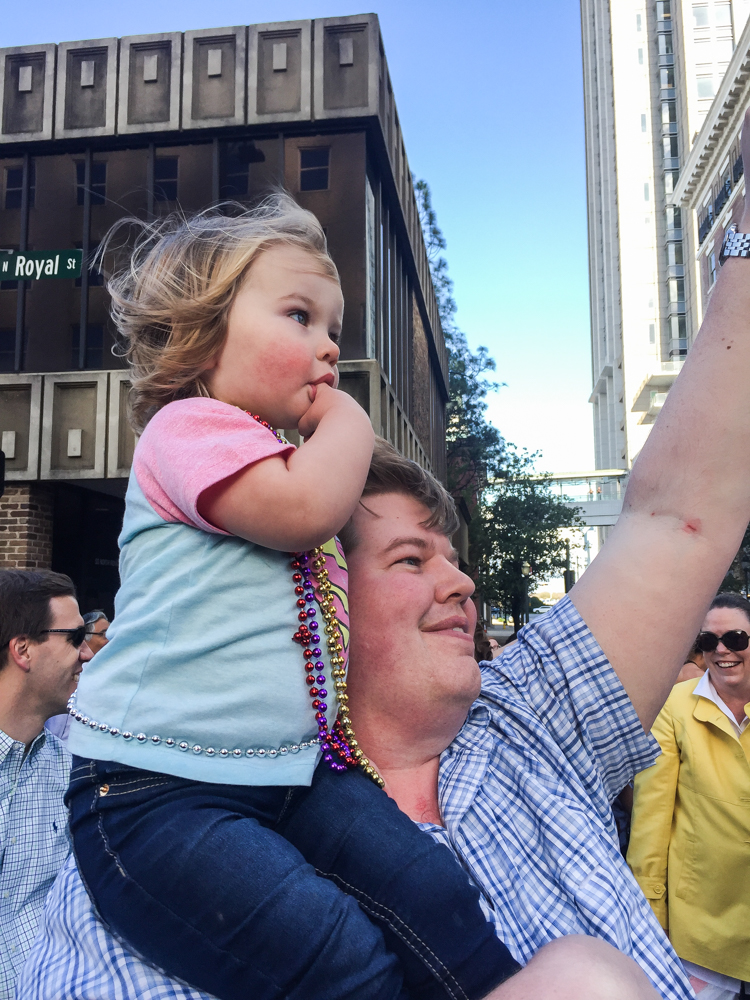 Here is something that they DON'T tell you about Mardi Gras parades.
THEY HURT.
Like, a lot.
Those folks on the floats are throwing all sorts of things out into the crowds–frisbees and tiny footballs and plastic cups and bags of potato chips and crackers.
You've never truly lived until you've been smacked upside the head by a Moon Pie at a Mobile Mardi Gras.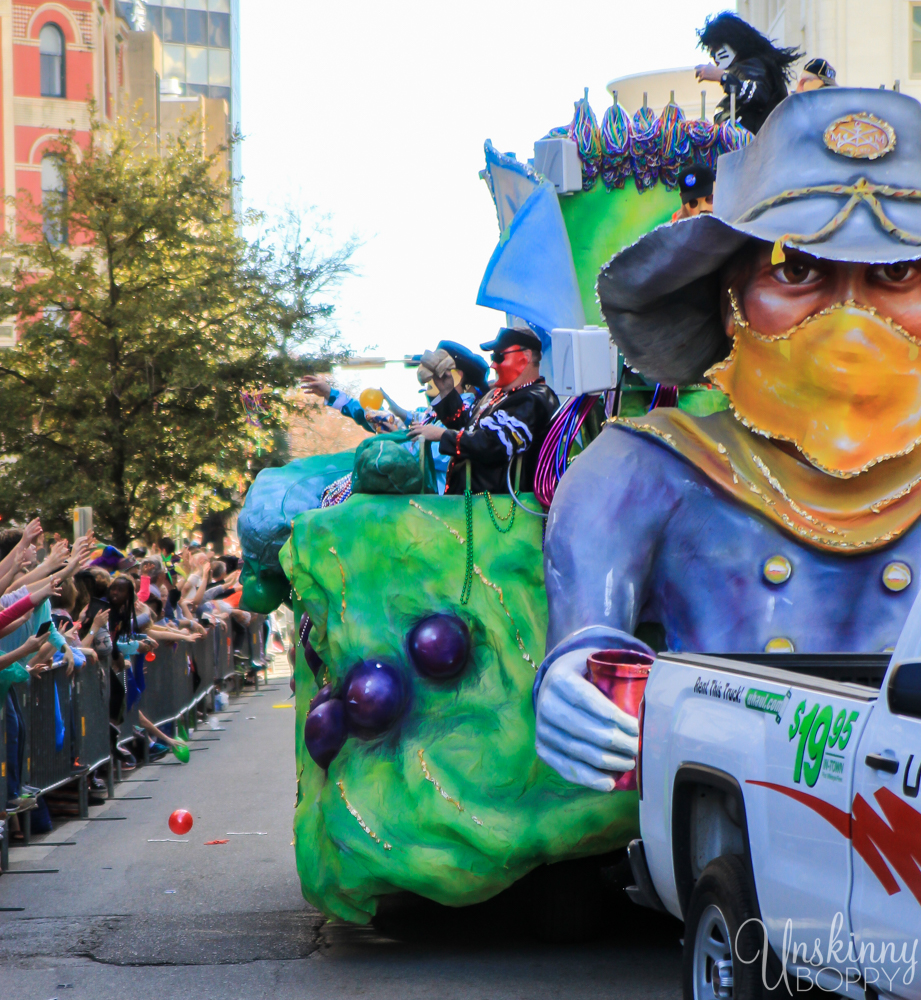 The other thing I didn't realize is that sometimes they toss bundles of beads, not always single strands.
And getting smacked in the face with great big wads of beads HURTS, for real. We all suffered some bead burn in this crowd but it was SO much fun. Well worth the battle scars.
Everyone was happy and smiling and having fun. It was really a great experience!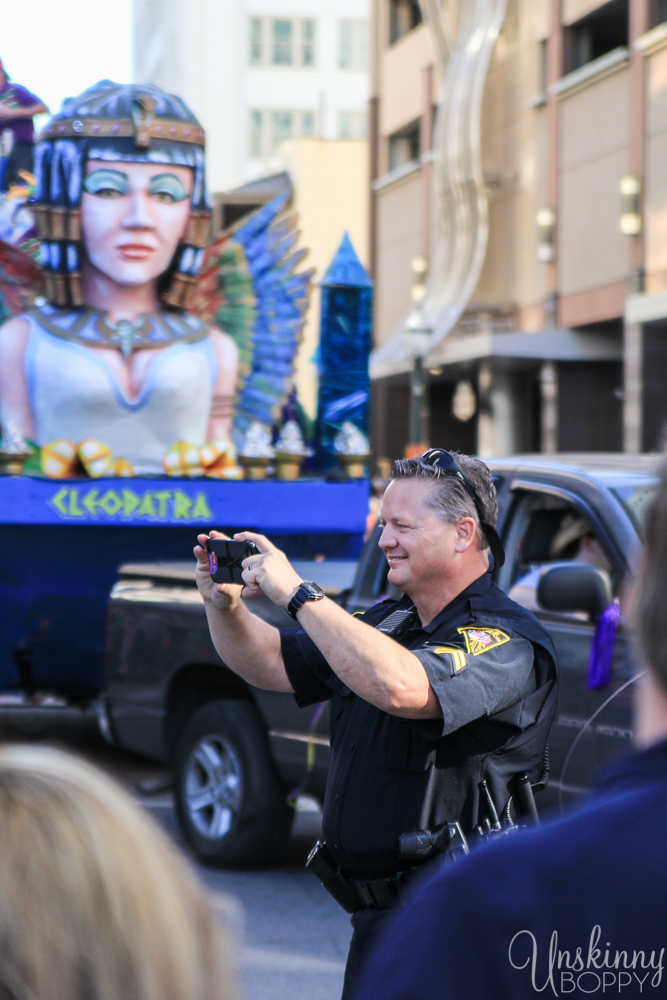 Mobile has so much to offer besides Mardi Gras parades.  There are beautiful parks and fountains and historic architecture.

Downtown Mobile is in a middle of a revitalization process to restore the old buildings and bring back the beauty.  For many years the city faced a decline and some of the areas were not too safe, but all of that is quickly changing thanks to the folks of Mobile who are working hard to restore it back to it's original beauty.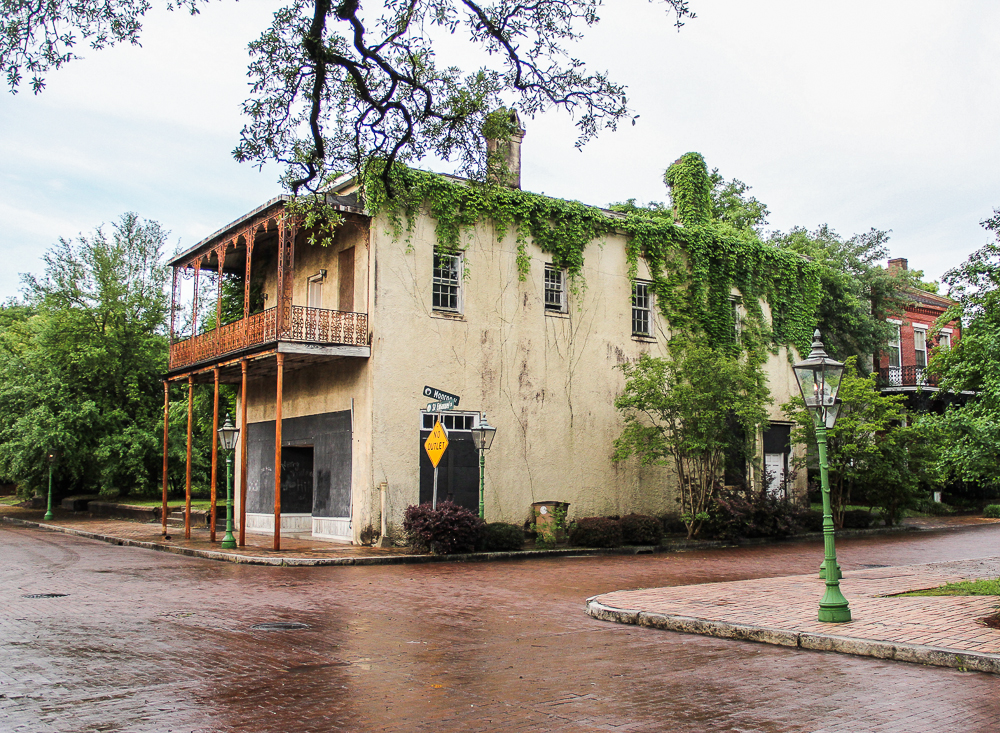 We ate lunch at a place called The Noble South and it was not only delicious but the architectural eye candy… oh man. If you love old buildings like me, then you will love Mobile.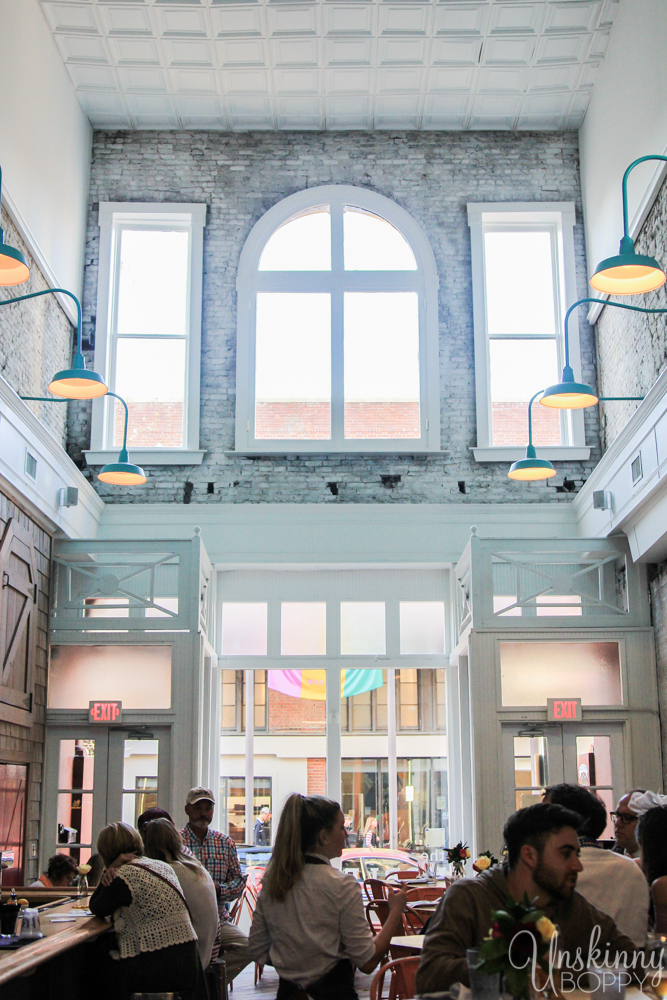 The town has a lot of New Orleans and Savannah vibe to it, with that sweet southern charm that we Alabamians are known best for.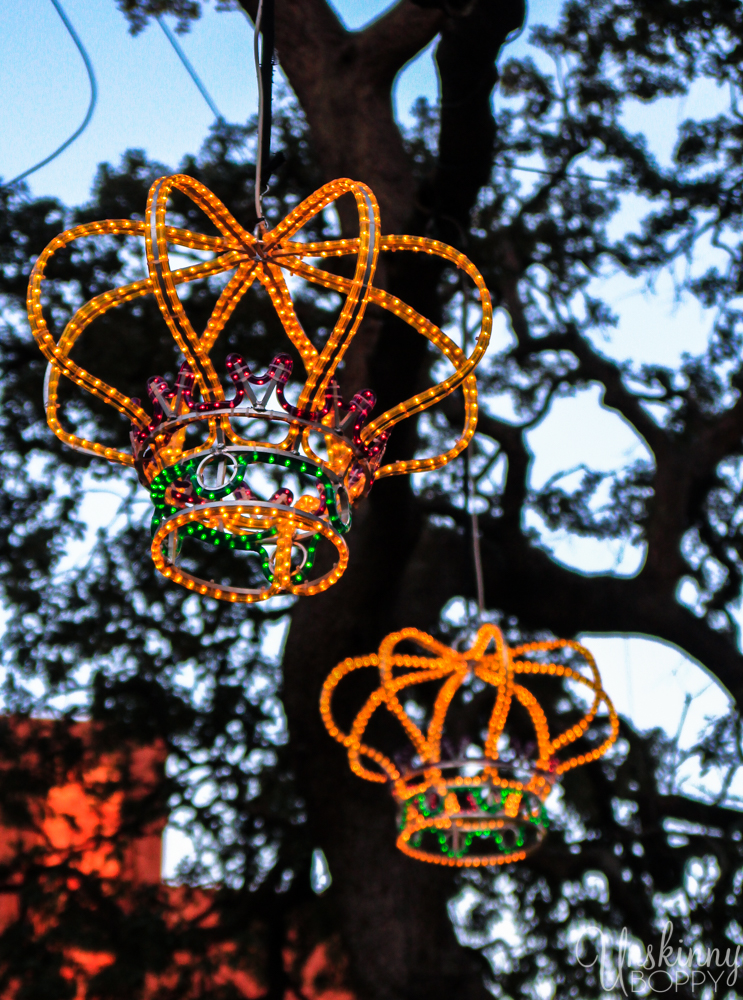 On the second day of our stay, Garrett got to follow along part of the parade route with a marching band who was practicing.  The band amassed quite  little following of folks, so he joined right in with them, marching along. He thought this was pretty cool, and I loved watching him soak in all the fun.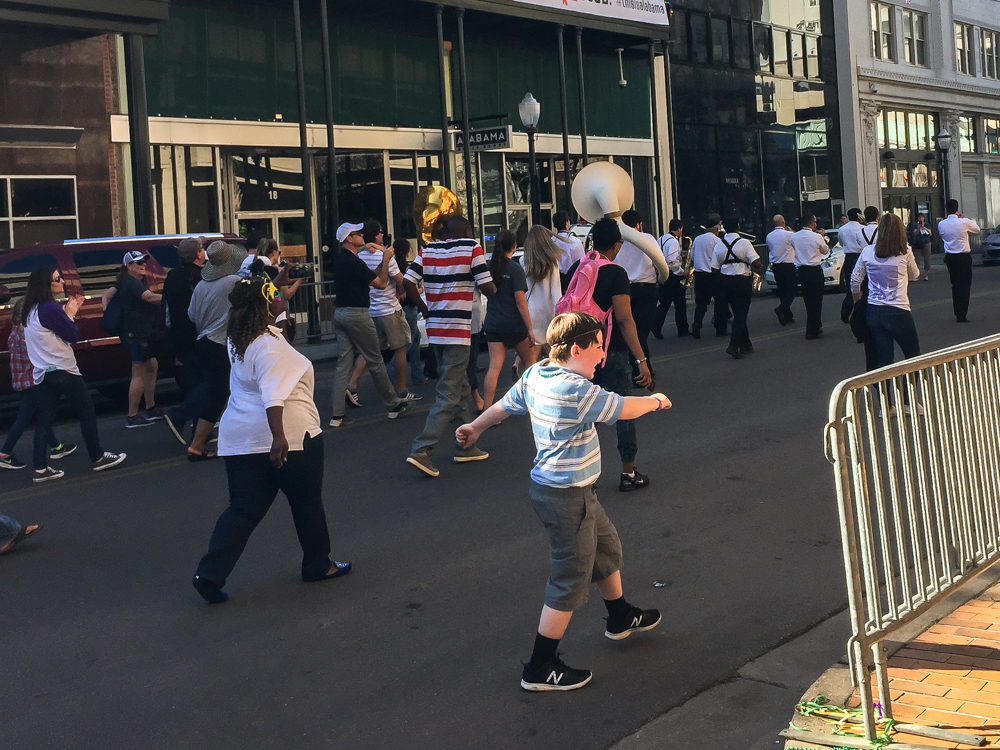 If you're looking for upscale accommodations that are off the beaten parade routes, then I HIGHLY recommend the Fort Conde Inn.  I have stayed in this magnificent Inn twice thanks to the CEO of Phantom Screens and her remodeling of the Southern Romance home.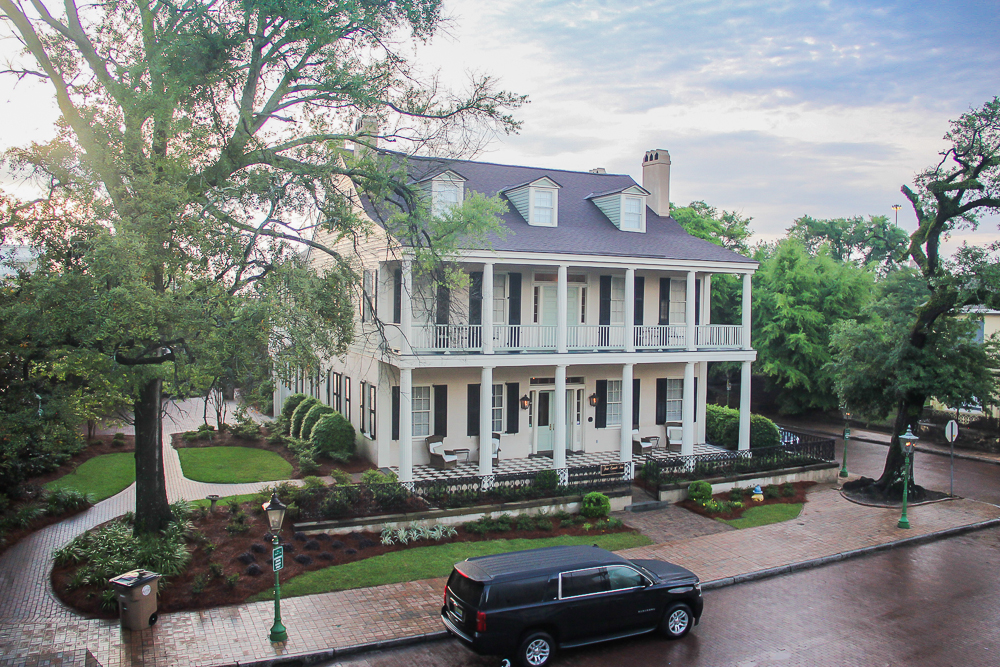 This beautiful Bed and Breakfast exudes charm like none other, and the Chef Robby makes some killer meals that your kids will love. Garrett ate waffles and ice cream for breakfast and thought he had died and gone to heaven.
My husband swore it was haunted when we were there. He heard doors opening and closing and would find things moved around the room. I blamed it on the kids but who knows?
All I know is that every single room is perfectly appointed and they have THE softest, most comfortable beds that I have ever slept on.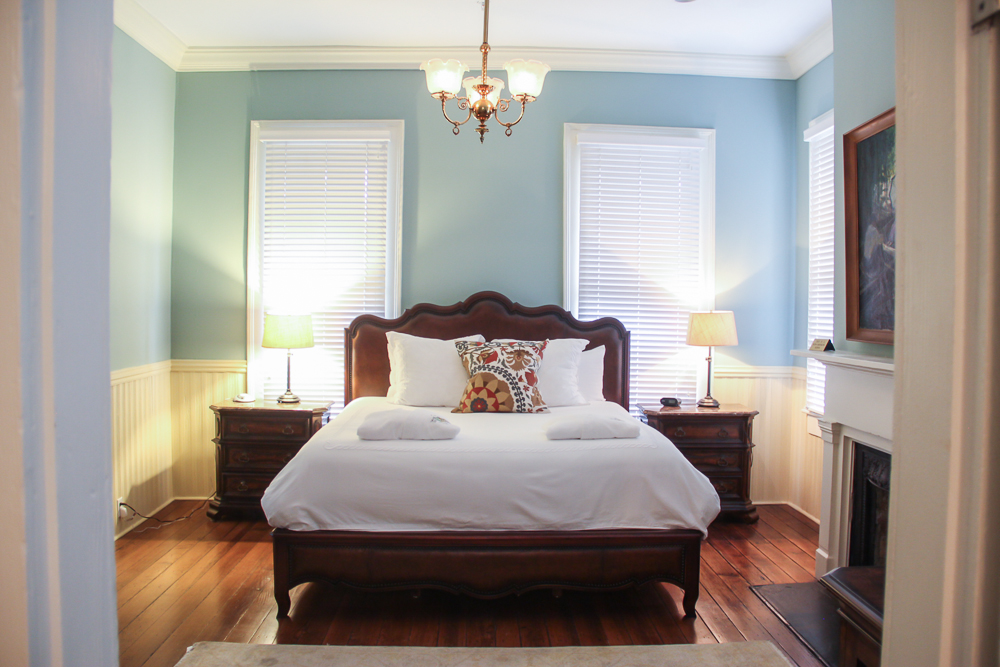 You also HAVE to make plans to drive out to visit Charles Phillips Antiques in Theodore while you are in the area. If you love salvaged old junk and chippy wooden architectural accents, this place will be your Mother Ship.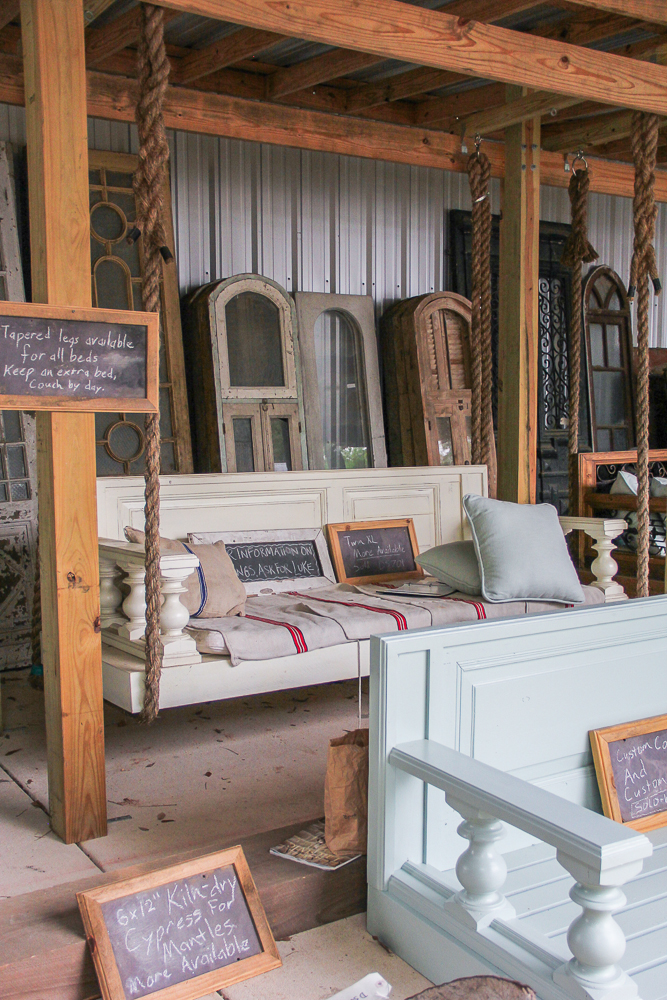 Just trust me and go. You will not regret it.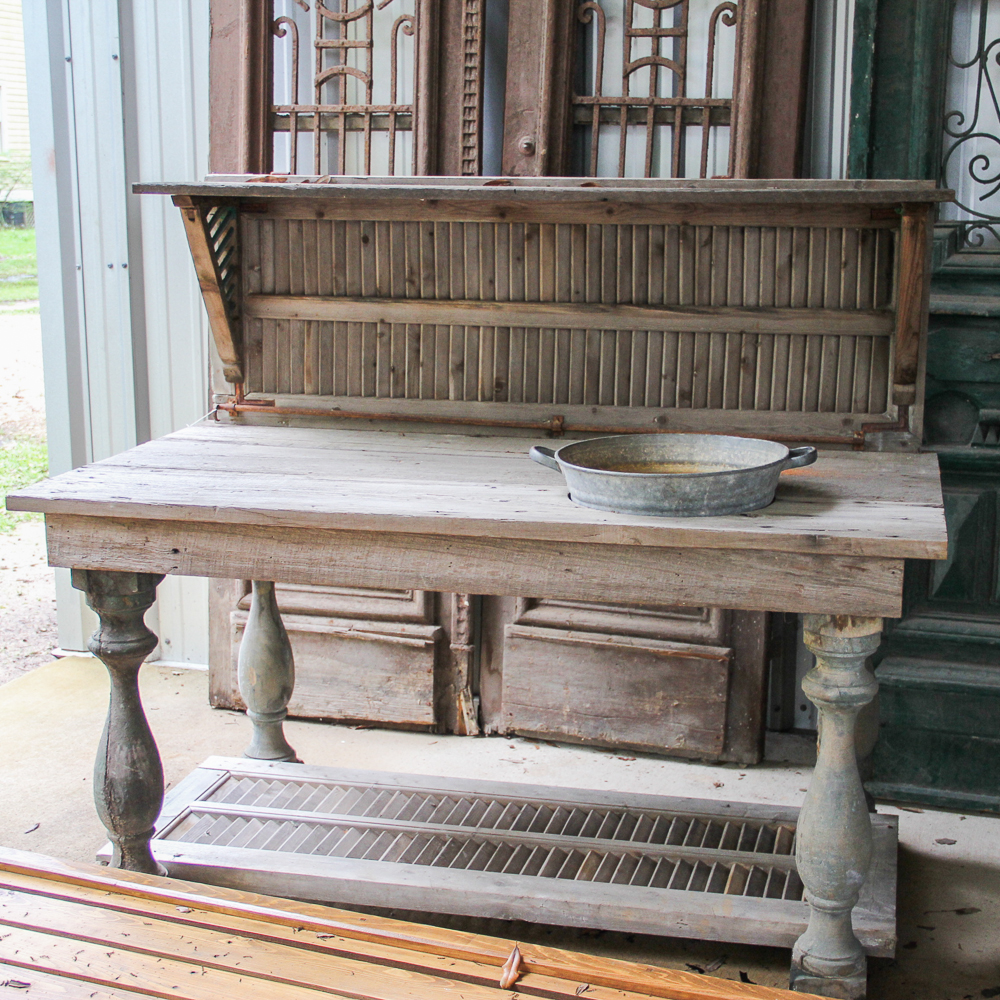 There are also quite a few Antebellum homes to tour in Mobile if you're into that sort of thing. The Bragg-Mitchell Mansion and Oakleigh Plantation are definitely worth a visit if you like American history (specifically Civil War era history). Try not to break your neck looking up and admiring all the live oak trees.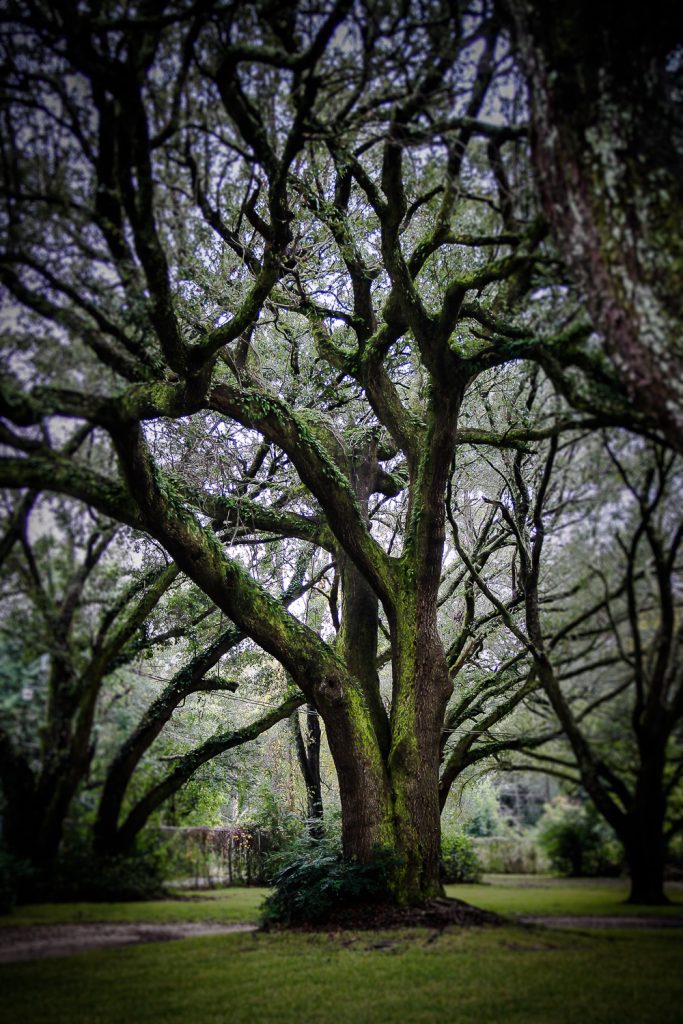 There is a fun Children's museum called the Gulf Coast Exploreum Science Center that is a fun way to kill a few hours (and one of the only things open on Sunday in town).
And of course, no trip to Mobile would not be complete with out a visit to the USS Alabama Battleship. You can go inside the ship and take the full tour of an actual battle ship that was used during World War II. You can also tour the USS Drum, one of the very first submarines used in WWII and the oldest one on display.
But the MOST fun of all was definitely the night parades.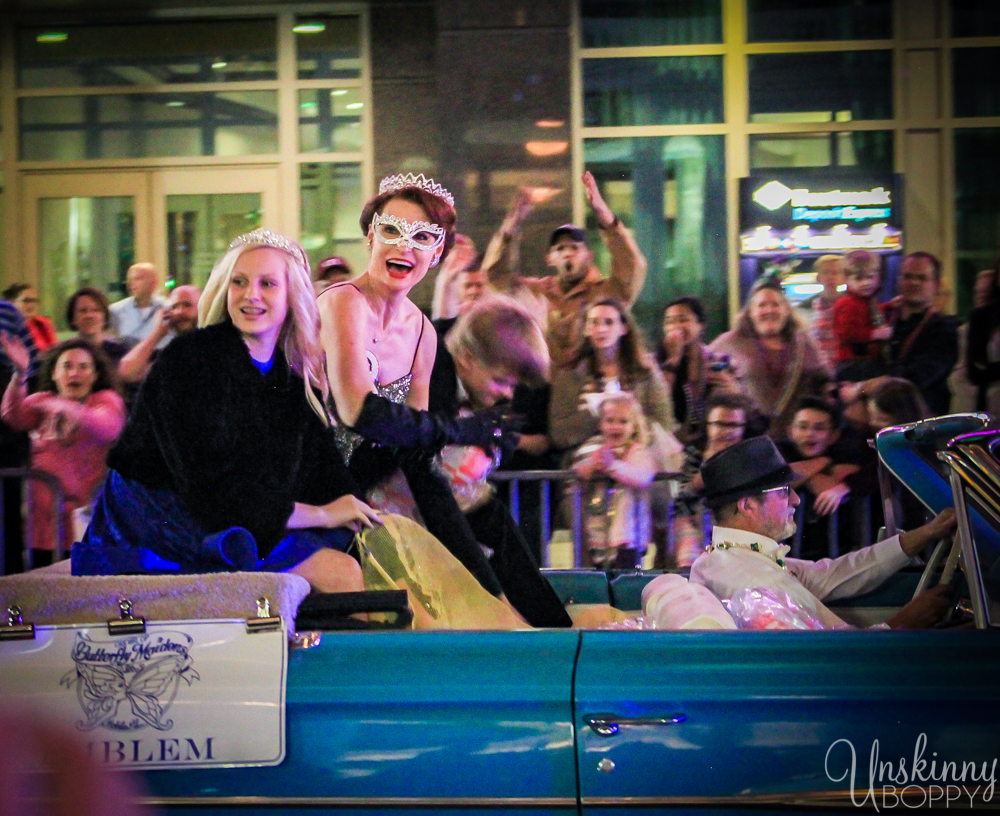 Like I said before, staying at the Battle House was ideal for this because we didn't have to walk at all to see the parade. It literally came right to our doorstep.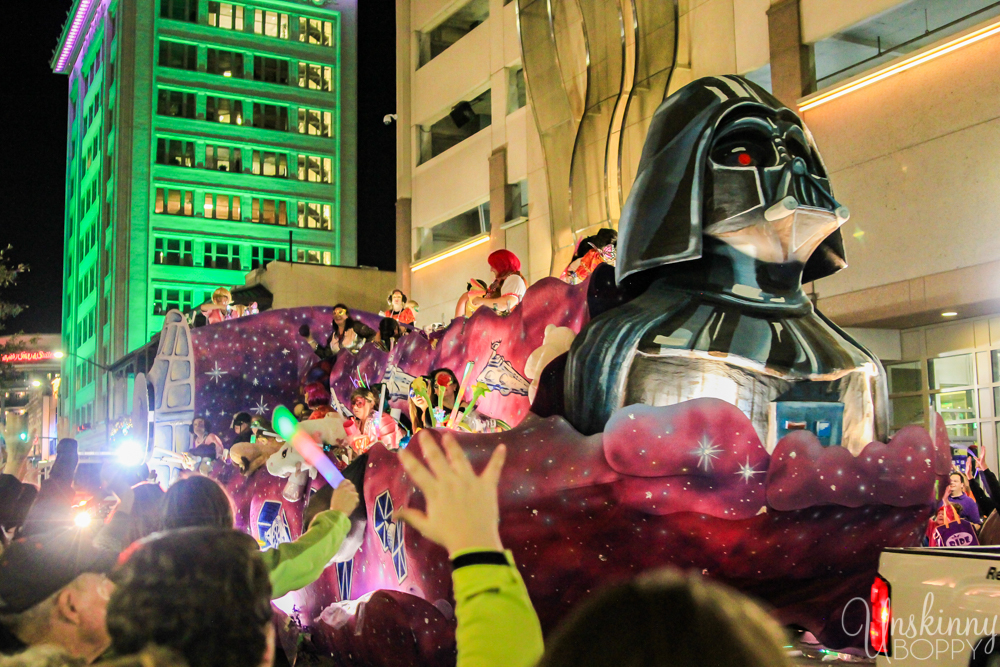 I cannot describe the excitement and fun of the night parades adequately in words, so I will have to let this photo right here do all the talking for me….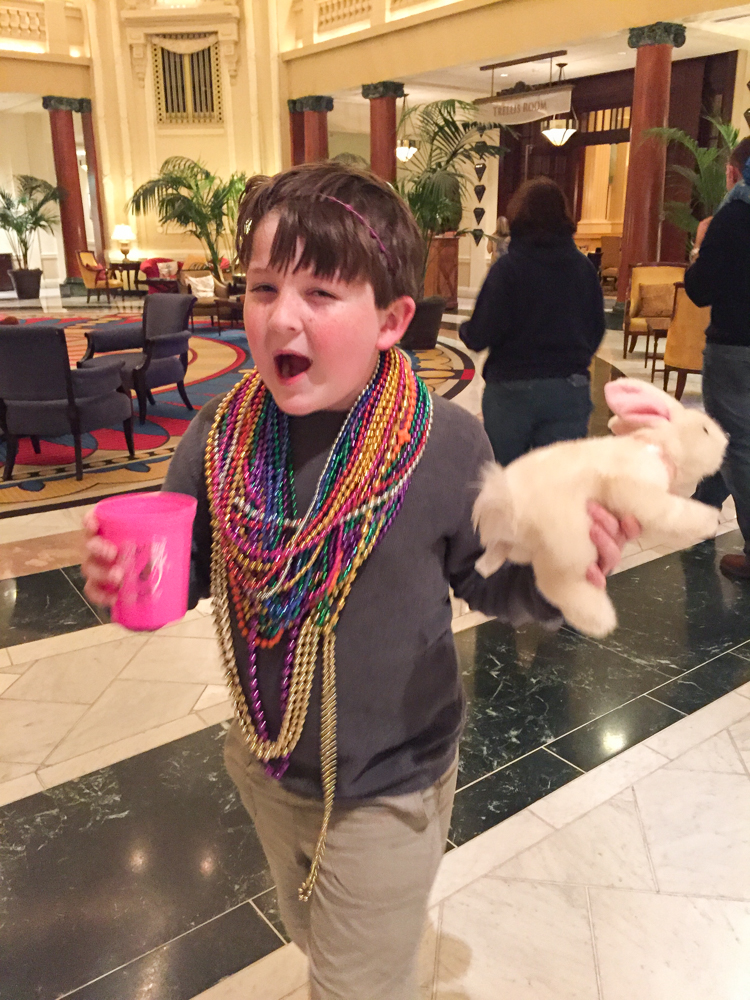 I love this kid so much, and I LOVED Mardi Gras in Mobile!  This was one of the most fun family vacations we have ever had, and I definitely recommend you heading down to the land of the live oaks to experience it for yourself.
Have you ever been to Mardi Gras in Mobile?  What was your experience?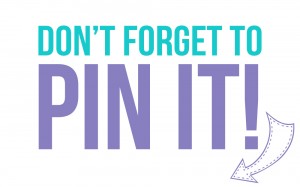 Like this post? Check out my other Southern Road Trip Ideas with Kids!