How to make delicious homemade chicken noodle soup with just three ingredients. Ditch the canned soup for this amazing recipe that tastes like somebody loves you. You won't believe how simple it is to make chicken soup at home- perfect for sick days, too.
---
Over the years, plenty of folks have rolled their eyes at me for making my own chicken soup at home when there are rows and rows of canned soup on the supermarket shelf.
But if you have ever taken the time to read the label on the back of a can of soup you'll see why I do it. There's MSG and preservatives and words I cannot even pronounce going on back there. Gross and not very healthy.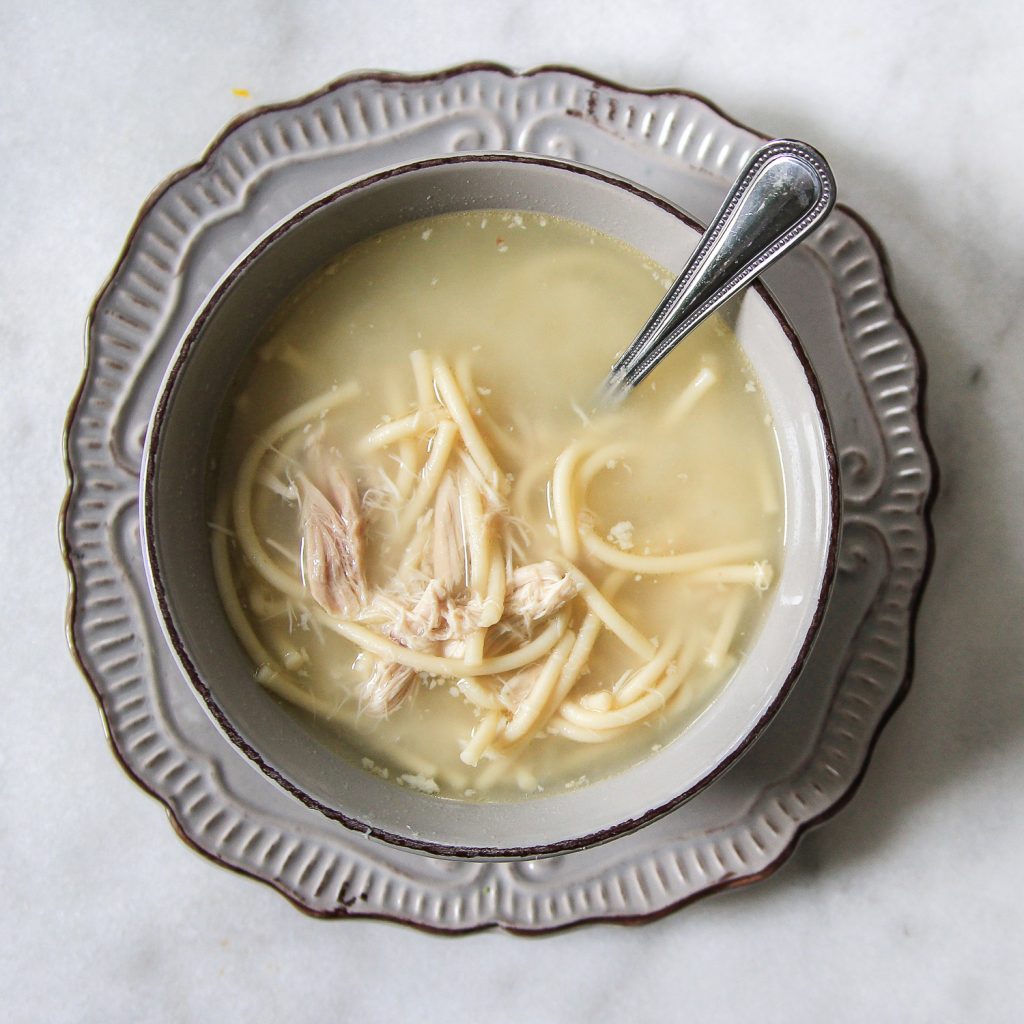 My homemade soup literally has three ingredients (not counting the S&P) and it is SO easy to make. You're gonna be wondering what's taken you so long to make this yourself once you try it. And it tastes SO much better than canned soup.
Homemade Chicken Noodle Soup (Just 3 Ingredients!)
This simple chicken noodle soup recipe tastes so much better than canned soup. You'll be amazed how easy it is to make homemade chicken noodle soup at home. You can sub out the noodles for gluten free if you need a GF version.
Ingredients
1

whole

chicken

(3-4 lbs, organic)

2

quarts

water

4

oz

dried spaghetti

(about 1/4 of a regular size box)

salt and pepper to taste
Instructions
Place whole chicken in a large Ninja crock pot. Be sure to remove the bag of giblets from inside and place them in the pot with the chicken for their nutrients (discard the bag)

Slowly pour in 2 quarts of water or enough to barely cover the chicken

Add a generous amount of salt and pepper. This is a large quantity of water so it takes at least 1 Tablespoon of salt and ½ tsp. of pepper. You can add more later when it's done.

Cover and cook in crock pot for 4 hours or until meat is falling off the bones. (Internal temp should be 165 F or more)

Remove the chicken from the broth and set aside to cool.

To strain the broth, place a colander over a large empty bowl. Line the colander with cheese cloth or paper towels to use as a sieve. Pour the broth through the paper towel-lined colander into the bowl below to strain the broth completely and remove any giblets, excess skin or bones from the water. Broth should come out free from any debris.

Pour clear broth back into the Ninja crockpot and turn heat to high on the Stovetop setting. If you don't have a stovetop setting on your crockpot, you can use a large pot on your stovetop for this part.

Break the spaghetti into 3-4" pieces and stir into broth.

Bring broth to a boil and cook for about 8 minutes until noodles are soft.

While spaghetti cooks, debone the chicken. Be sure to thoroughly check and make sure you have removed all the bones, ligaments, skin and excess fat from the chicken meat.

Once the spaghetti is cooked al dente, remove from heat and add half the chicken meat to the broth, stirring to shred the chicken into smaller pieces.

Use the other half of chicken meat for chicken salad or freeze for later use.

Add more salt and pepper to taste.

Refrigerate in a large bowl with an air-tight lid for 4-5 days.
If you've got a sickie in your household who needs some TLC right now, run out and get a whole chicken and crank up that crock pot. There is science behind why chicken soup is recommended to colds and flu recovery, but I'm not sure if it counts if you use the canned junk.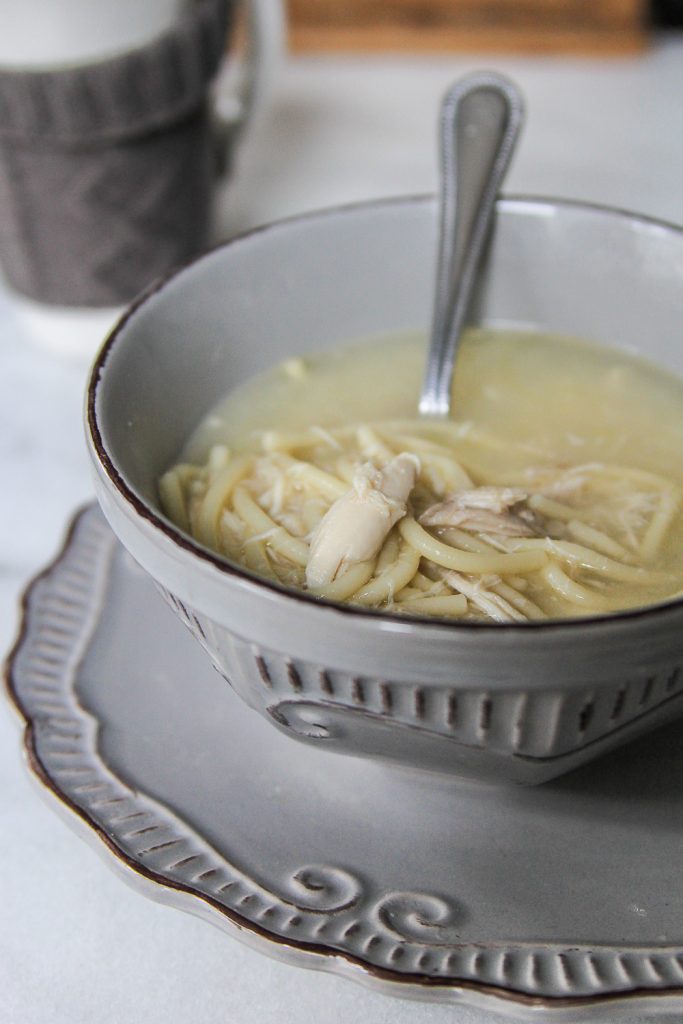 Homemade chicken broth is like liquid gold, so that's why I try to go that route.
I use my Ninja 3-in-1 crockpot for this recipe because it has a stovetop setting which I use to cook the spaghetti noodles. You don't have to have a Ninja crockpot to make this soup, you could just use a big pot on your regular stovetop. It sure is convenient to use the Ninja, though!
This soup is SO delicious. You'll be wondering why you've been buying canned soup all these years after you try this recipe. It makes a HUGE batch of soup for just few dollars worth of ingredients.
It also makes a really great gift to give someone who is sick at home and needs a quick meal. Just pour some into a canning jar and take it to them as a gift. They will be so grateful for the home-cooked meal and your thoughtfulness. Nothing says loving like homemade chicken noodle soup from your oven.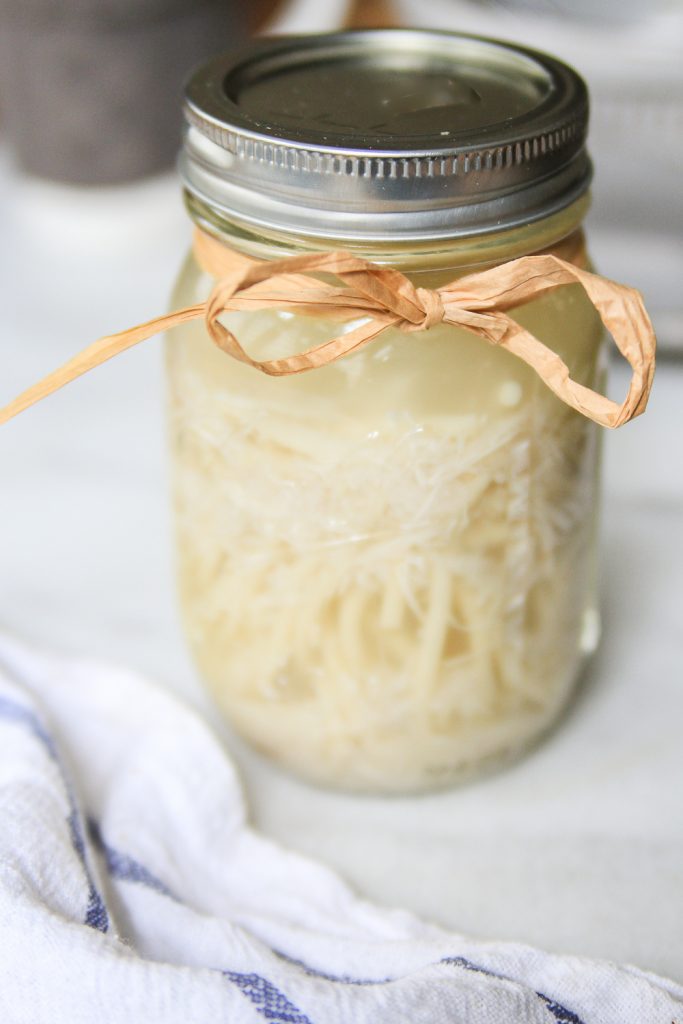 I'm including this recipe in my all-natural Home Remedies for the Flu post, because it has some kind of magical healing properties that nobody really understands but everyone truly agrees upon.
Chicken soup is the cure for what ails ya. Try it today! You could leave out the noodles and add veggies if you'd like, but this is the simplest way I've found to make it!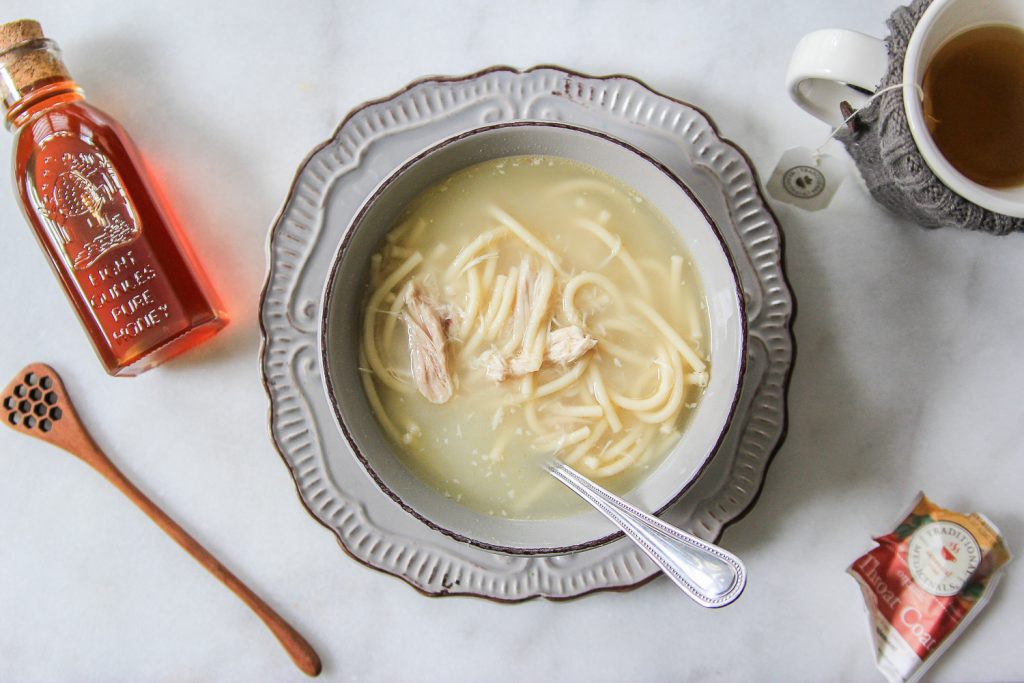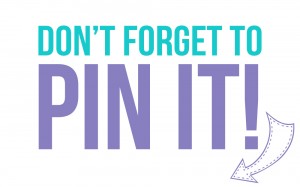 If you like this recipe, you might also like my homemade Cream of Chicken and Wild Rice soup recipe.