Updated: I wrote this post in June 2018 but we visited Alabama Safari Park for the second time on July 6th, 2018 and got to experience it all again with my mom and Caroline. I've added pics from our second trip since they were so much fun!
---
Have you ever been up-close to the spiral horns of gazelle or petted a pack of zebras on their heads? Have you ever had to stop and wait for a flock of baby emus to cross the road?
You don't have to go to Africa to experience these majestic animals in person. We did all that and more a few weeks back, and we never left the state of Alabama.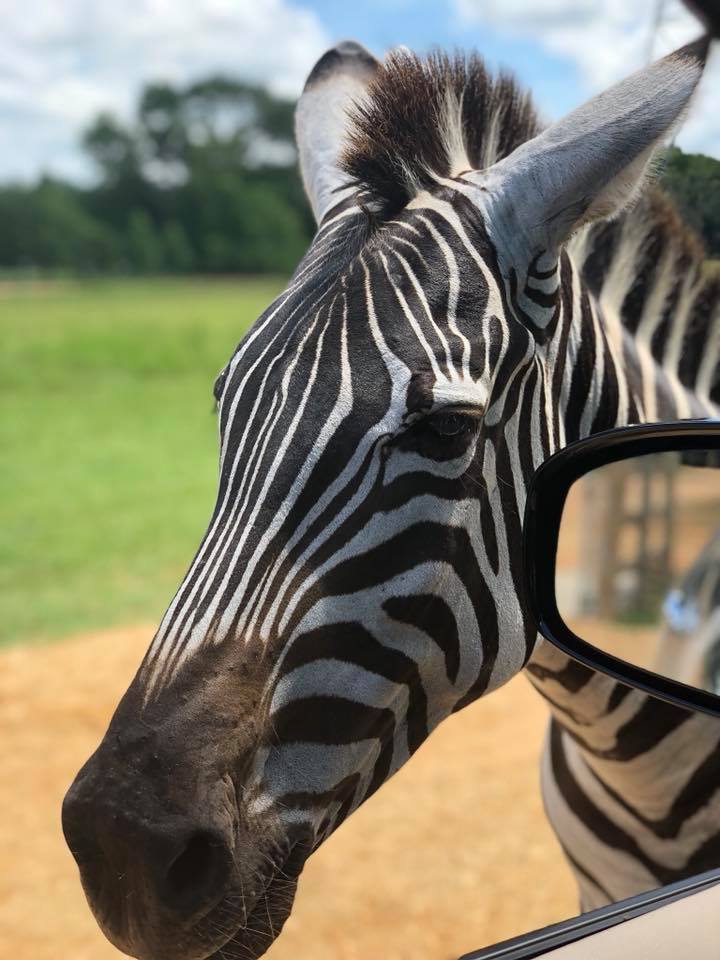 About 20 minutes south of Montgomery just off I-65 at the Hope Hull exit #158 sits one of the best adventures that Alabama has to offer.
The Alabama Safari Park recently opened to the public, and if you are anywhere within an easy drive it is totally worth the trip. Garrett and I visited on a whim after we took a trip to Old Alabama Town in Montgomery a few weeks back. And honestly, after our trip through the Safari park, we almost totally forgot about the Old Alabama Town experience when we got home. It was that much fun!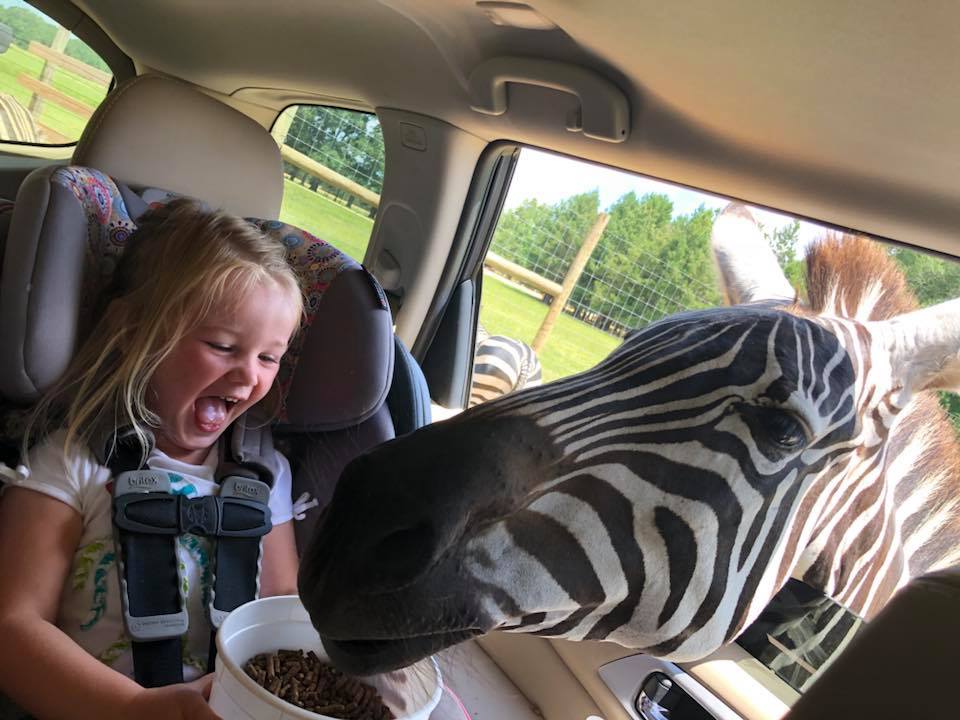 Driving through the entrance gate reminded me of a certain movie that didn't end well for some of the main characters. And the emus totally reminded me of velociraptors, so brace yourselves for an adventure.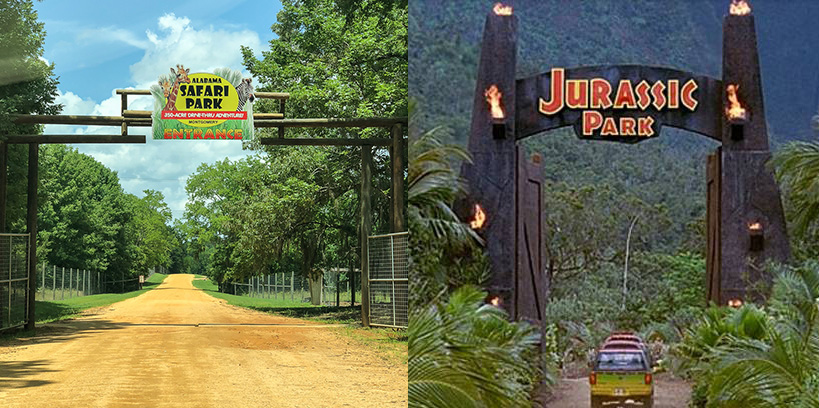 We stopped at the store and bought two buckets of animal feed, then proceeded to get attacked by animals of every variety as soon as we crossed through the front gate. Ok, not literally attacked, but a camel did try to chew my rear-view mirror off at one point. And there was an angry ostrich who I refused to roll down the window for. I've seen that episode of Dirty Jobs where Mike Rowe gets attacked by the ostrich. No thanks. 🙂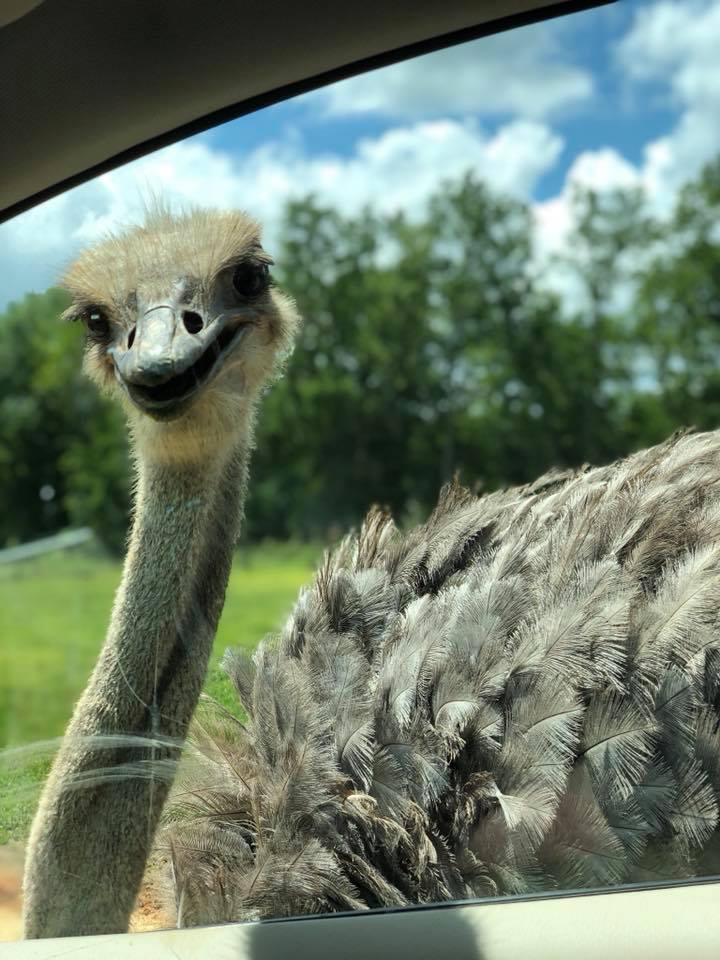 Luckily there was nobody waiting in line to get inside behind us so we were able to take it all in without feeling rushed. It was AWESOME!!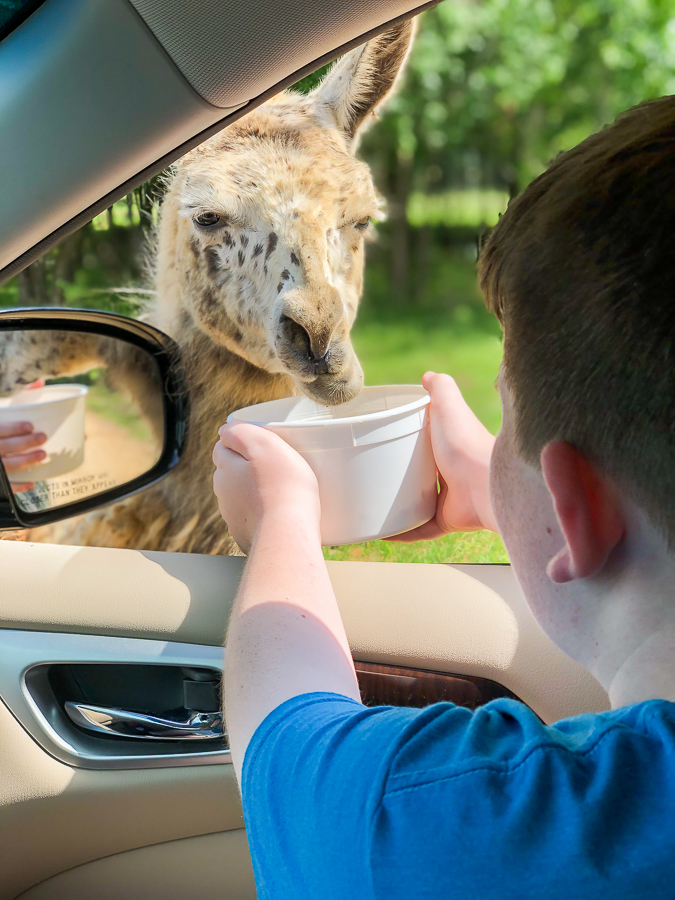 We laughed our heads off at these crazy animal antics. Like, literally SCREAMED with laughter. I have never heard Caroline belly laugh this hard in her entire life!  THIS is what it's all about, right here:
That is the sweetest giggle on Earth.
There were more "common" animals like llamas and camels and emus, but there were also exotic animals like zebras and gazelles and watusi cattle. There were African animals I have never even heard of until this trip.
Here are the Watusi- check out the horns on this guy!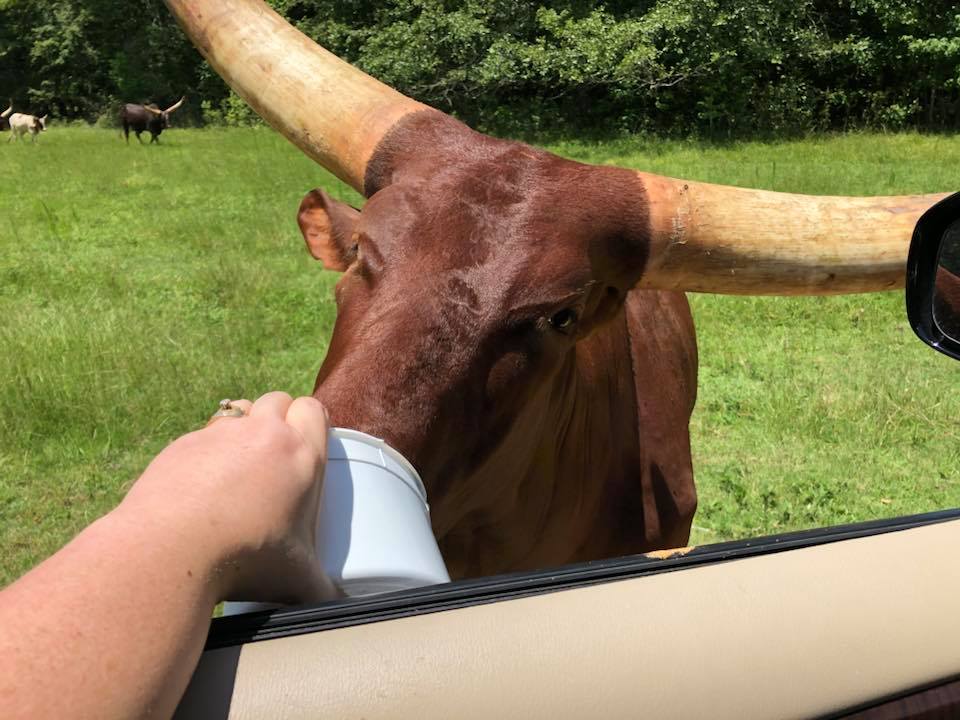 There are lots of animals that hang out in the shade and don't come to your car no matter how much coaxing you offer them.  The water buffalo were way more interested in the grass than my bucket of processed pellets.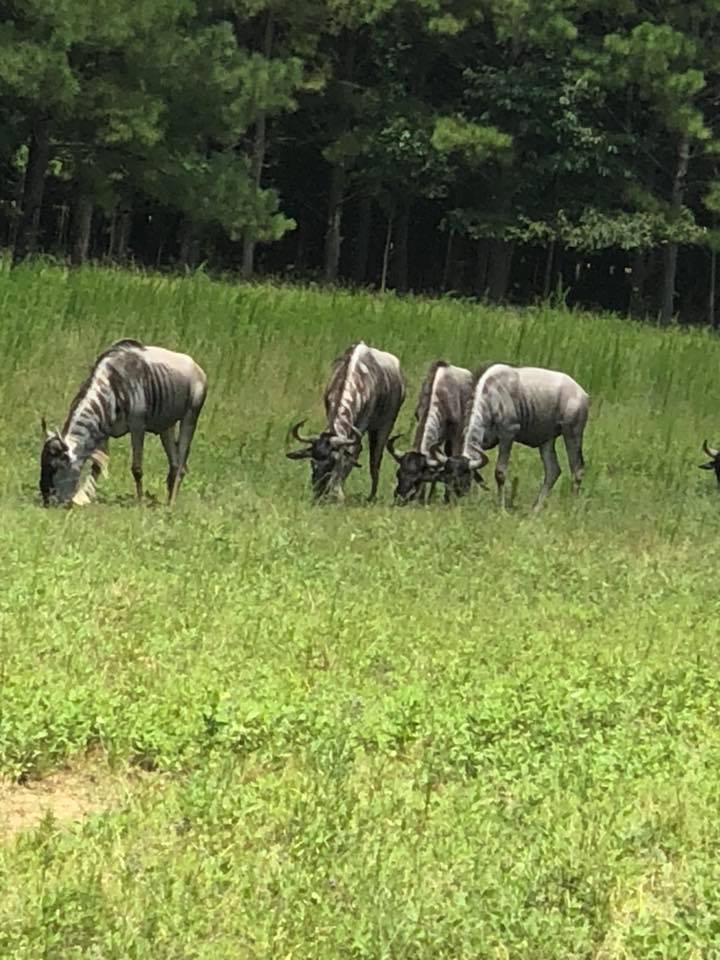 But the ZEBRAS?!?!! OH MY GOODNESS THEY ARE AMAZING!!
They are so sweet and just beautiful animals. Their stripes are a sight to behold. I have never been this close to a zebra before but it was a crazy awesome experience. Caroline LOVED them.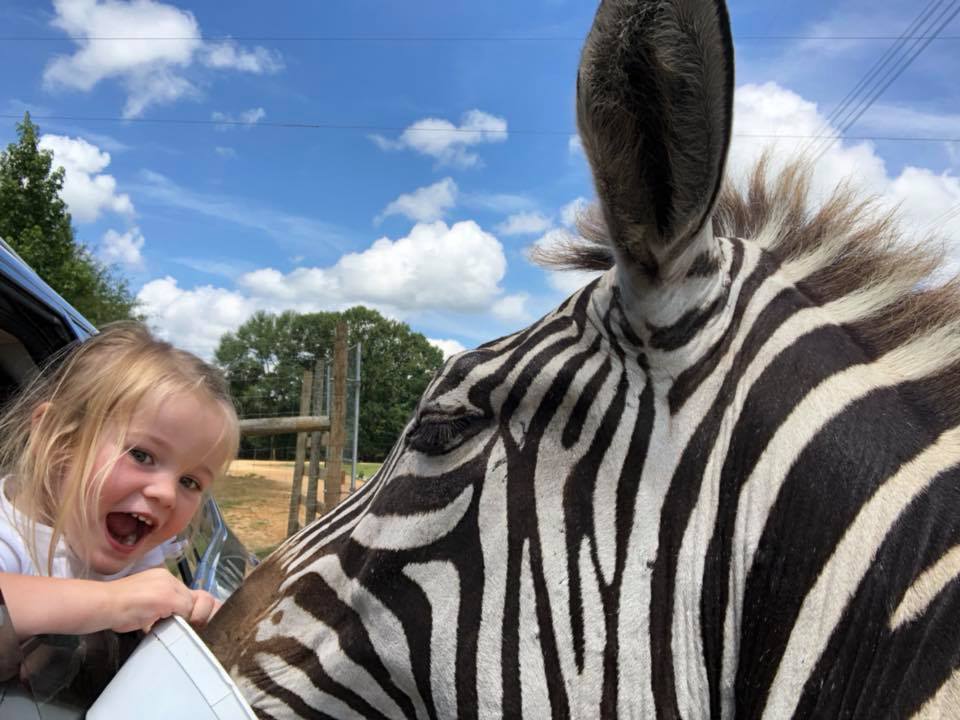 They even have Scottish Highlander coos! Unfortunately, the coos were hiding somewhere in the shade when we visited the first time so I don't have pics to share inside my Outlander fan groups.
(But on our second visit we got up close and personal with this snuggly Scottish sweetie!!! I was so excited to see this wee beastie headed toward our car! )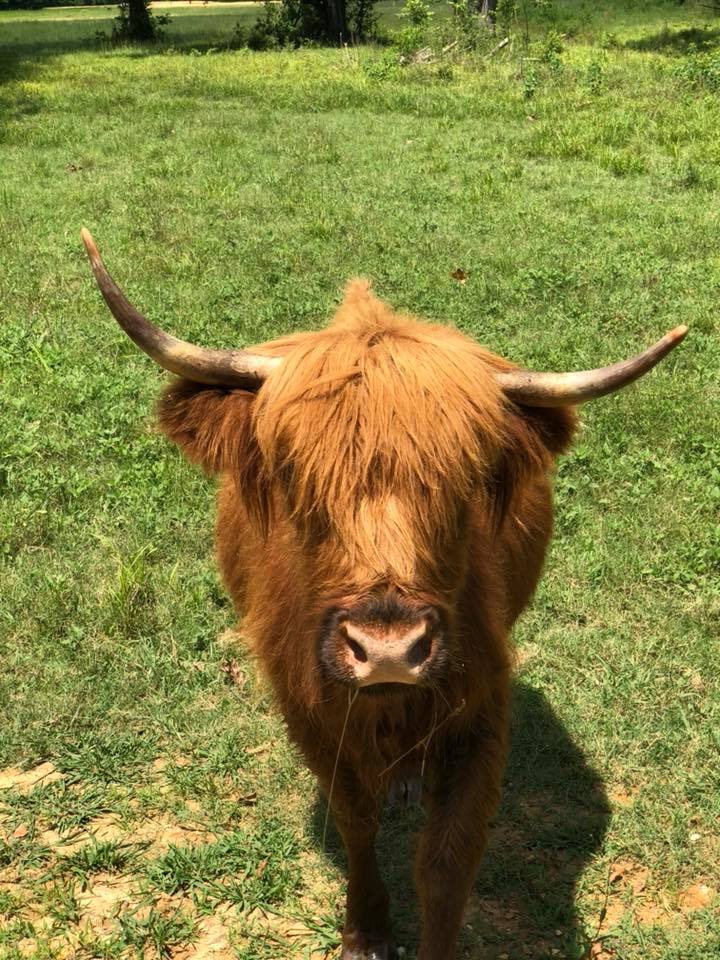 Since words don't quite do justice to just HOW much we laughed on this trip, I made a little video highlighting all the best animal encounters that we had in the park. I have seriously not laughed this hard in a long time.
Check out our adventure from start to finish here. I apologize in advance for all the screaming and crazy country-accented cackling:
If you are ever headed to the beach down I-65 and need a place to stop and let the kids have some fun, this is THE place to go. You can literally see it off the interstate between Hope Hull/ Pintlala if you know where to look. And if you live anywhere in the state of Alabama, it's worth the trip.
Here's my advice to anyone planning to visit.
10 Things to Know Before you Visit Alabama Safari Park
Go to the potty before you arrive. There are Love's and Flying J truck stops right at the interstate exit about a mile from the park. I seriously almost peed my pants laughing at one point, and there were not working restrooms at the park yet. Just a Port-a-potty trailer. So yeah. Pee first.
Read the back of the brochure they hand you when you buy your food. There are rules you're supposed to follow that we broke quite a bit- like rolling up the window when an animal is running toward you at full speed. That is a no-no, but we didn't read that until after we got home, so my apologies to the angry ostrich who tried to break the glass to get to our food inside.
Read the inside of the brochure. All the animals that live in the park are listed alphabetically, so you can pretend to be the expert on African animals by telling your kids the names of each animal instead of just screaming "What the heck is that!?!" the whole time like I did.
Buy a spare bucket of food (or two).  If an animal snatches an entire bucket of food out of your kid's hands right at the entrance gate they are gonna be super sad and it's a one-way ride so there's no turning back. So just buy more food to start with. Trust me.
As long as it's not too crowded there is not a limit on how many times you can circle through. We actually made two loops through the park because one time was just not enough. We bought more food for the second trip and made it last longer since we were older and wiser.
It was more crowded on our second loop, so I learned that I was supposed to pull over to the side and let other cars pass me instead of stopping right in the middle and blocking the flow of traffic. Please pull over out of the way if you want to stop for 5 minutes and enjoy petting each animal.
There are giraffes but they are over by the petting zoo, not out in the open area that you drive through. There's also a budgie aviary where you can feed them popsicle sticks covered in bird seed as well as a petting zoo with goats and pigs. So don't miss all that if you want the full experience. You get to feed him one nice green leaf, like the very hungry caterpillar.
If you are a germophobe or have a fear of being eye-to-eye with large beasts, this is probably not the place for you.
Take hand sanitizer and baby wipes. Remember that whole "no restroom" thing?
You WILL  have to vacuum and wash your car afterward to get all the food pellets out of your floorboards and llama-slobber off your windows. Just roll with it. It's fun.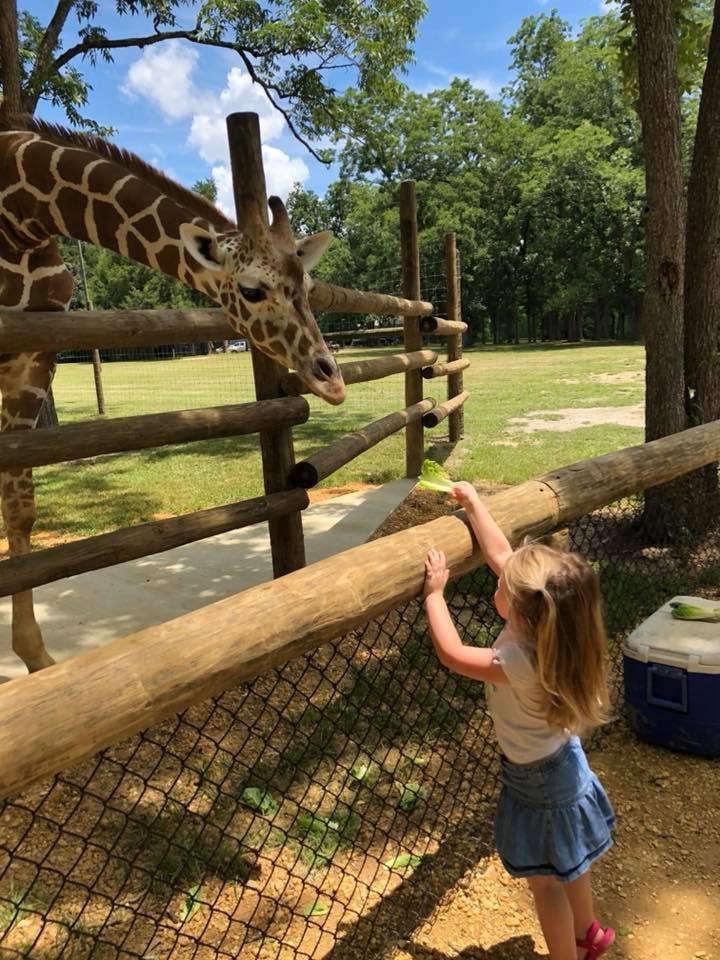 And my last piece of advice:
If you see a camel walking around with a bucket of food on his head, avoid him at all costs.