You're not dreaming. This Keto Maple Pecan Ice Cream is the real deal. One bite of this, and you'll never want any other type of ice cream ever again.
Who knew that ice cream could even be veto-friendly anyways? Just think of it as a little gift from me to you…Christmas came early, my friends!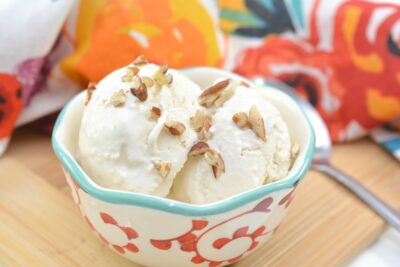 Keto Maple Pecan Ice Cream
To me, this ice cream just tastes like fall. And I love the fact that it doesn't wreck my healthy eating and keto diet plan that I've been working so hard on as well! 
I think it's pretty safe to say that this is one of the best parts of being an adult…getting to eat ice cream for dinner without any of the guilt! 
Ingredients for Keto Maple Pecan Ice Cream 
2 c. Heavy whipping cream
½ -1 tsp Liquid Stevia
¾ c. Unsweetened vanilla almond milk
1 tsp. Vanilla extract
½ tsp. Maple flavoring extract
2 tbsp. Keto-friendly maple syrup (we used maple pecan)
Chopped pecans for garnish
How to make this homemade keto ice cream
Place 2 cups of heavy whipping cream into a mixing bowl, and beat on high until it thickens and just begins to form semi-soft peaks.

 

Add the unsweetened vanilla almond milk and just ½ a teaspoon of liquid Stevia to the mixing bowl.

 

Mix in the vanilla extract, maple flavoring extract, and keto-friendly syrup.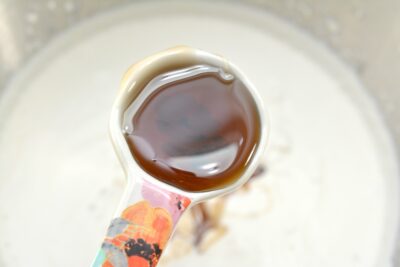 Blend the ingredients together at medium speed until they thicken again.

 

Taste the mixture to see if more sweetener needs to be added. If you would like it to be sweeter, you can add another ½ teaspoon of liquid Stevia at this time. Avoid adding too much liquid Stevia, as it can give your ice cream a bitter taste.

 

Once the mixture has thickened, pour it into your prepared ice cream maker, and make it according to your machine's instructions. For us, it took about 20 minutes.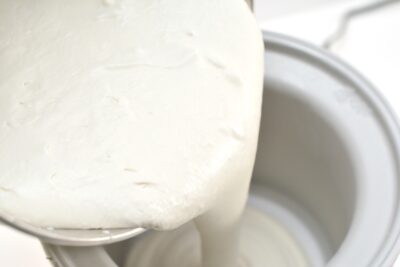 Scoop the ice cream directly into serving bowls, and garnish it with chopped pecans. Leftover ice cream can be kept in the freezer in an airtight container.