It's time for the November edition of Thrifty Style Team! This month I'll show you how to make a DIY Birch Log Christmas Tree Candleholder! It's a simple little project that will brighten up your holiday home with some rustic winter vibes!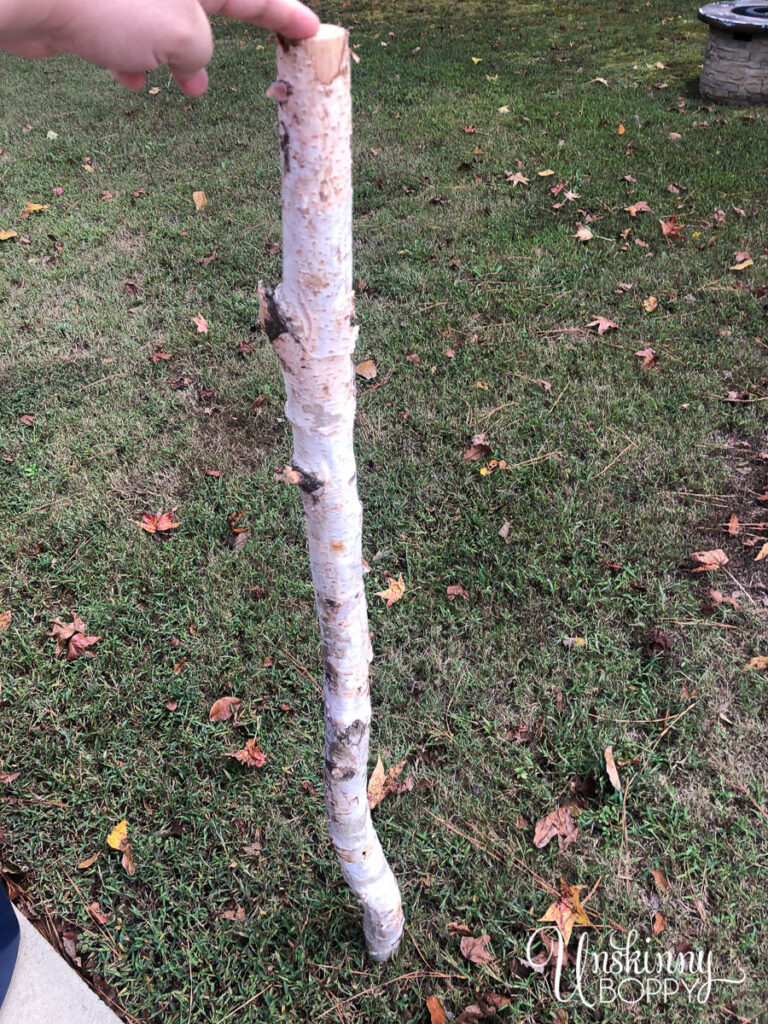 I have had this birch log lying around my house for many months now.
I honestly can't even remember where I got it from, but it's been leaning over in the corner of my foyer for a while. When I saw that our Thrifty Style Team post was Christmas-themed this month, I finally knew what I was going to do with it!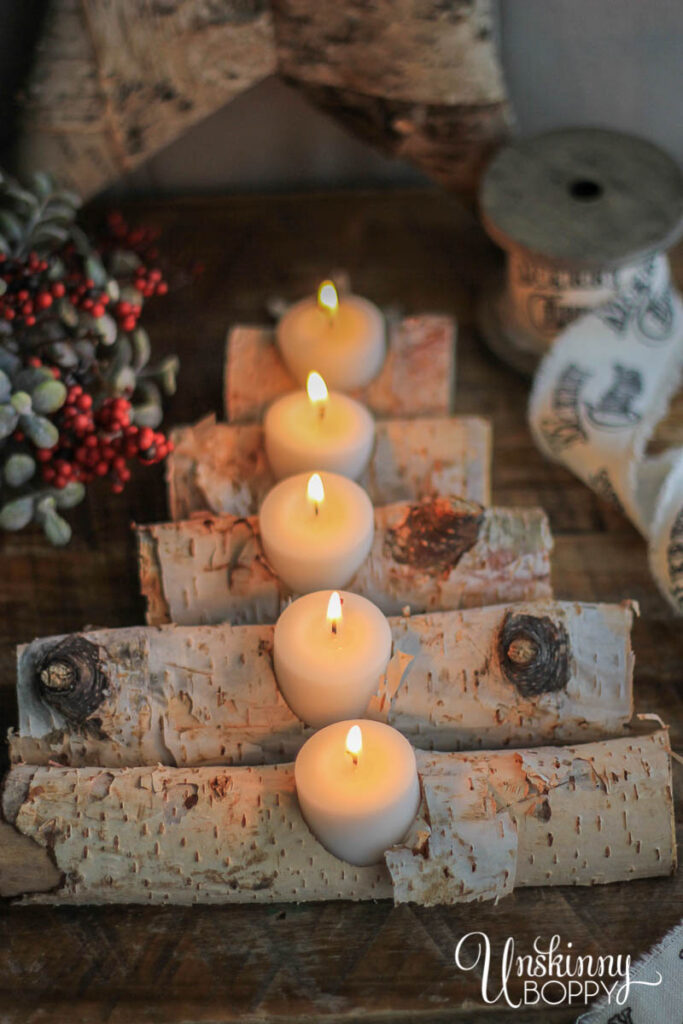 Step 1: Cut the birch branch
Cut the birch branch into 5 sections at varying lengths so it resembles a Christmas tree shape. My bottom section is about 9″ long and my top one is about 4″, but it really doesn't have to be exact. Rustic vibes, remember?
If you're like me you will just eyeball it. If you're mass-producing these then you might wanna measure. And don't forget my royalty check.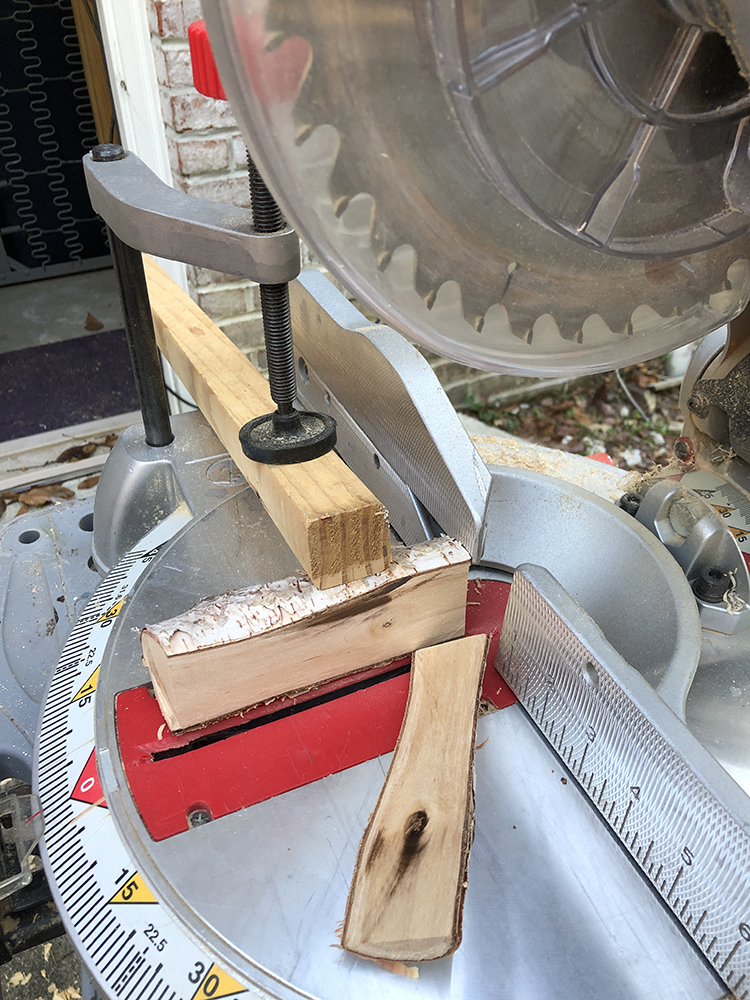 Step 2: Give them a flat bottom
Look away, Kim Kardashian, because this part is your worst nightmare.
The next step is to give each section a flat bottom. NO round bottoms allowed here! Only flat ones, ok? We don't need these things rolling around and setting the house on fire, so chop that bottom right off.
Flat bottom birch, they make the rockin' world go round.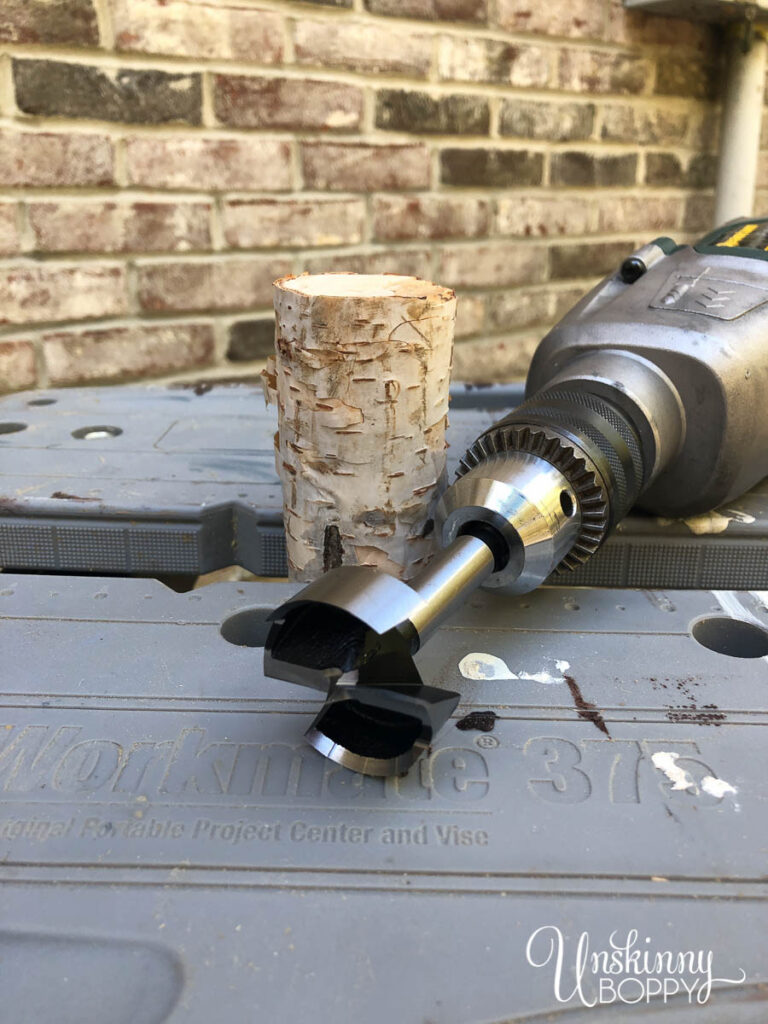 Step 3: Drill the tealight candle holes
To drill the tea light holes, we used a 2″ Forstner drill bit. I had never heard the term Forstner until my husband told me what I needed to buy from the hardware store.
How do men know these things right off the top of their head? I have WAYYYYY too much other stuff rattling around in my brain to remember words like Forstner bit, so I'll link it up here and you won't have to remember it either. You're welcome.
BTW, here's another bit of trivia you can immediately forget… most tealight candles are exactly 2″ in diameter.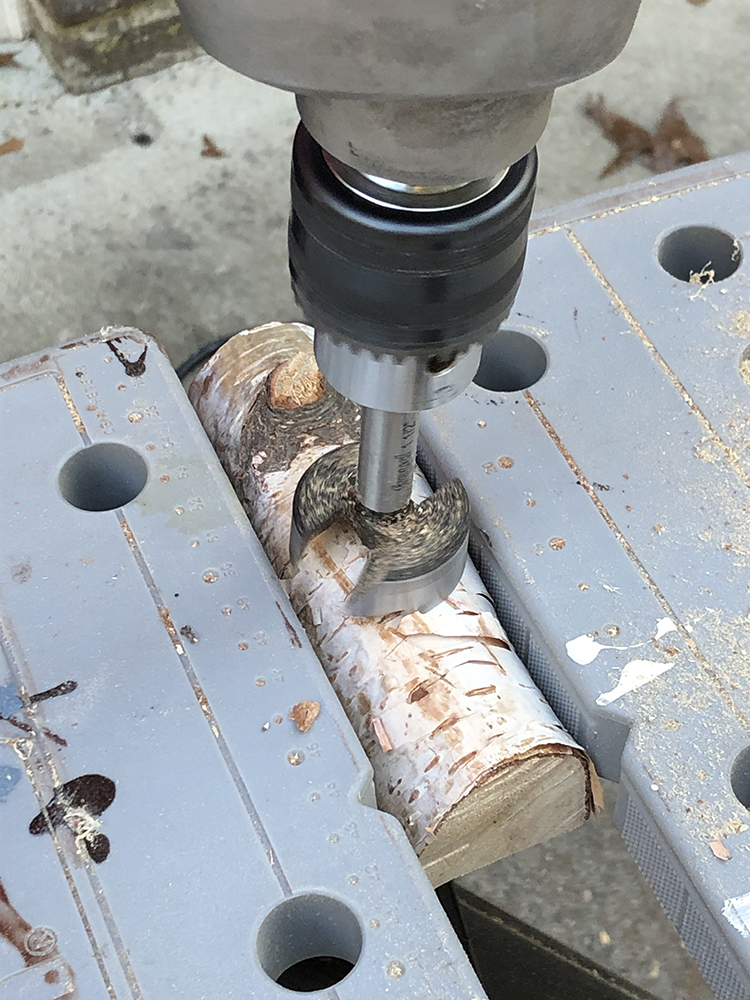 And that's it!
As you can see, we also eyeballed where the center of each piece was and missed it by a little, but I kinda like the curve of these candles. Give it some character.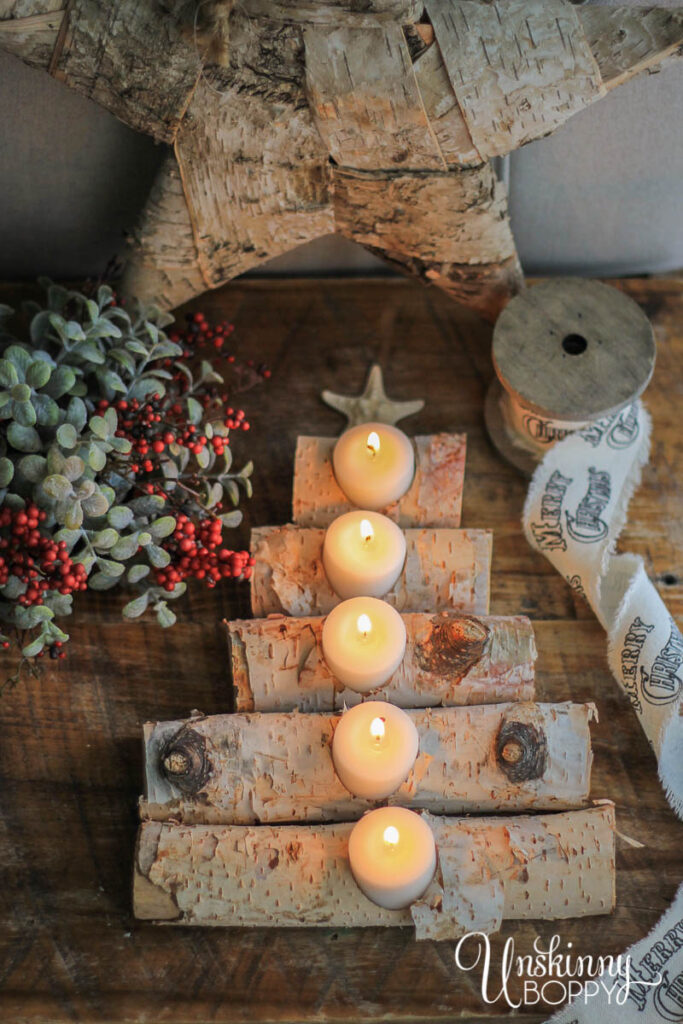 By the way, these tealights without a metal base were all I had in my house when I staged this photograph.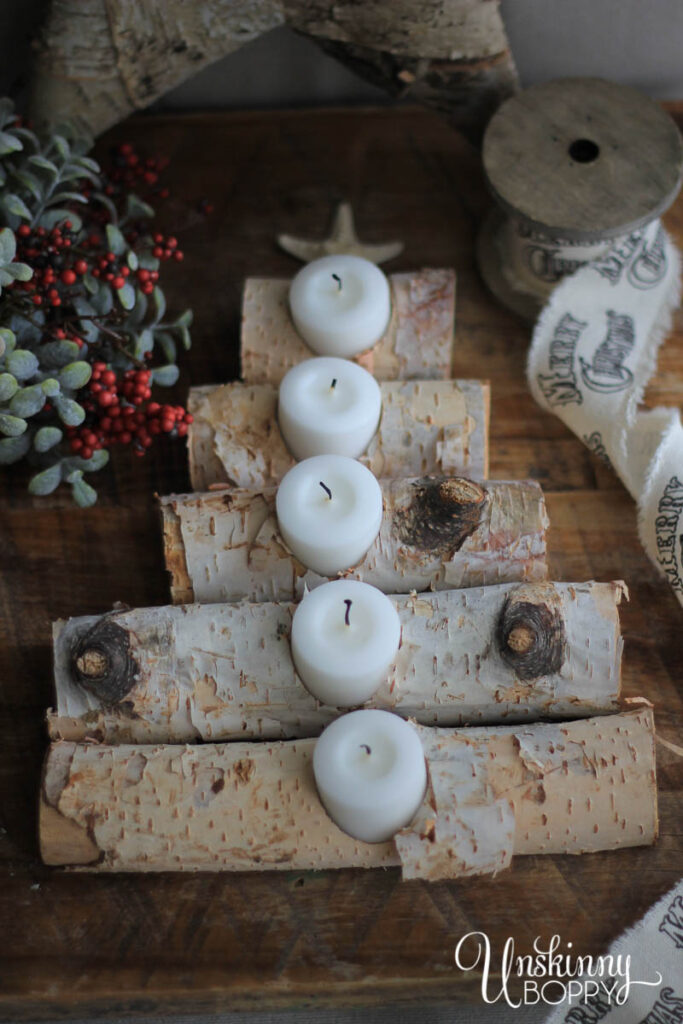 If you make this, PLEASE use the candles that have a metal base so this is not as much of a fire hazard.
But let's be honest, birch bark is pretty much equivalent to gasoline so this is still a major fire hazard. Instead, use these flameless tealight candles and you won't have to worry!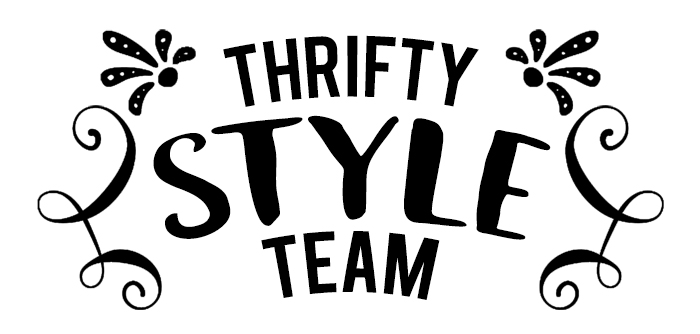 Now it's time to head on over and visit all of my fellow Thrifty Style Team friends to see all of their classy DIY Christmas ideas on a budget! There are some SUPER cute ideas this month!
DIY FELTED ACORN GARLAND
from Chatfield Court
DRIED ALLIUM CHRISTMAS ORNAMENTS
from The Creek Line House
DIY UPCYCLED SNOW GLOBE
from The How-To Home
DIY WINE BOTTLE LUMINARIES
from Postcards from the Ridge
FROSTED CHRISTMAS LUMINARIES
from DIY Beautify
EASY DIY PERSONALIZED CHRISTMAS ORNAMENTS
from 2 Bees in a Pod
THRIFTY HOLIDAY DECORATING IDEAS
from Bliss Ranch
REPURPOSED PILLOWCASE SCARF
from Redhead Can Decorate
EASY HOLIDAY HOOPS
from I Should Be Mopping the Floor
DECOUPAGE AND FRAMED CHRISTMAS CARD ON CANVAS
from What Meegan Makes
DIY BIRCH LOG CHRISTMAS TREE CANDLE HOLDER
from Unskinny Boppy
PERFECTLY FLOCKED PINE CONES
from Duke Manor Farm
MERCURY GLASS PUMPKIN TABLESCAPE
from Jennifer Rizzo
TERRACOTTA CHRISTMAS TREES
from Salvage Sister and Mister
CANNING RING SNOWMAN
from Cottage at the Crossroads