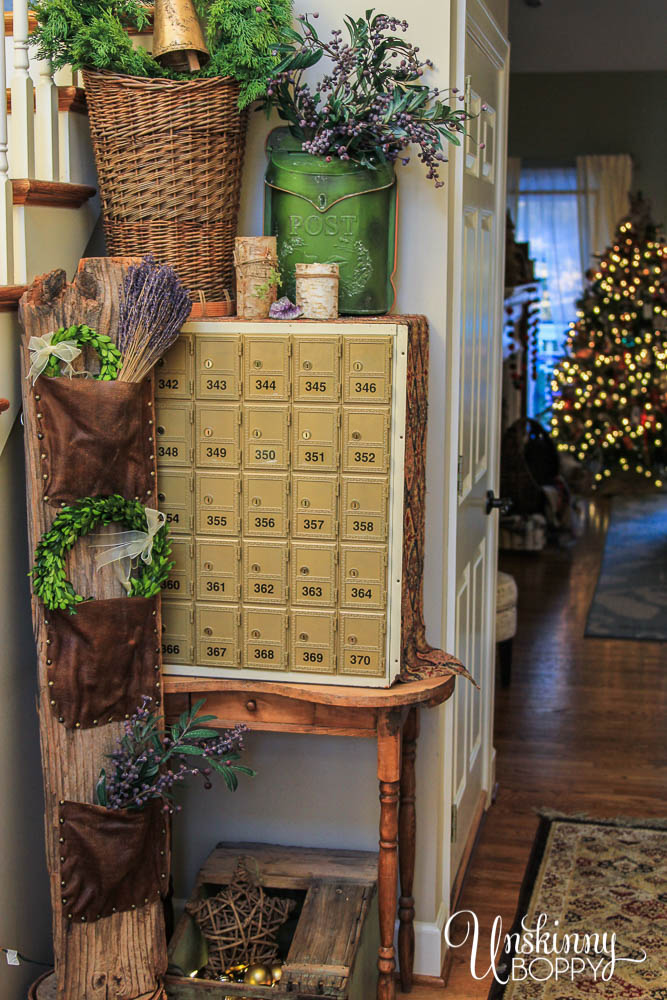 It's time for the December Thrifty Style Team post! Woohoo! This will likely be my very last DIY project of the DECADE so I hope y'all enjoy it.
This month I decided to make something that I've had in my head for a long time. I have had a vision of leather pouches nailed on a wooden board ever since I saw something similar at Homegoods last year. So, I decided to dig through my blogger stash and come up with something awesome!
Nearly five years ago I worked with the Leather Hide Store on a sponsored post using this GORGEOUS piece of leather called Old Western Buckskin. At the time I only used a small amount as cuffs for my son's birthday party favors, so I still had this GINORMOUS piece of leather stored in my closet all these years. I never could decide what to do with it, so I just kept storing it until something came to me. And finally, it did.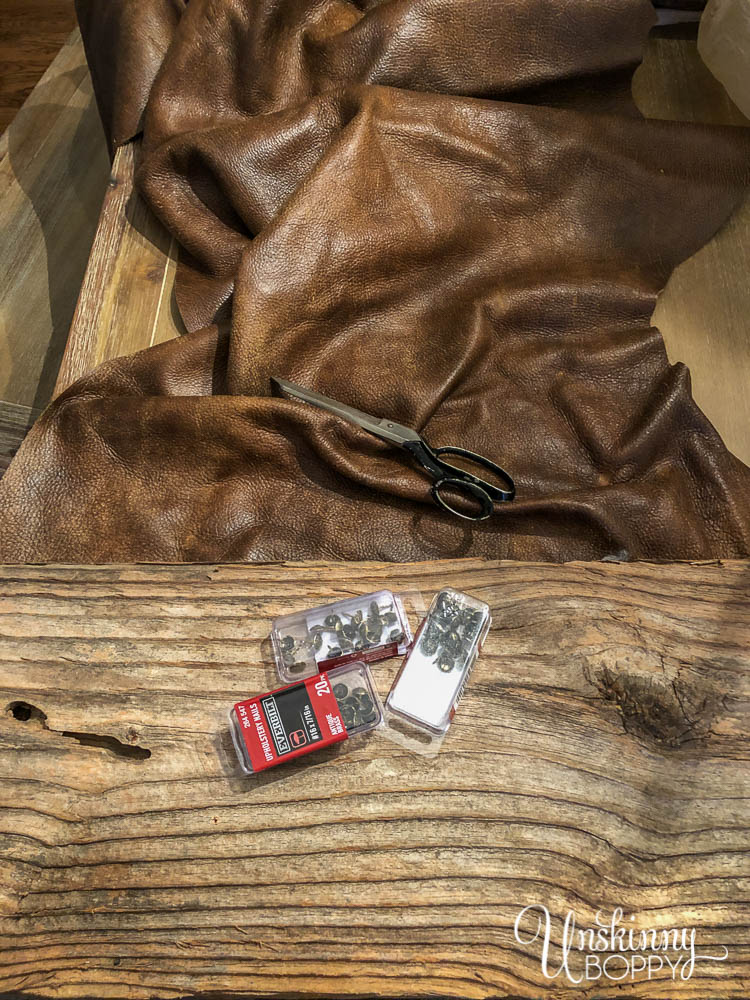 I decided to use more of this big ol' leather hide for today's thrifty project!
Now, I realize that it's not normal to have a giant leather hide gathering dust in your closet (#bloggerlife) BUT if you wanted to make this project at home I'm sure you could go down to the thrift store and find an old leather jacket or a purse that someone else has decided to Marie Kondo outta their life. You could also make this out of sturdy fabric like canvas if you cannot find any leather. Or you could check out the closeouts and remnants at the Leather Hide Store if you want the real deal.
I also have had this old wooden board lying around for many years, so the only thing I bought for this project were upholstery tacks. I used 60 tacks for this project.
How to make a leather magazine rack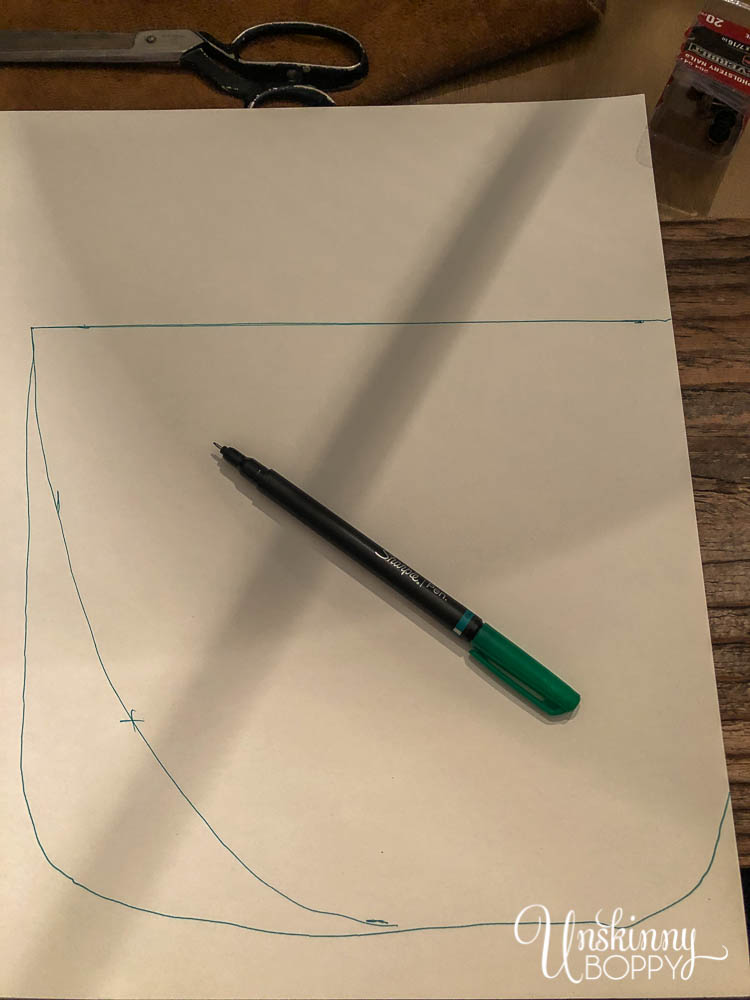 I started by cutting out a paper template in the size that I wanted each pouch to be. Notice I screwed up the first try and had to redo my line after I realized a magazine needed to fit all the way down in the pouch.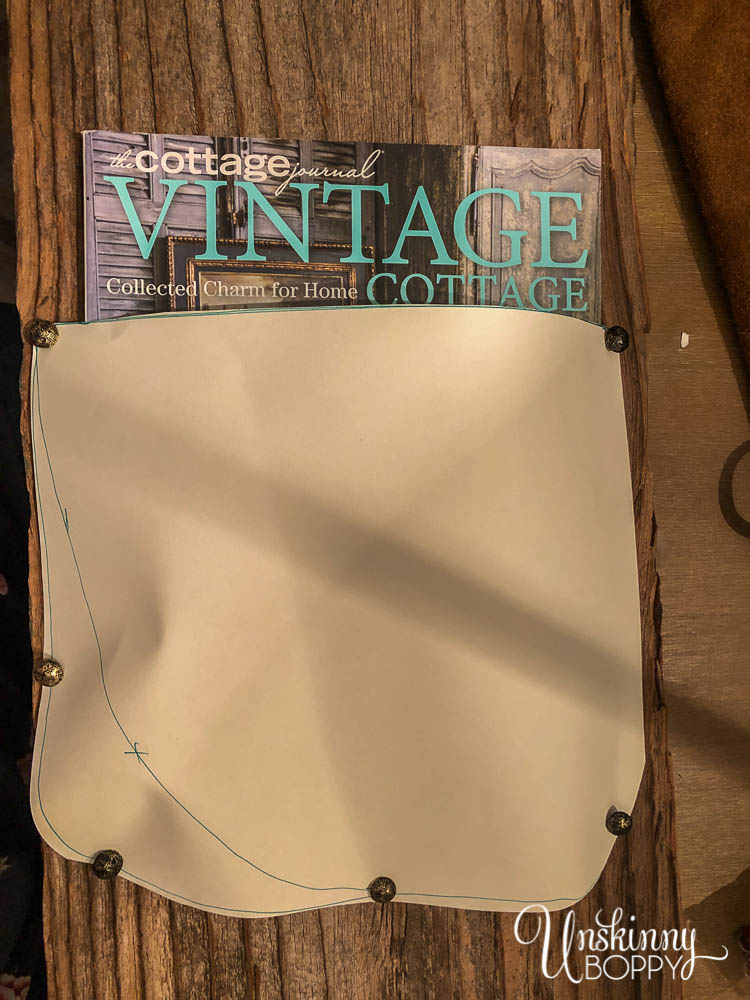 I tacked the paper onto the board and stuck a magazine inside to test it out and see if it would work. And yep. It does.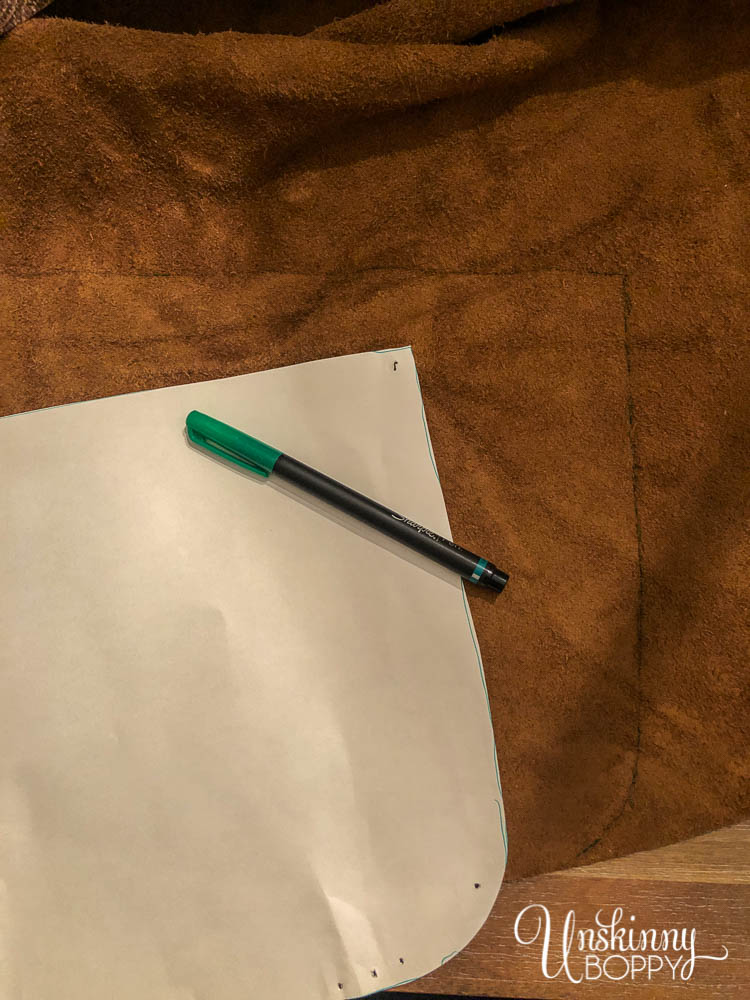 So I traced around the template on the backside of the leather and cut out three pouches in the exact same size. Notice I tried to get as close to the edge as possible so there was very little waste of leather.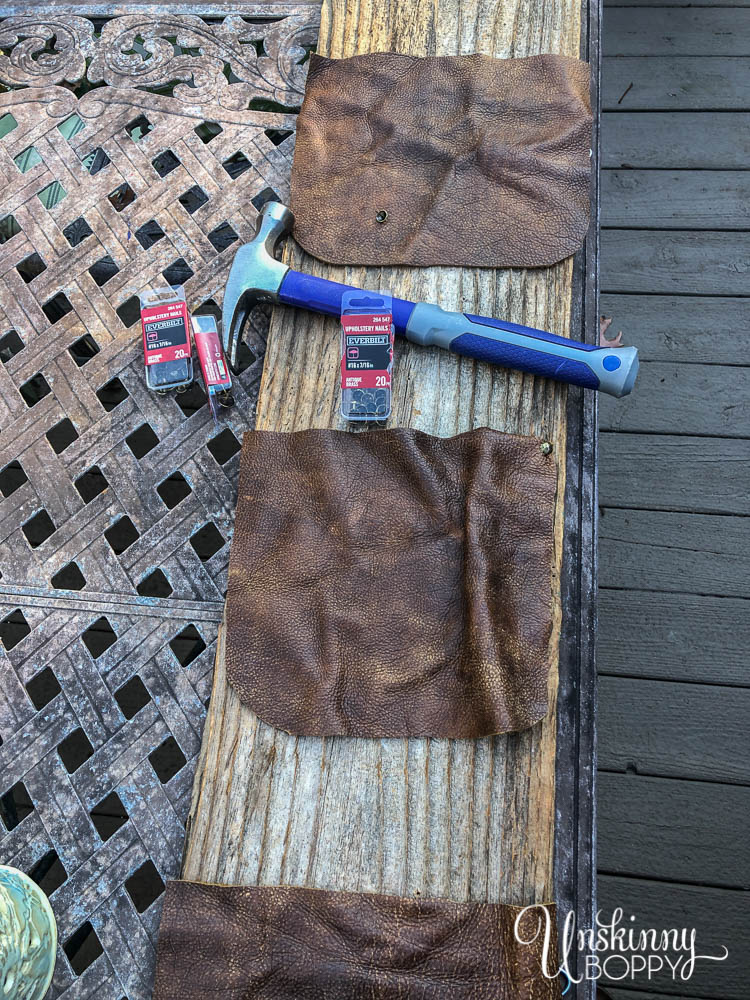 I eyeballed where I wanted these to go on the board. Since this project is super rustic I didn't worry too much about measuring anything. Eyeballing was fine for me. If you want it more precise, you could measure it out.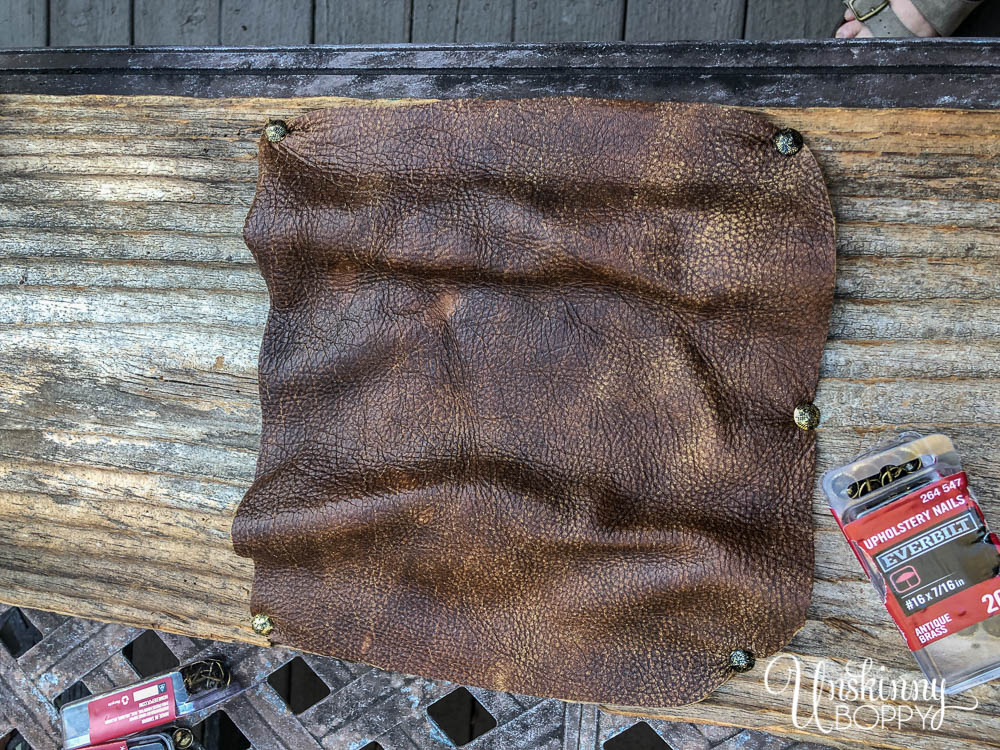 To get the upholstery tacks spaced out evenly I started by putting one in each top and bottom corner and one in the bottom center.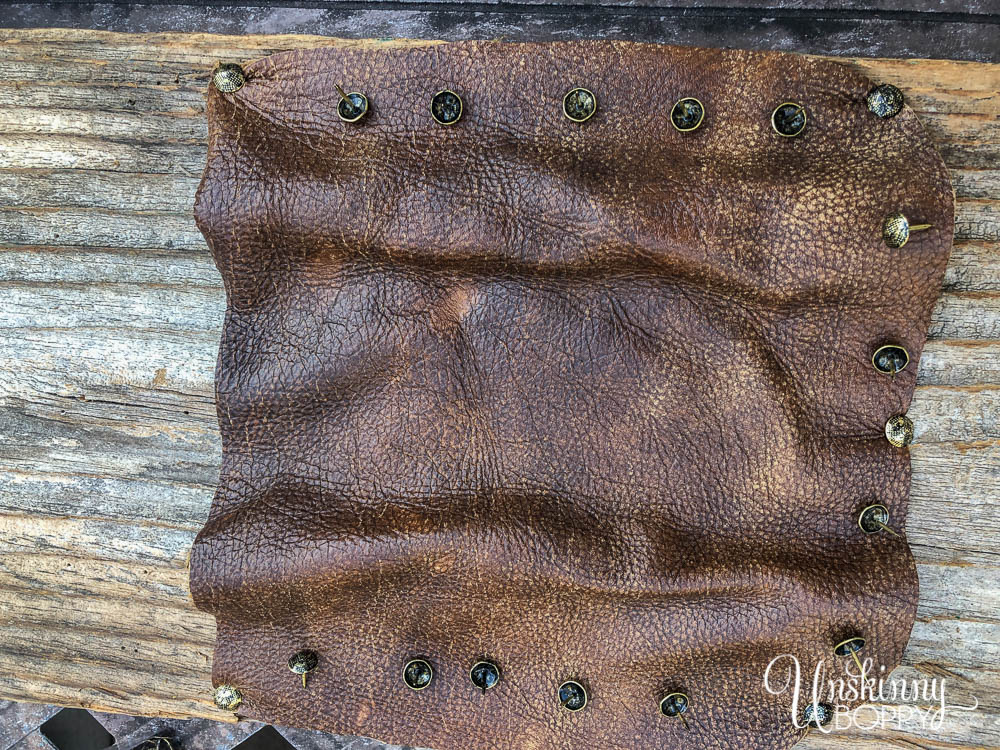 Before I hammered them in, I spaced them out so I could see approximately where I wanted them to go. Nothing about this is perfection but I did want it to look a little bit neat.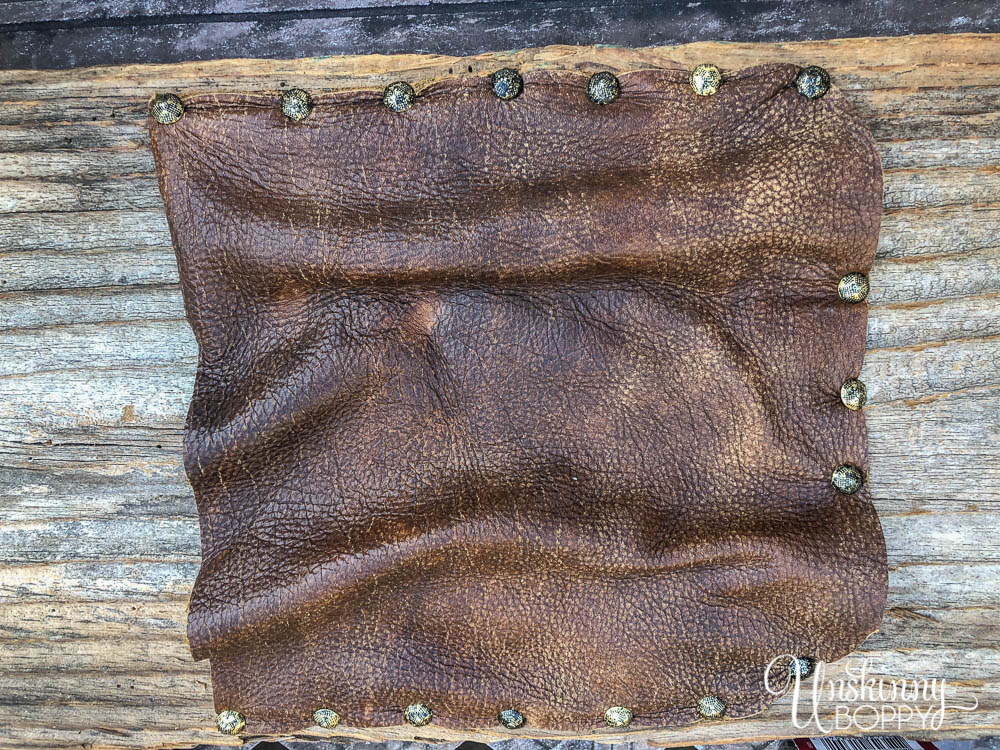 Finally, I hammered each tack into the edge of the leather all the way around, and repeated that on the other two pouches.
The finished product:
You can see this wood had some deep grain, so I followed the grain a bit when I hammered it in. I didn't worry too much about getting all the edges to lay flat.
I'm ok with it being a little wrinkly.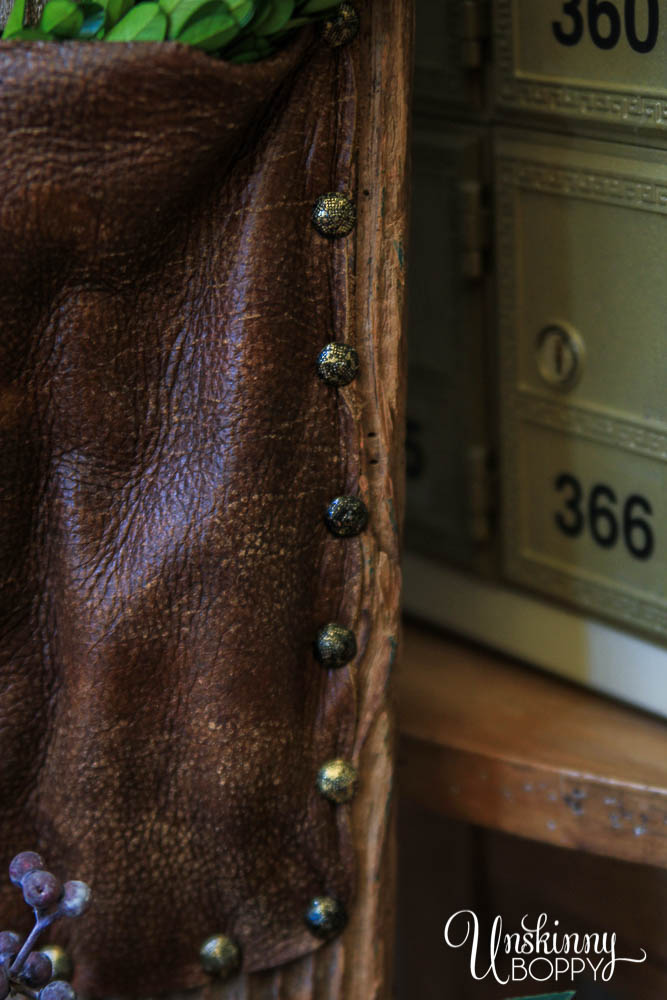 And it's not just a magazine rack! There is so much more you could do with this pretty decoration. I styled it up with some boxwood wreaths and lavender for my foyer decor since I'm loving the purple / green combo so much lately.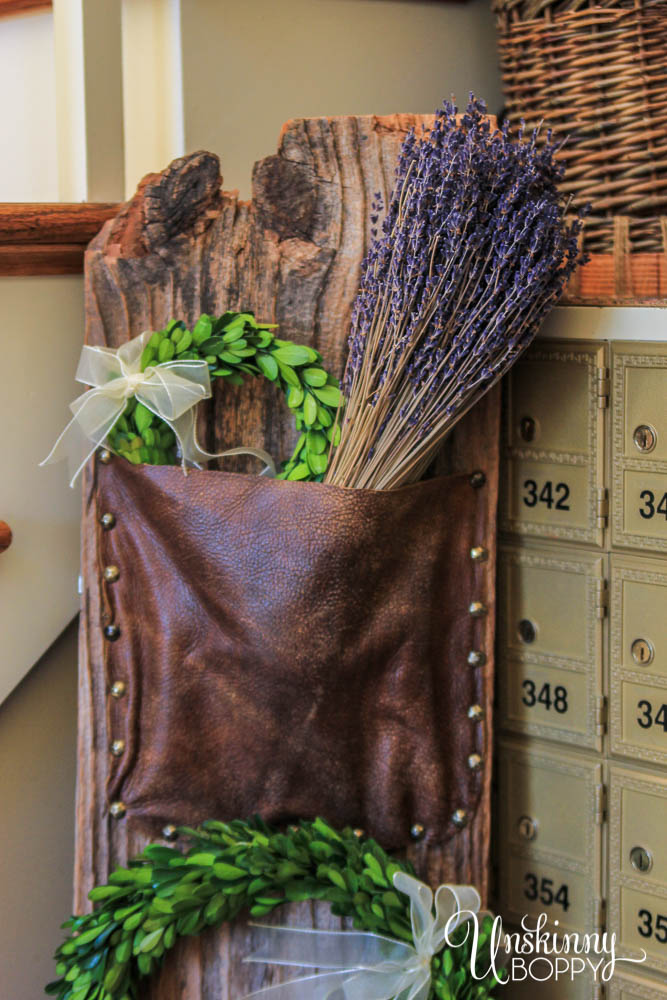 It would make a pretty towel holder in small bathroom or utensil holder in a kitchen. You could double up the leather so it forms a true pouch and nothing would touch the wood inside the pockets.
What do you think?
How would you use this in your home?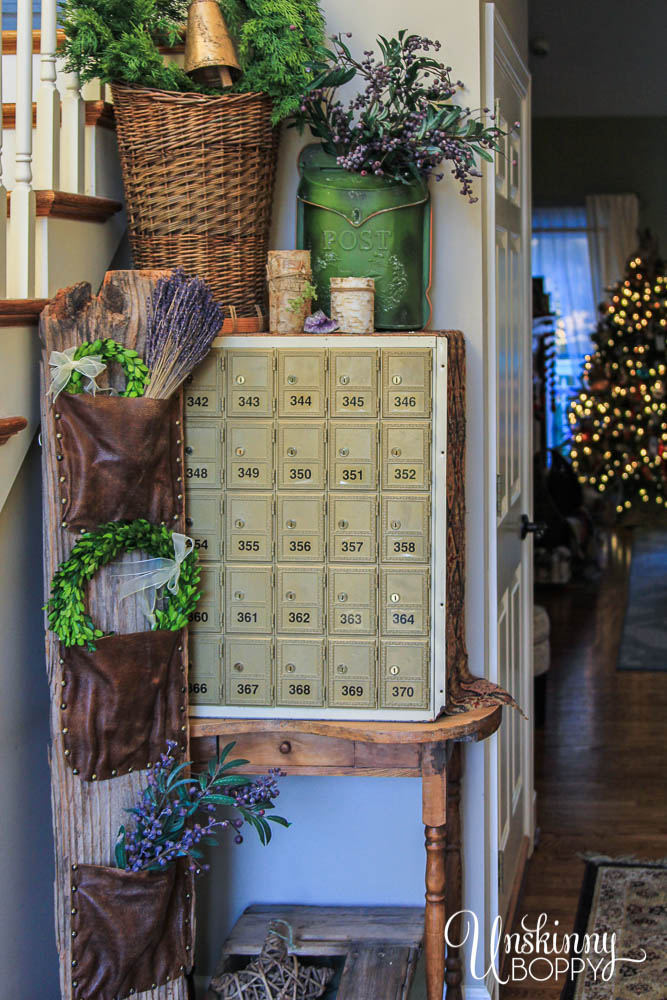 I'm loving it just as a pretty decoration in my foyer for now, but I plan to take it down to the lake house soon and style it down there. I'll be sure to show pics when I'm done!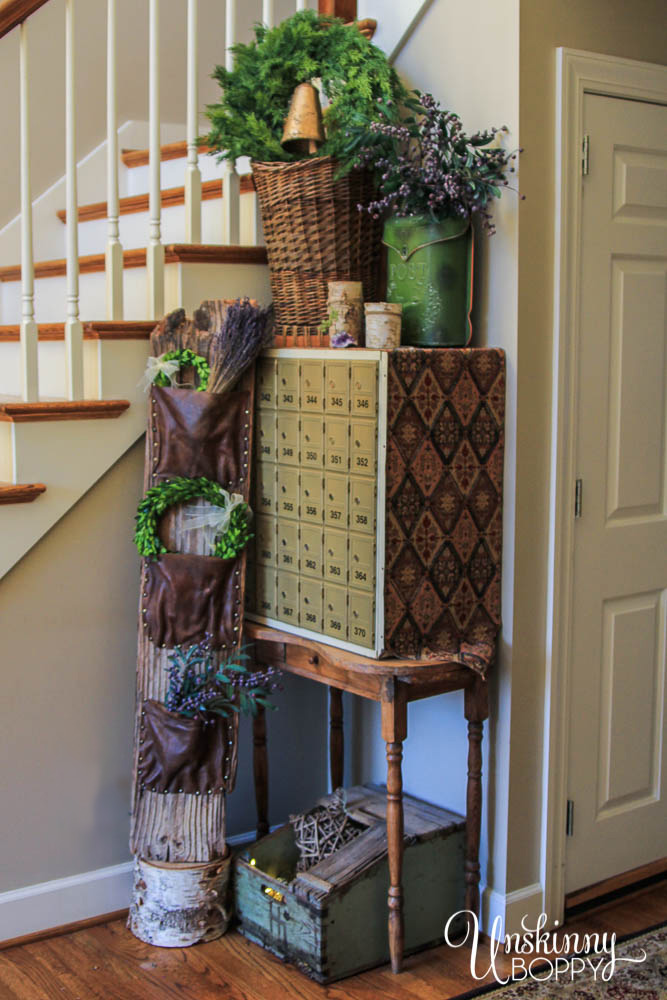 Now that you've seen my thrifty style team project this month, be sure to hop over and visit all of the other team member's posts! There are some SUPER CUTE, THRIFT and SIMPLE Christmas Decorating Ideas in these posts so go pin 'em!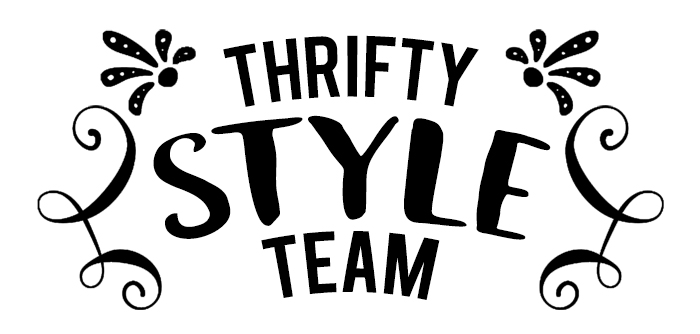 Don't forget to pin it!