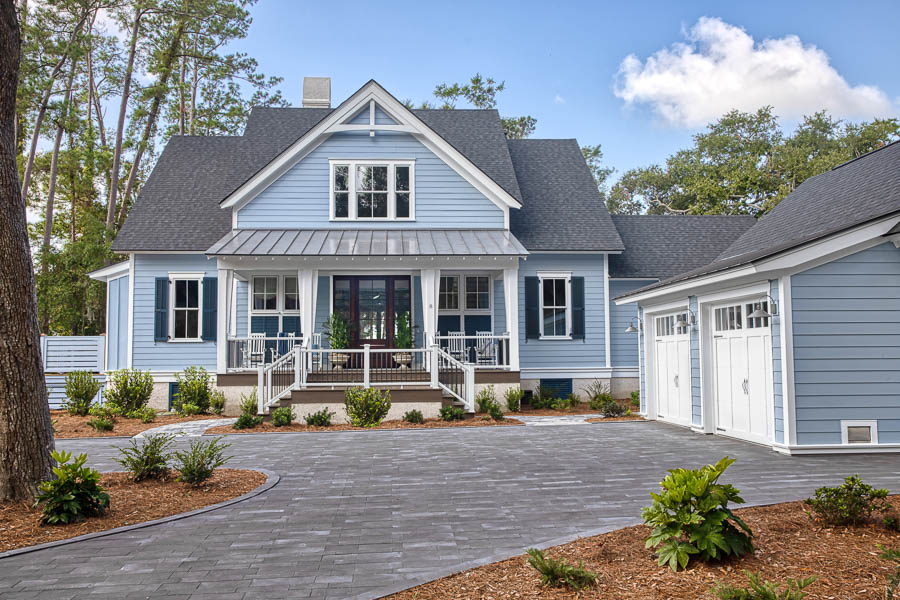 Two weeks ago I had the amazing opportunity to tour the new 2020 HGTV Dream Home in Hilton Head, SC. This is the 24th anniversary of HGTV giving away Dream Homes, and it did not disappoint!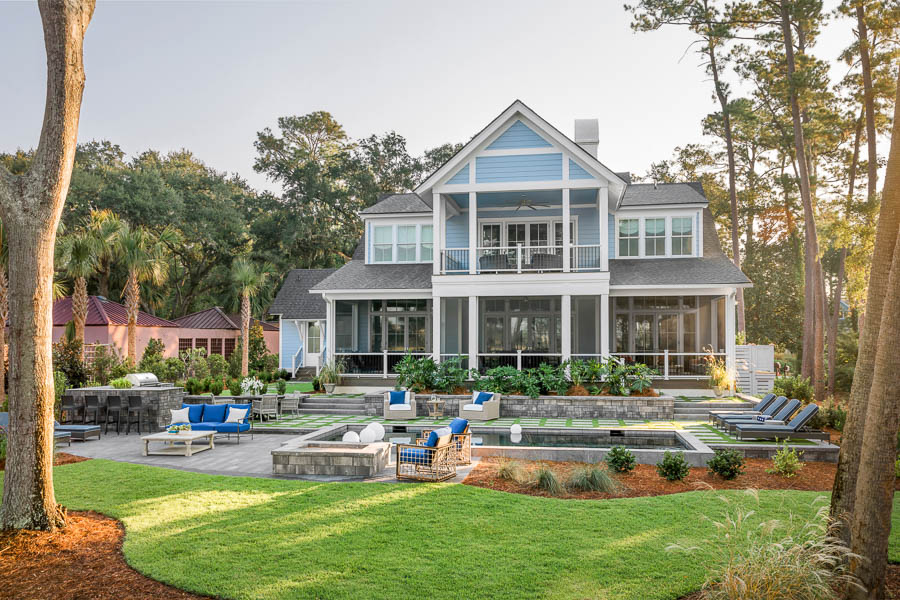 We were shuttled to the house for a beautiful backyard brunch where I got to see lots of old friends and make some new ones. These sweet friends were my roommates on the trip: Sherry from Savvy Apron, Diane from In My Own Style, Carrie from Making Lemonade and moi!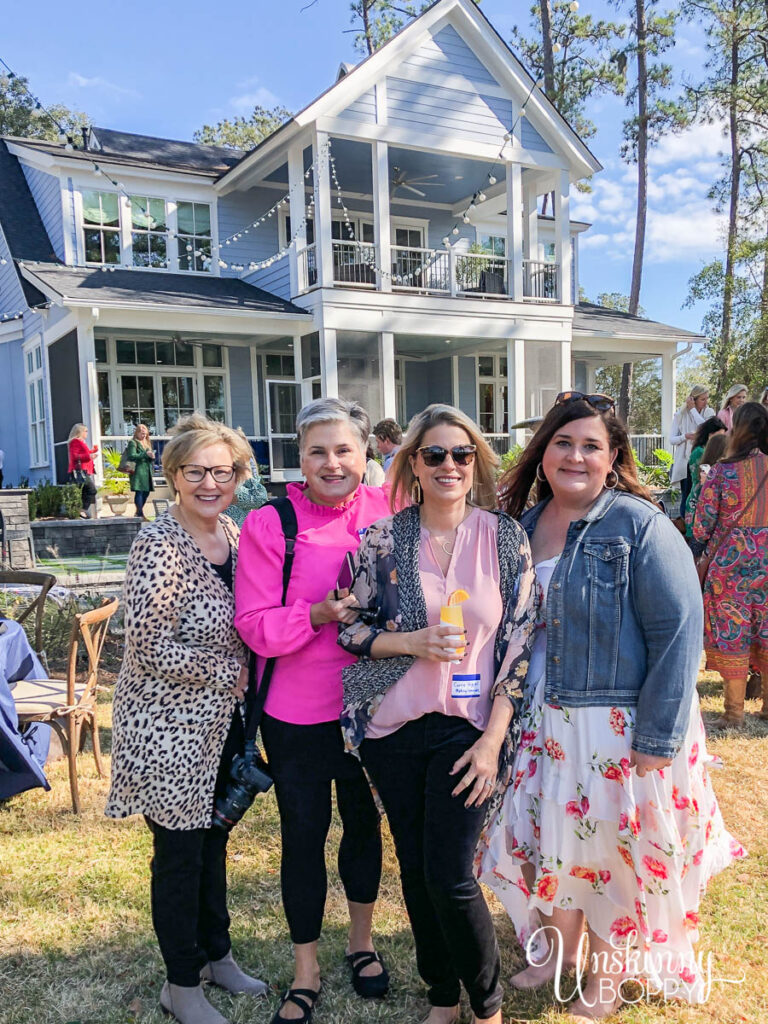 We also got to hang out with Brian Patrick Flynn, who is the Interior Designer of the home. He gave us all the details about the house and what it took to make it happen. Here he is with his assistant from HGTV, Chesney, telling us more about the home.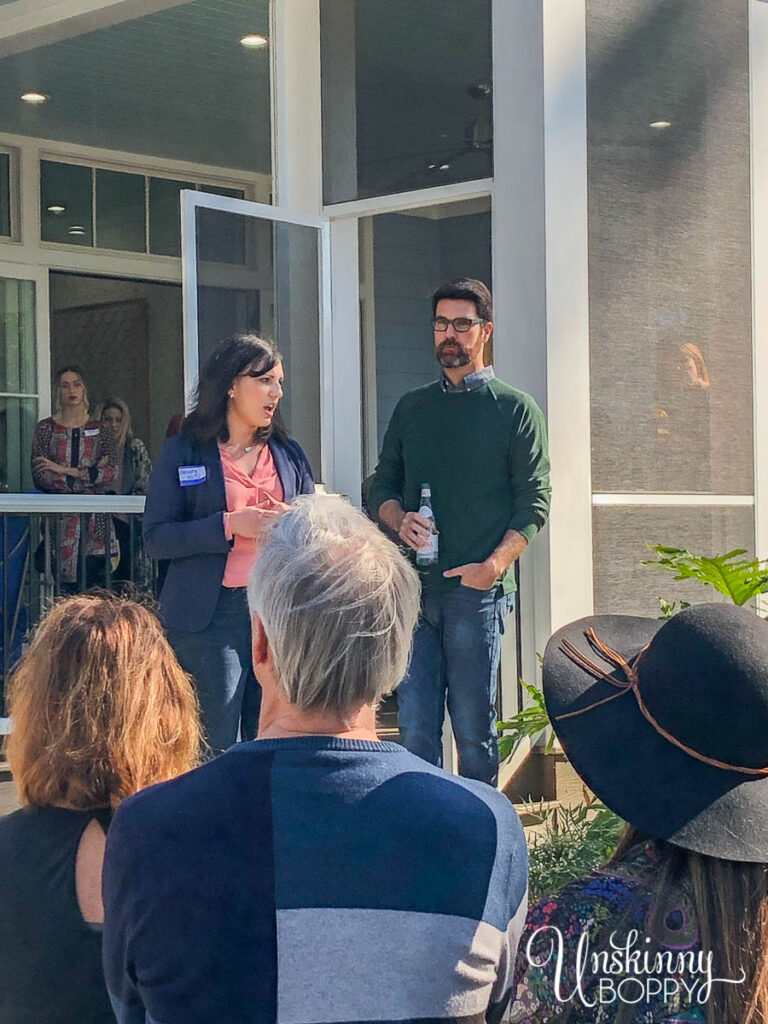 Also, HGTV provided me with a 100-page spreadsheet of every single item inside the Dream Home so if you see something that you LOVE in these pics, let me know in the comments and I can probably get you the exact part number of it. Not kidding- LOL!
Let's take the Tour…
At 3,500+ sq ft, the house is large, so I'm not going to share every single nook and cranny of it today. I have posted the floorplan at the bottom of this post to get your bearings on the rooms. So let's hit the highlights of some of my favorite spots, ok?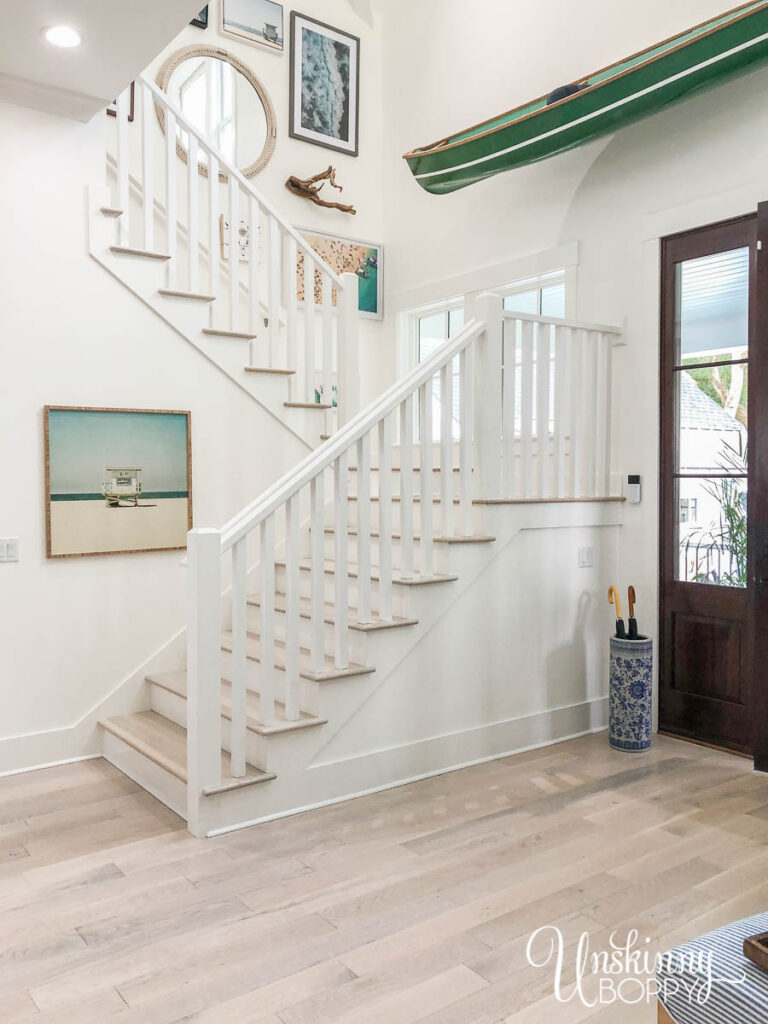 The two-story foyer and staircase has a very coastal low-country vibe, with white walls and a pretty green canoe hanging over the front door.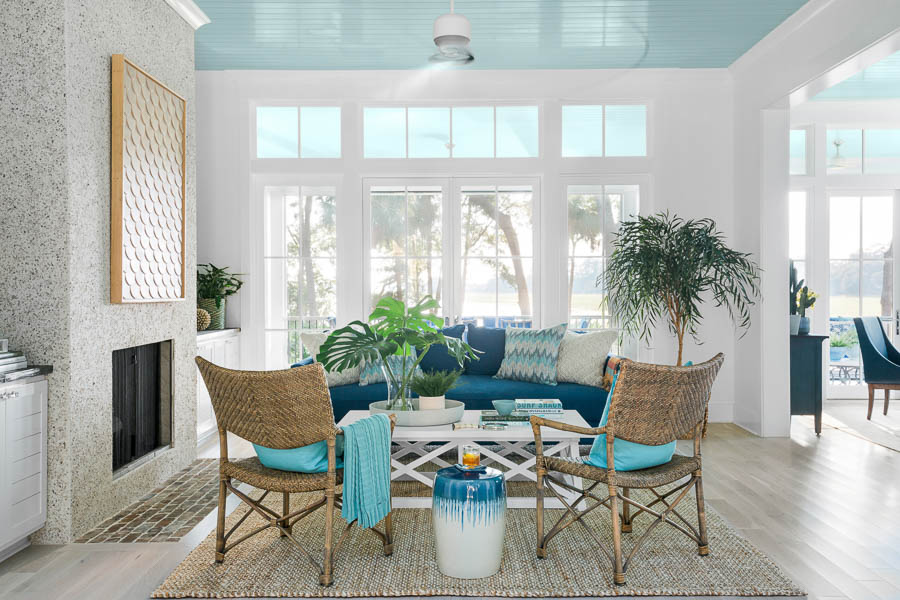 The living room had a haint blue ceiling that carried through from both the outdoor porches. I loved it!!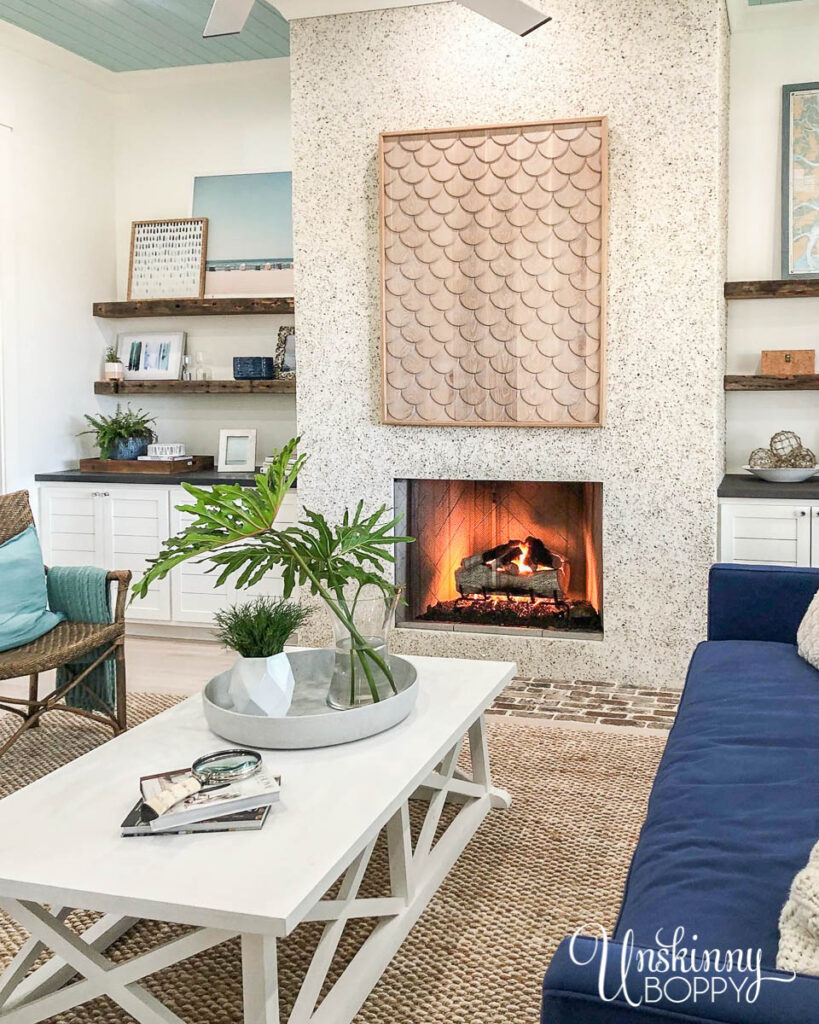 One of my most favorite rooms in the whole house was this MASSIVE all-purpose laundry / mud / breakfast/ doggie washing room. The entire back wall was covered in a beautiful patterned tile and it was truly stunning.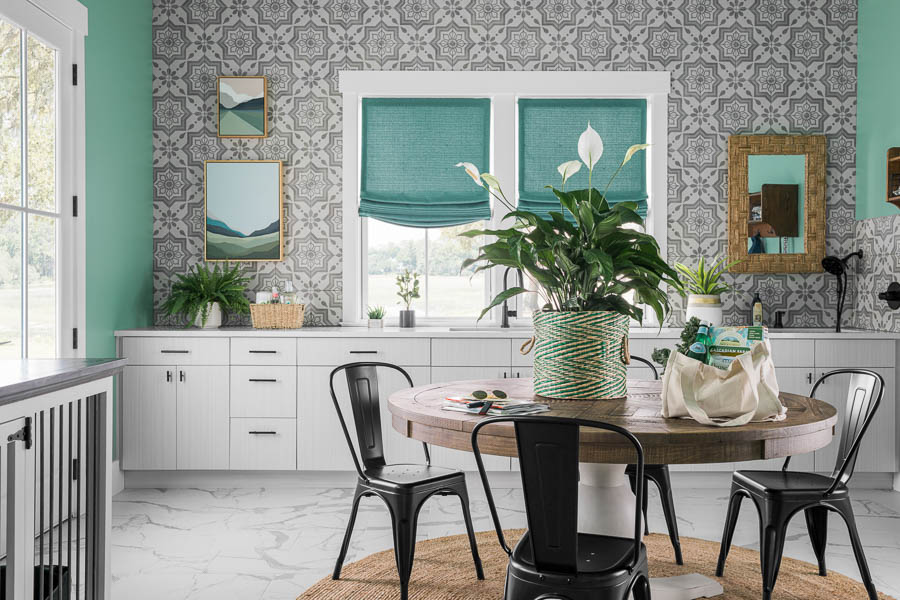 The sink in the corner was good for washing small to medium dogs. 100 lb labradors would probably not fit, but it's still a great utility sink!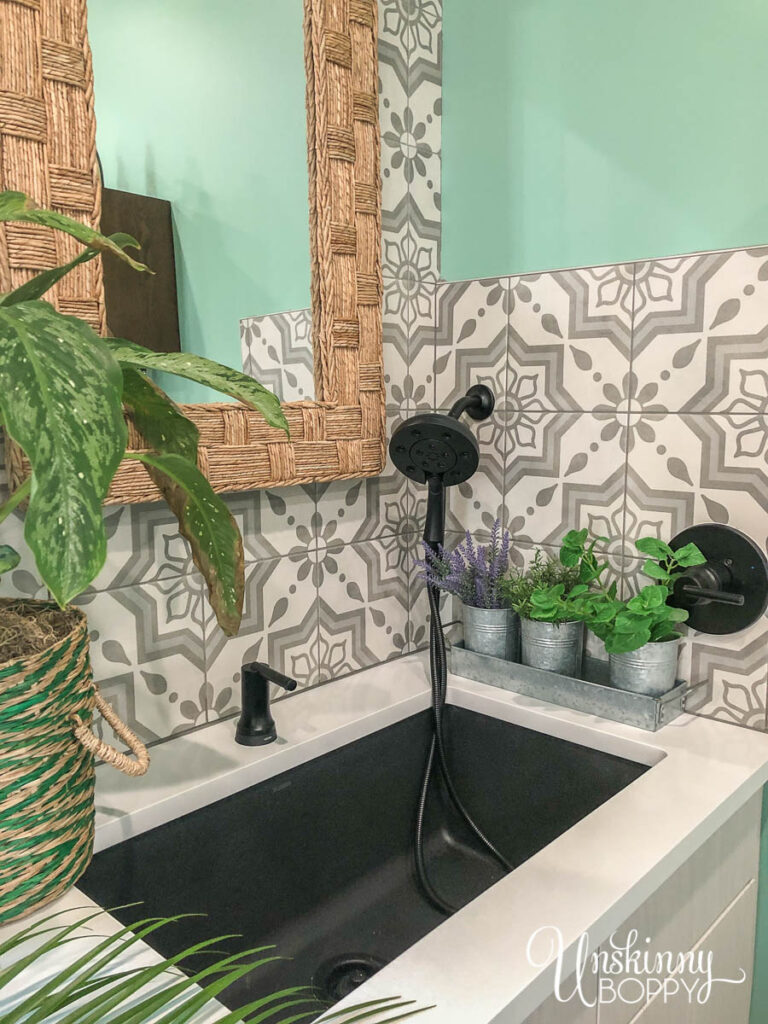 Over in the corner of this room was a HUGE dog kennel that would fit two or three 100 lb labs, easily.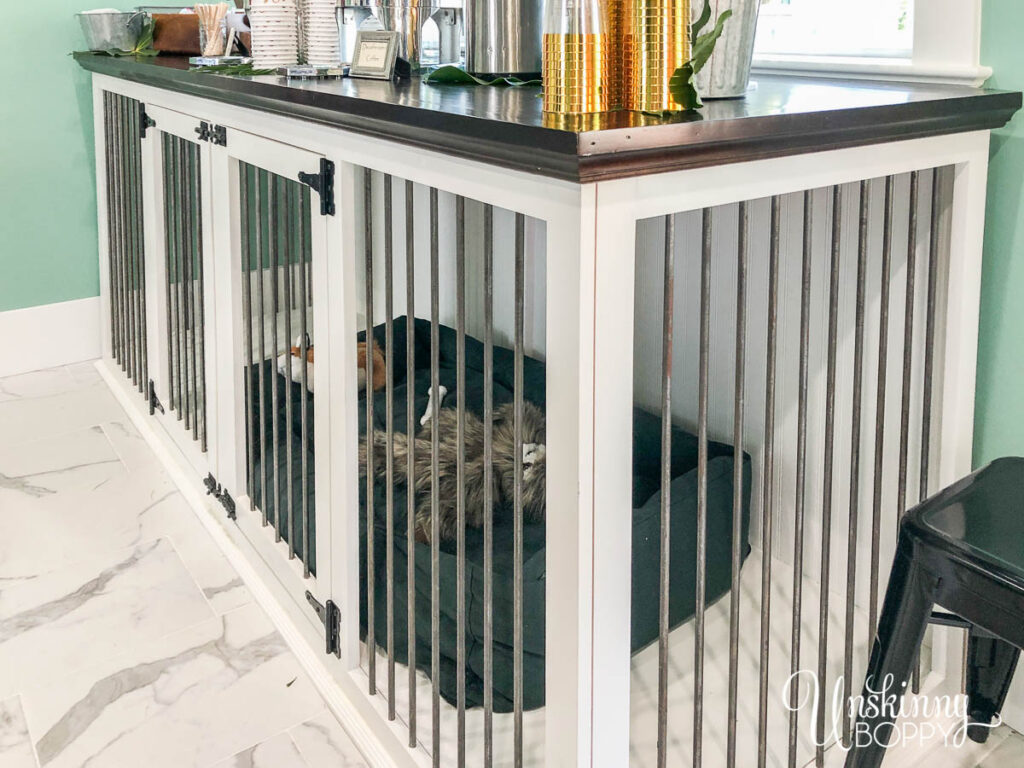 I wasn't able to get great shots of the kitchen because there were always people hanging around the waffle station (I mean, can you blame them?)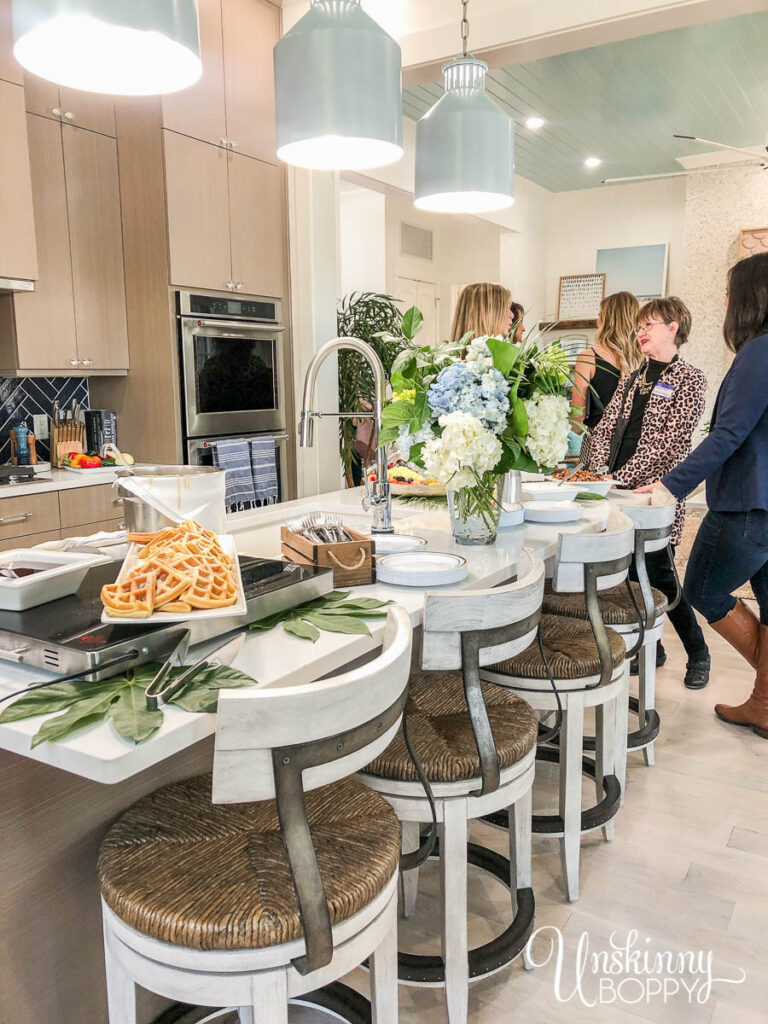 The amount of counter space in this kitchen was insane, and I'd need a cherry-picker to lift me up to retrieve things from the 10′ ceiling height upper cabinets!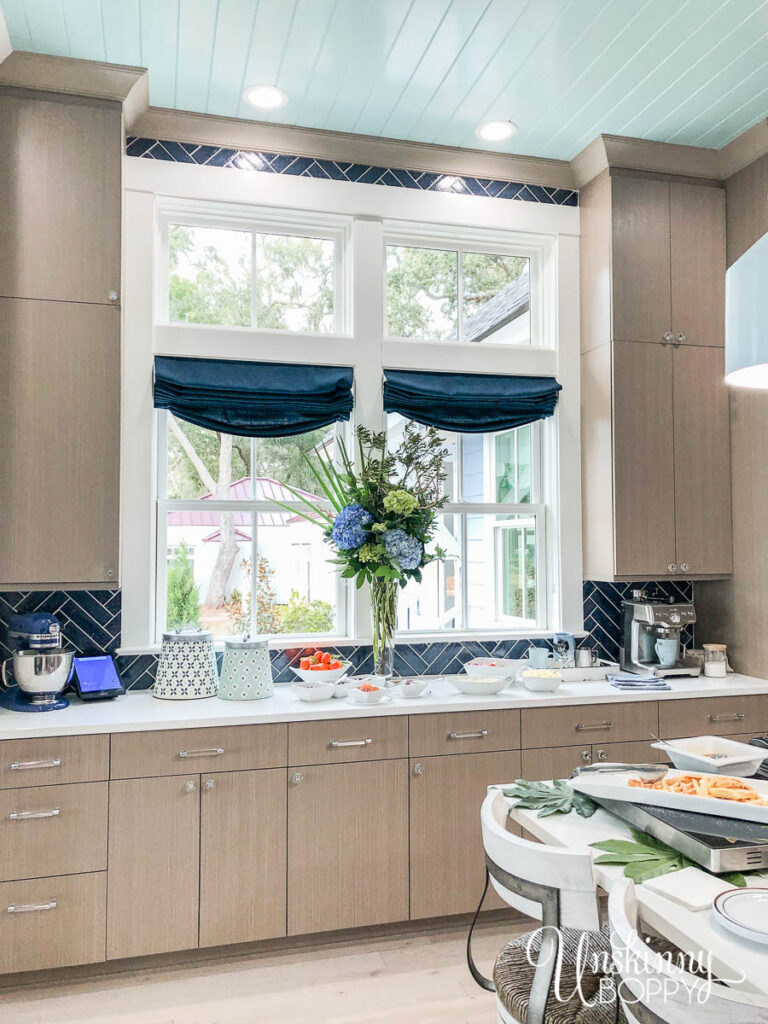 There was no formal dining room, but this huge eat-in kitchen area with floor-to-ceiling windows looked out over the beautiful backyard swimming pool and marshlands beyond.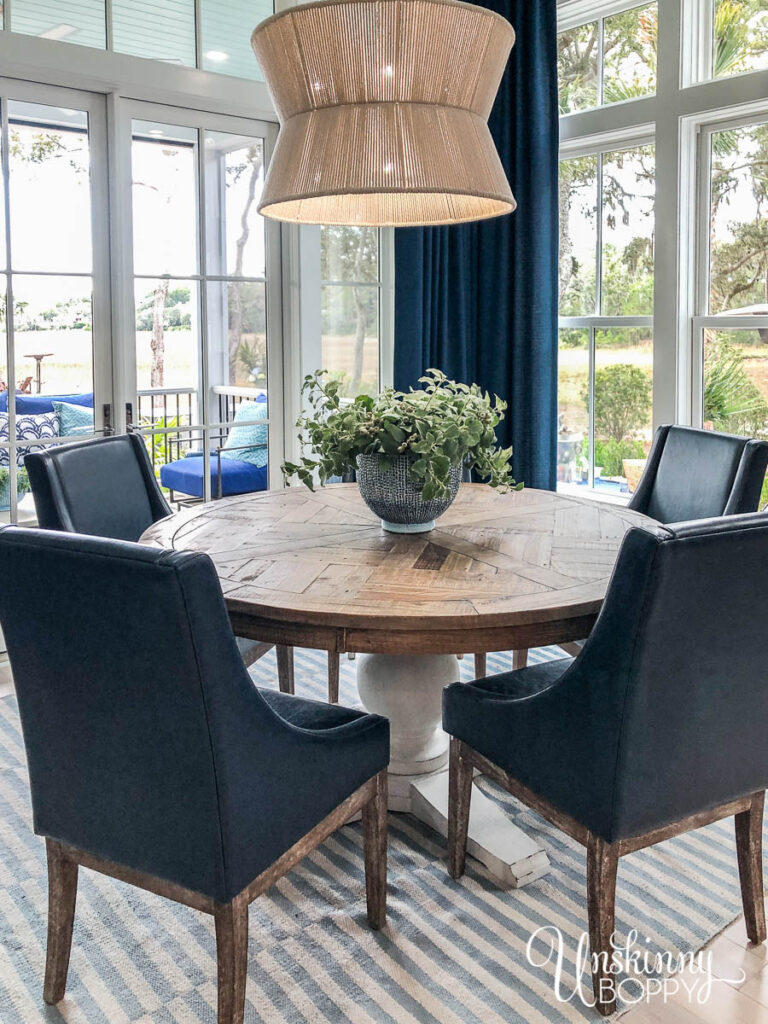 The main level Master Bedroom looks like something straight out of an island resort in the Virgin Islands. I felt like I was on the set of House Hunters International in this bedroom.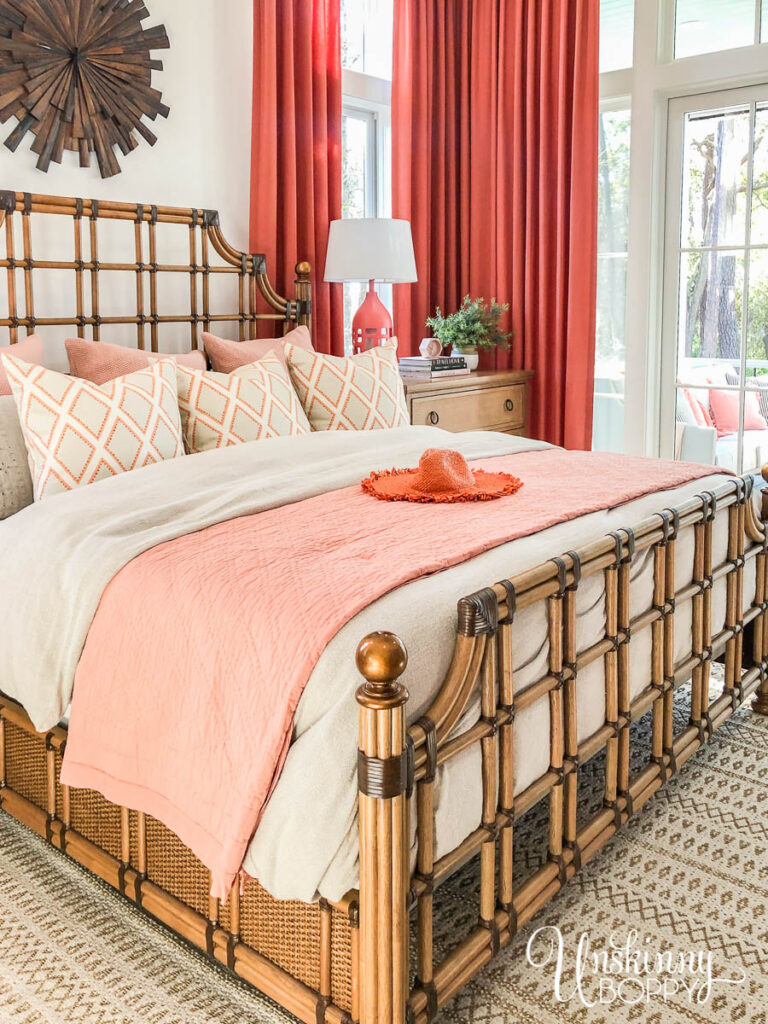 Another entire wall of patterned tile in the master bathroom must have cost a fortune, but it sure is pretty!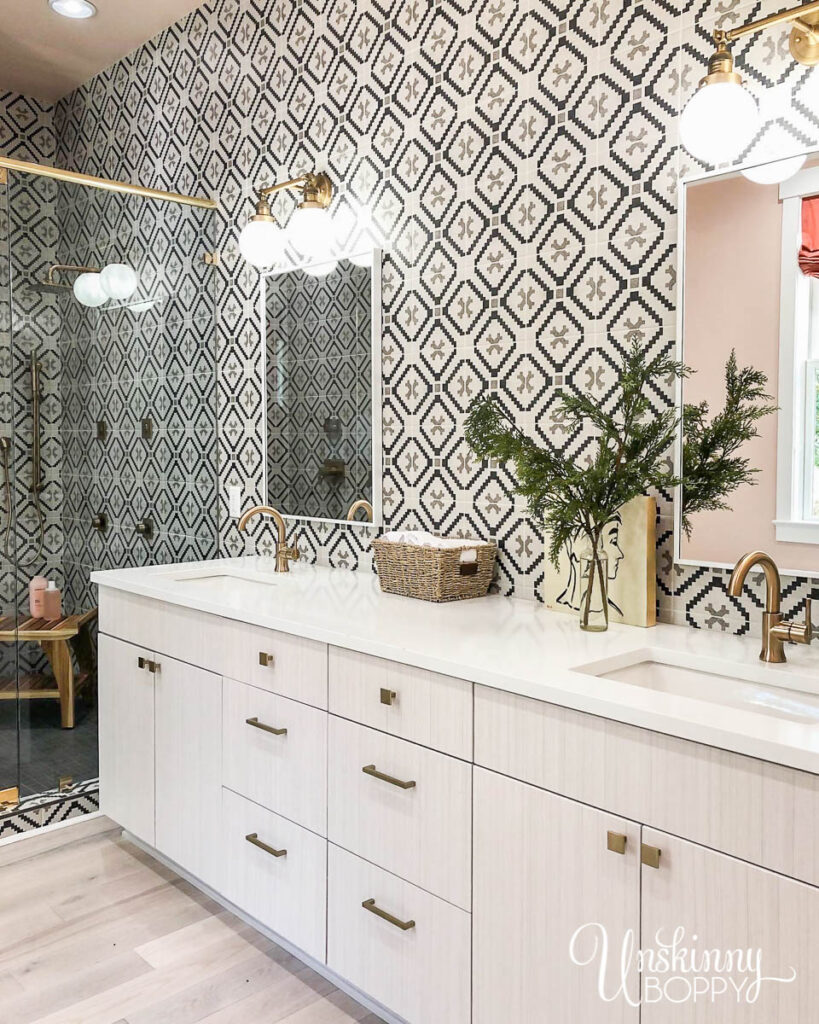 I could absolutely see myself loving this master closet if it were mine… sigh…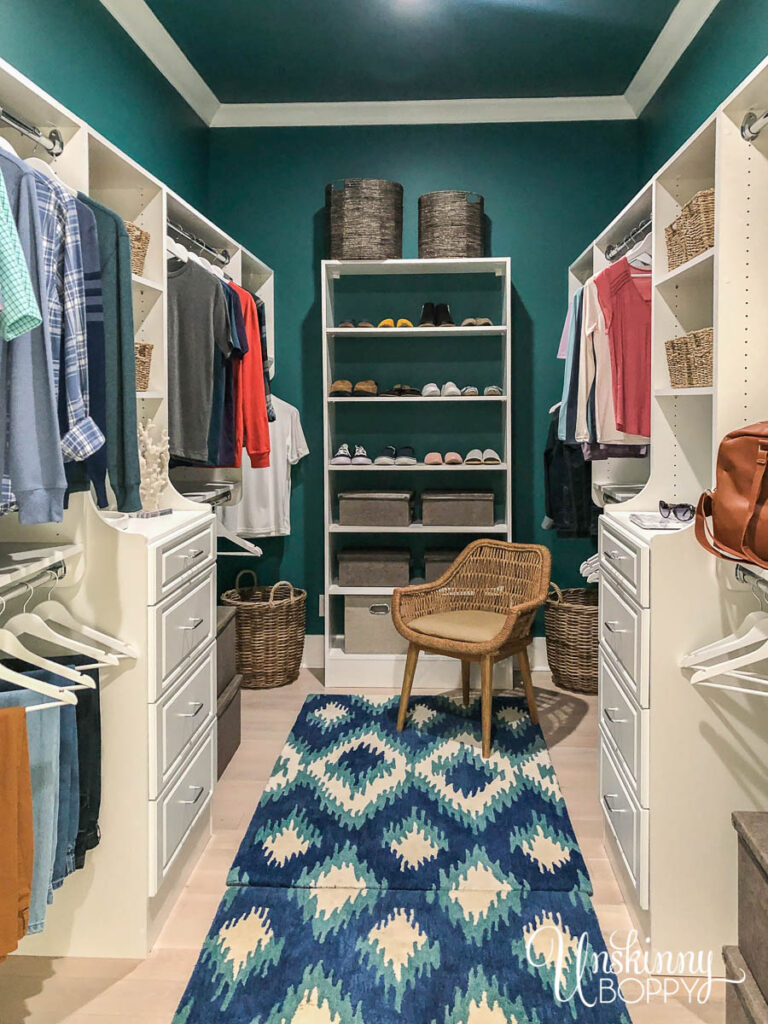 Upstairs, there was a balcony area big enough for a foosball table and another card playing table.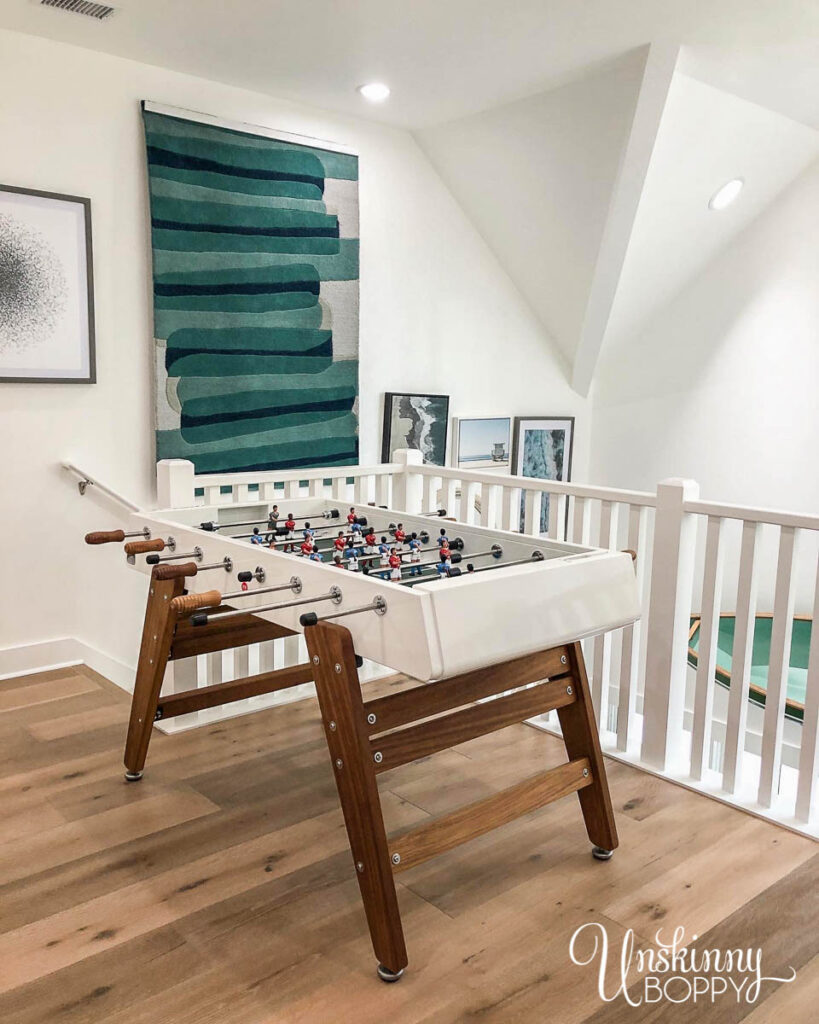 I played my friend Rhoda's husband Mark in a quick game of foosball. Now, I'm not one to brag, but I was the reigning foosball champion of my group of college friends and let's just say… I've still got it. Sorry, Mark.
Y'all go read Rhoda's post about the Dream Home to see lots more pics!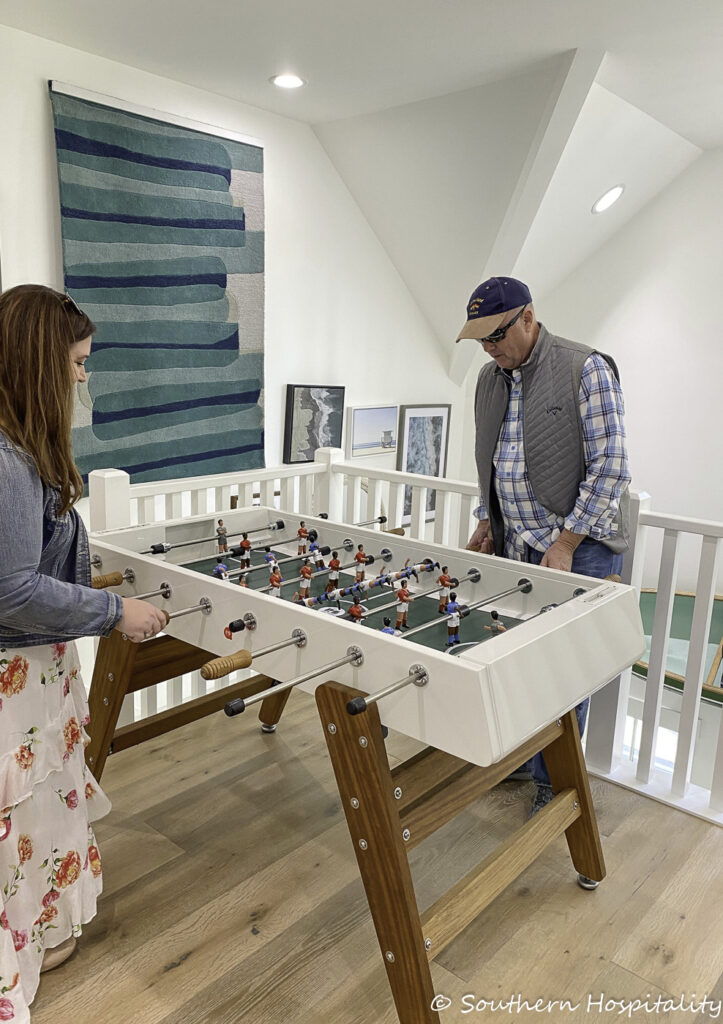 The two upstairs bedrooms were both cool and calm with gorgeous backyard views.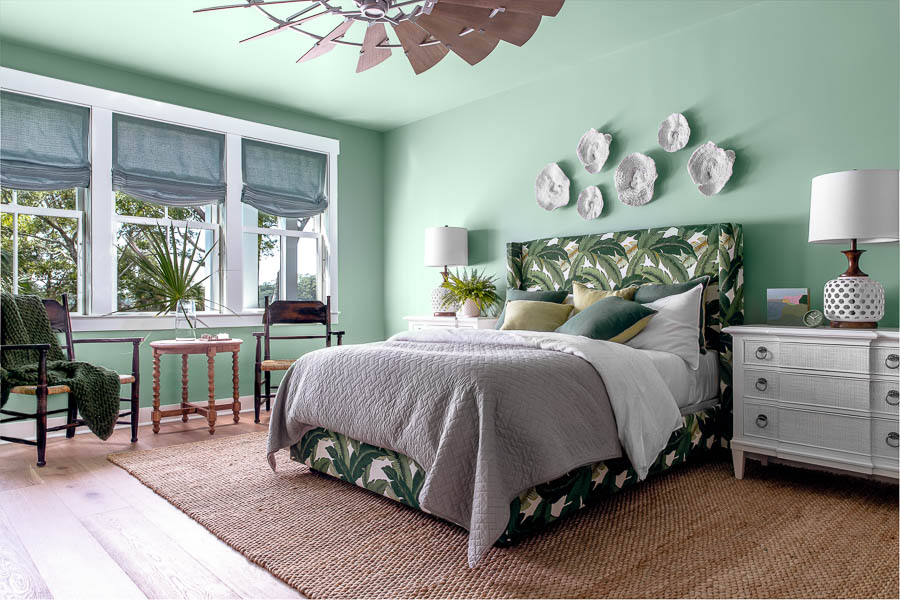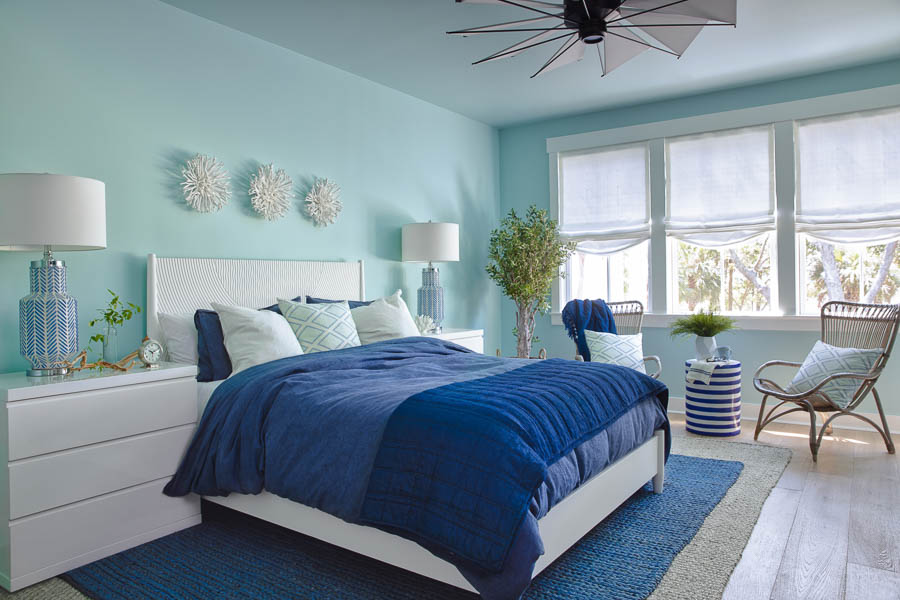 I absolutely ADORE this blue subway tile wall in one of the upstairs guest bathrooms.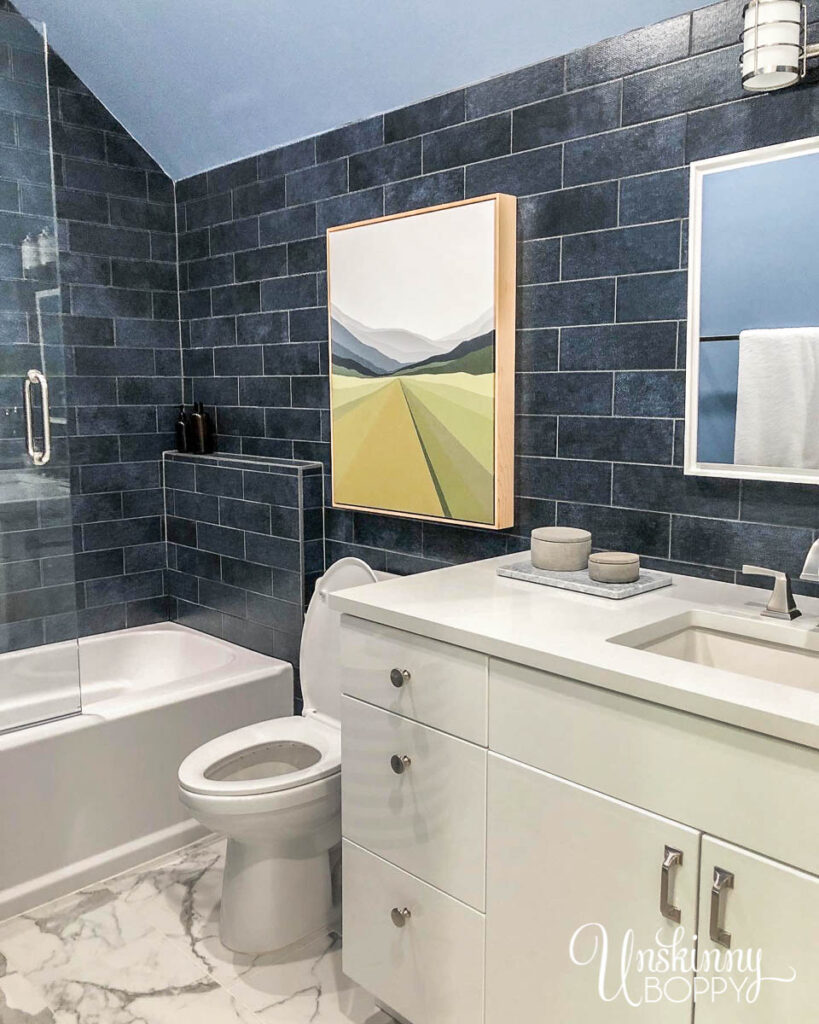 And it's hard to tell but this bathroom tile was in a herringbone pattern to give it some pretty texture.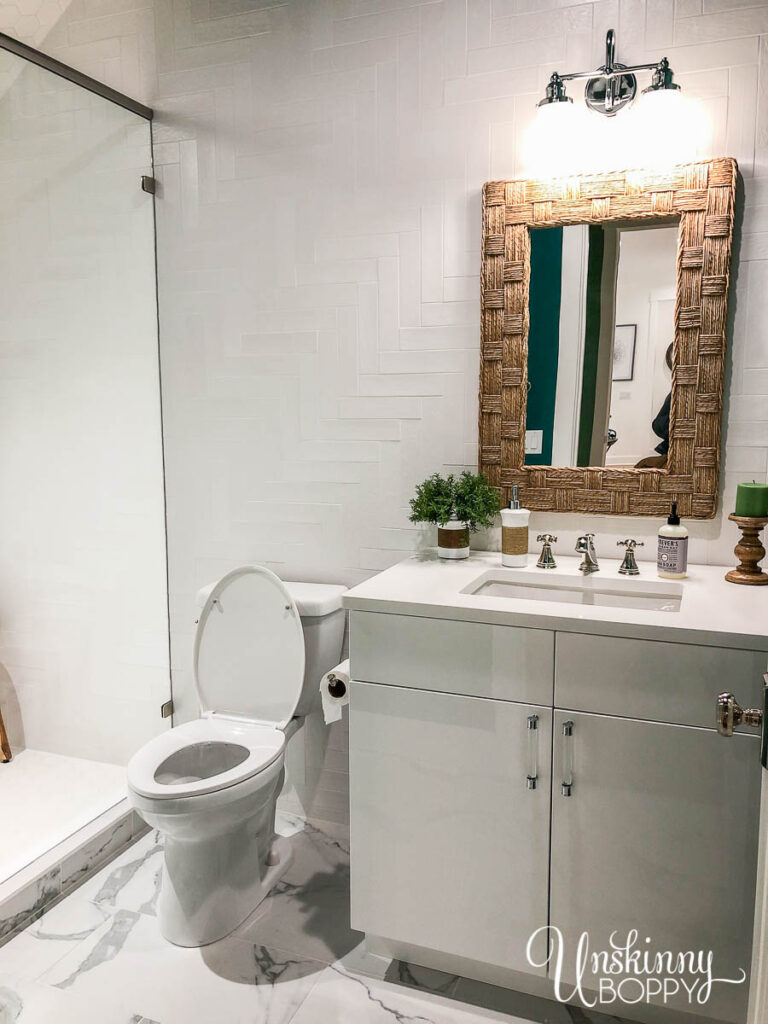 The best part of the upstairs was this family room that had doors out to a huge screened-in back porch.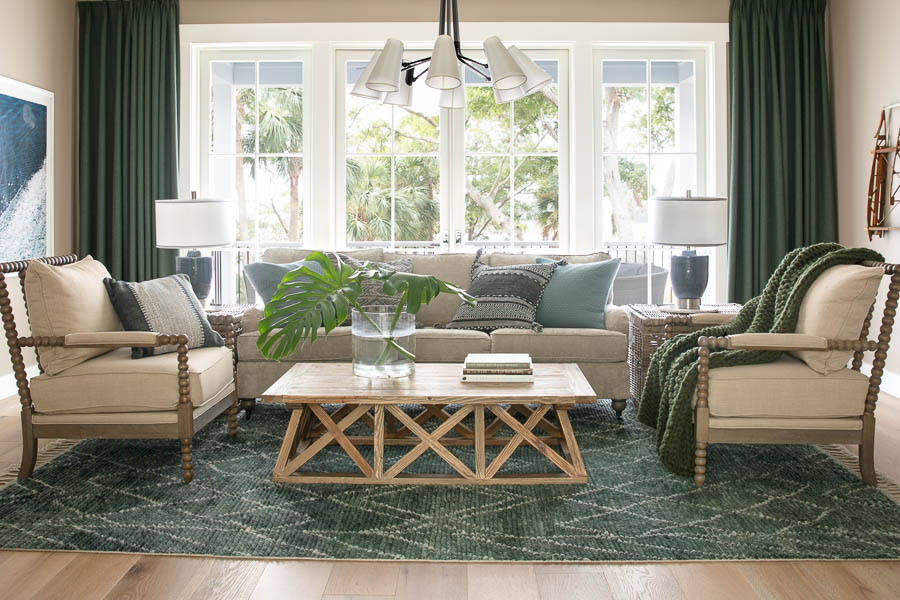 I should probably call it a veranda since it was pretty froo-froo, but I'm not that fancy so I still call it a back porch.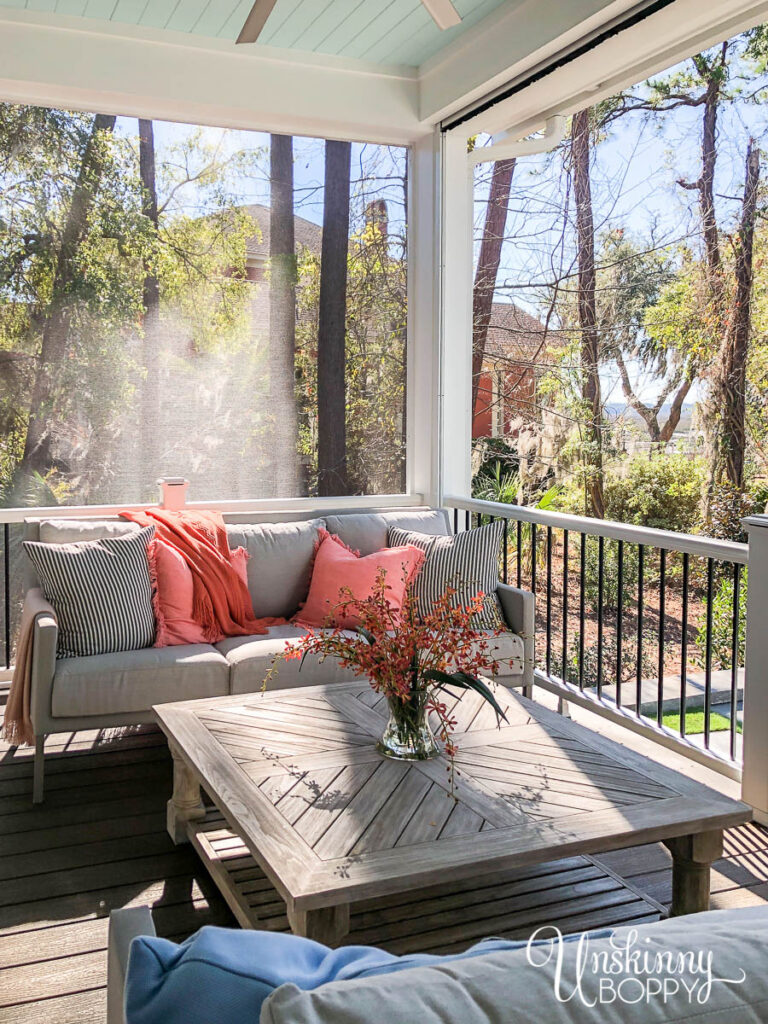 Underneath that porch was this huge seating area off the living room that overlooked the pool.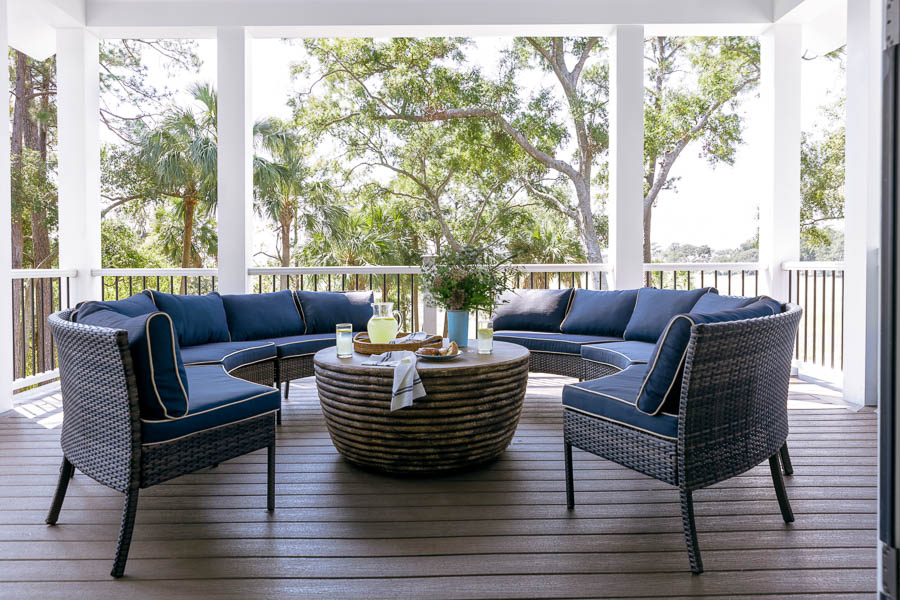 And beside that was the porch off the master bedroom. There were porches EVERYWHERE.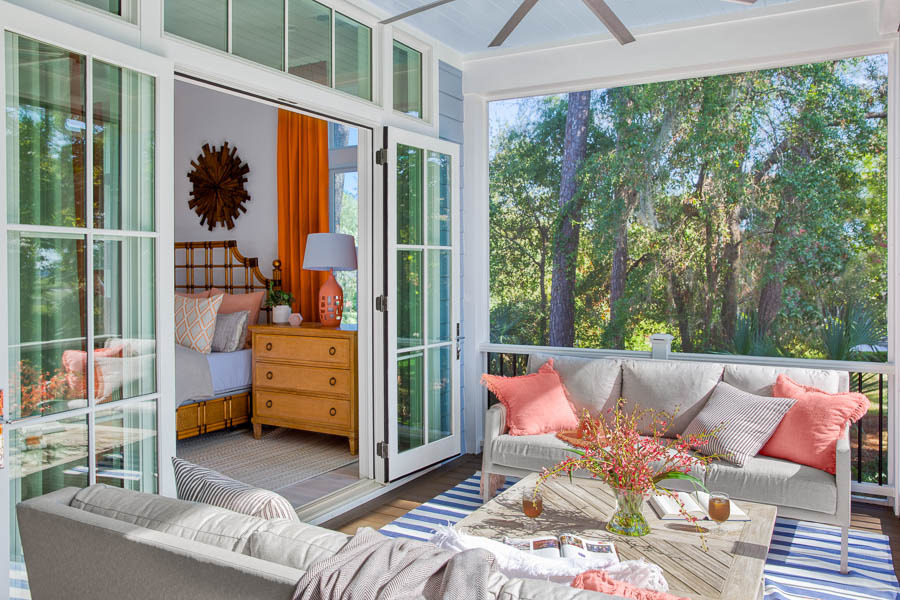 This house. This swimming pool. This dreamy backyard? They ain't calling it a Dream Home for nothin, y'all.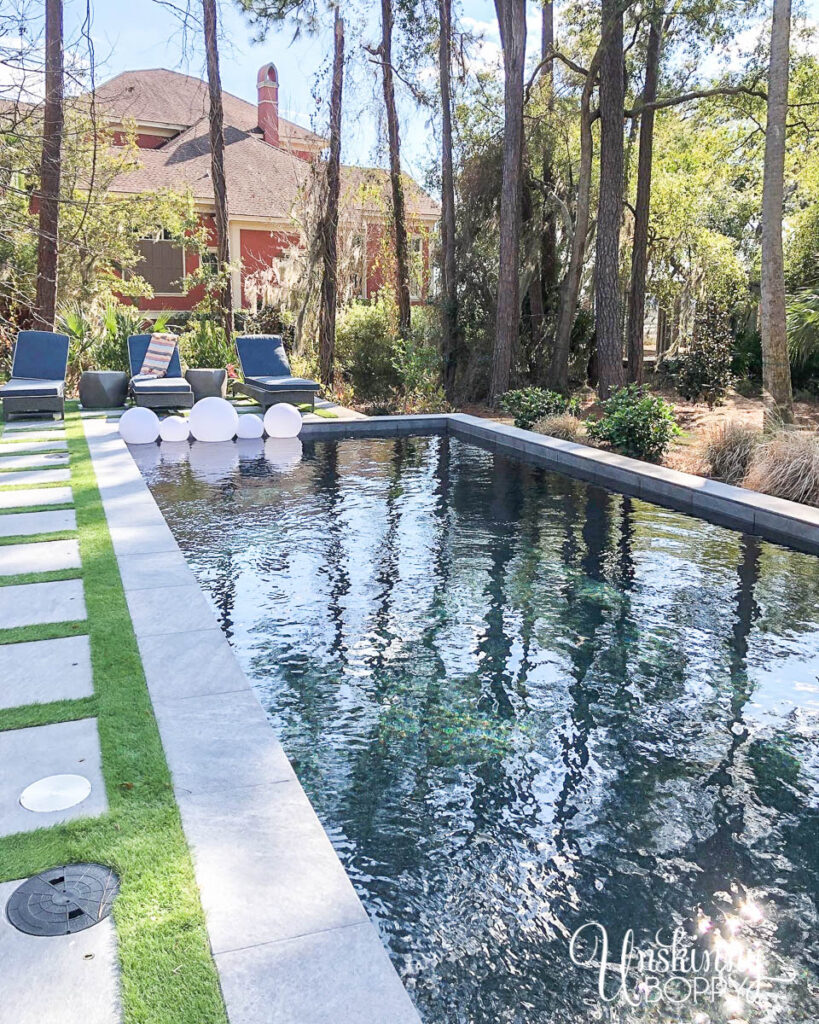 For all of you fellow floorplan lovers out there, here is the first and second floor layout of the HGTV Dream Home. It is a REALLY excellent floor plan, in my opinion. There were close to 60 people in and around the house while I was there and it never felt too crowded.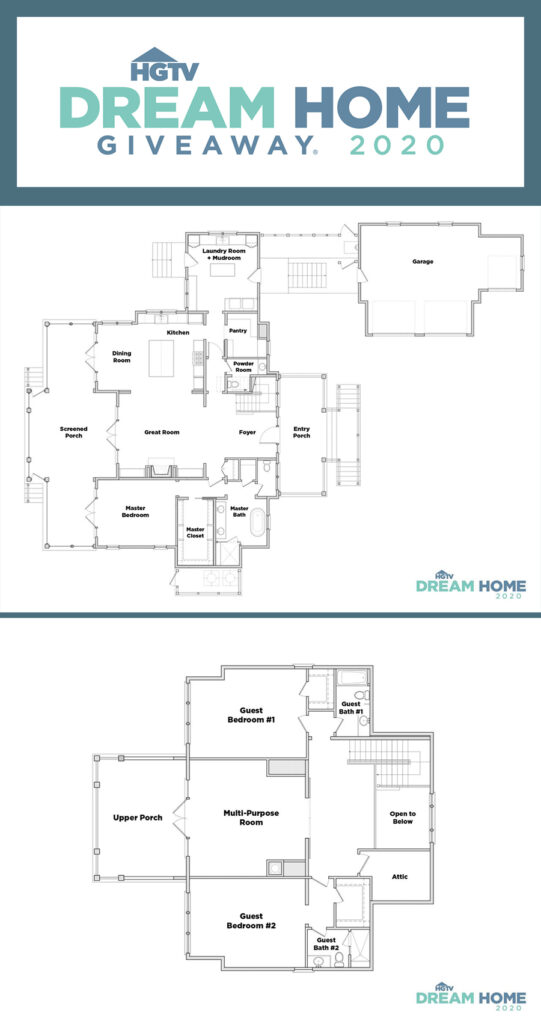 ---
How to enter to win the HGTV Dream Home :
You can enter to win the HGTV Dream Home twice per day at HGTV.com/BrunchofDreams.
Now is your chance to win this home, that pretty blue Honda SUV and ALSO $250,000 to pay the taxes on it all!! WOW!
The HGTV Dream Home 2020 grand prize package is valued at more than $2 million. In addition to the fully furnished home, the grand prize package includes a brand-new 2020 Honda Passport Elite and $250,000 from Rocket Mortgage® by Quicken Loans.
They will not spam your email, either, unless you check the boxes asking for them to, so don't worry about that.
The Sweepstakes ends on February 19, 2020, so hurry up and get those entries in now before it's over!
So, head on over to HGTV.com/BrunchofDreams and enter right now!!
Good luck to everyone reading this! I'm rooting for all of us!
And when you win, please invite me over for a fancy brunch on the upper Verandaaaaah. My non-fancy self will be there in a hot second.
---
Wanna see the AirBNB where we stayed in Hilton Head? It had a private beach and TONS of charm. And you won't believe the price!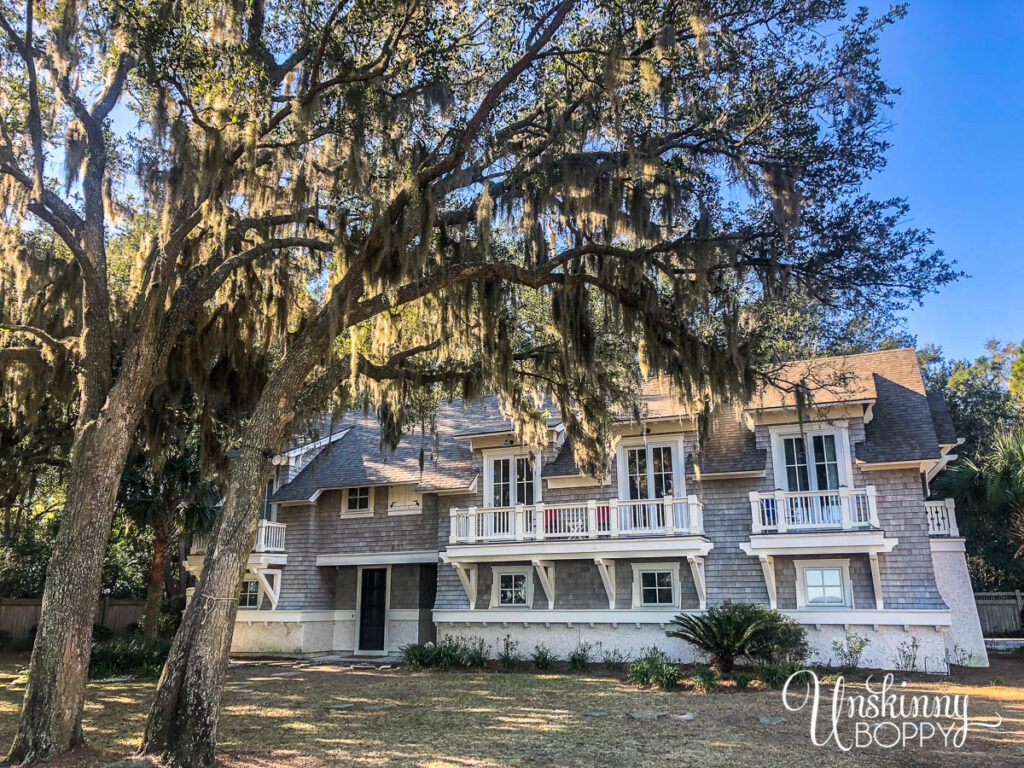 Disclaimer: I was invited to take this tour by Nancy at Forest Home Media, my fabulous PR rockstar friend who brings bloggers and major media brands together for events like these all across the Southeast. Thanks so much for the invite, Nancy! I truly appreciate you. I wasn't paid anything to write this post, it was an honor to get to take the tour with the HGTV folks!