Bye-bye water bottles, hello Royal Berkey! Three reasons why we love our Berkey Water Filter, PLUS I'm giving away a Royal Berkey to one lucky winner!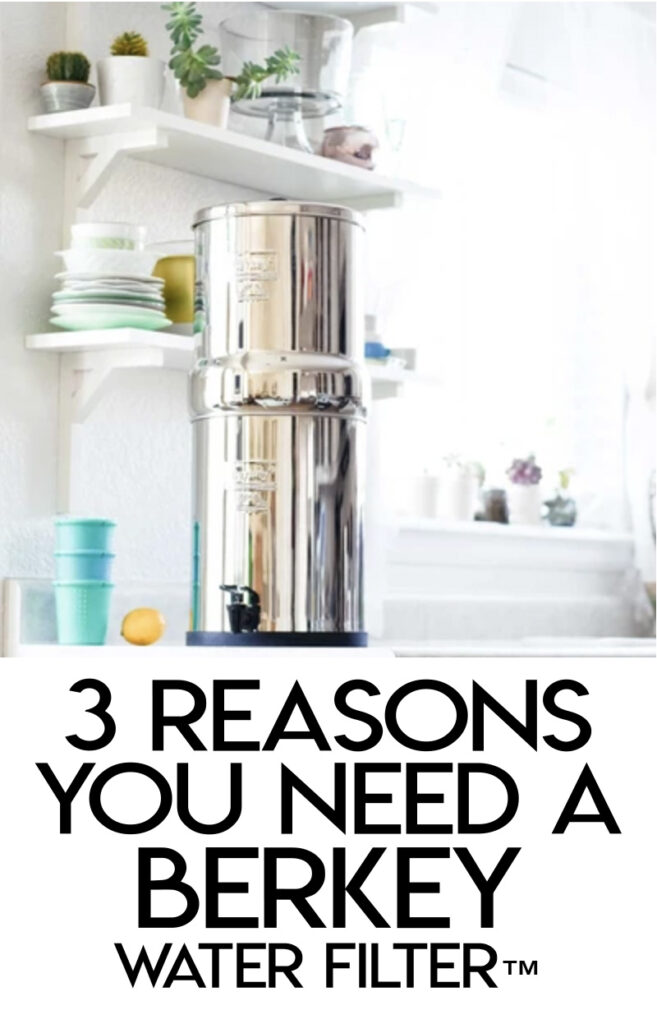 GIVEAWAY HAS ENDED- CONGRATS TO THE WINNER!
---
A few years ago I decided that I wanted to start filtering our tap water better. Don't get me wrong–we live in a place that has good water flowing from the tap– but I'd rather be safe than sorry, you know?

I looked into whole-house filtration systems, but those suckers are PRICEY. Then my friend Lisa at Farmhouse on Boone started singing the praises of her Berkey Water Filter, and I knew that was the one I wanted.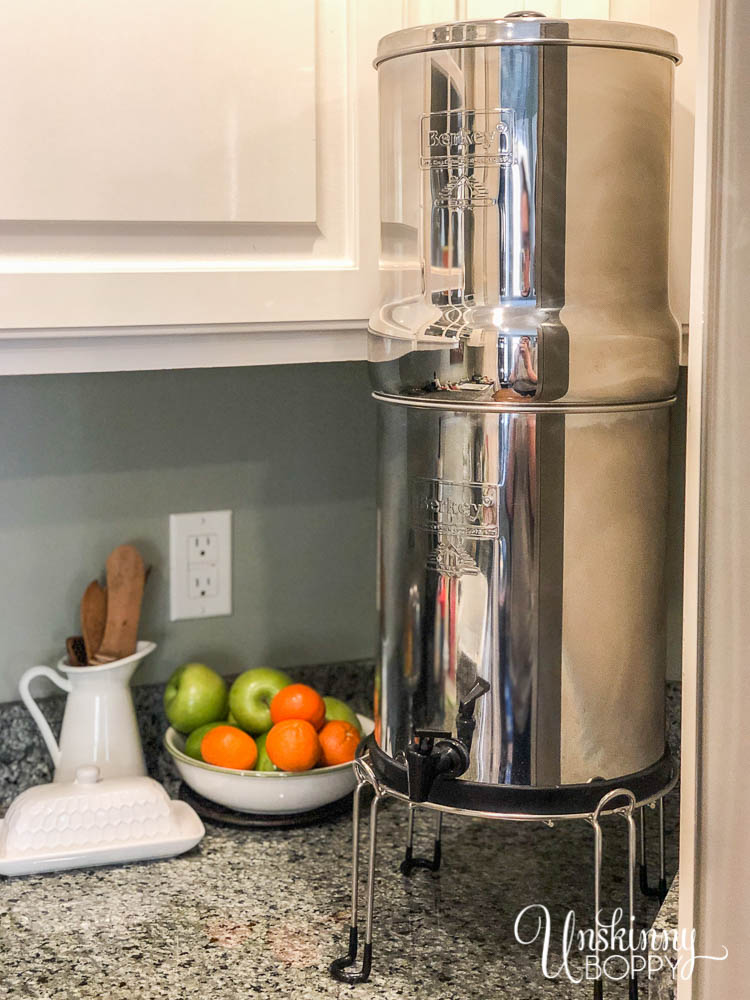 My Berkey Water Filter turned out to be the best purchases that I've made in a very long time, and here are the reasons why:
No More Plastic Water Bottles
This past summer we had 8 kids and 7 moms at our lake house for a weekend and I didn't buy a single bottle of water. Instead, I took our Berkey and we refilled cups and thermoses as needed. You know how kids will drink half a bottle of water and leave it lying around somewhere so nobody knows who it belongs to? Yeah, that is not an issue anymore.
Ever heard of the Great Garbage Patch in the Pacific Ocean? Experts say by 2050 there could be more single-use plastics than fish in our oceans. If that's not reason enough to stop using disposable plastic stuff, I'm not sure what is.
If you think you're doing good by recycling them… maybe. Maybe not.
Did you know most recycling gets put on a barge and shipped to Southeast Asia? I didn't until my city stopped their recycling program because costs had gone up to ship them overseas… I was like "What the heck?? My recycling has been going to ASIA?" I had no clue.
Here I was thinking I wasn't contributing to the Great Garbage Patch because I'm an American. But how do I know that for sure? Do I really trust that poor countries like Thailand, Malaysia and Vietnam are recycling my bottles properly or are they just dumping them straight into the ocean? Who could say for sure?
I'd rather just use my Berkey.
No more Funky-Tasting Water
We used to go through a case of bottled water PER WEEK. I'm ashamed to admit that, but it's true. Finally, I said enough is enough and bought each kid a stainless steel thermos to take to school. We use The Coldest water bottles and the kids love them.
But the problem with that? The chlorine from tap water seemed to intensify throughout the day. Nobody wants to take a drink of water and get hit in the face by the smell of pool chemicals.
The Berkey has eliminated that stinky water issue completely. It filters out all the bad stuff. Seriously, ALL of it. You can even buy additional fluoride and arsenic filters if that is something that concerns you.
In Case of Emergency… I've Always Got Water
Yesterday the general public finally realized it was time to start taking the Coronavirus seriously and everyone went to Costco to stock up on essentials in case they get quarantined at home. Then some Costcos started running out of water. #Imsorrywhut
With my Berkey, I could, hypothetically, pour a bucket of LAKE WATER (seriously) inside and it will come out as clean, clear drinkable water. That, to me, is absolutely mind-blowing and the #1 reason I bought a Berkey for our house.
I say hypothetically because there would literally have to be some Apocalype Now shizz going down before you'll find me hauling buckets of water from the lake to drink, but it's nice to know it's a last resort option.
Not every water filter will do this, but Berkey filters remove viruses and bacteria along with all the other chemicals. You can google more info about that lake water thing, but it filters out waaaay more than any other filter on the market.
FEMA recommends every family have an emergency preparedness plan in case of natural disasters or other disaster scenarios. With Coronavirus likely to become a Pandemic soon, who knows what might happen. Let me say that I don't expect the electricity or water supply to stop just because of Coronavirus. This has not been an issue in Wuhan, China and they've been on lockdown for 6 weeks now.
But who knows? Tornado season is here in Alabama. Earthquakes, hurricanes… things happen.
I hope and pray that it never comes to that here in America, but if the tap water stops flowing for any reason, I feel WAY better knowing my family will have plenty to drink with the Berkey and a nearby lake (or bathtub or swimming pool, if you've got one) holding water for me.
If I have to go all Caroline Ingalls up in here hauling water from the creek, I totally will.
The Cons of a Berkey
So, I cannot talk about all the positives without at least mentioning some of the things that I dislike about the Berkey.
Size- this thing is BIG. The Royal Berkey is 24″ high, which means it will not fit underneath an upper cabinet on your countertop. I have a weird niche beside my refrigerator where mine sits to be out of the way, but you definitely need to consider where you will put it.
Weight- A full Royal Berkey weighs 35 lbs. That's more than most toddlers. It holds over 3 gallons of water, so it's definitely not light. If you cannot lift that much weight, you'll need to keep it filled with pitchers of water instead of at the sink.
Price- The Royal Berkey is on sale right now for $300. That's definitely not in everyone's budget. But it is worth the investment, in my opinion, just for the peace of mind it brings me.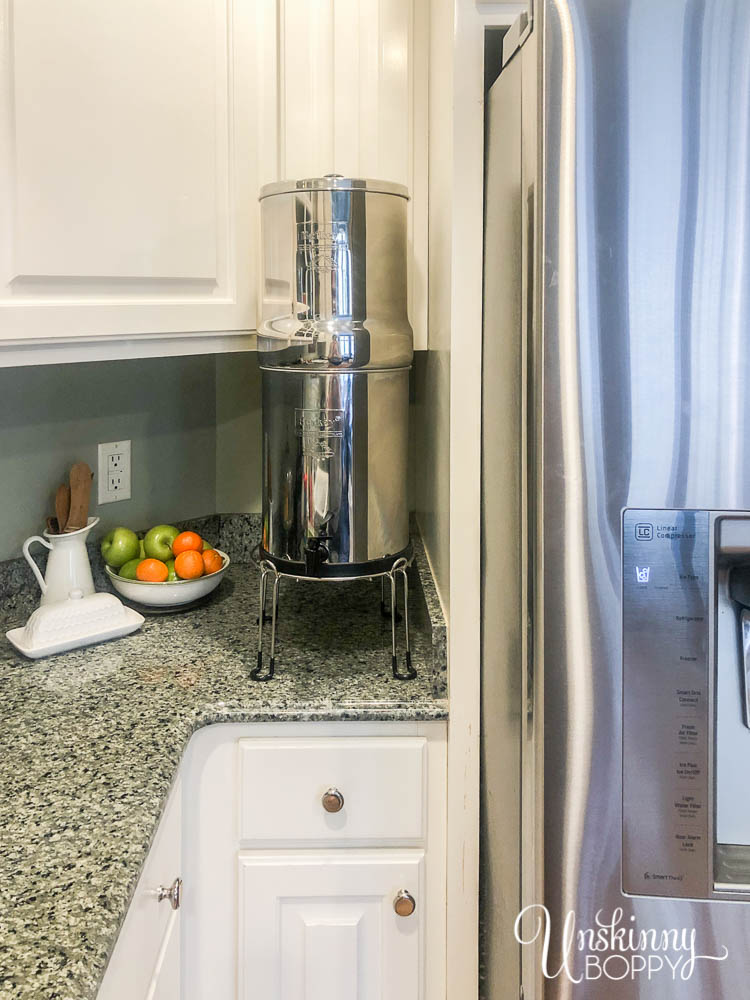 ENTER TO WIN A ROYAL BERKEY!
I'm SO happy to be partnering up with Berkey Filters today to give away a 3.25 gallon Royal Berkey Water Filter to one lucky blog reader this week!! To be entered to win, fill out the Rafflecopter entry form here:
a Rafflecopter giveaway
The Fine Print:
Contest begins March 1, 2020 and ends at midnight on March 8, 2020 (EST).
1 winner will be chosen from the continental USA or Canada.
Read the full terms and conditions on the Rafflecopter giveaway.
Like this post? You might also need to read this:
Disclosure: Berkey is not paying me to write this post, but they are giving me and one lucky reader a free Royal Berkey! Woot!