Craving doughnuts but don't want to drive to the store? This easy homemade doughnut recipe can be made from scratch using pancake mix! They are such an amazing treat to bake at home!
---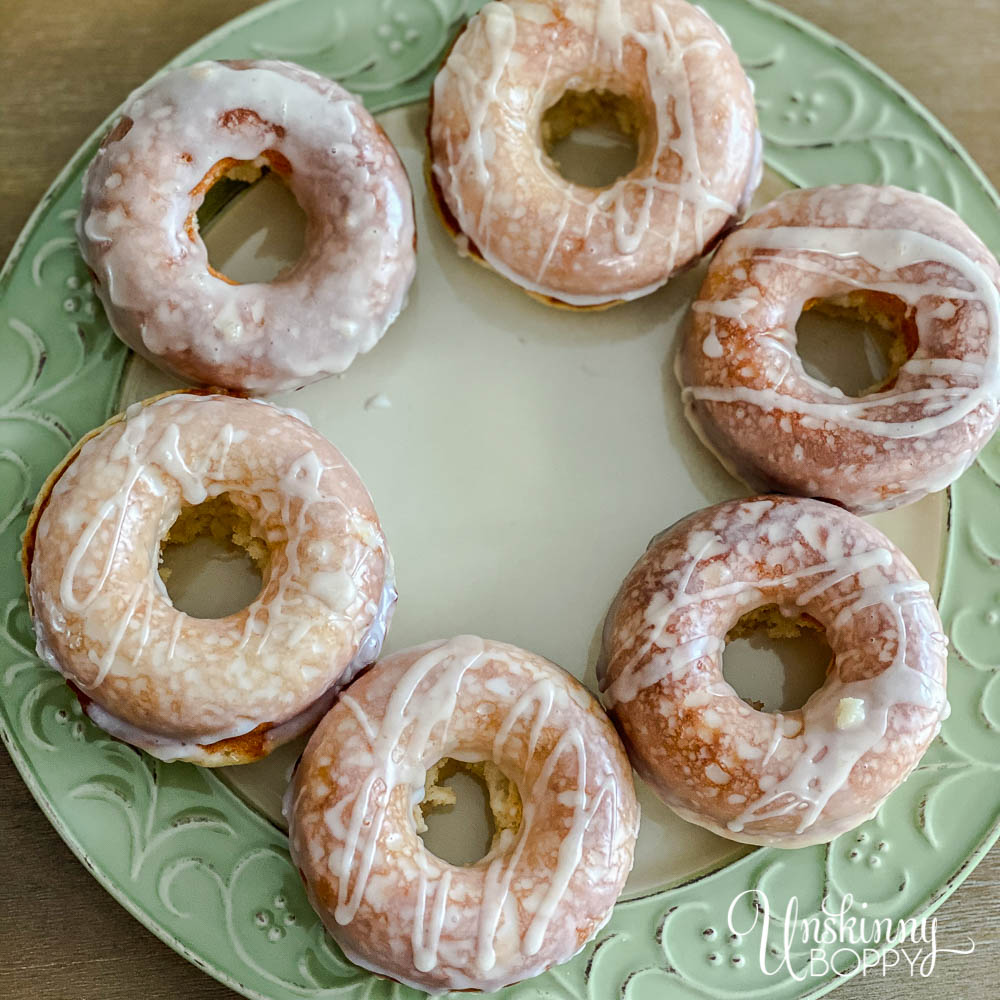 Just gonna say it. Doughnuts are my biggest weakness.
Right now, during this 2020 pandemic/quarantine/lockdown which is arguably one of the top ten most stressful times of my whole life, I.WANT.A.DOUGHNUT.
I tried really hard to not give into the temptation, but eventually by Week 6, I could no longer hold out. I HAD to try to make some homemade doughnuts.
Here are the results. I was blown away!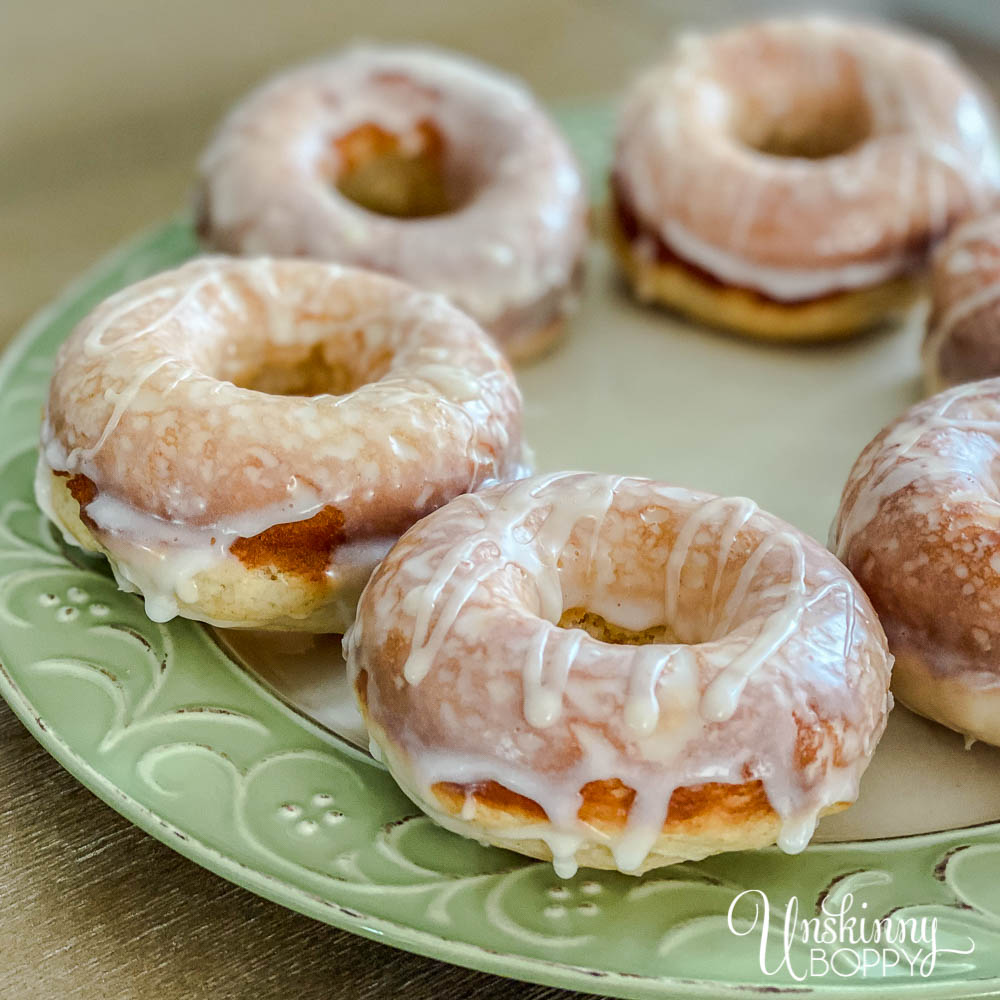 How to make the doughnuts
I knew I didn't have the patience to wait on any kind of yeast to rise, so I went through my mental pantry and decided to try to make them using Pancake Mix.
A lot of folks have pancake mix on hand right now since it's like one of the top 10 things to buy to survive the apocolypse, right? Preppers love some pancake mix.
I hacked my old recipe for Baked Buttermilk Blueberry doughnuts and came up with this homemade doughnut recipe that will absolutely knock your socks off.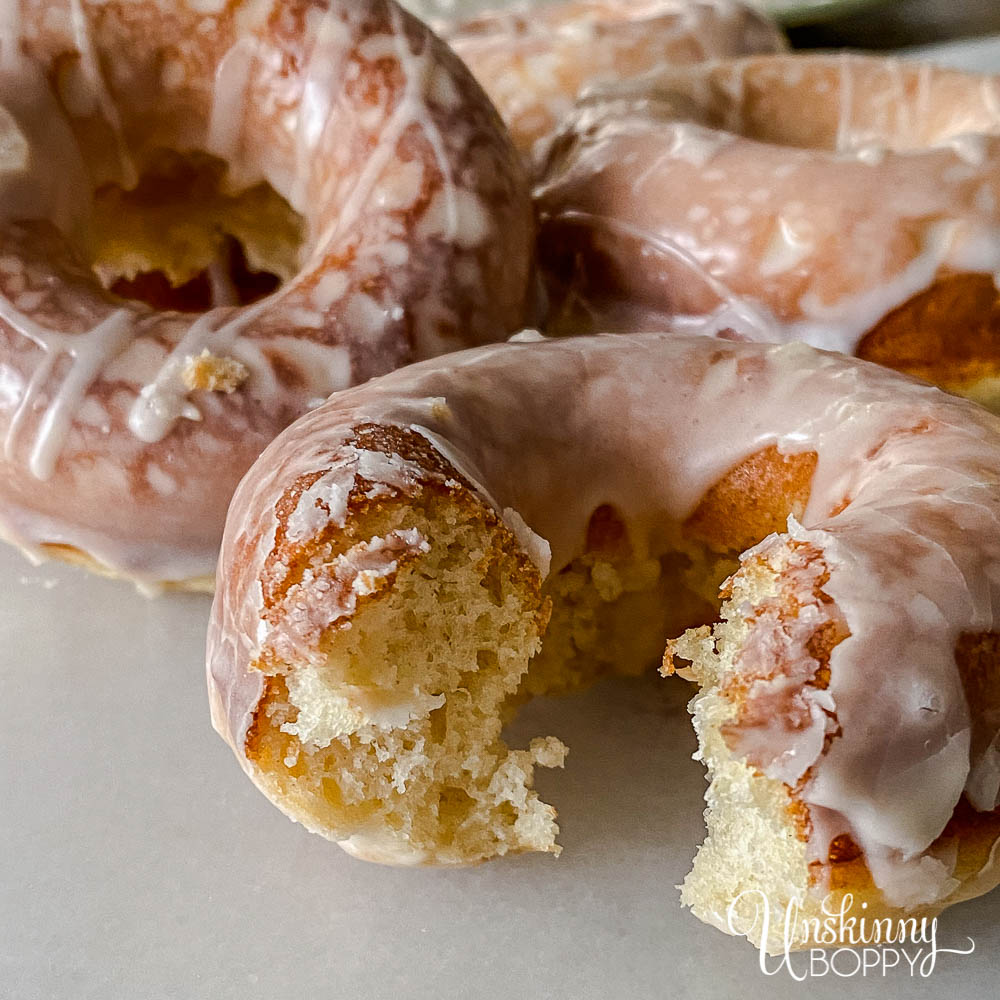 Homemade Doughnut Recipe (Baked, not Fried!)
Craving doughnuts but don't want to drive to the store? These easy homemade doughnuts can be made from scratch with pancake mix! They are such an amazing treat to bake at home!
Ingredients
2

cups

pancake mix

(I used Krusteaz Buttermilk)

1/2

cup

all-purpose flour

1

cup

white granulated sugar

2

large

eggs

1/3

cup

vegetable oil

3/4

cup

milk

(or buttermilk if you have it on hand)

1/4

cup

sour cream or plain yogurt

(I used Greek Vanilla Yogurt)

2

teaspoons

vanilla flavoring

(I used Watkins Vanilla Extract)

cooking spray
For Glaze:
2

cups

powdered sugar

4-5

Tbsp

milk
Instructions
Preheat oven to 400 degrees.

In a large bowl, combine all the dry ingredients–pancake mix, flour and sugar. Mix well and set aside.

In the mixing bowl of a stand mixer or a separate large bowl, mix all the wet ingredients–eggs, oil, milk, sour cream, and flavoring.

Using a mixer, slowly add the dry ingredients into the wet until a stiff batter is formed. Scrape down the sides of the bowl to incorporate all the flour. Do not overmix.

Spray the doughnut pans with cooking spray, then spoon the batter into each ring. You can also use a piping bag if the spoon is too messy.

Bake for 10-12 minutes until they are light golden brown.

Repeat until all batter is used.

Remove doughnuts from pan to a cooling rack. While they cool, make the glaze.
For the Glaze:
Stir together powdered sugar and 3 tablespoons of milk in a bowl. Keep stirring until it all comes together. Add 1 tablespoon of milk at a time until it is pourable but still thick.

When doughnuts are cooled completely, dip them in the glaze and put them back on the cooling rack with a cookie sheet underneath to catch the drips.

Serve when the glaze has set. Enjoy!!

Now add more flavors!
PRO GRANDMA TIP: If you can find Watkins Vanilla Nut extract, USE IT. It will take this recipe to a whole new level. Unfortunately, it's getting harder and harder to find these days. I had a few drops left so I added it to my batter and WOW it's amazing. I also love Watkins Caramel extract to make things taste extra special!
The best part about this recipe? You can use it as a base for other flavors of doughnuts! If you have extracts or food-safe essential oils on hand, you can make all sorts of amazing flavor combinations.
I added 7 drops Young Living Lemon essential oil and folded in some blueberries to create Lemon Blueberry Cake Doughnuts that were absolutely amazing.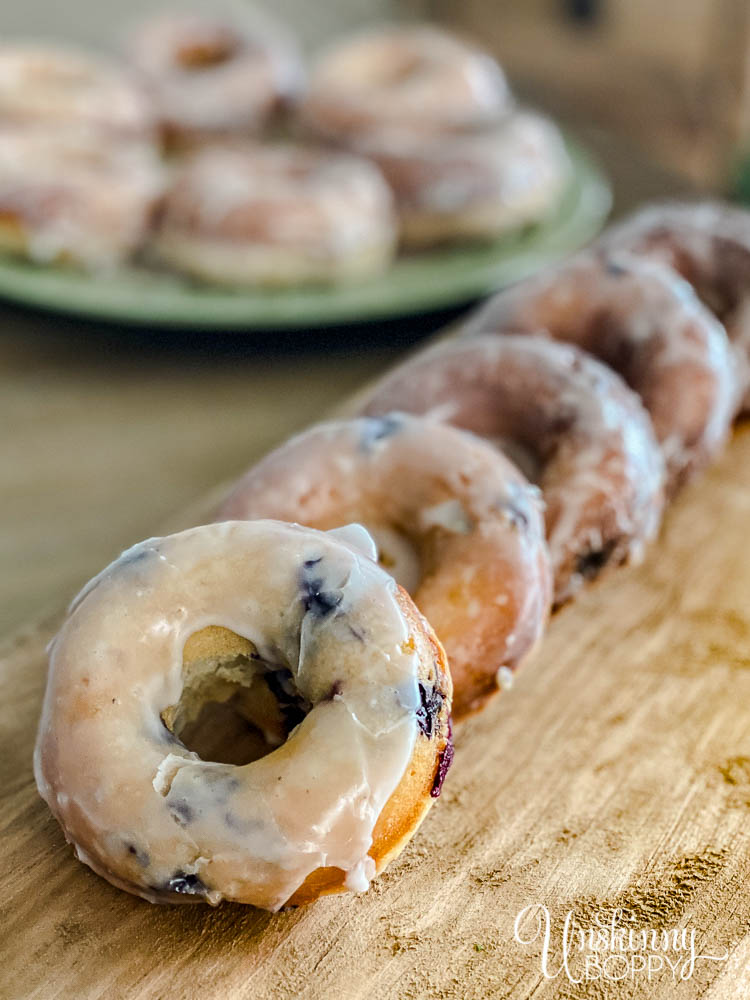 Homemade Lemon Blueberry Cake Doughnuts
If you have pancake mix and fresh blueberries, you won't believe how simple it is to bake this amazing blueberry cake doughnut recipe at home!
Click Here for the Recipe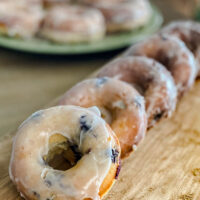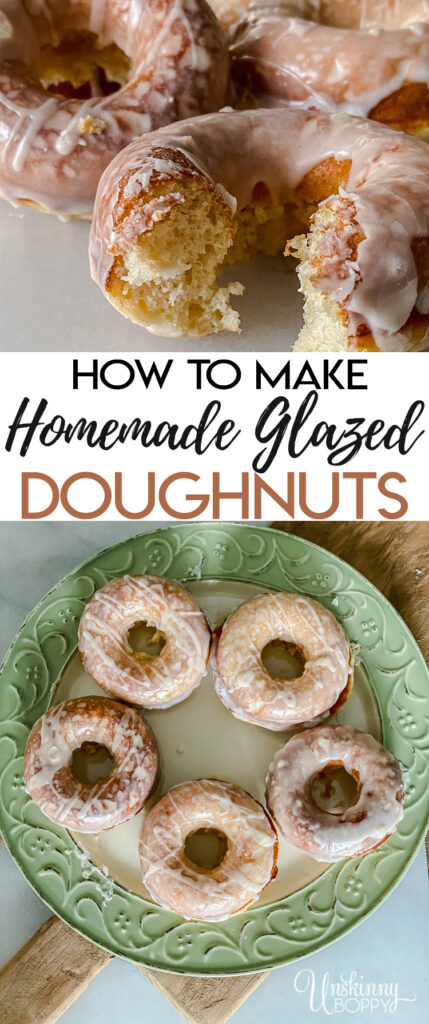 Don't forget to PIN IT for later!