One score and one year ago I wrote a little entry called Curtainless Showers and Other Keepin-It-Real Tales of Moving Woe.
Fast forward to today, and that woe is still hanging around here in full force.
We're trying to do everything we can to make our house look better and stand out from the other four or five hundred houses for sale in our area. One of the suggestions from our Realtor was to make our front entrance as welcoming and as Wow!ing as possible.
So this weekend I set to work making my old weathered front door shine again.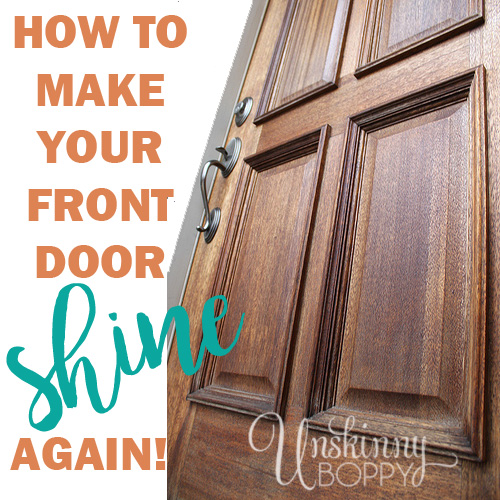 After five years of ugly Alabama weather our front door was looking pretty shabby. The bottom half was gray and ashy from all the grime and fading, thirsty wood. The door was dying for some moisture which I have failed at providing until today. Sorry, door.

I should have taken better care of you over the years. I didn't really know that wood needs a little lotion every now and then just like my legs in the winter time.
Unfortunately I don't have any "before" photos (too lazy to go get the camera!) but here are the "afters".
Look at the shine! Love it!
Now here's how I did it.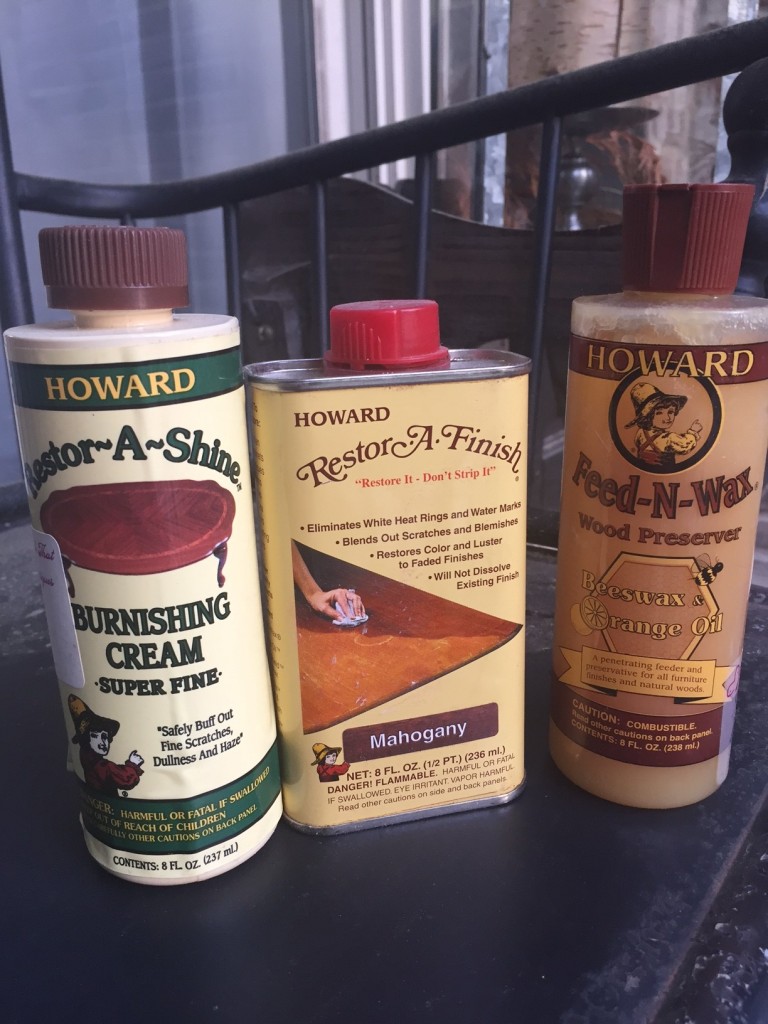 See all this stuff? Those are my secret weapons. Steel wool. Paper towels. Howard's Wood Products.
I bought the wood restoring products at a little antique store here in town. I intended to use them on my dining room chairs, but never got around to it. When I cleaned out my laundry room I found them again and decided to use them on my door instead. See? All that hoarding does pay off.
First I scrubbed the entire door really lightly with a damp steel wool soap pad and Howard's Restor-a-Shine burnishing cream.
Next I used a damp paper towels to wipe it all down and get the surface grime off.
Then I applied Howard's Resto-a-finish in Mahogany using a dry paper towel.
Then I went back over the entire door again with Howard's Feed-n-Wax. It has orange oil and carnuba wax, so it really helped to make the wood gleam.
And that's it! How simple was that?
As you know one thing snowballs into another on a project like this, so I enlisted my 6'2″ husband to come out and clean the windows to remove all the cobwebs and gook.
We may not be having a mad rush of scheduled house showings, but at least I can say that my entrance is welcoming for the next person who decides to take a peep.
May God bless their little house buying hearts.
Come on house… SELL!!!