A few weeks back I headed to Minneapolis, Minnesota for a dual purpose trip. The first being Watkins Annual Leadership Conference where I met a bunch of nice ladies who I've been wanting to meet for a long time. The second was to hang out my two favorite Midwestern girls, Allison of VAMH and Dusty of All Things G+D.
I love these two girls so much. They have become two of my best good friends along with a bunch of other chicks who I might have mentioned before on this blog.
Minneapolis was also a super cool place to visit! I admit to dropping quite a few bucks at the Mall of America like a good little tourist. I also got to see some unforgettable views of the city. Love this wall!
Months before this trip Allison had snagged some herb crates at Homegoods that were duplicates of the ones made famous by The Lettered Cottage.
Raise your hand if you recognize this photo: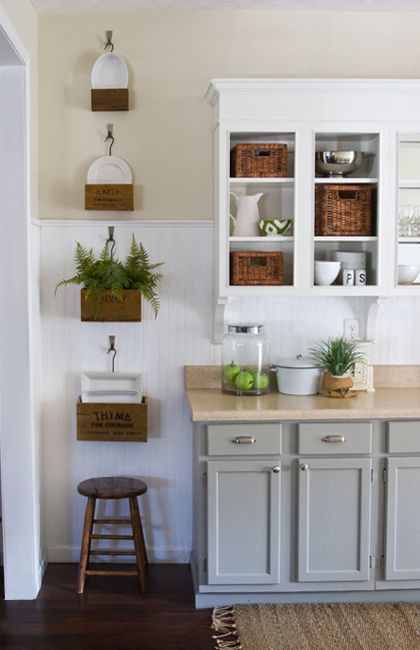 I mean… DROOL, right? I have loved those crates since I first laid eyes on Layla's blog.
So when Allison asked if I wanted the herb crates that she found I answered not yes but "Hell yes!" I'm telling yall, that girl is one of the sweetest, most giving people I've ever met. Her talent and generosity far exceed anything I could ever put into words here on this blog. I cannot thank her enough for giving me these herb crates, and also for letting me stay in her home, and multiple (MULTIPLE) other good deeds that she's done over the years. She is awesome.
When I traveled to Minneapolis, I packed an extra suitcase to bring those beautiful crates home safely. I had the perfect spot picked out for them in the new house.
Here they are!
I'm not afraid to steal great ideas and put them to good use. That's the beauty of the internet and design blogs. Ideas are just ripe for the picking.
I guess it's not exact plagiarism, since Layla froofed hers up with pretty little ferns and decorative plates.
But mine? Mine just hold all of Garrett's refrigerator toys.
What design ideas have you drooled over lately? Feel free to share so we can all go plunder new blogs for fun ideas!