To say that I'm happy with the way that the new kitchen paint turned out would be the understatement of the year.
I am ecstatic! Overjoyed! Thrilled! Just completely in love with the results.
I chose Restoration Hardware Silver Sage for the paint on the walls, and we also chose to add an extra few inches to the crown molding by using picture molding about 3″ beneath the existing crown and painting it all one color to match. Great decision there.
This paint changes with the light. When it's bright outside, it's a light blue/grey color. When it's cloudy outside, it's a warm green/ grey color. When it's dark outside, it's a cool silvery grey color. It's the chameleon of paints, I tell you.
That column really needs to scoot over so I can get a clear shot of the whole room!
Since everyone loves a good B&A let me show you how it looked before with the yellow paint from the previous owners:
And today with the new fresh coat of light blue/gray/green goodness on it and what appears to be some sort of alien spacecraft blasting off outside the window….
The Restoration Hardware Silver Sage paint color looks great with the cabinetry and the countertop and the kitchen table and the rug and the floors! You can't ask for much better than that.
The breakfast nook is about 50 jillion times better in blue than the old yellow paint.
Garrett jumped into one of my shots and I just have to show y'all his cute face. He makes me laugh.
Here is the before with the previous owners salmon colored curtains that I agonized over taking down. Um. Yeah. Now I don't know what took me so long.
And the after with the valances removed and new blue paint.
Ahhhhhhh… It's like my Paula Deen table went to the spa and came back all rejuvenated instead of jaundiced.
Even my favorite Scarborough Seed Company parsley, rosemary and thyme nesting herb boxes got decorated after they went back up on the wall this time!
The top one got a vintage Steubenville Woodfield blue leaf plate that I picked up at a yardsale last week for $2.00!
The middle one got a bundle of green grassy stuff that I've had for years (originally from Homegoods, I believe?) NOT rosemary, obviously.
The bottom one got an assortment of my favorite Willow House Villa Stoneware plates.
Here's a good B&A of the herb crates on the yellow wall versus the blue:
Before:

After:

Here is a shot looking towards the butler's pantry and dining room. I traded out the little slate topped telephone table that I had in this corner for a grey slatted table that I bought from The Foundary a few months ago.
I put a small chicken wire basket there in hopes of taming the clutter that is our junk mail. In the past this little area has turned into paper stacking central, but I'm giving myself a pep talk and making it pretty in an effort to keep it from piling up again.
I'm loving the rustic little display on the bottom.  Those log slices (aka Basswood rounds) are my decorating bread and butter these days.  i use them for everything.  That cloche is actual the top from a cheese dome I bought from the Pier One Outlet in 2004. Love a multipurpose piece with longevity. I'm combining my love of the mountains and the ocean with a weird little combo of birch bark candles and seashells but I think it works! We'll see how long it will last with a 3 year old running around.
I love the quatrefoil design on this Willow House Keepsake card and photo display thingie. It's so pretty! I need to find a new spot to hang my keys, though.
My encaustic photo frame is super happy sitting on this new blue wall!
I could just not be any happier with the way the kitchen turned out. I'm SO happy I chose this paint color in here! I was so worried about choosing a paint that would make my glazed kitchen cabinets look really dingy or dirty but this paint doesn't do that at all. If anything it makes them look LESS dirty than the yellow. More vanilla and less lemon. I can dig it.
It's perfect. This paint makes me so happy. Total mood lifter.
Hooray for blue! I love you, Restoration Hardware for creating the perfect grey/blue paint!   For those of you who asked for the numbers from the paint can lid to get this color matched at your local Sherwin Williams, here you go! Hope this helps!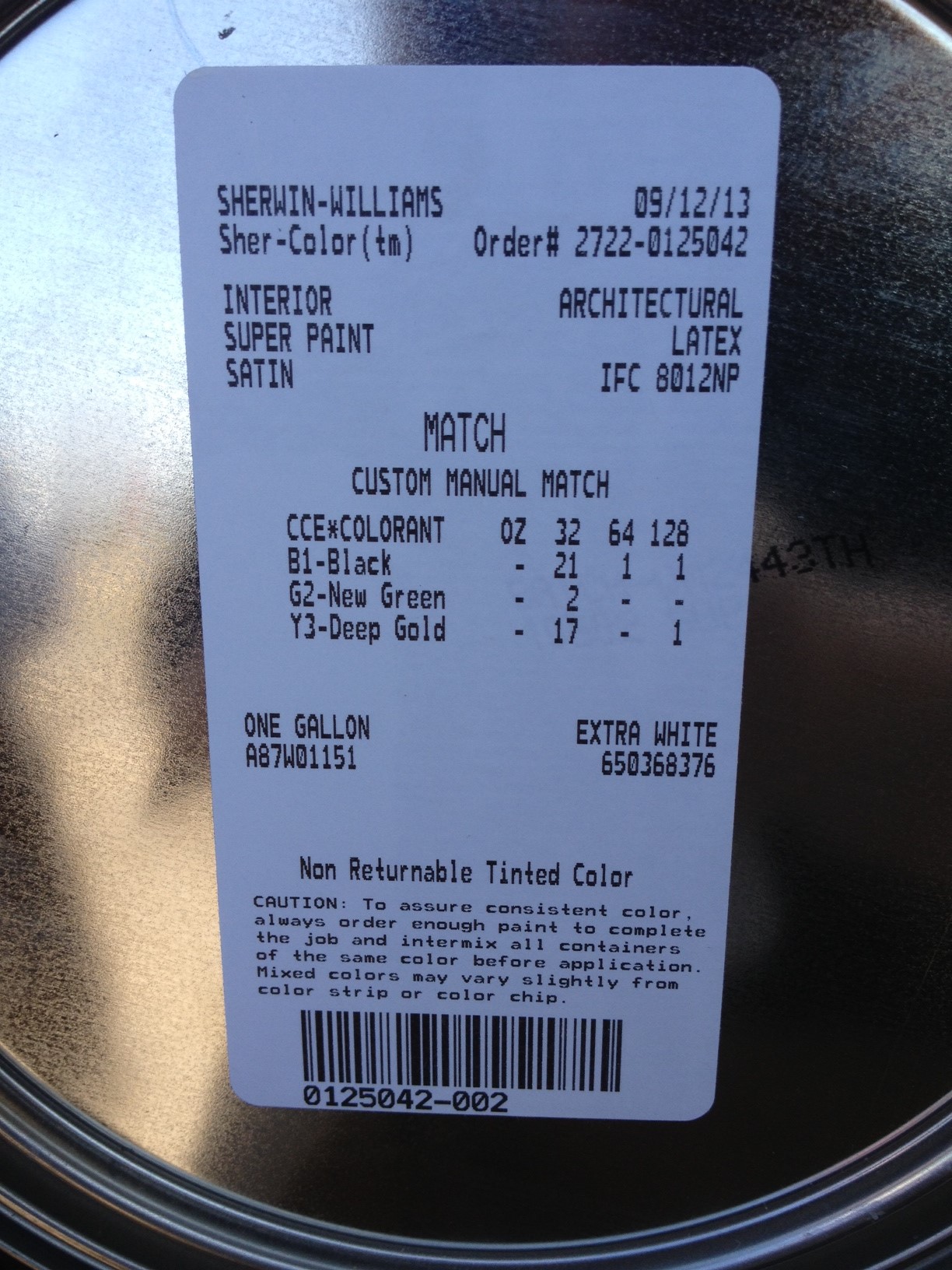 Be sure to stop by my Home Tour to see the other rooms in my house painted with Restoration Hardware Silver Sage!  (hint: there are a lot of them!)