Have I mentioned how much I love distressed furniture? Yeah…I've got a little bit of an obsession with it. But now when I walk through antique stores and see a really cool distressed piece I think to myself, "Self, you could do that!" Ever since I started using the Caromal Colors distressing kit, projects like that don't scare me as much.
I needed a piece of furniture for my living room that was happy and bright and would fill up the space on the wall. I searched stores all around my area and didn't find anything that caught my eye. Then I started thinking about what pieces I already had that I could makeover for the space.
Here is the piece before and after: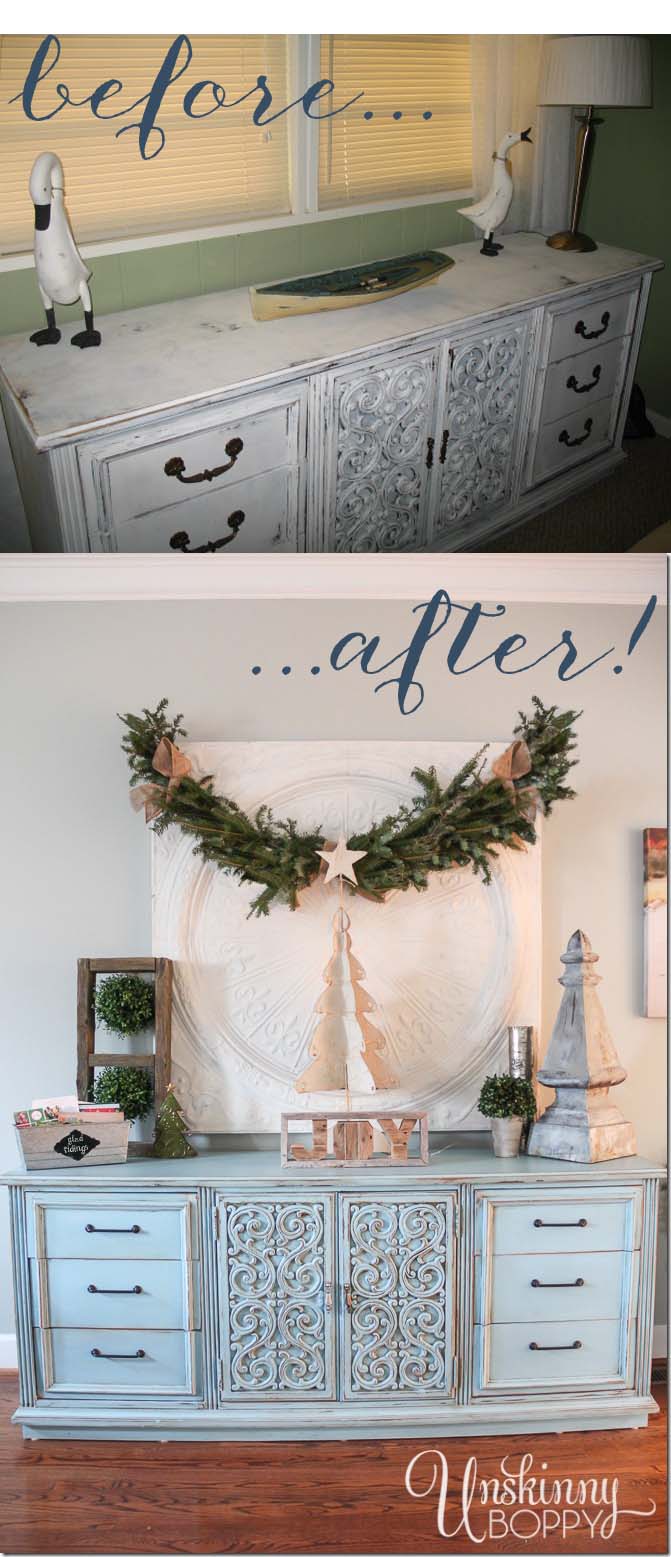 I had an old quart of robin's egg blue paint leftover from a free Glidden paint internet giveaway a few years ago. Somehow, miraculously, we were able to put our hands on it after the move.
J and I painted the whole thing with the blue paint first and let it dry.
Then I hit it all over with my heavy duty sander on all the corners and edges. After that I painted a thick coat of the Caromal Colours toner over the top of that and buffed it out with a dry rag. I am glad I have a stack of Garrett's old receiving blankets for projects like these.
When it was all dry I did take time to wipe out all the dust from inside cabinet. YUCK!
Here is the finished result:
I need some new pulls for it. I spraypainted the old ones silver for the time being. And yes, that is a shoestring on the top left. It's my stand-in for the broken pull until I can find some new ones that I like that aren't uber expensive.
But you know what? Even with a shoestring for a pull, this piece just makes me smile when I look at it. I love it. I'm working hard to bring more light blues and greens into my house instead of all the burgundy from the last house.
I'm still playing around with the stuff on top. Here's some good news–I think I might have finally found the perfect spot for the big ass manzanita branch!
If you are interested in buying some Caromal Colours for your projects, please visit my friend Patty Henning's blog. She is so helpful and encouraging, with tons of great info on the different types of paints and toners she sells. Any questions you may have about this stuff, I'm sure Patty can answer!
UPDATE 2011- Come see the new living room paint with the aqua dresser!