Last Friday afternoon I turned off of Real Life Drive and went riding around the backroads of Alabama with the sunroof back on a perfectly cloudless day. I met a customer for a site visit and then took the long route back home through the woods. My friends Jamey Johnson and Eric Church and Colt Ford came along for the ride.
It was like my soul rejoiced. Being alone in the car with the freedom to crank up the radio with my own music? Heaven. Do you other moms miss just riding alone? Man, I miss it some days.
Along my drive, I saw a bunch of handmade signs on neon poster board pointing to an estate sale. I was in the mood, so I followed that rabbit trail down to a house that was out in the middle of nowhere across the road from Lake Neely Henry.
Here is what I saw when I pulled up.
The house was overgrown and the back half of the barns had been hit by one of the April tornadoes. I was PUMPED to see inside this house. And it did not disappoint. Between the huge house and the outbuildings it was jam-packed full of all sorts of treasures that would have made have made the Picker Sisters jizz in their pants. And then there were some things that would have made the Margo and Todd couple that we saw on our Lake Placid vacation pass out on the floor.
$75 bobcat anyone? Lacquered rattlesnake skin? Mallard duck? Deer mount? Rebel flag? Neon sign? Anyone? No?
The dude that owned this house wasn't just whistlin' Dixie. He had it plastered all over his man cave walls. I wish I had taken more pictures around the place, especially the wall full of empty George Dickel bottles. It was pretty amazing. I love Alabama and the people who live in it. With all my heart.
I brought home a few treasures, including this fishing creel-esque basket. Perfect condition!
I tied it onto my staircase with some pretty ribbon. Somehow I feel like I'm betraying the original owner of this basket by doing this. Maybe I shoulda dug out a frayed old trotline rope to tie it up with instead.
In the falling-down barn, I found a bunch of brown and white striped turkey feathers that came home with me for FREE. I am using these to decorate my fall mantel in the most authentic way possible.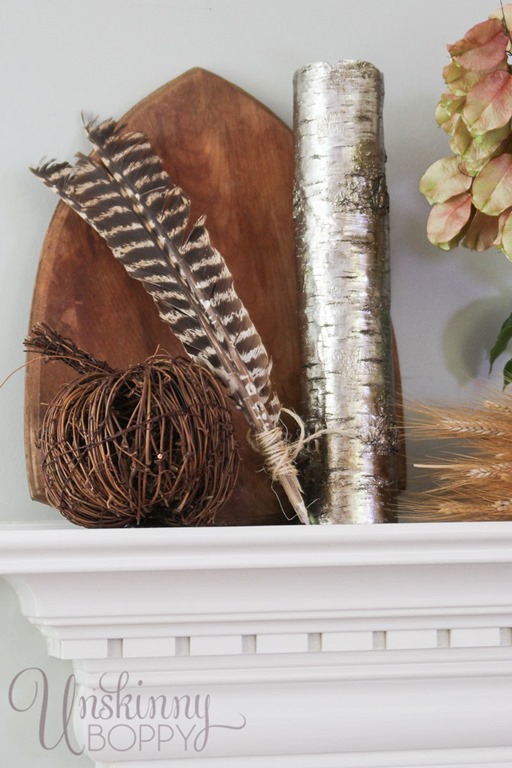 I also spotted this old blue Dietz #8 Air Pilot lantern in his barn, still full of kerosene and a dirt dauber nest. I knew it was coming home with me as soon as I laid eyes on it. When I picked it up an old farmer who was sifting through the tools beside me asked me if I was planning on going coon hunting with it. He said he had hunted many a coon with a lantern just like that one.
I'm going to see how much of the dirt I can knock off of it but for now, I liked the way it looked all dirty and beat up sitting next to my gigantor mums and blue pumpkins in the whiskey barrel.
And if I ever get a hankering to take Gus and Woodrow out in the woods to hunt down the varmint that tries to break into their dog food container I'll know what to grab first.