Allrighty guys, are you ready to hear all my dirty little secrets? I mean, these aren't like Katie Holmes / Tom Cruise tell-all dirty little Scientology secrets, but they are pretty dirty by my standards.
I'm about to reveal a lot of things that I'm ashamed to admit here on the old blog, but I'm hoping the end result will make up for it. Please don't run away screaming… at least skip to the ending if the middle part is too scary for you.
Let me begin by saying that an embarrassingly long time ago (for real, it was August of 2011. That's nearly a year ago, people.) I was contacted by a very nice man who represented Dutch Boy paints. He offered to send me two whole gallons of Dutch Boy Refresh Paint in exchange for the promotion of a fun contest that Dutch Boy was running last year called Restore My Decor. That contest ended approximately six months ago while I was busy boozing it up on Bourbon Street painting striped walls LIKE A BOSS, or I would totally link you up to it. I'm so sorry. 🙁
This paint has been sitting in my house for nearly a year waiting on me to get off my booty and do something about it.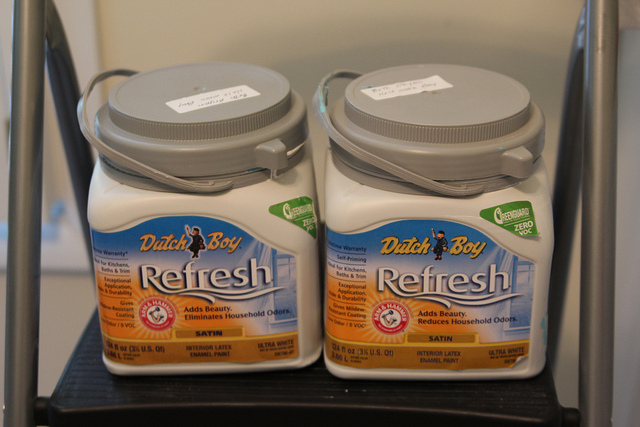 How shameful is that? Those guys were kind enough to send me free paint and this is how I repay them? By waiting so long to blog about that their contest ends. Oy vey. I'm so sorry, Dutch Boy!! That's not a good excuse, I know, but it's who I am, so there's dirty secret number 1.
This is why I don't sign up for Izea or SocialSpark or one of those marketing sites that sends you stuff in exchange for regularly scheduled sponsored posts. I really suck at this kind of thing, even when it's GREAT product like this one.
Lemme just say… the paint they sent me isn't just any regular old paint. It's incredible! It's a no-VOC latex enamel paint with Arm and Hammer odor-reducing technology. It literally sucks the stink out of the air and makes your house smell fresh. How cool is that? And it's much needed around these parts, with two enormous dogs whose crates sit in the garage right outside my laundry room door. And I do have to say the room has smelled a lot fresher since it was painted, but not in a fresh coat of paint kind of way. The paint fumes were very low and not overpowering at all. That was a huge bonus. The paint went on the walls like a dream, covering in just one coat with no problems. In fact, I painted this room all by myself, thank you very much. I thought it would be a breeze until I was up and down on a ladder all day long and wound up using the entire gallon of paint for the room! I guess I underestimated the size of this room, because I wasn't expecting it to take a full gallon of paint. But, I laid it on pretty thick because I had very minimal touchups. The paint coverage was incredible.
Along with the free gallons of paint, Dutch Boy was also kind enough to send me a paint fan chart! They actually sent me the fan first so that I could choose a color. I love paint fans. They make me so happy.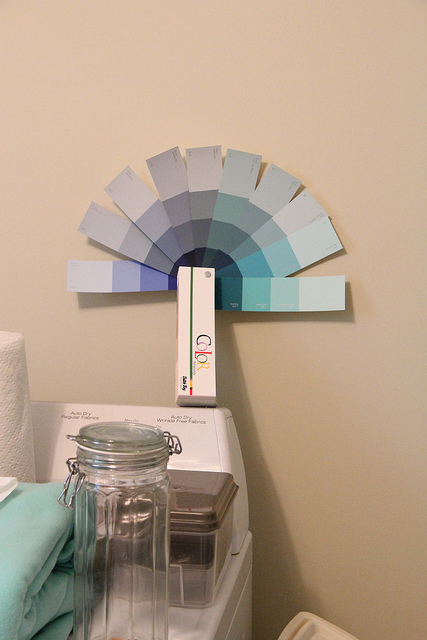 From the fan I chose this color for the walls- Dutch Boy Half Moon Bay (E4-3). It was the happiest color that I could find, and I knew I wanted the happiest color possible to liven up my laundry piles. It's like the color of a Smurf sitting inside a Tiffany box on the bottom of the Caribbean Sea. In other words…a beautiful aqua color! I love it!
OK, now let me show you what became of all that free paint and move onto dirty secret number 2.
You ready? Brace yourself.
The Keeping it Real "Before" Photos
Welcome to my dirty laundry room!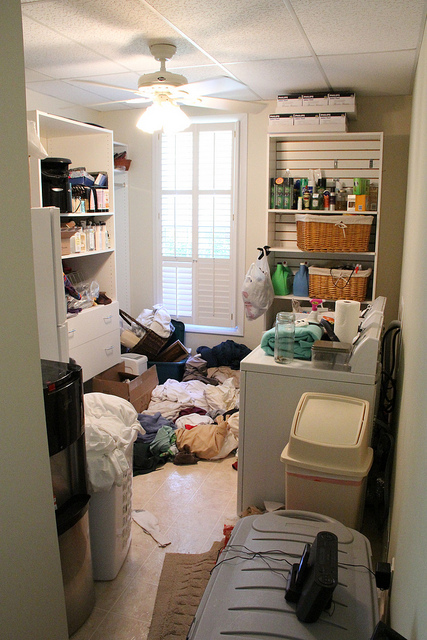 The before photo of my laundry room, that is…
How's THAT for some dirty little secrets? Yes, my laundry room has looked like a bomb exploded ever since the day we moved into this house. The laundry beast just grew and grew and the piles of clutter just kept taking over until I could have filmed my own episode of Hoarders.
Let the dry heaving commence.
This is horrific, right? I might have just taken keeping it real to a whole new level.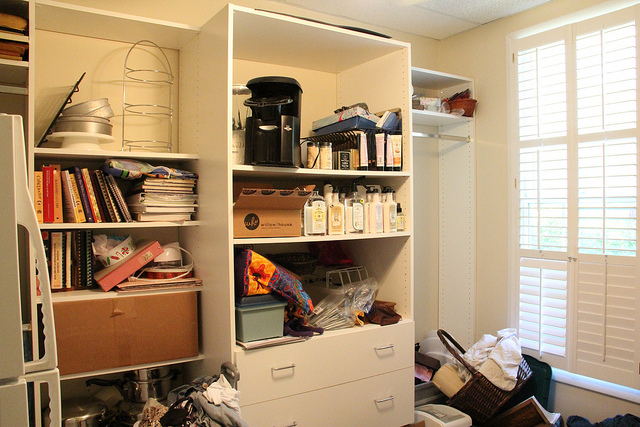 It's just awful, y'all! Check out this cute attempt I made at containing the clutter in baskets. HAHAHA!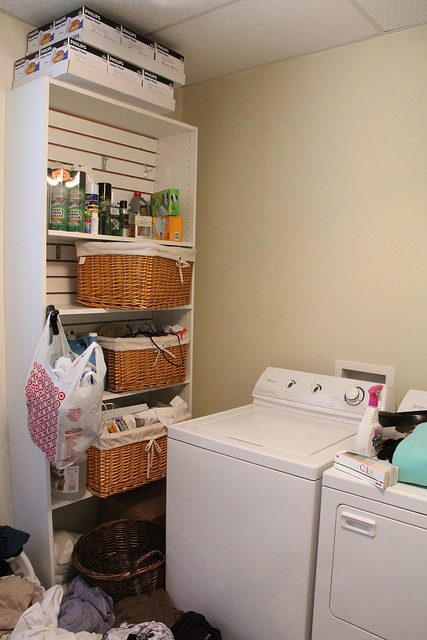 There is this weird nook by my garage door that holds even more junk. Cue the Psycho music, right?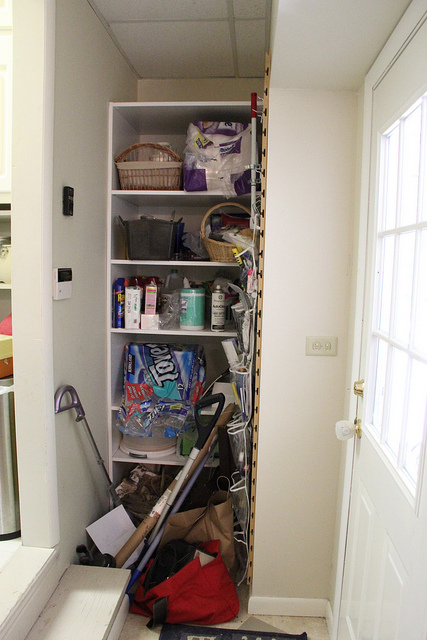 Since this is right beside the door where I enter and exit to get to my car, this is what I was greeted with every.single.day.of.my.life!
It stressed me out.
It made me feel angry.
It made me feel defeated.
I wished and hoped that some magical fairy would come and clean it all up for me. That didn't happen. Instead, I put on my work clothes and got to digging through all the piles of junk. I decided it was time to TAME THE CLUTTER BEAST and reclaim my space.
AND I DID!
The Big Laundry Room Reveal
So let's get to the part of this story where you can uncover your eyes. Welcome to my new and improved laundry room, courtesy of moi, my husband and Dutch Boy Paints! I'm now greeted at the door by this beautiful DIY mud room bench that J and I made together this weekend.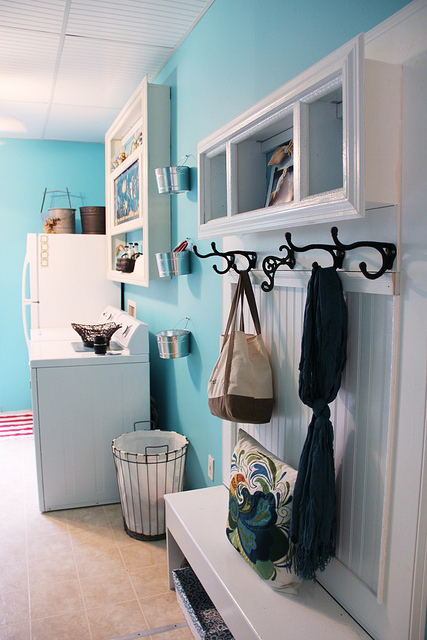 I love love love it!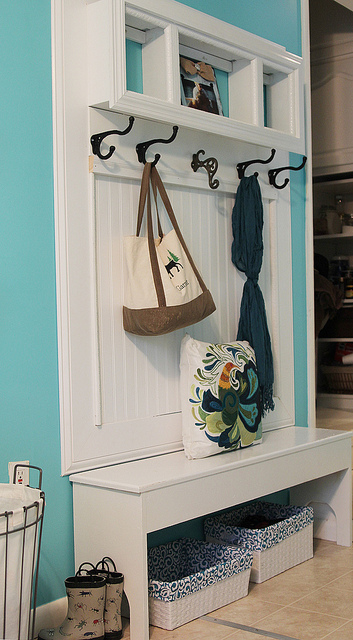 It's got a ton of hooks for me to hang all of our coats/ scarves/ backpacks/ splash day bags, etc etc etc etc…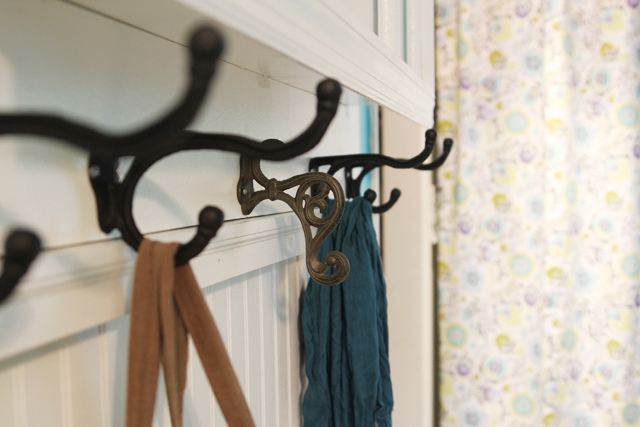 Underneath are baskets for Garrett's shoes to live instead of being strewn all over my living room. I've told him this is the new shoe house where all his shoes need to sleep at night. Let's hope they all stay home.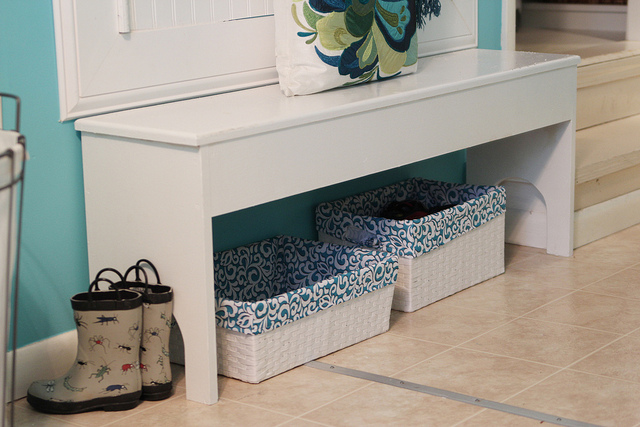 It's also got a touch of beadboard, which I just love in a laundry room. Beadboard +Laundry Rooms = Peas + Carrots in my book.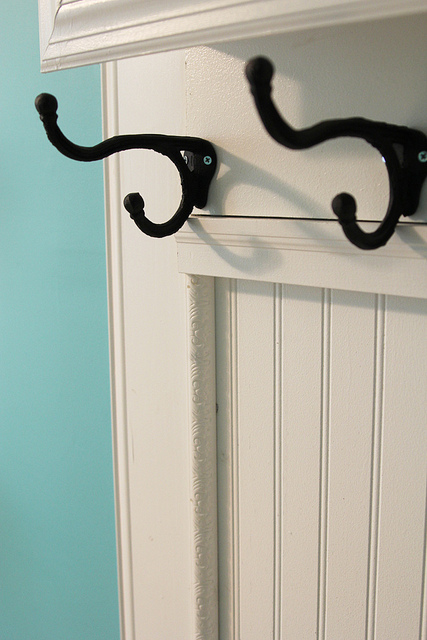 And speaking of beadboard, if you've been observant you might have noticed that the ugly old acoustical ceiling tiles got replaced by beautiful new pieces of beadboard! J spent a weekend cutting each of these 2×4 ceiling tiles out of sheets of beadboard, then he took out the old ones and popped these in their place!
I don't have a good close-up picture of the old ones, but they were your standard ugly ceiling tiles. This was SUCH an easy way to dress up a T-grid ceiling. I would have loved to have a hard ceiling made of 100% beadboard, but this was a HUGE time-saving shortcut for us since the ceiling grid was already in place. It totally gives the effect of the real thing without all the work. I love it!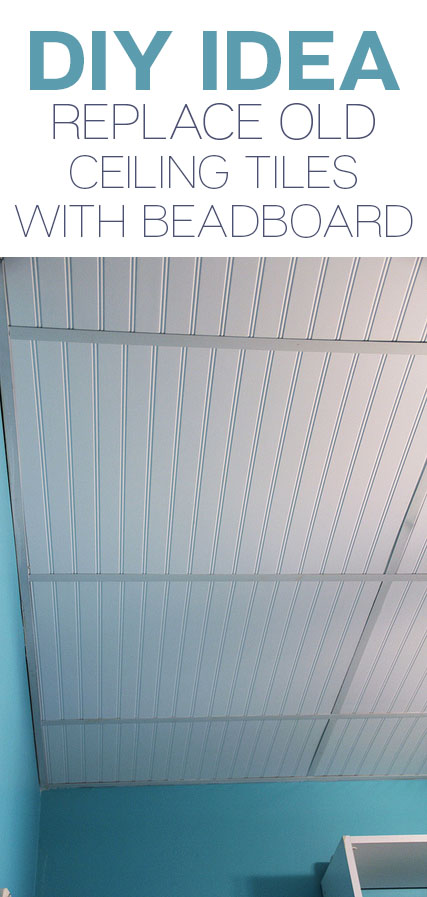 The trusty old school washer and dryer are still here!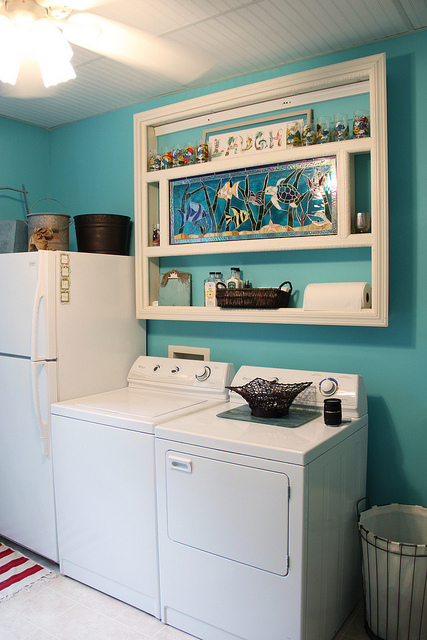 These guys are quickly becoming antiques (circa 2002) but since they both still work pretty well no front loaders are in my future just yet.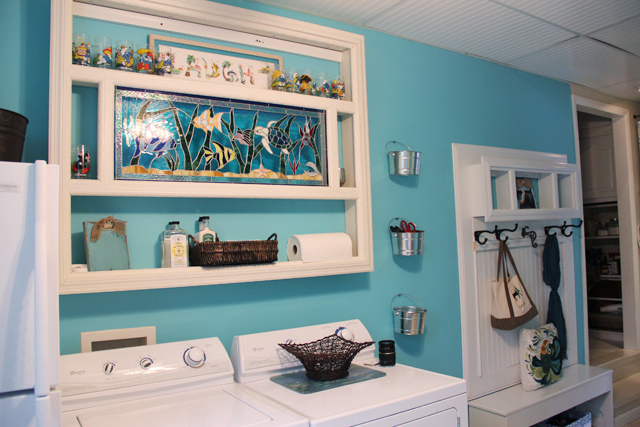 Above them hangs the aquarium glass bookshelf that J created for me back in 2005. It's finally got a new home after many years of living in basement storage.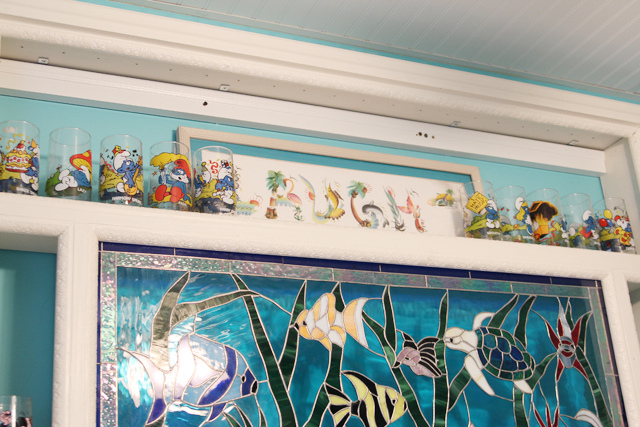 J bought me this tropical fish stained glass piece for a wedding gift in 2004, then he built me this giant bookshelf for the guest room at our old house. It's perfect in this space, so out of storage it came. I've had that "Laugh" sign since 1997. If you look closely you'll still see smoke damage from the time I nearly burned down my college apartment while waxing my upper lip.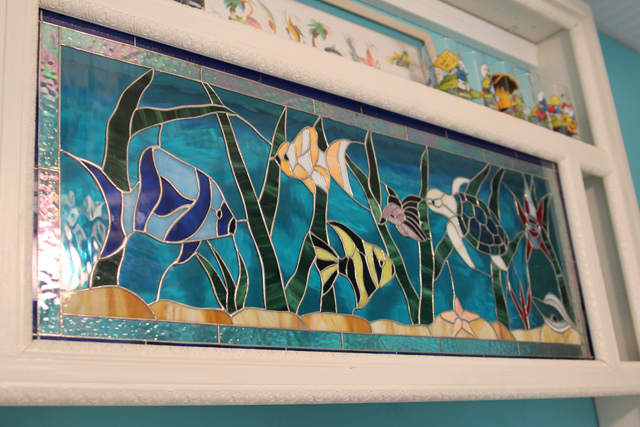 Also out of storage is my Smurf glass collection! Do you remember these? I had quite a collection of these as a kid in 1983. All of my originals were shattered long ago, so when I stumbled upon this pristine collection at a flea market in 1999, I snatched em up. I displayed them for a while, but then I got married and registered for pretty new dishes and these got put back into the box because I was trying to play grown-up and junk. I'm shedding that grown-up facade and getting back to my kitschy roots! What better place for a Smurf glass collection that a happy turquoise laundry room resembling the color of Smurf skin?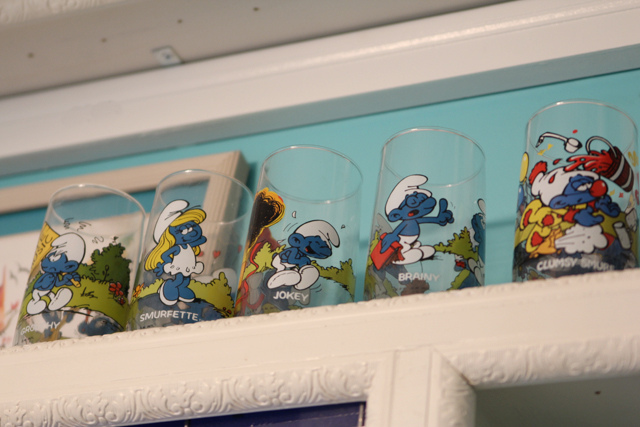 When I walk in my door now I'm greeted by this GORGEOUS aqua, lime and periwinkle curtain (Richloom fabric from Jo-Ann) that I created without any sewing machine or hardware required.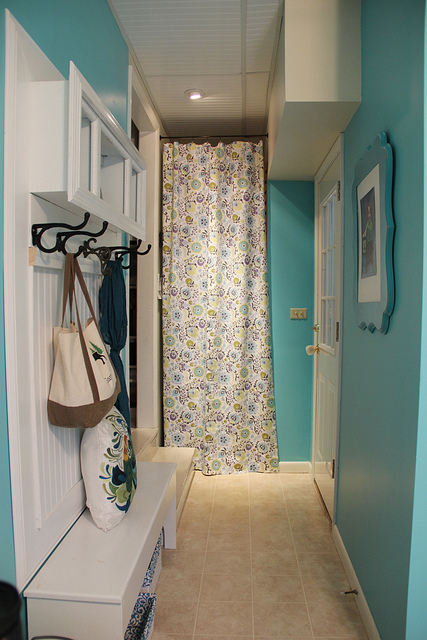 Seriously, easiest curtain ever! Here is my tutorial on how I made it. It was a 10 minute no-sew curtain that looks great and fits this really long space perfectly since I was able to cut it to size.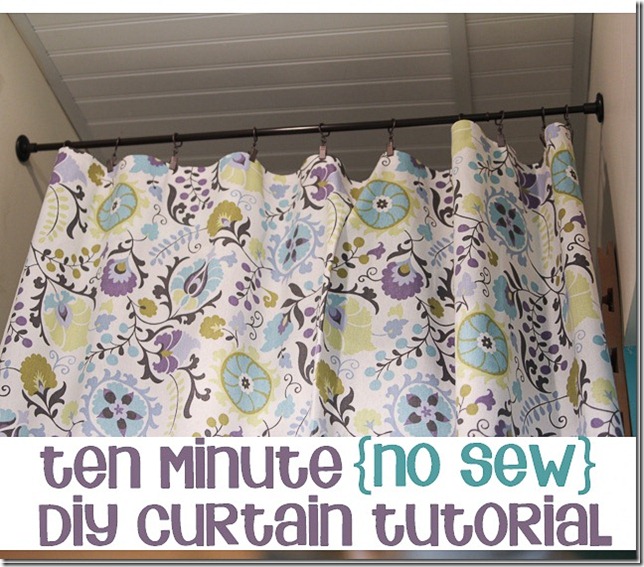 I decided that I would never, ever be able to make that nook look neat and organized since it holds all of the random bottles of cleaning supplies and insect killer and batteries and household junk that is necessary to maintain a home. So, instead of trying to make all that ugly stuff pretty, I just decided to hide it all behind a pretty curtain.
The ugly is still there, believe me! But I love that with one quick tug I can hide it all again. I can feel my blood pressure lowering just looking at that fabric.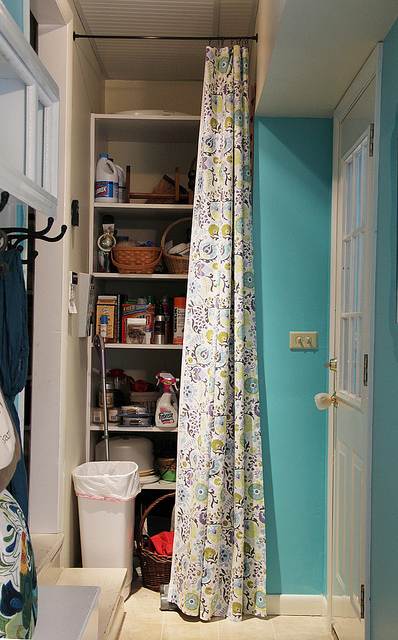 Behind the door is this super fun and funky picture frame. It's the perfect coordinating teal color for these walls.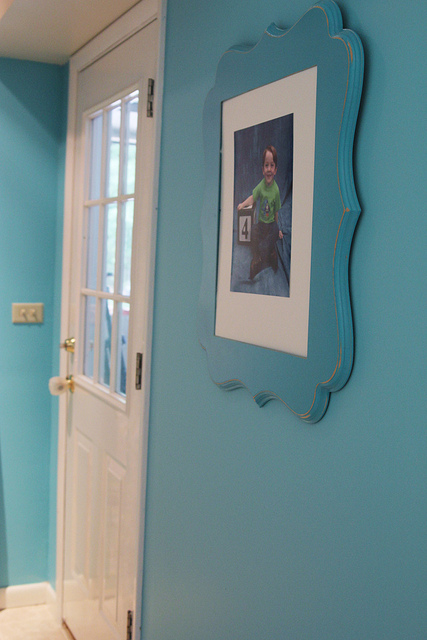 Across from the washer and dry I've completely re-organized my shelving units and adopted the curtain strategy there as well.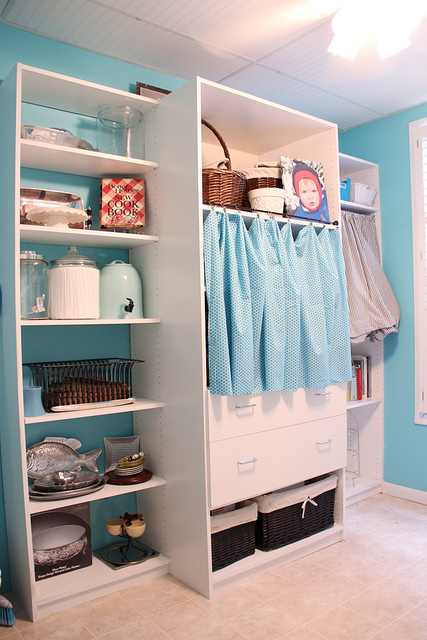 This aqua honeycomb fabric is also from Jo-Ann, and also made in The Nester's mistreatment style with no-sewing, no-hardware required. And behind Curtain Number Two we have paper goods, tape and tools, etc. More household essentials.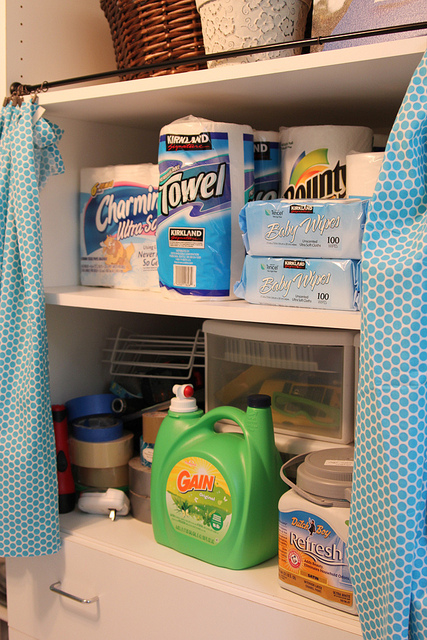 The pretty stuff gets displayed without a curtain. Serving pieces and party supplies take up one side of the shelf: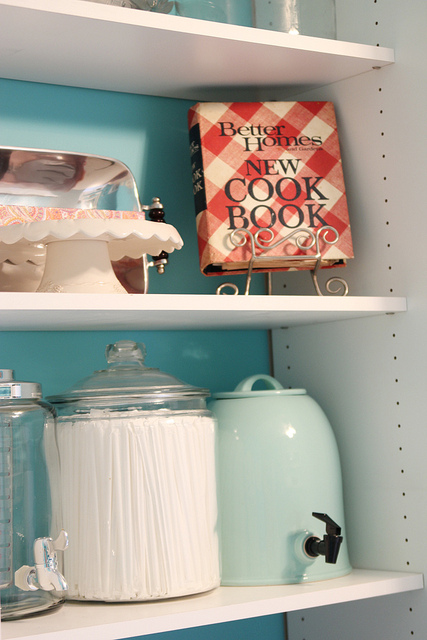 I love these drink dispensers!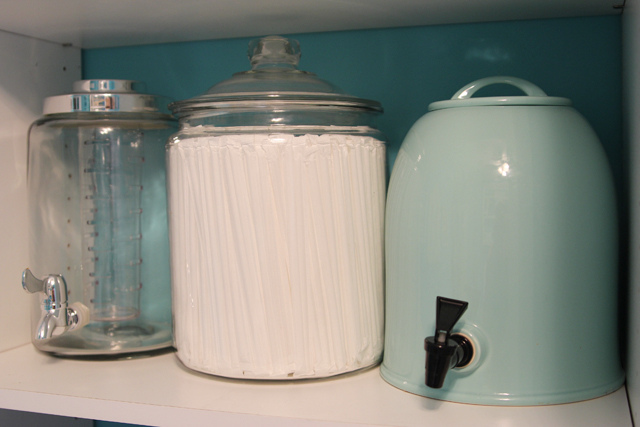 More of my pewter serving platters and lunch bags go on the bottom shelves.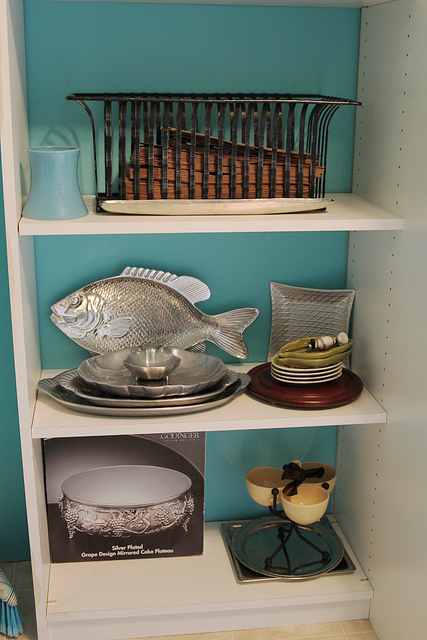 At the very bottom are baskets holding light bulbs and flood lights. (Remember the ugly yellow baskets from the before pics? SAME ONES! Yes. Spray paint. Love it.)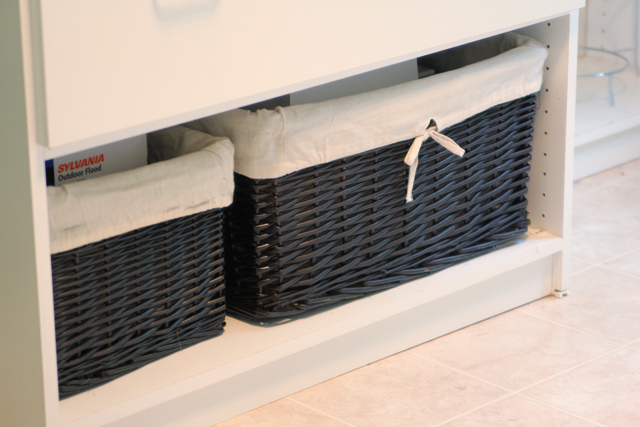 We shifted the refrigerator over to the other side of the washer and dryer, which freed up this entire corner. I have my ironing board opened as if I actually iron things. Ha! A husband can dream, right?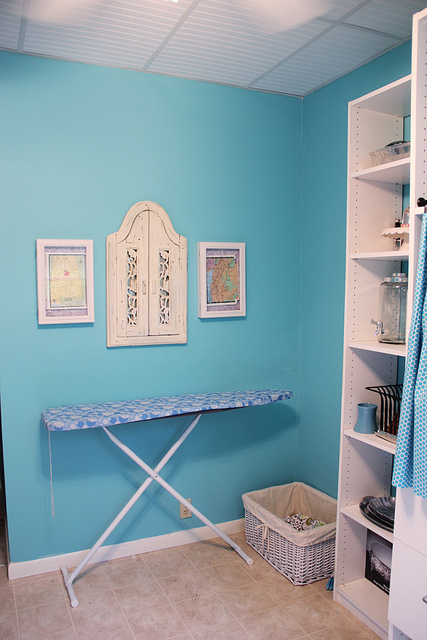 I'm really hoping that this happy aqua laundry room will inspire me to keep things clean and organized in there. I refuse to let it become the mess that was in there before. This is my pledge to myself to never let my inner Hoarder rear her ugly head again in this room.
It's going to take some practice, though, since two minutes after I took all these pictures this happened…..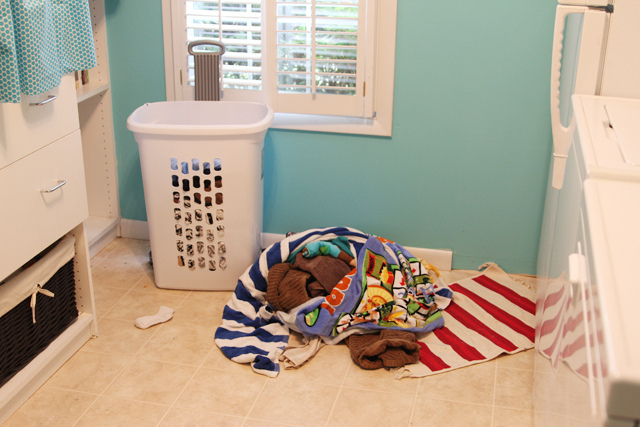 Baby steps, right?
DISCLAIMER: I was given a paint fan and two free gallons of Dutch Boy Refresh paint in exchange for this super embarrassing and extremely tardy post. The opinions and scary photo expressed here are completely my own and should not reflect poorly in any way on Dutch Boy brand. My sincerest apologies for being such a super crappy sponsored post blogger, Dutch Boy, but THANK YOU for the paint! I LOVE IT! 🙂
Like this post? You might also like: