In early August of this year my little blog hit a milestone of 2,000 likes on my facebook fan page.  I celebrated that day, and was so thankful to everyone who has taken the time to like my page enough to give me a spot on their already full facebook feed.  At that time, on average, about 1,000 of those people saw my facebook posts on any given day, which was huge!
These days I have just over 2,500 likers, but only average about 200-300 people seeing my posts on any given day.  Some days that leaves me feeling a bit like one of the first puny little kids to get offed in the Hunger Games.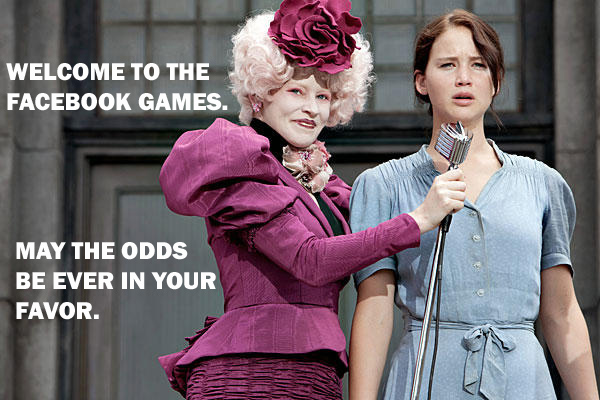 In case you haven't heard, here is the Cliff Notes version on why this is happening– facebook is requiring all fan pages to pay to promote their posts now.  If you don't pay, you don't get seen.  Simple as that.
Well… not as simple as that according to the Zuckerbaristas who are brewing up all sorts of weirdness in the way of facebook marketing schemes these days.
The algorithm behind the new facebook edgerank is supposed to make it so that if you interact with the page and comment or like their posts then you will keep seeing their posts in your feed. But if you drop off and stop interacting with them, then you will stop seeing their posts.  Based on my plummeting numbers above, I have my doubts if this is actually the case, though. That's why I look at it as a "If you don't pay, you don't play" kind of thing.  I may be wrong, but most days I feel like I'm fighting a losing battle by posting anything on facebook.
If I want all of my fans to see my posts, I have to pay $15.00 to $20.00 per post on my UB facebook page.  Here's a screenshot of my Pay-to-Promote box directly from my facebook page.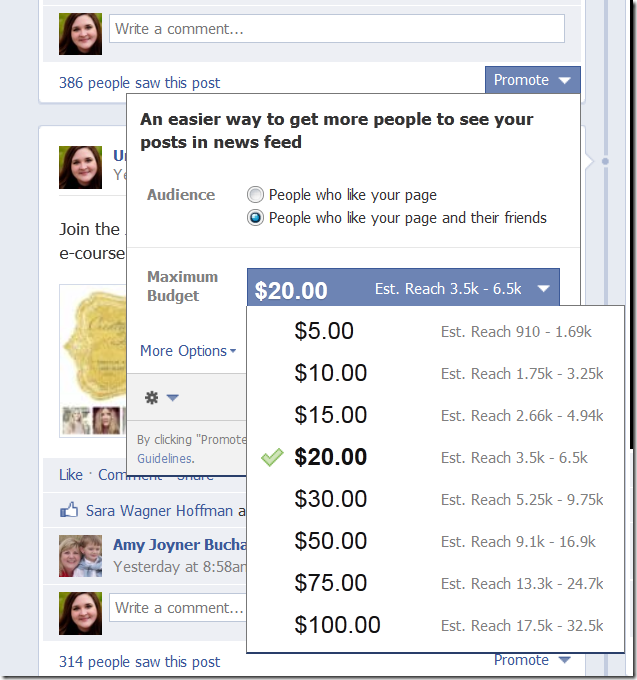 So, let's see… if I promoted just one post per day 5 days a week, I'd be out $5,200 a year in facebook fees. Um… yeah.  I can promise you that my little blog earns nowhere near that much in a year.  I haven't earned that much in the whole life span of this blog.
Don't worry, this is not a "goodbye cruel facebook" post. I will still be on facebook, but I am not going to put all of my eggs in that basket like I have for so long.  I'm not exactly sure how to handle this, other than to stop trying to cultivate my facebook fan page and make more of an effort towards Google+ and twitter (neither of which are as comfortable to me as facebook.)  Hometalk, Instagram and Pinterest are also great for social interaction, so I'll definitely be talking it up more over on those sites. 
Because of this, I have removed the facebook like box from my side bar and replaced it with a shiny new button.  This button is something you're gonna want to click!  I have joined together with a few other fabulous bloggers to bring our own little slice of social media right on home to our blogs.  We have created an awesome forum, complete with categories for Crafters, DIYers, Foodies, Photographers, Bloggers, Parents and more.  We're talking about everything and the kitchen sink over there, y'all.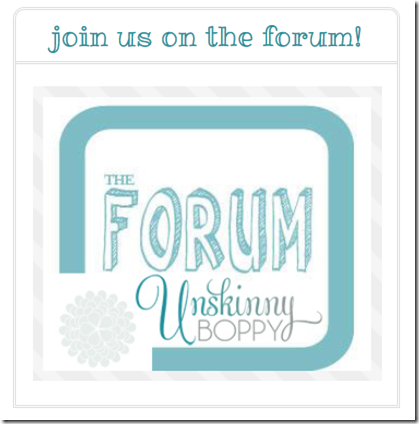 This is a way for you all to connect with other likeminded folks in a fun community forum that doesn't cost anyone a dime.  You'll be able to personally chat with some of the best bloggers in our niche and get one-on-one conversation about anything and everything you've ever wanted ot ask. How awesome is that??   Go ahead! Lay it on us. We can handle it.
I want to say a huge thanks to Amy at A Nest for All Seasons for creating this forum.  I'm excited to be a part of it! Speaking of Miss Amy, I got to meet her in person last week during my vacation to Pennsylvania.  She is such a sweetheart, and I was so happy to finally meet her after all these years or online chatting. Thanks for dinner, sweet lady! Here is a pic of her son's hand taking a pic of us! Love this photo!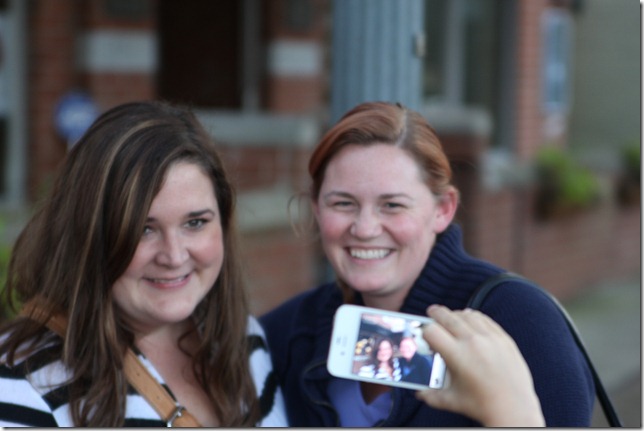 So, I want to personally invite everyone to come and join up at The Forum and start talking to me, Amy and a whole bunch of other SUPER talented bloggers!  It's easy to register and start chatting. 
Also, I really hope that anyone who isn't subscribed to my blog via a reader or email subscription will please do so now, or follow me on Google+ or Twitter for a little bit of a better shot at seeing my social media updates.
Thanks so much guys! I do appreciate each and every one of my readers SO much, and I hope that this forum combined with all the other great social media outlets will keep us all interactive and in touch better.   May the odds be ever in your favor!