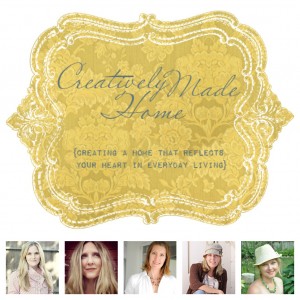 Have you ever stumbled upon something so rare and amazing that you feel you sorta hit the lotto as soon as you opened it? That's the way I felt tonight after opening the content inside the e-course designed by Jeanne Oliver and Jennifer Rizzo and company. I have been talking online with the incredible Jenn of Jennifer Rizzo Designs for a few weeks now. I met Jennifer just recently through a great group of design bloggers on Hometalk (love Hometalk!), and I've become such a big fan of her style. She is so down to earth and her home is cozy and excellent. She asked if I'd like to take part in a 5 week long online course called the Creatively Made Home that she has assembled with four other talented bloggers and designers. Today was opening day, and nearly FOUR HOURS after I began watching their videos I'm still up and pouring over all the deliciousness that is in this course!
Dudes. I can't even tell you what a wonderful resource these ladies have assembled. It's a treasure trove. There are video tutorials and recipes and pdfs and a chat room. There are hundreds of decorporn photos to drool over. There is interaction with people in a likeminded community setting. The first week's courses are live and there are 18 (eighteen!) lengthy, detailed videos on everything from finding paint colors to creating a fun jute basket to making handcrafted ricotta cheese right on your stove top. It's like my favorite Martha Stewart, Country Living and Real Simple magazines have come to life right on the screen in front of me. These ladies are crazy talented and have such amazing homes, ideas and work spaces, and this course dives right into all of them and shows you how you can create that for yourself.
I cannot wait to see what else is in store for this course. Thanks SO much to Jennifer for sharing this amazing gift with me. I feel like I just won a golden ticket into Willie Wonka's chocolate factory! I'm excited to be a student in these talented women's classrooms.
If you want to be a part of this action, there is still plenty of time to join. The course just started tonight, and will run of five whole weeks. Jennifer spells out exactly what the course entails over on her blog. Go! Run! Check this thing out. It's seriously amazing.
I can promise you that based on the first week's installment it's going to be worth every penny.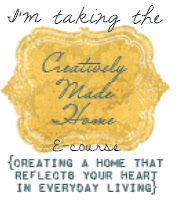 I'm taking the Creatively Made Home E-Course!  And you can too! Click here for more details.
Speaking of a like minded community forum, be sure to check back here tomorrow because I have ANOTHER big announcement that I'm excited to share with y'all!  It's a big week here in Boppytropolis.  Don't miss out!