Tonight my wallet is empty and heart is full and my feet are tired. 
 I spent the weekend in Atlanta at the Country Living Fair where I was privileged enough to get to meet up with a group of fellow bloggers and members of the fabulous Hometalk community.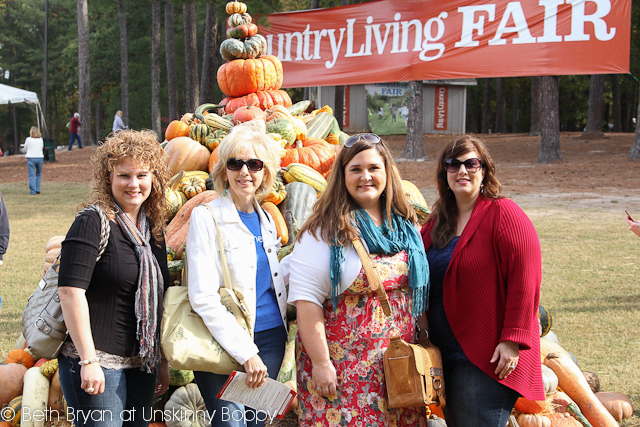 From left to right: Christina, Rhoda, Me and Heather
On Friday night my husband and I headed over to the Dirty Dirty where we had dinner with Heather from At the Picket Fence and her husband.  We had such a great time chatting it up that we pretty much closed down the restaurant and got to our hotel WAY late.  This morning we  were able to meet up with other bloggers as a group in front of the big pumpkin pile.  We snapped a picture with all of our Hometalk gear before we headed off in different directions to browse the vendor booths and get high on all the burlap we could stand. 
I say "we" snapped a picture, but actually it was Heather's husband who did all the snapping.  This guy wins husband of the year award, right?  He was patient and didn't complain a bit about having forty-eleven DSLR cameras strapped around his neck and being told to play paparazzi for us.   Thanks, Lee, for the great photos!  And thanks for not hightailing it to the nearest pawn shop while you had the chance.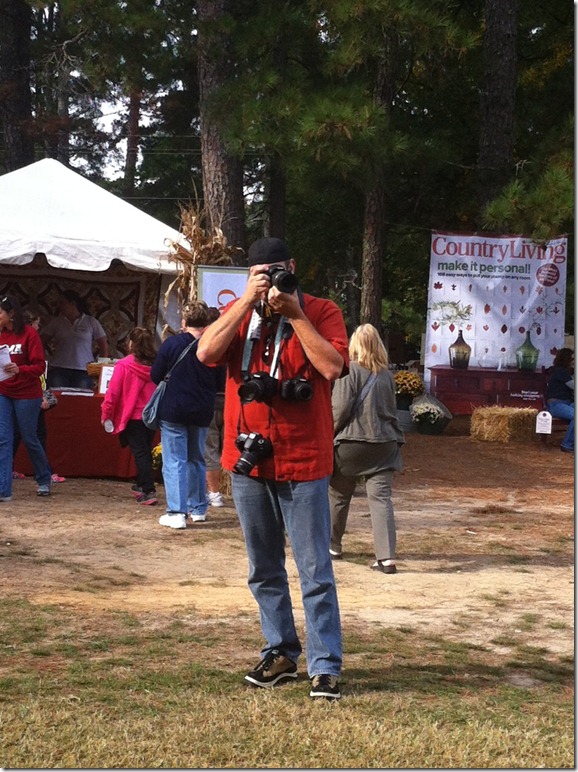 Just like past years at the Country Living Fair, the pavilion had gorgeous tablescapes set up with amazing decorative ideas all wrapped up in a pretty rustic package.  The birch branch candle holders?  Yes, please.  I also loved the pine cone "chandelier" hanging from the ceiling.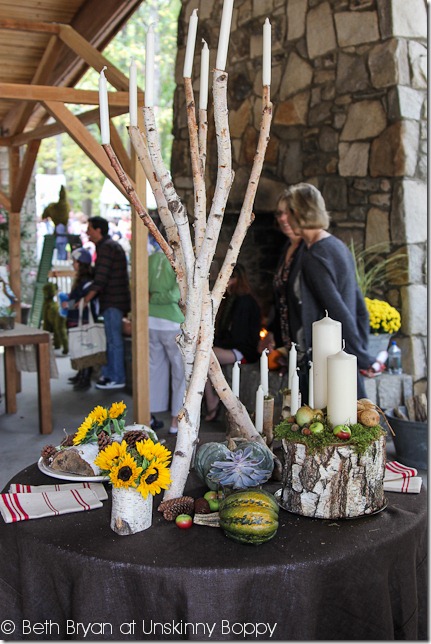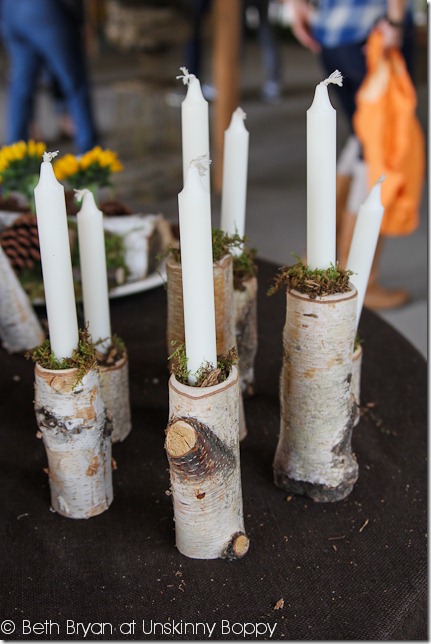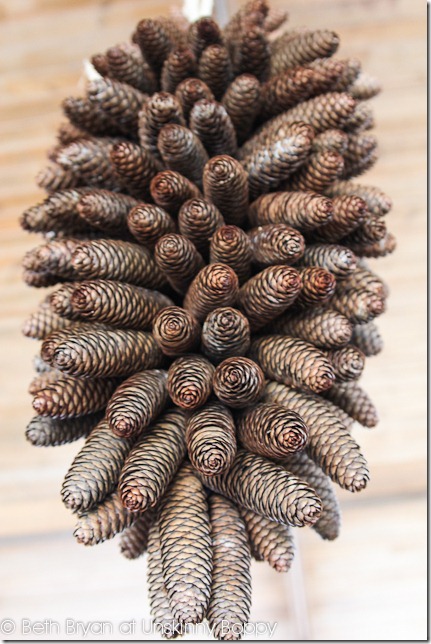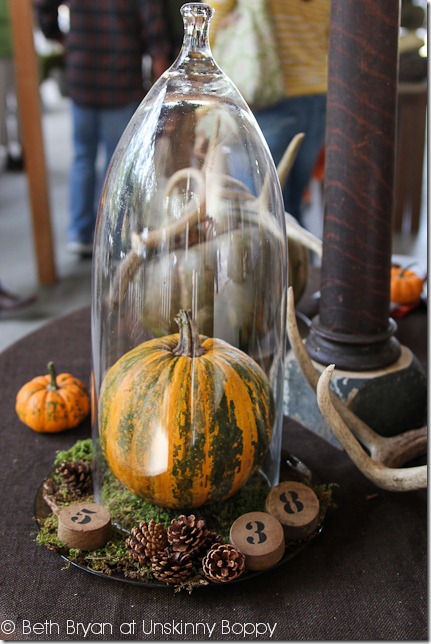 Once inside the woods full o'booths I headed straight to one of my favorite vendors, Great Stuff by Paul.  This was the same where I got my cheap dough bowl and sugar mold candle holder two years ago.   I immediately latched onto this coal scuttle and knew it would be coming home with me.  Cypress branch not included.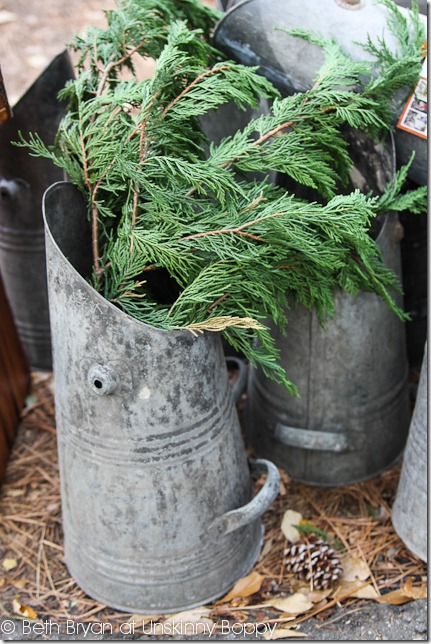 From there I wandered through snapping pictures of things that caught my eye.  Loved this sign on an old fence gate.  "It takes courage to grow up and be yourself."
Amen to that.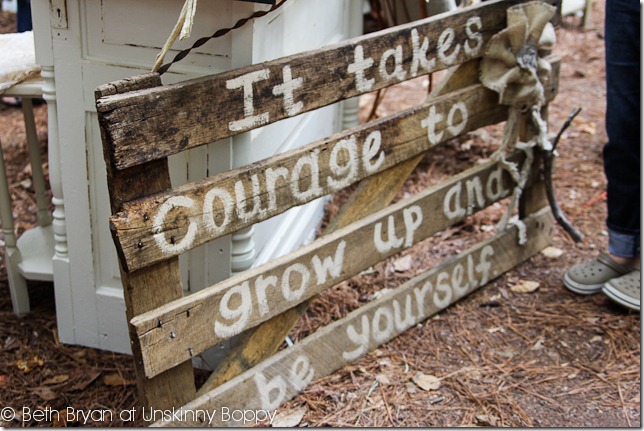 I eyed these signs for our basement theatre room, but we decided against them.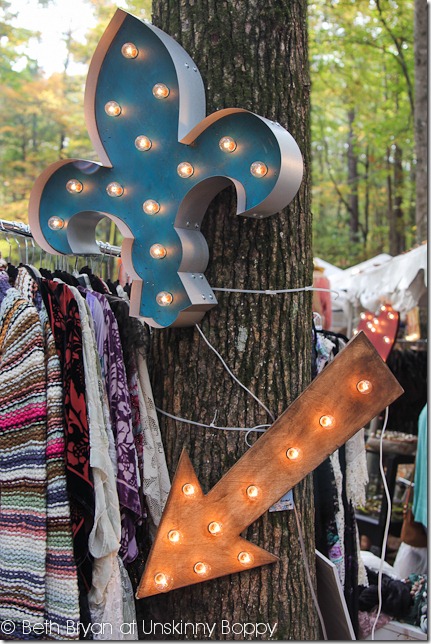 Which made my husband say this….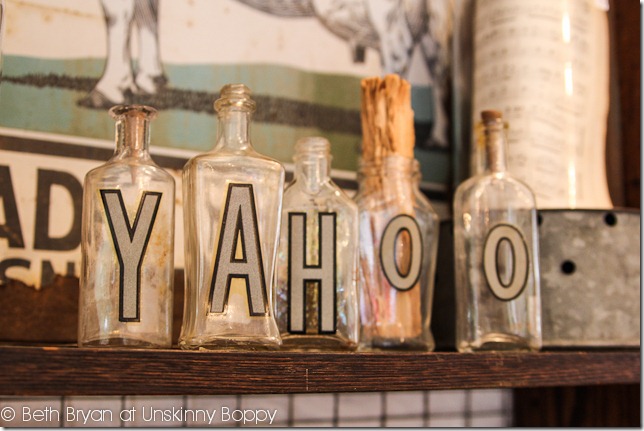 Other prettiness that caught my eye: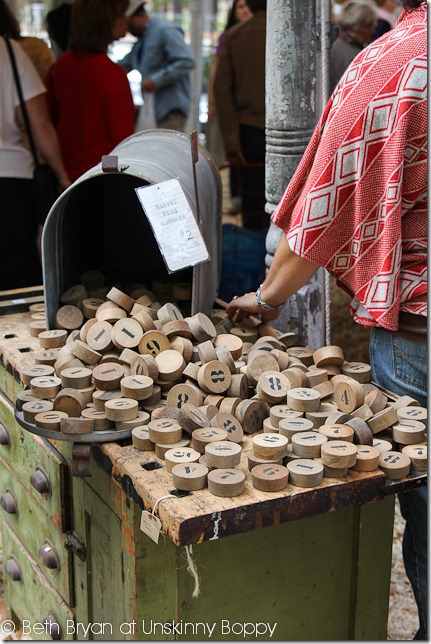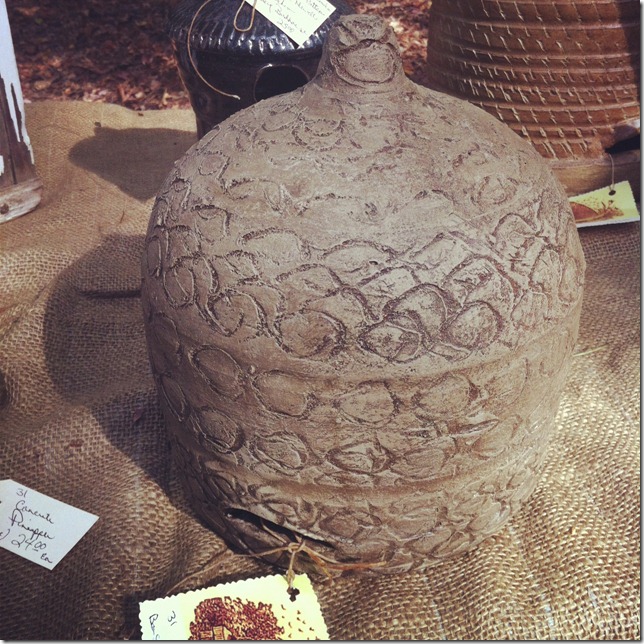 As soon as I saw this beehive pottery I KNEW I had to have it.  It called my name loudly, so I stood next to it while I snapped a picture and Instagrammed my find.  As I was looking down at my phone, this super intimidating lady came up and put her hands on it and tried to take it from me!  I told her I was getting it, and then we nearly had a brawl over it.  Push came to shove, but I finally won out in the end. 
Here is my menacing opponent.  She could totally float like a butterfly and sting like a bee.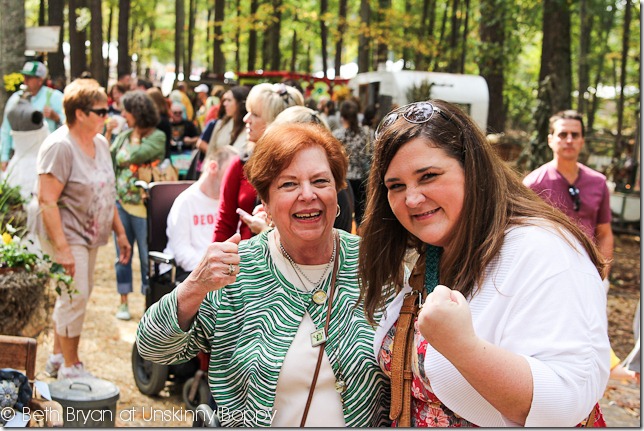 This Country Living Fair was different because I had my own personal porter with me, which greatly increased my chances of buying bigger stuff.  Thank you, babe, for toting all of my finds all over the Fair!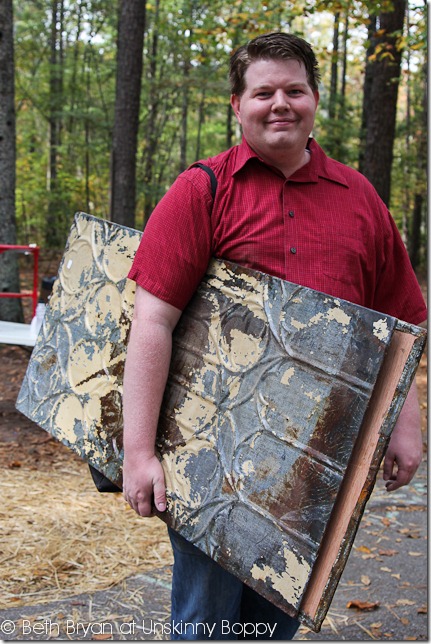 We got to meet the Fabulous Beekman Boys, who signed my copy of the magazine with their face on it (and Lucy's!)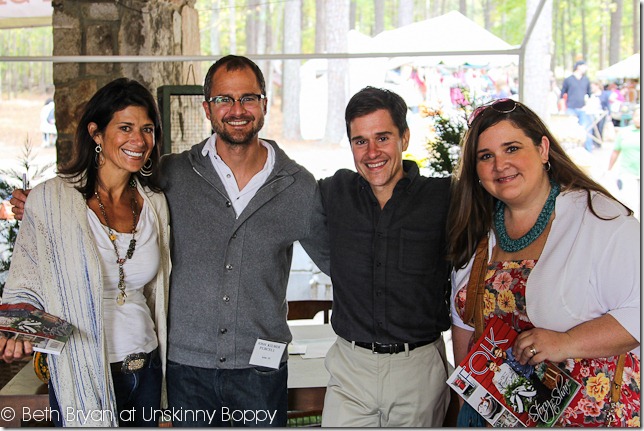 Here is Heather with Jeanne from Junxtaposition showing off her typewriter keyboard jewelry that everyone needs!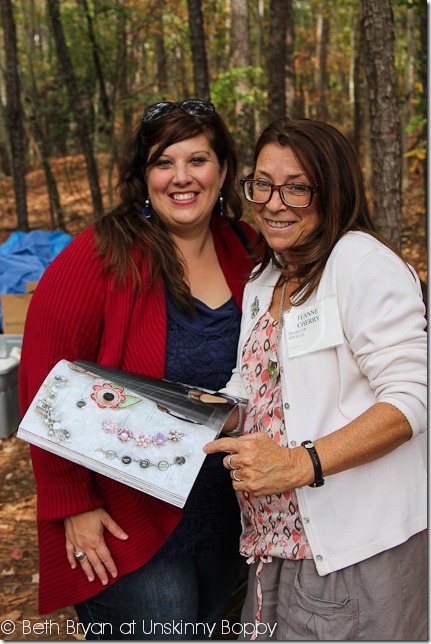 Here is the annual photo of all my loot crammed in the back of my car.  Three birch logs, a ceramic beehive, a coal scuttle, a punched tin star that is amazingly similar to the punched tin fish already in Garrett's room, two giant chippy tin tiles from a St Louis Opera house that are PHENOMENAL, a vintage gum dispenser from the 50's and a signed copy of the greatest new magazine on the market.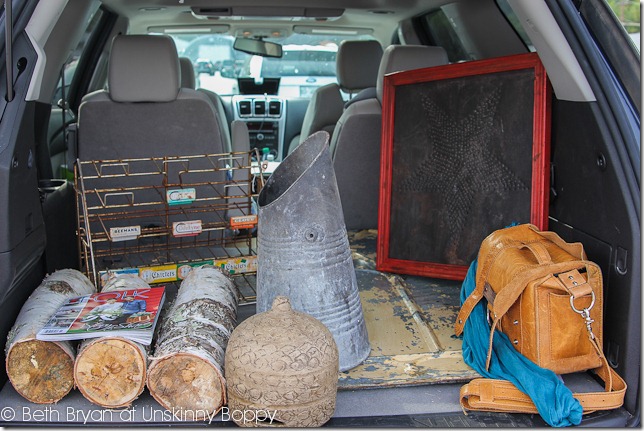 I'd say it was a successful shopping trip.  Not to mention all the great folks I got to hang out with all day! 
And then there's that time of the day when I stuffed Rhoda into my four year old's booster seat to drop some pottery off at her car.  Now that was a moment I'll not soon forget.  Thanks for being such a good sport, Rhoda! And for having such a tiny behiny.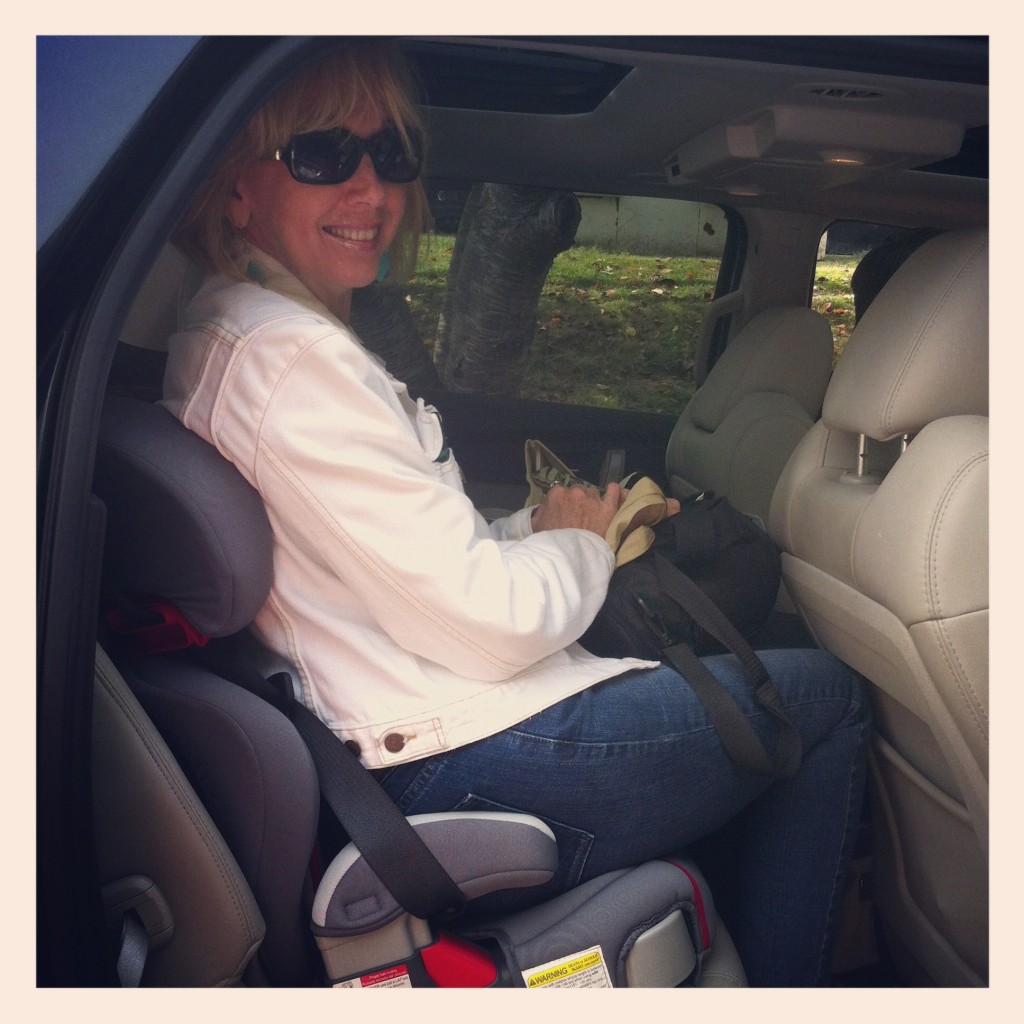 This pretty much sums us up my whole day…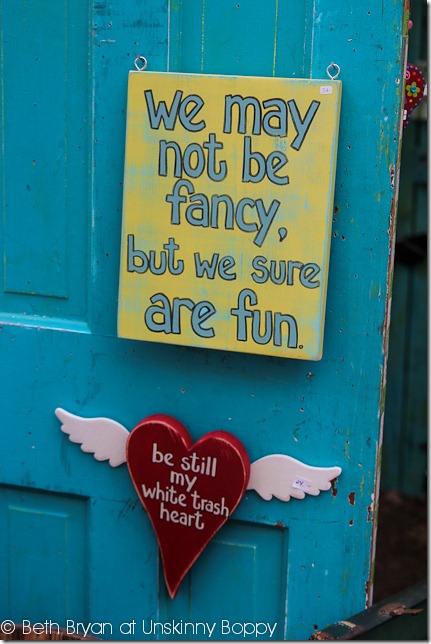 Did you go to the Fair this year?  If so, what did you score?