Looking for a quick and easy and mouth watering Thanksgiving dessert recipe?  Well here ya go!  This one will have people licking the bottom of the bowl and begging for more.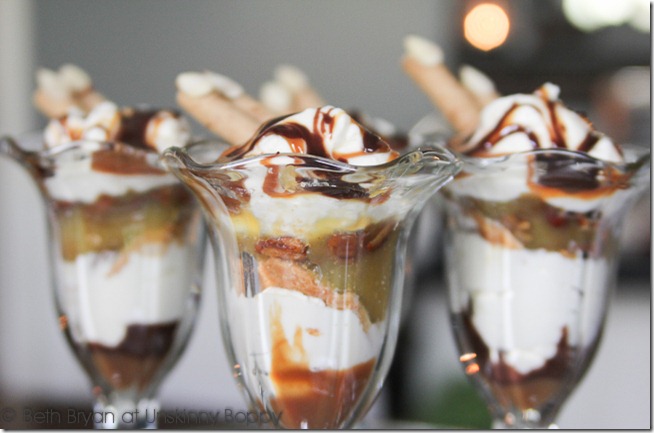 I made these as individual serving sizes, but the original recipe called for one giant trifle bowl filled with all this deliciousness.  It's your call.  If you do want to go the single serving size route, here is a tip- use a biscuit cutter to make a perfect circle with your pecan pie, then slide it down into the sundae dish.  Much less mess this way.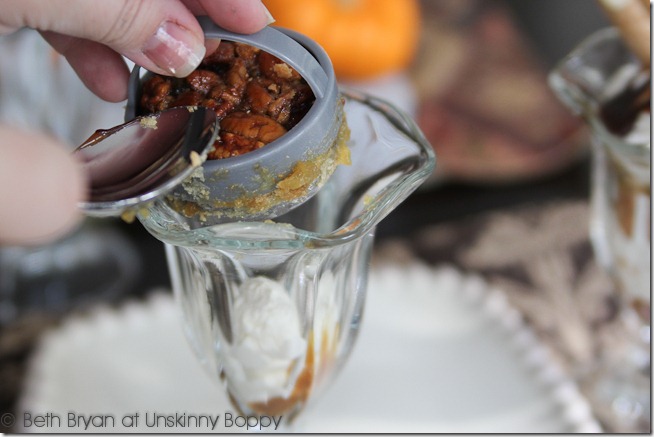 Another tip? Use a Ziploc baggie for your cream. Just pipe it on there like a cupcake.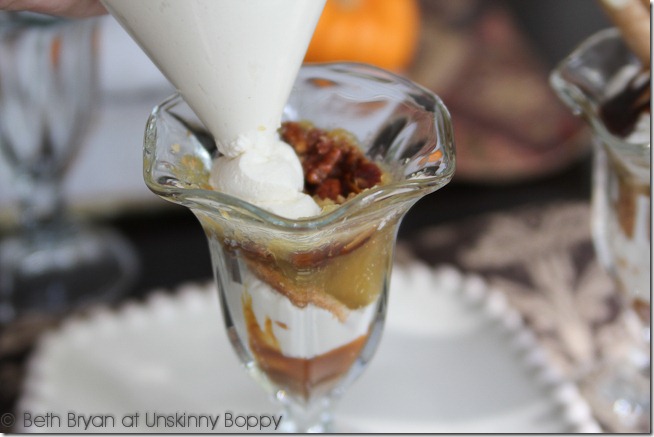 Do you need me to walk you through how to drizzle caramel off the end of your spoon or do you think you can handle that part on your own? 
Yeah…. that's what I thought.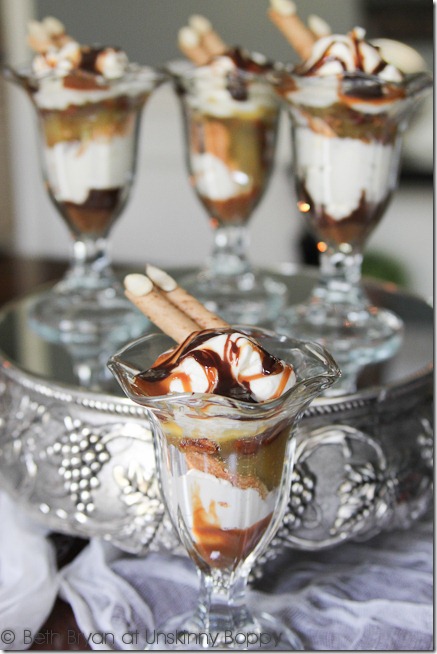 PECAN PIE TRIFLE RECIPE
1 pecan pie from the freezer section (I used Edwards), thawed
8 ounces marscapone cheese, softened
1 1/2 cups whipping cream
1 1/2 teaspoons vanilla extract
chocolate fudge ice cream topping
caramel ice cream topping
Beat together the marscapone, whipping cream and vanilla with a wire whisk until soft peaks form.
Drizzle caramel on the bottom of sundae dish, use ziploc to pipe cream into bottom of dish.
Use round biscuit cutter to cut circles from pecan pie, push into middle of dish
Pipe more cream on top and drizzle with hot fudge and caramel topping. 
If you make the full recipe, you'll have enough for about 8 individual servings.  If you make a big trifle bowl full, just fill 'er up to the top!
 EAT. YUM.