Last year I created a Christmas tree using scraps of bead board from samples that I got from a cabinet shop.  I gave the full tutorial on how to create the bead board Christmas tree here. 
This year, I decided she needed a face lift before I displayed her in my house again.  
Here is the BEFORE: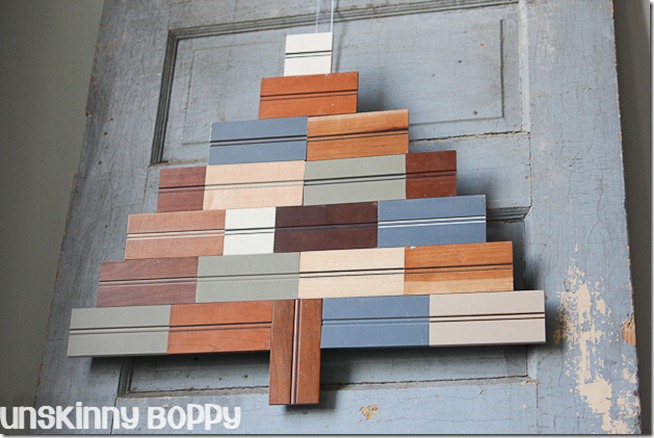 Last year I liked the randomness of the wood colors.  This year I thought it looked kinda sad and patchworkish. 
SO, with just a little bit of paint, here is the bling-blinged AFTER!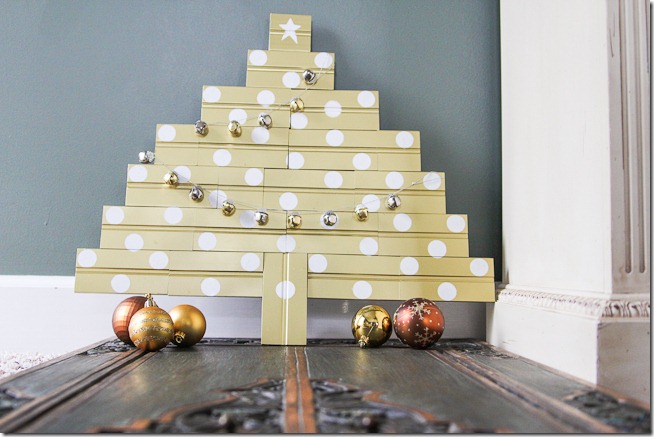 Could this tree be any cuter now?? I don't think so.  All it took for this mini-update was a coat of white spray paint topped by some vinyl stickers then another coat of Krylon 18 kt Gold spray paint.   The addition of a strand of cheap jingle bells from the dollar store makes it even better. 
This 18kt Gold Plate paint is great.  Love the way it covers easily and shines bright!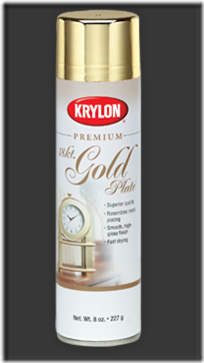 I love that the ornaments look like polka-dots. This would also have been really cute in reverse, with gold dots on a white tree.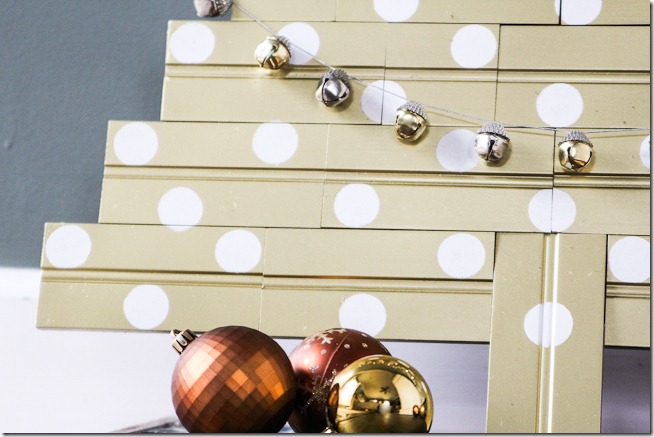 I'm stealing a few pics from my original post to show you how I made the tree.   I had a bunch of scrap pieces of beadboard in various colors that we got from a cabinet shop (they were cabinet samples).  I laid them out on the table and assembled in a Christmas tree type shape.  My husband cut a few of the pieces in half and we inserted them randomly to make the tree shape fuller.  Then we glued the wood pieces together with strips of old wood and adhesive.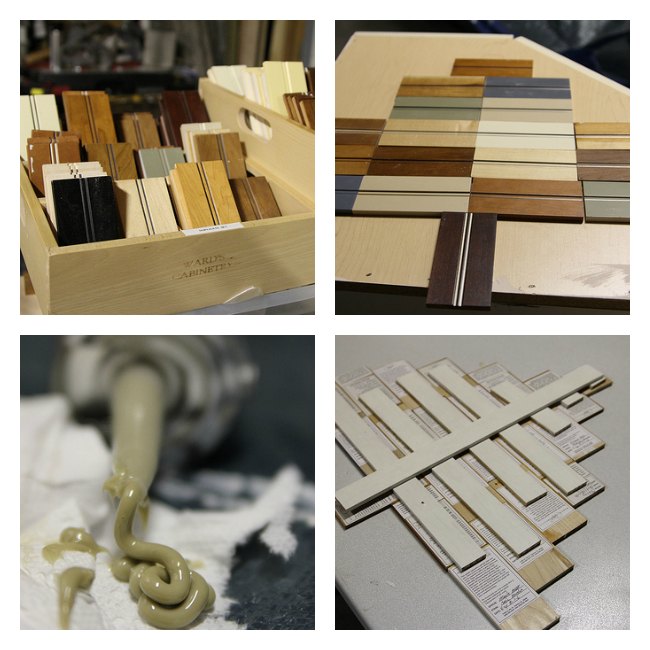 I realize not everyone has access to cabinet samples like these, but you could easily get creative and use scrap wood, reclaimed lumber, or just cut out a Christmas tree shape from an actual piece of bead board if you love the look of it!  From popsicle sticks to pallets, no wood is safe when a DIYer is around. Use your imagination!
Now, here are the steps I took to create the "polka-dot" looking ornaments.  
1. The entire tree got a coat of Krylon Gloss White spray paint
2. I placed 1" black vinyl stickers in a semi-organized fashion over the tree 
3. I sprayed coats of Krylon 18kt Gold Plate spray paint 
4. Peel off stickers before the final coat of paint dries.  I used a scalpel type blade to lift the sticker, then I was able to peel it off easily without smudging.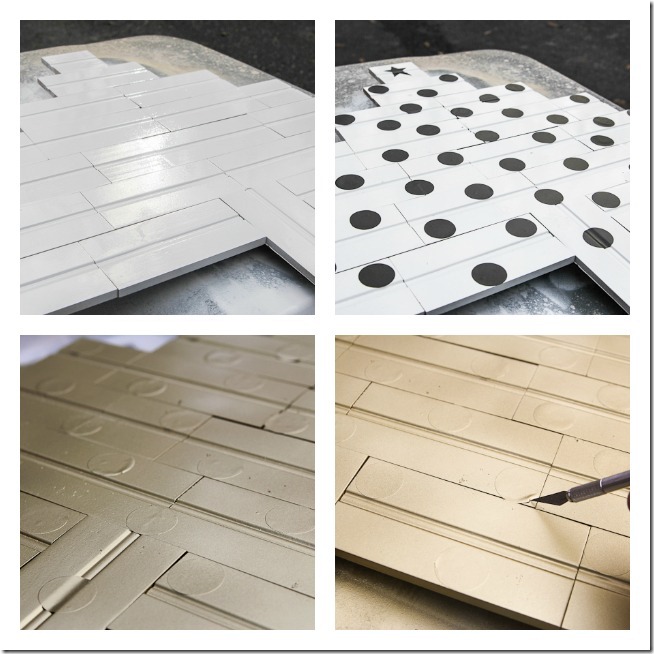 I'm extremely happy with the way the tree looks now!  It looks great hanging next to my gold leaf tree.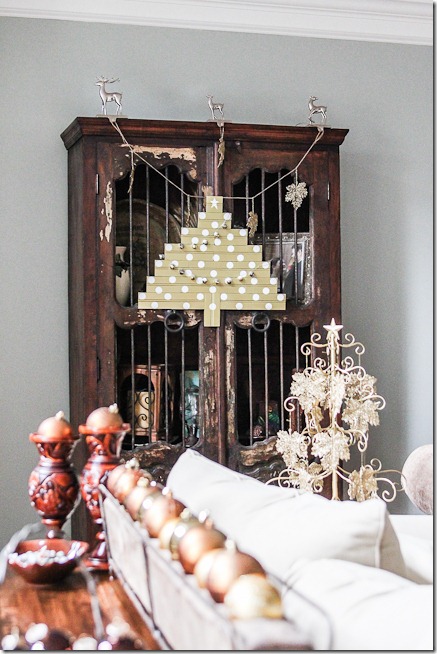 There is still time to enter the Make it Gr8 in 8 contest where you can submit your fast fix tips and win some great prizes! I am linking this up to Krylon Projects in a Can website where you can find lots of great inspiration for your holiday project using spray paint. You can also find this and many awesome spray paint project ideas on my Krylon Craft Pinterest board.
Once again, I'm partnering up with these fabulous bloggers to bring you a foursome of awesome Christmas craft ideas using Krylon spray paint!  Check out Kelly, Heather and Jenn's projects here:
---
I received compensation for my  photographs and the Krylon spray paint project inside this post.  I'm thankful to be partnered with Krylon yet again for another fun spray paint project.  All opinions are 100% mine.
I'm linking this project up to these fun parties:
Stone Gable's Tutorials Tips and Tricks
Shabby Creek Cottage Dollar Store Craft Link party
Shanty-2-chic 12 Days of Christmas Craft party