Today's post is dedicated to my granny.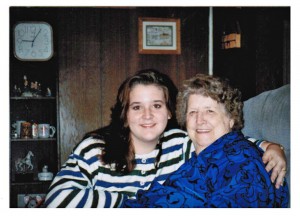 My granny always had a skillet full of cornbread on her stove, ready to be eaten by my Pop in a tall glass of buttermilk. She rolled her hair with bobby pins and Dippity-Do hair gel before bed.  She was a card playing fanatic.  She loved cold Coca-Colas straight out of the can and watching NASCAR races.  Davey Allison was her favorite driver, since he was a hometown boy who grew up not too far from her.
My granny had a sweet tooth a mile wide.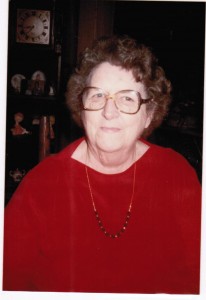 One of her many specialties was making fudge–chocolate or peanut butter, and on occasion both if there was a crowd gathered. In her house, where any rules about diets or keeping bedtime hours flew out the window, it was perfectly logical to make fudge at midnight during the middle of a heated Canasta game that everyone knew could last well past 2 or 3 o'clock in the morning.  She would get out The Fudge Plate (It was sacred. It deserves all-caps.) and grease it down with a stick of butter and start boiling all the ingredients.
After the fudge was poured out on The Fudge Plate we would all grab a spoon and scrape the bottom of the bowl while the candy hardened in the refrigerator.  The fudge I remember making with Granny had marshmallow fluff in the recipe.  Now my mom, aunts and cousins might argue with me on this, but since it's my blog and my memories I'll post it as I remember it, just as I'm sure my Granny would have done.  She had a habit of remembering things incorrectly, but the memories were certainly always turned in her favor.  She also had a habit of saying "Glory Be!" every time she was dealt a good hand in Canasta.  If I said "Wellll…." while trying to decide what card to discard she would always respond back with "it's a deep subject." Her most often used line when she collected all four red threes from the deck was "I declare!" except in her Southern drawl it sounded more like she was exclaiming a girl's name like  "Heidi Clare!"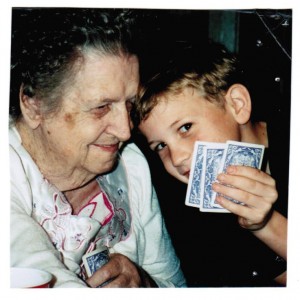 If you're on a diet, you might want to stop reading right now because it's about to get fattening up in here.
Granny's Peanut Butter Fudge Recipe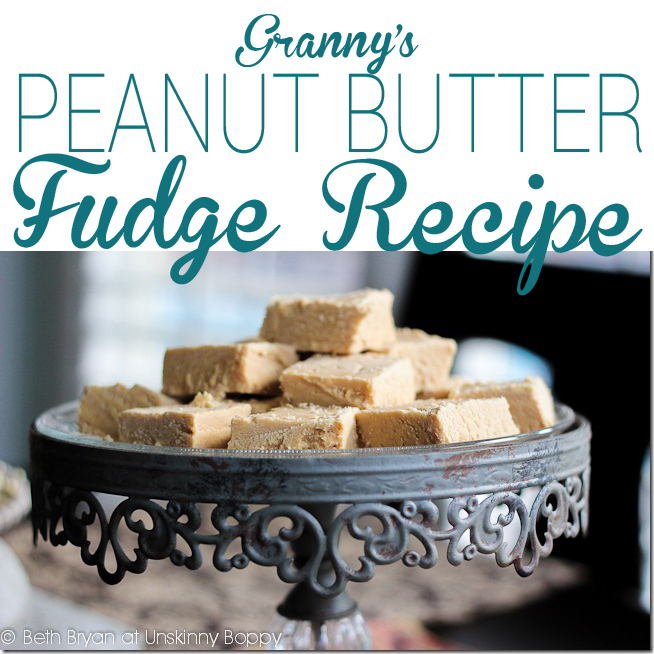 Wanna know what you get when you mix this….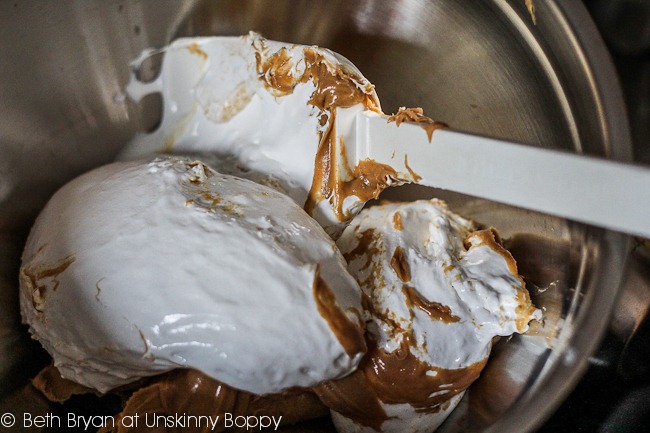 With this?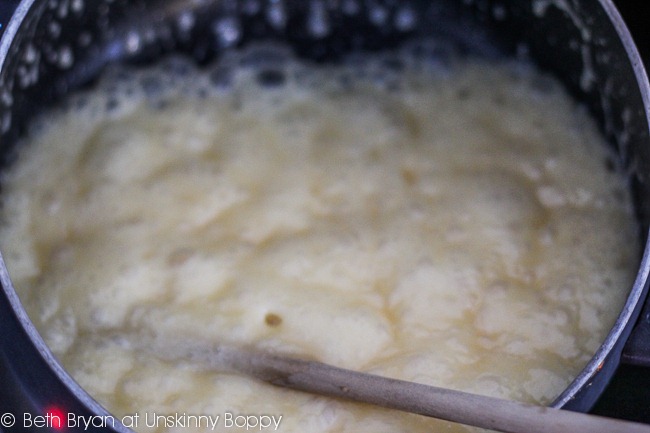 THIS.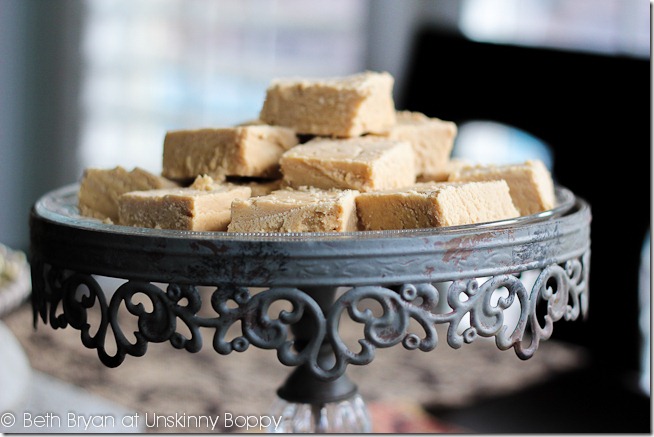 Granny's Peanut Butter Fudge
Ingredients
1

stick

butter

2

cups

sugar

2/3

cup

evaporated milk

8

oz

marshmallow fluff

1

cup

peanut butter

1

tsp

vanilla extract
Instructions
Grease a glass plate or baking dish with a small amount of butter.

Put peanut butter and marshmallow fluff in a large bowl and set aside.

Melt butter over medium heat in a large saucepan.

Add sugar and milk and bring to a rolling boil over medium-high heat for about 4 minutes.

Remove from heat and add vanilla.

Pour mixture over peanut butter and marshmallow fluff and stir well until mixed thoroughly.

Pour into greased dish and let set for 1 hour. Refrigerate if you need it to set faster.

Cut into squares or eat it with a spoon if it's raining outside. 🙂
If you want the recipe for Granny's Peanut Butter Fudge, I've shared it along with a memory about my Granny inside this beautiful 56-page printable recipe e-book that you can download here!
Sixteen bloggers joined together to submit recipes for this e-book. We hope you enjoy this little Holiday gift from our homes to yours. Thanks so much to Gwen at The Bold Abode for all of her hard work in assembling the e-book. It's GORGEOUS inside, with so many yummy recipes that I am seriously jonesin' to try out immediately.  The photography is just stunning throughout this whole recipe collection!  You're gonna love it!
Now, I'd love to hear about YOUR favorite heirloom recipe.  I'm joining up with a few other hostesses for a fun recipe link party.  We will keep the party open for a few days so you can link up a post if you don't have one already. Here are lots more fun recipes from our blog friends: