Who wants to win a KitchenAid Mixer, y'all??
Seriously, I have waited my whole blogging life to say those words!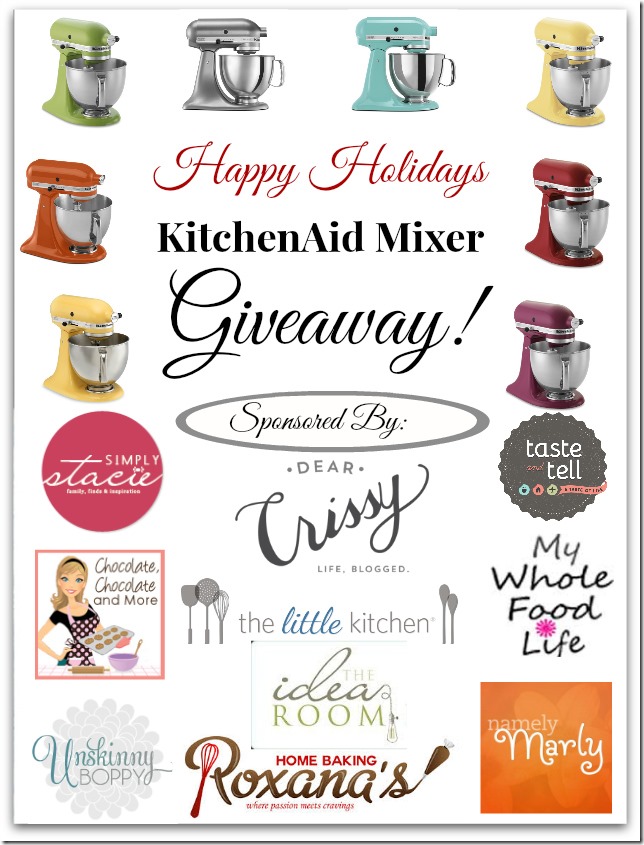 Today I'm teaming up with this group of awesome bloggers to give one away to one lucky reader! 
Simply Stacie | Dear Crissy | Taste and Tell | Chocolate, Chocolate and More
The Little Kitchen | The Idea Room | My Whole Food Life
Unskinny Boppy| Roxana's Home Baking | Namely Marly
I am SO excited about this giveaway today. When I was asked to join in a giveaway for a KitchenAid stand mixer, I knew immediately that I was a YES.  I have had my KitchenAid Mixer for nearly ten years now, and that baby is still going strong.  It is my firm belief that every single kitchen that does any sort of cooking, baking or prepping should have a KitchenAid.  It is the workhorse of my kitchen, since I use it not just for making homemade granola, kneading soft Amish pretzel dough or mixing cake batter, but also whipping cream for decadent desserts like Chocolate Cherry Cheesecake or Pecan Pie Trifle layers. All my other holiday deliciousness begins in my KitchenAid, like sausage balls, Charleston Cheese Dip and even Granny's peanut butter fudge. 
It's a lifesaver.
So, without further ado, let's get this giveaway under way!  You'll see a Rafflecopter entry box below.  Just sign in, then click on as many of the entries as you'd like, but make sure you click at least one entry for your chance to win.  The giveaway will run for two weeks, beginning today and ending December 3rd at midnight.  Residents of USA or Canada are able to enter (see official rules for more info).
Good luck everyone!!  What a great Christmas gift this is going to make some lucky winner!