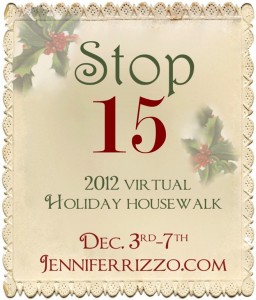 Hello everyone!
I'm completely thrilled to welcome you into my home today for the 2012 Virtual Holiday Housewalk from Jenn Rizzo.  Did you enjoy yourself over at Stop #14, Kristin's home?  I'll tell you a secret… My Uncommon Slice of Suburbia has my most favorite fireplace in all of Blogville.  My apologies to all the other fireplaces out there.  Because her big stacked rock beauty?  I swoon every time I see it.  It looks even better all swagged out for Christmas! 
Since this is my very first year as a virtual Housewalk Hostess please let me introduce myself.  My name is Beth, and you might have seen my home before and just not realized it.  This little photo that I took in 2010 gets around on Pinterest quite a bit.  That is my son in front of our glowing Christmas tree a few years ago. Stick around and I'll show you the 2012 version of this photo at the end of this tour.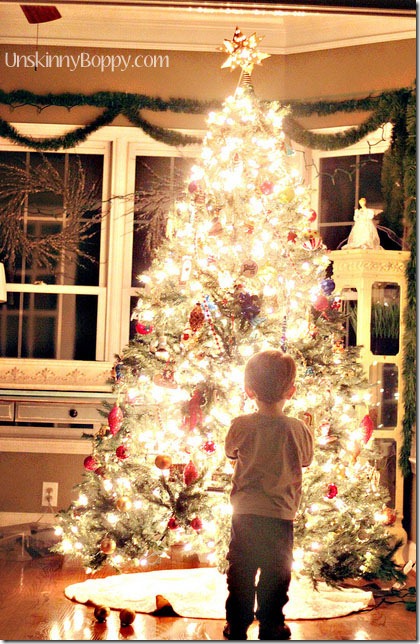 Welcome to my home!
I'm going to admit something here—This year I decorated the front porch exactly like I did last year. I even recycled the DIY evergreen wreath by adding more fresh stems. I have been so busy decorating the inside that I haven't had time to get a good photo of the porch, so I'm also going to recycle the photo of the front porch that I took last Christmas!   We actually tell all of our friends and family to come in through the back door anyway, so since we are all friends here y'all come around back!  This décor is new for 2012.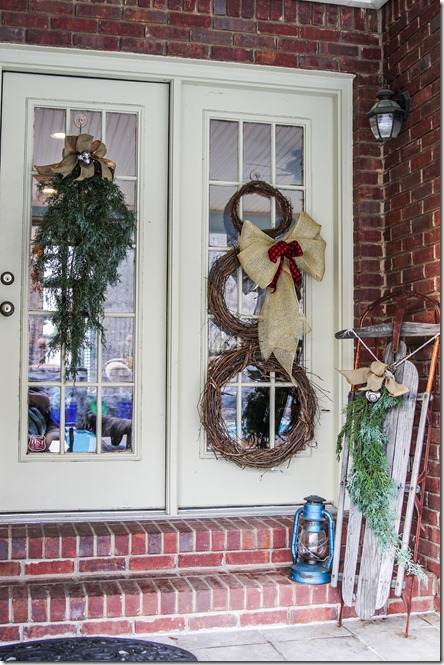 The staircase railing got a garland of evergreen.  I'm a little bit of an evergreen fiend this year.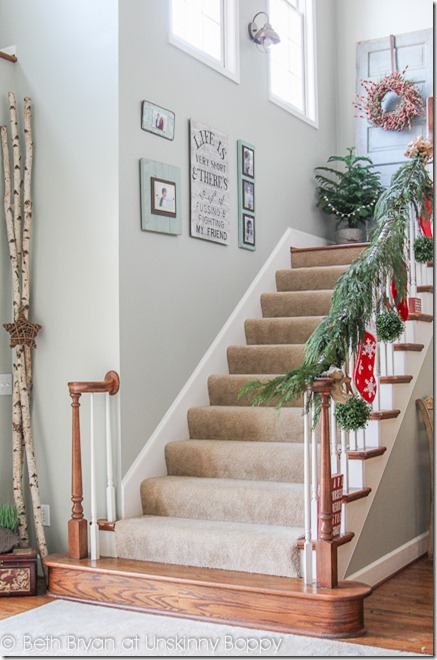 Our stockings are hung on the stairwell with care.  Dangling stockings from heavy metal objects high atop  my mantel freaks me out, so this seems safer, although my four year old did ask how Santa was going to reach the one at the top of the stairs.  I told him Santa can climb stairs.  
I bought these faux boxwood kissing balls at the same store in Pennsylvania Dutch Country where I spotted the galvanized bunting.  They are so realistic looking that I don't mind mixing in a little bit of faux greenery amid my fresh.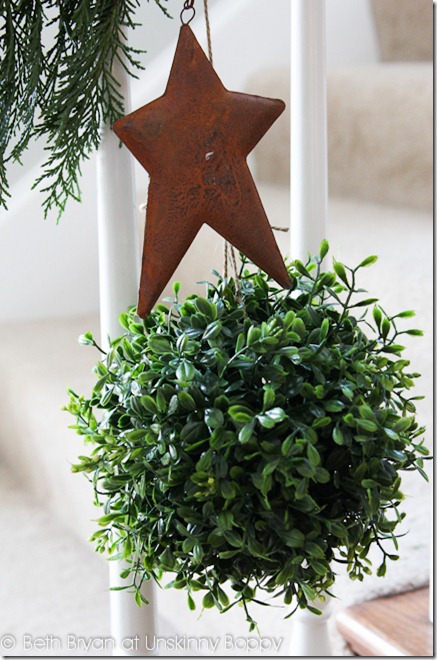 At the bend of the stairs sits a cute little tree in an old galvanized minnow bucket. Up North they have sap buckets. Down South we have minnow buckets!  My mother had one of these trees when I was a little girl.  We always called it a Ming tree, but Google now tells me that is not the name of it.  Does anyone know what this tree is called?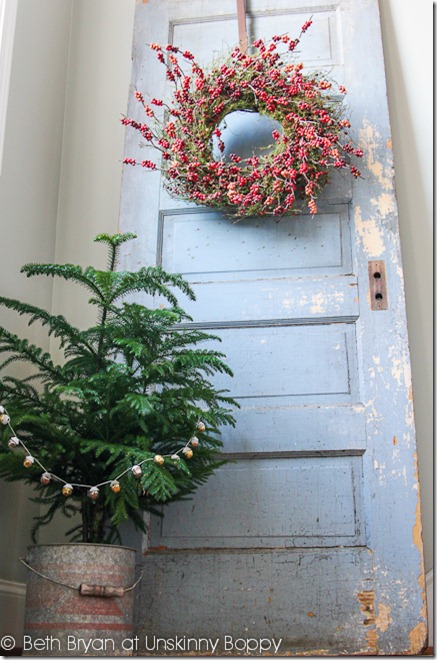 It's great having a tall husband to help hang the high decorations! Thanks, babe!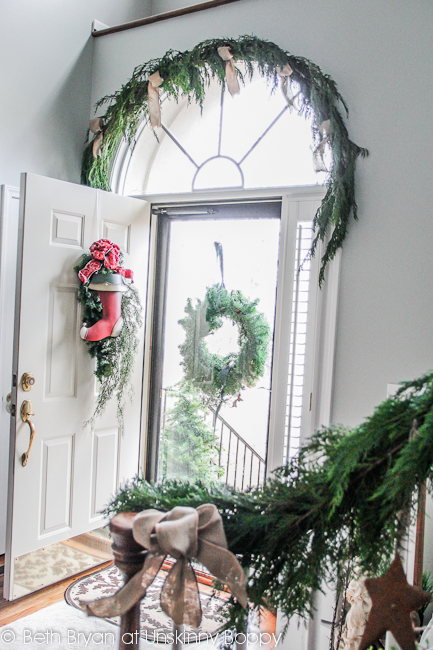 I have a bit of an obsession with gold leaf ornaments.  I have been collecting them on vacations from all across the US for years.  Every year when I hang them on my tree I am reminded of fun trips to Vermont or Vancouver.   These matching glittery ones came from Walmart down the street, though.  Oh, commercialism… Why must you be so tempting and easy?  And glittery?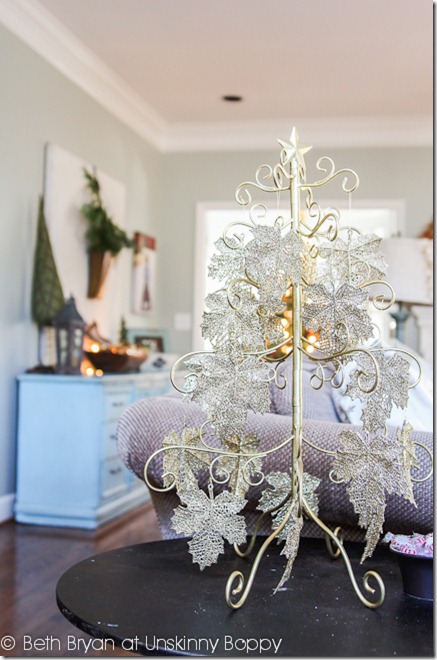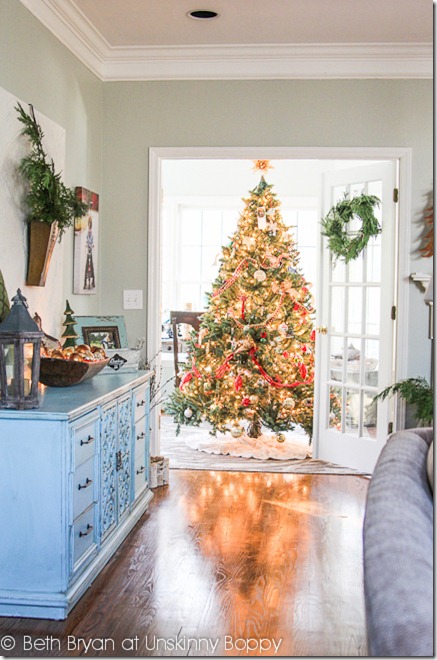 The glowing dough bowl made a come back this year with a prominent spot on the credenza.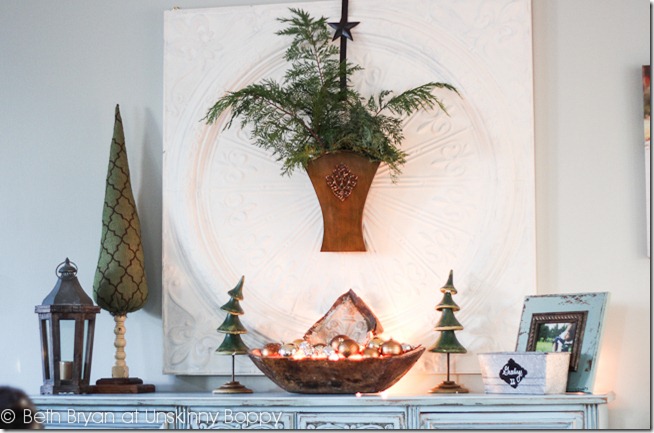 I created this chalkboard label for a galvanized bucket to hold all of our Christmas cards once they start rolling in.  I love getting Christmas cards.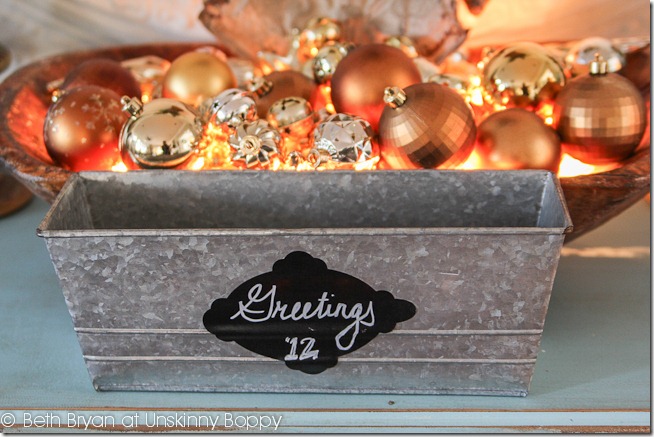 You can see more details of my Joy to the World Mantel here.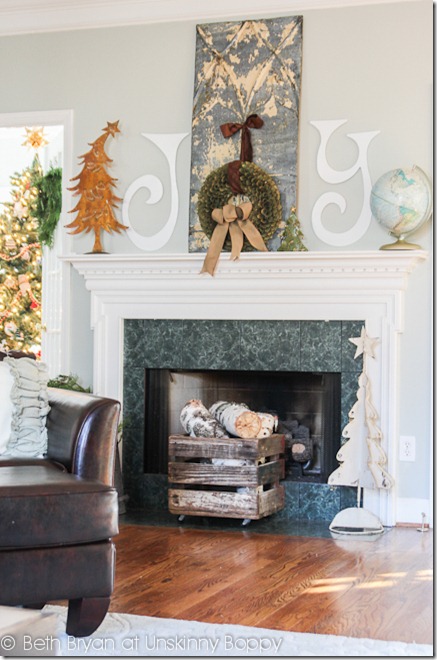 Moving into the kitchen now, are you surprised to see more greenery above the window?  Evergreen fiend, I'm tellin' ya…  I found this curled wood pomander at Target.  The icy branch wreaths have been in my decorating repertoire for many years.  They are so simple and beautiful.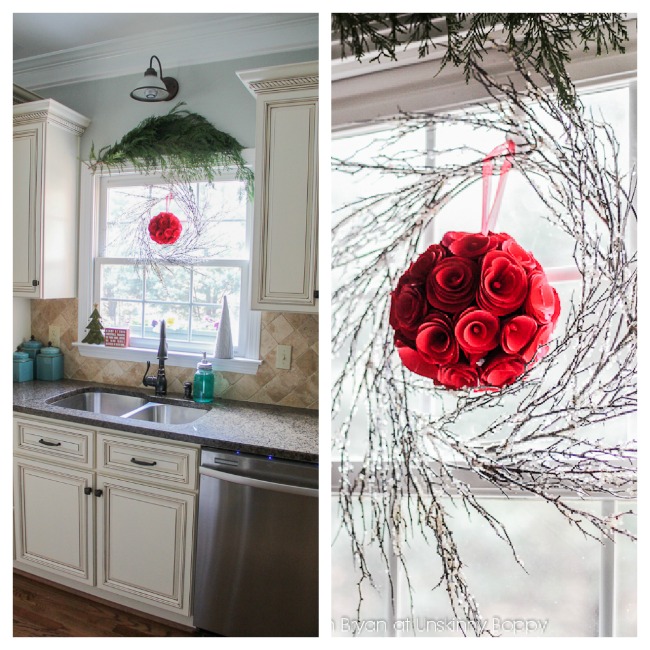 This little sign makes me so happy.  And a sweater tree on clearance?  Yes, please.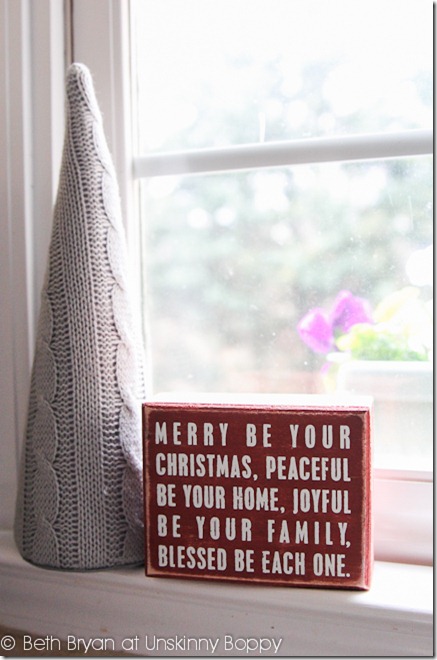 I easily transitioned my Thanksgiving kitchen table decorations to Christmas decor by adding cute metal "ornaments" that I found at the Pottery Barn outlet in New York during our October trip.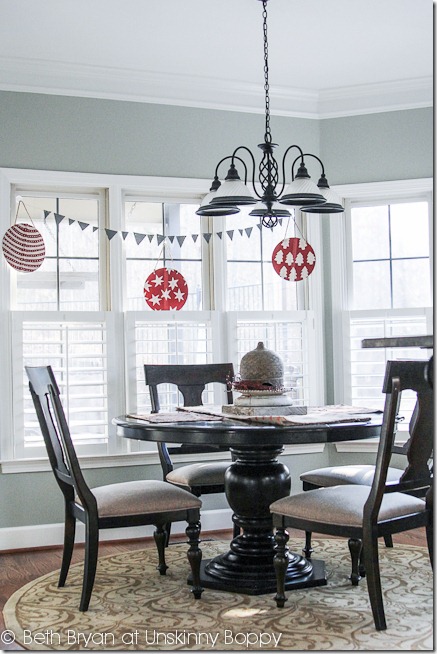 The center piece stayed the same, but I added a cute polka dotted burlap fabric for a runner.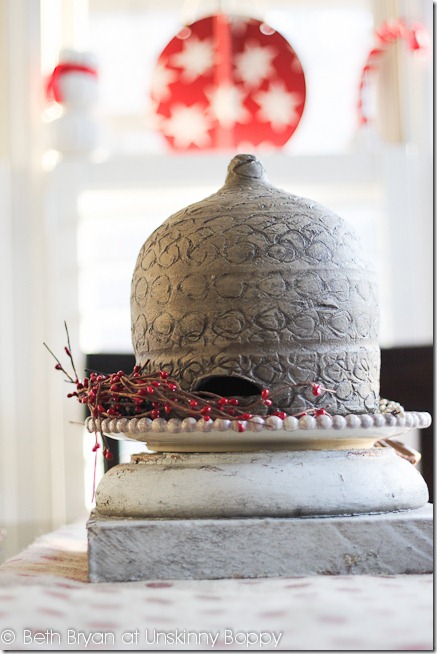 Into the dining room now for the final room of the tour. I don't have any Christmas parties planned, so I'm keeping it simple in here this year.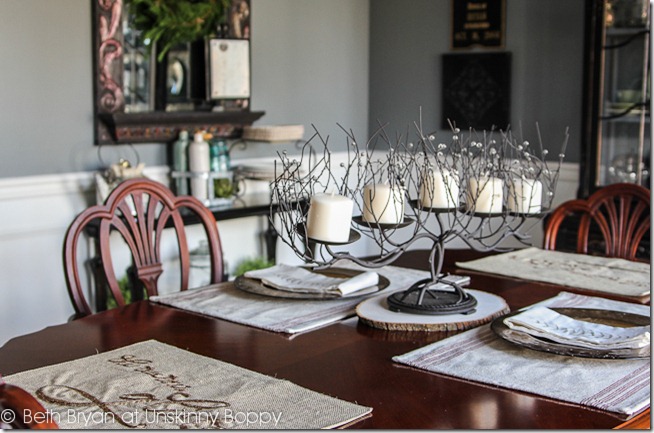 I hand stamped these cute "Happy Happy Joy Joy" ornaments for the wreath ion my sideboard.  Santa brought me a metal stamping kit this year, so I opened that gift a little early and got to work on these.  They look very cute on a wreath.  Beware those sharp edges, though!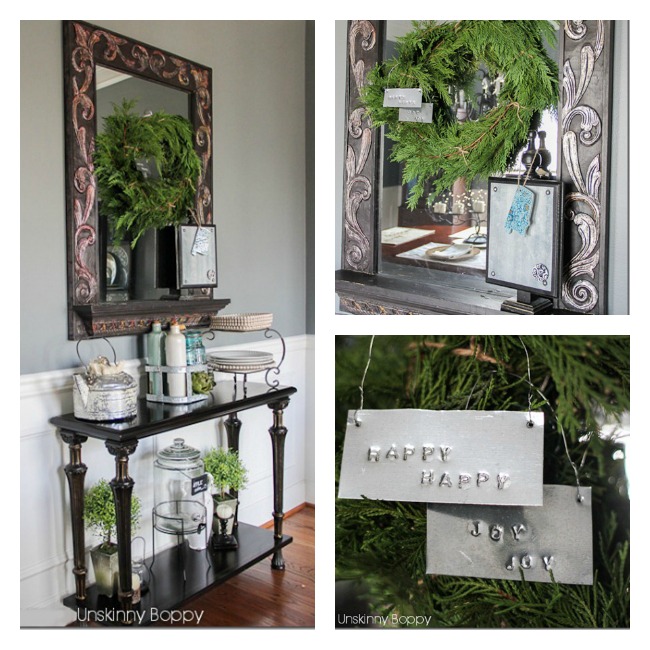 That wraps up my 2012 Holiday Housewalk!  I hope you guys enjoyed the tour.  I'll leave you with this year's glowing tree photo.  Can you believe how much my little man has grown in just two years?  Four year olds can reach much higher on the tree than two year olds.  He's over the halfway point.
If you would like instructions on how to shoot a photo similar to this one please visit my tutorial.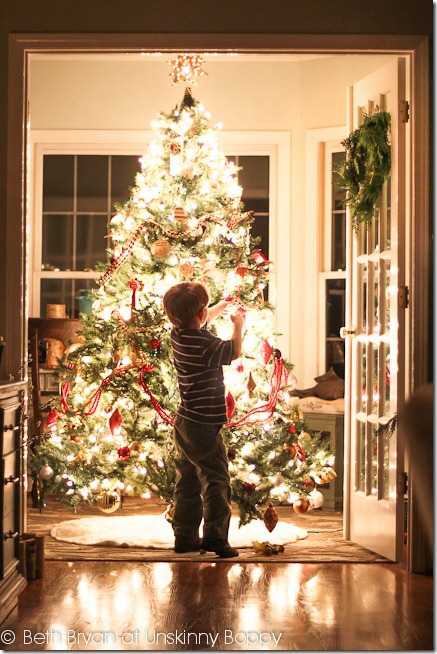 Thank you all so much for stopping by to visit my home this year.  I'm extremely honored to be a part of this virtual housewalk with all the other amazing bloggers who are featured.  Thanks for having me, Jenn!
 Now, please continue on to the next stop on the tour.  Tracy at French Larkspur was one of the instructors of the Creatively Made Home series, so her home is sure to be wonderful!  Head over now to continue the tour and see more beautiful Christmas decoration ideas!  Get your pinning finger ready- her holiday home is GORGEOUS!
 Happy Holidays, everyone!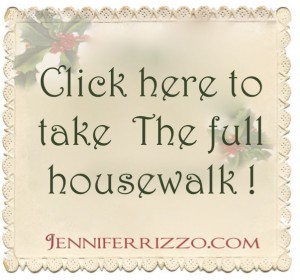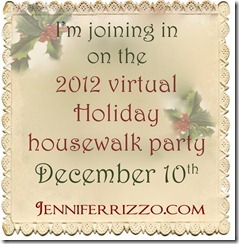 Also linking to these great parties: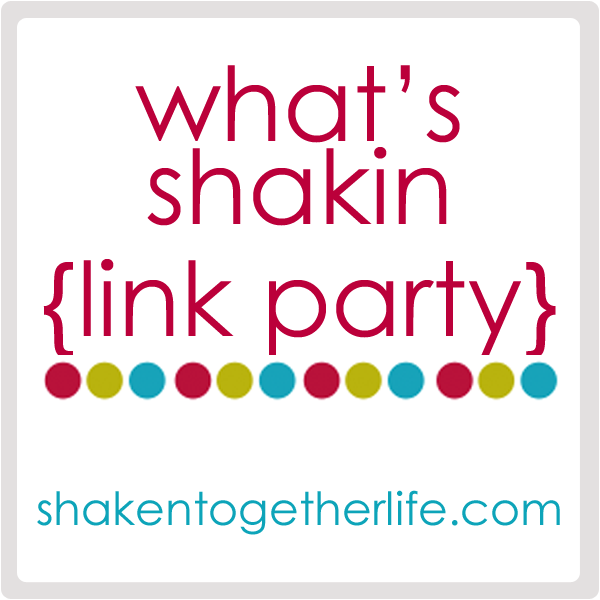 Newlywoodwards Dare to DIY