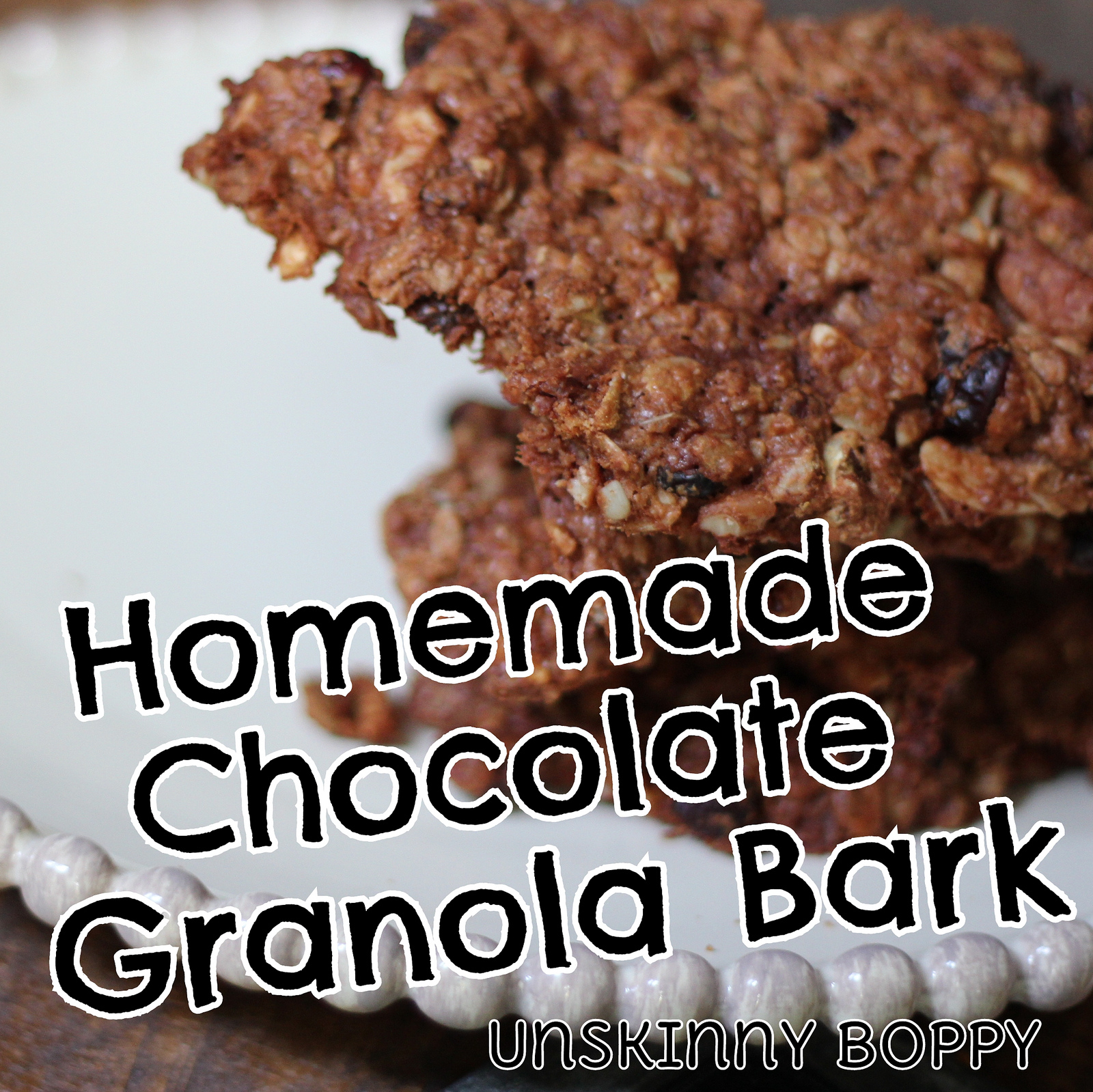 Have you ever had a granola bark that is crispy and crunchy and chewy and perfect that it melts in your mouth with every bite? 
My husband found this little girl named Kayla who sets up a vendor booth at the local farmers market in the summer who makes THE best granola bark.   Every weekend for the past two summers, you could find him loading up our son on early Saturday mornings and heading down to her booth to buy bags of her granola.   Then the summer ends and he starts complaining that he is out of Kayla's granola.  All winter long, I have to listen to my husband whine that Kayla the granola girl isn't around.  I've been trying to replicate Kayla's granola to no avail. Finally I started buying Publix granola bark as a semi-decent replacement.  Then, the price of it became pretty ridiculous to justify.  So, I started searching for a good recipe that I could adapt to become my own. When I googled Publix Granola Bark recipe this recipe for  Kathy's Trail Mix Crunch Chunks came up at the top of the search.   When I made this recipe for the first time, it was the closest I've come to what I've been searching for.  Now, I'm no Kayla or Publix, but this granola bark is pretty doggone delicious.  After making it and tweaking the recipe for a few months, I feel like I'm finally ready to share it with you here on the blog.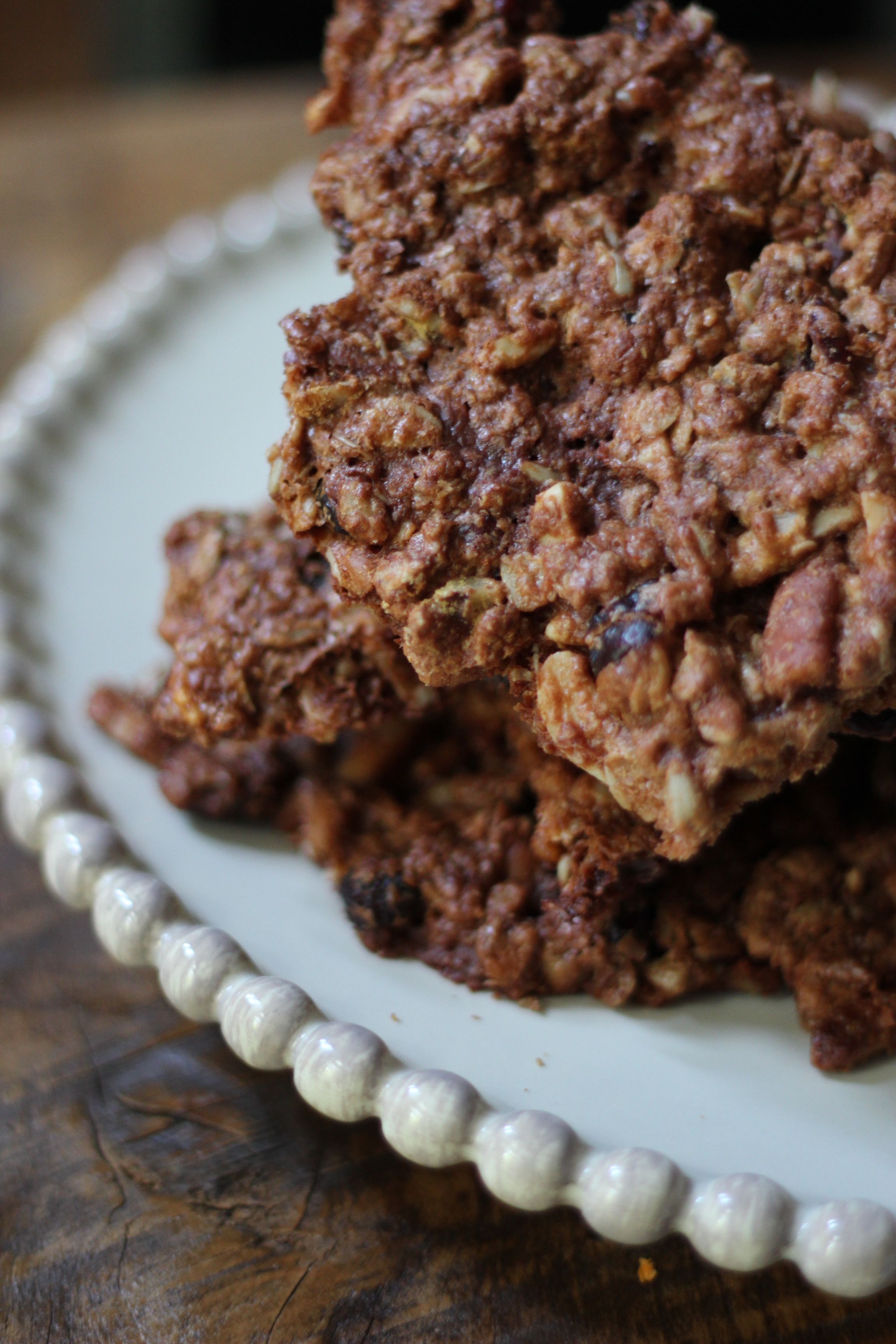 I've tried several different variations with adding shredded coconut and peanut butter.  I've made it without the chocolate and added cherries and walnut instead of raisins.  It's one of those recipes that you can play around with and adapt to make it your own.   I also like to add protein, flax seed and wheat germ.  These are not required for the recipe, but they do add some nutritional value.  No matter how I tweak it, Garrett and J and I all love it! 
So, without further ado, here is the recipe! 
Chocolate Granola Bark
A chewy, crunchy, satisfying granola recipe with a hint of dark chocolate and cinnamon.
Ingredients
1 cup Old Fashioned Oats
½ cup sunflower seeds
½ cup slivered almonds
1 cup pecans, chopped
½ cup Craisins
¼ cup raisins
2 oz dark chocolate, chopped (I used Lindt sweet dark chocolate)
Optional: 1 scoop vanilla or chocolate flavored whey protein powder
Optional: 2 T. flax seed
Optional: 2 T. wheat germ
¾ cup brown sugar
1 T. cinnamon
2 T. Karo syrup (you can substitute honey or agave nectar)
1 T. maple syrup
5 T. butter
2 T. milk
1 tsp vanilla
Instructions
Preheat oven to 350 degrees.
In a large mixing bowl, mix the oats, sunflower seeds, almonds, pecans, craisins, raisins, chocolate and optional ingredients.
In a saucepan, melt butter over medium high heat, then stir in brown sugar, Karo or honey, maple syrup, cinnamon, butter and milk. Bring to a rolling boil, then boil for approximately 1-2 minutes longer.
Remove from heat and add vanilla flavoring.
Pour wet ingredients over the dry ingredients and mix thoroughly.
Spread out onto well-greased (or parchment lined) cookie sheet.
Bake for 15 minutes at 350 degrees, then cool and store in an airtight container.
For regular granola, leave out the chocolate. Add shredded coconut or peanut butter for variations.