It was all my Dad's idea.  He wanted to take Garrett to see Niagara Falls. Nobody else in the family was able to go, so in early June we decided to take a Granddaddy/ Daughter/ Grandson trip to Niagara so G and I could see the Falls.  It has always been on my bucket list, so I figured now would be as good a time as any to see it.  We stayed at the Sheraton on the Falls on the Canadian side, mainly because it had the water park attached so we could have some guaranteed entertainment for Garrett.  For the first three days of the trip, we saw a lot of mist.  An unexpected cold front brought a fog over the already misty falls.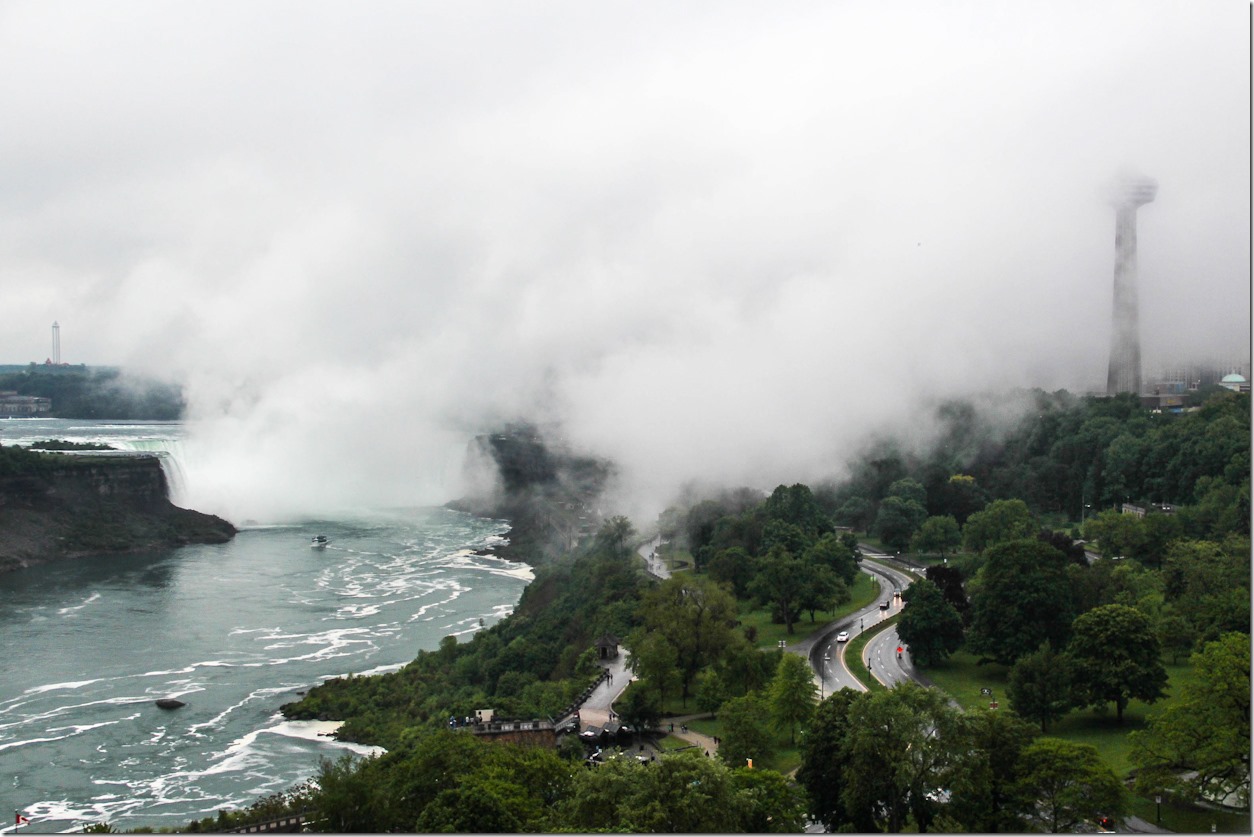 But thankfully, on the very last day of the trip, the skies cleared and we got to enjoy this beautiful view!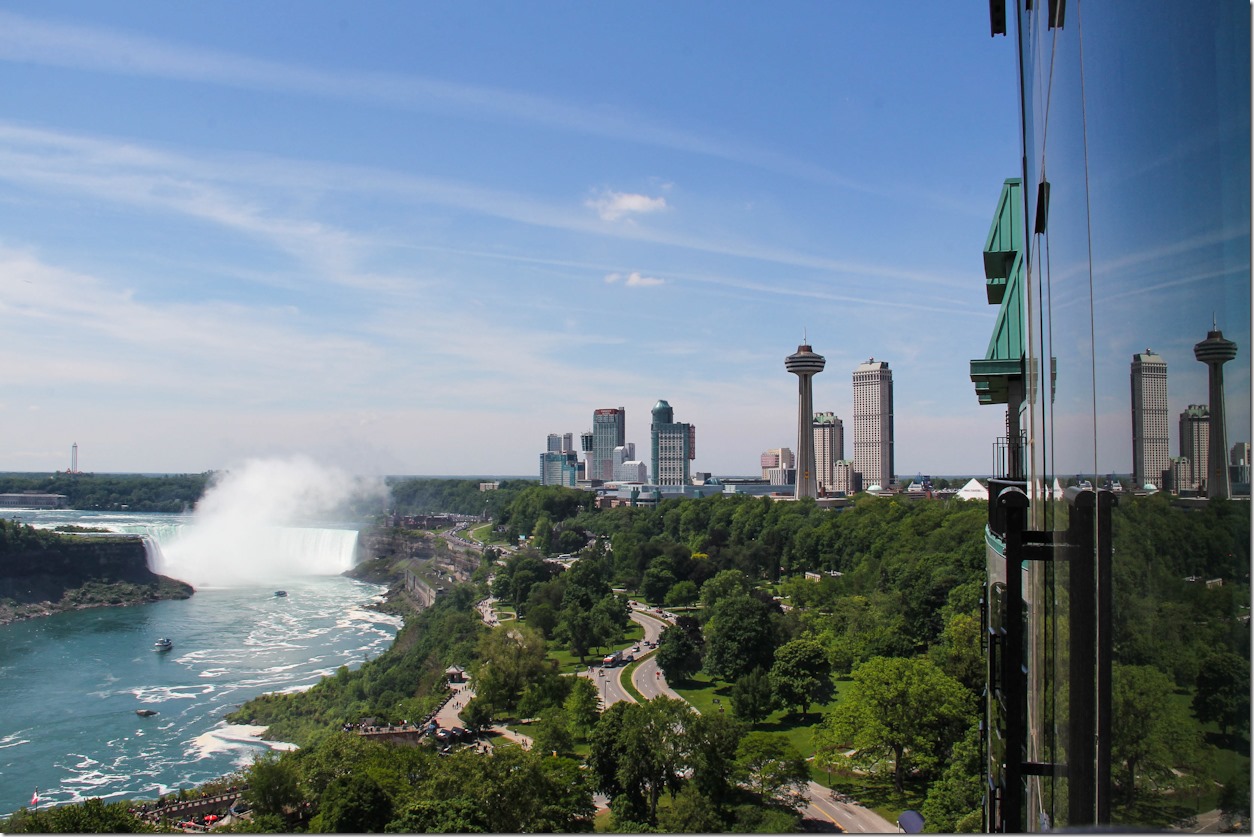 We were on the 23rd floor of the hotel, and our room had windows that opened out over looking the Falls.  G thought this was the coolest thing ever.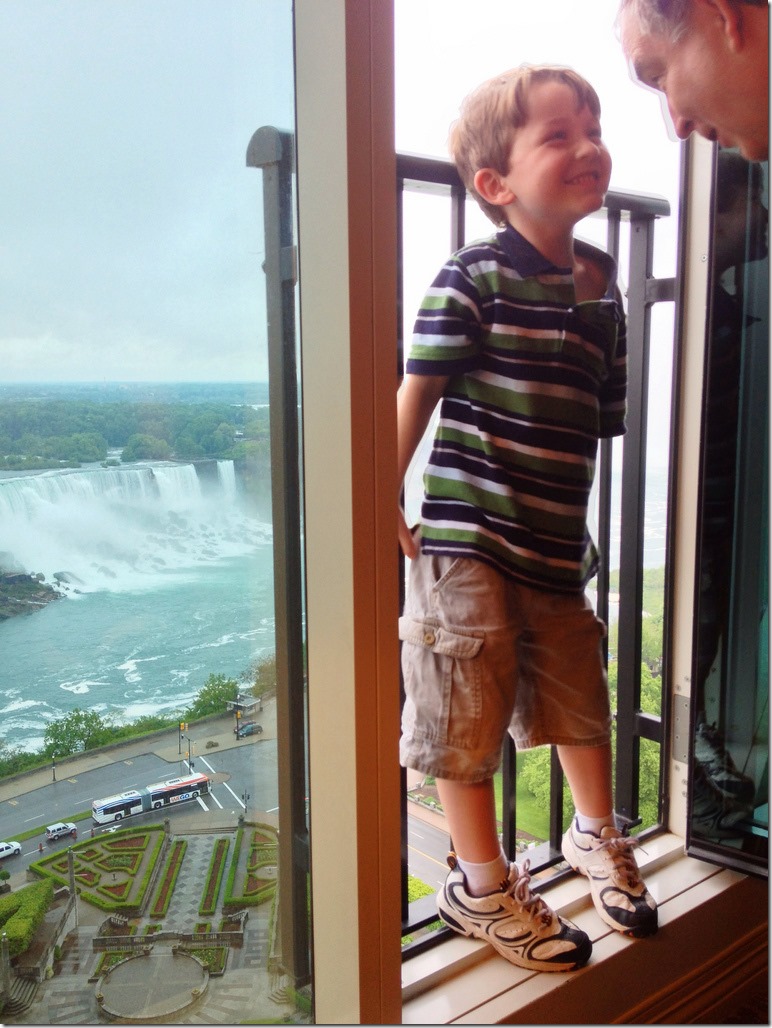 The hotel also happened to be on the same street as Clifton Hill, so we walked a few blocks up the hill each night and had dinner.  If Gatlinburg, TN and Las Vegas, NV got together and made a love child, it would be Clifton Hill.  There were glowing neon fudge shops and brightly lit hand dipped ice cream cone shops and cheesy Ripley's Believe it or Not type attractions were lining the streets.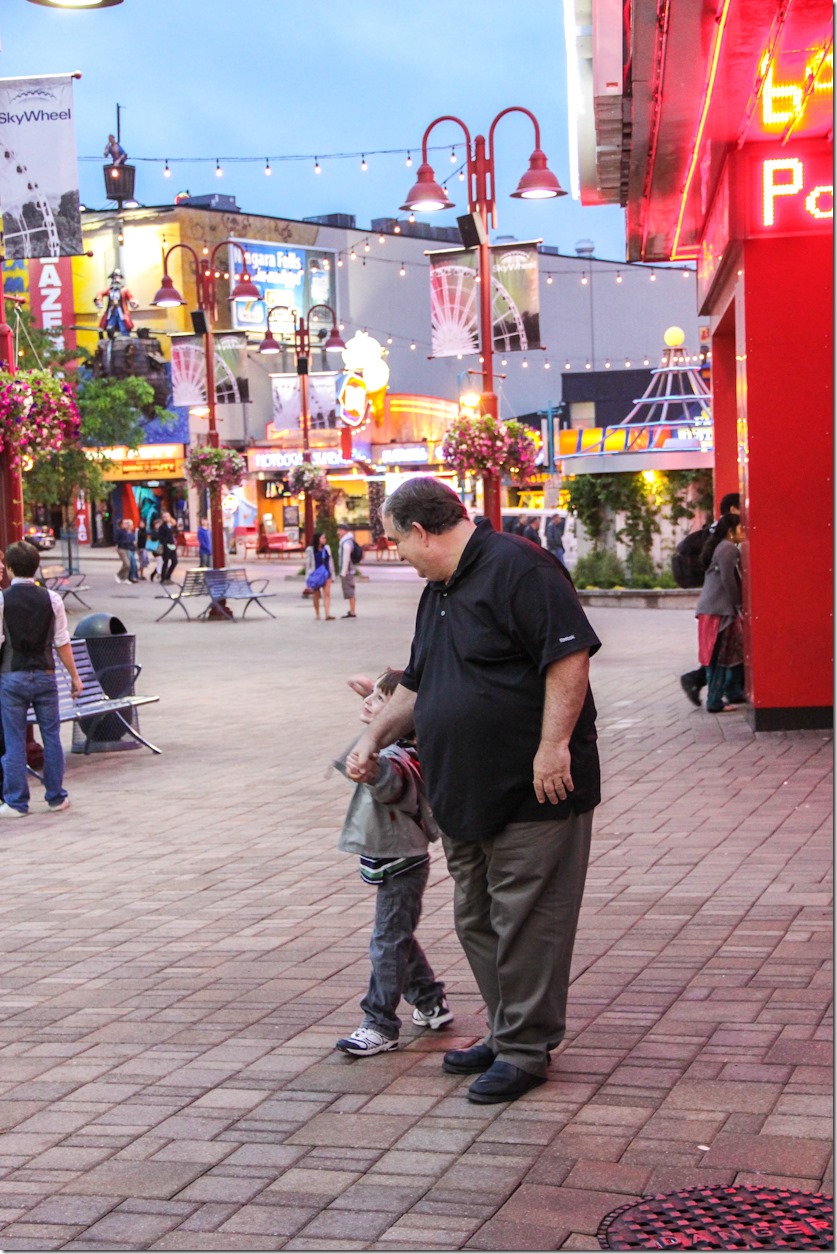 And towering above it all is this massive 20 story ferris wheel called the Skywheel. Of course we had to ride it, since neither Garrett nor I had ever been inside a ferris wheel.  I'm not sure how I've lived nearly 36 years on this Earth without a ferris wheel experience, but all that changed on this trip.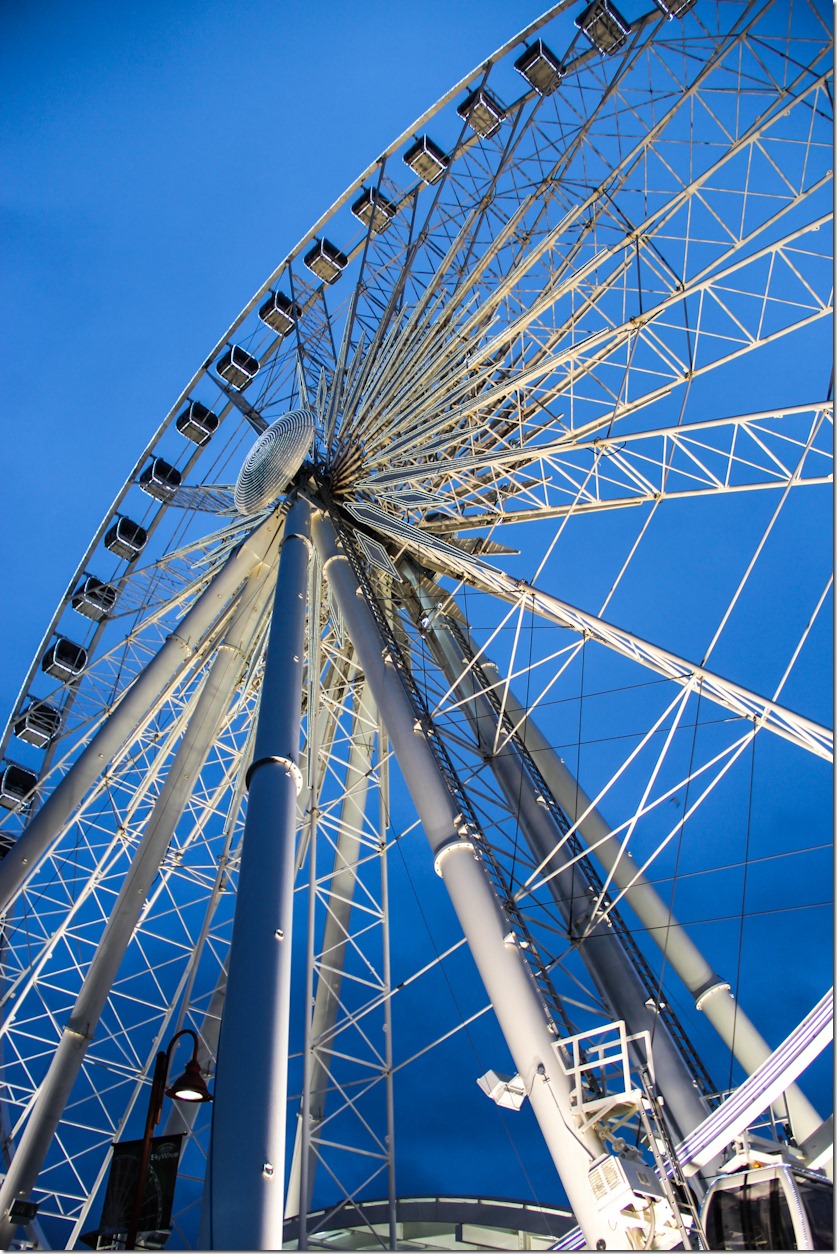 Garrett loved it. I hated it.  I knew I was in trouble when I saw the mischievous gleam in my father's eye as soon as we hit the peak of the wheel.  We were 175 feet in the air in a small glass gondola, when he started rocking it back and forth, using all of his girth to get it swaying hard.  Garrett laughed.  My dad laughed.  And I freaked OUT.  The more I screamed the more they laughed.  It was a torturous ride and I couldn't WAIT to get off.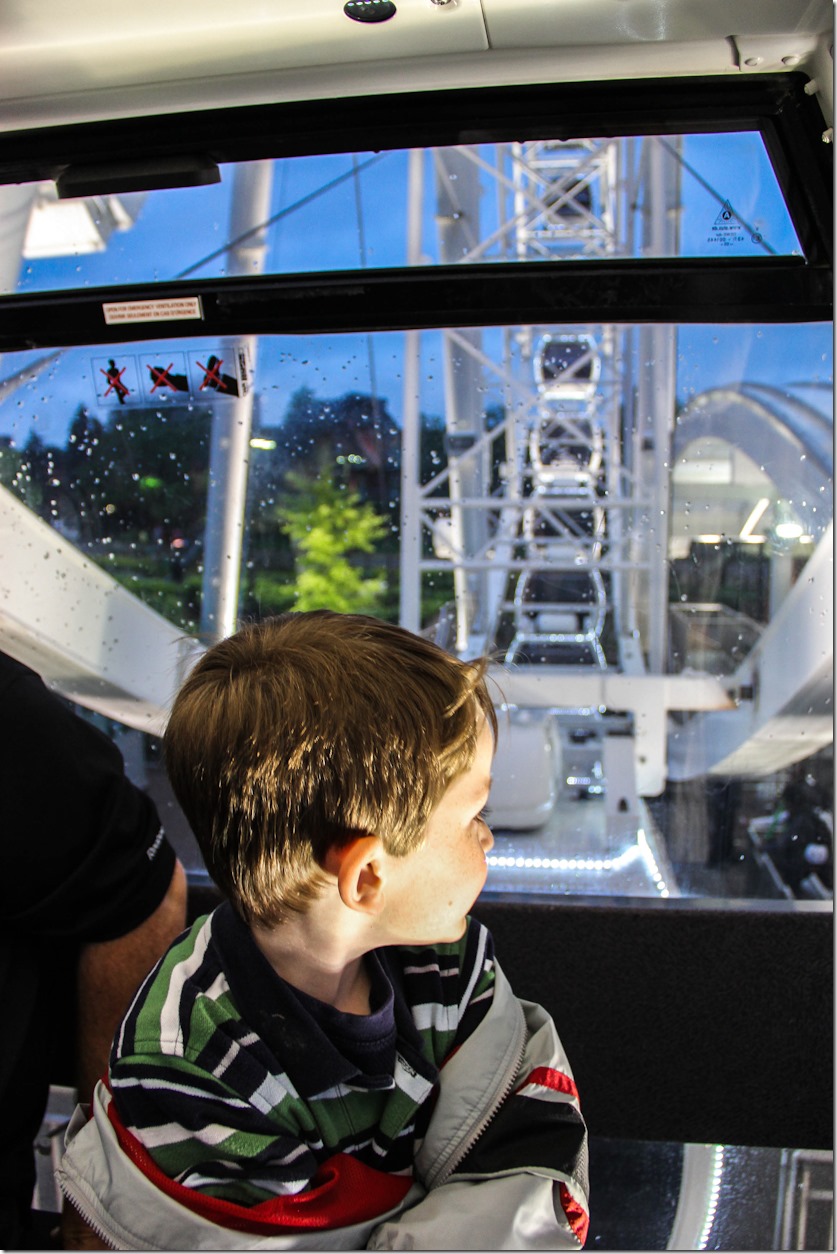 But apparently the view was great!  I wouldn't know what that looked like, since I sat paralyzed on my bench white-knuckling my camera and praying that God would not let our swinging Gondola free fall to our deaths…  But judging by the look on these two faces I'd say it was a great view, huh? You'll have to go brave it yourself to find out.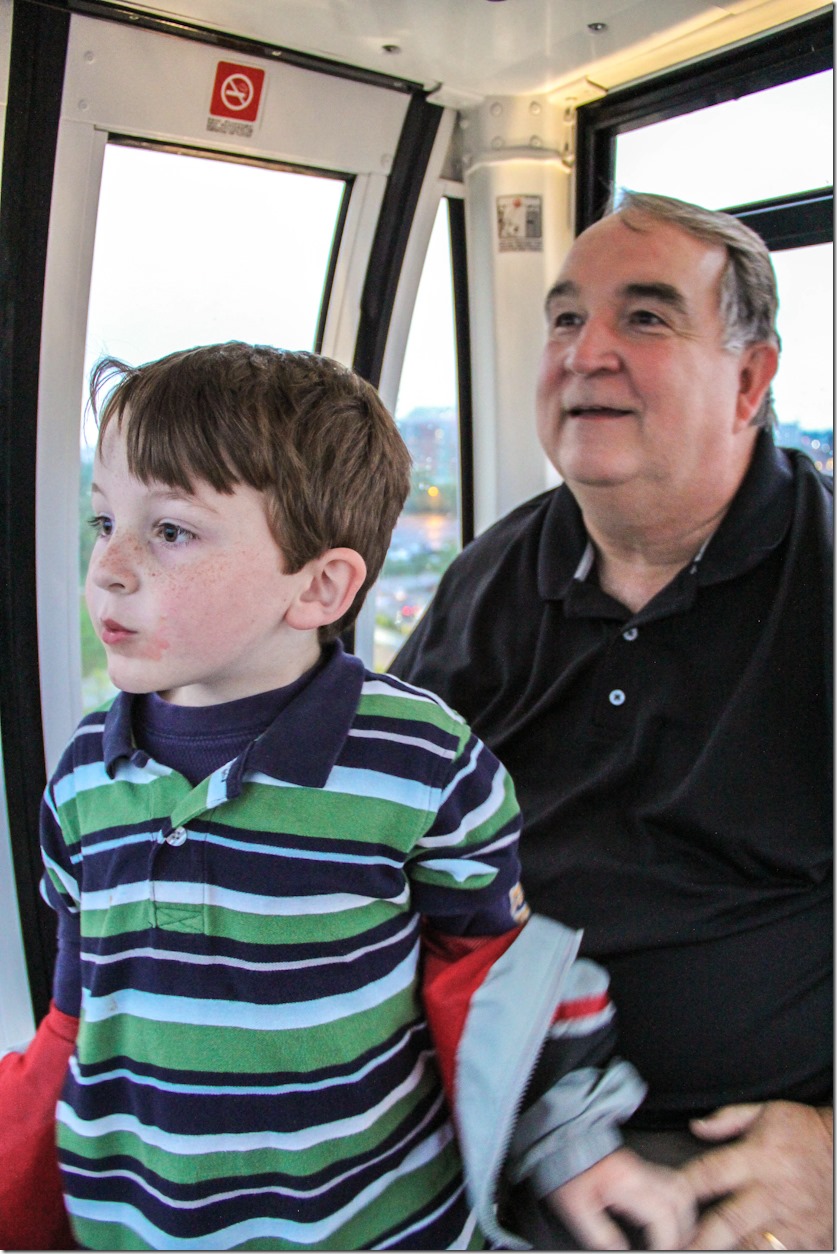 The next day we stepped right out of our hotel lobby and walked up the river walk to Horseshoe Falls, taking in all the pretty sights along the way.  June in Canada was more like March in Alabama. Everything was beginning to bloom SO green!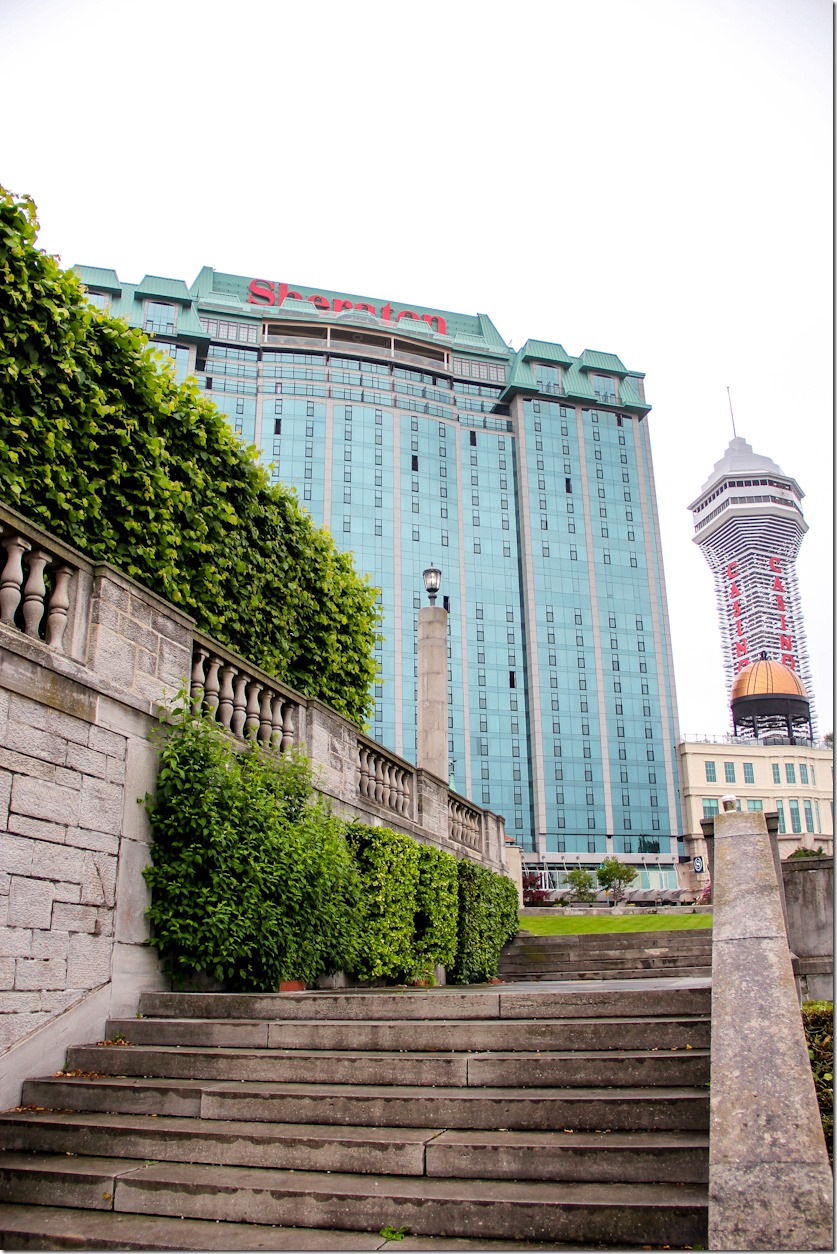 The poppies were amazing.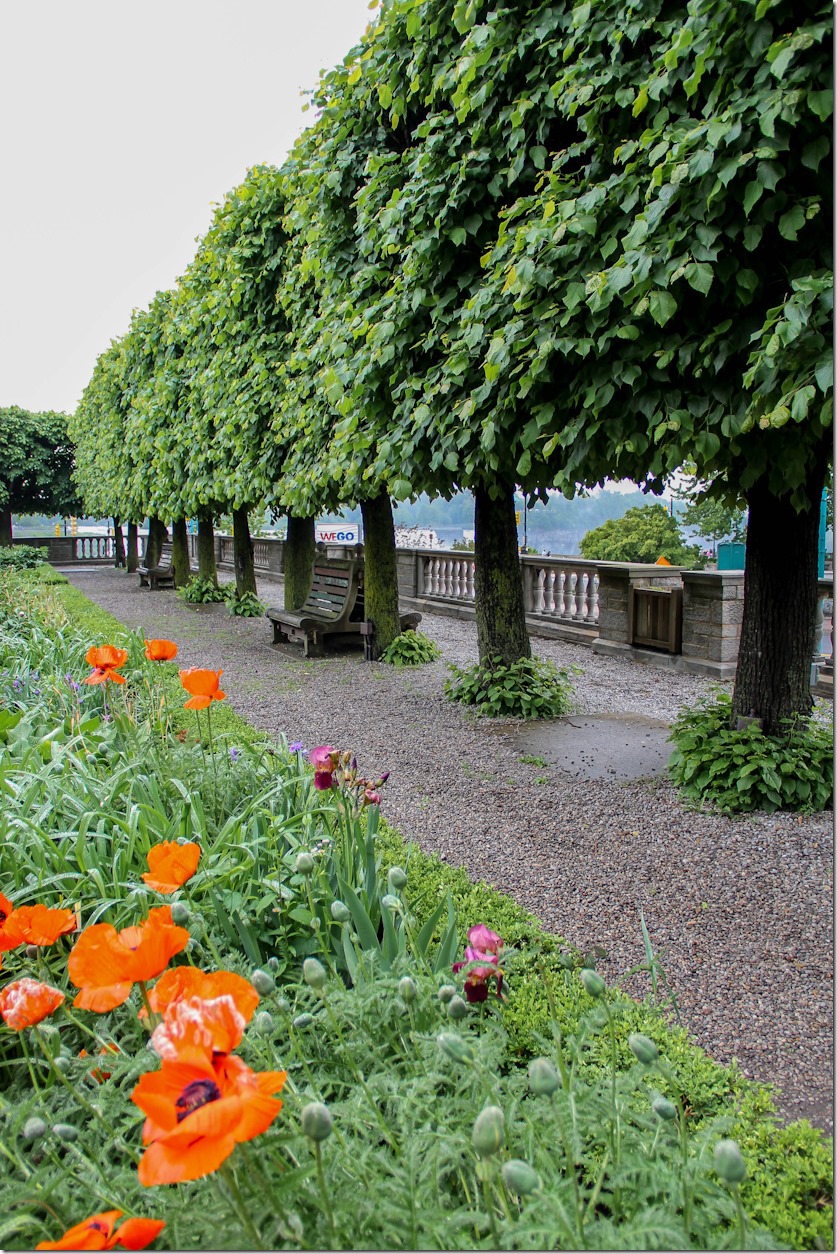 The hosta were so large they could have swallowed Garrett whole in some kind of mutant Cabbage Patch meets Little Shop of Horrors episode.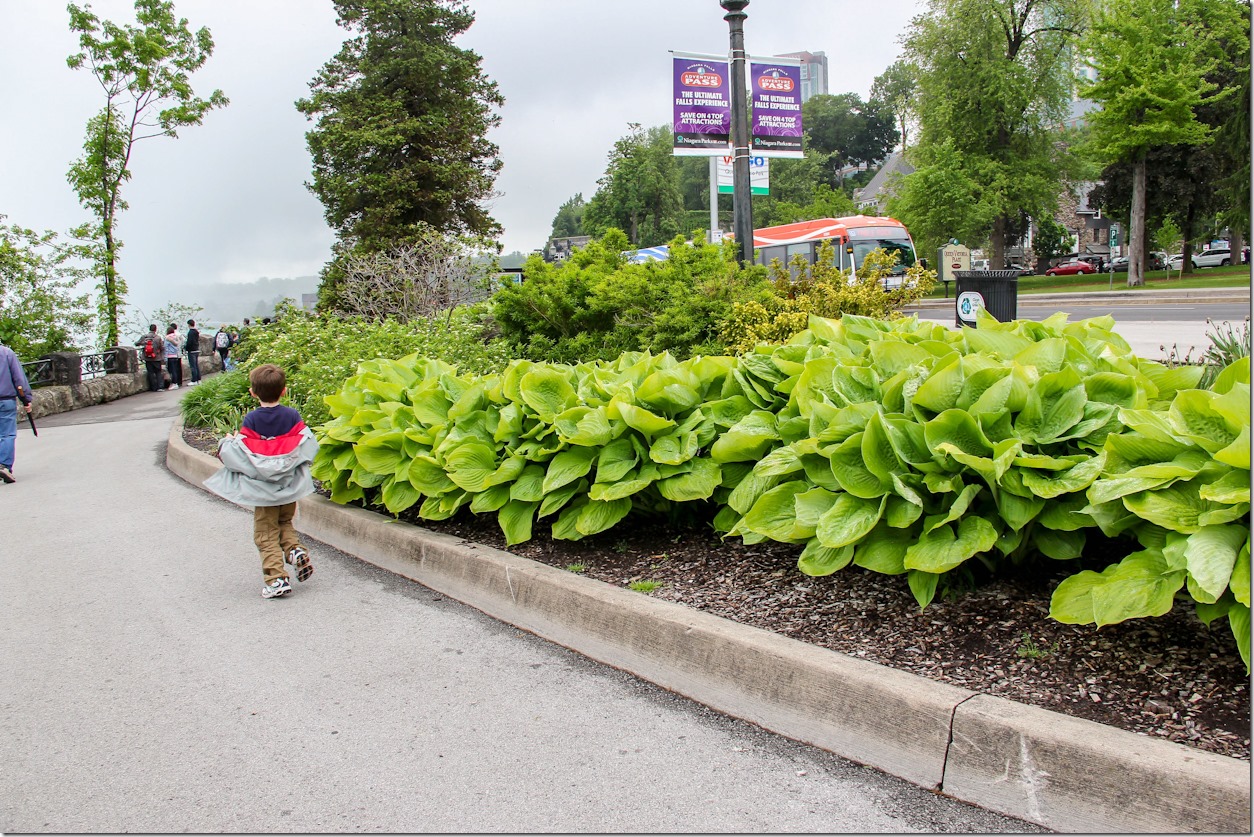 The river walk was just so gorgeous, I had to stop every five feet and snap a photo of it from all angles.  Here is one from an upper observation deck.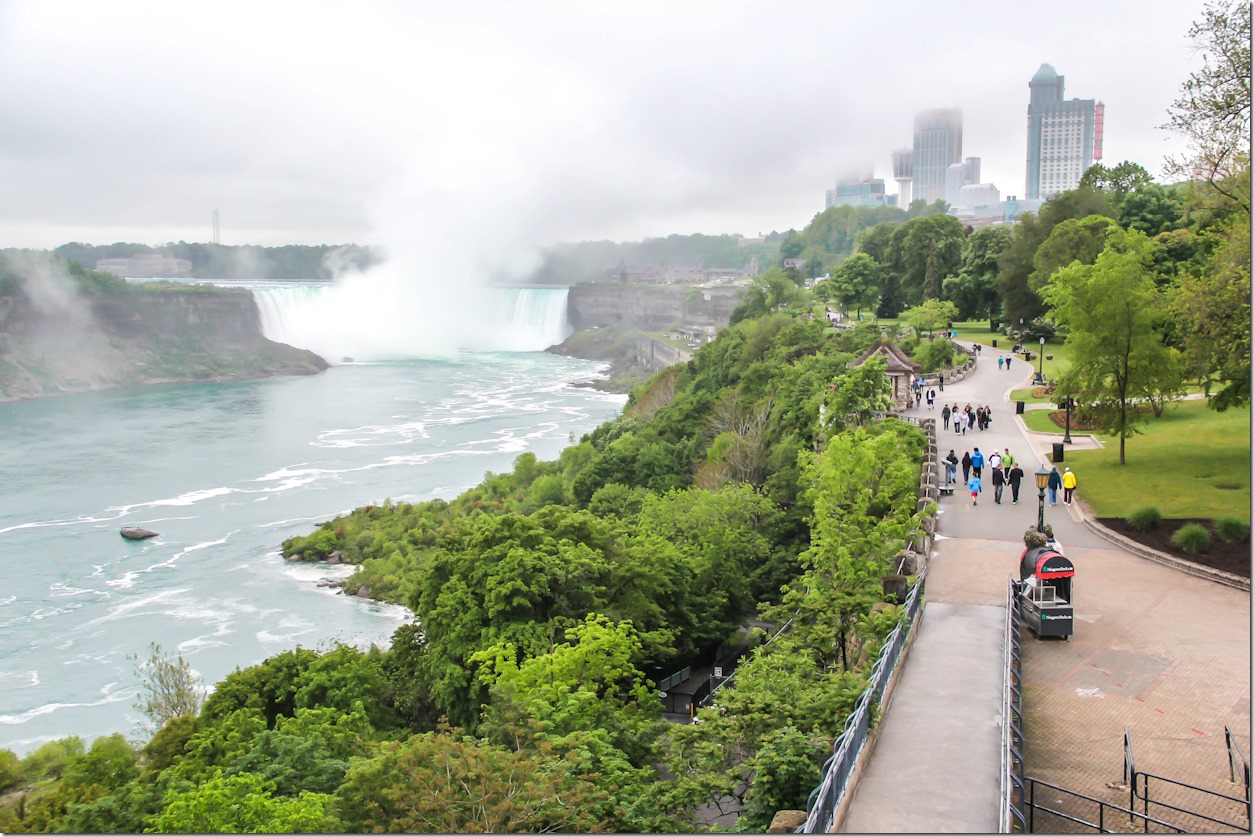 While Granddaddy wandered up ahead all alone.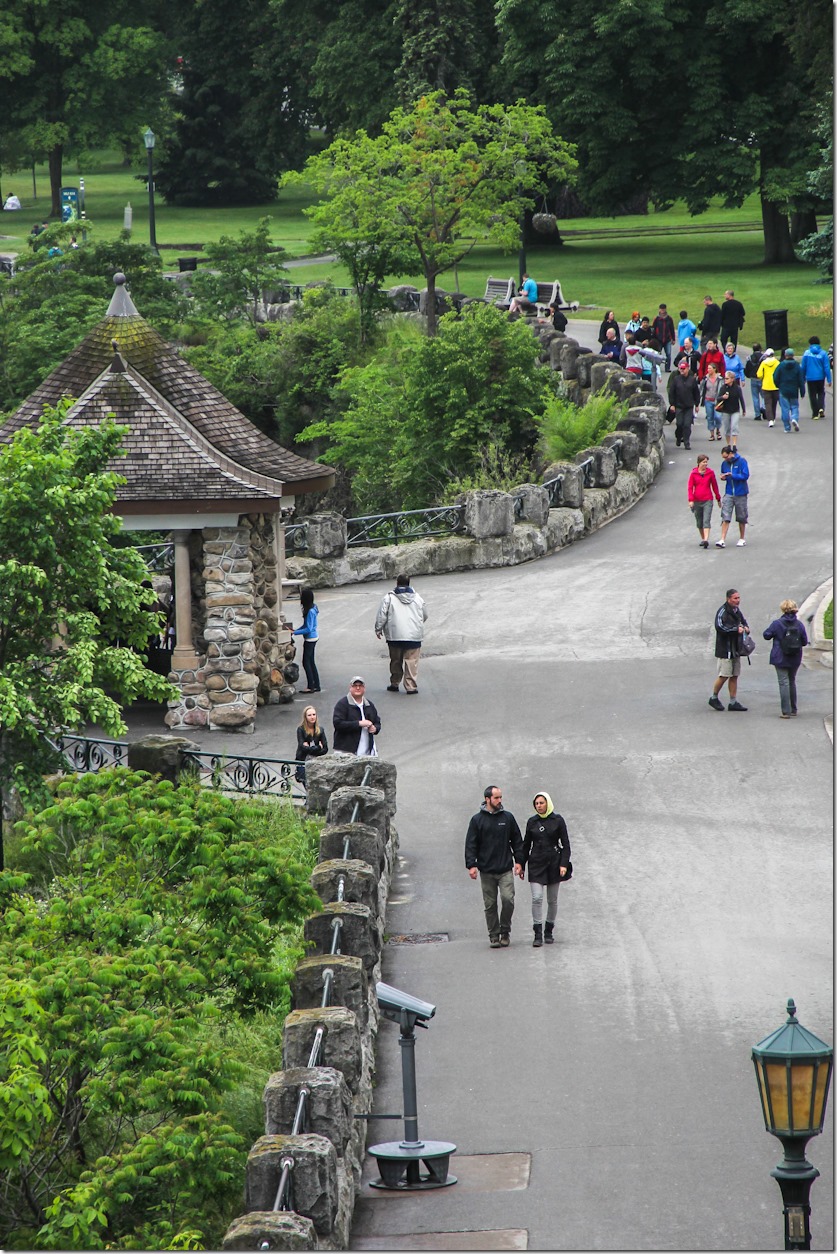 For some reason I didn't realize that there were TWO sets of Falls. The American side is called Bridal Veil Falls, and Horseshoe Falls are on the Canadian side.  Here we are looking like mega-tourists in front of Bridal Veil Falls…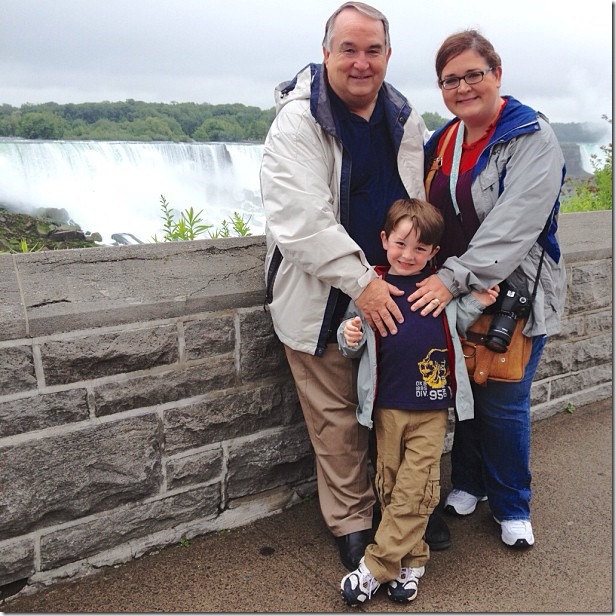 And here is a sweet one of Granddaddy and G with Horseshoe Falls in the background.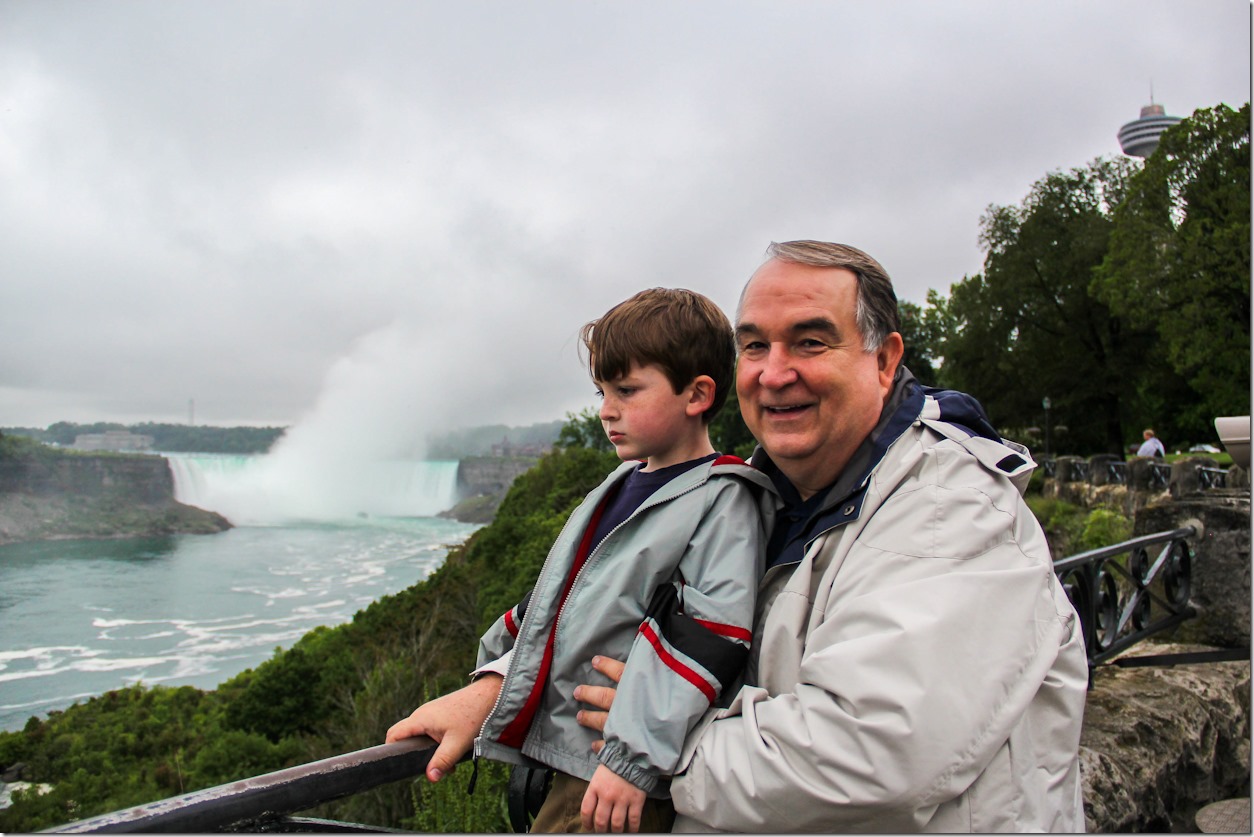 A little closer view…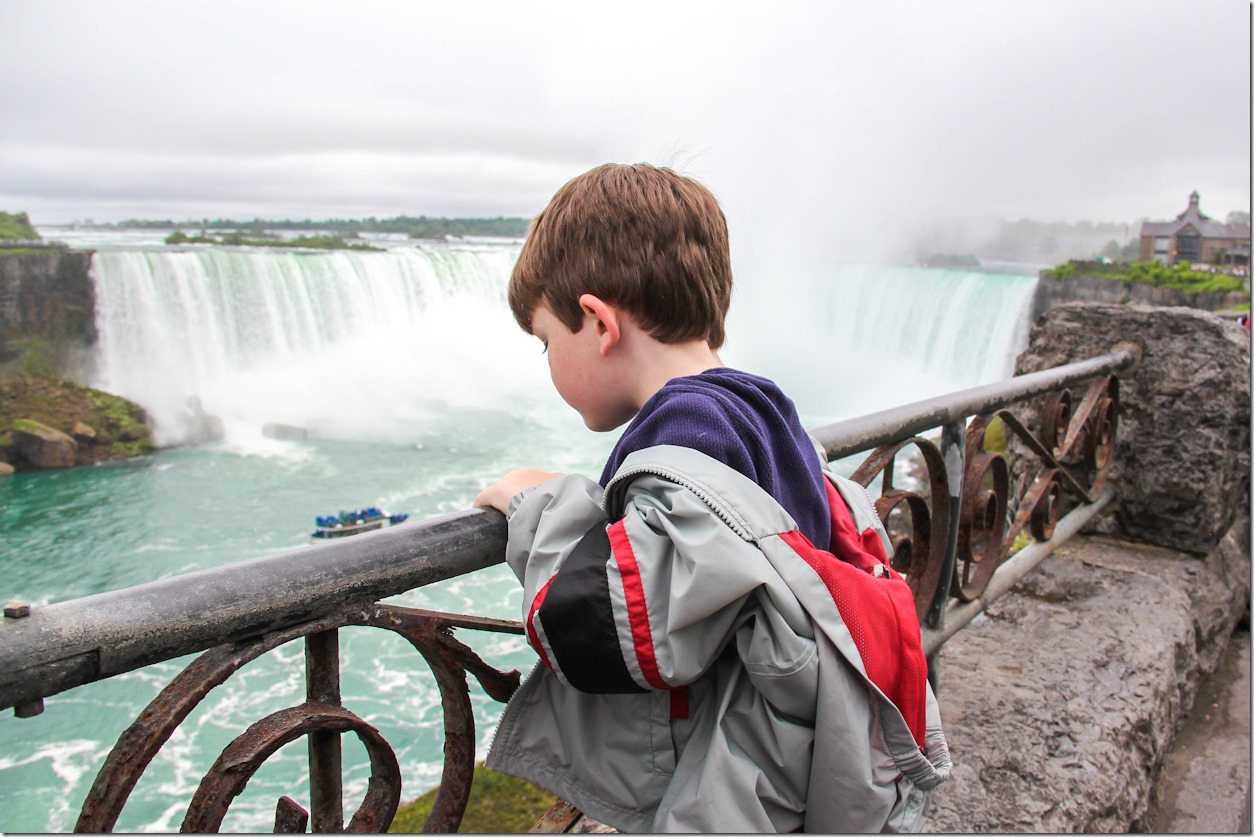 A little closer, with the Maid headed into the Mist…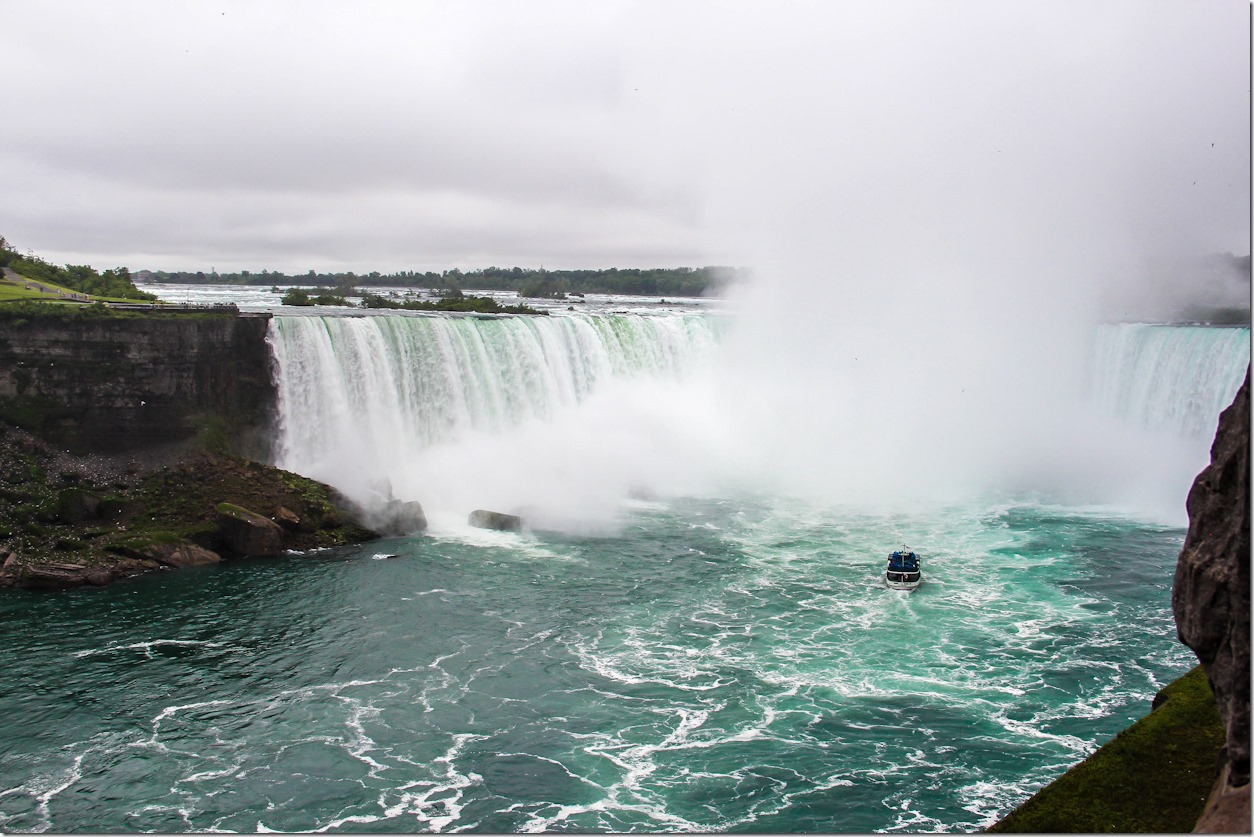 And a MUCH closer view!  This is right at the top of the Falls where they go over the edge.  See the dark blob in the distance right in the center?  That is the old Scow, a barge that was sunk by the crew just before it went over the falls in 1918.  What a crap-your-pants moment that must have been, huh?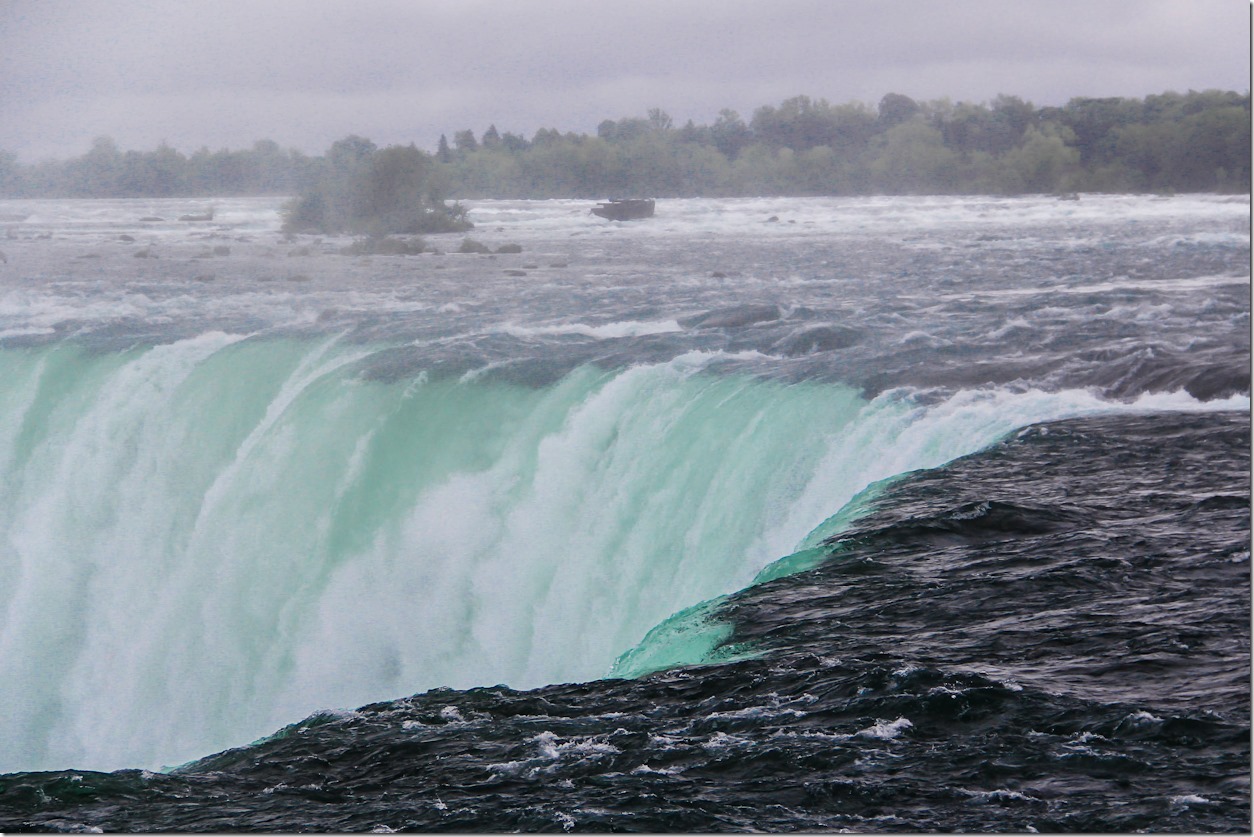 By this point G was bored and hungry, so we found a popcorn vendor and headed back to the hotel to find some dinner.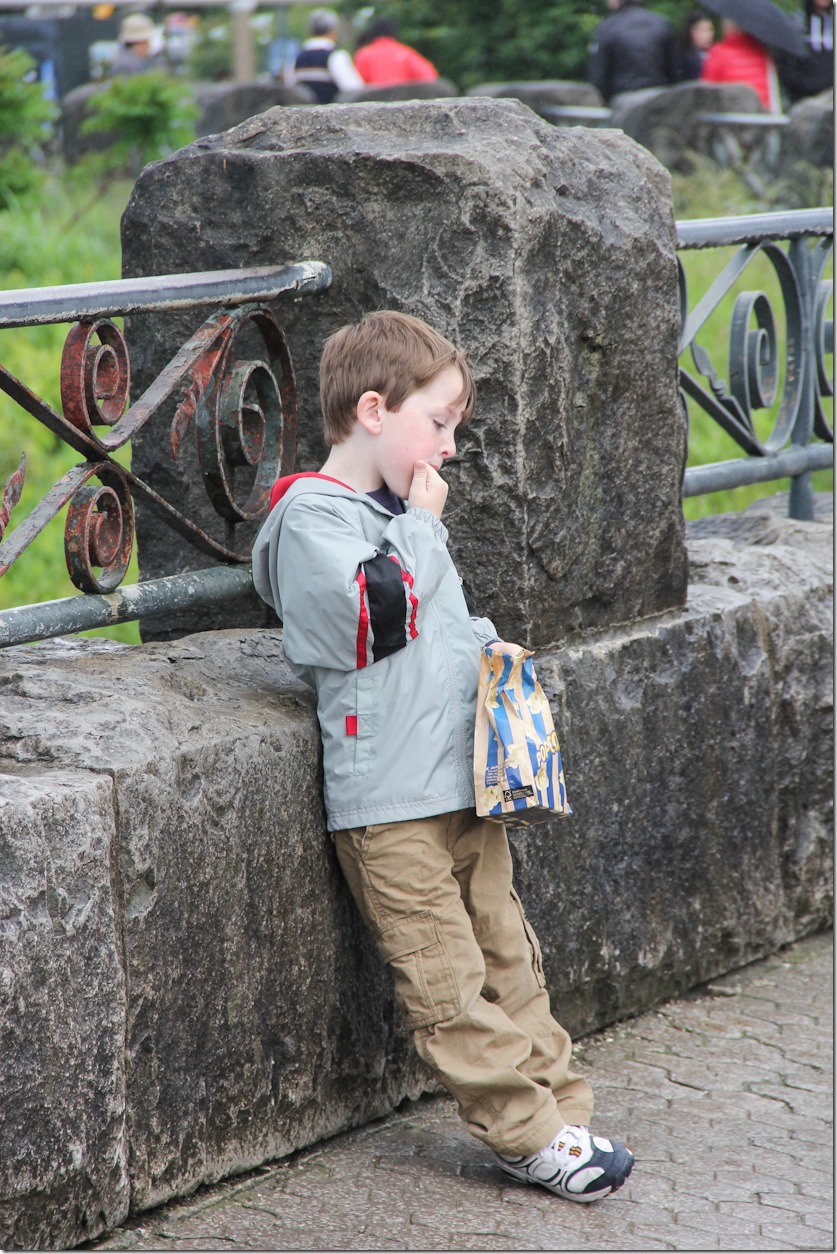 And what a very memorable dinner it turned out to be!  We ate at the Hard Rock Café which was attached to our hotel.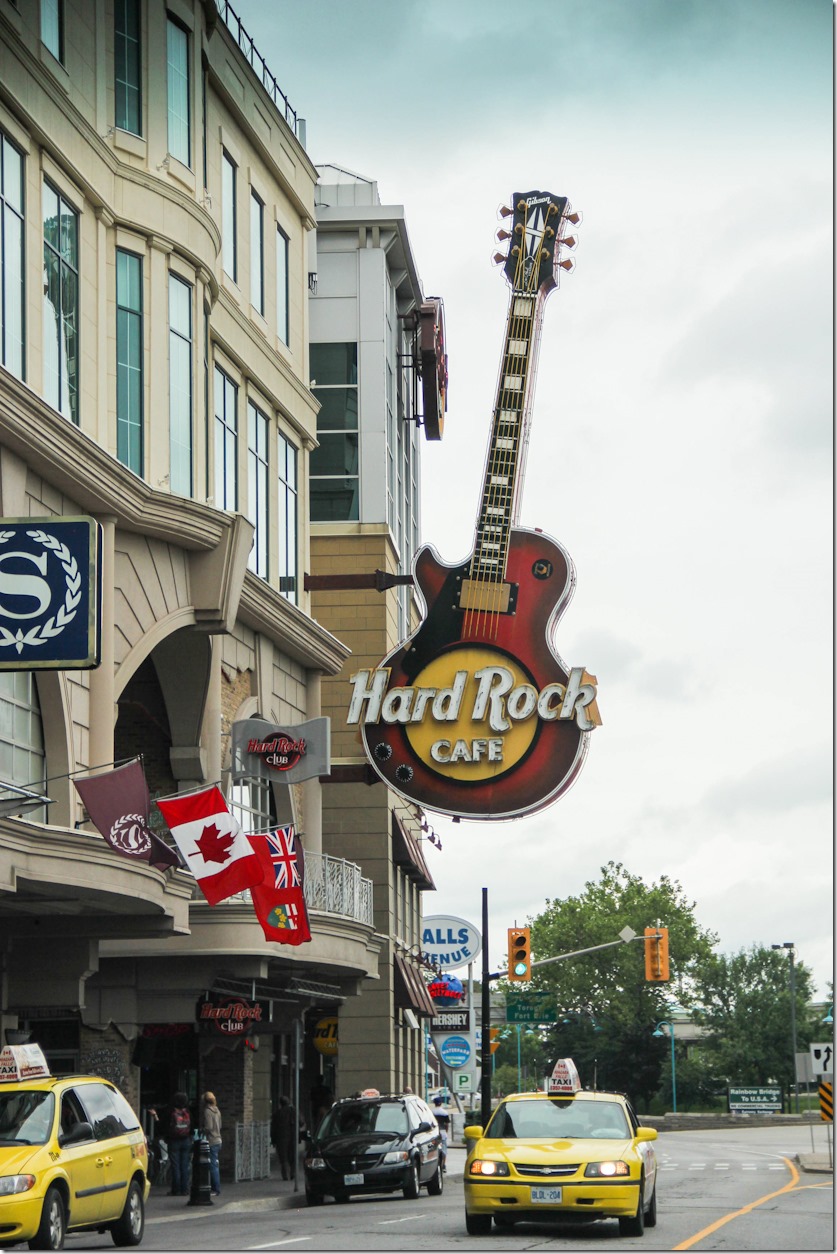 Just as Garrett was biting into his grilled cheese sandwich, his very first tooth fell out!!  It was SUCH an exciting moment!  The waitress came over to see what all the commotion was about, and she got excited after she heard that he had lost his first tooth.  She brought him a sauce to-go cup to put his tooth in so he wouldn't lose it.  Check out the excitement in this kids eyes!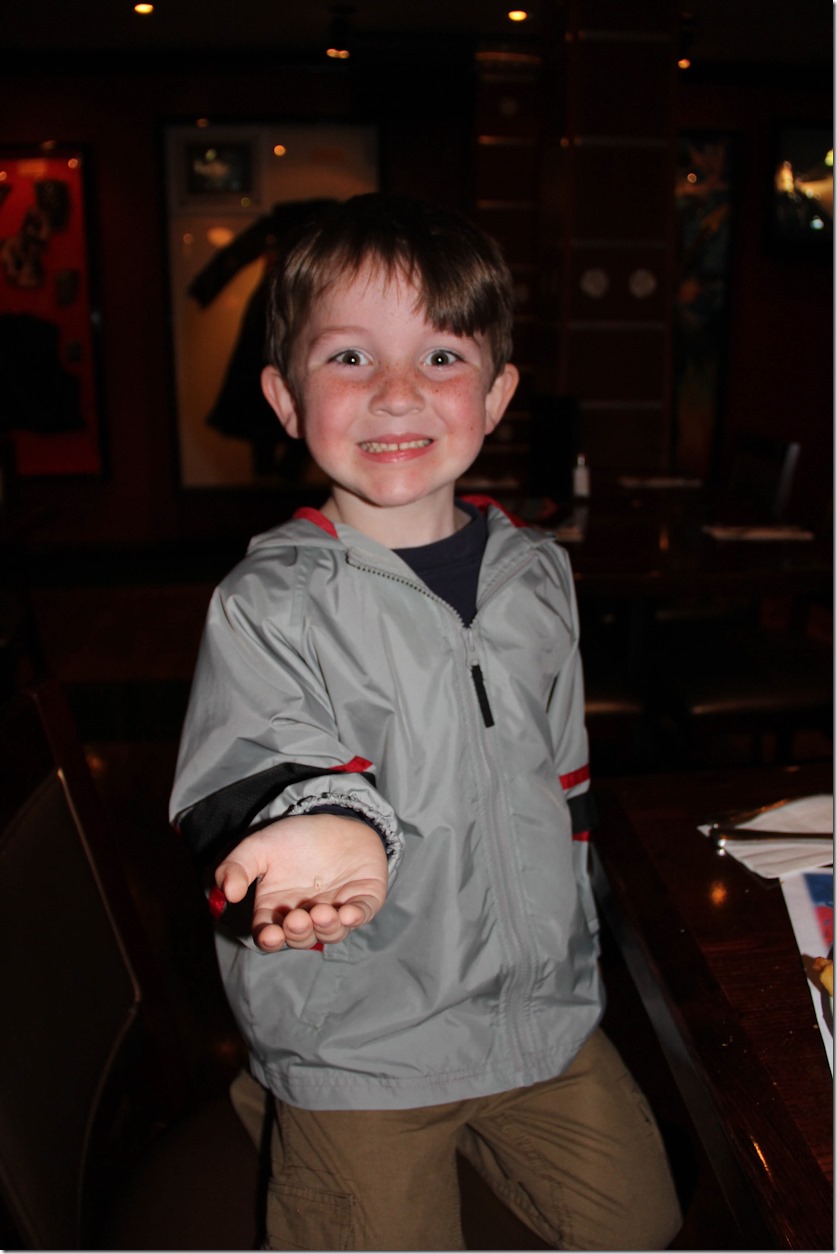 He was thrilled to lose his tooth and get his first visit from the tooth fairy all the way up in Canada.  Garrett wanted to make sure she found him so he left her a tip of a quarter alongside his tooth inside the Hard Rock to-go sauce cup under his pillow that night.  He's such a sweetheart.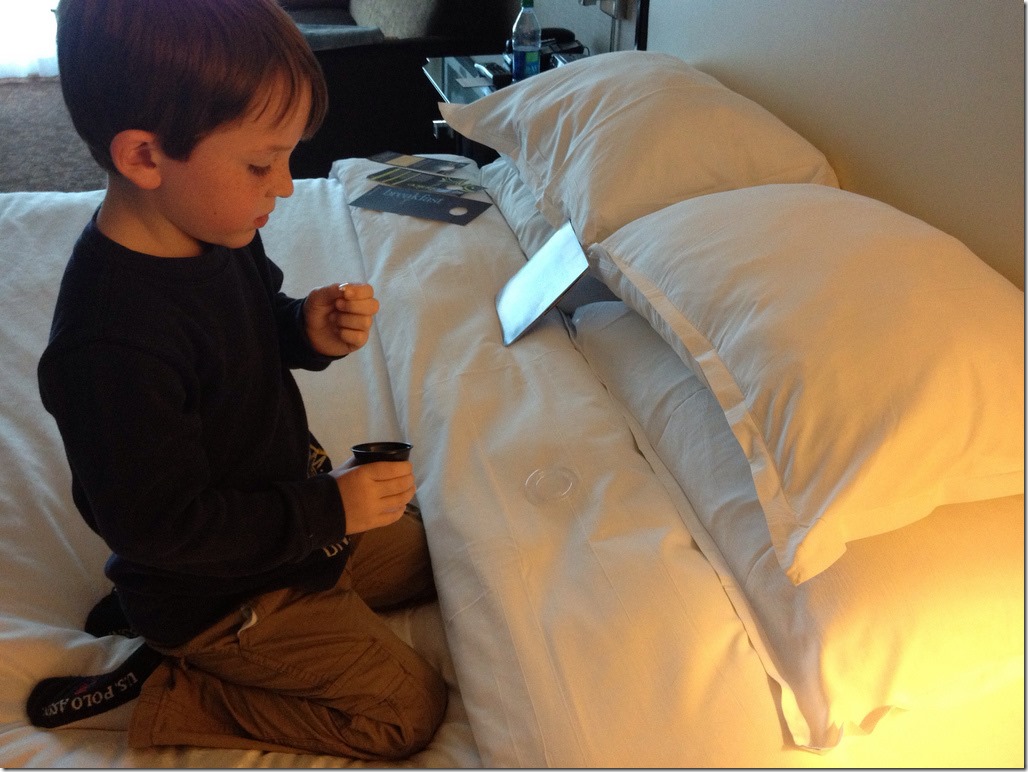 Turns out she does deliver, even if you are in a hotel all the way in a different country.  She even left him a note thanking him for the tip. And she gave him a LOT more money than she normally would have since Granddaddy was there when it happened. There was even a gold Canadian coin with Queen Elizabeth's head on it. Garrett got SO excited when he read my name on the gold coin!  He thought it was especially made just for me by the tooth fairy!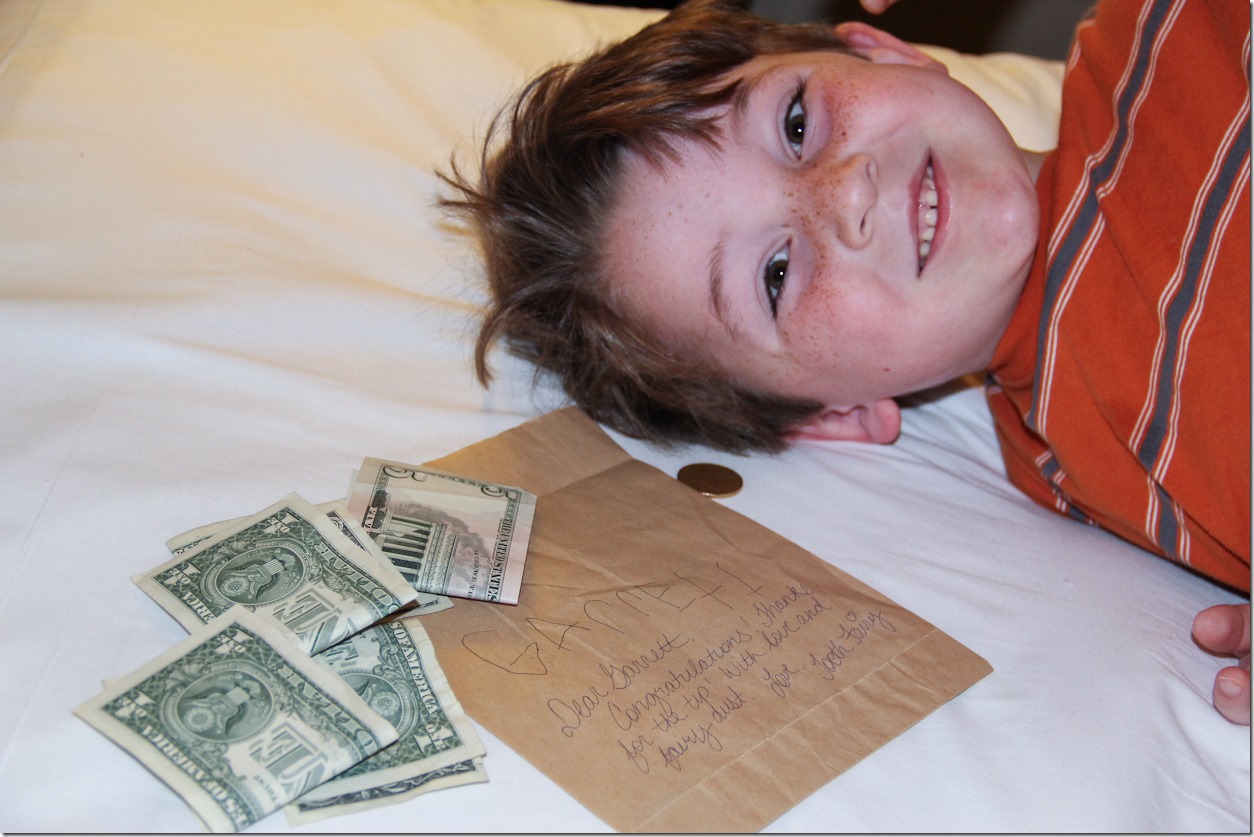 After that exciting wake up call, we decided to hop in our rental car and head north to see the town of Niagara on the Lake.  The drive up was only about 30 minutes, but along the route we got to see an extremely well-endowed moose….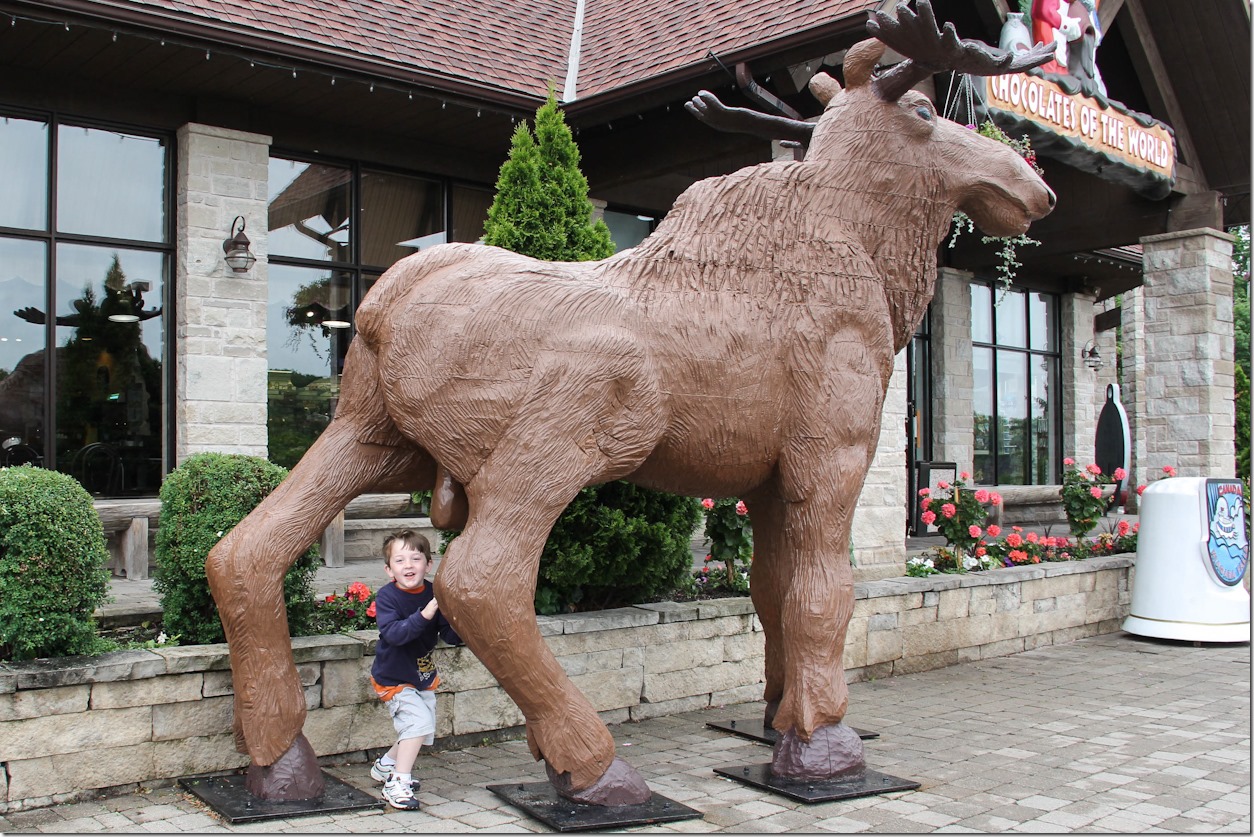 And give passionate hugs to express our love for Canada….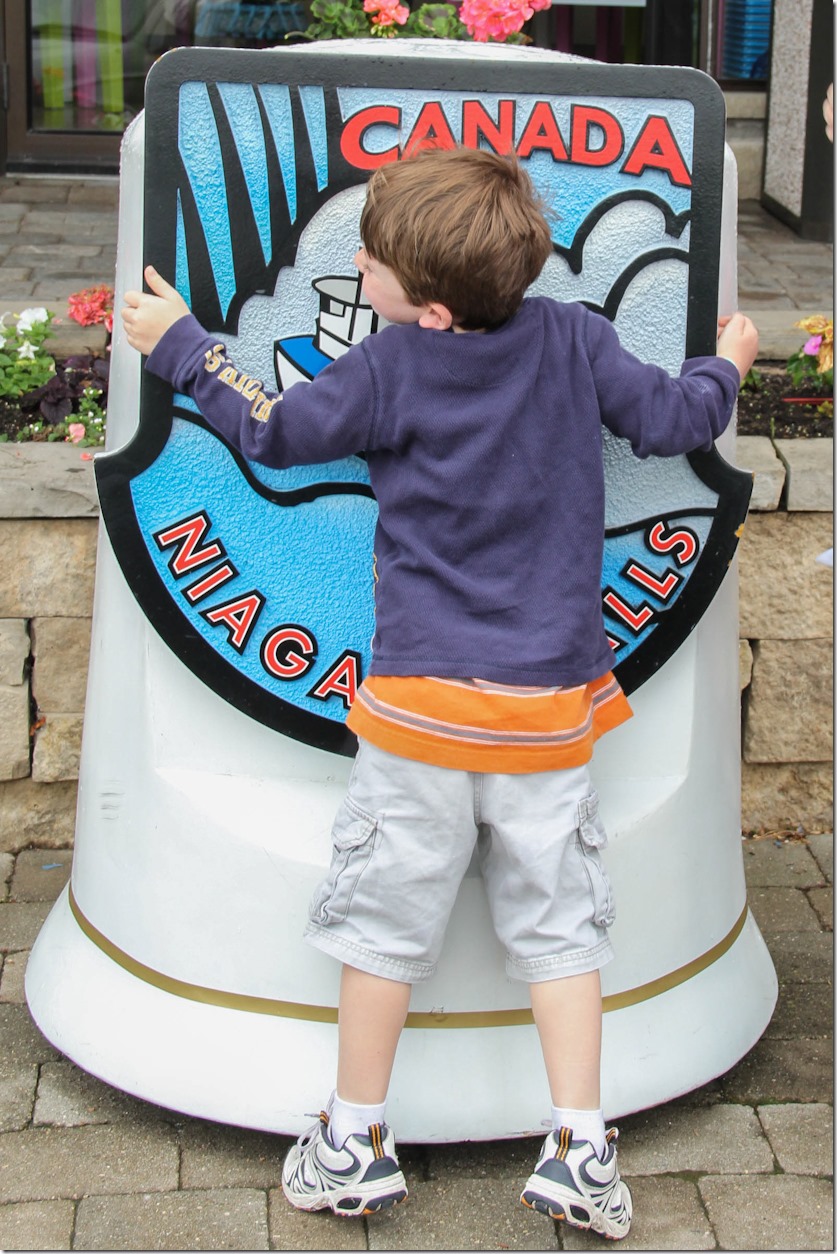 Then we stopped off at the Niagara whirlpool, where I gave the panorama setting on my iPhone a workout.

Then we started seeing THE most beautiful wineries, so I had to stop and shoot some pictures of the grapevines.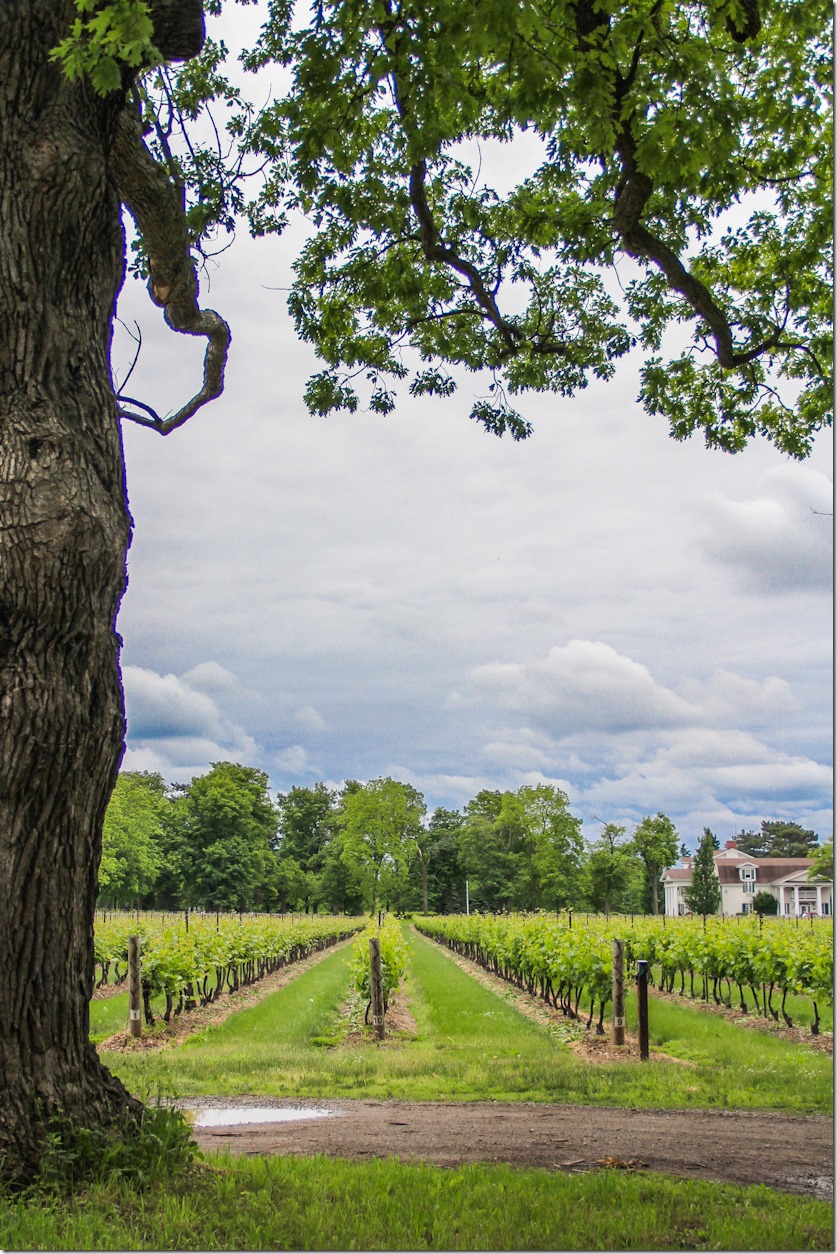 This place was picture postcard perfection.  One of my facebook readers said she had gotten married at this place, reminding me yet again that it is a small, small world we live in.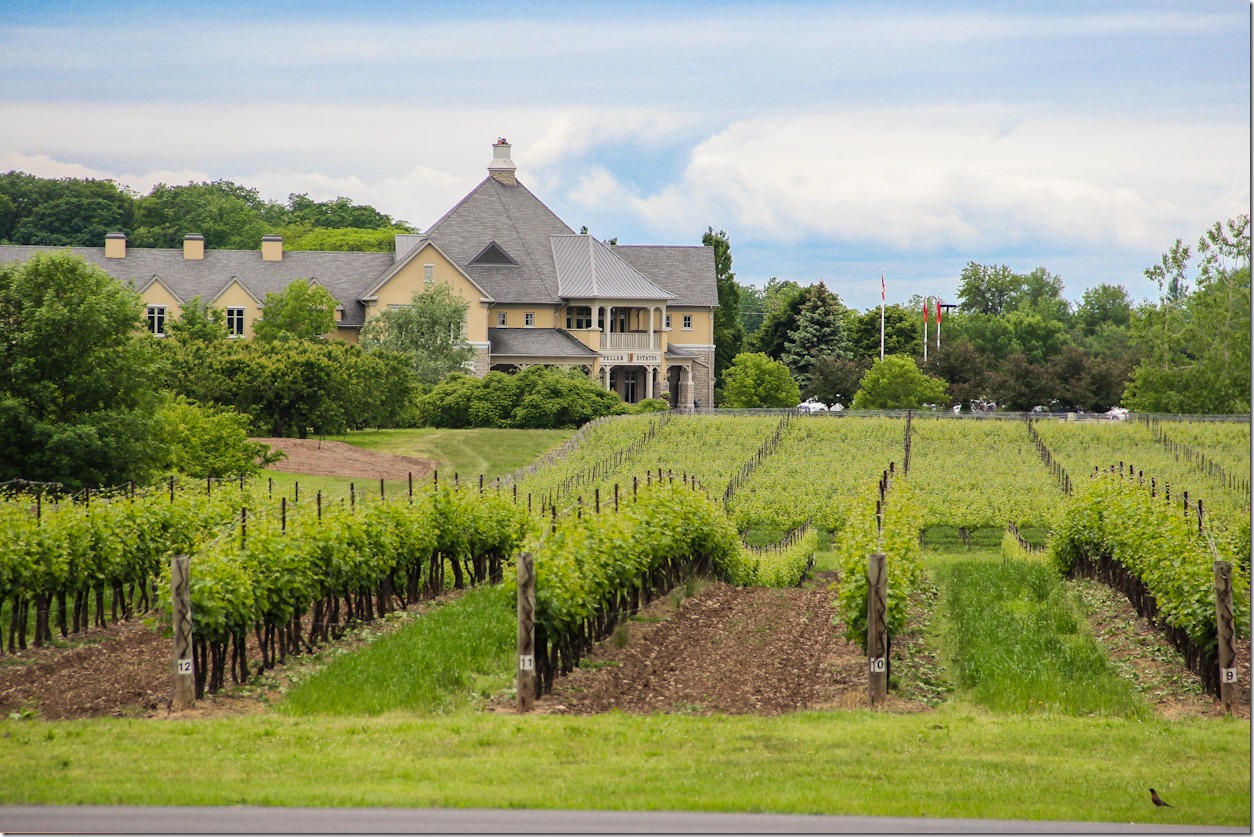 Once we arrived in the town of Niagara on the Lake, my jaw dropped at how beautiful everything was!  The whole region reminded me so much of The Hamptons, with the wineries and the town that looked very similar to East Hampton.  It was such a gorgeous place.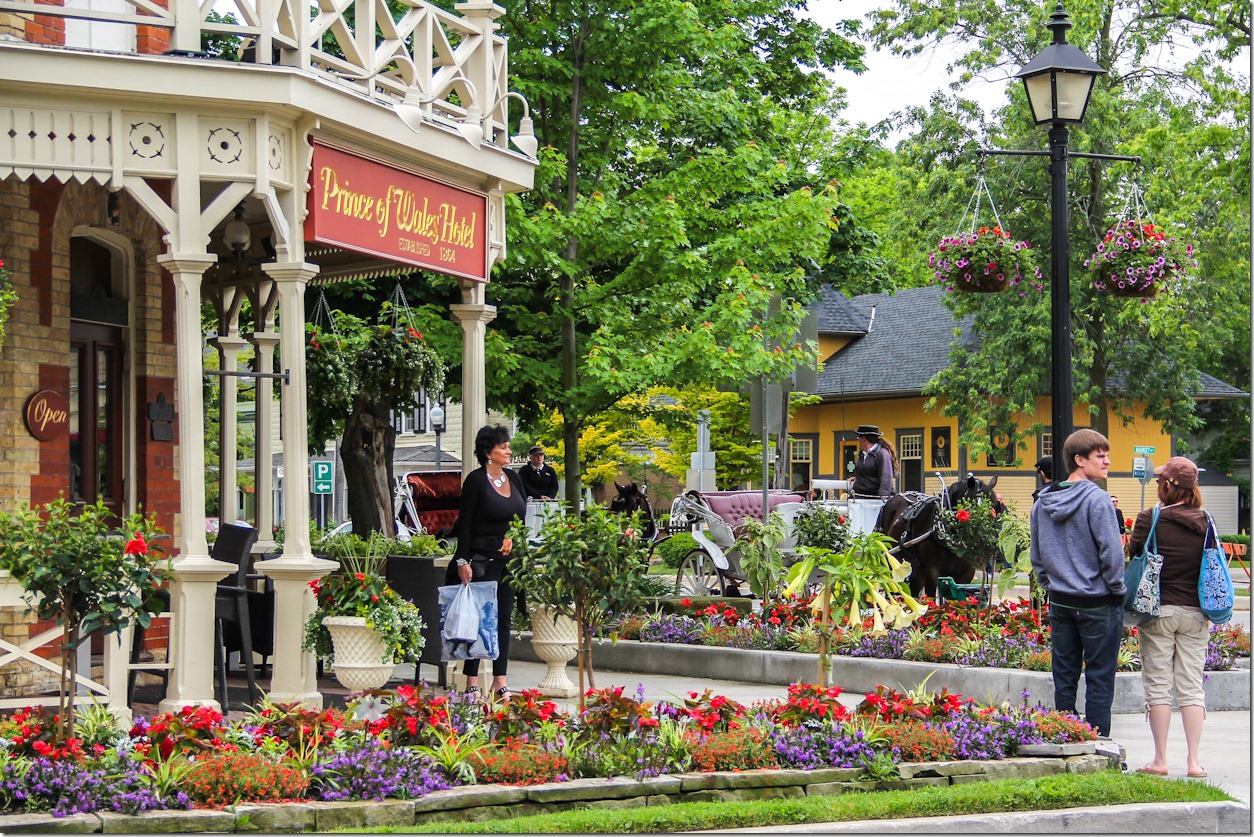 When we saw this beautiful lake stretching out before us, my dad said "Wow, that's a really big lake!"  Not realizing it was actually Lake Ontario, as in one of the Great Lakes.  Like, duh.  We don't get out much.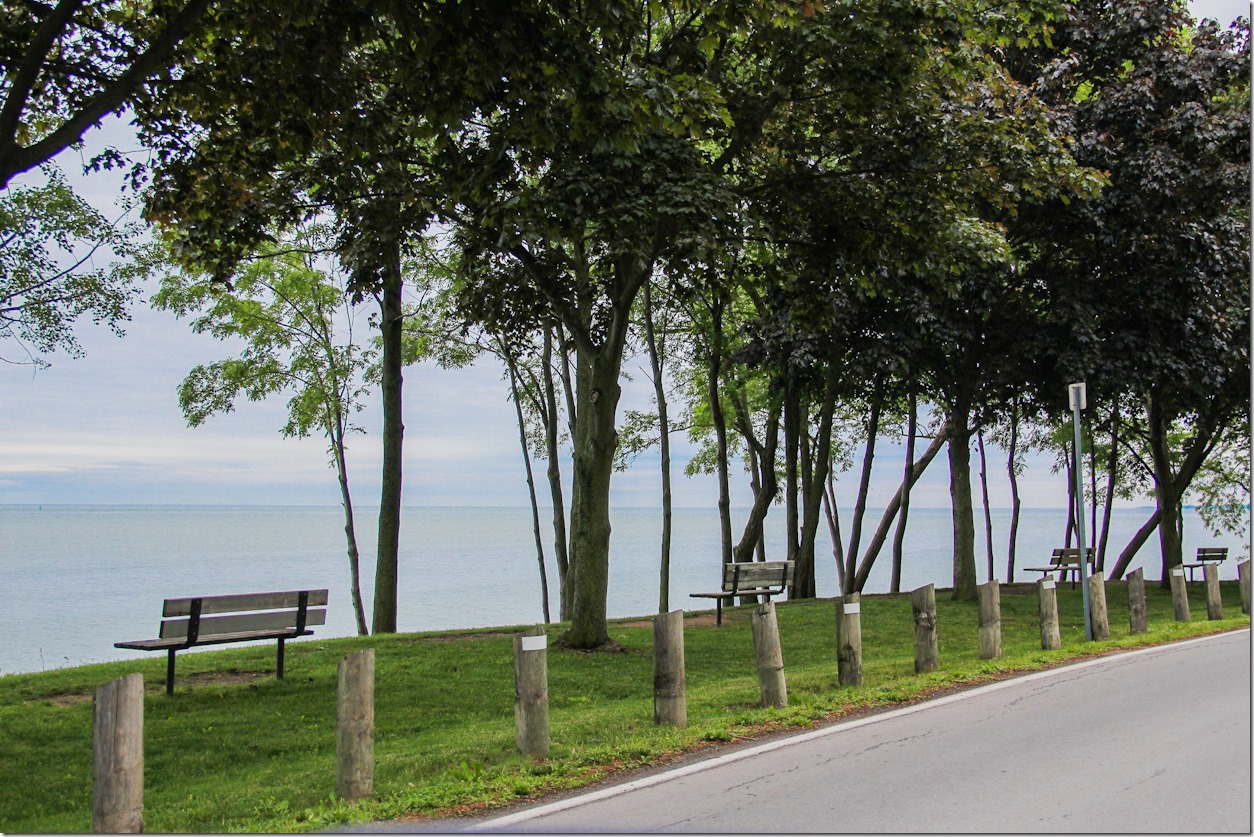 We ate lunch outside at this amazing café.  The weekend we were in town they were holding a flower festival where the local residences opened up their private gardens for tours, so the whole town was packed with people.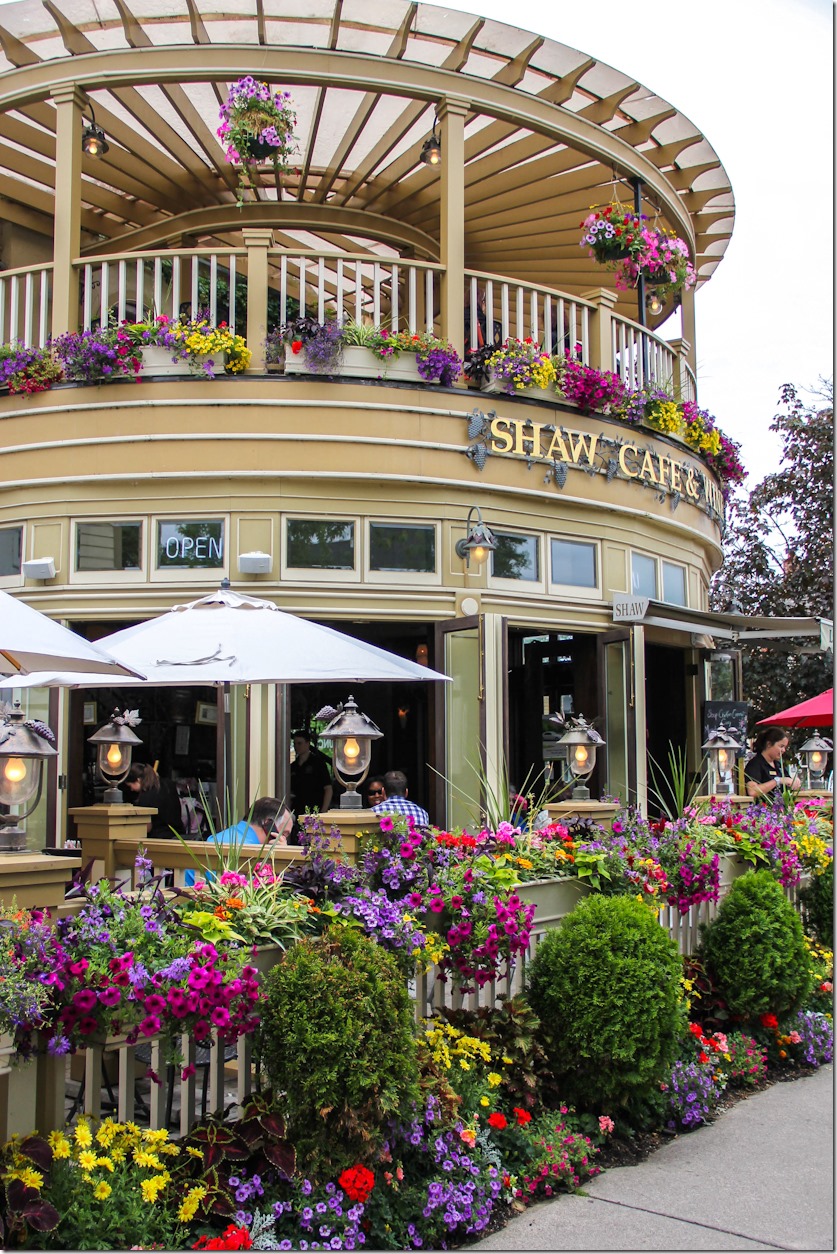 This also meant that parking spaces were limited, so as we were sitting here eating lunch, I was getting a parking ticket on our rental car.  And that reminds me that I still have not paid said parking ticket, so it's quite possible that I might have a warrant out for my arrest in Niagara on the Lake as we speak.  I don't even know where the ticket went, actually, so I'm really in trouble here. Maybe I can call the Constable and see if I can pay it online or something because I'd really hate to be banned from this beautiful city.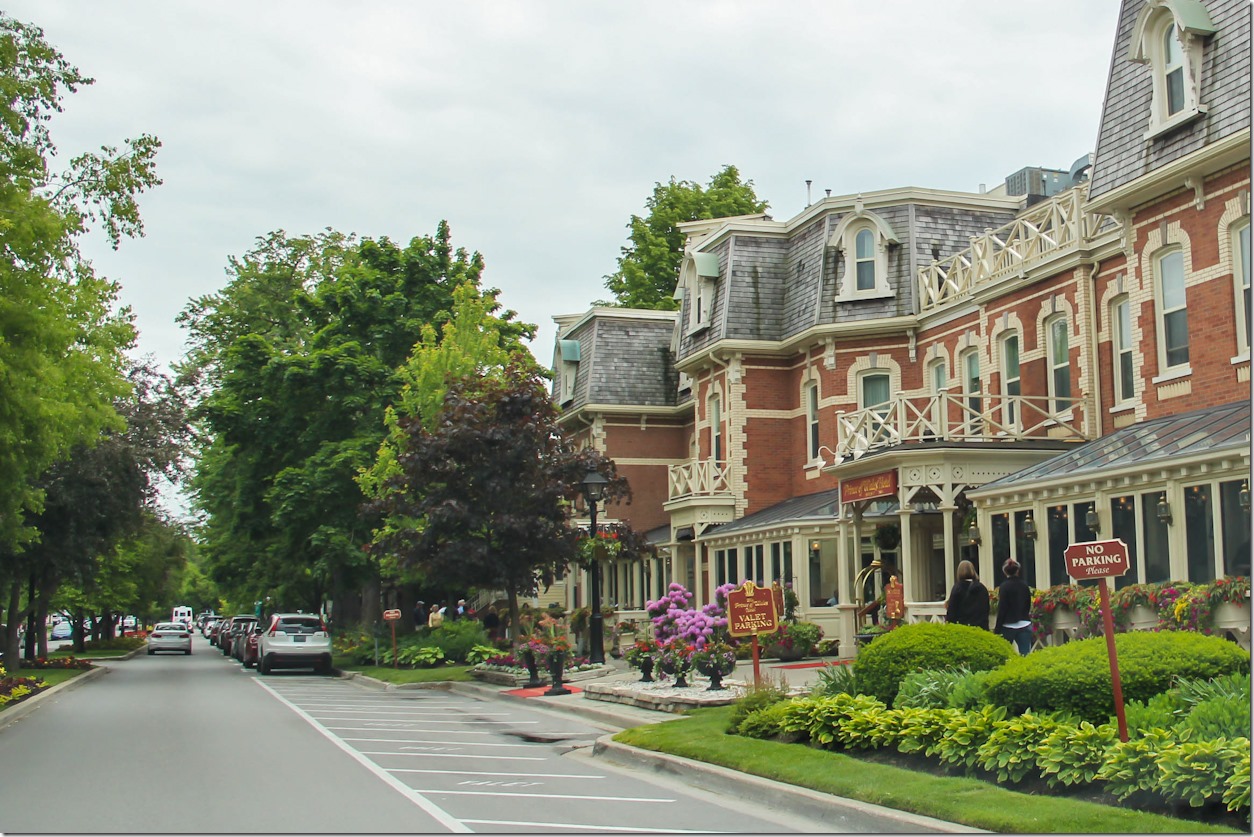 On the way home we hit up the flower clock, which is just as exciting as it sounds. (read: not at all.)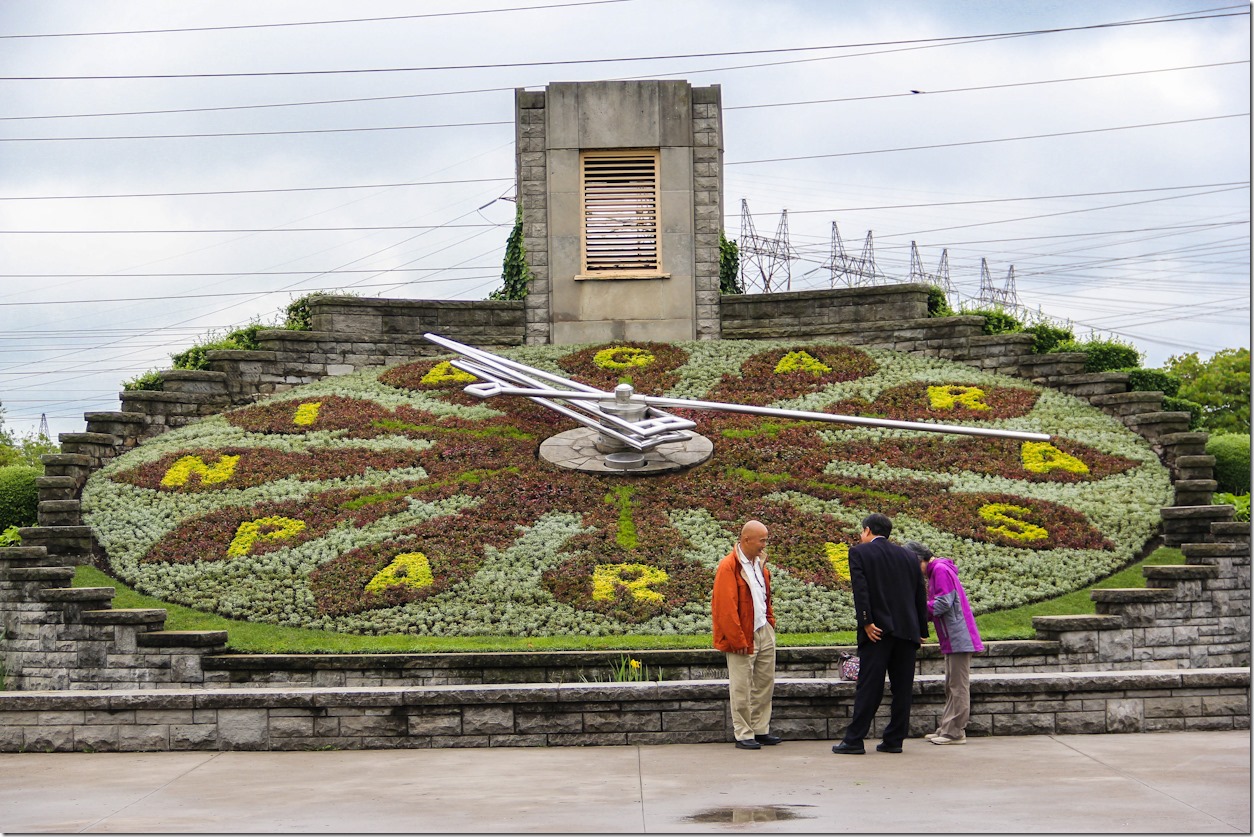 But what WAS exciting was the Fallsview Indoor Waterpark, which we hit up twice in this trip.  My friend Marcia lives in Rochester, NY, so she was able to bring her twin daughters over to visit with us for the rest of the weekend and give G some kids his own age to play with.  Within minutes after their arrival we were headed to the water park, where the kids played to their chlorinated heart's content.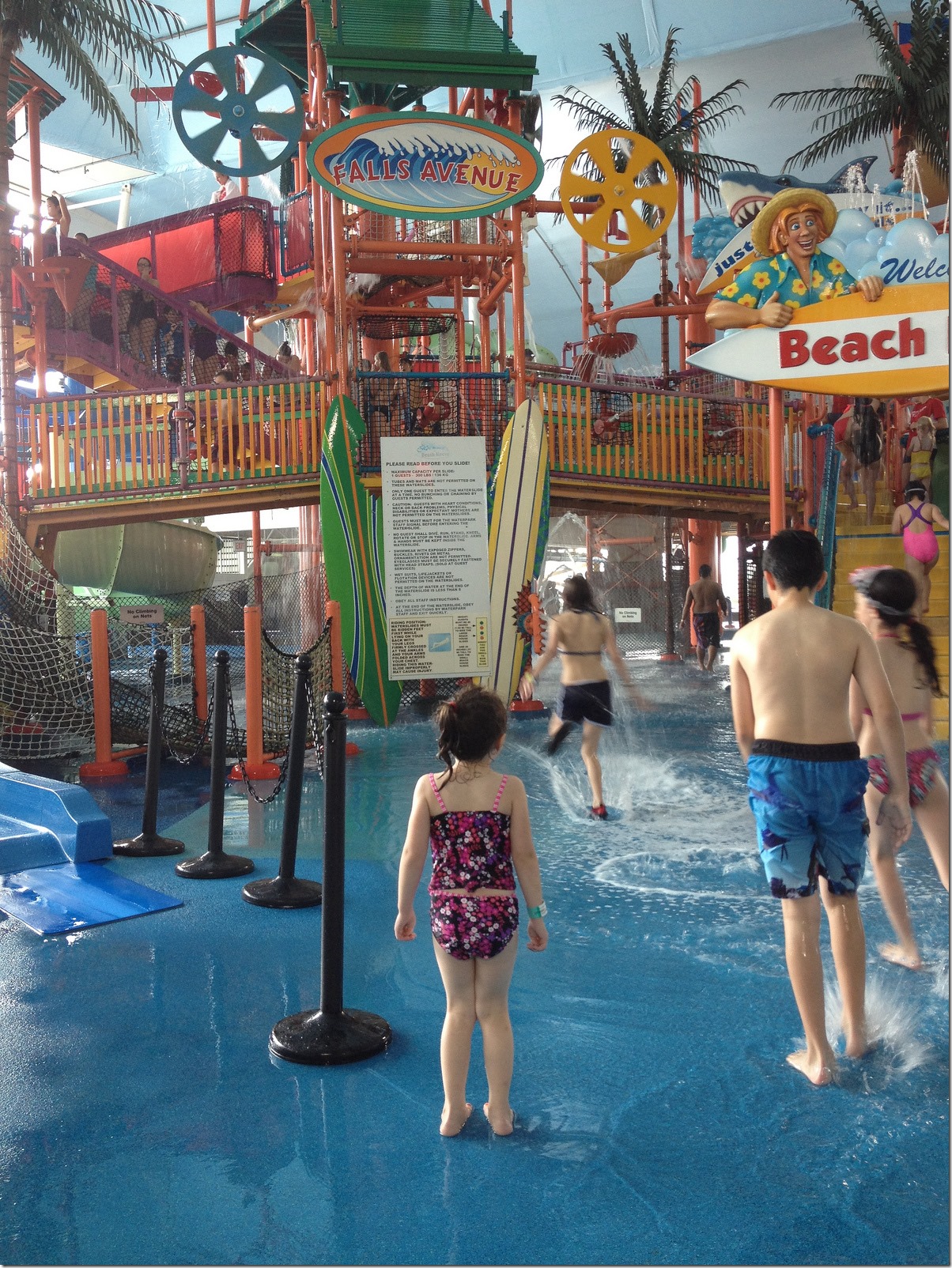 G even worked his way up to the big kid slides!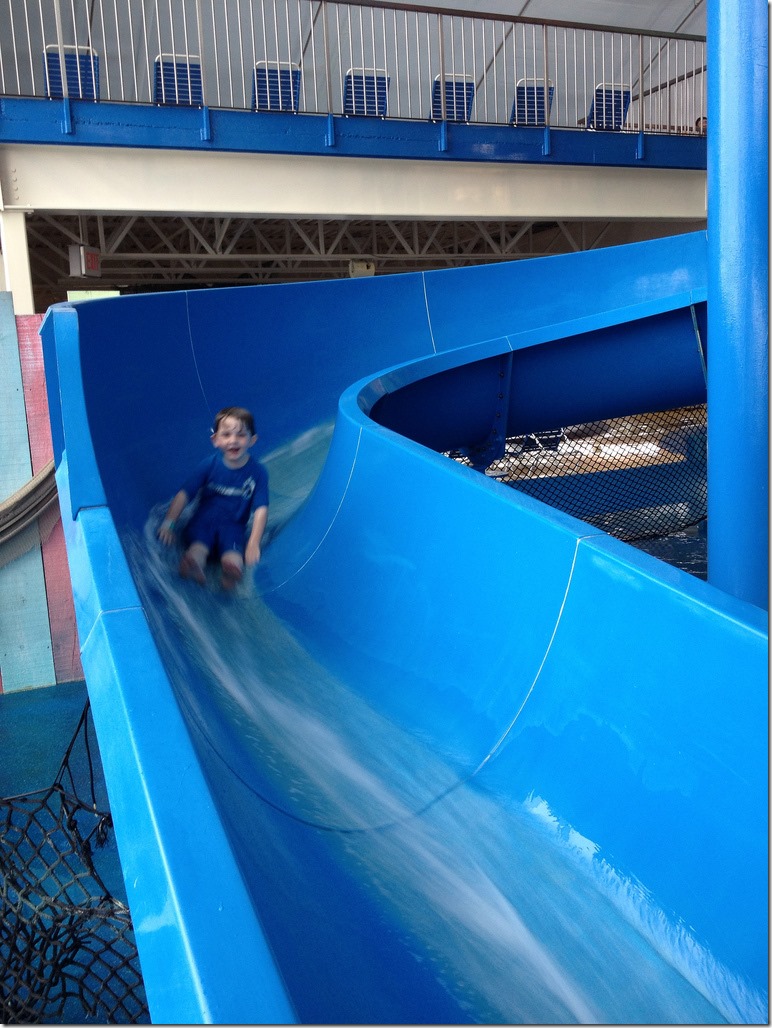 Later that night we headed back up Clifton Hill for more Boston Pizza and arcade games.  The kids had a blast together.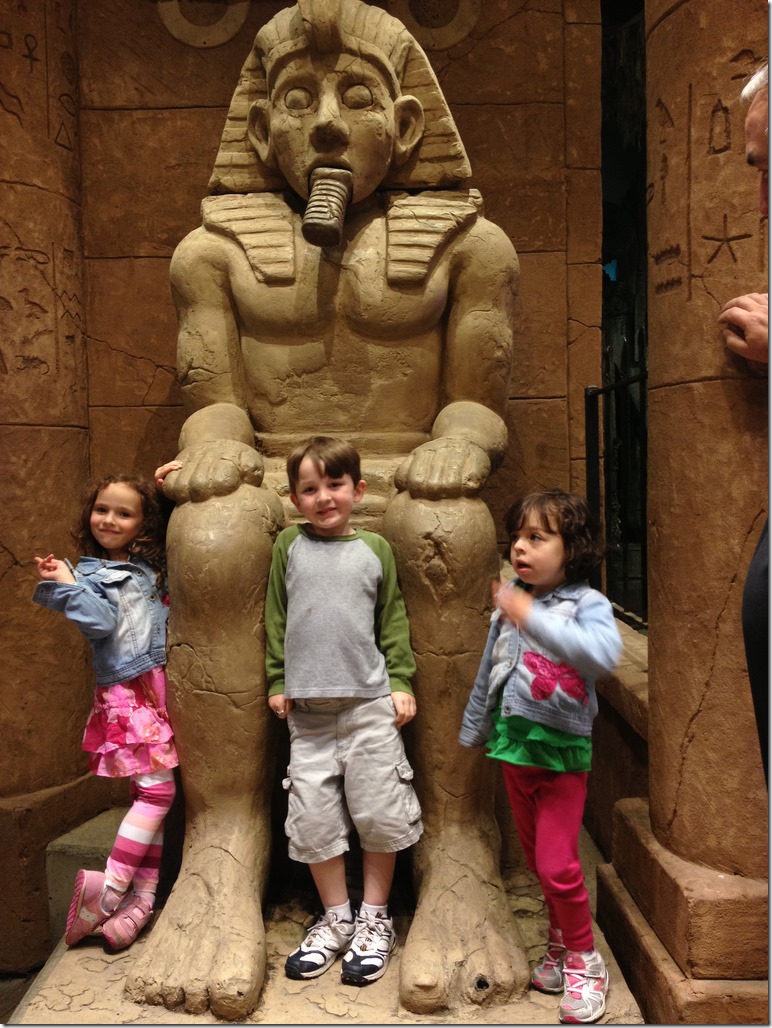 That night when we got back to our hotel room they had the Falls all lit up!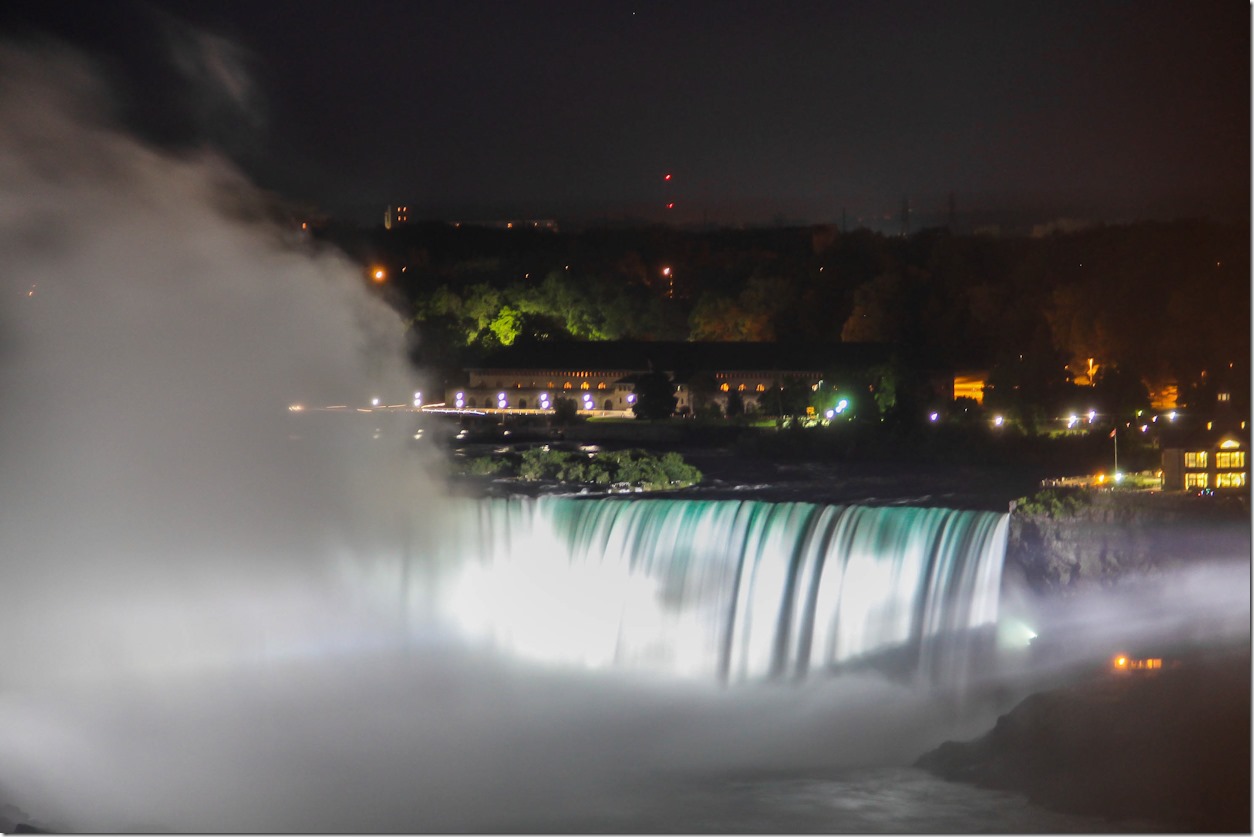 I was able to prop my camera up on a table by the window and get these long exposure shots of the waterfall at night.  This might be the best long exposure shots I've ever made with my DSLR.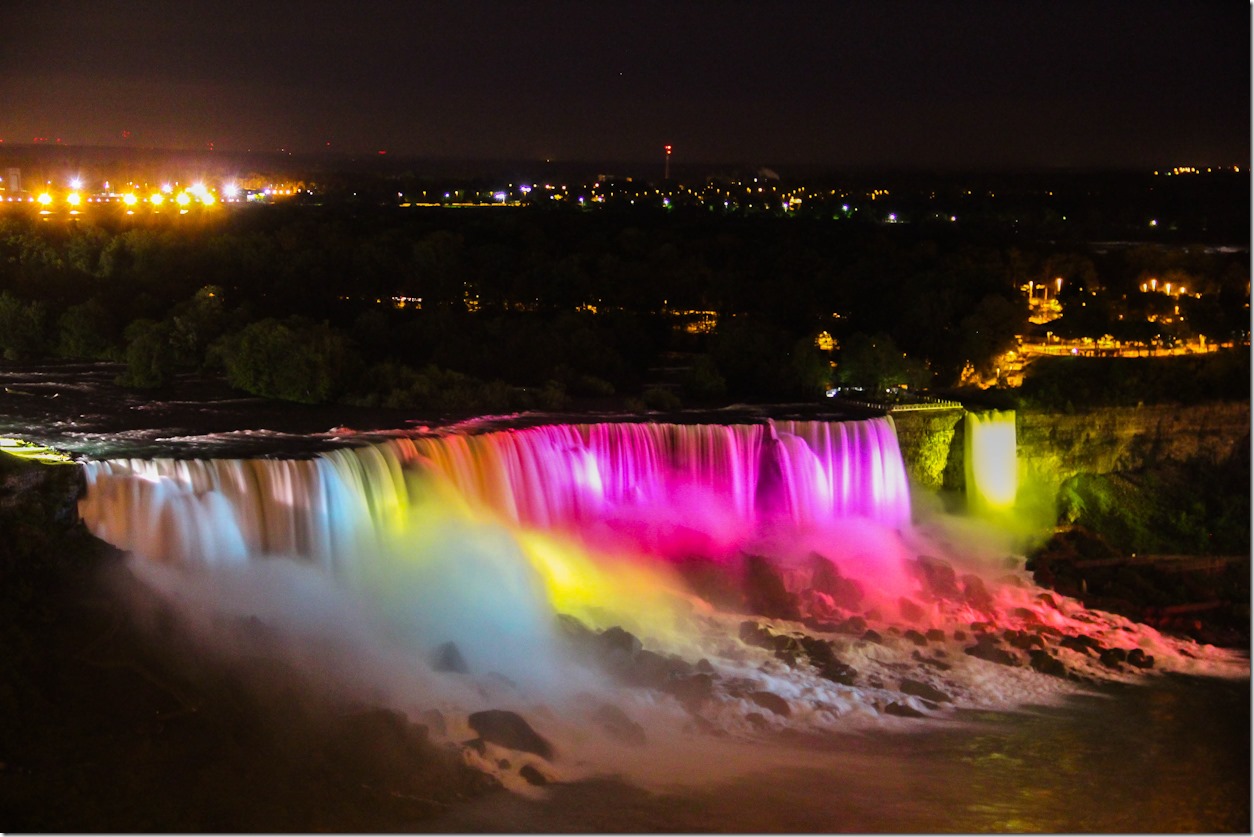 My neighbor in the room next door had the same idee to hang out the window and take photos after the fireworks began.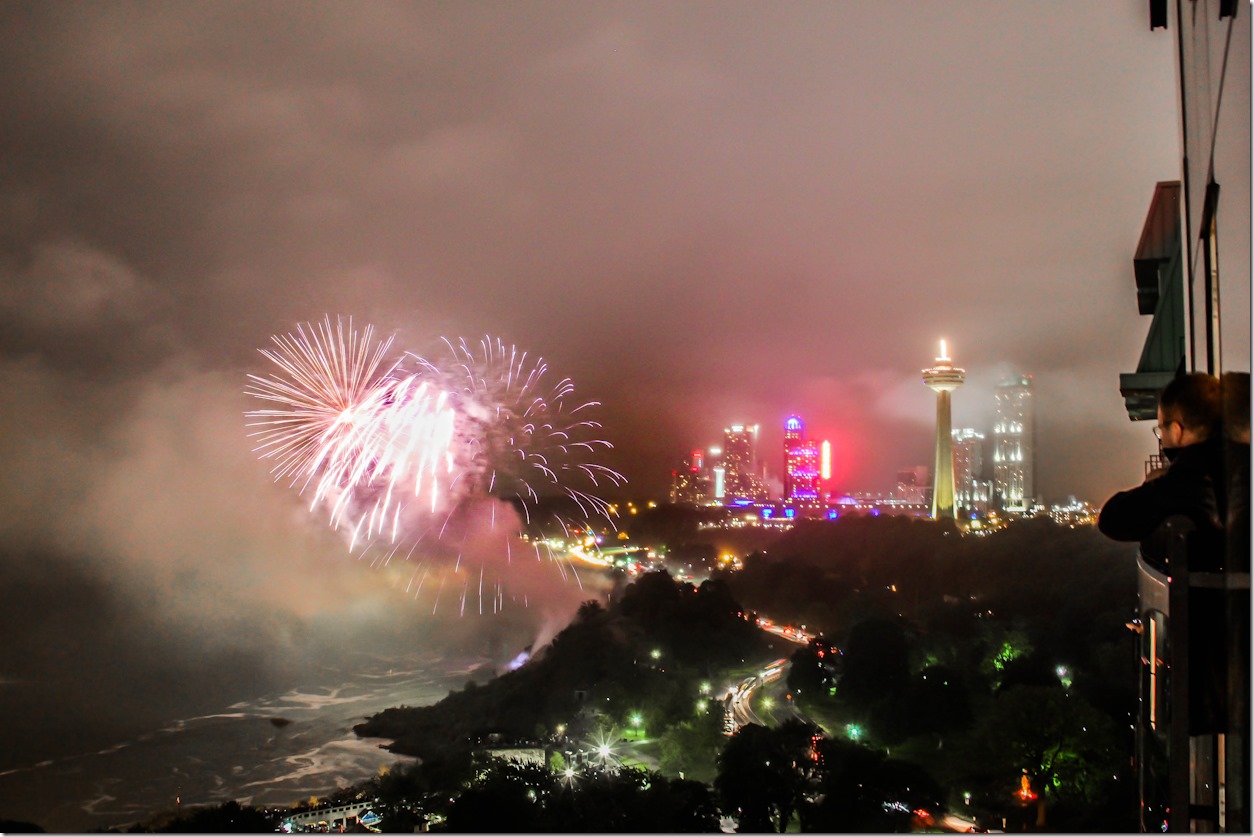 The smoke from the fireworks killed our view of Horseshoe Falls, but Bridal Veil looked good!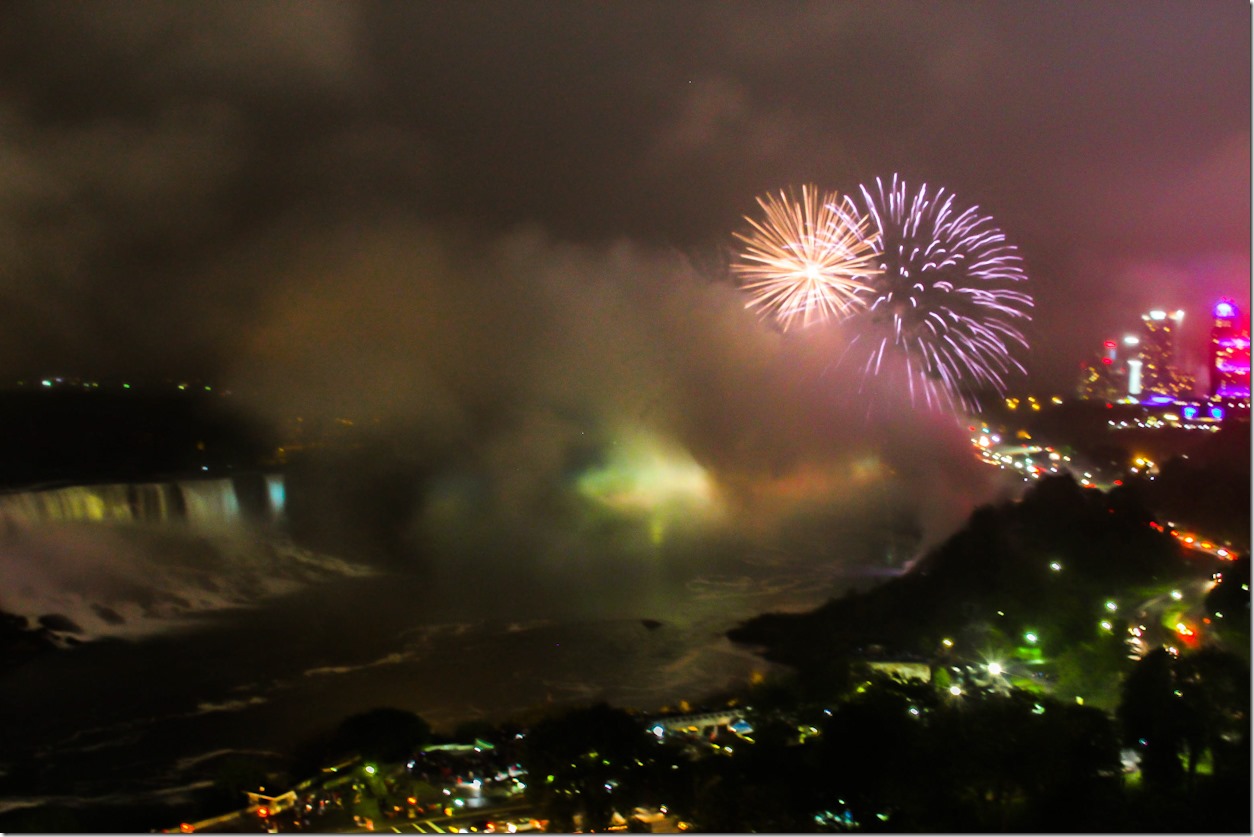 The next morning was our last day of the trip.  We all got up and made our way down to the boat landing for the Maid of the Mist!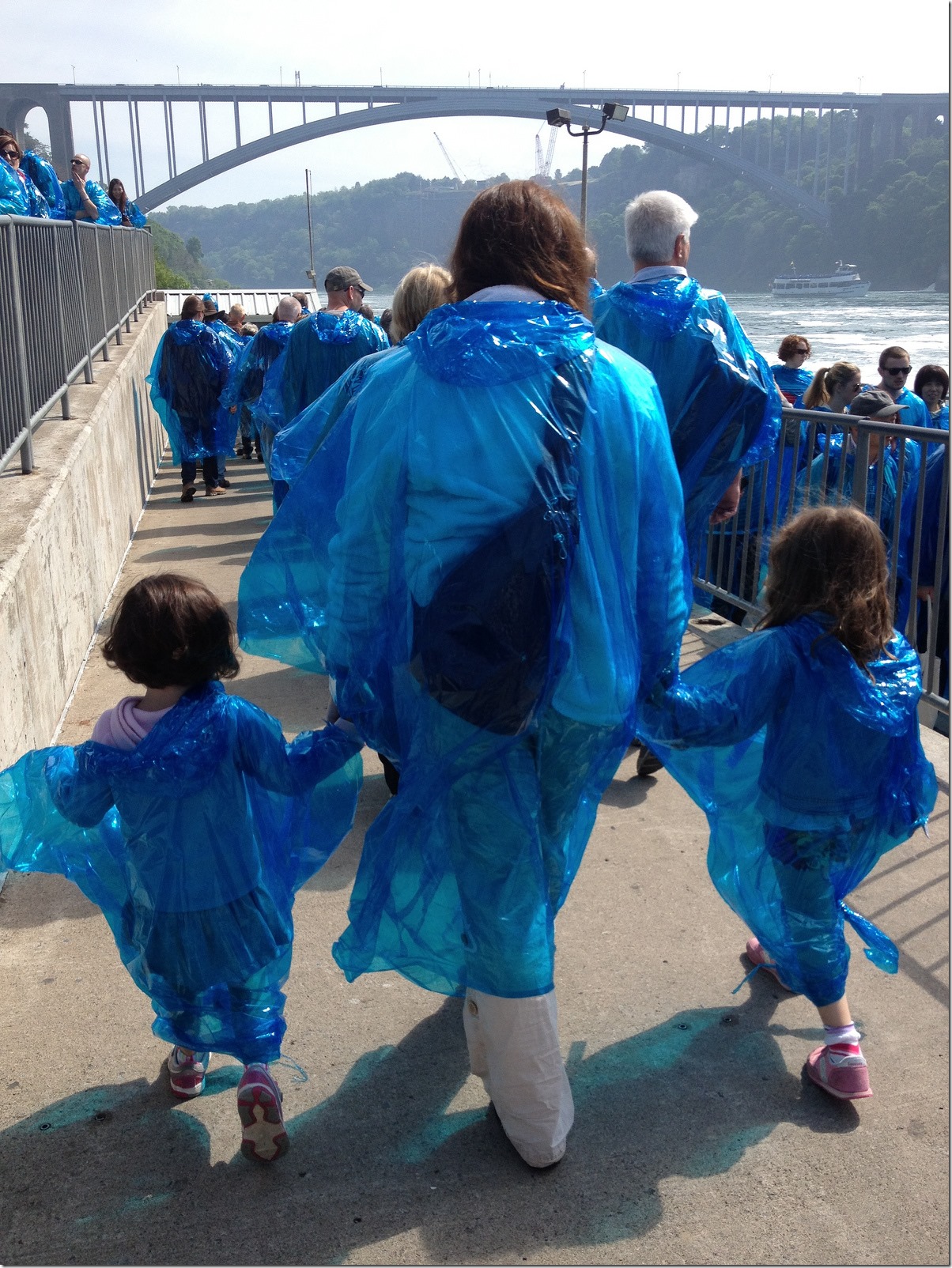 It was the one thing my Dad had been looking forward to on this trip that he had never done before.  Seeing it with Garrett was such a special thing! I'm so glad we did this tour.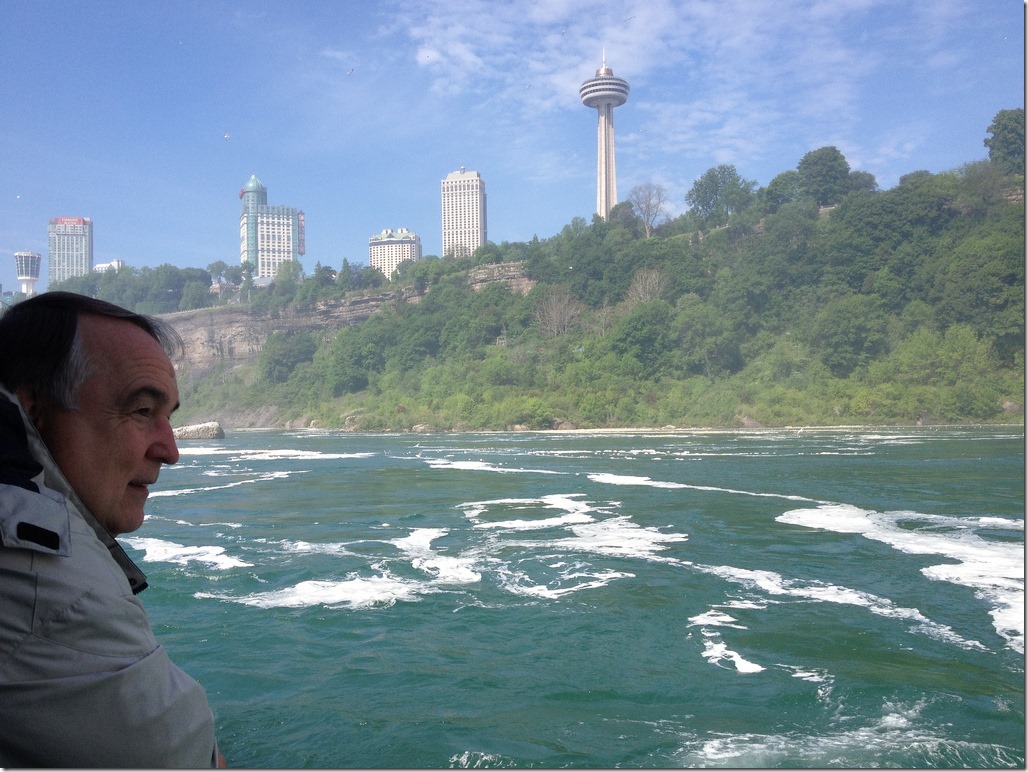 I only wish that I had invested in one of those waterproof iPhone cases so I could have taken pictures once we got up under the waterfall.  I wish I had gotten it on video.  The height of that wall of water is inconceivable until you are directly underneath it in the mist.  It was AWESOME.  Here is the last photo I got before I put my phone away for fear of it getting wet.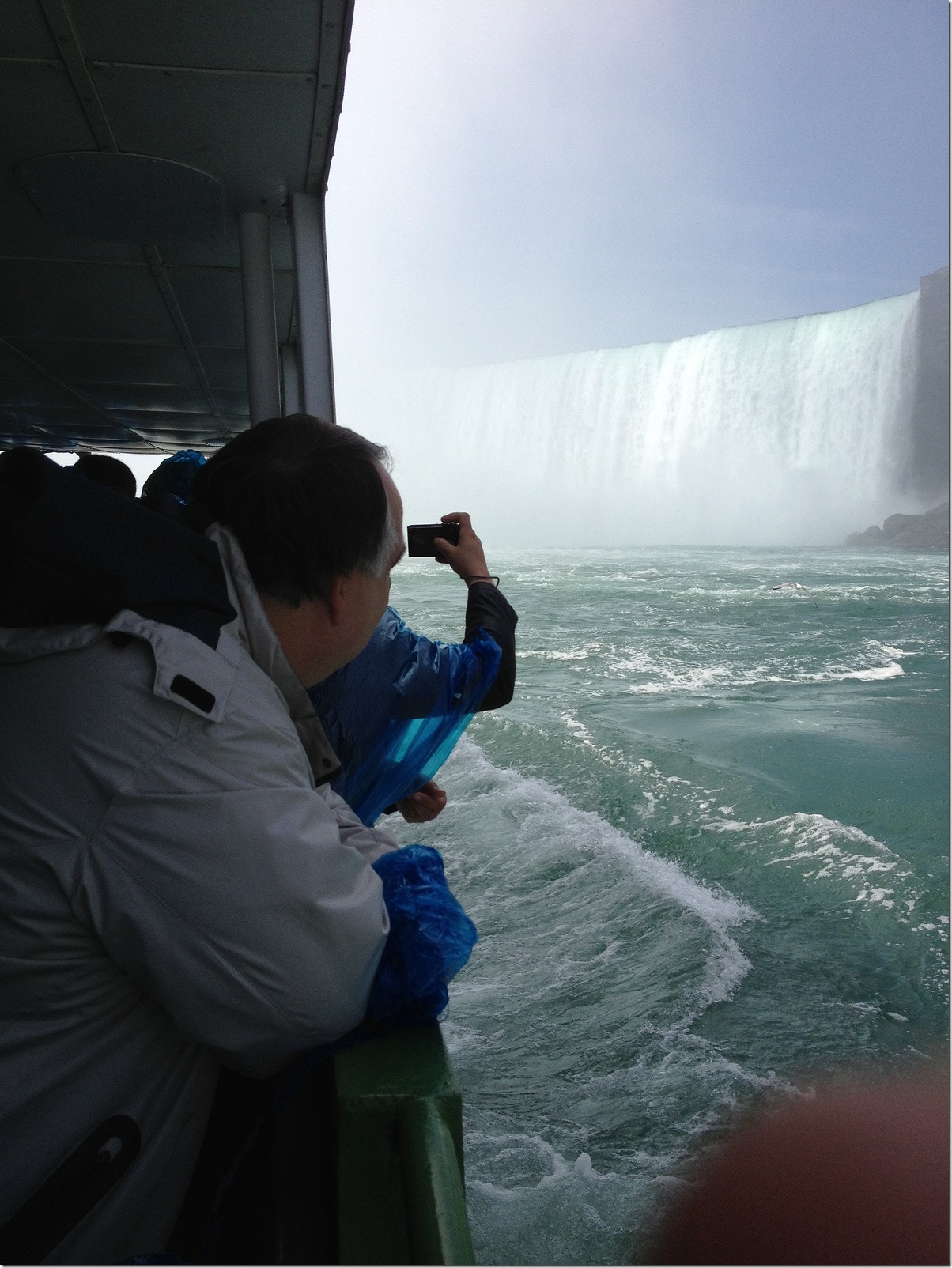 Bridal Veil Falls wasn't nearly as wet when we passed by it, so I kept my camera out and got these shots.  We were so thankful for a sunny last day!!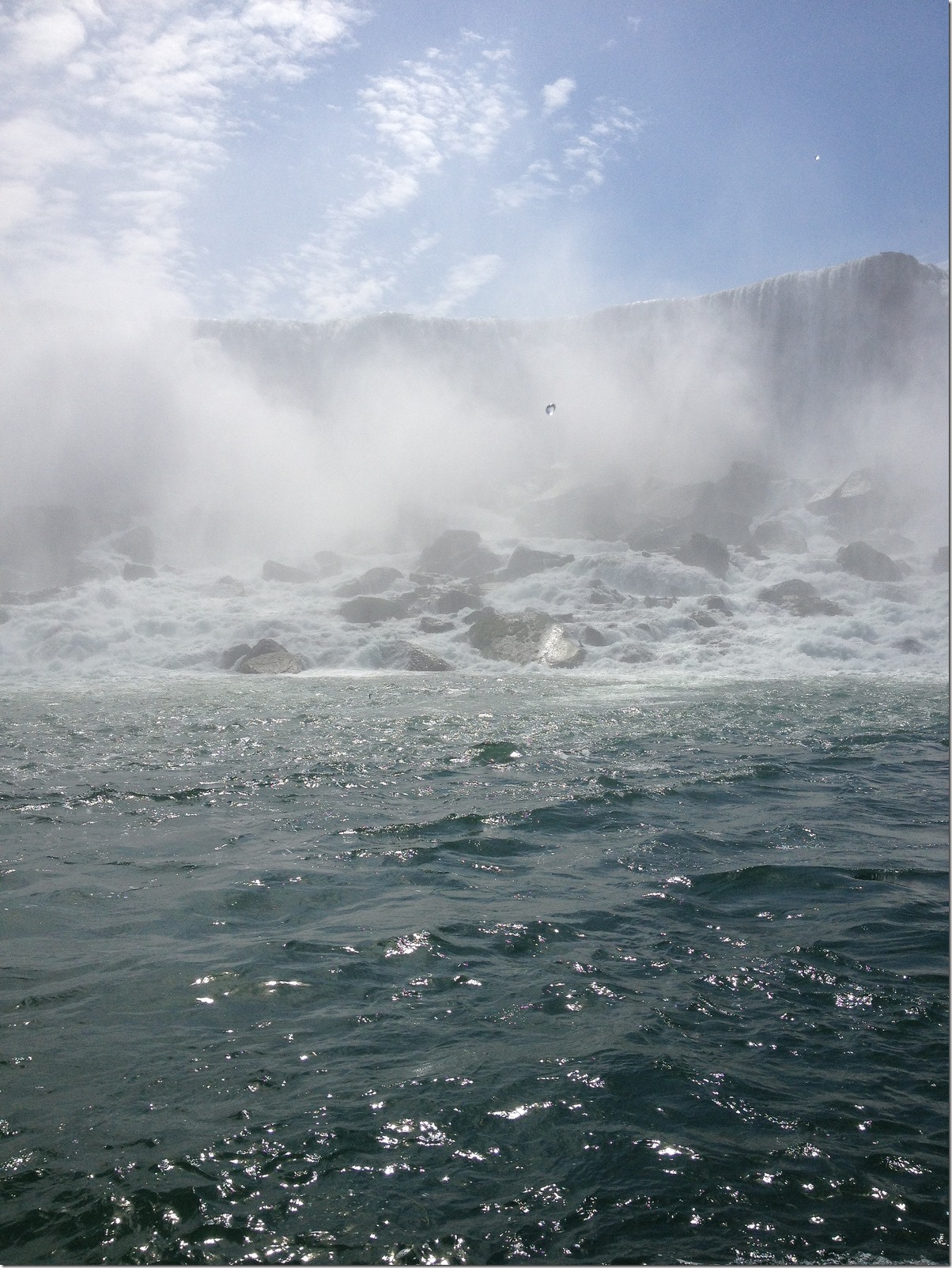 If anyone ever wonders if the Maid of the Mist is appropriate for kids around age 5, the answer to that would be a resounding YES.  They all LOVED it.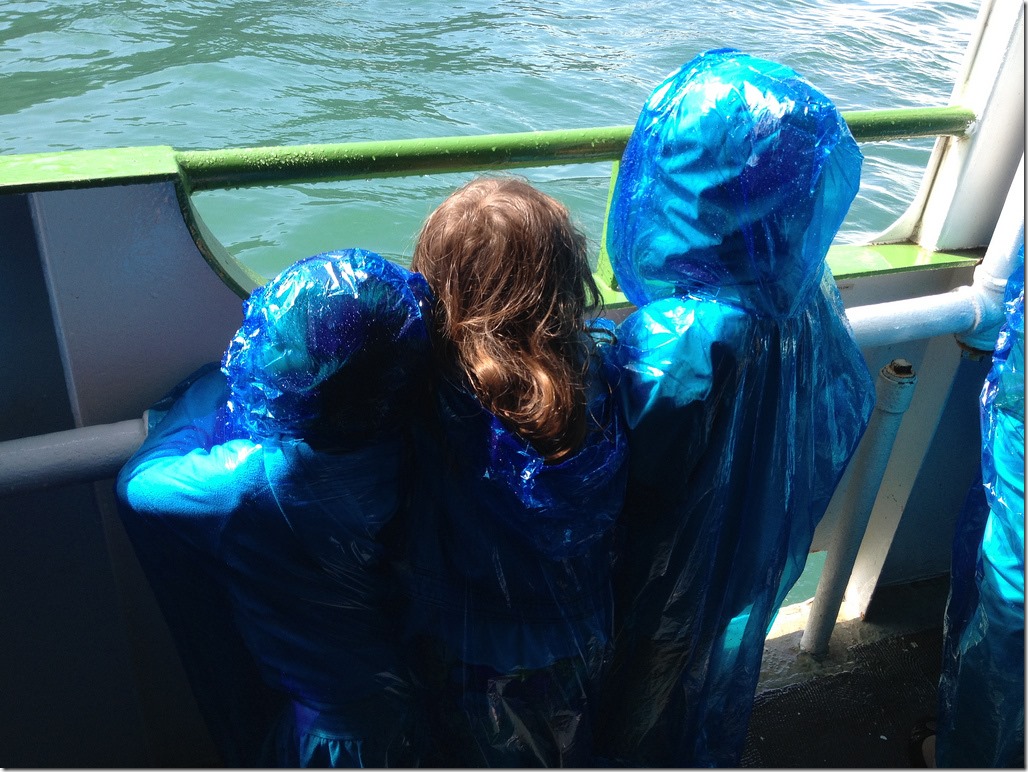 After our ride on the Maid, our vacation had to come to an end.  I was able to snap a few more shots out of our hotel room window before we had to pack up and check out to head back across the border and catch our flight.  Thankfully the border guards let us back into the country, even with that unpaid parking ticket on my record.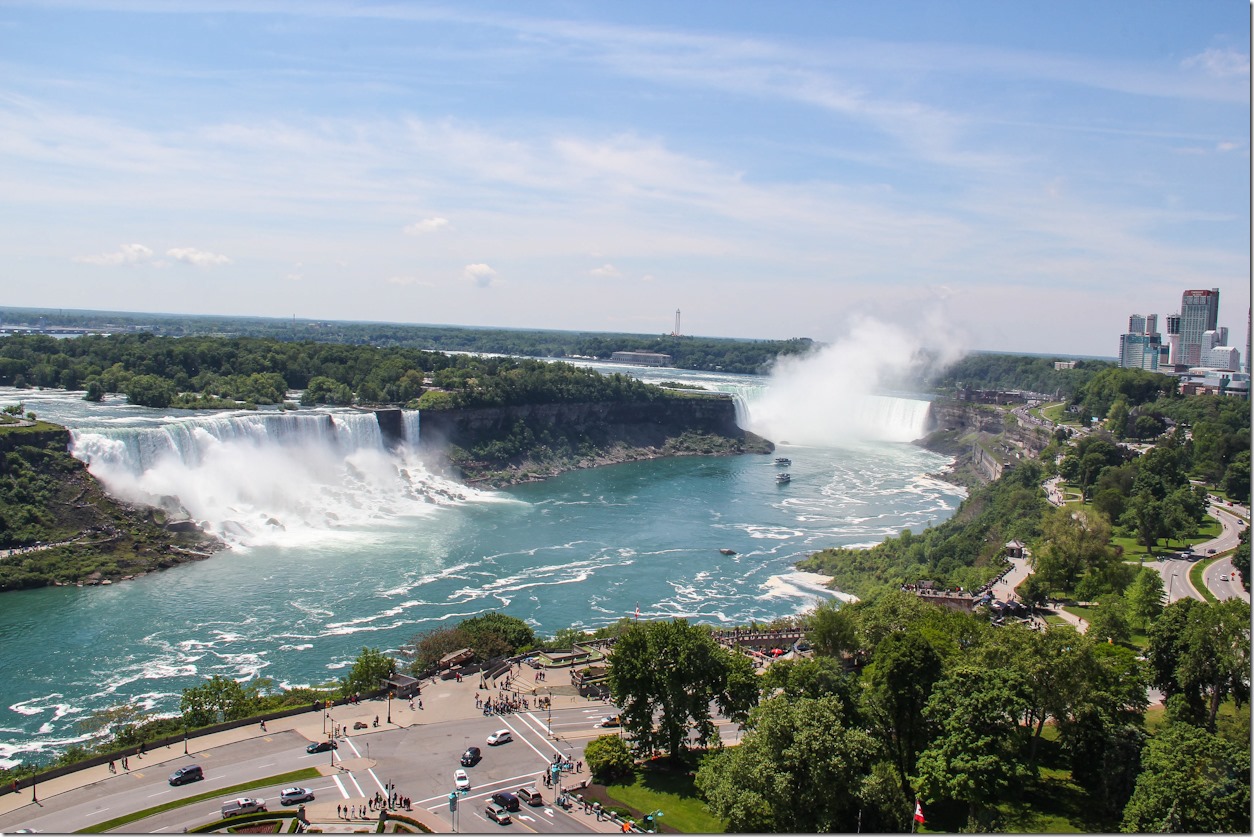 This was a once-in-a-lifetime trip for my dad, my son and me.  I'm so thankful to have had this opportunity to take a trip like this together and make all of these fun memories together.  I am hoping to plan more of these for just the three of us, so if anyone has any great suggestions on where we should travel together next I would love to hear them! 
I'm kinda thinking Yellowstone!